Hey China!
Or rather, "Hey Chinese Communist Party and your entire array of servitors, ass-wipers, and fellators!"
You're not even worth my time this week. When you decide to act like civilized people, maybe I'll give you a lesson or two in how non-barbarians behave.
Hey BiteMe!
(Or, Whoever Has Their Hand Rammed Up That Putrefying Meat Puppet's Ass)
[Language warning]
You and yours have caused a lot of injury. Literal injury with your war on people who don't want to take an untested vaccine. When people die in an emergency room because a hospital won't admit them because they haven't had their clot shot, that's a crime.
I'm going to address here the insult on top of the injury, because I am among the insulted. I still have my health but apparently you want me to live under the 8th Street Bridge (which actually isn't on 8th Street, but whatever, that's what the I-25 overpass over Cimarron is called), so maybe if you have your way that won't be true for long. Dreadful time of year to become homeless.
No, you're just trying to make me unemployed, because I won't take your fucking shots.
Well, that threat is NOT going to work. I. Won't. Take. Your. Fucking. Shots.
And neither will any of my coworkers who haven't already had them…and those people who got the shots are a small minority. Most of those got the shots before we began to understand how nasty they truly are.
One of my coworkers was thinking he might have to knuckle under at least until he found another job…but don't you even think (you do sometimes think, don't you?) of finding that encouraging.
Don't think that, because his resolve has hardened.
You're LOSING.
You LOSER.
You Chinese-bought ratfucking traitor.
I would love to see you die an agonizing, humiliating death. (This isn't a threat, because I am not threatening to cause that death. I am just announcing my intention to party if it happens.) It would be just recompense for the way you're killing America…and millions of Americans.
Anti-Science?
So you think I'm anti-science for refusing the "vaccine"?
Uh, you do know who you're talking about, right? The guy who writes the physics posts?
His Fraudulency
Joe Biteme, properly styled His Fraudulency, continues to infest the White House, we haven't heard much from the person who should have been declared the victor, and hopium is still being dispensed even as our military appears to have joined the political establishment in knuckling under to the fraud.
One can hope that all is not as it seems.
I'd love to feast on that crow.
(I'd like to add, I find it entirely plausible, even likely, that His Fraudulency is also His Figureheadedness. (Apparently that wasn't a word; it got a red underline. Well it is now.) Where I differ with the hopium addicts is on the subject of who is really in charge. It ain't anyone we like.)
Justice Must Be Done.
The prior election must be acknowledged as fraudulent, and steps must be taken to prosecute the fraudsters and restore integrity to the system.
Nothing else matters at this point. Talking about trying again in 2022 or 2024 is hopeless otherwise. Which is not to say one must never talk about this, but rather that one must account for this in ones planning; if fixing the fraud is not part of the plan, you have no plan.
The Audit
On that note, reading comments on the Friday thread, there seems to be mixed opinions on whether the audit was good news, bad news, and if good news, exactly what could be done with it.
I suspect a lot of discussion will be going on today, as we digest what we've seen and read.
But at least it finally is out.
Lawyer Appeasement Section
OK now for the fine print.
This is the WQTH Daily Thread. You know the drill. There's no Poltical correctness, but civility is a requirement. There are Important Guidelines, here, with an addendum on 20191110.
We have a new board – called The U Tree – where people can take each other to the woodshed without fear of censorship or moderation.
And remember Wheatie's Rules:
1. No food fights
2. No running with scissors.
3. If you bring snacks, bring enough for everyone.
4. Zeroth rule of gun safety: Don't let the government get your guns.
5. Rule one of gun safety: The gun is always loaded.
5a. If you actually want the gun to be loaded, like because you're checking out a bump in the night, then it's empty.
6. Rule two of gun safety: Never point the gun at anything you're not willing to destroy.
7. Rule three: Keep your finger off the trigger until ready to fire.
8. Rule the fourth: Be sure of your target and what is behind it.
(Hmm a few extras seem to have crept in.)
Spot Prices.
Kitco Ask. Last week:
Gold $1793.00
Silver $24.40
Platinum $1047.00
Palladium $2104
Rhodium $15,250
This week, markets closed as of 3PM MT.
Gold $1785.10
Silver $23.99
Platinum $1028.00
Palladium $2087.00
Rhodium $15,250.00
Gold at least seems to have pulled out of the 1750s. The PGMs are basically going nowhere, perhaps because their demand largely rests on cars and no one can build cars right now because of the supply chain blah blah blah.
Extreme Stars
Last week, I mentioned in passing several kinds of what one might think of as "extreme" stars.
Ordinary stars are fusing hydrogen to make helium. Astronomers call them "main sequence stars" and they range from large, hot, very luminous (and hence short-lived) blue stars all the way down through small, faint, cool, dim (and hence long-lived, none have died of old age yet) red stars called "red dwarfs."
Stars go "extreme" when they run out of hydrogen fuel. Red dwarfs, we believe, will simply turn into white dwarfs–stars that consist of the "ash" of nuclear fusion, and are no longer generating heat…rather, they radiate their residual heat, albeit at very high temperatures. Medium-sized stars like our sun will become red giant stars that fuse the helium ash of their prior main sequence lives, then after running out of helium while making carbon and oxygen, they too will become white dwarfs.
Red Giants and Supergiants
Red giant stars are pretty extreme…in physical size, at least; when the sun goes red giant it will swell up immensely. It may well swallow up the earth, and certainly will swallow up Mercury and Venus.
Red giant phases are the common denominator, for stars about 30% of sun-mass and up. (A star about ten times the mass of the sun becomes a 'supergiant' but that's essentially the same thing, just much bigger. Examples are Betelegeuse and Antares.) All such stars swell up and burn helium; the more massive ones will continue past that, burning carbon, oxygen and eventually silicon; then they will start on iron.
White Dwarfs
White dwarfs are even more extreme. They're about the size of the earth (and remember they're the corpses of something a few tens or even hundreds of thousand times the mass of earth), so they are very dense, many tons per teaspoonful. There's basically nothing to stop the star from collapsing once it no longer generates energy and heat from nuclear fusion, so it does precisely that: collapses. The end result is a star corpse, held "up" purely by the repulsion of the electrons in it. It does, of course grow hotter as the pressure increases during the collapse, so this corpse glows white hot. But that heat simply radiates away, never to be replaced. White dwarfs will cool off and stop radiating visible light…eventually.
Heavier stars go through all of this, but at the end, the electron repulsion won't stop the collapse. The star is simply too massive, the self-gravitation of all that mass is just…too much.
This sort of star shows up after a core-collapse supernova, which isn't just a Boom! or even a KaBoom!!! It's most assuredly an earth-shattering kaboom.
Literally. If our sun were to do this, Earth would be literally blown to bits. Not just "oh all the life on the surface got wiped out," I mean blown to bits. Fortunately our Sun isn't nearly massive enough for this to happen…and it won't even get to white dwarf status for another five billion years or so. (So no, you shouldn't skip paying your bills.)
Neutron Stars (Pulsars)
In a neutron star the pressure is so great that the electrons are forced into the nuclei. They combine with the protons, and the star simply turns into a big mass of neutrons.
Neutron stars will form whenever the leftover remnant of the star is more than 1.4 times the mass of the sun. This number is known as Chandrasekhar's limit because was calculated in 1931 by Subrahmanyan Chandrasekhar. At that time, though, he had simply calculated when the electron pressure would fail; he didn't realize that a ball of neutrons would form if, say, the star's mass was just above his number. (The neutron hadn't been discovered yet.)
A neutron star is roughly ten miles across.
Compressing the star into something that small makes for a very dense object. Imagine the weight of the Great Pyramid in a teaspoon. It also does two other things: First, remember your angular momentum. As a rotating object shrinks, it rotates faster and faster. And stars do rotate.
The typical neutron star rotates a couple of thousand times per second.
Also, the star had a magnetic field. Concentrating that into a smaller star simply makes it more intense. More than likely the poles of the magnet won't be lined up with the axis of rotation, so as the star rotates, its magnetic poles sweep across the sky like a lighthouse. A lighthouse on your washing machine's spin cycle. (Though even that isn't nearly fast enough.) The star ejects all sorts of particles along its magnetic axes, and over time it slows down.
These stars were first discovered via radio telescope in 1967 by Jocelyn Bell. The signals from them are so regular that at first some thought we might finally have found little green men. Eventually we figured out what was going on and they were dubbed "pulsars" (from pulsating stars).
This video is audio of a few pulsars, first ones rotating slowly enough we perceive the individual pulses. But at higher frequencies we simply hear a tone of the matching frequency.
But even this is not as extreme as it gets.
Black Holes
If the star's core remnant (after large parts of it get blown away) is sufficiently massive, even the neutrons are crushed.
As far as we know, there's nothing to stop complete collapse at this point. And by complete, I mean collapse until the star has zero diameter. And I do mean zero. Which also means an infinite density.
An infinite density doesn't seem physically possible–nature abhors infinities–but if there's anything to prevent it, it's beyond the ken of present day physics.
Or perhaps it's not an issue at all.
Yes, I am talking about black holes.
Why is it called a black hole?
As you might imagine, these extreme stars (even the relatively un-extreme white dwarf) have very high surface gravities. After all that's part-and-parcel of crushing matter down to such small sizes.
The sun's surface gravity is about 28 times that of earth. That's 28 g. An object that weighs one pound on earth would weigh 28 pounds on the sun.
A white dwarf might have the same mass as the sun but be far more compact, that means the radius is smaller and the strength of the force of gravity goes up as the radius goes down. In fact, half the radius is four times the strength. So a white dwarf might have a surface gravity of 100,000 g.
A neutron star typically has a surface gravity of 100 billion g.
Each of these implies a surface escape velocity. The earth's escape velocity is about 11 km/second, the sun's escape velocity is 617 kilometers per second. That white dwarf will come in at about 3000 kilometers per second. A neutron star will come in at 100,000 kilometers per second.
That's about a third of the speed of light.
Well, that should bring up the question: Can something exist where the surface gravity is so high that the escape velocity is the speed of light? Or higher?
If so it'd be impossible to escape that object. You can't launch a rocket that fast, because any object with mass can't even reach the speed of light–let alone exceed it.
This idea isn't particularly new. John Michel, in 1784, wondered if there might be stars so massive their light couldn't escape them. He called them dark stars. He imagined an object the same density as the sun, but perhaps 500 times the diameter.
Of course he didn't understand that an object so massive would simply crush itself down to a denser, smaller object, even going past the neutron star limit. He had no idea what neutrons were; no one did.
The critique his idea faced wasn't on that basis. A couple of decades after his suggestion, light became understood as a wave with no mass, and by Newtonian theory the force of gravity requires an object with mass, acting on another object with mass. The two masses are multiplied together (then multiplied and divided by other things) to compute the force
If one of the two objects has no mass, the force is zero. According to the Newtonian understanding of gravity, therefore, light should be totally unaffected by gravity, and it would still escape the so-called "dark star" which wouldn't, therefore, be dark at all.
But then the idea became worth taking seriously again after 1915, when Albert Einstein's theory of general relativity was put forth. And even more so after general relativity was bolstered by Arthur Eddington's measurements of apparent star positions during a solar eclipse.
Gravity now was understood not as a force between two masses, which had to be proportional to their product, but rather as distortions in spacetime caused by any mass.
So a high-mass star bends spacetime. And any object travelling freely, without any acceleration being applied to it, would try to follow those bends. Even an object with no mass at all, because the object's mass plays no role in determining its path. It's not experiencing a force at all.
This is not to say there isn't a force involved when standing, say, on a planet. The Newtonian understanding is that an object is being pulled toward another object by a force, and (if it's an apple and a planet) the surface of the planet is acted upon by the force on the apple, giving the sensation that the apple has weight. The Einsteinian understanding is that the apple is trying to travel a straight line in space time, because that's what all things do, but the surface of the planet is pushing the apple off the path, applying a force to it, and thereby presenting the sensation of weight.
Once the idea of a dark star became reasonable again, the theory guys got back to work.
The Tolman-Oppenheimer-Volkoff limit, about 2.17 solar masses (though it's a lot harder to nail down this value, so don't hold me to it), is the upper limit of neutron star mass. Past that, the neutrons can't hold the star "up" and it just keeps collapsing.
There's nothing known that can prevent it from collapsing down to an infinitely dense mathematical point. Which is a physical absurdity. But of course, we don't know everything, and as I hinted at above, it might not even be an issue.
What would one of these objects look like?
It would emit absolutely no light. Or anything else. (It might emit Hawking radiation, which I'll hopefully remember to explain a bit later.)
Regardless of the actual size of the object, there is a certain radius from the center, above which the escape velocity is below the speed of light, and below which, the escape velocity is above the speed of light.
Because of that anything below that radius, is invisible to us, it's gone from the universe, never to return. This level is called the event horizon, or sometimes the Schwarzschild surface, after the man who first did this particular computation, characterizing a non-rotating black hole. And the radius of that surface is called the Schwarzschild radius.
And its blackness led to the name "black hole," which was coined by a student of John Wheeler's in 1967. Wheeler decided it was perfect and used it himself and it caught on.
The only way we can tell anything is there is from the object's gravitation. The black hole has two other properties: if the stuff inside the event horizon has a net electrical charge, so will the black hole, and also, the black hole might rotate, which could change the shape of the event horizon.
A black hole formed from a collapsing star will certainly be rotating, even faster than the pulsars do because the radius is that much smaller.
If we can't see one of these things, how will we ever detect one?
I dropped a couple of hints above, but there's also another way, and that's to detect the matter falling into a black hole before it crosses the event horizon.
Consider a binary star system. The two stars are formed at the same time, but the more massive of the pair ultimately goes supernova and ends up being a black hole. The black hole and what's left of the other star after the big kaboom will continue orbiting each other. If the distance between the two is small enough, then an interesting thing occurs. Ordinary stars constantly lose some mass through their "solar wind" and coronal mass ejections. In this case, some of that mass will hit the black hole, or come very close to it. It can be gravitationally captured by the black hole, resulting in a spinning disc of gas.
Gas, in orbit, will eventually collapse into the black hole. This wouldn't necessarily be true of a single discrete object, but the gas consists of individual atoms that bump into each other, and some of those particles lose velocity as a result. Over time, the gas spirals inward, at faster and faster speeds: its temperature can reach millions of degrees, and it will emit X-rays due to its black body radiation.
We can see those X rays.
The very first black hole to be seen is known as Cygnus X-1, because it was the first X-ray source discovered in the constellation Cygnus (which contains the northern cross–at this time of year it's in the western sky immediately after sunset). This source was discovered in 1964, and by the mid 1970s it was accepted as being a black hole, with a companion star losing mass through the "accretion disc."
The amount of energy lost by matter in the accretion disc is about a third of the energy of the mass of that material from E=mc2. If we could actually "tame" a black hole and feed anything, even garbage into it, then harness the radiation output from the accretion disc, it'd be a fantastic source of energy.
For reasons that (as I understand it) are still unclear, there are often two jets of energy coming out from near the event horizon perpendicular to the accretion disk, too. Below is an artist's conception: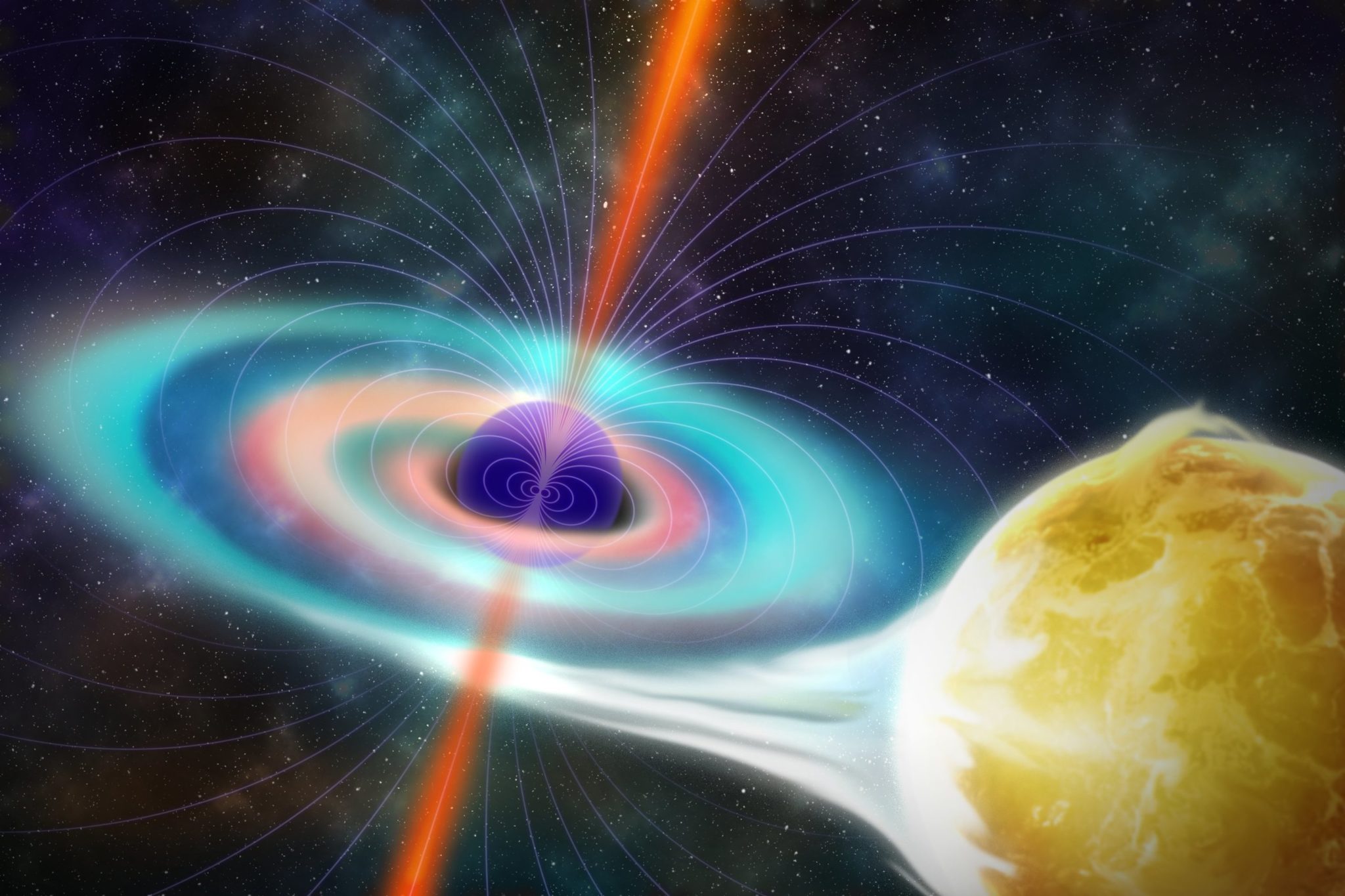 There was, however, another surprise in store for astronomers. When they began using radio telescopes in the 1950s, they identified a number of point-like radio sources, and by analyzing their spectra they were able to tell that these objects were very, very, very distant (I'll discuss that some more next time). They were named "Quasi Stellar radio sources" which got shortened to "quasar." For many years these were a mystery. It turned out that these things were belting out truly enormous amounts of energy, far more so entire galaxies. And we had every reason to believe they were small.
We now believe we understand these objects.
It turns out that every galaxy has, at its center, a supermassive black hole, one with anywhere from ten thousand to billions of times the mass of the sun. The one at the center of the galaxy M-87 is particularly enormous, about 6.5 billion solar masses, and we've been able to image its accretion disc with radio telescopes; below is a false color image based on that data:
With M-87's central black hole we can even see one of the jets being shot out of the thing. Below is a picture of the core of M-87 taken by the Hubble Space Telescope; the blue is a false color rendering of one of the jets.
Quasars are far away, which means we are seeing the light that left them a long time ago, many billions of years. It seems that young galaxies go through a phase where vast quantities of matter is falling into their central black holes, and that accounts for the astounding amount of energy blasting out of these things.
What about our galaxy, the Milky Way? Though we can't see, with visible light, the center of our galaxy–there's too much dust and gas in the line of sight–we can see the stars near the center with infrared light.
And after watching them for about ten or fifteen years, it became clear they were orbiting something invisible. They were orbiting close enough that that put an upper constraint on that object's size, and their orbital speed showed the mass of the object: four million times the mass of the sun. This object is known as Sagittarius A* (pronounced "A-star") because it too is a radio source; it's constantly sucking in small amounts of debris and gas.
One of these central stars has been rather imaginitively named S2 and its motion over the past couple of years is practically iconic to astronomers:
Here is plot of S2's position over time:
And a plot of the orbits of dozens of stars shows them in orbit about something. Here are a few prominent ones including S2.
[If you remember that objects orbiting much more massive ones do so in ellipses, with the primary object at one of the foci of the ellipse, you might object to what you're seeing in this last diagram. The black dot represents the black hole, and it's clearly not at the focus of many of those ellipses. (The foci of an ellipse are both on the center-line, drawn along the long axis of the ellipse, called the major axis; in the case of S2 that centerline is to the right of the black dot.) This difficulty is overcome, though, when we realize we're not looking at those ellipses face on. We're looking at them at some sort of oblique angle. What you see when you look at an ellipse at an oblique angle is always a different ellipse with different (apparent) foci. Think of looking at the outline of a circular manhole cover from, say 30 feet away and five or six feet above the roadway; that outline appears elliptical. If the manhole cover itself were elliptical, you'd see some different ellipse, depending on its orientation from your point of view it might appear skinnier (more eccentric) or rounder (less eccentric) than the actual ellipse is.]
The conclusion that the dark object at the center of this mess has the mass of four million suns came from determining, based on the speed of the objects at different points on the ellipses, the actual orientation of their orbits (if an object moves most quickly at a certain point on the ellipse, you know that, whatever the ellipse looks like to us, that point is actually the point nearest the primary), and from this the actual lengths of the axes of these ellipses, and hence going from there to the mass of the primary. (The period of the orbit depends on the mass of the primary and the major axis, only–though astronomers' formulae actually work with half the length of the major axis, called the "semi-major axis.")
It should be a source of amazement that we can collect this data from so far away (approximately 30,000 light years or 180 quadrillion miles) and infer there is a nearly invisible object there, at the very center of our galaxy, and figure out its mass.
But in telling you this, I've actually gotten ahead of myself.
We really need to go back to the 1920s again. And explain galaxies and those staggering distances to the quasars.
But before I conclude, there's a lot I did not say here. I didn't discuss wormholes and using black holes to get into hyperspace, and all of that. Largely because all of that is very, very speculative and even if true, would probably destroy any spaceship that tried it.
As you get close to a black hole you feel very high tidal stresses. If you're going in foot first, your feet feel considerably more gravity than your head, because they're closer to the source of the gravity. (This effect exists even here, but is unnoticeable because the difference in force between your feet and your head is small.) This results in a net force that tries to stretch you out; if it's strong enough it will stretch you out, it will be stronger than the bonds between the molecules that make you up. And the closer you get the stronger this tidal stress gets.
People who study black holes actually, and I am not making this up, call it "spaghettification." Any solid object gets stretched into something looking like spaghetti.
If it were you, you'd feel this happen very quickly.
If someone were well outside the black hole watching, though, he'd never see the process end. Remember that under general relativity, lower objects's clocks run slower than higher objects' clocks do. And you can't get any lower than the event horizon of a black hole. The observer far away will see you come to a standstill as your clock gets slower and slower, never quite reaching the time at which you cross the event horizon.
This might be the answer to the objection that an infinitely dense mass at a point is physically absurd. The collapse of the black hole itself might not ever complete because the clock runs slower and slower. This is actually speculation too; the math is extremely difficult and as far as I know no one has managed to solve the problem yet.
Well, that's my rather over-simplified and under-coherent account of black holes. If you want a much more complete treatment, I suggest you go to the Wikipoo article on black holes.
Obligatory PSAs and Reminders
China is Lower than Whale Shit
Remember Hong Kong!!!
中国是个混蛋 !!!
Zhōngguò shì gè hùndàn !!!
China is asshoe !!!
China is in the White House
Since Wednesday, January 20 at Noon EST, the bought-and-paid for His Fraudulency Joseph Biden has been in the White House. It's as good as having China in the Oval Office.
Joe Biden is Asshoe
China is in the White House, because Joe Biden is in the White House, and Joe Biden is identically equal to China. China is Asshoe. Therefore, Joe Biden is Asshoe.
But of course the much more important thing to realize:
Joe Biden Didn't Win
乔*拜登没赢 !!!
Qiáo Bài dēng méi yíng !!!
Joe Biden didn't win !!!