Yo, Brian Stelter!
When I was a kid, I got nicknamed "Bald Eagle" because I actually was getting notably thin "up there." Of course today "Bald Eagle" might be a cool nickname, but in Junior High School, it definitely was not a cool thing.
Fast forward to today, and now here I am over twenty years older than you are, and even in spite of that poor start, I have better hair than you do.
And I am not a piss-guzzling, shit-gobbling communist "journalist" (what a sick joke) either.
On both accounts you must absolutely hate looking into the mirror.
And Oh By The Way probably more people read my physics posts than watch you bloviate on air.
RINOs an Endangered Species?
If Only!
According to Wikipoo, et. al., the Northern White Rhinoceros (Ceratotherium simum cottoni) is a critically endangered species. Apparently two females live on a wildlife preserve in Sudan, and no males are known to be alive. So basically, this species is dead as soon as the females die of old age. Presently they are watched over by armed guards 24/7.
Biologists have been trying to cross them with the other subspecies, Southern White Rhinoceroses (Rhinoceri?) without success; and some genetic analyses suggest that perhaps they aren't two subspecies at all, but two distinct species, which would make the whole project a lot more difficult.
I should hope if the American RINO (Parasitus rectum pseudoconservativum) is ever this endangered, there will be heroic efforts not to save the species, but rather to push the remainder off a cliff. Onto punji sticks. With feces smeared on them. Failing that a good bath in red fuming nitric acid will do.
But I'm not done ranting about RINOs.
The RINOs (if they are capable of any introspection whatsoever) probably wonder why they constantly have to deal with "populist" eruptions like the Trump-led MAGA movement. That would be because the so-called populists stand for absolutely nothing except for going along to get along. That allows the Left to drive the culture and politics.
Given the results of Tuesday's elections, the Left will now push harder, and the RINOs will now turn even squishier than they were before.
I well remember 1989-1990 in my state when the RINO establishment started preaching the message that a conservative simply couldn't win in Colorado. Never mind the fact that Reagan had won the state TWICE (in 1984 bringing in a veto-proof state house and senate with him) and GHWB had won after (falsely!) assuring everyone that a vote for him was a vote for Reagan's third term.
This is how the RINOs function. They push, push, push the line that only a "moderate" can get elected. Stomp them when they pull that shit. Tell everyone in ear shot that that's exactly what the Left wants you to think, and oh-by-the-way-Mister-RINO if you're in this party selling the same message as the Left…well, whythefuckexactly are you in this party, you piece of rancid weasel shit?
Justice Must Be Done.
The prior election must be acknowledged as fraudulent, and steps must be taken to prosecute the fraudsters and restore integrity to the system. (This doesn't necessarily include deposing Joe and Hoe and putting Trump where he belongs, but it would certainly be a lot easier to fix our broken electoral system with the right people in charge.)
Nothing else matters at this point. Talking about trying again in 2022 or 2024 is pointless otherwise. Which is not to say one must never talk about this, but rather that one must account for this in ones planning; if fixing the fraud in the system is not part of the plan, you have no plan.
This will necessarily be piecemeal, state by state, which is why I am encouraged by those states working to change their laws to alleviate the fraud both via computer and via bogus voters. If enough states do that we might end up with a working majority in Congress and that would be something Trump never really had.
Lawyer Appeasement Section
OK now for the fine print.
This is the WQTH Daily Thread. You know the drill. There's no Poltical correctness, but civility is a requirement. There are Important Guidelines, here, with an addendum on 20191110.
We have a new board – called The U Tree – where people can take each other to the woodshed without fear of censorship or moderation.
And remember Wheatie's Rules:
1. No food fights
2. No running with scissors.
3. If you bring snacks, bring enough for everyone.
4. Zeroth rule of gun safety: Don't let the government get your guns.
5. Rule one of gun safety: The gun is always loaded.
5a. If you actually want the gun to be loaded, like because you're checking out a bump in the night, then it's empty.
6. Rule two of gun safety: Never point the gun at anything you're not willing to destroy.
7. Rule three: Keep your finger off the trigger until ready to fire.
8. Rule the fourth: Be sure of your target and what is behind it.
(Hmm a few extras seem to have crept in.)
While We Wait…and Wait…and Wait, for The Storm
Beethoven's Sixth Symphony is called the Pastoral symphony, because its theme was a day spent in the country. The fourth (of five) movements depicts a storm, and is subtitled 'Thunder Storm.'
The fifth is subtitled "Shepherds' Song. Happy and Thankful Feelings after the Storm (Allegretto)." The fifth movement is the first thing I listened to on Thursday before Thanksgiving as it appeared that the wretched "poo flu" was finally going away. (It finally was gone a day later.)
Beethoven's Fifth (dah dah dah daaaaah….) and Sixth symphonies both premiered at the same concert on 22 December, 1808 in Vienna. The entire four hour program was filled with new Beethoven music, conducted by Beethoven himself. It's an almost infamous moment in music history as the whole thing bordered on being a fiasco. The orchestra was lackluster, and one of the other vocal pieces suffered by being sung by a teenager with stage fright. The original performer had quit after Beethoven insulted her. Fellow composer Antonio Salieri (the same Salieri depicted so unfavorably [and unjustly so] in Amadeus) was holding a benefit concert the same day, and he and Beethoven nearly had a falling out over the schedule conflict.
Purism Phones–Do NOT Purchase
I know for quite some time I have been looking forward to the Purism smart phone, entirely open source with hardware kill switches for the camera, mike and other things. They're basically Linux boxes with call capability. I've touted them on this site. I now wish I had not.
Alas they have been slow coming onto the market, and their main page says "Shipping Now" (for the USA version of the phone.
The implication is that if you order your phone it will be shipped soon.
Multiple people, me among them, have been waiting over half a year for the phone that is "shipping now" and, candidly, I don't expect ever to receive it. Unfortunately the fine print in their order policy says you can't get a refund until they're ready to ship the phone. So I am out the money as well.
I don't expect anyone ordering today will get their phone any faster.
I can no longer recommend this company, even though I'm happy with the laptop they sold me three years ago. Their technical people are solid; their sales/web people, on the other hand…
Spot Prices
Last week:
Gold $1774.20
Silver $22.61
Platinum $940.00
Palladium $1900.00
Rhodium $14,850.00
This week, 3 PM MT on Friday, markets closed for the weekend
Gold $1,783.20
Silver $22.27
Platinum $950.00
Palladium $1,852.00
Rhodium $14,800.00
At the end of the week: not a lot of movement this time, and all in different directions.
Part XXX (and the last)
Acceleration! Surprise!
A couple of go-backs and review
This is a video I should have included a couple of weeks ago.
Especially starting at 1:43, this is of interest because it lets you see how a nearly-uniform early universe "clumped up" over time. You focus on the same volume of space, and your field of view expands with the universe, so what you are looking at is basically the same matter following the history of the universe.
The filaments and lumpy areas contain millions of galaxies.
This is a computer simulation, of course, but at the end they compare it to what we actually see when we survey the universe. It's a pretty close match, so this simulation (unlike climatological models) is probably pretty close.
(Even though the simulation has a much, much bigger physical scope, the system is mathematically a lot simpler than a good climate model should be.)
And some reminders:
The critical density is the overall density of the universe that would be necessary for space to be flat (large triangles–and I mean large triangles, millions or billions of light years in extent–have inside angles that total to 180 degrees). Higher than this, and those triangles have total angles higher than 180 degrees, lower than that, the angles are less. Generally this gets set up in such a way that 1 equals the critical density and you'll often see a ratio quoted. Judging from the matter and dark matter we are able to detect, the density is Ω = 0.3; i.e., the universe is at 0.3 times the critical density.
Energy also makes a contribution since it is equivalent to mass. But in our current universe, there is far more mass than there are photons, once you do the conversion. We live in a matter-dominated universe. Once upon a time, it was actually dominated by photons. But when the universe doubles in size, the amount of matter per cubic meter is 1/8th what it was before (because the volume is 2x2x2=8 times as much). But the same thing happens to the photons, when you count photons. But, because their wavelengths have stretched, each individual photon is now half as energetic as it was before, so the amount of energy from photons is 1/16th what it was before. If you run that tape backwards, and go back far enough, eventually photons dominate over matter.
The critical density also determines the ultimate fate of the universe. If Ω > 1, the universe's expansion will eventually halt, reverse, and there will be a "big crunch" at some point in the future.
If Ω < 1, the universe will continue to expand forever, and the expansion velocity will always exceed zero. At time infinity the expansion velocity will still be some positive number.
If Ω = 1 exactly, as time goes to infinity the universe expands slower and slower, and the speed of the expansion will go to zero at time infinity.
(These cases are analogous to a rocket being fired at less than, greater than, and exactly at escape velocity.)
The cosmic redshift, Z, of some galaxy or galaxy cluster, will be some number greater than zero. It's directly related to the ratio of the size of the universe back when that galaxy emitted the light we are now seeing, and the size today (which is set to 1). [See part 27] If a galaxy's redshift is Z=1, then just add one to that number (getting…let me see here…where's my calculator? Ah!) 2, and you know that today's universe is twice the size it was when that galaxy emitted the light, or alternatively, it was 1/2 the size then that it is now.
OK, now on to new stuff.
The Quest to Plot the History of the Universe
I mentioned recently that actually plotting Hubble's Constant versus time has been an important preoccupation of astronomers and cosmologists.
As it sits right now, near our own galaxy space seems to be expanding at 70 kilometers per second, per megaparsec distant from here. Galaxies one megaparsec away are receding at 70 km/sec, those two megaparsecs away are receding at 140 km/sec, and so on. That's the speed due to the expansion of space itself, the so called "comoving speed." Galaxies might also have some additional velocity because they're gravitationally attracted to some other galaxy; this is how it is that M-31, the "Andromeda Galaxy," is actually moving towards us (and will collide in about 5 billion years, about the same time CNN finally broadcasts a truthful news story, probably by mistake).
This was actually used, for a while, as the next rung on the cosmic distance ladder. If you couldn't see any Cepheid variables in a galaxy because it was just too darn far away, you could measure its redshift, compute its velocity, and divide by Hubble's Constant, and get a rough estimate of how far away the galaxy is.
The problem is, no one actually thinks the Hubble Constant is, well, constant. They usually call it the Hubble Parameter, and its current value is labeled H0 to denote "Hubble's Parameter right now."
It's expected that it was higher in the past, and will drop in the future, because the galaxies all attract each other, which puts the brakes on the expansion. One of the big questions has been whether the galaxies will eventually stop receding, then reverse and start coming back together into a Big Crunch, or whether their speed will reach zero as the separation reaches infinity (just barely not a Big Crunch, like being exactly at escape velocity), or whether there's extra speed and the galaxies will always be moving apart from each other.
So if we can measure the red shift (easy–in fact it's the only easy thing to measure), and the distance to the galaxy, we can determine what H was back then, or equivalently, be able to plot the scale factor versus time.
What we know to start with is the scale factor of the universe (by definition, it's 1) and today's Hubble parameter. And the time can be set to 0, arbitrarily. Negative times are times in the past, positive times, are in the future.
We can set up a graph like this and plot the one point we know on it and (since the Hubble parameter is a rate of expansion) the slope of the line it's on, right now: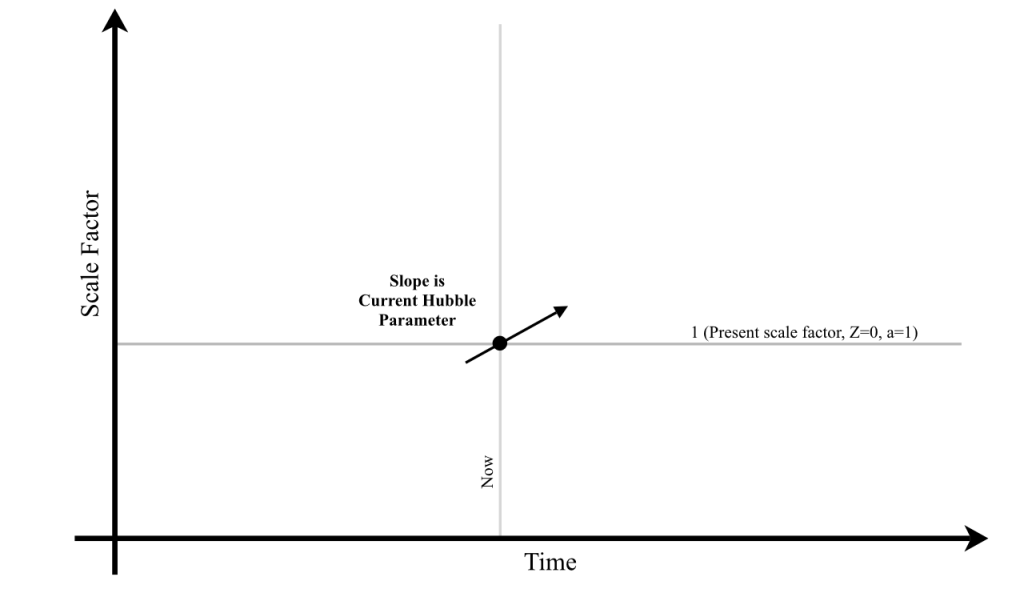 But now we don't know what the rest of the line is.
If the density of the universe is Ω>1, the slope should decrease rapidly in the future (and should have decreased up until now, quite rapidly); we can draw a notional line for that case, and as you can see the universe expands (distances between galaxies increase) up to some time in the future, then it shrinks again. But this line must cross through our one known point representing the present time and present size of the universe; and where it crosses through our point it has to be at the same slope.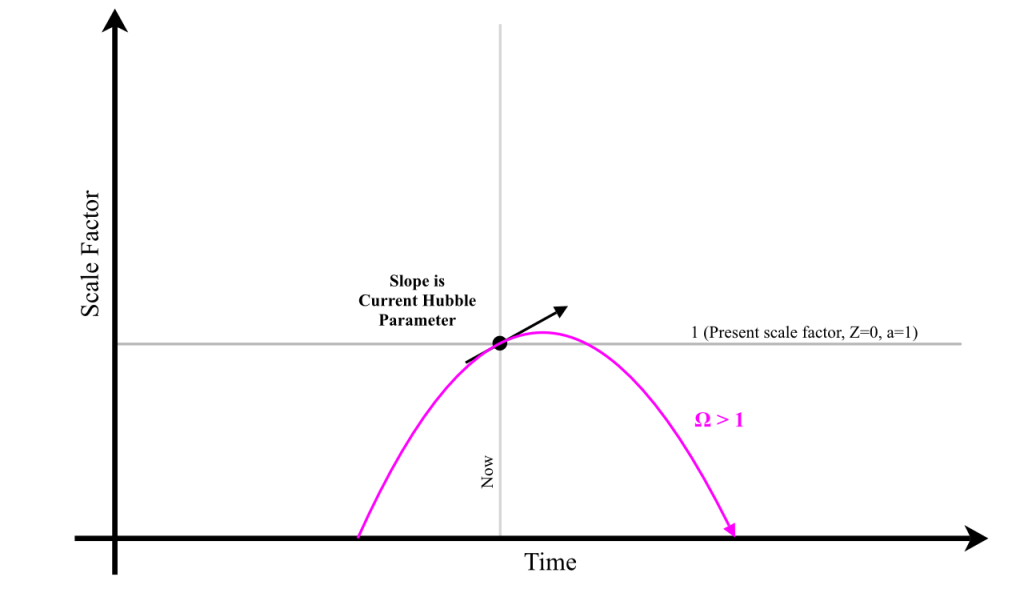 We can add two more lines for Ω = 1 and Ω < 1. And even a third for Ω = 0, in which case the expansion rate is constant–the same as our original slope. In all three cases the conditions for "now" have to match what we actually see.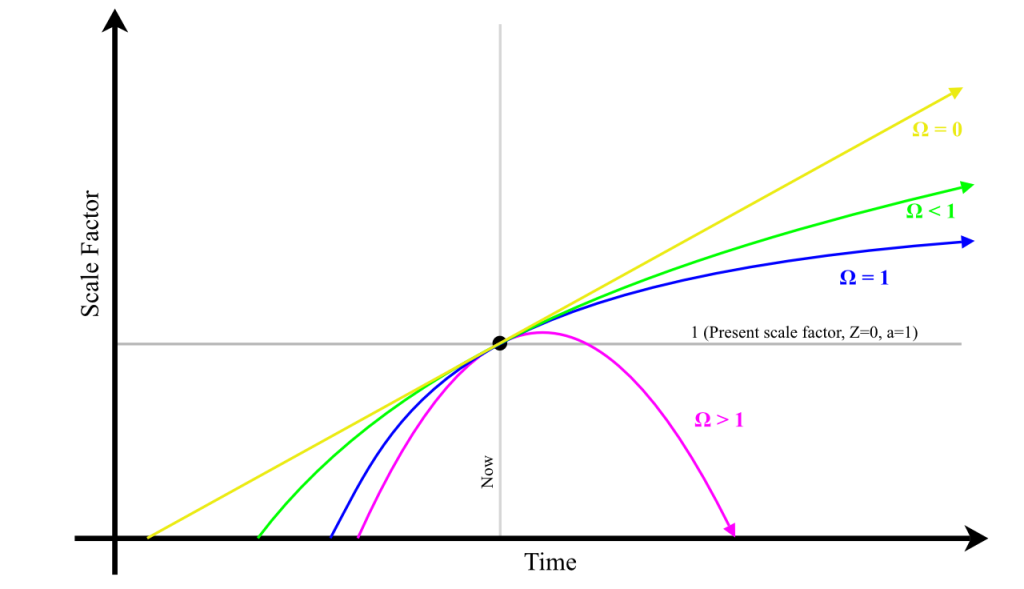 One thing to notice–the faster the universe's expansion is slowing down, the closer in time to today was when the universe had zero size…in other words, the more recent was the Big Bang.
In other words if we can plot the scale factor versus time, we know how old the universe is and we find out what the Hubble parameter was at different times in the past…and because we will now know for certain what Ω is, we can extrapolate into the future.
Although we can currently see back to fairly low scale factors, we don't know where in time those scale factors are, so we don't know the shape of the line we want to plot.
And in order to know the time, we need to measure the distance. Because, with light carrying the image, the distance is proportional to how long ago the light was emitted. A galaxy a billion light years away is being seen as it was a billion years ago–and the redshift it has represents the universe's scale factor, a billion years ago. This is called the lookback time and it directly correlates with distance.
So we need, for every galaxy, a scale factor and a lookback time.
The scale factor relates easily to the redshift, and the red shift is easy to measure.
Lookback time relates easily to distance, but distance is, as I said a few weeks ago, a cast iron bitch to measure. For very distant galaxies, all of the methods I've mentioned so far are useless. Even the Cepheid variables are unusable, because at those distances they're too faint to pick out from the rest of the galaxies they are in. (And simply extrapolating the current Hubble parameter–well, that's the gross approximation we're trying to replace.)
We need a new standard candle, one much brighter than a Cepheid variable.
Once we have that, we can fill in the lines, and it's pretty much expected it will look like the green, blue, or purple lines.
As it happens, we do have a brighter "standard" candle, but it's rare and evanescent. If one is in a galaxy now, it'll be gone in a year and it might be decades before another one appears in that galaxy.
The Other Kind of Supernova
A few weeks ago I talked about supernovas. Specifically, I talked about core collapse supernovas–ones that result from a large star finally losing its battle against gravity as it begins trying to fuse iron to generate energy–and it turns out that reaction consumes energy.
But those aren't the only type of supernova. There are two major types and core collapse supernovas are actually labeled Type II. What's Type I, then?
Consider a binary star. One of the stars is a white dwarf–basically a star smaller than or maybe just a little bit larger than the sun, having run out of hydrogen and helium, now shrunken down into a very dense ember that will take billions of years to finally cool off.
The other star is, perhaps, a red giant, because it's a star that hasn't quite reached the end of its life…yet.
The outer layers of the red giant may very well be so close to the white dwarf that the white dwarf strips them away and adds that material to itself.
The only problem is, there's an upper limit to how massive a white dwarf can be; about 1.44 times the mass of the sun. (This isn't quite the same thing as Chandrasekhar's limit, but it is related.)
If enough matter gets pulled into the white dwarf, it could cross that limit. A star that exceeded that limit in the first place would have become a neutron star (or perhaps even a black hole if it really busts that limit). In this case, though, it's a bit different and what ends up happening is a large proportion of this "dead" white dwarf suddenly undergoes a chain reaction and the gas from the other star, plus the carbon and oxygen already in the white dwarf, fuses.
All at once.
There's a big explosion, known as a "Type Ia Supernova." (That's supposed to be a Roman numeral I. Sans serif fonts can be stupid sometimes.)
It turns out that every Type Ia supernova is identical in brightness. If you see two of them, and one looks a quarter as bright as the other, you know that the fainter one is twice as far away. Also, they follow the same luminosity curve. So even if you don't catch it at its brightest, you can watch it fade for a while match that curve to part of the full curve for a Type Ia, and then figure out how bright it had been.
(And I need to be clear, you can tell from the spectrum what kind of supernova it is–no one will mistake a Core Collapse for a Ia.)
And a supernova of either type can outshine the galaxy it's in. Very easy to see, as easy as the galaxy is.
So if we look at a galaxy and happen to catch a Type Ia supernova in progress, we can measure the distance to that galaxy by measuring the brightness of the supernova, and match that distance with the redshift.
As I indicated before, though, these are fairly rare occurrences; any particular galaxy might not have a Type Ia supernova for decades. But for our purposes, we don't need to measure every galaxy's distance, just a representative sample of them.
And there are a lot of galaxies. The usual estimate (based on the Hubble Deep Space Field, a photograph taken by Hubble where it simply "stared" at one part of space for months, to bring up even the faintest objects in that direction) is 100 billion galaxies that we can see from Earth. I've even seen some articles go ten times higher to an even trillion.
What we want to do, then, is hunt for Type Ia supernovae in distant galaxies, and use those to get a distance and redshift reading for those galaxies. We do this by photographing thousands upon thousands of galaxies, then going back later to look at them again. If we see a new "star" there, it is a candidate supernova. Further observation will hopefully establish it's a Type Ia supernova.
This project was undertaken by two separate teams in the 1990s. When they spotted a Type Ia supernova, they'd look again a while later to see how much the supernova had dimmed. They could then figure out what part of the fading of the supernova they were witnessing, and know how bright it had been originally.
Here's just one example.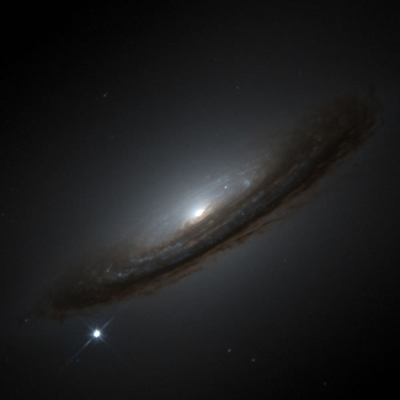 Often when they show pictures of a supernova, there will be two arrows pointing to it, added in post-processing, so they often joke that all you have to do is look for arrows in the sky to find one.
The two teams were the High-Z Supernova Search Team led by Brian Schmidt and Nicholas P Suntzeff, and the Supernova Cosmology Project led by Saul Perlmutter.
The rivalry was friendly.
Both teams were actually glad the other team was doing the same thing; they would thereby serve as a check for each other. But that doesn't mean the wanted the other team to be first.
In 1998, Adam Reiss from the High Z Supernova Search Team published his team's results; and shortly after that, the other team published as well.
Was the expansion of the universe slowing down rapidly, indicating that we'd end up in a Big Crunch someday (Ω>1)? Was it expanding in such a way that it'd never quite slow down to zero, indicating the amount of "stuff" in the universe was at the critical density (Ω=1)? Or did it have excess energy and would never slow down to zero (Ω<1)?
Scientists were fairly confident that Ω=1. Because we seem to be close to that value by every measurement ever made, and calculations indicated that we had to have been much, much closer to 1 in the distant past. At some point, if Ω really is 0.3 now, in the distant past it would have been Ω=0.99999999999. Why would it not just be at 1.0 in the first place?
Well, thanks to those two teams, we know the shape of the curve. And the answer is:
None Of The Above
Surprise!!!
(This is why we check theory against reality, folks!)
The expansion of the universe is accelerating. And has been for a few billion years. Before that, it was indeed slowing down, but now, some unknown factor was becoming more prominent and starting to give the universe a big push.
Here's what's actually going on, shown in red: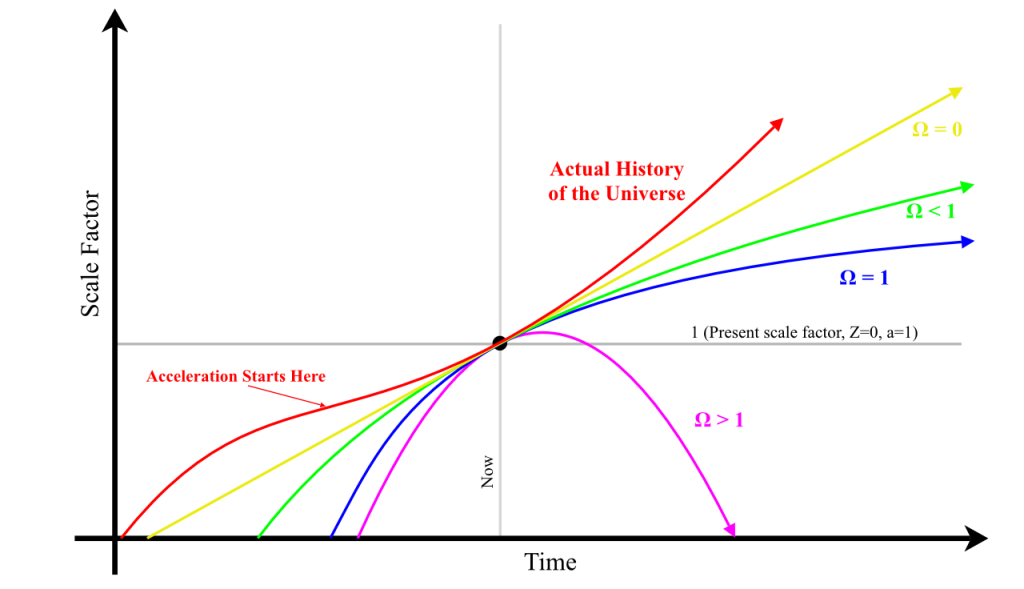 This was very, very surprising, to say the least.
(This is, by the way, the sort of moment a good scientist lives for: finding something totally unexpected that forces a re-evaluation.)
Something is pushing the universe apart, something that became dominant over gravity a few billion years ago.
What is that something?
We don't know.
That doesn't stop us from giving it a name, and that name is "Dark Energy."
We know it's some form of energy. And we believe that it's absolutely, uniformly distributed throughout space.
And we know that when we add it all together, its total mass-equivalent is 0.70 Ω.
Which means Ω = 1.0 and space is flat…which is what we've been measuring. So even though the blue curve isn't right…we have the Ω value it was supposed to match with.
So now we know, at a very high level, what the universe is made of. About 70% Dark Energy, 25% Dark Matter, and 5% ordinary matter and photons.
That means that we really don't have even the most basic understanding of 95% of the stuff in the universe!
Science is far from done with this!
Notice something else too: With that history, the universe is slightly older than it would have been otherwise. That solves the nagging problem of those old globular clusters that turn out to be older than the universe was thought to be. And so now the best figure for the age of the universe is now: 13.787±0.020 billion years.
And there are a couple of other nagging problems that are neatly solved by this, which is why it's pretty much accepted by astrophysicists and cosmologists today, even though it was a total "WTF!!" when it was first announced.
So what does the future hold? The universe will continue to expand. Eventually, many billions or even trillions of years from now, future astronomers will only be able to see the local group of galaxies. Those are gravitationally bound to each other and therefore don't move apart as space expands.
Some speculate that the repulsion is going to grow stronger and stronger as the universe expands, so that the local group will get ripped apart, then the individual galaxies, then even stars and planets…and perhaps even molecules, atoms and nucleons, and that those last few phases will happen very quickly when they do get here. This is called the "big rip" but I hasten to remind any reading this, that it is speculative.
We'd sure like to know what Dark Energy actually is. Then we could at least speculate more intelligently.
Some think it might be "vacuum energy," energy inherent in quantum fluctuations in even totally empty space. The only problem is when we try to calculate how much vacuum energy there ought to be, it's something like 10112 joules per cubic meter. Which is to say 1046 times more energy than has been released by all the stars in all of the galaxies throughout the entire history of the universe so far (note: that's from a quick back-of-the envelope calculation I did, but I shouldn't be off by more than a factor of a billion–puny by comparison to these numbers). Whereas dark energy, whatever it is, would have to be about 10-8 joules per cubic meter to fit what we are seeing.
That's only an error of a factor of 10120, which I will write out, The theory gives a value for vacuum energy
1,000,000,000,000,000,000,000,000,000,000,000,000,000,000,000,000,000,000,000,000,
000,000,000,000,000,000,000,000,000,000,000,000,000,000,000,000,000,000,000,000
times as high as it "ought" to be, to fit dark energy. This seems to just about everyone to indicate that the theory of vacuum energy might need to be polished just a bit, since it is even more wrong than Critical Race Theory.
There's an idea of something called "quintessence" which would be a sort of energy inherent in vacuum, though the amount of it per cubic meter is allowed to change over time. (It's absolutely uniform at any given time, but that amount can change with time.)
And finally, there's Einstein's cosmological constant, which he called his greatest mistake ever. Maybe not!
Einstein used the Greek letter Λ (capital lambda–that's not an A, and if it was, it'd be missing the crossbar) to represent this constant, and he used it as a "fudge factor" to prevent the universe from collapsing when he first tried to apply general relativity to the whole universe. That's because everyone back in the late 1910s thought the universe was static. Hubble and Lemaitre had not yet discovered the universe was expanding under the impetus from the Big Bang.
Even if dark energy doesn't turn out to be Einstein's cosmological constant, it's often symbolized by Λ anyway.
Since Λ is uniform per cubic meter of space, and space is growing, the total amount of Dark Energy is increasing as the universe expands. The total amount of matter remains the same (though it gets spread thinner and thinner), and the energy in photons is actually decreasing with time. So it stands to reason that at some point dark energy becomes dominant, and indeed it already has since it is already over half of the stuff in the universe.
So we have a universe which consists of dark energy and cold dark matter (cold because dark matter moves a lot slower than the speed of light). The ordinary matter we are made of is insignificant by comparison.
The model is called the ΛCDM ("Lambda Cee Dee Em") model.
And now for my editorial comment: Λ will be uniformly spread throughout space. When we find out what it is, it probably won't be very complicated. Cold dark matter will likely be more complicated, but not very complex in structure; after all it only reacts weakly. (That is a double meaning: it reacts weakly in the usual sense, and it also reacts with the weak nuclear force.) Regular old matter, on the other hand, has a vast variety of structures. That is, after all, what chemistry and more broadly, material science is all about, and of course you are made of it too. So the complexity will probably turn out to be almost entirely in that 5 percent of the universe that is "ordinary" matter.
Where To From Here?
I've brought us up to the present day. Yes, this is the last part of the "physics posts," at least so far as the historical approach goes. If you're still with me, go buy the "I survived SteveInCO's Deplorable Physics Posts" bumper sticker. (If on the other hand, you just scrolled over them…you ain't earned it! No stolen valor, please!)
Theoretical physicists are trying to figure out what dark matter and dark energy are. On the dark matter front, they're trying to come up with coherent predictions of new particles, everything from string theory to supersymmetry and even membrane theory. All of this is entirely speculative; nothing has been detected, and many of the theories aren't even refined enough to make a prediction that can be checked.
And dark energy, being much more recently noticed, is completely off the wall.
Which is not to say that absolutely nothing has happened since 1998. But it's stuff I've already covered, like the top quark and the Higgs boson.
How about astrophysics? Thanks to the Hubble Space Telescope and various very large telescopes on Earth (Palomar is still doing excellent work, despite being built in the mid 20th century–what a feat of engineering–but it has plenty of company now, much larger telescopes using adaptive optics to cancel out the turbulence of our own atmosphere), we can see things thirteen billion light years away–just barely. Why no further? Ideally we'd like to get back past those last six or seven hundred million years, maybe see back to shortly after the Cosmic Microwave Background, which was a mere 300-400 thousand years after the big bang.
Because further away than about ten billion light years, things become so red-shifted that we do not see any visible light at all; it has all been stretched to infrared wavelengths. If you have infrared sensors, this can be dealt with, but there are enormous practical problems that limit what can be done.
Visible light has wavelengths 380-800 nanometers (billionths of a meter). The short wavelength/high frequency light looks violet, the longer/low frequency light looks red. The cosmological red shift at extreme distances pushes all of the light from galaxies out past 800 nanometers.
Hubble's sensors can't see anything longer than about 2400 nanometers, and earth's atmosphere blocks things at that wavelength, so we're currently limited as to how far into the infrared we can see. If we want to see the very oldest galaxies, and better yet, the individual big stars that we think formed very shortly after the big bang, we're going to need a bigger telescope, and one that can see deep into the infrared.
We don't have one. Not yet. That will be a topic for next week.
One Loose End
One of the 1894 mysteries hasn't come to complete closure even yet, but we know the outlines of the answer.
How was the solar system formed?
Well, we know what happens. The Hubble Space Telescope has looked into the Orion Nebula and can actually see stars and their planetary systems being formed, and it is indeed by accretion from nebulae.
The bulk of the mass ends up in the star, but there's a large disk of gas and dust (and that "dust" is all stuff that formed in prior generations of stars) that eventually starts to clump up into small bodies, which collect into larger bodies called "planetesimals" which in turn combine into planets.
What we don't understand is how some of those stages of growth actually happen. For instance, a B-B sized particle of stuff colliding with a 1 meter boulder will likely ricochet off of it, rather than sticking to it. Gravity just isn't strong enough for objects of that size. So even though we can actually watch the process happen–which settles a lot of things–we still don't understand it.
If just seeing it happen is good enough, check that one off; if you want a full understanding, then don't.
What A Ride, And It's Not Over
There's so much we know that we didn't know before Galileo did his first experiments rolling balls down inclined planes, a bit over four centuries ago…but there is also so much we don't know. The hard sciences seem to have gone through a golden age already, but I suspect the best is yet to come.
We are humans, we use our minds as our primary means of survival. That comes with curiosity, a desire to learn what makes the universe 'tick.' And then inventiveness to put it to use. It's our unique legacy, but it's also our future. We press on!
NOT the end. The story is still being written.
Obligatory PSAs and Reminders
China is Lower than Whale Shit
To conclude: My standard Public Service Announcement. We don't want to forget this!!!
Remember Hong Kong!!!
中国是个混蛋 !!!
Zhōngguò shì gè hùndàn !!!
China is asshoe !!!
China is in the White House
Since Wednesday, January 20 at Noon EST, the bought-and-paid for Joseph Biden has been in the White House. It's as good as having China in the Oval Office.
Joe Biden is Asshoe
China is in the White House, because Joe Biden is in the White House, and Joe Biden is identically equal to China. China is Asshoe. Therefore, Joe Biden is Asshoe.
But of course the much more important thing to realize:
Joe Biden Didn't Win
乔*拜登没赢 !!!
Qiáo Bài dēng méi yíng !!!
Joe Biden didn't win !!!