Watch carefully, because you will RARELY see angry, vicious, red diaper communist hoaxing exposed as CLEARLY and DEEPLY as it has been with Jussie Smollett.
Here is the New York Post, calling it like it is. Well, almost.
---
By Gabrielle Fonrouge
December 9, 2021 6:18 pm  
Updated
---
Career boost? BULLSHIT.
Wait for the evidence I'm going to show you.
Don't assume that the "to boost career" stuff is actually true. That is a RATIONALIZATION. In my opinion, our desire to EXCUSE a malicious race hoax to the less heinous crime of "personal gain" is a psychological gimme to Jussie Smollett – a kind of peace offering – but in reality it is a form of DENIAL.
The communists will GLADLY allow you to cover up THEIR crimes with YOUR self-deception.
We want to deny the VICIOUSNESS of black race hoaxing, but it is every bit as evil as the classic mirror opposite – the psychologically depraved white woman who falsely accuses a black man of rape. Both crimes are detestable in the extreme, and deserve punishment that sets an example.
"DON'T DO THIS. EVER."
Social/political hoaxing is not, at its core, a "Black" thing. It is a COMMUNIST thing. And it is NOT Jussie Smollett's "Black" roots that are actually behind what is going on. It's his BOLSHEVIK roots, way back in Russia and Eastern Europe, that set the course of Jussie Smollett's life.
Jussie Smollett, like his entire family of media-ready lib-sibs, is a PBS DUMPSTER FIRE out of the Soviet Union, pushed into America almost a century ago and STILL causing Stalinist destruction.
It's time to take a closer look at what is REALLY going on with Jussie Smollett.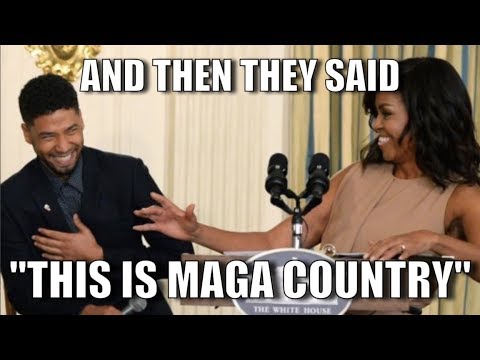 ---
START HERE, with a wonderful editorial by the New York Post, fully engaged in the CRT wars, and understanding that Jussie Smollett / Cory Booker / Kamala Harris HOAXING, CRT / SEL race-mongering, Soros DAs and AGs putting criminals back on the streets, and BLM / ANTIFA / RevCom violence are all part of the same cycle of destructive race-grifting which keeps communism fed what it needs – people as human tinder, and which in reality keeps black America "down on the farm" by the most insidious form of oppression, namely by SELF-OPPRESSION.
By Post Editorial Board
December 9, 2021 6:43 pm  
Updated
ARCHIVE: https://archive.fo/GjQrO
---
What is that BLM defense? Again, the New York Post.
By Kenneth Garger
December 8, 2021 11:13 pm  
Updated
---
This is communism sticking to a story for political ends. Jussie Smollett caught "red-handed" means nothing to them.
This is EXACTLY like "Mumia" – the guilty-as-hell cop-killer who everybody knows is FACTUALLY guilty, but who the left always proclaims innocent by a kind of "group lie", which pretends that evidence simply doesn't exist – and that extends all the way to election theft, here in 2020 and beyond.
---
So who exactly IS Jussie Smollett?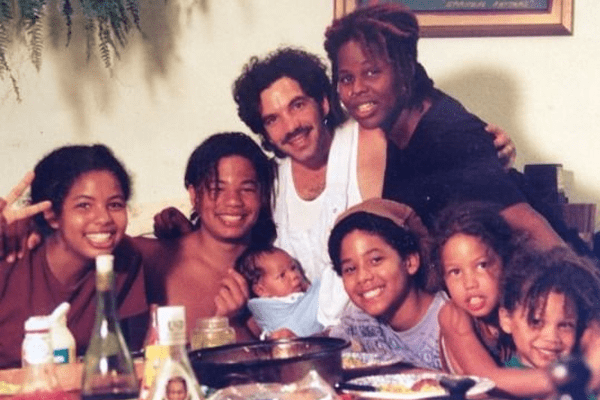 Jussie Smollett comes from a family of Soviet social activists who came to North America and proceeded to ply their communist trade from one generation to the next. The Smolletts were ALWAYS never more than a step away from the MEDIA and HOLLYWOOD.
If you follow the family, you will see that Smollett kids were RAISED to be media manipulators.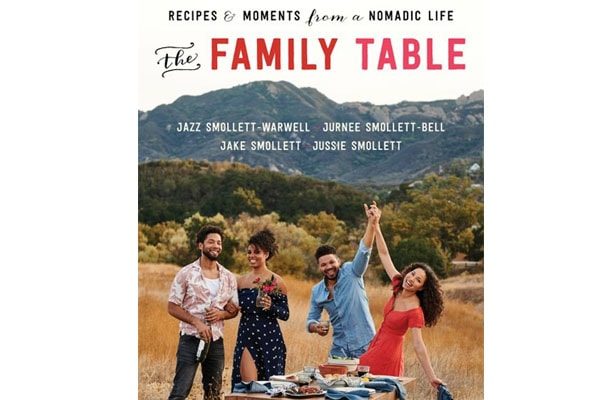 LINK: http://superbhub.com/biography/janet-smollett-net-worth-children/
ARCHIVE: https://archive.fo/9CrtH
LINK: http://superbhub.com/entertainment/joel-smollett-sr-husband-janet-six-kids-dead/
ARCHIVE: https://archive.fo/Sm9kd
---
The trick with Jussie Smollett is getting good information about HIS red diaper parents, and going from there to THEIR red diaper parents.
It's not easy to find, but what little REAL political information is available about BOTH of Jussie's parents is MIND-BOGGLING.
LINK: https://justrichest.com/joel-smollett-bio-wife-janet-smollett-facts/
ARCHIVE: https://archive.fo/vuzfa
As you will see, Jussie's entire lineage is connected to TOP leftist radicals for DECADES.
These are NOT ordinary people.
---
FTA: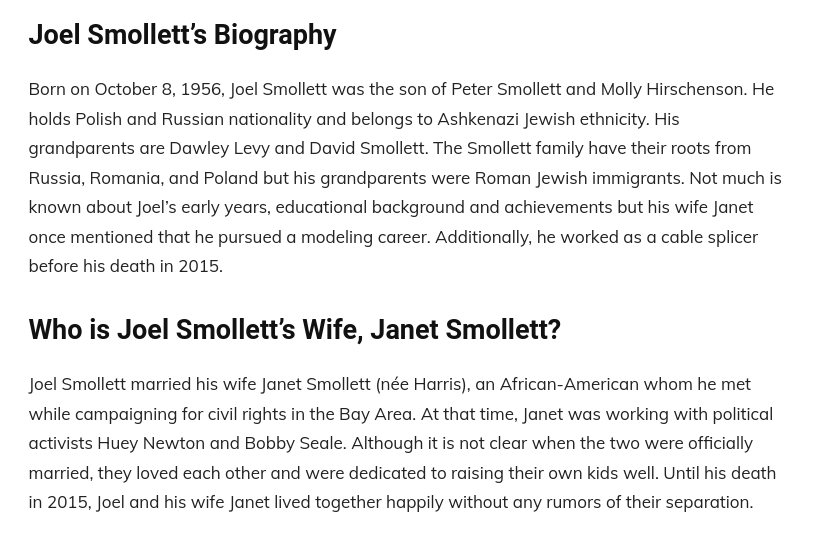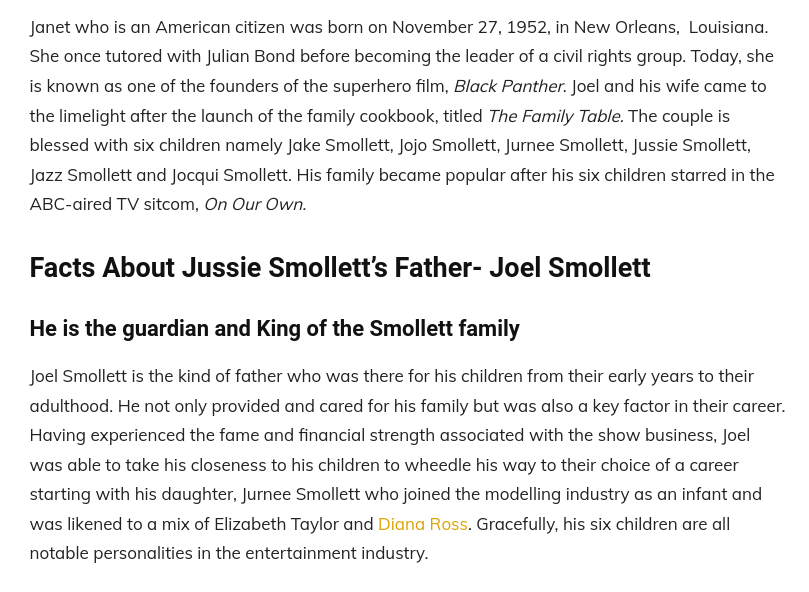 It's clear just from what little we can find here that:
Jussie's mother was connected to TOP black radicals and powerful politicians
Jussie's father was connected to Hollywood from before the kids were born, and used those connections to get the kids into media and programming from early on
There is much confusion about "junior and senior" on Jussie's father Joel, and I find this typical of diaper families, where obscurity by confusion is used to pass off immigrant communist background as "ordinary".
But let's take that bit of information about his father PETER SMOLLETT and see where that leads:
Somewhere they obviously do NOT want you to look.
THIS is the MOTHER LODE.
LINK: https://www.legacy.com/obituaries/leaderpost/obituary.aspx?pid=184450120
ARCHIVE: https://archive.fo/37Pg7
FTA:
---
Peter Smollett February 26, 1930-February 19, 2017
Peter Smollett died on February 19, 2017 in Toronto, a week before his 87th birthday.
Peter was born on February 26, 1930 in Brooklyn, N.Y., and grew up in Far Rockaway, N.Y. He was the son of David Smollett and Dawley Smollett (née Levy), both from Eastern European Jewish immigrant families.
At 19 years old, in New York City, he apprenticed as a film editor. He continued work in the New York film industry during the 1950's and early 1960's, interrupted by some years working in Pennsylvania as an industrial worker and union organizer. During that period, he was married to Molly Smollett (née Hirschenson), and had two sons, Jeff and Joel.
In 1966, in New York, he married Eleanor Wenkart Smollett, a cultural anthropologist. They moved to Regina, Saskatchewan, where both went to work at the University of Regina. There they raised their daughter Rebecca.
For nearly two decades at the University of Regina, Peter taught innovative courses on the politics of the mass media, especially film, and on the evolution of the role of artists in society.
In the 1990's, Peter and Eleanor retired to Toronto. There they welcomed a son-in-law and two grandchildren into their lives.
Peter was a lifelong radical, a trade unionist, civil rights activist, self-educated person, reader and polemicist.
Peter leaves his immediate family in Toronto: his wife, Eleanor Wenkart Smollett, and his daughter, Rebecca Smollett, son-in-law David Ley, and their children, Abraham Ley and Yohanna Ley. As well, he is survived by his son from his first marriage, Jeff Smollett; the six adult children of his late son, Joel Smollett, and their children; his sister, Norma Goldwyn, nephew, Craig Goldwyn with wife Lou, and niece Ann Goldwyn with husband Peter.
To Plant Memorial Trees in memory, please visit our Sympathy Store.Published in Leader-Post on Mar. 11, 2017.
---
One of the BEST validations of what this all means is a comment on the obituary.
---
March 11, 2017
Peter had a huge influence on me when he was my film professor in Regina. His politics were progressive and his filmmaking and teaching skills impressive. I credit Peter with teaching me enough that I was able to fake my way through a career as a television journalist. My condolences to Eleanor and the crest of Peter's family.
Norm Bolen
---
There you have it – right there.
The Smollett family record is one of crypto-communist activism in America – STARTING with the immigration of Jussie's great-grand-parents. Not only is Jussie double-diaper from BOTH parents – he's got so much diaper on his father's side, he could start a laundry service.
Don't let these communists off the hook. This isn't some "prank", as Soros DA Kim Foxx tried to make it out to be.
NO – this is CLASSIC Alinsky hoaxing. It's malicious, it's anti-American, and it supports FOREIGN objectives on American soil.
My advice? Throw the BOOK at this familial communist creep.
And then find out what Kamala Harris knew, what Cory Booker knew, WHEN they knew it, and whether they are the ones who initiated the plot.
Look for burner phones used by aides. Remember Kamala's "fake cops"? Yes – she's perfectly capable of being part of a hoax.
Like all commie doings, DIRT leads to MORE DIRT.
Find it. It's there.
W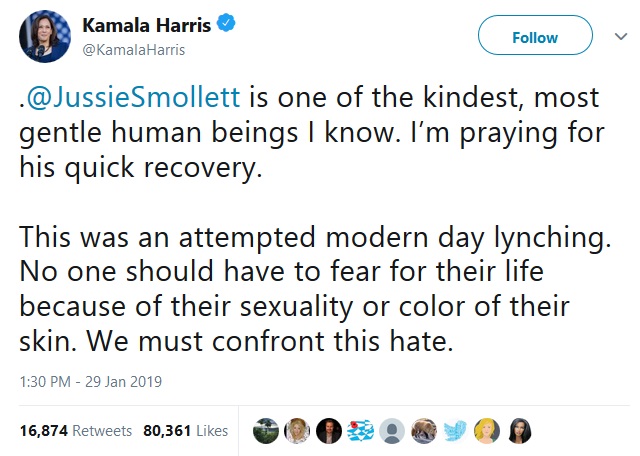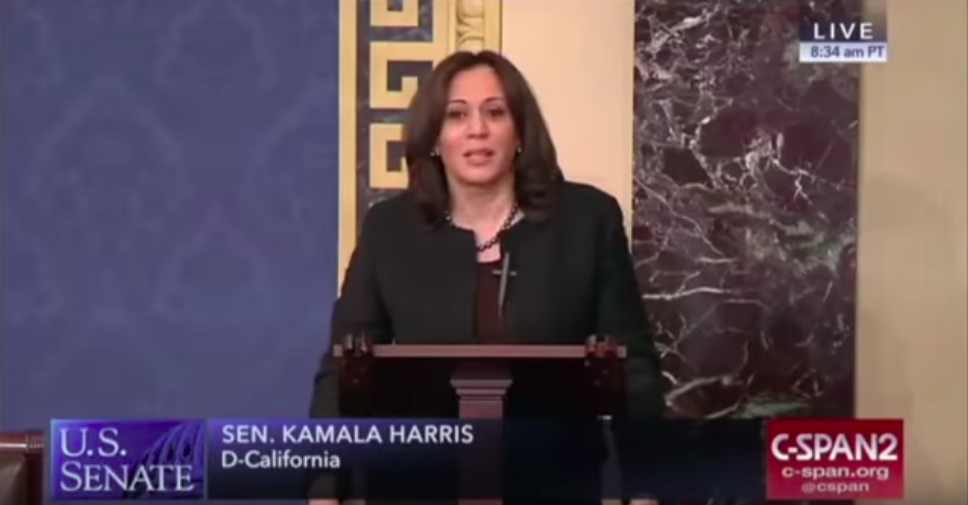 Kamala Harris introduces anti-lynching bill.