A Caution
Just remember…we might replace the RINO candidates. (Or we might not. The record is mixed even though there is more MAGA than there used to be.) But that will make no difference in the long run if the party officials, basically the Rhonna McDaniels (or however that's spelled–I suspect it's RINO), don't get replaced.
State party chairs, vice chairs, secretaries and so on, and the same at county levels, have huge influence on who ultimately gets nominated, and if these party wheelhorses are RINOs, they will work tirelessly to put their own pukey people on the ballot. In fact I'd not be surprised if some of our "MAGA" candidates are in fact, RINO plants, encouraged to run by the RINO party leadership when they realized that Lyn Cheney (and her ilk) were hopelessly compromised as effective candidates. The best way for them to deal with the opposition, of course, is to run it themselves.
Running good candidates is only HALF of the battle!
SPECIAL SECTION: Message For Our "Friends" In The Middle Kingdom
I normally save this for near the end, but…basically…up your shit-kicking barbarian asses. Yes, barbarian! It took a bunch of sailors in Western Asia to invent a real alphabet instead of badly drawn cartoons to write with. So much for your "civilization."
Yeah, the WORLD noticed you had to borrow the Latin alphabet to make Pinyin. Like with every other idea you had to steal from us "Foreign Devils" since you rammed your heads up your asses five centuries ago, you sure managed to bastardize it badly in the process.
Have you stopped eating bats yet? Are you shit-kickers still sleeping with farm animals?
Or maybe even just had the slightest inkling of treating lives as something you don't just casually dispose of?
中国是个混蛋 !!!
Zhōngguò shì gè hùndàn !!!
China is asshoe !!!
And here's my response to barbarian "asshoes" like you:
OK, with that rant out of my system…
Biden Gives Us Too Much Credit
…we can move on to the next one.
Apparently Biden (or his puppeteer) has decided we're to blame for all of the fail in the United States today.
Sorry to disappoint you Joe (or whoever), but you managed to do that all on your own; not only that, you wouldn't let us NOT give you the chance because you insisted on cheating your way into power.
Yep, you-all are incompetent, and so proud of it you expect our applause for your sincerity. Fuck that!!
It wouldn't be so bad, but you insist that everyone else have to share in your misery. Nope, can't have anyone get out from under it. Somehow your grand vision only works if every single other person on earth is forced to go along. So much as ONE PERSON not going along is enough to make it all fail, apparently.
In engineering school we're taught that a design that has seven to eight billion single points of failure…sucks.
Actually, we weren't taught that. Because it would never have occurred to the professors to use such a ridiculous example.
Justice Must Be Done.
The prior election must be acknowledged as fraudulent, and steps must be taken to prosecute the fraudsters and restore integrity to the system.
Lawyer Appeasement Section
OK now for the fine print.
This is the WQTH Daily Thread. You know the drill. There's no Poltical correctness, but civility is a requirement. There are Important Guidelines, here, with an addendum on 20191110.
We have a new board – called The U Tree – where people can take each other to the woodshed without fear of censorship or moderation.
And remember Wheatie's Rules:
1. No food fights
2. No running with scissors.
3. If you bring snacks, bring enough for everyone.
4. Zeroth rule of gun safety: Don't let the government get your guns.
5. Rule one of gun safety: The gun is always loaded.
5a. If you actually want the gun to be loaded, like because you're checking out a bump in the night, then it's empty.
6. Rule two of gun safety: Never point the gun at anything you're not willing to destroy.
7. Rule three: Keep your finger off the trigger until ready to fire.
8. Rule the fourth: Be sure of your target and what is behind it.
(Hmm a few extras seem to have crept in.)
A Side Rant (not my main science post)
I've seen multiple articles now (including one on Friday) that played fast-and-loose with the terms "rare earth element" and "rare earth metal" that I am going to just try (futilely) to set the record straight.
The two articles, one an old one that keeps regurgitating itself on the internet that called lithium a rare earth, and one recently that implied gallium was a rare earth, are the sort of thing that try to sound educated, but the analyst gets some basic facts right. Which is a shame because in both cases the basic conclusion is right. Whether certain metals are rare earth metals or not, it's nevertheless a really bad idea to rely on China to supply them.
Unfortunately if these guys get this basic fact wrong, many of the other facts they bring to their argument are also suspect, and I'd hesitate to use them in an argument. Which means I can't use their articles as sources to try to convince someone else that we shouldn't trust China (because…I seem to recall someone saying China is Asshole).
OK, exhibit One: the periodic table: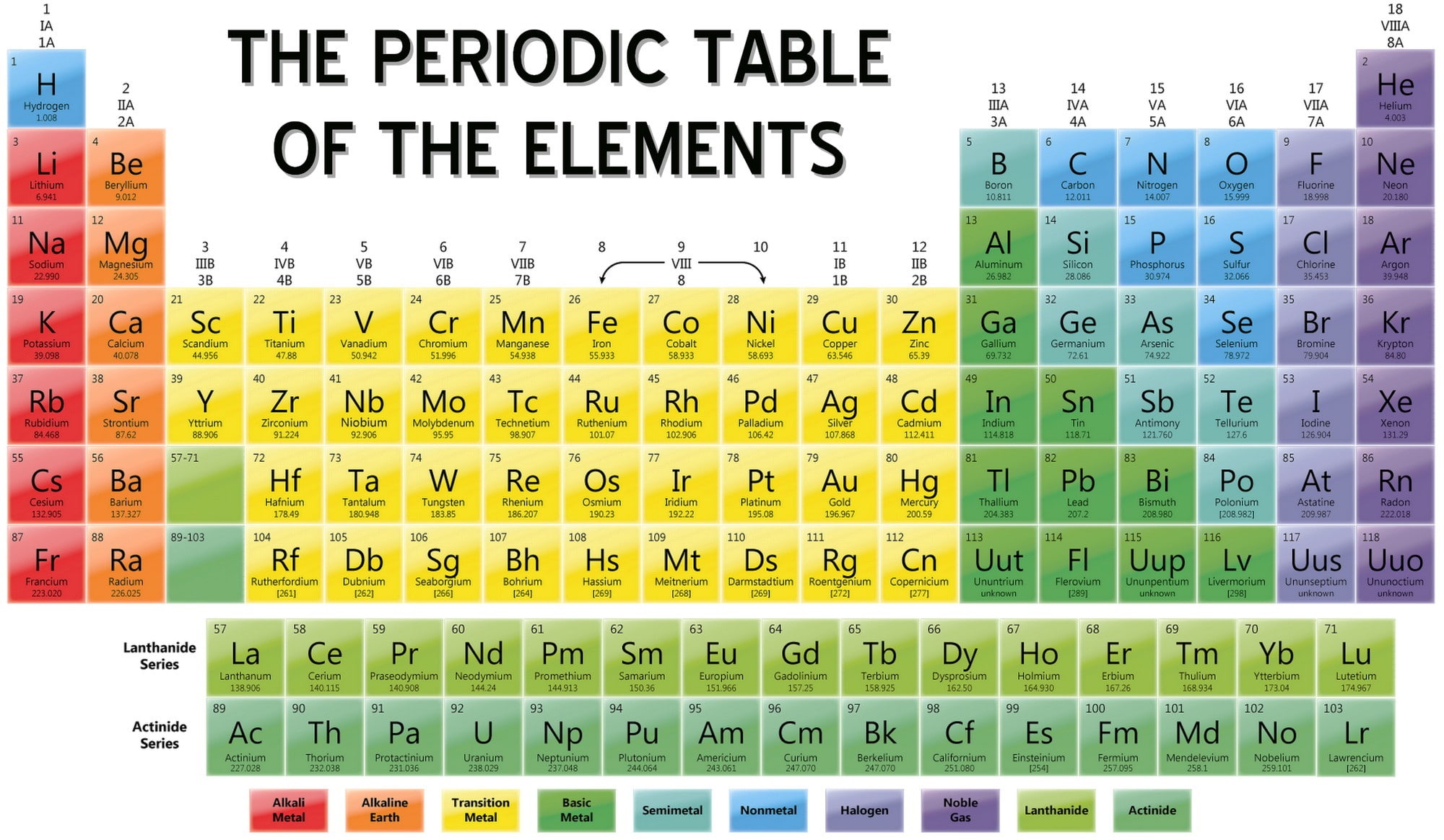 Note the coloration, representing different groupings of elements. Red and Orange are the Alkali Metals and Alkaline Earths, respectively. Combined, they are called the "s-block" for reasons I'm not going to go into now. Helium, on the upper right, is also really in the s-block. Note the s-block is 2 columns wide. Over on the right you see another tall area with purple, blue and a green triangle stairstepping downwards. This (minus helium) is the p-block. It's six columns wide. In the middle you have a great swath of yellow, ten columns wide, it's the d-block.
That just leaves the bunch at the bottom, which is fifteen blocks wide and called the f block.
In fact, the F block should be wedged in between the s and d blocks, but then you'd have a very wide table and the way it's done here it fits on an 8½ x 11 sheet of paper or in a book. But I won't let that stop me, here's an example.
In this case the S block (other than helium, top right) is blue, the p block is orange (and so is helium), the d block, red, and the f block, green. Note that in the first table, Lu and Lr are in the footnote; but in this diagram, they are directly under Sc and Y in the red block.
Another way to wedge the f block in is shown here:

This is a lower-res image, and color coded quite differently, but you can see they put La and Ac under Sc and Y in the third column. So, basically, the two blank boxes in the first diagram either get replaced by the last column of the footnote, or the first, respectively; and the rest of the columns are dropped in to the left or right of this, as appropriate. If you go with the last diagram, the d block gets split up.
Either way, when you do wedge the f-block in, one of the columns in the f block would fit right under Sc (scandium) and Y (yttrium) at the left and side of the d block, so the f block ends up being fourteen columns wide, not 15. One of the fifteen columns is really in the d block.
Note there's a sequence: s, two columns wide, p, six columns wide, d, ten columns wide, and f, fourteen columns wide. Each is four more than the one before it. It's likely the next (undiscovered) row of the table will include a g block with eighteen columns in it (and it will probably fit between the s and f blocks).
OK with that backdrop, let's talk about the rare earth elements.
The rare earth elements are basically: the top row of the f block, plus the the column with Y, Sc, and either La or Lu in it.
[Scientists until recently argued over which elements belong under yttrium. It was one of those "is Pluto a planet" type debates, and they settled on Lu and Lr being under Sc and Y…in other words like the first, rather garishly colored long table I showed.]
The rare earth elements are sort of like the Holy Roman Empire. The holy Roman Empire was neither holy, nor Roman, nor an empire. And the rare earths aren't particularly rare in the larger picture, nor are they especially earthy compared to the other elements. (What does that even mean, anyway?)
If you were to grab a notional "average" pile of dirt–average in composition for the entire crust of Earth, that is–and sort it, atom by atom, after you were done, you'd have more of some of the "rare" earths than copper (by weight, not necessarily the number of atoms). Some of the other "rare earths" are quite a bit more scarce but with one special exception that's due to other factors, all of them would show up far more often than gold or platinum, in fact even silver would be rarer than any of them (see chart below). The rarest "rare earth" (thulium) would be 0.52 parts per million, while the commonest, (cerium) would be 66.5 parts per million. This is not rare when you consider gold, platinum and the like are down in the single-digit or even fractional parts per billion.
In fact chemists sometimes try to school themselves not to use the name "rare earth" at all, since it combines one column of the d block, with one row of the f block.
OK, so where did this name come from? Let's start with "earth." These metals began to be discovered in 1787 and originally they showed up as oxides because that was the mineral form, and the chemists of the time couldn't break those molecules apart. This was before Lavoisier brought order to the naming of compounds, too, and the term for what we now call a metal oxide, was "earth."
OK, so why "rare" then? Well they did seem "rare" at the time, for reasons I'll get to. And they're also oddballs. Some history:
In 1787 a new mineral was discovered in Ytterby, Sweden, and named ytterbite after the town. A sample was sent to chemists at the Royal Academy of Turku, and there was a new "earth" in it; implying there was a new metal in it. The earth was named yttria, and the metal, yttrium (symbol Y). But then things started to get weird.
The more chemists played with this and a few other discoveries of similar minerals around the world, the more elements they kept finding. They were very chemically similar so hard to separate out, and it seemed like each time someone thought they had a pure earth, some wiseguy would come along and prove it was two or even three of them.
Eventually there were 16 of them…and in the early 1900s thanks to Mosely, we realized that there was still one remaining hole, a radioactive element almost totally absent from the earth's crust (it's the one exception I mentioned above). It probably wouldn't be terribly rare, either…if only it would quit vanishing almost as soon as it were formed.
When Mendeleev was first trying to lay out the periodic table as rows of eight or ten elements, the rare earths broke him. Yttrium seemed to fit tidily in the third column of one row, but all the others wanted to wedge into the third column two rows down, breaking the regular sequence of rows of eight or ten. (He laid his table out differently from modern tables, and I wonder whether he'd scream out "of course! Why didn't I think of that" if he could see today's table.)
These elements are now the f block row starting with lanthanum, plus scandium (not known in Mendeleev's day) and yttrium.
Chemists will more commonly call the first row of the f block the lanthanides, since that row starts with lanthanum, but even this is a bit of a misnomer since one of the 15 is really in the d block and shouldn't be considered a lanthanide. (This would be particularly ironic if it's actually lanthanum that's in the d block! You'd be naming a group of elements after an element that isn't even in the group!) [In case you were wondering, the second row starting with actinium is called the actinides, by analogy.]
As I mentioned before, these elements are very similar to each other chemically, and thus they not only tend to appear in the same ores, but are hard to separate out from each other. It wasn't until the 1950s or 60s that we finally could get pure samples of them in meaningful quantities.
Before that, they were expensive because what we could do, was laboratory-level-labor intensive. And another factor is, they don't tend to concentrate locally in ores as much as many better-known elements…so it's hard to find a good source. Crustally common they may be, but that does no good if you can't find an economically viable source of ore.
We're helped somewhat by the fact that there is a gradation through the f-block. Elements on the left end of the lanthanides…the "light rare earth elements" tend to rust and crumble even in dry air; the elements from gadolinium (Gd) rightward can actually form stable pieces of metal that will tarnish, but at least not turn back into earths. These are the heavy lanthanides. Some ores contain mostly "light" rare earths and others will be more "heavy" rare earths. Yttrium and scandium tend to appear in the heavy rare earth ores, which argues for them being above lutetium in the long table.
So these are the "rare earth elements" by present definition, the lanthanides plus scandium, yttrium, and lutetium.
If these elements are so chemically similar, why do they matter so much? It turns out that many of them have unusual magnetic properties, and many have emission lines in places in the spectrum that no other element has, so they're useful for lighting when you want a balanced spectrum (great for photography). These are differences that aren't relevant when considering chemical reactions and compounds.
You've probably heard of neodymium (Nd) magnets. And if you ever had an MRI done you may have had a gadolinium (Gd) compound injected into you; its magnetic properties make it stand out in the imaging. More mundanely, the red phosphor in color TVs relies on a rare earth, europium (which is the one that rusts and crumbles the fastest, by the way). And there is wiring in front of the light emitting elements of your monitor that is transparent, made partially from lanthanides.
But, to finally get to the point of my rant,
Lithium is not a rare earth. Neither is gallium. Lithium is in the first column, right below hydrogen…no where near the f block. Gallium is tucked in under aluminum, where the d and p blocks meet, even farther from the f block.
Maybe you want to just sweep that aside, and claim that a rare earth is anything that is rare, and then go on to point out that the "real" rare earths aren't. Aren't rare, that is.
Well, guess what?
It turns out that gallium (Ga) and lithium (Li) are both more common than the most common rare earth element. [OK, gallium is about tied with cerium, the most common rare earth.]
So if there's no justification for calling the rare earth elements rare earth elements, there certainly isn't for misapplying the label to gallium and lithium!
It's basically an excuse justifying the ignorance of the people writing the articles that others want to post. And a poor one.
The fact that the name "rare earth element" is historically used by the people who know about those elements the most, is ample reason to use it and insist that it be used correctly.
Having said that, however, it's obvious that the sloppy people are misusing the term in a very specific wa. They definition they are thinking of is something like: "obscure metals Americans are utterly reliant on, but have to buy overseas from shithole tyrannies who would love to put us over a barrel during a conflict by cutting off our supply."
That's a valid concept…it needs a label. But it needs and deserves its own label; it shouldn't hijack an existing one. Now, I've seen one that comes close to meaning that already, and that's "strategic metal." Strategic metals, however, don't necessarily come from hostile countries (though Brandon is trying to make that true by making every country hostile). So it's not quite right, but until we think of something better, it will work…a lot better than the ignorantly-applied "rare earth metal" which means something very different.
Spot Prices
All prices are Kitco Ask, 3PM MT Friday (at that time the markets close for the weekend).
Last Week:
Gold $1,920.80
Silver $22.85
Platinum $913.00
Palladium $1,260.00
Rhodium $4,700.00
So here it is, Friday, 3PM MT after markets closed and we see:
Gold $1,925.40
Silver $23.16
Platinum $920.00
Palladium $1,278.00
Rhodium $5,250.00
Not much to say here, that hasn't been said before.
Going Polar
Last week we left off with the notion that a complex number…the general case of any number that contains both a real and imaginary part…can be represented on a plane instead of the number line.
Of course, that's exactly the same thing as we do with ordered pairs…x and y. In other words, all that time you spent in algebra with graph paper is basically what's going on here.
The similarity isn't just superficial.
If you add two ordered pairs together, you get a certain answer. For example (3,4) + (5,-2) = (8, 2). If you write the corresponding complex numbers, 3+4i and 5-2i and add them together you get…wait for it…8+2i. There's a perfect analogy here.
Those ordered pairs resemble vectors, but they're not, quite; if you do think of them as vectors, you have to think of them as vectors that must start at 0,0…which isn't normally a restriction. (Any two vectors of the same length and orientation, regardless of where they are, are considered the same vector. But here the not-quite-a-vector must start at 0,0.)
But…you can multiply complex numbers together, but there's no really obvious way to multiply the ordered pairs. (There are two distinct ways of multiplying vectors together, but neither of them quite matches, either.)
Well, maybe there is a way. Time to take a cross country digression, that really isn't.
Polar Coordinates
There is actually another way to represent ordered pairs…and complex numbers.
Instead of putting the number(s) on a square grid, called the Cartesian coordinate system, put them on a radial or circular grid like this:
[Which…alas, should not be in degrees, it should be in radians, with 30° instead being π/6, 60° being π/3, etc., etc. (And 180° is π radians.) But this is what wikipoo dished up for me today so degrees it shall be.]
The red circles represent simple tape-measure distance from the center, denoted r. The blue (and black) lines, indicate the direction from the center, measured as an angle, this is denoted θ, (Greek letter theta, usually mangled by English speakers as "thay-tah" where the first syllable is like "say" with a lithp, not like "they"). This is in contrast to the Cartesian coordinates, where the vertical lines represent the distance to the right of the center vertical axis (without regard to how far up or down), and the horizontal lines represent the distance above the center horizontal axis (without regard to how far left or right).
So we have r, θ, instead of x, y. And this new system is called polar coordinates, likely because of the resemblance to what the latitude/longitude lines look like on a map of the north or south pole.
The same point on the plane can thus be denoted two different ways; they are absolutely equivalent. However, it's often the case that one of the two is very convenient for what you want to do right now…and the other is profoundly inconvenient. Pick the one you want.
But that implies being able to convert between the two. Put some point "out there" somewhere, if you know its Cartesian coordinates, can you figure out the polar coordinates? Or vice versa?
The answer is yes.
Let's look at a few obvious examples first.
If the innermost red circle has radius 1, then (1,0) in Cartesian coordinates, is 1, 0° in this diagram, meaning a distance of 1 from the center, at an angle of 0°. Similarly (0, 1) ends up being at 1, 90°.
But what if you want (1,1) translated into polar coordinates?
The answer is not, repeat not, 1, 45°.
You see, the point (1,1) is directly, plumb-line above (1,0) which is also 1, 0°.
And it is directly, spirit level, to the left of (0,1) or 1, 90°. That puts it outside of that innermost, distance=1 circle. Since the first number in polar coordinates is the distance, that tells you that the distance of (1,1) from the center isn't 1. It's something greater than 1.
Well, duh.
I say duh, because we've had the tools necessary to deal with this distance issue for over two thousand years. It's the Pythagorean theorem, or those doggone right triangles.
If you start with your Cartesian x and y coordinates, you square each of them. They are the legs of a right triangle; the distance is the hypotenuse. Once you add those two squares, you have the square of the distance:
r2 = x2 + y2
Or
r = √(x2 + y2)
(Which, by the way, means r will usually end up being an irrational number.)
OK, that's easy, right?
But what is θ? In this case we know it's 45°, because x and y are the same thing. And of course if either x or y were zero, we'd know it was 0°, 90°, 180°, or 270°.
That doesn't help us in the general case. What do you do with (3, 4)? We know that r is 5 (since 3, 4, 5 is the cliche Pythagorean triple you see in story problems all the freaking time…except when they get clever and hit you with 6, 8, and 10 or better yet, 5, 12 and 13). But what on earth is that angle?
Well, for that you need…trigonometry.
Yes, trigonometry returns, like a bad penny.
Recap of Trig
I briefly touched on trigonometry a few weeks ago. I'll recap here.
The start of trigonometry is to consider the "unit circle." This is the circle of radius 1 (and thus diameter=2) centered on the origin, 0.0. So the right side of the circle touches (1,0), the top edge is at (0,1), the left edge (-1,0), and the bottom at (0,-1).
Consider measuring along the curve of the circle, starting at the rightmost point at (1,0). If you follow the curve exactly one unit, you've covered an angle of one radian. If you walk halfway around the circle, to (-1,0) you've covered a distance of exactly π, so that's π radians. It's simply another way to measure angles, one defined by the ratio of the length of the arc, to the radius of the circle. This is fudge-factor free in technical terms, so it tends to be the way mathematicians and physicists prefer to measure angles.
Now, place the circle on a Cartesian grid. You can go to any point on the circle, and 1) there's some angle measured from (1,0) counterclockwise that describes that point; that's actually θ. (r of course is 1 on a unit circle.) 2) that point also has (x, y) coordinates in the Cartesian grid.
You can define a function, where given an angle θ on the unit circle, the function gives you x. You can define another function that, for the same θ, gives you y. These are respectively the cosine and sine, respectively (and are abbreviated cos and sin).
This time the Wikipoo diagram is perfect:
If you were to plot these functions versus θ you would see the following:
for cosine, and for sine:
The graphs stop at θ=2π because the functions simply repeat, over and over. Which is logical because once you've gone around the circle once (2π radians), you're back where you started, and another five degrees after that will just look like the first five degrees did.
If you're thinking the two curves are identical, just offset from each other, you're right. The sine lags the cosine by 90 degrees or π/2.
Another thing to notice is that almost any cosine or sine value can come from more than one angle. Looking, for instance, at the sine graph, it hits 1/2 at two places…one just before 1/4π and one just after 3/4π. (In fact it's at 1/6π and 5/6π.)
There is one more function that will be useful to us shortly, and that is the tangent, abbreviated tan. This is the rise over the run for the angle θ, in other words its grade or slope. You can find this by dividing the sine by the cosine. But be careful, if the cosine is zero, then only Donald Trump (being Batman) can do the computation, the rest of us are not allowed to divide by zero.
Here is the tangent, graphed:
Note that it zooms off to infinity at π/2 (sine is close to 1, cosine is close to zero. Dividing by a small number leaves you with a big one). Right after π/2 though it's a negative number. Because the sine is still positive, but the cosine is now negative–the point is to the left of the y axis. And note these kind of swoopy curves repeat not every 2π radians (360 degrees) but every π radians (or 180 degrees).
OK, we're actually well on our way to being able to convert polar to Cartesian, and back.
Converting Polar to Cartesian, and Vice Versa
It's actually easiest to explain this if we go from polar to Cartesian first.
In polar coordinates we have a distance, r, and angle, θ. We just saw that on a unit circle, θ is associated with x and y, which is what we want, by the cosine and sine functions. So, if it just so happens that r is 1, then:
x = cos(θ)
y = sin(θ)
Of course, almost all points are not on the unit circle.
Luckily we can just scale things. If r is 2, just multiply your cosine and sine by 2. If it's 1/8th, multiply your sine and cosine by 1/8.
Bascially, just multiply them by whatever r happens to be.
So we have:
x = rcos(θ)
y = rsin(θ)
That's nice and tidy. It's a little more complex going the opposite way, from Cartesian to polar.
It's easy enough to compute r with the Pythagorean trick, as mentioned above:
r = √(x2 + y2)
The angle could be computed by reversing the two formulas above. Divide x and y by r, and you have a sine and cosine for θ. You can reverse these functions, the reverses are called the arccosine and arcsine (arccos and arcsin or cos-1 or sin-1). Each one is likely to give you two answers (remember how 1/2 shows up twice in the sine and cosine graphs, so the arcsine of 1/2 could be two different angles), but only one answer will show up in both places.
But there's an easier way to do it as long as you keep your brain engaged. Divide y by x, and you have the tangent of the angle. Then just take the arctangent and you have θ.
Well, almost. If x is zero, don't do this. Instead just look at y, and if y is positive, θ is 90 degrees, if y is negative, θ is 270 degrees.
The other problem is that the tangents of the angles from 180-270 degrees are the same as the tangents of the angles from 0-90. Similarly the angles from 90-180 and 270-360 have the same tangents. So, go ahead and take your arctangent…but then, if y is negative, your angle is between 180-360 not between 0 and 180.
OK…yes, there was a point to this. I'd go on, but I've probably already overloaded some brains here. So next week, I'll continue this.
Obligatory PSAs and Reminders
China is Lower than Whale Shit
Remember Hong Kong!!!
中国是个混蛋 !!!
Zhōngguò shì gè hùndàn !!!
China is asshoe !!!
China is in the White House
Since Wednesday, January 20 at Noon EST, the bought-and-paid for His Fraudulency Joseph Biden has been in the White House. It's as good as having China in the Oval Office.
Joe Biden is Asshoe
China is in the White House, because Joe Biden is in the White House, and Joe Biden is identically equal to China. China is Asshoe. Therefore, Joe Biden is Asshoe.
But of course the much more important thing to realize:
Joe Biden Didn't Win
乔*拜登没赢 !!!
Qiáo Bài dēng méi yíng !!!
Joe Biden didn't win !!!