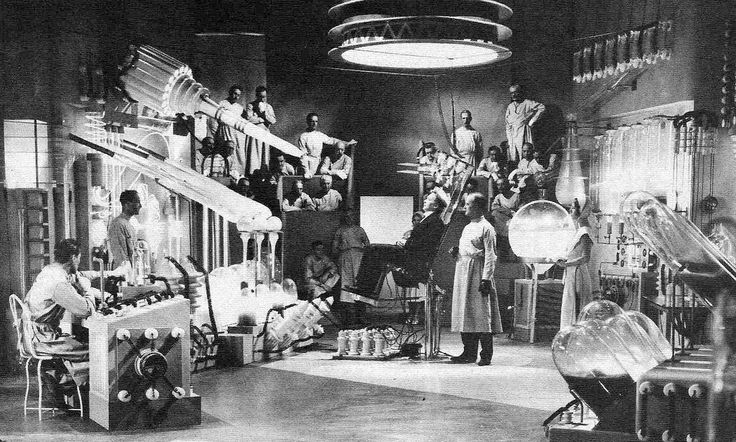 The image above is a still from Just Imagine, a 1930 movie about what life in New York City would be like in the year 1980.
This series of pieces on the disaster of COVID-19 (the virus and the modRNA "vaccines" for said virus) is dedicated to the memory of Yours Truly's cousin Bill, who "died suddenly and unexpectedly" in September, 2023. May he rest in eternal Peace.
Three prefatory notes: One, that what is presented here is only "scratching the surface" regarding the substitution of "Process 2" for the original "Process 1" manufacturing method for the Pfizer-BioNTech "flagship" COVID-19 "vaccine", BNT162b2; Two, the exact and complete details of "Process 2" are likely a "trade secret" to the company (except that a full description may be in a document given by said company to the FDA, and which was "redacted out" in case it ever got published under FOIA); and, Three, that every Pfizer-BioNTech COVID-19 "vaccine" since October, 2020, has been made using "Process 2" — including the "latest" version, the "2023-2024 Formula" version for use against the (now basically obsolete) XBB.1.5 Omicron variant.
The trail in regards a discussion of the sudden change from the original "Process 1" to the substituted "Process 2" for BNT162b2 can potentially begin in several places; for purposes of today's presentation, it will begin here: www.bmj.com/content/378/bmj.o1731/rr-2, a letter to the British Medical Journal by Josh Guetzkow, a senior lecturer at Hebrew University in Jerusalem, in response to the BMJ article, "Covid-19: Researchers face wait for patient level data from Pfizer and Moderna vaccine trials." Prof. Guetzkow points out that the initial clinical trials doses of the Pfizer-BioNTech modRNA COVID-19 "vaccine", BNT162b2, were made using what was called "Process 1", from May to October, 2020; but that the company suddenly changed to a new method, called "Process 2" [by 29 October 2020.] He also points out that the "Process 2" batches of BNT162b2 were found to have "…substantially lower mRNA integrity." It appears that "substantially lower mRNA integrity" includes evidence of what may be termed "fragments" of DNA appearing in these "vaccines", where they should never be.
Please bear with Yours Truly, this may get a little "technical", but it is necessary to the whole.
So, what exactly happened by October 2020 that led Pfizer-BioNTech to change to "Process 2" for BNT162b2? One hint is found on Page 54 of the "Protocol Amendment 9, 29 October 2020" document that the company gave to the FDA (www.nejm.org/doi/suppl/10.1056/NEJMoa2034577; scroll down to "Protocol PDF" and click to get the entire document):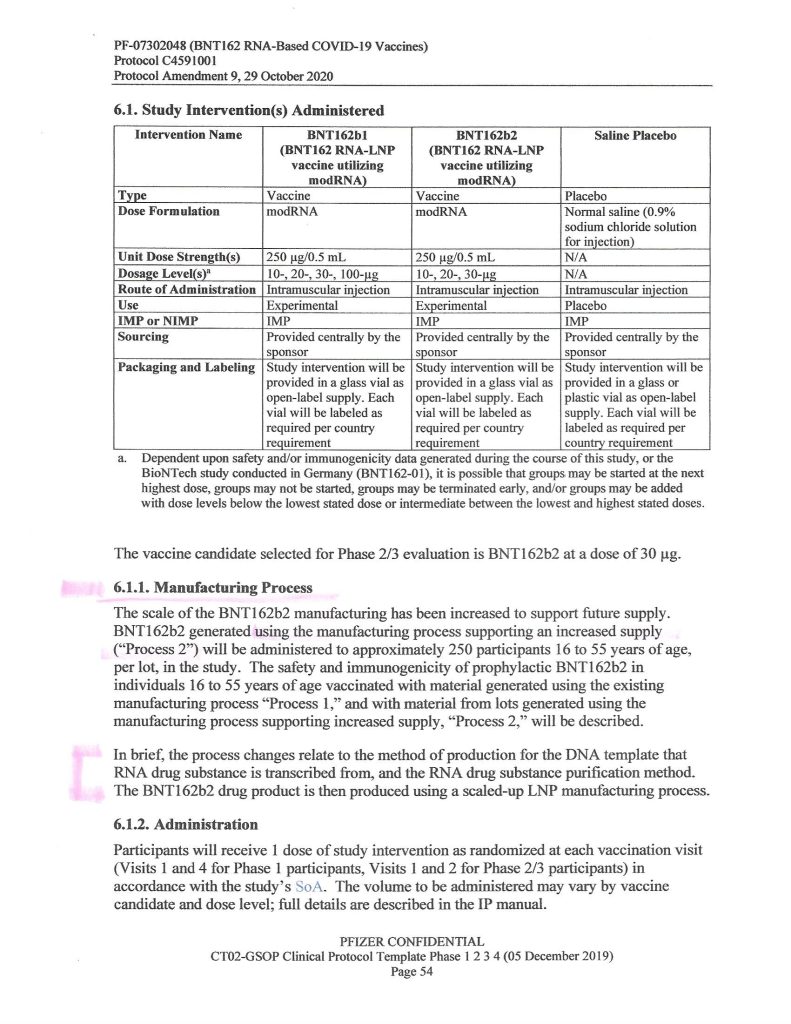 Another hint is found on Page 3 of the same document: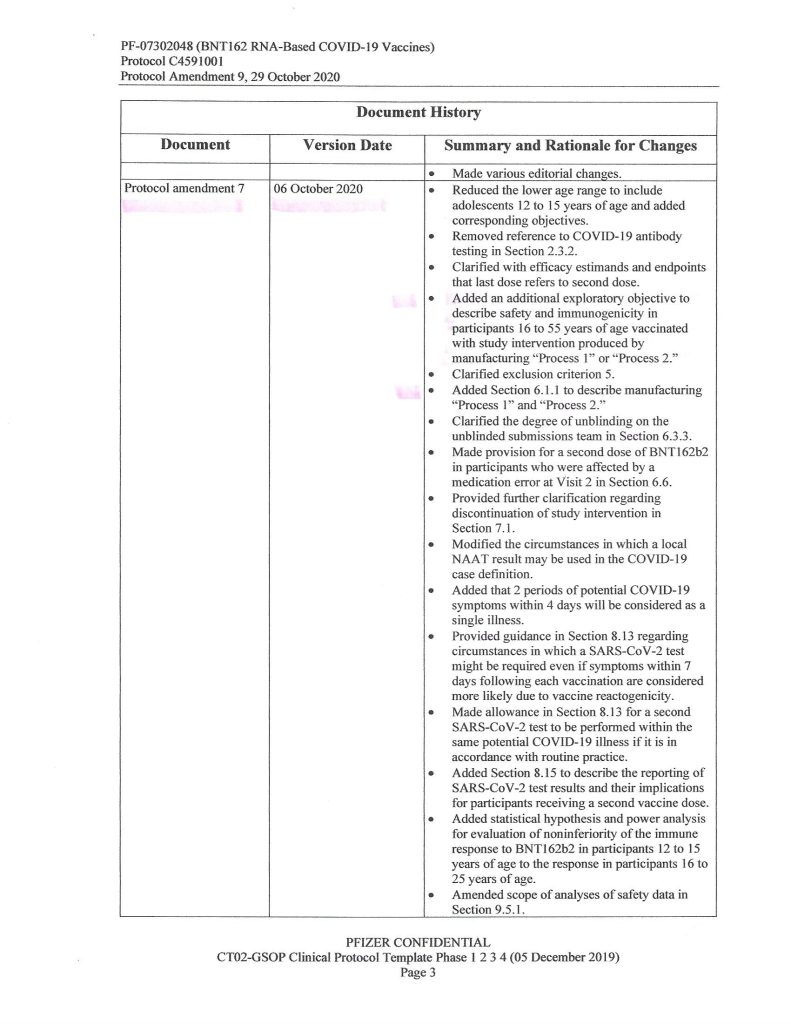 It would appear, then, that Pfizer-BioNTech decided, sometime between 1 May and 1 October 2020, to, One: add an "additional exploratory objective" to the C4591001 clinical study of BNT162b2;, and, Two, to support "increased supply" (of BNT162b2, presumably after securing Emergency Use Authorizations from the European Union medicines regulatory agency and from the FDA in the United States to use the "vaccine", which did happen) — both, by changing from "Process 1" to "Process 2" to manufacture the product. Prof. Guetzkow states that there appears to be no analysis of comparisons between using these two methods. It is also, from what Yours Truly has been able to find, not known exactly when "Process 1" was stopped as a manufacturing method for BNT162b2 and "Process 2" was approved as the sole method.
We now turn to Page 4 of the FDA-issued "Emergency Use Authorization (EUA) for an Unapproved Product Review Memorandum" of 23 June 2023, related to the EUA the agency granted for the use of the Pfizer-BioNTech "2023-2024 Formula" COVID-19 "vaccine" on people ages 6 months to 5 years old in the United States (www.fda.gov/media/172019/download.) Page 4, in Yours Truly's opinion, is a tacit admission that this "vaccine" is indeed made according to "Process 2":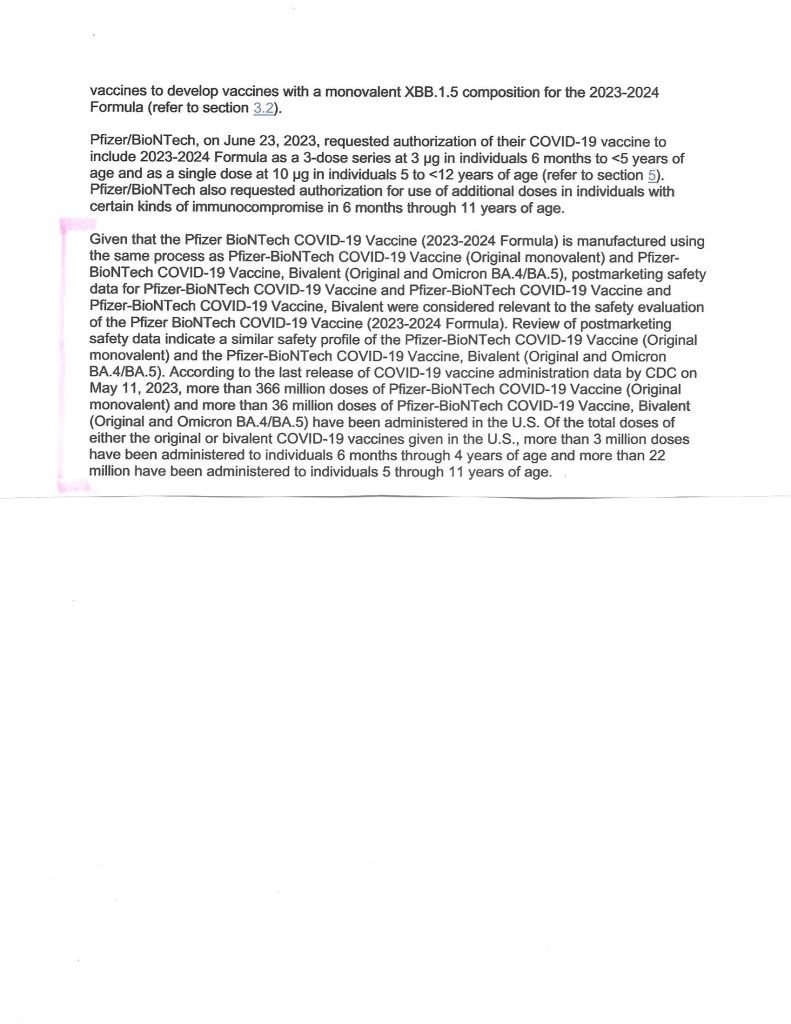 Finally, there is the following hint in the description of the manufacturing process for the Pfizer-BioNTech "vaccine" against meningitis, called PENBRAYA, in the 11 DESCRIPTION section of the company-issued document (https://labeling.pfizer.com/ShowLabeling.aspx?id=19937):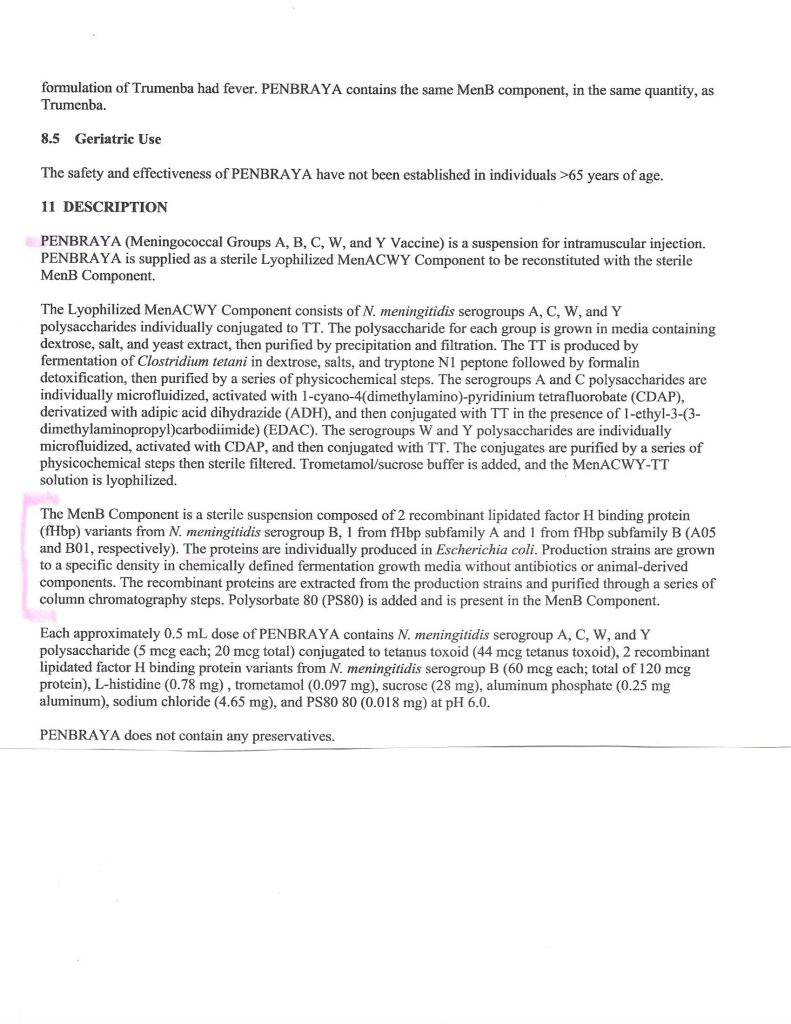 The work of Dr. Kevin McKernan, Dr. Jessica Rose, and other researchers, has shown that there are numerous serious issues with the integrity of the process of manufacturing BNT162b2 — the "Process 2" that was used to make billions of doses of this Pfizer-BioNTech modRNA COVID-19 "vaccine" — and which process is being used to manufacture the company's latest modRNA COVID-19 "vaccine", the "2023-2024 Formula." These two scientists, along with other colleagues, published a paper on this situation last month. It can be found here: www.researchgate.net/publication/374870815. The paper also has some more details of the "Process 2" method — and, by the way, also stating that Moderna also came up with a similar process for its modRNA COVID-19 "vaccines."
One suspects that the integrity problems with the manufacturing of the modRNA COVID-19 "vaccines" is a subject that will have much more investigation. This is aside from the accumulating evidence that the ingredients of said "vaccines" are themselves dangerous.
Peace, Good Energy, Respect: PAVACA