Remember THIS little nugget?
LINK: https://www.breitbart.com/politics/2020/11/09/most-of-bidens-221000-vote-margin-gain-in-georgia-in-3-counties-that-received-15-million-from-zuckerberg-funded-safe-elections-project/
That was right after the election.
This article was HIGHLY suppressed on social media. People were being suspended and thrown off social media left and right because of it – on both Facebook and Twitter. Entire groups were CLOSED when Zuckerberg's involvement in the election was publicized.
Mark CHINABERG – whoops – I mean Zuckerberg – was VERY sensitive about it.
Whenever I detect such sensitivity, I know that I'm ONTO something the communists are hiding.
My immediate thought was that he used that money to RIG the election – but I had no insight into exactly how that happened.
However, the story began getting more and more traction, and the insight began BUILDING.
Look more closely at that retweeted article – from OCTOBER!
YES – that article is from October 29 – before we suspected all the FRAUD that showed up in exactly the places Zuckerberg's little project ran.
LINK: https://amp.washingtontimes.com/news/2020/oct/29/zuckerberg-paying-election-operations-vote-countin/
NOW – look at THIS article from AFTER the election – realizing that Zuckerberg pulled the same trick in Pennsylvania.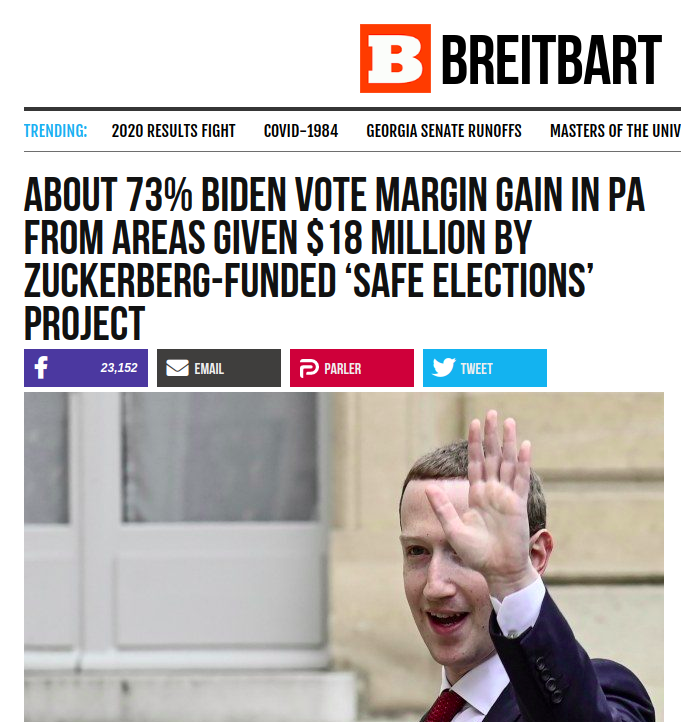 LINK: https://www.breitbart.com/politics/2020/11/19/about-73-biden-vote-margin-gain-in-pa-from-areas-given-18-million-by-zuckerberg-funded-safe-elections-project/
But then THIS TWEET appeared – EXPLAINING how exactly it was done.
Here is the YouTube – watch it while you can – it will disappear.
So now we know what they DID – how did they PAY for it?
Where did the money come from?
Did CHINA PAY?
Did DEMOCRATS PAY?
Or did WE PAY?
Molly and I have a theory…..
---
LINK TO COMMENTS: https://www.theqtree.com/2020/12/07/dear-kmag-20201207-open-topic/comment-page-3/#comment-617541
mollypitcher5
December 7, 2020 16:14
Gavin Newsom caught wiring half a billion dollars to communist China in massive face mask money laundering scheme
Back in April, even the mainstream media was questioning what Newsom was up to when it was revealed that he had wired half a billion dollars to an electric car company in China to supposedly purchase "N-95 masks" for the Wuhan coronavirus (COVID-19). This decision was never voted on or approved by legislators, and when pressed about the details of the deal, Newsom refused to disclose them.
Keep in mind that this half a billion dollars was just the first of two installments amounting to a full billion dollars being sent China to supposedly purchase face masks for Californians – face masks that never actually arrived, by the way. As of this writing, the Chinese electric car company in question, BYD, still has the money and has yet to send over a single face mask.
"That's because this isn't a billion dollars for 'masks,'" writes Mike Adams, the Health Ranger, in an exposé on Newsom's treasonous criminality. "It's part of a massive money laundering operation to funnel money to China, so that China can funnel money and weapons back to Newsom in preparation for the civil war that they're launching."
More on the theory of stockpiling weapons in the article
https://patriotdailypress.com/2020/07/07/gavin-newsom-caught-wiring-half-a-billion-dollars-to-communist-china-in-massive-face-mask-money-laundering-scheme/
Wolf Moon Reply to mollypitcher5 December 7, 2020 16:24
I definitely agree that he was laundering through China. But exactly what the money was for, or where it went – uncertain, IMO. Q team probably knows, but I'm skeptical that it's for weapons.
Wolf Moon Reply to Wolf Moon December 7, 2020 16:24
Maybe part of it went back to Zuckerberg for his "safe elections" TREASON.
mollypitcher5 Reply to Wolf Moon December 7, 2020 16:31
That was my thought too. Can't swallow the weapons theory totally
Wolf Moon Reply to mollypitcher5 December 7, 2020 16:35
Weapons simply don't make as much sense as paying for the electoral fraud, including lawyers, activists, organizations, etc.
---
TL;DR – THEORY: Wildly over-paid mask orders from China, placed by Democrat and RINO governors, were LAUNDERED and kicked back to the coup and the coupists in the form of tampering money and counterfeit ballots. Paid for with OUR tax dollars.
Remember – Gavin NewScum isn't the only Democrat governor that sent useless mask money to China.
The same China, which – OH BY THE WAY – used Chinese scientists in America to provide some really HORRIBLE SCIENCE as support for the masks stuff.
Yes, it's a bit like the "wrap-up smear" – you might call it "wrap-up science". Chinese scientists, virtue-signaling to CCP-DNC politics, produced a quickie paper (Zhang, et al) which was published by "Fake Science" (PNAS – which is horribly under water vis-a-vis indebtedness and ties to China, like most American science organizations), which paper was then used uncritically by the Fake News.
The same Fake News that won't publish anything which might dispute, debunk, or diminish the "Masks Scam".
NOW do you understand the need for the masks scam? It's all about the MONEY, which is being LAUNDERED IN CHINA.
So to speak.
You see – it's not just optics – it's ECONOMICS.
And yeah, they're all in on it.
Even people you never expected.
TWITTER promoted this crap. And not just for PAID ADVERTISEMENTS.
They were ALL IN ON THE SCAM.
ALL IN.
For EXERCISE by the YOUNG AND HEALTHY?
Seriously?
Nobody was ever honest about the science here. They turned a NEW FLU into a monetary vehicle in every possible way. They actually HARMED KIDS with hypoxia-inducing masks.
FOR MONEY.
But WHY?
Stopping Trump is why.
This COVID SCAM was a layer-cake of treason. Every possible way to use it against Trump and the forces of justice was exploited. EVERY possible way.
Don't believe me? You will.
FOLLOW THE MONEY.
W
Was Mike DeWine a MEDIA DUPE or a CHINA PLAYER?
Weigh in. His BIDEN CONCESSION still hangs like a dirty rag over his state, and his country.