Alternate Title: Bring Out The Owl!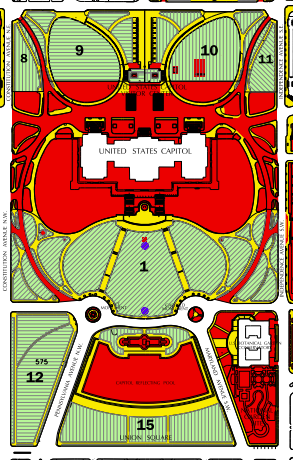 We continue with Part 2 of the Buffalo Jump series.
For background, see Part 1:
---
If you want a TL;DR version of what was wrong with the Capitol Rally on January 6, 2021, imagine trying to fit a million people into the little area numbered "8", in the upper left corner of the image above.
You know – the crowd of which THIS CROWD is a tiny fraction.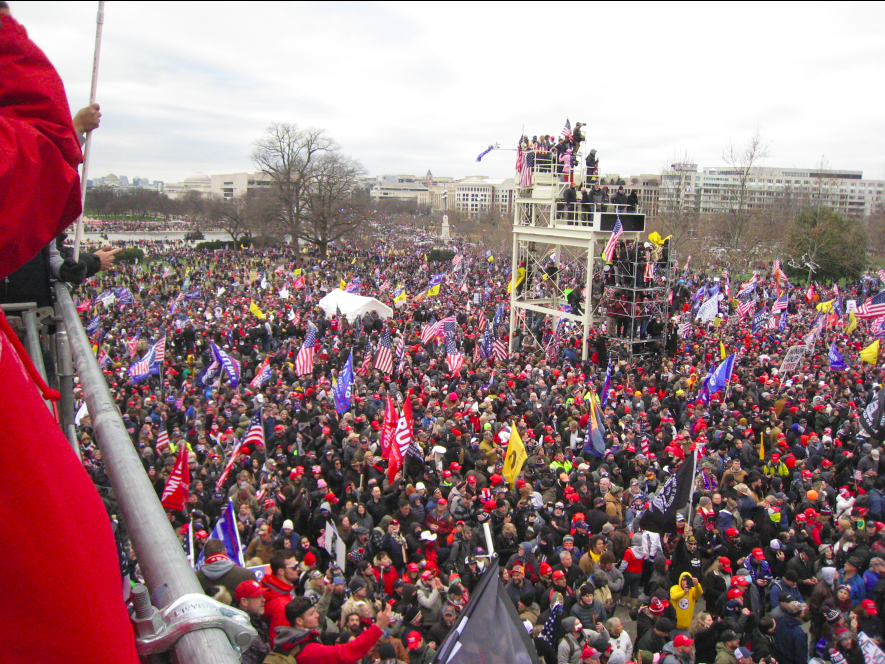 Yes – imagine another crowd THIS BIG to the left of the camera, another one to the right, one BEHIND me and ahead of this crowd, located down to the lower right (which is down on the capitol patios and up on the terraces), and then this same pattern repeated roughly clockwise around the building in a direction that would be a bit up and to the right, toward the designated protest area, Lot 8. And then add in a much smaller number around to the left, and on the opposite side of the building, where people went in EARLIER.
Even if we had gone straight to the correct area – which was never explained to us – we would never have fit into it. Unless there were MASSIVE overflow plans – probably bigger than just the adjacent Lot 9, but again, that is even MORE on the wrong side of the building – then I simply do not see how we could have been accommodated in the normal protest zones.
To see a map for yourself, go HERE:
https://www.uscp.gov/sites/uscapitolpolice.house.gov/files/wysiwyg_uploaded/U.S.%20Capitol%20Grounds%20Demonstration%20Area%20Map.pdf
Here is an image, but it is not nearly as good as the one in the PDF.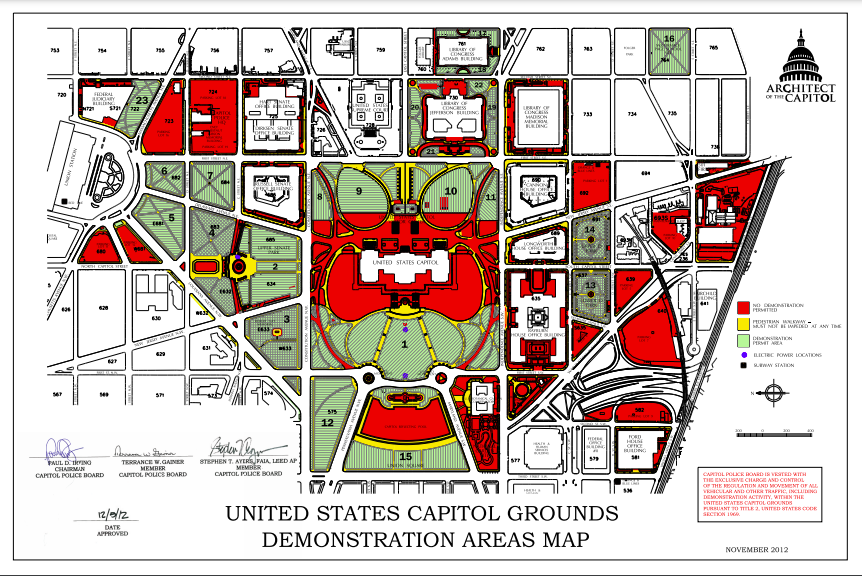 Now – why is this relevant?
grandmaintexas has clued me in to a STATEMENT by Stop The Steal organizer Ali Alexander:
LINK: https://stopthestealmovement.com/statement
ARCHIVE: https://archive.fo/mXYGX
I will include the entire text here for historical purposes:
---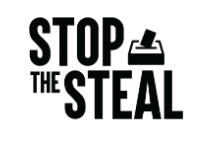 STATEMENT ON ILLEGITIMATE
IMPEACHMENT AND JANUARY 6TH
By Ali Alexander
Founder, Stop the Steal Movement
President Donald J. Trump is being wrongly accused of incitement and insurrection.
Let me say in no uncertain terms:
Stop the Steal has proof President Trump did not incite an insurrection.
Excerpts from President Trump's speech on January 6th–an event permitted to Women for America First but hosted by a coalition of groups–may be interpreted, by some, as negligent. President Trump gave an impassioned speech encouraging supporters to participate in a permitted event outside the US Capitol building. We were to be loud and in support of Rep. Paul Gosar's (R-Az.) original objection and Sen. Ted Cruz's (R-Tx.) proposal for a commission to review the merit of the objections.
The idea that President Trump wanted to supplant the Stop the Steal event permitted by US Capitol Police is ludicrous; so, too, is the idea that President Trump wanted to interrupt our allies, Rep. Gosar and Sen. Cruz, while they were presenting our case, both, to their colleagues and the American public.
Unbeknownst to President Trump, there was a last-minute ploy by two Women for America First employees to exclude programming providing the public with clear and concise instructions of where to meet next. This decision was contrary to an agreement held by all organizing groups. Regrettably, this decision also laid the groundwork for confusion, chaos, and ultimately civil unrest.
I have wanted this information to be made public for weeks. For weeks, event organizers and law enforcement have possessed the knowledge that President Trump was never directing an insurrection against our government. The entire premise of this impeachment is provably false. President Trump's address that day was always meant to have followed specific instructions. He was not sending an unruly mob to the Capitol building. Stop the Steal had permitted space on Capitol Hill and had worked with the US Capitol Police for weeks to secure a safe and orderly event near the Capitol building.
President Trump now stares down an illegitimate impeachment trial because of a decision made by saboteurs and information not yet made public.
Women for America First made a conscious decision to eliminate the prepared and specific instructions guiding protestors to Lot 8 on Capitol Hill permitted to Stop the Steal by US Capitol Police for our "One Nation Under God" event. Instructions were to be given from the stage at the Ellipse and displayed on the Jumbotron.
Women for America First and at least one Trump campaign advisor betrayed President Trump by intentionally eliminating the clear directions meant for the million-plus patriots Stop the Steal had assembled to hear President Trump.
President Trump was unaware of this catastrophic failure when he gave his keynote address. His general comments about walking to the US Capitol were meant to point people to what was supposed to be the previously mentioned Lot 8, permitted to us by the Capitol Police not the physical building itself.
This is the first time this information is being made available to the general public.
This last minute negligence by Women for America First–run by the Kremer family–spiraled the nation into chaos. Stop the Steal remains in support of federal investigations probing the decision-making processes that led to the civil unrest, as well as civil wrongful death claims from families who lost loved ones. We were all hijacked.
In contrast to the chaos at the Capitol, the Stop the Steal movement for election integrity remained peaceful. Over a 10-week period, Stop the Steal hosted nearly two million Americans in approximately 600 to 1000 protests in all 50 states.
The premeditated actions of bad actors not only disgraced our Capitol but also disrupted both the Stop the Steal sponsored event at the Ellipse and the Stop the Steal organized event at Lot 8 on Capitol Hill permitted by US Capitol Police.
Those who attacked officers or destroyed public property deserve their day in court, judged by their peers. However, I won't succumb to the hysteria arguing we should jail all patriots who either knowingly participated in civil disobedience or were unknowingly ushered into the Capitol by uniformed law enforcement or agitators.
Additionally, we have evidence of agitators who ushered protestors into the US Capitol building and away from the US Capitol grounds where Stop the Steal was to have our US Capitol Police sanctioned event.
This evidence exonerates any claims of incitement. Our non-association with these photographed and recorded agitators proves both Stop the Steal and President Trump did not participate in any conspiracy to commit insurrection.
I applaud law enforcement where they have pursued cases of violence or destruction of public property indiscriminate of politics. Most cases we have reviewed seem to fit in this category.
I, Ali Alexander, am publicly stating what I've already privately told officials: I remain ready to publicly testify before Congress and Almighty God to the events that led to and occurred on January 6, 2021.
Christ is King.
###
Donate via Crypto
BTC 12RVoLcrrDSZBTLB8eEMEDRQKixQAUZqoJ
Privacy Policy Terms of Service
Copyright © 2021 StopTheSteal
All Rights Reserved.
---
NOW – what do I think of that?
I am positive that there was FUNNY BUSINESS at multiple junctures here. The question is WHO was responsible and how were they responsible.
This is what I would like everybody to discuss in the comments.
Let me start off with the observations I made earlier, when commenting on grandma's comment, where she posted a link to Ali's statement.
---
FIRST:
Thanks. Have not read it, but to me he remains a "person of interest", and I'm putting his statement in the same category as the one in Time Magazine, admitting the "shadowy cabal" that took down the election – people getting their stories straight, and getting ahead of whatever is coming.
NEXT:
OK, now I've read it, and I'm very curious. It's possible that WFAF (Women For America First) is getting thrown under the bus by a smart plot.
I think the buffalo jump was massive. Ali remains a person of interest. WFAF are out of the Tea Party. Born to be chumps. They just seem like "marks" to me. I will bet that they were convinced by operatives to drop giving the directions. The likely suspect may be the person in the Trump campaign that Ali is naming, to cover his ass. The people who conned them knew it would be fought out in court, way too late, Trump smeared, lost, and impeached. If one of their operatives gets blamed in court, they will be paid for by the cabal.
This is ALL making sense now, thanks to Garrett Ziegler.
---
NOW – let me make some further comments.
Were there overflow plans? I don't know, but it sure looks to me that my EARLIER suspicions were correct. The permitted rally was given TOO SMALL a site (Lot 8) on the WRONG SIDE of the Capitol.
It was intentional. And worse. The Capitol Hill Police (CHP) were intentionally engaged by the phony early attackers precisely so that the under-manned CHP not only could not respond to the bigger Trump crowd, but that they would respond WRONGLY.
Remember – it would have taken a half-dozen CHP doing CROWD MOTION outside to ENGAGE THE CROWD in yellow vests and DIRECT THEM like traffic cops around the building, to the proper location.
Instead, this is what we got.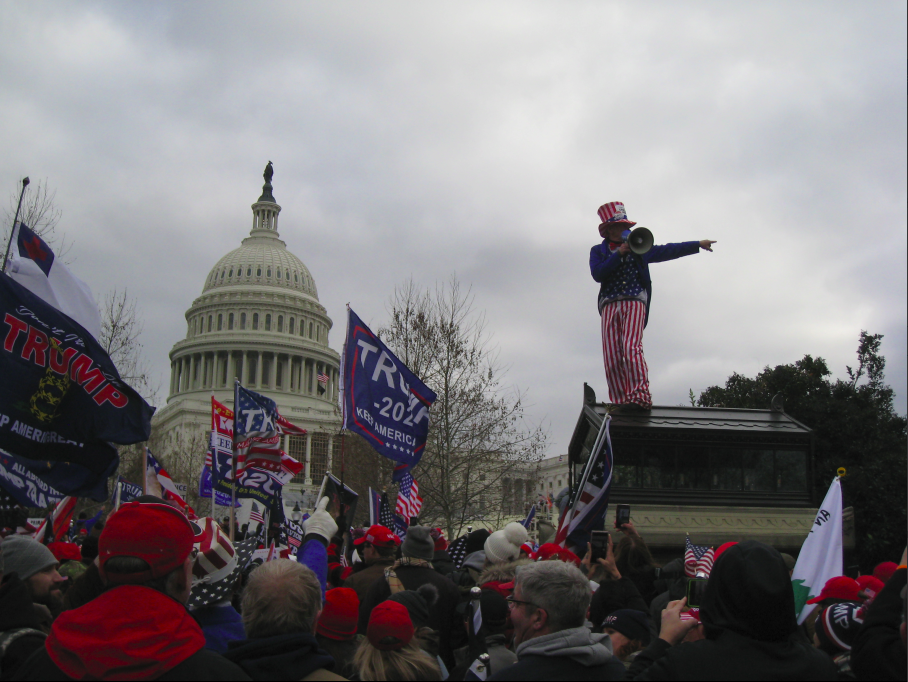 Now, in this picture, the Uncle Sam was answering a question about directions, but otherwise he was pointing us TOWARD the Capitol. I wanted to get a good picture of HIM, so I waited for this particular pose.
People kept asking him – which way? He always said the same thing, or responded "yes" to the same destination as a question – "toward the building" and "toward the Capitol".
There was also another person who told us to just go to the West side of the building. She was a woman running swiftly through the crowd, talking loudly to whoever was near her. She SAID she was official, and SOUNDED official, and I inferred from the way she said what she did, that they had given up on getting us to the right place.
Now – here is where we may have been lucky. There were SO MANY Trump supporters there, that very few could even get close to entrances. The MASSIVE crowd outnumbered the one who could be conflated with the Fake MAGA and infiltrators.
In essence, the SAME GIANT MONSTER VOTE that had overwhelmed Dominion's and Smartmatic's algorithms, protected us from being drawn into the TRAP and mixed with the provocateurs and Fake MAGA.
There were too many GOOD Trump supporters for the buffalo jump to decimate us.
I like that thought.
SO – what do YOU think?
W