SPECIAL SECTION: Message For Our "Friends" In The Middle Kingdom
You knuckle-dragging barbarians are still trying to muck with this site, so I'll just repeat what I said last time.
Up your shit-kicking barbarian asses. Yes, barbarian! It took a bunch of sailors in Western Asia to invent a real alphabet instead of badly drawn cartoons to write with. So much for your "civilization."
Yeah, the WORLD noticed you had to borrow the Latin alphabet to make Pinyin. Like with every other idea you had to steal from us "Foreign Devils" since you rammed your heads up your asses five centuries ago, you sure managed to bastardize it badly in the process.
Have you stopped eating bats yet? Are you shit-kickers still sleeping with farm animals?
Or maybe even just had the slightest inkling of treating lives as something you don't just casually dispose of?
中国是个混蛋 !!!
Zhōngguò shì gè hùndàn !!!
China is asshoe !!!
And here's my response to barbarian "asshoes" like you:
OK, with that rant out of my system…
20 Years Since 9/11
I've got only three minutes left, so I am going to have to jump to my conclusion.
Over three thousand people died 20 years ago today, they must not be forgotten. There are memorials at three sites; I've been to the one in Pennsylvania. Plenty of people were there, including a large group of very patriotic, Q-following bikers.
The deed was done by very evil men, almost certainly Islamic jihadis, but…aided and abetted by whom? Do we really know that yet? Were they acting only with other jihadis' support, or was someone behind the scenes, pulling the strings? If the latter (and I have no real opinion of this, though I do have one on the physical cause of the buildings' collapse–let's leave that aside), then they STILL need to be punished.
After all, justice must be done.
Justice Must Be Done
The prior election must be acknowledged as fraudulent, and steps must be taken to prosecute the fraudsters and restore integrity to the system.
Nothing else matters at this point. Talking about trying again in 2022 or 2024 is hopeless otherwise. Which is not to say one must never talk about this, but rather that one must account for this in ones planning; if fixing the fraud is not part of the plan, you have no plan.
The Audit
The Audit is definitely heating up. Let's see if the Opposition manages to squelch it and its consequences. I'll be honest; I expect it to be ignored by anyone capable of ordering Biden/Harris to step down.
Nevertheless, anything that can be done to make Biden look less legitimate is a worthy thing!
Lawyer Appeasement Section
OK now for the fine print.
This is the WQTH Daily Thread. You know the drill. There's no Poltical correctness, but civility is a requirement. There are Important Guidelines, here, with an addendum on 20191110.
We have a new board – called The U Tree – where people can take each other to the woodshed without fear of censorship or moderation.
And remember Wheatie's Rules:
1. No food fights
2. No running with scissors.
3. If you bring snacks, bring enough for everyone.
4. Zeroth rule of gun safety: Don't let the government get your guns.
5. Rule one of gun safety: The gun is always loaded.
5a. If you actually want the gun to be loaded, like because you're checking out a bump in the night, then it's empty.
6. Rule two of gun safety: Never point the gun at anything you're not willing to destroy.
7. Rule three: Keep your finger off the trigger until ready to fire.
8. Rule the fourth: Be sure of your target and what is behind it.
(Hmm a few extras seem to have crept in.)
Spot (i.e., paper) Prices
Last week:
Gold $1828.60
Silver $24.77
Platinum $1032.00
Palladium $2506.00
Rhodium $17,750.00
This week, 3PM Mountain Time, markets have closed for the weekend.
Gold $1787.80
Silver $23.78
Platinum $962.00
Palladium $2220.00
Rhodium $16000.00
Wow, they've ALL taken a thumping! Is this a buying opportunity or are we watching a bubble burst? Well I'm not one of those kinds of prognosticator.
To be honest, I don't buy this stuff for the short term. I buy it for the long term, and pretty much everything I hold in precious metals (except for the small amount of platinum I have) is higher than I paid for it.
That will probably be true for anyone buying today, twenty years from now. Assuming western civilization is still running twenty years from now.
Part XVIII – Quantum Weirdness Explained by Richard Feynman
A couple of weeks ago I embedded a video of a lecture by Richard Feynman on just how weird quantum mechanics is.
Here's a (slightly different) version of the same video. (This one has a short introductory shot of the campus of Cornell U, and a title graphic.)
the Messenger Lectures, PROBABILITY & UNCERTAINTY–the quantum mechanical view of nature
This week's physics article is going to be me paralleling what is said in this video. I may sometimes duplicate Dr. Feynman's wording, but mostly I will not. Why am I doing this? Because this is the best explanation I've ever seen for just how whacky quantum mechanics is. And I know many don't have the patience to watch a video…I'm one of those people, 99% of the time.
My summary/regurgitation/mangling of what's in the video starts in the next paragraph. Things that are purely my own comments rather than me paraphrasing or summarizing Feynman are [in brackets].
When we first began using scientific observation, it largely started with intuition, but that is actually based on our experiences with every day objects. These largely suggest "reasonable" explanations for things. As we continued pursuing scientific knowledge, we observed more phenomena and created generalizations we call 'laws.' But we also are seeing a situation where the laws become more and more 'unreasonable,' more and more intuitively far from obvious.
With twenty-twenty hindsight, there was no reason this shouldn't be the case. Our everyday lives involve large numbers of particles (even a dust mote has billions of billions of atoms in it), objects moving slowly (compared to how fast they could be moving), or other very special conditions. Our direct view of the world is actually very limited; all we can see is a narrow set of cases. But with refined and careful measurements using instruments that extend our sensory "reach" we get a more complete picture and we start seeing unexpected things. We see things that are far from what we would guess. We see things that are far from what we could have imagined. Our imagination is stretched, not to create or follow fiction, but just to understand what is actually there.
[Feynman gave the example of special relativity and its conclusion that simultaneity–which we intuitively think is an absolute in that if I see two events as simultaneous, so will you–depends on the observer's situation.]
It''s this kind of unexpected thing that is our topic.
Let''s start with light. At first it was seen to behave as a rain of particles, corpuscles, like rain, like bullets from a gun. Then with further research that turned out to be wrong. Instead light behaved like a wave, water waves for instance. This seemed absolutely solid, thanks to various experiments that could only work for waves, and Maxwell's equations. Then at the beginning of the 20th century after more research, it looked once again like light was made up of particles, for example with the photoelectric effect, and the particles are now called 'photons.' Electrons were first believed to be particles, but further experimentation with electron diffraction shows that they behave like waves. There was a lot of confusion until 1925-26 when the correct quantum mechanical equations were written. [Much of this was covered in prior installments.]
Unfortunately there just isn't a word for what photons and electrons really are. Particle doesn't fit, wave doesn't fit. You can't use either of these because you give the wrong impression. They behave a third way, a way like nothing you've ever seen before.
[My flip joke about this is when someone asks if light (or electrons) is a particle or a wave, I reply, "yes."]
Well there is one thing that makes the situation simpler than it otherwise could be. Electrons and photons behave the same, that is they're both screwy, but in exactly the same way. (After all they could have turned out to have been screwy in different ways.)
The newspapers say there was a time when only twelve people understood relativity. [Feynman] doesn't believe there was ever such a time. There was a time when ONE person understood it, but once he published, a number of people were able to understand it, at least sort of.
But, [Feynman says] no one understands quantum mechanics. [Good then I have plenty of company.]
So we are going to describe the behavior of electrons and photons by a mixture of contrast and analogy. Pure analogy would break down, of course, since they're not like anything in our normal experience.
Bullets
So we're going to compare and contrast particles, for which we will use bullets [no PC woke stuff then!], and waves, for which we'll use water waves. We're going to describe an experiment run on bullets, then water waves, then electrons or photons. This one experiment will encapsulate everything weird about quantum mechanics. Any other weird thing about quantum mechanics, you can say "you remember the experiment with the two holes? It's the same thing."
For bullets, our experimental apparatus is as shown below. This is a view from above. On your left there's a source (machine gun) firing through a hole in armor plate. The gun is a bit wobbly, so the bullets don't all follow the same trajectory. To your right from this, is another piece of armor plate, with two holes in it, a bit to the left or right as seen from the source, but from your point a bit above and below the center line, symmetrically situated–number these 1 and 2 since they'll be talked about a lot. This plate is a ways to your right from the first plate, but just to fit it on the blackboard I'll draw them close together [and so will I, below]. Also, this is really three dimensions. The plates extend into and out of your monitor, and to repeat you're looking down on the thing from above, with the plates edge on. Finally at your far right is a line of bullet detectors (a backstop with sand), so we can see where the bullets went.
[Note: I did not have time to draw the diagrams. So unfortunately, I'm going to use a generic diagram I found on line, and modified, quickly! It's going to have its shortcomings.]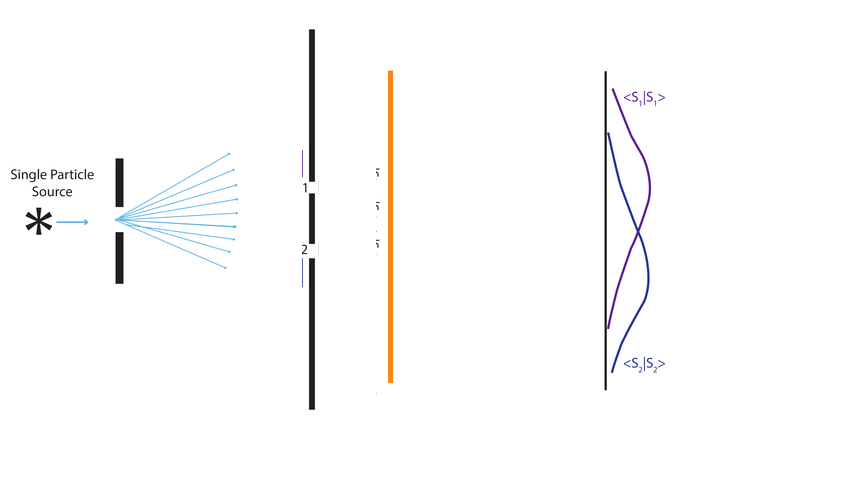 There are a couple of key differences between this scenario and actual reality. First, these bullets can ricochet off the edges of the holes, so that will tend to spread their impact points out a bit. But if they hit a barrier head on and don't go through the holes, they stop, rather than ricocheting. They're also indestructible (not liable to break in half on impact).
So we run the experiment and the first thing we notice is something obvious but we need to take note of it. Bullets are lumps, all the same size (one bullet each). The bullets have distinct locations where they hit the sand at the backstop. Also, we never get two bullets impacting at the same time. If the machine gun is firing slowly you hear "plink, plink plink" rather than "plink, plink, plinkety plink." These are all aspects of a characteristic that Feynman labels "comes in lumps."
So say you let the machine gun fire for an hour, then you go from top to bottom on the diagram, (or left to right as seen from the machine gun) along the backstop and plot how many bullets you find in the sand.
You end up with a double-humped distribution (imagine a Bactrian camel). And you can say that this double hump is proportional to the probability that the next bullet will hit at that location. At the tops of the humps it is most likely. Let's call that distribution N12 because it results from both holes being open. You can run this experiment for even longer and come up with good average figures, even if it's 2 1/2 bullets hitting a particular spot per hour. (Just like you hear about the average family having 2.4 kids. But no family has .4 kids in it; children come in lumps. Some families have more, some have less.) [Feynman actually brought that up, not me.] You can also run the experiment again but this time covering one or the other hole, in which case you get two different single-hump distributions, N1 and N2. And then you'll notice a key fact; if you add N1 and N2, you get N12. It works this way because there is, as Feynman says, "no interference" between the two holes.
Water Waves
Okay, we're done with bullets. Now place this exact layout in a pool or lake. Instead of armor plate, we're talking breakwaters or jetties or lines of barges. And instead of a machine gun, there's some big massive object being moved up and down in a regular fashion to make waves, which then pass through the slit in the left hand barrier, then through the two slits in the middle barrier, to reach measuring devices at the third barrier (instead of a sand trap, though if the barrier is the beach, there might still be sand involved). The measuring devices measure the amplitude (height) of the wave that arrives at that point, which is proportional to the energy carried by the waves.
When you do this, whatever arrives at the detectors can have any size at all. It doesn't come in lumps. [The waves can be a meter high, a centimeter, a micron…] What's measured is the intensity, not a count of lumps.
The result is a curve like this. [Note, Feynman actually drew the wrong curve in the lecture at about 21 minutes. He later noticed that he had drawn the wrong curve (at about 21:30). "Which is the exact opposite of this curve.." and he did a quick fix.]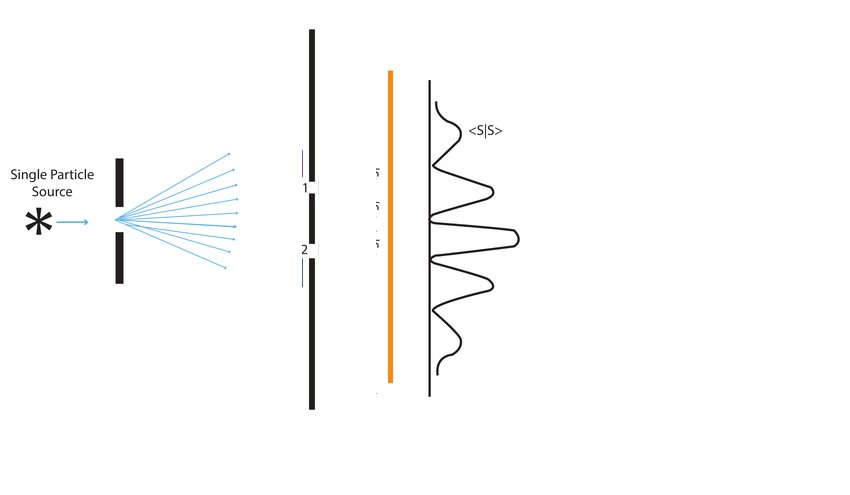 The reason for this rather complicated curve is that when the source wave hits the two openings in the middle barrier, it reaches them at the same time, and those two openings themselves act like sources, and waves ripple outwards from them. The two sets of waves will add together. Along the center line the peak of the wave from opening 1 arrives at the same time as the peak from opening 2, so the waves add together to make something twice as tall, or twice the energy. A bit off the center line, the trough from wave 1 will hit the spot at the same time as the peak from wave 2, or vice versa, resulting in canceling out. A measurement here will see no wave height at all and an energy of zero. Even further off the center line, a peak from one opening will arrive at the same time as the following peak from the other opening, and they will add to each other rather than canceling out. (However one of those waves will have traveled farther and will be weaker, so this peak will not be as high as the one on the center line.)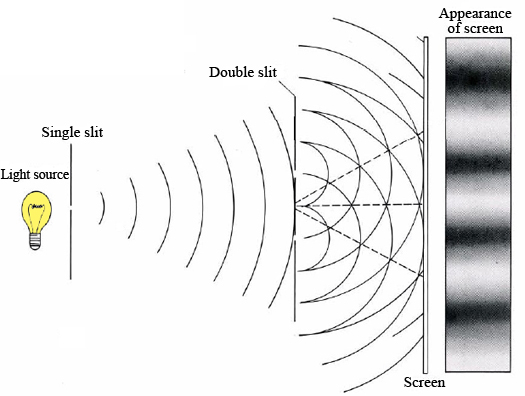 The waves interfere with each other. This is used in science in a funny way because sometimes the interference from a wave strengthens the other wave ("constructive interference") and sometimes it cancels ("destructive interference"); in ordinary language interference always works against someone, never with them.
The interference creates the complex pattern shown, I12 (I for intensity). If you close one hole or the other, you get a smooth curve, just like you did with the bullets. In fact the patterns are basically identical, N1 looks like I1, and N2 looks like I2. But these two patterns, I1 and I2 do not add up to make I12.
This distribution is known as an interference pattern.
So we see several key differences between particles and waves: lumpiness/non-lumpiness, discrete/continuous values, non-simultaneous/simultaneous arrival times, and the lack/presence of interference.
Electrons
OK now for electrons (metal plates). Or photons (for which the barriers are made out of black paper). But I'm only going to discuss electrons. [But remember, they're both screwy in the same way.]
What we receive at the detector are lumps. Click, click, click, all the same size, like small bullets. If the source of electrons is made weaker, you hear the clicks further apart, but each individual click remains the same size, just like slowing down the machine gun for the bullets. And no two electrons arrive at the same time, because they aren't emitted at the same time, again like the machine gun firing one bullet at a time. The key here is that the electrons come to one place, one at a time.
So we can now play the same game we did with the bullets, let the emitter rip for a while and then look at the distribution and equate it to a probability curve, with high areas corresponding to a greater probability of receiving the next electron fired.
We should expect to see the double humped N12 curve, right? That's how our lumpy bullets behave.
But (@27:20)…we get a probability curve looking like the multiple humped I12 intensity curve, the interference pattern.
THAT is weird. These things are lumpy, and behave just like lumps…except for how they are distributed, where the distribution shows wave interference. But what would a wave have to do with particles? Or vice versa?
[Yes, it makes no sense. But it does work this way, we've never seen it not work this way. And this is why light was confusing around the turn of the 20th century. When experimenting with its distribution it appeared like a wave. But when we did things with the photoelectric effect that would actually depend on the lumps, we got lumpy behavior.]
[Ok, it's mad. Stark raving mad, But this is the way things work.]
Some Additional Subtleties
There are some subtleties.
One might state as "obvious" that an electron–which is a "lump"–has to have gone through hole #1 or hole #2. Call that "Proposition A"
That of course would imply that the total number of electrons that reach the detector is the sum of those which go through hole #1, and those which go through hole #2. But you can't sum the two one-hole distributions to get the interference pattern, so Proposition A would appear to be false; the electrons must be splitting up, somehow.
This is science, we test it even though it seems like ironclad logic.
So we set up lights over each hole to watch the electrons.
Lo and behold, you will see a flash in one hole, or the other hole, and these match the times of hits on the detector, so Proposition A appears to be true after all!
And it is true. But you can't add the distributions together to get the interference pattern!
Well, I haven't told you the whole story. Because when you set people to watching the holes and reporting, for each hit on the detector, which hole the electron went through…the distribution on the detector switches from being the interference pattern to the double hump pattern! So now that you know what I1 and I2 are…I12 is equal to their sum!
So, obviously, the light is doing something to the electrons. This is not surprising, after all, light has enough energy to shove electrons around (hence emission and absorption lines in spectra), so we decide to turn the intensity of the light down enough to have less of an effect.
But light, too, is "lumpy." Turning down the light reduces the number of lumps or photons. If you reduce the light enough, electrons might get through the hole without running into a photon at all, in which case the guy monitoring the holes will say he didn't see the electron at all.
Guess what? If you plot the electrons that didn't get seen, and ignore the rest, you get the multiple hump distribution. If you look only at the ones that were seen, you get the double hump distribution. If you look at them all, you get some sort of weighted sum of the two, depending on what fraction of electrons were or were not seen.
Other methods can be arranged to determine which hole an electron goes through, and they all lead to the same result. If you make the sensor too gentle to muck with the electron…you end up not seeing the electron. There is no way to detect an electron without disturbing it and wrecking the interference pattern.
[Feynman summarizes the way scientists describe the situation:] If you set up an apparatus to monitor the holes, then you can say that it goes through one hole or the other (and Proposition A is true). If you don't have such an apparatus, then you cannot say that it goes through one hole or the other, because when you're not looking, electrons don't behave as if they do go through one hole or the other.
No one can give you a deeper explanation of this than [Feynman] has given you. They might come up with more examples, but this is the basic conundrum of quantum mechanics.
Another subtlety. We use probability in daily life for things like, say, the throw of a dice. We shouldn't have to do this. We should be able to calculate how the die will land, given its orientation, speed, the nature of the surface it will land on, and so forth. Straight mechanics, even if very, very complicated. But since we don't know the initial conditions well enough, the die toss appears to be a random event, we can't predict what it's going to do. But again that's because we don't know the initial conditions and haven't the skill to do the computation fast enough.
With these electrons, one might think if they behave as though they have a probability of doing something, we could somehow write laws that would tell us where the electron will be. But this turns out not to be the case. True randomness–the randomness we don't actually see in our macroscopic world–is built into it. We can't know the state of the electron and be able to compute what it will do; if we could, we'd lose the interference pattern. "Nature herself doesn't know which way the electron is going to go."
Feynman's Concluding Rant
[nearly verbatim]
[Feynman puts on a pompous voice and quotes a philosopher as saying "It is necessary for the very existence of science that the same conditions always produce the same result."] Well, they don't. And yet the science goes on. [So much for that philosopher.]
What is necessary for the very existence of science and so forth and what the characteristics of nature are not to be determined by pompous preconditions, they are determined always by the material with which we work, by Nature herself. We look and we see what we find and we cannot say ahead of time what it's going to look like. The most "reasonable" possibilities turn out often not to be the situation.
What [actually] is necessary for the very existence of science is just the ability to experiment, the honesty in reporting results (the results must be reported without somebody [instead] saying what they'd like the results to have been), and finally an important thing is the intelligence to interpret the results. [Take THAT, Climate Research Unit!]
But an important thing about this intelligence is that it should not be sure ahead of time about what must be. Now it can be prejudiced and say "that's very unlikely, I don't like that." Prejudice is different than absolute certainty, I don't mean absolute prejudice, just bias, not complete prejudice. Even if you're strongly biased, the experiments will pile up until you cannot ignore them any longer.
In fact the only thing needed is that minds exist that do not demand that nature must satisfy some preconceived conditions, like those of our philosopher.
[Oh, and we need to fix elections, too. And we need bacon.]
Obligatory PSAs and Reminders
China is Lower than Whale Shit
Remember Hong Kong!!!
中国是个混蛋 !!!
Zhōngguò shì gè hùndàn !!!
China is asshoe !!!
China is in the White House
Since Wednesday, January 20 at Noon EST, the bought-and-paid for His Fraudulency Joseph Biden has been in the White House. It's as good as having China in the Oval Office.
Joe Biden is Asshoe
China is in the White House, because Joe Biden is in the White House, and Joe Biden is identically equal to China. China is Asshoe. Therefore, Joe Biden is Asshoe.
But of course the much more important thing to realize:
Joe Biden Didn't Win
乔*拜登没赢 !!!
Qiáo Bài dēng méi yíng !!!
Joe Biden didn't win !!!