H/T Sundance.
LINK: https://theconservativetreehouse.com/blog/2021/09/11/the-ethics-of-forced-employment-vaccination-by-dr-julie-ponesse/
Sundance has some excellent thoughts on this. It's worth checking them out.
This stuff is so clearly Germany in the 1930s, there is no way around it.
The bottom line is that we are on the right side.
Now – some more interesting information which confirms that – yes – they ARE Nazis.
The LITTLE LIES that people are forced to give en masse – check out what THIS NURSE says.
(Two hat tips – first to GA/FL for the short version, and to Sundance for the long version.)
SHORT VERSION:
LONG VERSION:
LONG VERSION LINK: https://rumble.com/vm936v-whistleblower-nurse-destroys-delta-narrative-vaccinated-patients-fill-hospt.html
CTH LINK: https://theconservativetreehouse.com/blog/2021/09/11/an-articulate-nurse-dealing-with-covid-hospitalization-gives-honest-insight-about-what-really-is-happening-alarming-secondary-confirmation-of-details-provided-and-cited/
It's important to go to the CTH link to understand how the POLITICIZED MEDICINE is being pushed from the top down. This is EXACTLY what was done to push the Global Warming Hoax in science. SD has some additional evidence that confirms WHY doctors are backing off – because medical organizations are apparently under political pressure to control their memberships, and are THREATENING doctors.
---
NOW – it gets worse.
The nurse ABOVE states that half the staff in the hospitals REALIZE that the vaccines are doing the damage, and that people are then being diagnosed with "COVID" instead of vaccine injury, but that doctors don't even want to hear about vaccination being associated with the symptoms.
We have seen this from the VERY beginning of the vaccines.
LINK: https://rumble.com/vdaicp-cna-nursing-home-whistleblower-seniors-are-dying-like-flies-after-covid-inj.html
BACKUP: https://www.bitchute.com/video/cpQ7dnqu0Sos/
ARTICLE: https://vaccineimpact.com/2021/cna-nursing-home-whistleblower-seniors-are-dying-like-flies-after-covid-injections-speak-out/
I've discussed this before – I think this CNA was doing good, honest science, and realized that the "superspreader story" given for post-jab deaths was politically motivated BS.
SO – where does THIS go?
---
This fits in very nicely with something from KARL DENNINGER (H/T barkerjim for posting this crucial information).
LINK: https://market-ticker.org/akcs-www?post=243546
The gist of this article, from Denninger's viewpoint, is that a recent data release from the British Health Ministry is the beginning of PROOF that getting the vaccine is starting to make the recipients MORE susceptible to the virus.
AND I QUOTE:
---
I told you a few weeks ago I was seeing very disturbing data that strongly suggested the jabs were, in some form or fashion, destroying existing immunity or otherwise potentiating more-severe disease. I didn't have the hard data to quantify it, but I've mentioned the drift in the data streams for some time now. It was clear and convincing, but not quantifiable. Until now.
I didn't then (and still don't) know the mechanism; I don't have billions of dollars of lab laying around I can play with. But on the data it was happening; it was not conclusive but the evidence shift was clear in the data pattern; what had been protection from being harmed if you were jabbed was trending toward neutral in the aggregate and anecdotes suggested harm.
Well, now we have it, and yeah, it's harm.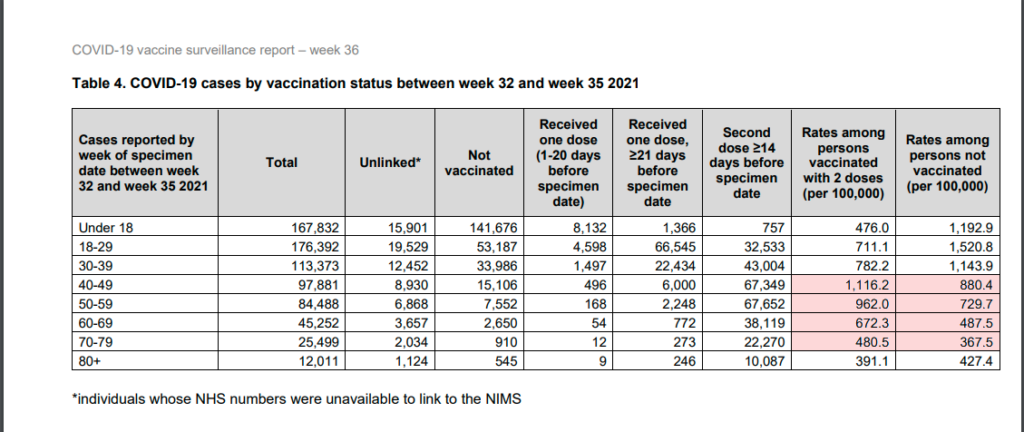 Note the right two columns. They adjust for per-100,000, which is the only accurate way to do it — you must adjust raw rates for the population prevalence of the specific condition under test.
This data shows conclusively that for anyone between 40 and 79 being vaccinated makes it more-likely for you to get Covid-19.
That means what you think it does: If you took the jabs you are the plague rat; you are more-likely to get (and thus transmit) the disease than an unvaccinated person.
Britain had studiously avoided publishing the ranged data like this in their updates until now. I don't know why they did it this time but it doesn't matter. Their data continues to claim that the jabs are effective in preventing hospitalization and death but the exact opposite is true when it comes to getting Covid-19 which means those who are vaccinated may acquire personal protection but in doing so become Angels of Death to others.
If you have trouble with numerical tables here it is in bar charts: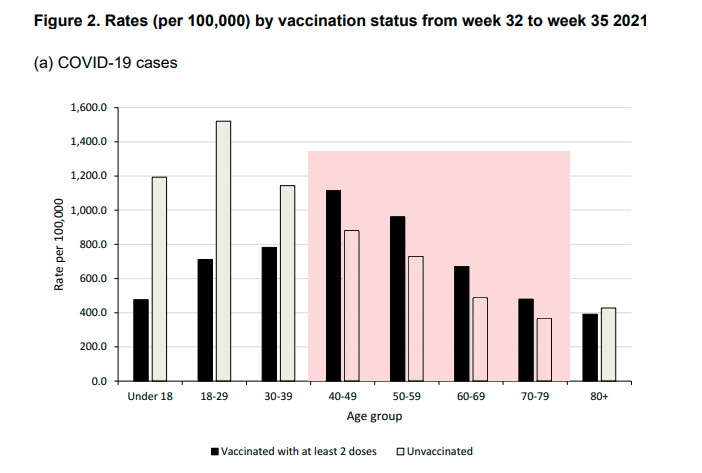 [ MORE AT THE LINK ]
---
[ Back to Wolf ]
NOW – Gail pointed out some things, and I think our discussion is worth repeating simply for that.
BUT – yes, there is more.
Gail and some of our other Q Treepers have pointed out earlier that the "Faucists" have pulled a fast one on everybody by labeling all people who "get COVID" within 14 days of getting vaccinated as having been "unvaccinated".
There are a thousand reasons why this is BS, but the most important one is that it can be used to HIDE vaccine adverse events which happen to look almost exactly like COVID because – lo and behold – they are BOTH using the same damn toxic spike protein.
Well, one of the things I noticed was that this disastrously wrong policy – this FRAUD-PROMOTING policy – can also be used to FLIP the relative safety of being vaccinated VERSUS being unvaccinated. In essence, the VACCINE INJURED and the VACCINE FAILED (because immunity was too slow, if it's reallly COVID and not vaccine injury) are both shoved into "unvaccinated", which REVERSES BLAME, and in essence "blames the victim" instead of the vaccine – and we know that blaming the victim is a communist specialty.
So, with that in mind, here is our discussion from yesterday:
---
barkerjim Offline Wolverine September 11, 2021 12:58
Scary!

I Hate Being Right in [Market-Ticker-Nad]
10 Reply
Wolf Moon Online Admin Coyote Reply to  barkerjim September 11, 2021 13:59
This is critical stuff.
DO NOT GET THE JAB.
11 Reply
Gail Combs Online Reply to  Wolf Moon September 11, 2021 16:07
ABRIVIATED LOOK AT CHARTS (I hope I copied correctly)
https://assets.publishing.service.gov.uk/government/uploads/system/uploads/attachment_data/file/1016465/Vaccine_surveillance_report_-_week_36.pdf
Page 14
Table 4: COVID-19 cases by vaccination status between week 32 & week 35 2021
………………………………………….…(Rate per 100,000)…(Rate per 100,000)
AGE…..TOTAL …Not Vax….2 doses……Rec'd 2 doses …….Not Vax
>18…..167,832…141,676……….757……………476.0…………1,192.9
18-29…176,392…..53,187.…32,533……………711.1….………1520.8
30-39…113,373…..33,986.…43,004……………782.2…………1,143.9
40-49…97,881……15,106….67,349…………1,116.2……….……880.4
50-59…84,488……..7,552….67,652……………962.0……………729.7
60-69…45,252……..2,650….38,119……………672.3……………487.5
70-79…25,499……..…910….22,270……………480.5………….…367.5
80+…12,011……….…545….10,087………….…391.1………….…427.4
>>>>>>>>>>>>>>>>>>>>>>>>>>>>>>>>>>>>>>>>>>>>>>>>>>>>>>>>>>>
Page 16:
Death within 60 days of first positive test….. Rate per 100,000
………………………………………….…(Rate per 100,000)…(Rate per 100,000)
AGE…..TOTAL …Not Vax….2 doses……Rec'd 2 doses …….Not Vax
>18…..3…………………3…………0……………..0.0 ………………0.0
18-29..24……………….15……..…4……….…….0.1 ……….………0.4
30-39…58…………….…39………12…………….0.2…………..……1.3
40-49…119…………..…67………35………….…0.6…………..……3.9
50-59…234……………122…..….90………….…1.3………………11.8
60-69…401……………146…….227………….…4.0………………26.9
70-79…653……………141…….486……………10.5………………56.9
80+…1,266……………165…..1,052……………40.8………….…129.45 Reply
Gail Combs Online Reply to  Gail Combs September 11, 2021 16:16
This is the earlier article:
Well, Duh. This Is Why It Was Stupid
2 Reply
Wolf Moon Online Admin Coyote Reply to  Gail Combs September 11, 2021 18:11
OK – look at page 15 – the deaths within 28 days of vaccination VS unvaccinated.
Looks favorable to the vaccine – RIGHT?
This is how they gamed things, in order to FLIP the relative values of the last two columns, AND to hide vaccine deaths. So what they do is they count all deaths within 14 days of the vaccination as being due to being UNVACCINATED.
That not only HIDES the vaccine deaths – it flips the values of the 28 day report.
IMO if you have fine-grained data on deaths before scheduled (as a baseline) and AFTER vaccination, what you will see is that there is a characteristic COVID-mimetic death bell-ish curve AFTER vaccination which shows deaths CAUSED by vaccination. All those deaths need to be shifted out of the "non-vaccinated" column into a third column – DEATHS BY VACCINE.
7 Reply
Wolf Moon Online Admin Coyote Reply to  Wolf Moon September 11, 2021 18:13
This is a SMOOTH fake science operation, where media and science media pressure prevents scientists from talking about VACCINE DEATHS.
5 Reply
Gail Combs Online Reply to  Wolf Moon September 11, 2021 21:30
A real life example of HOE TO LIE WITH STATISTICS!
1 Reply
cthulhu Online Reply to  Gail Combs September 11, 2021 23:35
Step 1 — HOE checks validity of STATISTICS' bankroll.
Step 2 — HOE lies with STATISTICS….
0 Reply
Concerned Virginian Offline Wolverine Reply to  barkerjim September 11, 2021 15:17
The article and the comments are brutal.
7 Reply
---
BUT WAIT – THERE'S MOAR.
Another hat tip to GA/FL – she came up with some startling information – link HERE – that CDC is now pulling the same trick, as when they are hiding days 1 through 14, by LIKEWISE calling people UNVACCINATED if it has been over 90 days since their last jab.
---
The hiding of days 1-14 made sense mostly for hiding vaccine injuries, as well as the slow and migratory pharmacokinetics of the vaccine, and early vaccine failure to immunize. But cutting off at 90 days is the same thing for hiding ADE and failure against variants.
Hopefully, we get as aggressive on their "90 day scam" as we were on their "14 day scam".
Here is our discussion:
---
Wolf Moon Online Admin Coyote Reply to  GA/FL September 11, 2021 19:12
Georgia – am I reading that correctly – about the 90 DAY part – that they are basically "unvaccinating the vaccinated" at THREE MONTHS after their last injection?
THAT is HUGE – because that basically keeps most people being classified as unvaccinated.
That is UTTERLY FRAUDULENT, and is being used to HIDE VACCINE FAILURE.
6 Reply
Wolf Moon Online Admin Coyote Reply to  Wolf Moon September 11, 2021 19:13
In theory, the only way to stay "vaccinated" is to get FOUR PER YEAR.
That will have a HUGE impact on human fertility.
5 Reply
Concerned Virginian Offline Wolverine Reply to  Wolf Moon September 11, 2021 19:16
Wolf Moon
AND it will be a MUCH faster way to decimate / destroy the body's natural immune system.
6 Reply
Concerned Virginian Offline Wolverine Reply to  Wolf Moon September 11, 2021 19:15
Wolf Moon
And that would ALSO be a "convenient" way to DENY the fact that the "vaccines" compromise the recipient's immune system, making the person MORE vulnerable in real terms to COVID / any of the "variants."
Cases in point: My son and DIL, both MD's, both "fully vaccinated" in FEBRUARY of this year, both coming down with "breakthrough cases" of COVID in AUGUST.
Last edited 9 hours ago by Concerned Virginian
8 Reply
---
It is really becoming apparent that they will cover up using any method, or tell any science lie, to give us these bad vaccines. This kind of pig-headed determination that KILLS people is clearly Soviet, Maoist or Nazi – take your pick.
BUT WAIT – THERE'S MOAR.
A final note, going back to the anonymous whistleblower nurse.
She talks about patients – isolated from family and friends in the lockdown COVID ward – getting REMDESIVIR – a drug which is GUARANTEED to be more useless than any "horse dewormer".
This is the drug that Fauci the LIAR announced under Trump, and called the new "gold standard of care".
Oh, Fauci was having fun there.
You see, he was TAUNTING US.
When he said "gold standard", he was talking about MAKING A LOT OF MONEY – and I would further stipulate they planned to do it with a "goldbrick" drug.
At the time Fauci announced it, we were able to see the study. That study results were actually revealed a day or two before that, and on the news, the stock market reacted badly, because THEY could see what I saw, when I looked at the results.
WORSE than hydroxychloroquine. WORSE than ivermectin. And substantially so. I mean, it was CYNICAL to even suggest that this was an "OK" drug, much less a "gold standard", when it was WORSE than the results for drugs that THEY said don't work.
And worse yet, the patients getting remdesivir CLEARLY suffered kidney damage, including going on DIALYSIS. This was all BACKWARDS from reality.
This was not merely my reading of the results. LATER STUDIES confirmed this.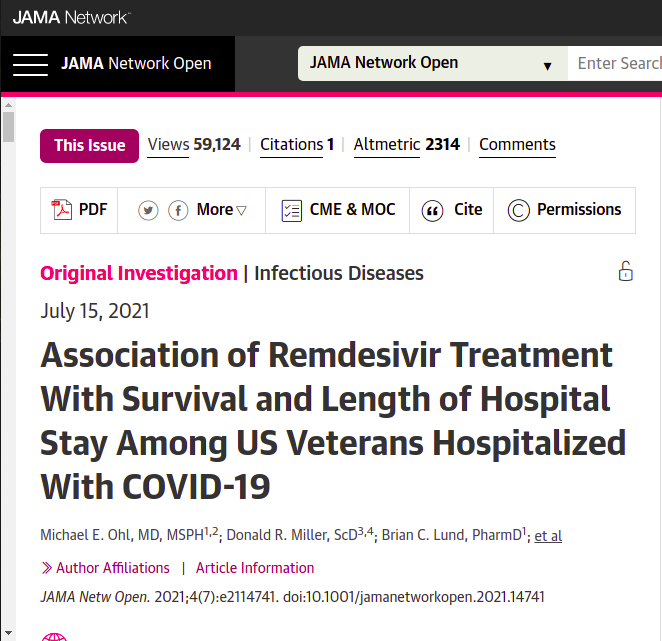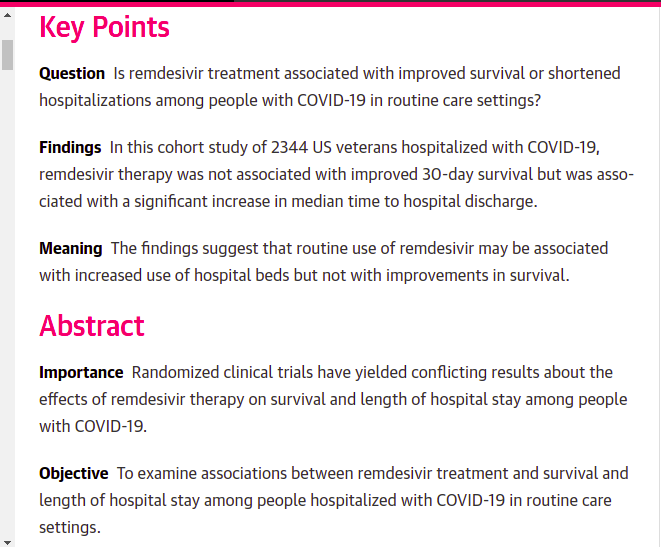 LINK: https://jamanetwork.com/journals/jamanetworkopen/fullarticle/2781959
---
The doctors in this article almost ACCUSE the makers of remdesivir of shaking down patients and insurance, it's so obvious that the stuff does not work, except to make money.
COZY, this little arrangement. Not necessarily for the People.
That Chinese organization called "WHO" has actually taken notice, and like a stopped clock, is correct in no longer recommending remdesivir.
And suddenly, I remembered something.
Cthulhu had talked about Fauci seeking an AIDS vaccine FIRST, and then going to the toxic drug AZT, which was in itself a plague and a scandal.
Well, we're seeing BOTH of those scandals again – a vaccine AND a drug for a retrovirus (AGAIN – people are not talking about the ESSENTIAL Jaenisch paper.)
And it's the SAME GUY.
But NOW, with his former young protege running CDC.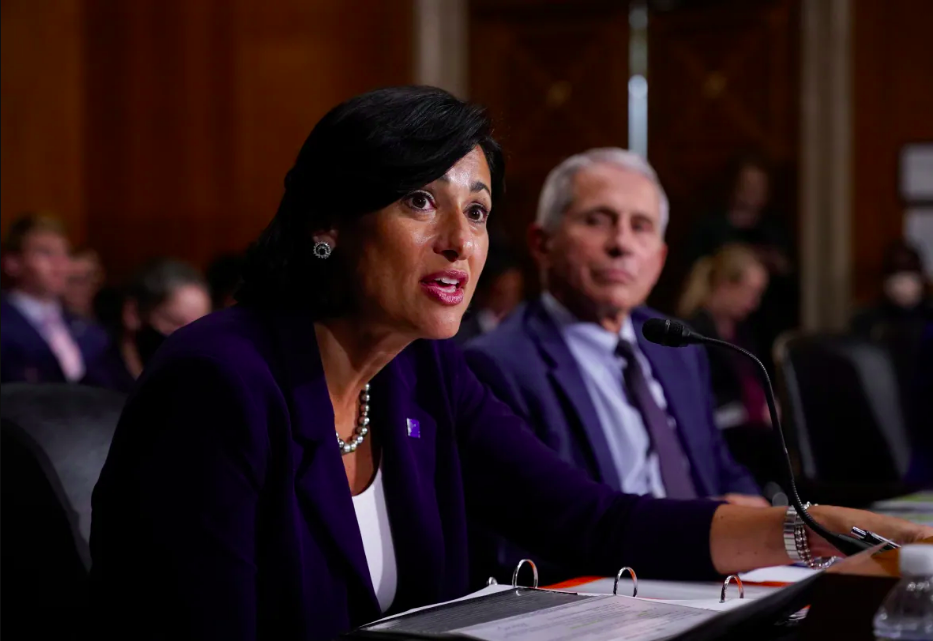 ---
Something is not right here. It's not just the vaccines, and it's not just the drugs. AND LOGIC may have a whole bunch of things for Suspicious Cat.

W