Hey China!
Or rather, "Hey Chinese Communist Party and your entire array of servitors, ass-wipers, and fellators!"
You're not even worth my time this week. When you decide to act like civilized people, maybe I'll give you a lesson or two in how non-barbarians behave.
Hey BiteMe!
(Or, Whoever Has Their Hand Rammed Up That Putrefying Meat Puppet's Ass)
[Language warning]
You and yours have caused a lot of injury. Literal injury with your war on people who don't want to take an untested vaccine. When people die in an emergency room because a hospital won't admit them because they haven't had their clot shot, that's a crime.
I'm going to address here the insult on top of the injury, because I am among the insulted. I still have my health but apparently you want me to live under the 8th Street Bridge (which actually isn't on 8th Street, but whatever, that's what the I-25 overpass over Cimarron is called), so maybe if you have your way that won't be true for long. Dreadful time of year to become homeless.
No, you're just trying to make me unemployed, because I won't take your fucking shots.
Well, that threat is NOT going to work. I. Won't. Take. Your. Fucking. Shots.
And it looks like enough people agree, that you're having to back down, you worthless asswipe.
You're LOSING.
You LOSER.
You Chinese-bought ratfucking traitor.
I would love to see you die an agonizing, humiliating death. (This isn't a threat, because I am not threatening to cause that death. I am just announcing my intention to party if it happens.) It would be just recompense for the way you're killing America…and millions of Americans.
His Fraudulency
Joe Biteme, properly styled His Fraudulency, continues to infest the White House, we haven't heard much from the person who should have been declared the victor, and hopium is still being dispensed even as our military appears to have joined the political establishment in knuckling under to the fraud.
One can hope that all is not as it seems.
I'd love to feast on that crow.
(I'd like to add, I find it entirely plausible, even likely, that His Fraudulency is also His Figureheadedness. (Apparently that wasn't a word; it got a red underline. Well it is now.) Where I differ with the hopium addicts is on the subject of who is really in charge. It ain't anyone we like.)
Justice Must Be Done.
The prior election must be acknowledged as fraudulent, and steps must be taken to prosecute the fraudsters and restore integrity to the system.
Nothing else matters at this point. Talking about trying again in 2022 or 2024 is hopeless otherwise. Which is not to say one must never talk about this, but rather that one must account for this in ones planning; if fixing the fraud is not part of the plan, you have no plan.
Lawyer Appeasement Section
OK now for the fine print.
This is the WQTH Daily Thread. You know the drill. There's no Poltical correctness, but civility is a requirement. There are Important Guidelines, here, with an addendum on 20191110.
We have a new board – called The U Tree – where people can take each other to the woodshed without fear of censorship or moderation.
And remember Wheatie's Rules:
1. No food fights
2. No running with scissors.
3. If you bring snacks, bring enough for everyone.
4. Zeroth rule of gun safety: Don't let the government get your guns.
5. Rule one of gun safety: The gun is always loaded.
5a. If you actually want the gun to be loaded, like because you're checking out a bump in the night, then it's empty.
6. Rule two of gun safety: Never point the gun at anything you're not willing to destroy.
7. Rule three: Keep your finger off the trigger until ready to fire.
8. Rule the fourth: Be sure of your target and what is behind it.
(Hmm a few extras seem to have crept in.)
Spot Prices.
Kitco Ask. Last week:
Gold $1830.80
Silver $23.40
Platinum $973.00
Palladium $1995
Rhodium $15,300
This week, markets closed as of 3PM MT.
Gold $1798.00
Silver $22.45
Platinum $969.00
Palladium $2025.00
Rhodium $18,500.00
Yep, the manipulators are trying, once again, to push gold and silver down. But inflation is real, and they won't be able to keep that going forever.
Palladium and rhodium are up–rhodium is WAY up. I wonder what that's about?
James Webb Space Telescope Update
As I write this Friday afternoon, JWST has unfolded the main mirror, on the port side. A lot of holds had be released, then the mirrors swung into place, then two hours to latch it into place.
The other half should be done today, and indeed nasa.gov/live will stream the process.
Once this is done the telescope is fully deployed. It will then be a matter of getting 18 mirrors to work as one; a very meticulous multi-day process.
Mirror temperature as of 1:30 ET on Friday is -264 F.
Our Solar System as Archetype
I wrote a few articles on physics and astrophysics culminating in the latest cosmological discoveries, and my timing was very good on those, because the spacecraft that will almost certainly move the frontiers of knowledge forward in that area was about to be launched.
But there is another "hot topic" in astronomy these days, one that, at least to my way of thinking, is more "astronomy" than "physics," whereas cosmology is about 50-50. Of course your opinion on what belongs in what bucket can certainly differ from mine.
That is the topic of "extrasolar planets." In other words, planets orbiting around other stars, rather than our Sun.
In fact planetary science in general has become a lot more of a hot field of study now. Before we could send space probes to other planets, almost no astronomer paid any attention to the planets. The big telescopes that astronomers had to beg, borrow or steal time on were devoted to studying galaxies and stars.
It's very different nowadays. We have now found indications of planets orbiting other stars, and in some few cases have even managed to image them. They're featureless dots, of course…but they are dots in a picture.
But then, that's because of our perspective.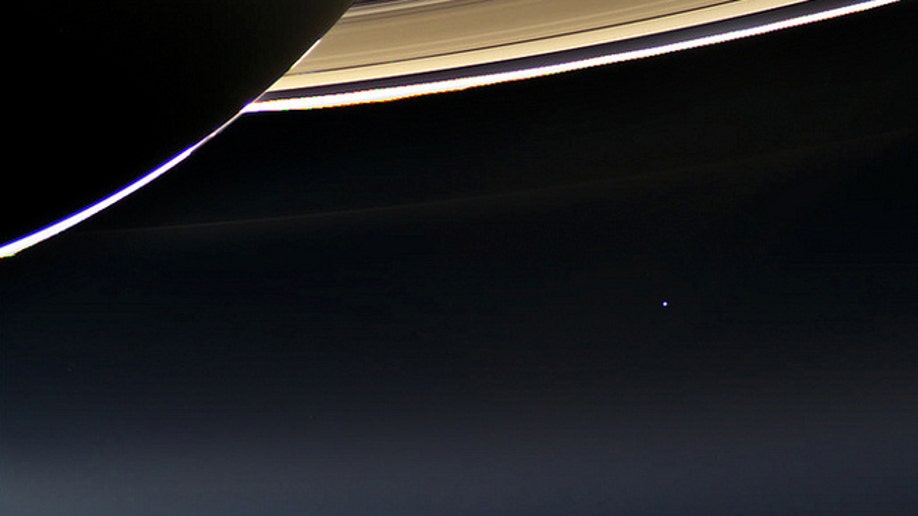 The Cassini space probe, which orbited Saturn for many years, would occasionally pass "behind" Saturn as seen from the sun. This of course is a vantage point unavailable from here, so it would take pictures, many of them showing bright halos of dust…they're worth checking out. Some of them show, as an incidental, a thing that is also shown here in this picture. Upper left is the "night side" of Saturn, upper center and right are a bit of the rings. The one dot, conspicuous because it's the only bright spot in the rest of the picture…is Earth.
Just a dot.
Keep that in mind as we discuss the "just a dot" planets orbiting other stars.
One way we might manage more than "just a dot" is with (wait for it…) the James Webb Space Telescope.
So it's useful over here in this branch of knowledge as well.
A Preliminary Gripe or Two
First, a minor pet peeve of mine. Our sun's system of planets is called "The Solar System." Solar comes from Sol, a Latin name for the sun. So the "Solar System" is named after the star.
What do we call systems of planets orbiting other stars? Do we call them "Stellar Systems" from the Latin word for "Star"?
Oh, Hell no. That would make too much sense. We call them planetary systems. A "stellar system" is a grouping of stars, maybe two stars orbiting each other in a binary, maybe a globular cluster of up to a million stars, maybe even a whole galaxy.
So that brings us to Gripe Number Two. When what looks like a star is observed to really be a binary star, the two individual stars get lettered A and B. Alpha Centauri (the nearest naked-eye visible star to our sun) is a binary; the two stars are Alpha Centauri A and Alpha Centauri B. There is a third star, much fainter and further away; it's actually closer than the other two, and is itself the nearest star other than the sun, period (though we might someday look at some other faint star and discover it's even closer–in fact we might even discover that we are a binary star; the Sun and some faint red star out there somewhere). That faint star is called Proxima Centauri, or Alpha Centauri C.
So what did they do when they started discovering exoplanets? Star Trek episodes used the custom of simply numbering the planets, and using Roman numerals, for example "Rigel VI," presumably the sixth planet out from Rigel. (Incidentally, there were a LOT of habitable planets orbiting Rigel in the original Star Trek.) I've seen this convention in a lot of other science fiction that I've read.
The astronomers didn't do this with real extrasolar planets. They decided to go with lower case letters, as a sort of "extension" of their convention for labeling stars. The lower case letters would be applied in the order of discovery…and the first such letter is 'b,' not 'a.' Why? Because the star itself is 'a.' Why on earth they should have decided to designate the star itself as if it were a planet, is totally beyond me. SMH.
OK, on to the main meat of this week's post.
Our Solar System
Until thirty years ago (1992), this planetary system, the Solar System, was the only one known. We didn't know if, perhaps, this was an unusual, freak occurrence and planetary systems were rare, or common. One old theory of formation (discounted for other reasons) was that at some time in the past another star had passed very close to the sun, pulling a bunch of material out which condensed to form the planets. This would be a very rare occurence, and it would have been entirely possible that there'd only be two planetary systems in the galaxy–ours, and the one belonging to the other star that sideswiped the sun way back when.
Most astronomers who gave it any thought suspected that planetary systems were a lot more common than that. But what would they be like? Well, we only had one example. And we had pretty good arguments for supposing a lot of the characteristics of this planetary system weren't random, but there for reasons coming straight out of physics and chemistry.
So in order to understand other planetary systems, we need to understand ours. Because it was likely an archetype of what we would find out there when we finally did find things out there.
Imagine someone on the outside looking at the solar system.
They'd only be 14 hundredths of a percent off if they were to conclude that all that was there was a star. The Sun is 99.86 percent of the entire mass of the system. (Sadie can have fun with the fact that that is the same as the percentage of Congress that is worthless. Quite a coincidence!)
The sun is almost entirely hydrogen and helium, in a 3:1 ratio by mass–that's what came out of the Big Bang. It also contains a lot of other elements in much smaller, almost trace percentages–those mostly came from prior stars that brewed them up and then either shed them as planetary nebulae (that name is a bit of misnomer; nothing to do with planets), or blew them out into space in a supernova.
Of course an observer from the outside won't stop there. He/she/it probably belongs to a species that calls a planet home, so he/she/it is probably looking for planets. Those are good real estate. (Though it should be noted that many speculate we will be able someday to build a thriving civilization in space, particularly in the asteroid belt.)
A closer look will reveal Jupiter, orbiting a bit less than a billion kilometers out. When we look even closer, we'll see other planets, but Jupiter is 2.5 times the mass of everything else (that isn't Sun) put together. So a good second approximation is that the solar system consists of the Sun, Jupiter…and miscellaneous debris.
We are, of course, most interested in that debris because we live on the fourth largest piece of it.
An even closer look reveals the following pattern. There are essentially five "zones" in the solar system. Going outward from the sun, we have four large bodies that are mostly rocks, with very few volatiles.("Volatiles" are simply substances with a relatively low boiling point, like water and carbon dioxide, as opposed to silicon dioxide, which when found in nature is called "quartz" and is probably the most common constituent of rocks.)
(If you are about to object that Earth is mostly water, you should realize that Earth is mostly water at the surface. The ocean is a few miles deep on average, below that it's mostly rock for a couple of thousand miles, with a core in the center made almost entirely of iron. By volume the Earth has almost no volatiles, but that doesn't mean it doesn't contain a lot of oxygen–it's part of most mineral molecules and in that form is not volatile.)
Then there is a belt of stuff even we would call debris: the asteroids. Some of them are large enough that their gravity pulls them into a spherical shape; others are quite irregular.
The books I read as a kid (mostly ten to twenty years old at the time) claimed there were about 1500 known asteroids (I'm going from memory); today we know of hundreds of thousands.
The asteroid belt actually covers a wide span of distances. Nearer asteroids are mostly rocky, outer ones have some "ices" on them.
I need to stop and explain that when planetary scientists talk about ices, they don't just mean water ice, they also mean methane, ammonia, and carbon dioxide. All these things we on Earth think of as gases or liquids, at least under the conditions prevalent here on the surface.
In fact there is a line called the "frost line" where ices will form, even in places that get direct sunlight. Closer than that to the sun, it's too warm for that. The frost line is about 5 times as far from the sun as Earth is, (defined to be 1 Astronomical Unit; the frost line is at 5 AU).
Beyond the asteroid belt, we find Jupiter, and then the largest piece of "miscellaneous debris" in the solar system, Saturn.
These two planets are largely made up of hydrogen and helium, just like the sun. However, we know there was some rocky stuff made out of the other elements, because Jupiter and Saturn have large moons (larger than the smallest planet, Mercury) made out of both rocks and volatiles. In fact some of these moons probably contain more water than Earth does; a frozen layer on the outside, a liquid layer underneath, kept so by the moons' internal heat, which in turn is generated by tidal forces acting relentlessly on the moons.
Planetary scientists actually find those outer planet moons to be the most interesting objects of study right now, more so than the planets they orbit. There's speculation there could be life in those oceans.
Moving further out, there are Uranus and Neptune. These are both about 30,000 miles across (compared with Earth's ~8000 miles and Jupiter's 88,000 miles), and they are largely composed of ices. Their atmospheres contain a lot of methane and ammonia. These were once lumped into the same group as Jupiter and Saturn, but now astronomers have decided the differences are significant and there is a new class of object called "ice giants." They too have moons made up of rock and ice.
Beyond Neptune are a large number of other bodies, much like asteroids but largely made up of ice. At the prevailing temperatures out there, in face, water ice is essentially just another rock…at those temperatures it's hard stuff. Pluto is one of these bodies, actually, which is why it got "demoted" from being a planet. Once we found more objects like it–many of them larger than Pluto–we realized it was something different. This region of the Solar System is called the Kuiper Belt, after Gerard Kuiper (1905-1973) who did a lot of planetary science even when it wasn't fashionable, but ironically did not predict the Kuiper Belt.
The best estimates are that there's 200 times as much stuff in the Kuiper Belt as there is in the "regular" asteroid belt.
And by no means are small objects confined to these belts!
So that's our overall picture. Close to the sun, bodies are rocky. Further away, smaller bodies are ice and rock–more ice, proportionately, the further out you go. Big bodies tend to be BIG bodies, though, and they are largely made out of gas.
All of this is plausibly explained by the best models of the formation of the solar system (and other planetary systems); the nebula, mostly gas but some dust as well, that forms the system begins to contract, favors a disk-like shape with most of the mass at the center, then out in the disk, solid objects (rocks, and if far enough away, ices too) start consolidating into "planetesimals" and those consolidate into planets.
We don't understand all of the dynamics of this process. Parts of it are still a mystery. But we can watch stars and planetary systems in the act of forming right now in the Orion Nebula. (And the James Webb Space Telescope will hopefully show us more than we can see at present. Infrared light can cut through nebular dust easily.)
As the star at the center contracts, it gets hot, and eventually starts fusing hydrogen into helium. All that energy pouring out of the star basically blasts all the light gases out of the inner solar system. And any that were in the atmosphere of planets like Earth heats up.
The temperature of an object is directly related to the average kinetic energy of the molecules or atoms is made of. But what that means is that a sample of hydrogen at (say) 0 C has H2 molecules in it that are moving faster than a sample of oxygen at the same temperature. That's because although the hydrogen molecules have the same kinetic energy as the oxygen molecules, they are lighter…which means they must move faster than the oxygen molecules do at the same temperature.
It's an average velocity; some molecules move slower, some faster. The faster hydrogen molecules actually move at escape velocity, and if at the upper, very thin layers of the atmosphere, they "bleed off" because they don't run into anything they might bounce off off, and lose some momentum to, until it's too late. (Even water vapor will do this to some extent, but much more slowly than hydrogen or helium.)
[This is why, every time you let helium escape party balloons and the like, it's gone for good. It will dilute in the atmosphere to the point it's not worth trying to purify, and will eventually work its way upward and diffuse away. Helium is probably the ultimate limited resource. At least until we can get into space and scoop it out of Jupiter's and Saturn's atmospheres. Meanwhile, helium is becoming harder and harder to get for party balloons, because it has other uses, like in MRI machines, and people are starting to refuse to sell it to people who will just let it get away.]
So Earth kept none of its stock of hydrogen…it probably never accumulated that much to begin with. (I think it's still an open question where all our water came from–there are two plausible possibilities and it might be both of them.)
Jupiter and Saturn though? They had no problem hanging on to their hydrogen and helium. And in fact, that increased the mass of the planets, which caused them to attract more gas, which increased the mass further…a sort of runaway effect. (And Jupiter is so massive that now, it could orbit at Earth's distance and still keep its hydrogen, simply because it's so much more massive and its escape velocity much higher than Earth's.)
We knew all of this, certainly, by 1992. And it colored our expectations of what we'd find out there if we ever did manage to detect extrasolar planets. Small, light bodies close to the star, big massive ones further away. Those, of course have the most effect on their parent star (which is the only thing we can observe), but they move slowly.
Next week, I go into how astronomers look for exoplanets.
Obligatory PSAs and Reminders
China is Lower than Whale Shit
Remember Hong Kong!!!
中国是个混蛋 !!!
Zhōngguò shì gè hùndàn !!!
China is asshoe !!!
China is in the White House
Since Wednesday, January 20 at Noon EST, the bought-and-paid for His Fraudulency Joseph Biden has been in the White House. It's as good as having China in the Oval Office.
Joe Biden is Asshoe
China is in the White House, because Joe Biden is in the White House, and Joe Biden is identically equal to China. China is Asshoe. Therefore, Joe Biden is Asshoe.
But of course the much more important thing to realize:
Joe Biden Didn't Win
乔*拜登没赢 !!!
Qiáo Bài dēng méi yíng !!!
Joe Biden didn't win !!!