In my opinion, the approval of a "likely safer" coronavirus vaccine is – in the long game – a big win for popular science – here's why.
The approaching approval (or not) of a competing EUA for the NON-mRNA NON-viral-vector NON-genetic Novavax coronavirus vaccine is going to tell us a LOT about how much power Pfizer and China still hold over FDA and CDC.
As you may have read two days ago, I regarded the conveniently timed FDA public statement about the myocarditis risks of the Novavax vaccine as a cynical "pot-vs.-kettle" attempt to sway approval and prevent the entirety of future Novavax data from getting into VAERS, where such data would very likely highlight every possible problem with the mRNA vaccine technology of the Pfizer and Moderna vaccines.
---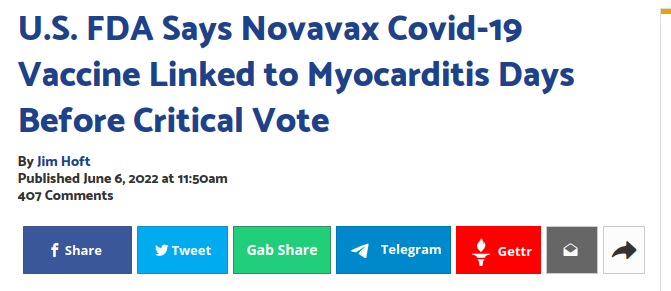 TL;DR – "I believe that mRNA vaccines have serious risks that would be REVEALED by approval of the Novavax vaccine." -Wolf Moon I'm actually surprised that FDA and Pfizer/China allowed Novavax to get this close to approval, but they clearly have the upcoming vote RIGGED, just like the 2020 election. The trusty "board mules" that …
---
Well, it looks like the VRBPAC bunch did the smart – or at least consistent thing, and recommended approval.
LINKS HERE:
https://www.cnbc.com/2022/06/07/novavax-covid-vaccine-clears-key-step-on-path-to-fda-authorization-after-committee-endorses-the-shot.html
https://ir.novavax.com/2022-06-07-FDA-Advisory-Committee-Recommends-Emergency-Use-Authorization-of-Novavax-COVID-19-Vaccine-for-People-Aged-18-Years-and-Older
https://www.axios.com/2022/06/07/novavax-vaccine-fda-eua
https://www.nasdaq.com/articles/fda-committee-proposes-eua-nod-to-novavaxs-nvax-covid-jab
https://www.thestreet.com/markets/novavax-stock-soars-as-fda-panel-recommends-eua-for-covid-vaccine
https://news.yahoo.com/fda-advisory-committee-recommends-novavax-vaccine-for-use-in-adults-194314939.html
---
The 21-0 vote with one abstention is telling, IMO. A vote AGAINST would cause an uproar on both sides, and put VRBPAC in the hot seat. Are they shuffling the murder of Novavax off to "the Roach" for a kill? We will see.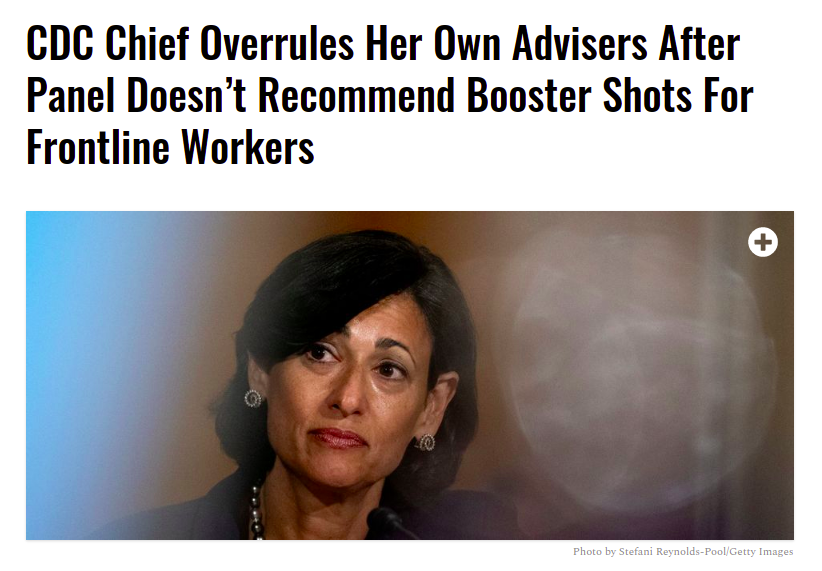 Here is a comment I added to my prior post, regarding an article in the Federalist, which takes the "no more approvals of any vaccine" approach – which I believe is well-intended but short-sighted. This comment explain my strategic reasons for supporting approval.
---
Here is a great example of somebody who sees the vaccines much the same as me, but strategically comes to the exact opposite point of view on approval of Novavax.

Reading his point of view may help people to see mine – or maybe not. Worth a read.

https://thefederalist.com/2022/06/09/fda-pushes-to-authorize-novavaxs-covid-19-vaccine-despite-serious-cardiovascular-safety-issues/

Dr. Gortler basically wants to begin playing fair and correctly on Novavax – making it jump through the hoops that Pfizer and Moderna didn't have to jump through, but (IN MY OPINION, NOT HIS) thus denying what is likely a SAFER vaccine (in many respects – not all) to people who are going to take a vaccine, one way or another.

In my opinion, admitting the Novavax vaccine will shed necessary light on mRNA technology, as this "shingles-style" (recombinant protein) vaccine will help to highlight the flaws of the mRNA tech in the long run.

This is where I take a "Trumpian" and "they have to be shown" position. I regard a denial here as the kind of "purism" that has been deadly to conservatives, and was responsible for "NeverTrump" as an effective weapon of the left.

We have what is likely a "saf-ER" vaccine. Do we approve it or not?

YMMV.

Wolf Moon, June 9, 2022
---
Note that there is still plenty of time for FDA and/or CDC to snake Novavax and help Pfizer and China. Will they do it? Let's wait and see. Either way, we win.
If Rochelle Alinsky and Anthony Fauci knife Novavax in the back to protect mRNA, I will have one of my greatest arguments yet that they need to be removed and prosecuted. The blatant hypocrisy will win more and more Democrats to our side. All of my neighbors are perfect recipients of the message. They will be screaming for Fauci to hang.
If they allow Novavax the opportunity to prove itself [to any degree] safer than mRNA vaccines, they fight another day – but they have to fight a battle we are destined to win.
Like I say, every day is a fight – but we are winning more and more fights, sooner and sooner.
FIGHT ON, PATRIOTS.
W