Behold, I tell you a mystery; we will not all sleep, but we will all be changed, in a moment, in the twinkling of an eye, at the last trumpet; for the trumpet will sound, and the dead will be raised imperishable, and we will be changed. For this perishable must put on the imperishable, and this mortal must put on immortality.
This Superlative Sanctuary Sunday Open Thread, with full respect to those who worship God on the Sabbath, is a place to reaffirm our worship of our Creator, our Father, our King Eternal.
It is also a place to read, post and discuss news that is worth knowing and sharing. Please post links to any news stories that you use as sources or quote from.
In the QTree, we're a friendly and civil lot. We encourage free speech and the open exchange and civil discussion of different ideas. Topics aren't constrained, and sound logic is highly encouraged, all built on a solid foundation of truth and established facts.
We have a policy of mutual respect, shown by civility. Civility encourages discussions, promotes objectivity and rational thought in discourse, and camaraderie in the participants – characteristics we strive toward in our Q Tree community.
Please show respect and consideration for your fellow QTreepers. Before hitting the "post" button, please proofread your post and make sure you're addressing the issue only, and not trying to confront the poster.
Keep to the topic – avoid "you" and "your". Here in The Q Tree, personal attacks, name calling, ridicule, insults, baiting and other conduct for which a penalty flag would be thrown are VERBOTEN.
In The Q Tree, we're compatriots, sitting around the campfire, roasting hot dogs, making s'mores and discussing, agreeing, and disagreeing about whatever interests us. This board will remain a home for those who seek respectful conversations.
Please also consider the Guidelines for posting and discussion , outlined here. Let's not give the Internet Censors a reason to shut down this intellectual haven that Wolf has created for us.
---
The Storm is upon us.
Please remember to Pray for our President.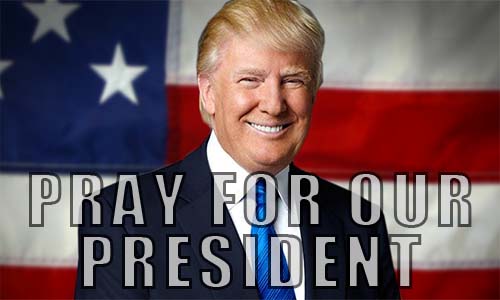 ---
Our movement is about
replacing a failed and CORRUPT political establishment
with a new government
controlled by you, the American People.
~ Candidate Donald J. Trump
---
Also remember Wheatie's Rules:
No food fights.
No running with scissors.
If you bring snacks, bring enough for everyone.
---
And,
---
On this day and every day –
God is in Control
. . . and His Grace is Sufficient, so . . .
Keep Looking Up
---
Hopefully, every Sunday, you can find something here that will build you up a little . . . give you a smile . . . and add some joy or peace, very much needed in all our lives.
"This day is holy to the Lord your God; do not mourn nor weep." . . . "Go your way, eat the fat, drink the sweet, and send portions to those for whom nothing is prepared; for this day is holy to our Lord. Do not sorrow, for the joy of the Lord is your strength."
---
by Pastor Chuck Swindoll
Scriptures: Revelation 21:4; 22:3, 5
Scriptures: 1 Corinthians 15:19–22
Our Wondrous Hope!
What gives a widow courage as she stands beside a fresh grave?
What is the ultimate hope of the disabled, the amputee, the abused, the burn victim?
How can the parents of children who have brain damage or physical handicaps keep from living their entire lives totally and completely depressed?
Why would anyone who is blind or deaf or paralyzed be encouraged when he or she thinks of the life beyond?
How can we see past the martyrdom of some helpless hostage or devoted missionary?
Where do the thoughts of a young couple go when they finally recover from the grief of losing their baby?
When a family receives the tragic news that a little daughter was found dead or their dad was killed in a plane crash or a son overdosed on drugs, what single truth becomes their whole focus?
What is the final answer to pain, mourning, senility, insanity, terminal diseases, sudden calamities, and fatal accidents?
The answer to each of these questions is the same: the hope of bodily resurrection.
We draw strength from this single truth almost every day of our lives—more than we realize. It becomes the mental glue that holds our otherwise shattered thoughts together. Impossible though it may be for us to understand the details of how God is going to pull it off, we hang our hopes on fragile, threadlike thoughts that say, "Someday, He will make it right" and "Thank God, all this will change" and "When we're with Him, we shall be like Him."
More than a few times a year I look into red, swollen eyes and remind the despairing and the grieving that "there's a land that is fairer than day" when, as John promised in the Revelation,
"He will wipe away every tear . . . there will no longer be any death . . . any mourning, or crying, or pain." . . . There will no longer be any curse . . . any night . . . because the Lord God will illumine them; and they will reign forever and ever. (21:4; 22:3, 5)
Hooray for such wondrous hope!
Just imagine . . . those who are physically disabled today will one day dance in beautiful coordination and leap in ecstatic joy. Those who spend their lives absorbed in total darkness will see every color in the spectrum of light. In fact, the first face they will see will be of the One who gives them sight. And those precious souls whose minds and emotions are limited by mental disability, disease, or old age will enjoy to the full unhindered and uninhibited relationships. It's enough to put a smile on any weary face. There's nothing like the hope of resurrection to lift the agonizing spirits of the heavyhearted.
Unless, of course, it's all a cruel hoax.
That's Paul's whole point in 1 Corinthians 15:19. Remember how he put it? If bodily resurrection is only an empty dream, then "we are of all men most to be pitied." All our preaching has a hollow ring to it, our faith is worthless, the dead have perished, and we are still under the condemnation of our sins (15:14, 16, 18). What a deplorable state of affairs! It's enough to make all of us run and hide!
But wait. That hypothetical argument hinges on a conditional presupposition . . . if. "If there is no resurrection of the dead" (15:13), then we're out to lunch. But there is a resurrection with all its promised hopes. It is as sure as we're alive at this moment.
How can we be so certain that we will be resurrected? What is the source of our assurance? What gives us unshakable confidence in the face of death? The fact of Christ's resurrection.
Because He has been raised, we too shall rise. As Paul stated in that same section of Scripture, "Christ [is] the first fruits, after that those who are Christ's at His coming" (15:23). That's us! Jesus Himself promised, "I am the resurrection and the life; he who believes in Me will live even if he dies" (John 11:25).
No wonder we get so excited every Easter! No wonder we hold nothing back as we celebrate His miraculous resurrection from the grave! It's a double-barreled celebration: His triumphant hurrah over agony and our ultimate and eternal hooray.
---
How can I keep from singing?
My life flows on in endless song;
Above earth's lamentation
I hear the sweet though far off hymn
That hails a new creation:
Through all the tumult and the strife
I hear the music ringing;
It finds an echo in my soul—
How can I keep from singing?

What though my joys and comforts die?
The Lord my Savior liveth;
What though the darkness gather round!
Songs in the night He giveth:
No storm can shake my inmost calm
While to that refuge clinging;
Since Christ is Lord of heaven and earth,
How can I keep from singing?

I lift mine eyes; the cloud grows thin;
I see the blue above it;
And day by day this pathway smoothes
Since first I learned to love it:
The peace of Christ makes fresh my heart,
A fountain ever springing:
All things are mine since I am His—
How can I keep from singing?
~ Robert Wadsworth Lowry
---