Cover image: 1899, Lydia Finnell, Show Quilt, Collection of the Smithsonian Institution
The whole quilt: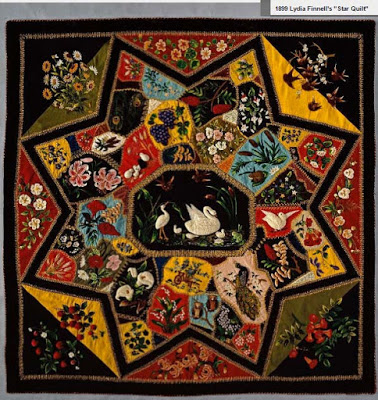 My fingers hurt just looking at all that stitching.
As of this writing, this is the latest from the President's Own Marine Band. I think y'all will like it.
And a reminder to take the pledge:
"I do solemnly swear (or affirm) that I will support and defend the Constitution of the United States against all enemies, foreign and domestic; that I will bear true faith and allegiance to the same; that I take this obligation freely, without any mental reservation or purpose of evasion; and that I will well and faithfully discharge the duties of the office on which I am about to enter: So help me God."
And now for the nitty gritty of the Q Tree 5 minute, stand up, Tuesday morning meeting version of the Daily Thread.
Ahem.
Guidelines for posting and discussion on this site were outlined by our host, WolfM00n. Please, review them from time to time.
The discourse on this site is to be CIVIL – no name calling, baiting, or threatening others here is allowed. Those who are so inclined may visit Wolf's other sanctuary, the U-Tree, to slog it out with anyone who happens to still be hanging out there.
This site is a celebration of the natural rights endowed to humans by our Creator as well as those enshrined in the Bill of Rights adopted in the founding documents of the United States of America. Within the limits of law, how we exercise these rights is part of the freedom of our discussion.
Fellow tree dweller Wheatie gave us some good reminders on the basics of civility in political discourse:
No food fights.
No running with scissors.
If you bring snacks, bring enough for everyone.
__________________________________________________
From the Gospel According to St. Matthew, Chapter 23:
And whosoever shall swear by the temple, sweareth by it, and by him that dwelleth in it: [22] And he that sweareth by heaven, sweareth by the throne of God, and by him that sitteth thereon. [23] Woe to you scribes and Pharisees, hypocrites; because you tithe mint, and anise, and cummin, and have left the weightier things of the law; judgment, and mercy, and faith. These things you ought to have done, and not to leave those undone. [24] Blind guides, who strain out a gnat, and swallow a camel. [25] Woe to you scribes and Pharisees, hypocrites; because you make clean the outside of the cup and of the dish, but within you are full of rapine and uncleanness.
[26] Thou blind Pharisee, first make clean the inside of the cup and of the dish, that the outside may become clean. [27] Woe to you scribes and Pharisees, hypocrites; because you are like to whited sepulchres, which outwardly appear to men beautiful, but within are full of dead men's bones, and of all filthiness. [28] So you also outwardly indeed appear to men just; but inwardly you are full of hypocrisy and iniquity. [29] Woe to you scribes and Pharisees, hypocrites; that build the sepulchres of the prophets, and adorn the monuments of the just, [30] And say: If we had been in the days of our Fathers, we would not have been partakers with them in the blood of the prophets.
As always, prayers for the fight against that which seeks to enslave us are welcome. Via con Dios.