Okay you knuckledragging ChiComs trying to take us down…here's a history lesson for you.
For millennia, you had to suffer from this: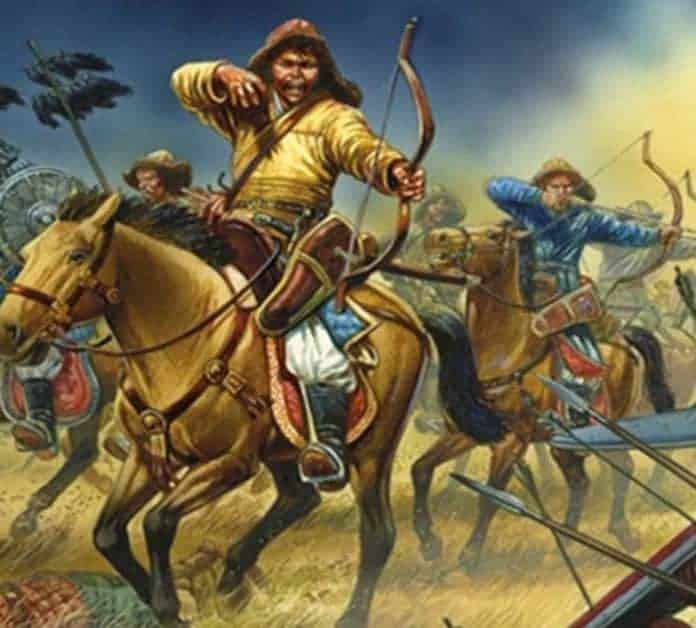 Yep. Steppe Nomads. They laid waste to your country, burned, raped and pillaged (but not in that order–they're smarter than you are) for century after century.
You know who figured out how to take them on and win? The Russians.
Not you, the Russians. And it took them less than two centuries. And Oh By The Way they were among the most backward cultures in Europe at the time.
You couldn't invent an alphabet, you couldn't take care of barbarians on horseback, and you think you can take this board down?
HAHAHAHAHAHAHA!!!! We're laughing at you, you knuckledragging dehumanized communists…worshipers of a mass-murderer who killed sixty million people!
I mean, you still think Communism is a good idea even after having lived through it!
By my reckoning that makes you orders of magnitude more stupid than AOC, and that takes serious effort.
His Fraudulency
Joe Biteme, properly styled His Fraudulency, continues to infest the White House, and hopium is still being dispensed even as our military appears to have joined the political establishment in knuckling under to the fraud.
All realistic hope lies in the audits, and perhaps the Lindell lawsuit (that will depend on how honestly the system responds to the suit).
One can hope that all is not as it seems.
I'd love to feast on that crow.
Justice Must Be Done.
The prior election must be acknowledged as fraudulent, and steps must be taken to prosecute the fraudsters and restore integrity to the system.
Nothing else matters at this point. Talking about trying again in 2022 or 2024 is hopeless otherwise. Which is not to say one must never talk about this, but rather that one must account for this in ones planning; if fixing the fraud is not part of the plan, you have no plan.
Political Science In Summation
It's really just a matter of people who can't be happy unless they control others…versus those who want to be left alone. The oldest conflict within mankind. Government is necessary, but government attracts the assholes (a highly technical term for the control freaks).
(A comment I wrote last week that garnered some praise.)
Lawyer Appeasement Section
OK now for the fine print.
This is the WQTH Daily Thread. You know the drill. There's no Poltical correctness, but civility is a requirement. There are Important Guidelines, here, with an addendum on 20191110.
We have a new board – called The U Tree – where people can take each other to the woodshed without fear of censorship or moderation.
And remember Wheatie's Rules:
1. No food fights
2. No running with scissors.
3. If you bring snacks, bring enough for everyone.
4. Zeroth rule of gun safety: Don't let the government get your guns.
5. Rule one of gun safety: The gun is always loaded.
5a. If you actually want the gun to be loaded, like because you're checking out a bump in the night, then it's empty.
6. Rule two of gun safety: Never point the gun at anything you're not willing to destroy.
7. Rule three: Keep your finger off the trigger until ready to fire.
8. Rule the fourth: Be sure of your target and what is behind it.
(Hmm a few extras seem to have crept in.)
(Paper) Spot Prices
Last week:
Gold $1768.40
Silver $23.40
Platinum $1059.00
Palladium $2162.00
Rhodium $15,150.00
This week, 3PM Mountain Time, markets have closed for the weekend.
Gold $1793.00
Silver $24.40
Platinum $1047.00
Palladium $2104
Rhodium $15,250
Nice moves upward for gold and silver, but the platinum group metals are considerably mixed.
XXII Powering Stars
One of the things that was puzzling physicists and astronomers in the late 1800s and even into the early 1900s is how stars could continue to belt out such phenomenal amounts of energy every second, year in, year out for millions and even billions of years.
Our sun, for instance, has been pumping out 3.828 x 1026 watts, continuously, for billions of years. To be sure the current conclusion is that this number is actually increasing slowly so that in the past, say a billion years ago, it might have been ten percent less.
To put that into some sort of context, the best estimate we can make is that the entire human race uses 15 terawatts, that's 1.5 x 1013 watts. The sun belts out ten trillion times as much power as we consume.
That power goes out in all directions from the sun, and only a tiny fraction of it hits the earth. By my calculations, the earth catches about 1/2 of one billionth of all of that energy, because that's the fraction of the possible directions for light shining from the sun, that is covered by the disc of the earth as seen from the sun. (I may very well have dropped a decimal somewhere.) If that number is right, the Earth absorbs solar energy at a rate of 176,000 terawatts.
Where does this energy come from?
In the 1800s the only imaginable energy sources were combustion (like burning coal), the sun getting hotter as it shrank, and objects striking the sun. These were all unsatisfactory answers. A sun-sized pile of coal (never mind the oxygen needed to burn it) would have run out in a couple of thousand years [not long enough even to account for history since Caesar, much less all of recorded history]. The other two sources would last less than a million years at most (and there's simply not enough junk in the solar system to hit the sun and supply the energy that way, or we ourselves would be getting bombarded by it).
We had every reason back then to believe the Earth is tens of millions of years old, though many argued it had to be much older. They were correct. We now have every reason to believe it's roughly 4.5 billion years old. (Anyone disagreeing today is either simply ignorant of the evidence in favor of this statement and the massive preponderance of evidence in favor of earth being billions of years old (without putting a precise number on it), or is (in rare cases) quite aware of the evidence and is lying.)
So we need a way to power the Sun–and other stars–that can keep them going for billions of years.
And indeed Arthur Eddington–he is the astronomer who measured the deflection of starlight by the sun in 1919, which was strong evidence in favor of Einstein's theory of General Relativity, which in turn had been published in 1915–well, Arthur Eddington suggested in 1920 that perhaps it was nuclear energy that powered the stars.
Nuclear energy had not been known in the 1800s, but it was now apparent that nuclear energy could supply roughly a million times as much energy as coal, per unit mass.
Fission of uranium would be plentiful, if only the sun were made of uranium, but honestly the biggest yield would come from the fusion of hydrogen into helium. If only the sun were made of hydrogen.
We know today that it is roughly 3/4 hydrogen, but that was not clear in 1920. We had spectroscopic evidence that the Sun contained certain ingredients (most of the elements are in the Sun at some concentration or another) but it wasn't clear how much of anything there was. The proportions were a mystery. In fact the consensus at the time was that the Sun was pretty much made up of the same sorts of things, in the same proportion, as Earth. There was some reason to believe this, but we didn't have all the facts.
Enter Cecilia Payne (later Ceclia Payne-Gaposhkin) (1900-1979).
Classifying Stars
But first, let's go back a bit further to Annie Jump Cannon (1863-1941).
Annie Jump Cannon, along with Edward Pickering, was responsible for the current scheme by which stars are classified. She did most of the grunt work, he got most of the credit (though that is changing). This current scheme is known as the Harvard classification because, well, they were working at Harvard (pronounced HAH-vahd).
How do you classify stars? The same way you classify anything else: on the basis of what you can perceive about the objects. And with stars, that's very confined. You have the star's direction in the sky, its brightness, and its color. With telescopes, and some very specialized accessories, you can get the star's spectrum, which is actually very useful since it can tell us what the star is made of, how fast it's moving radially (towards or away from us–but this won't include any sideways motion as seen from Earth), and even how fast it's rotating in absolute terms. Today we can even use those spectra to detect planets orbiting those stars.
We truly didn't have a science of astrophysics until we got a good close look at those spectra.
All of those things I mentioned as being able to be determined from spectra depend on absorption lines. These had first been noticed by Joseph von Fraunhofer (1787-1826) in the Sun's spectrum (and so they are called "Fraunhofer lines"). They are dark bands visible in star spectra.
Later on in the 1800s it was realized that these lines were actually characteristic of different elements in the Sun. Different atoms would either absorb or emit certain wavelengths of light under differing circumstances. For instance if you heat a sample in a Bunsen burner flame, the atoms in the sample will emit only certain frequencies of light, creating an emission spectrum; under other circumstances those atoms will absorb those same frequencies from "white" light, leaving dark bands in the spectrum.
It turns out the Fraunhofer lines were due to the Sun's atmosphere absorbing some of the light emitted by the photosphere (which is the part of the sun we actually see if we are so foolish as to look directly at it).
And indeed helium was detected in the sun's atmosphere by this means decades before it was discovered on earth. The name "helium" comes from Helios, the Greek god of the Sun who rode his very bright chariot across the sky every day.
When we turned telescopes to look at (other) stars, they too exhibited absorption lines, but they didn't all exhibit the same absorption lines.
And those differences gave way to a variety of classification systems.
Annie Jump Cannon looked at hundreds of thousands of spectra and could classify them on sight, according to systems then in use, and eventually according to the system she refined in 1901-1912.
One thing that had been noticed, certainly by her and probably by others before her, was that there was a strong correlation between the color of a star, and which spectral lines were prominent.
And we already knew from studying blackbody radiation that the color of a star was determined by its temperature. Blue stars are hot, at least ten thousand Kelvins. White stars are hotter than our sun, which is a yellow-white and therefore has a temperature of 5,772K–or rather the other way around.
(And this is why you can't buy a light bulb any more without selecting its "color temperature," you're picking the color of the light according to the temperature it simulates. A true tungsten light bulb filament actually did get as hot as its color temperature, and the light it emitted tended to be quite yellowish in color. And of course this is a "thing" in photography since the camera cannot adjust what it sees, but our eyes can, based on ambient color temperature.)
Annie Jump Cannon divided stars into classes with letter names (holdovers from older systems) O, B, A, F, G, K, M. Type O stars were the bluest (and hottest) of stars, down through G (like our sun) to M (reddish color).
Why these particular colors? A "white" star has the peak of its black body emission curve in the middle of the visible part of the spectrum, so the curve is about the same height at both the purple and red ends of the spectrum. It's fairly uniform across that range, and we perceive that mixture as "white." A cooler star has its peak somewhere below the red end of the spectrum so what we see contains more red light than yellow or blue light–so we see orange or red. And blue stars are so hot most of their radiation is ultraviolet; the visible light part has much more blue than red in it.
Cannon actually subdivided each of those letters into ten sub-types, numbered from 0-9 with zero being the hottest. Since these plots always put the hot end of the spectrum at the left (which is counterintuitive, but the habit formed, and once formed, stuck, and we are stuck with it today), you'd see a progression from O0 to O9, then B0 through B9, and so on.
Another useful thing to consider is how bright the star is, intrinsically. Not just how bright it looked, but how much light did it actually emit, compared to our sun? But in order to know that, we have to know two things: how bright it appeared to be here on Earth, and how far away it was. The first was easy, the second very hard, and in fact impossible to determine much of the time because the star was too far away for our measuring methods to work.
Nevertheless, when plotting luminosity against temperature, we saw some clear trends, and not entirely what was expected.
Most stars ran along a diagonal line that got named the "Main Sequence." Other stars were of similar colors but much, much brighter intrinsically. And a few were obviously very hot, but also very dim. In particular, Sirius B was one of the latter (I described it in my second post on stars).
Once we had absolute luminosities in hand, something became apparent. You would expect a hotter star to be brighter, just as white hot coals in your fireplace are brighter than redder coals. And we could indeed calculate how bright they should be compared to cooler stars from the Stefan-Boltzmann equation. (An object twice as hot as another object emits sixteen times the energy as that other one does.)
When we looked at the luminosity of hotter stars, though, they were even brighter than they should have been. But there was a very simple answer to that. They were brighter than one would expect, because they were physically larger than the dimmer stars, just as a coal twice the size as another coal will emit twice as much light as the other, even at the same temperature.
So combine the two: Imagine a white hot coal twice the size of a red hot coal, and the white hot coal is now 32 times brighter than the red coal; more than can be accounted for just by its temperature or by its size.
Eventually we were even able to figure out the mass of these stars (especially when they were parts of binary star systems–we could determine the mass by watching how fast the stars orbited each other), and all of this was confirmed.
And all this largely from the data that Annie Jump Cannon meticulously collected, analyzed and cataloged.
Cecilia Payne Fills the Gas Tank
OK, now we are ready for Cecilia Payne-Gaposhkin.
She was at Harvard (yes, HAHvuhd again) in 1924, working on her doctoral thesis–she would go on to become the first female given a doctorate in astronomy by HAHvuhd…though it was actually Radcliffe, the associated womens' college.
She took up an issue, that being what stars are made of.
That should have been pretty easy, right? We had their spectra with all of those wonderful absorption lines, after all. O stars had lots of helium in then. A stars had lots of iron and magnesium and silicon in them. And so on, down to M stars that had spectra of molecules in them like TiO2. That was how we divided them into their classes, after all!
But it turns out that many of these absorption lines weren't from (say) ordinary iron or ordinary helium. They were from ionized iron, iron that had lost a couple of electrons. What difference does that make? The absorption lines (or emission lines under other circumstances) are caused by electrons absorbing (emitting) that precise wavelength of light in order to jump to a higher (lower) orbit.
When an atom is ionized, it has lost some electrons, and it hangs on to the remaining electrons more strongly, so it takes more energy for them to jump to higher orbits. This changes the absorption spectrum of that atom.
One way to knock those electrons off in the first place is to heat the atoms; that makes them move faster and when they slam into each other it could be hard enough to knock some electrons away. Thus the amount of ionized substances depends on their temperature.
This had first been realized by the Indian physicist Megnad Saha, but Cecilia Payne (she married Gaposhkin in 1934, so she was still Cecilia Payne in 1924) was the first to try to apply it to stars.
The prevailing theory at the time was that our Sun was made up of pretty much the same things as the Earth. All that calcium in the spectrum seemed to fit (there is a lot of calcium in the Earth's rocks), as do other spectral lines from unionized (i.e., not ionized, rather than not a member of the UAW or Teamsters) elements. Meanwhile the hydrogen lines are very weak, especially compared to bigger stars.
Payne corrected for all those temperature effects, and came to the realization that the Sun…and other stars as well…were mostly hydrogen and helium. In fact the Sun is 74.9 percent hydrogen, 23.8 percent helium, and only 1.8 percent everything else.
This is so striking that astrophysicists today call everything that isn't hydrogen and helium "metals" as a short hand. Since most of the elements in the periodic table are metals, that's not a bad bit of scientific slang.
When Payne submitted her dissertation for review, it was criticized severely. She (unfortunately) backed down and wrote a paragraph into it dismissing her own data as spurious.
By 1929 her main critic, Henry Norris Russel, came to the same conclusion by a different method. He had the integrity to mention in his paper that Payne had got there first, but he still often gets the credit for discovering the stars are mostly hydrogen.
Mostly hydrogen.
So maybe (getting back, at last, to where we started) stars really did get their energy from fusing hydrogen. They certainly had the raw ingredient for it. The sun has the mass of 333,000 Earths, and three quarters of that is hydrogen. That is an absolute shitload of the stuff.
We knew from the binding energy curve how much energy is released (how much mass is converted to energy) per hydrogen atom, when four of them are brought together to form helium. We know the power output of the sun. Given those numbers it's simple arithmetic to figure out how much the sun would have to "burn" and that amount is 620 million metric tons per second (a metric ton is a thousand kilograms, which on earth weighs roughly 2200 lbs).
4.26 million metric tons of this mass is converted to energy. That is a LOT of energy. And this happens every second. When you plug that into E=mc2, you get that number I quoted above, 3.838×1026 joules, and since that's every second, that's the number of Watts as well.
Divide that 620 million metric tons into the mass of the sun, and it's clear that there's enough fuel in the Sun to last billions of years–and indeed it has; we are about midway through that phase of the Sun's life.
Tunneling Through Hurdles
But I am getting ahead of myself.
There was an additional hurdle the hydrogen fusion suggestion (not even really a hypothesis even now) had to clear before it could be taken seriously. And it was a difficulty Arthur Eddington had recognized clear back in 1920.
In order to fuse hydrogen into helium, you have to bring two protons together close enough that the strong nuclear force (which is so short range the protons have to be almost touching each other for it to take effect) overwhelms the electrical repulsion of the protons…which, if you'll remember is a strong enough that we people could feel it (even out of those dinky little protons).
This can be done by making the protons move fast enough right toward each other. The repulsion causes them to slow down, stop, and reverse course…but if they're moving so fast that they don't stop until they get close enough, then they've climbed over the so-called "Coulomb barrier" (named after Coulomb, who first discovered the law of electrostatic forces) and can stick to each other.
How to make protons move fast? Heat them up. Temperature, after all, is simply a measure of the average kinetic energy of the atoms in a substance. Hotter temperatures mean higher speed of the atoms, particularly in a gas or superheated plasma.
At the kinds of temperatures we're talking about, the electrons are stripped off the atoms, completely. You have bare protons zipping around in a swarm of loose electrons. (This is called a plasma, and it's a fourth state of matter: solid, liquid, gas, plasma.)
The problem was, the interior of the Sun was believed to be at 17 million K, and even that temperature simply isn't high enough.
But there actually is a way, and it's supplied by quantum mechanics. Because of the Heisenberg uncertainty principle, the speed and position of particles isn't precisely set at any given time, and if the speed isn't set, the kinetic energy isn't either. A particle with not enough energy (one would think) to jump over a potential "barrier" therefore gets to do so sometimes anyway. It's much more likely if the particle is close to having enough, than if it is not.
This bit of quantum strangeness is called "quantum tunneling" and allows a particle which has no business jumping over a barrier to do so anyway, and physicists likened it to "tunneling" through the wall.
At the temperatures inside the sun, the probability of this happening is small, but not so small it never happens (as you see in the more familiar world where you fail to tunnel through blank walls unless you're in a Road Runner cartoon).
If it were hotter inside the sun, the energy levels would be higher and the probability of tunneling through the barrier would be higher. But even as it is, it's high enough that a tiny fraction of the protons do manage to "tunnel" through the barrier, and fusion can then happen.
But there is yet another hurdle, if you will pardon the expression.
When those two protons do glom onto each other, the resulting "diproton" is so unstable it simply falls apart right away.
But every once in a while, at the exact moment the diproton forms, one of the protons undergoes positive beta decay and becomes a neutron. In the process it releases a positron (anti-electron) and a neutrino. The positron finds an electron (they're everywhere and literally anywhere in a plasma), they mutually annihilate and release a gamma ray–pure energy.
(The neutrino is a matter neutrino, not an antimatter antineutrino, because it counterbalances the antimatter positron, unlike in nuclear reactors here on earth where an antineutrino is created to counterbalance the electron produced by "regular" beta decay.)
A proton and a neutron will stick together. In fact this is hydrogen-2 or deuterium. Or rather, it's a deuterium nucleus, known as a deuteron. (And yes, the joke is that the study of deuterons is known as deuteronomy.)
This beta decay at exactly the right time is a very rare event. And this is a good thing! Consider all those protons slam-dancing at 17 million degrees K for billions of years. If this event wasn't rare, they'd be used up quickly rather than the supply lasting for billions of years. It's not as if hydrogen is in a fuel tank until the sun is ready to burn it. No, it's sitting on the fire, and has been sitting on the fire all along. It's just that it's burning very, very slowly.
The average survival time of a lone proton in the center of the sun is nine billion years. Yet it collides with a lot of protons at the temperature and pressure at the core of the Sun.
This was all outlined by Hans Bethe in 1939, at a Nobel lecture he gave.
The next step is for the deuteron to glom onto another proton. This takes, on average, about a second. The result is a helium-3 nucleus, two protons and one neutron.
After an average time of 400 years, two helium-3 nuclei will collide, and the result will be one helium-4 nucleus, and two freed-up protons, ready for another nine billion years on average of bachelorhood.
Six protons in, two protons out, plus one helium nucleus, plus gamma rays, plus two neutrinos. And a lot of energy. This is called the proton-proton chain.
Bethe also outlined another process, which involves four protons being added to carbon nuclei successively, with a couple of beta decays along the way, until an oxygen nucleus is created, which then spits out an alpha particle and reverts back to being the original carbon nucleus. This method is called the carbon-nitrogen-oxygen chain, or CNO chain, and it nets a helium-4 nucleus after consuming four protons.
It turns out that in stars more massive than the sun, this is the dominant mode. The temperatures are high enough to support it more readily than the proton-proton chain.
I'm now going to jump ahead to the modern understanding rather than going through the detailed history of how it was hashed out.
We know, now, that intergalactic gas consists of about three quarters hydrogen and one quarter helium. This gas is hot enough to radiate in X rays, but we can analyze the spectra.
There is only a trace of lithium in this gas, maybe a tiny bit of beryllium, and absolutely nothing else.
This is gas that was never part of a star. This is the original composition of the universe. [At least, as far as ordinary matter goes…but THAT is a future story.]
All of the "metals" we see today have to have come from somewhere. And indeed stars made them.
Because fusing hydrogen to helium isn't the only way stars can make energy.
The Life of A Star
So let's walk through this.
A cloud of (mostly) hydrogen gas…a very big cloud, trillions of miles across…contracts under its own gravity. As it contracts, it heats up (just like any other gas). But that's no problem, gravity continues to crunch the cloud down.
The only thing that will stop the contraction is an equal but opposite pressure coming from the inside of the cloud. The pressure from the cloud depends on its size, a smaller cloud has less mass, less gravitation, and less pressure, so it will take less of this hypothetical internal pressure to get it to stop contracting.
I called it a hypothetical internal pressure, but it's actually real. As the pressure and temperature at the center of the cloud go up, the hydrogen gas loses its electrons, the protons start slamming into each other, and at a temperature somewhat lower than at the center of the sun, some nuclear fusion begins to occur. If it's a small cloud, that releases enough energy to heat the core up enough to stop the contraction. A bigger cloud will continue to contract, raising the temperature higher, to the point where more fusion happens, and then finally a balance is struck.
This balance is when the star becomes a well behaved, ordinary star, and it is now a "main sequence" star.
The main sequence is where all the hydrogen-burning stars go.
When I say "more fusion happens" I mean that more fusion happens for each ton of the star's mass. In other words, it burns its fuel faster.
The bigger the star, the faster it burns its fuel, not just in absolute terms but in proportion to its mass. Bigger stars thus live much shorter lives than smaller ones.
It happens they are also a lot rarer than small stars.
One star in ten million is an O type star. These are 15 – 90 times as massive as the sun, but they are anywhere from 30,000 to a million times as luminous. If a star 90 times the size of the sun burns its fuel a million times as fast…well, you can see that it's going to run out about 10000 times faster. Indeed they live only a few million years. Almost every O type star that has ever existed is long gone.
On the other end of the scale are the M type stars. About 75 percent of all stars are M type main sequence stars (at least, judging from the stars near the Sun). They are anywhere from 8% to 57% the mass of the sun, but even the biggest ones emit 7% of the light of the Sun. (The smallest emits 0.03% the light of the sun.) They're cool and consequently reddish; they're called "red dwarfs".
(Red dwarfs may be 75 percent of all stars, but if you step outside at night and look up, you won't see any red dwarfs. They're simply too faint to be seen by the naked eye. The nearest star to us (other than the Sun, of course) is a red dwarf and cannot be seen without a telescope. This is not to say that you won't see red stars…but those will be red giants. Which I'll get to below.)
Red dwarf stars are long lived. It is estimated that one 16% the mass of the sun will last 2.5 trillion years. That's an estimate, of course, because no one has seen one die. The universe isn't even 1/100 th that age yet. Every red dwarf that has ever formed is still with us. (Even a "big" red dwarf 57% the mass of the sun should last at least 30 billion years, also older than the universe.)
OK, this is well and good. We have a pretty thorough description here of how hydrogen is made into helium. But not only is it still bottled up in a star…it's also still not metals.
Remember that the material of the universe originally contained no metals, except maybe a smidge of lithium and beryllium. Yet we have these elements today…if not, you wouldn't be reading this and I'd never have written it, because we would not exist.
Where did the metals come from? If they come from stars, how do they get out of the stars?
Well we need to follow this story further. (Kids, stop asking "are we there yet?" after every paragraph.)
What happens when a star runs out of hydrogen fuel?
It depends on the star. Those tiny red dwarfs, less than 25% the mass of the sun, are simply done. They shrink until the only thing holding them up is the mutual repulsion of the electrons. At this point they weigh maybe a million tons per cubic meter. They're very hot, but that's residual heat that slowly radiates away–no new energy is being created. Because they're hot–hotter than they were as living stars, they are now known as white dwarfs, and are approximately the size of the Earth. Sirius B is a notable example of a white dwarf (I talked about it in one of my "stars" articles).
But wait.
Didn't I say that no M stars had died yet? If so how do we have white dwarfs?
Because bigger stars also become white dwarfs. They take a more indirect route, but get there faster.
Stars bigger than 25 percent the mass of the sun follow a different path when they run out of hydrogen. They also begin to contract once again, but the temperatures in their interiors climb a lot higher.
They climb high enough, to 100 million K, that helium begins to fuse, three nuclei at a time, into carbon. (This is called the triple alpha process, because the three helium nuclei are three alpha particles.)
This happens at much higher temperatures. Under all of this heat the star expands. It gets downright bloated.
When the sun hits this phase it will probably bloat enough to swallow the earth.
That huge surface is actually rather cool for a star, it's a hundred million miles (or more, for bigger stars) away from the raging inferno where carbon is being made.
The star is a giant, but it is red, hence the name "red giant." It puts out a LOT more light than a red dwarf, in fact it puts out much more light than it did before. That pushes it up out of the "main sequence" and into the territory of the "giant" stars, to the top and right of that Hertzsprung-Russel diagram. These are giants in size, not mass…they're no more massive than main sequence stars.
Helium converting to carbon produces less energy, kilogram for kilogram, than does hydrogen fusing to helium. Yet the giant star doing so must produce more energy to produce all that heat that makes it bloat.
In other words, all that helium "ash" from the hydrogen fusion, is going to itself be burned much faster than the hydrogen was. The star will get hot enough to do so, because it seeks balance.
Red giant phases don't last very long compared to the time the star spent on the main sequence, happily burning their birthright of hydrogen.
If the star is the size of the sun, this is the end of the line. During this phase the star is a bit unstable, and may blow off some of its outer layers, producing a "planetary nebula" (called that because they used to be mistaken for planets in telescopes), and so a star like this might return some of the carbon it produced to space. But then the star dies, and it shrinks into a white dwarf. This white dwarf will contain carbon in it–a lot of carbon, but it does no good; it's stuck in the white dwarf.
Of course, now when stars are formed from gas that already has metal in it, they return some of that too, but that's not where that stuff came from. So where did it come from?
Big Stars are Metal Factories–complete with a shipping department.
Kids, we're not there yet.
Stars considerably larger than the Sun, when they run out of helium in their cores, start to fuse the carbon. Again, this is at even higher temperatures. And again, this is a diminishing return. Less energy from the fusion, with a higher temperature having to be maintained, means this phase is short.
Also, around the core there is still some helium, and even the layers immediately outside the core are hot enough to fuse helium to helium, making more carbon, or helium to carbon making oxygen.
The star turns into a giant onion, each layer going inwards making bigger and bigger nuclei, and this (at last) is where all the good stuff forms, all the elements up to iron, in point of fact the elements that make up us.
Cooked in the centers of massive stars.
The only thing we need to close the loop, now, is to explain how all that stuff gets out of the stars. That would explain where all the metals that already exist in the Sun came from. Somehow, those metals were made in long-dead massive stars, then ended up in the cloud that contracted to form the Sun.
So here it is. The massive star eventually has a core of silicon, and there's not enough other stuff in the core (though there is in layers surrounding the core) to keep going. The star heats up again, and commences to fuse the silicon into iron.
There are vast amounts of silicon in there, many times the weight of the earth.
The star rips through it in a day. Yes, a day.
It now has a core made of iron.
And now it cannot make energy any more. Because fusing iron consumes energy.
So the core collapses.
There's a bit of a rebound effect. I say a bit. That rebound is actually one of the biggest explosions there is, a "core collapse supernova."
The explosion is so bright, it outshines the other 100 billion (or so) stars in that galaxy, for a few weeks.
The last time one of these happened in our galaxy where we could see it was in the 1600s, just before the invention of the telescope, and the supernova was visible during the daytime.
Supermassive stars live fast and die hard. Bruce Willis has nothing on them.
That big explosion flings vast quantities of all the stuff the star has been brewing out into space, later to coalesce into new stars…and planets. And in the case of some star that blew itself to bits over four and a half billion years ago, the stuff eventually made us.
In the process, a lot of neutrons are created, and glom onto existing atoms, making heavier atoms, and until recently, it was believed that even gold, lead, and uranium were primarily produced this way. What an image: all the gold in your jewelry was once hurtling through space at a tenth the speed of light, blasted out of the guts of a star bigger than the sun.
What a pretty story. So pretty a lot of people like to say "we are made of star stuff."
It is a fact that we owe our very existence to the death of big stars. Our bodies are made of atoms flung from their funeral pyres.
The Neutrinos Prove It
What's the evidence?
There's a lot of evidence, in fact, including the composition of nebulae (gas clouds), and especially the nebulae that have been blown out of supernovae. Stellar compositions are the evidence that started the whole thing, but shouldn't be forgotten. A lot of "little things" all consistent with this framework.
But I want to focus on neutrinos.
In fact, this is why I undertook this whole damn series.
I wanted to talk about neutrinos. And connect them to stars…remember I talked about stars in the two science posts before this series. I was going to tie the smallest known particle of matter to the biggest discrete objects out there: stars (galaxies and galaxy clusters are bigger, but they don't strike us as being objects but rather groups of objects).
But they are so ghostly, so non-reactive, that I would need to really justify their existence and tell the story of how they were discovered. And that entailed yet more background. I was going to just explain how they solved some problems with conservation laws…but then that meant I needed to explain those.
I thought maybe I'd write four parts. Then the doggone thing took on a life of its own. It ended up being twenty parts before I got to neutrinos. And another two before I connected them to stars.
So here I finally am.
One of the most important pieces of evidence that stars are, indeed, fusing hydrogen into helium, and so on as appropriate, is the neutrinos.
Those two protons coming together to make a deuteron, release a positron and a neutrino in the accompanying beta decay. This means that IF nuclear fusion powers stars, then ordinary stars are sources of neutrinos, and that most definitely includes our sun.
But also, a supernova, a dying star, gigantic numbers of neutrinos all at once in the fury of nuclear reactions going on all at once in the explosion–the reactions that give us all those heavy elements, elements heavier than iron.
There was a supernova of this kind 168,000 years ago in the Large Magellanic Cloud. The light reached us in 1987. A star known as Sanduleak -69 202 had just died.
It is estimated that this supernova released 1058 neutrinos. All at once.
I've thrown some big numbers at you over the course of this series, but that number is staggering. I'm not going to pretend to imagine how much that is.
Divide it by a trillion…it's still 1046. Still a staggeringly huge number beyond our experience. And a hundred billion billion times as much as that ridiculously huge number I used for the power output of the sun.
If you had been a billion miles from that star when it blew up, here's what you would have seen. The neutrinos hitting almost instantly–they were made in the core at the moment of the explosion but just zipped right on through everything. Then the light, actually delayed by all that matter being blasted out. Then the matter would have reached you as a blast wave to end all blast waves.
Except that you wouldn't have seen the light or the matter, because you'd have been killed instantly by the neutrinos. There were so many of them that even at their ridiculously low likelihood of interacting with you rather than passing right on through, enough of them would have interacted with you to kill you instantly from the radiation.
It's estimated that the light from the explosion–which, remember, outshines billions of stars–is one percent of the energy contained from the actual material blast. And that is one percent of the energy carried off by the neutrinos.
The light, bright enough to be seen from earth that far away (one of the first people to see the supernova was an astronomer at a major observatory in the Andes, outside taking a smoke break; he noticed that the Large Magellanic Cloud had a "new" star in it), was a sideshow.
So why are the neutrinos from the sun and exploding blue supergiants such a big deal?
Because we can detect neutrinos. And therefore, if we don't see these neutrinos, something is wrong with our theory.
Large tanks of water, deep underground in mines so that nothing can get to them other than neutrinos, can be surrounded by flash detectors, which will register a hit every now and again. We can even tell, from the direction of motion of the products of the reaction, what direction the neutrinos came from. (And it's a neutrino detector–we don't have to wait for daytime or nighttime, it runs 24/7, and it doesn't matter whether the sun or the supernova is "up" or not.
Twenty five neutrinos (a big signal for neutrinos) were detected from the supernova.
More importantly, these tanks have been detecting neutrinos from the Sun for years. That is a sure sign that nuclear fusion is happening there. And, they are of precisely the energy one would expect from the creation of deuterium from regular hydrogen.
There was just one hitch, with regard to the Sun's neutrinos. We can calculate, from the power output of the sun, how many fusion reactions must be happening each second inside the sun, because we know how much energy each individual reaction releases. (It's a geek's story problem.) That gives us the number of neutrinos. We can figure out how many of them must be going through the detectors. And we know how likely it is that any given neutrino will be stopped inside the detector, letting us detect it. In other words, we know how many neutrinos should be detected coming from the sun, on average, during a given time period.
The number we detected was 1/3rd as much as it should be.
Ah, well, you solve one mystery (what makes the sun and other stars shine?) and you get presented with another mystery (where are the neutrinos?).
This is science moving forward.
And now, I think, I'm going to continue this series, even though it has reached the original planned conclusion.
I'm going to step from the neutrino, to something very, very big….much bigger than stars.
And then I'll tell the story of that missing third…but that's going to take a few installments.
Bonus Stuff
You put out more energy than the sun…sort of
The core of the Sun is at 17 million K, but what is its energy density?
How much energy is being generated in each cubic meter? The very high temperature has no bearing on this; some particular cubic meter of the sun stays at 17 million K because its surroundings are at that temperature. Heat leaks out of the core only where it meets the higher layers of the Sun. In fact it takes tens of thousands of years for a photon in the sun's core to make it to the surface.
Energy density is how much energy is generated per…kilogram or cubic meter depending. Gasoline has a higher energy density than car batteries (even the ones for electric cars), for instance.
The energy density of the core of the sun turns out to be…wait for it…about 276.5 watts per cubic meter.
That is not a typo. Yes, we think of the core of the sun as a raging inferno, because there's a lot of energy trapped in there. But as to how much new energy it generates every second, it's actually quite sparse.
YOU produce 100-150 Watts just sitting on your butt reading this (more if you're scratching your head really hard), because you have to keep your body temperature above room temperature. And your volume is a LOT less than a cubic meter. In other words, you generate more energy than a same-sized piece of the Sun's core.
In fact a cubic meter of compost generates about the same amount of power as a cubic meter of sun's core. (It just can't do it for billions of years, so no, the sun isn't a big compost heap.)
The reason the sun puts out so much power is that the core of the Sun is huge, roughly 200,000 miles across. That is a lot of cubic meters!!
So where did the gold come from?
I alluded to the belief that gold primarily came out of supernovas being an "until recently" sort of thing. So what's the current theory? Core collapse supernovas leave behind either (for stars a couple of times more massive than the sun) a neutron star) or (very massive stars) a black hole.
What is a neutron star? It's almost the ultimate collapse. It is what happens when even electron-to-electron repulsion can't stop a star from collapsing, and the star doesn't stop collapsing at white dwarf levels. Much of the star in a supernova gets blown away, but the remainder is usually much more massive than the sun. That remnant collapses. The electrons are forced into the nuclei, and combine with the protons to make neutrons. The entire remnant becomes one big ball of neutrons, with maybe a surface layer of white dwarf-style matter. The entire mass of the thing ends up in a ball perhaps ten miles across, weighing billions of tons per teaspoon.
When two of these neutron stars happen to collide–perhaps because two massive stars both went supernova and the neutron stars eventually lost all of their orbital energy to gravitational waves and then collided with each other–a lot of neutron debris splashes out there, decays and becomes heavy atoms, like gold. Entire earth-masses of gold are produced in this way and scattered across the cosmos. Now that we have observed neutron star collisions, we realize that most of the really heavy elements out there came from neutron star collisions, not from supernovae.
Obligatory PSAs and Reminders
China is Lower than Whale Shit
Remember Hong Kong!!!
中国是个混蛋 !!!
Zhōngguò shì gè hùndàn !!!
China is asshoe !!!
China is in the White House
Since Wednesday, January 20 at Noon EST, the bought-and-paid for His Fraudulency Joseph Biden has been in the White House. It's as good as having China in the Oval Office.
Joe Biden is Asshoe
China is in the White House, because Joe Biden is in the White House, and Joe Biden is identically equal to China. China is Asshoe. Therefore, Joe Biden is Asshoe.
But of course the much more important thing to realize:
Joe Biden Didn't Win
乔*拜登没赢 !!!
Qiáo Bài dēng méi yíng !!!
Joe Biden didn't win !!!