As Election Day approaches, THE GLOVES ARE COMING OFF.
Ohio Governor Mike DeWine's milquetoast stance on vaccines has muddled along, but as we watch vaccine mandates DESTROYING blue states, that tinge of purple in Ohio is looking more and more dangerous, with a WEAK LEADER in the capitol.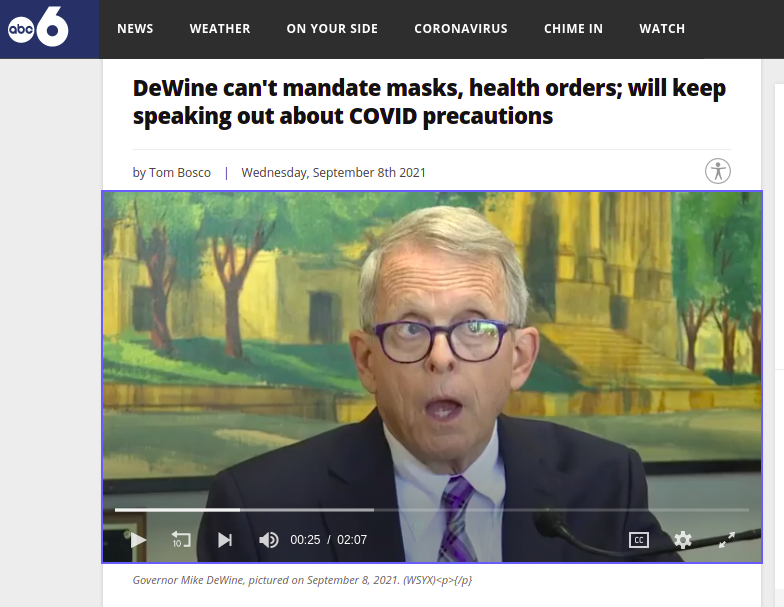 The man sure loves his purple ties. Is that ROYALTY, HILLARY, or XI?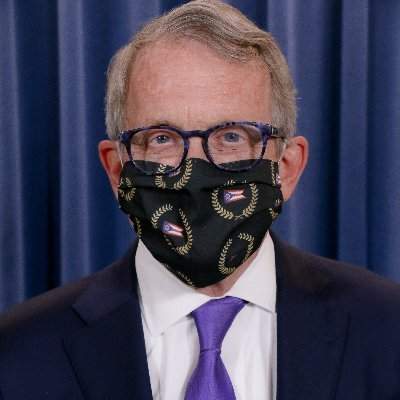 Well, today that changed.

Is there salvation? It's not too late.
Republican gubernatorial challenger Jim Renacci launched a salvo of emails with this message:
NO VACCINE MANDATES. PERIOD.
There's not a lot of room there.
But if you're uncertain about who to vote for, here is the full text of the letter.
---
Friend,
You get to decide what goes into your body – not the government.
Giving up your right to bodily autonomy is a slippery slope to losing other rights, like freedom of speechc and bearing arms.
That's why Jim Renacci opposes vaccine mandates now and forever.
Just like President Reagan said, "If we lose freedom here, there is no place to escape to. This is the last stand on earth."
While DeWine is stripping Buckeyes of their freedom, Jim Renacci is putting Ohio first. Renacci will make Ohio a sanctuary state and protect your right to refuse vaccinations.
The first step to preserving your freedom begins with firing DeWine. Team Renacci is working hard to make that happen, but we need all the help we can get. Please consider donating today.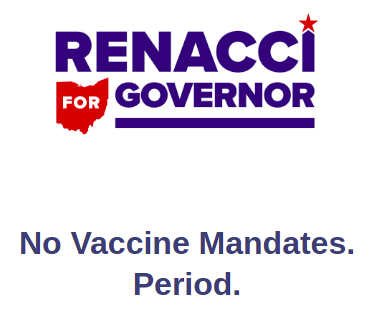 Halloween is just around the corner, and DeWine is hoping he can trick you with HB 244. Don't be fooled. It doesn't prevent school vaccine mandates. Instead, it's a backdoor that allows approved vaccines, like Pfizer, to be forced onto school children.
Renacci will never deceive or trick you. That's why his message is clear:
NO VACCINE MANDATES. PERIOD.
Thank you,
Jim Renacci
Candidate for Governor of Ohio
---
I went to the Renacci website, and found this right at the top, about mask mandates:

Here is that video:
Digging deeper, Renacci has a statement on vaccine mandates HERE:
---
MIKE DEWINE REFUSES TO PROTECT OHIOANS' FREEDOMS FROM UNCONSTITUTIONAL MANDATES
10/12/21
Cleveland, OH – Former congressman and candidate for governor Jim Renacci released the following statement on Mike DeWine refusing to protect Ohioans from unconstitutional mandates as other governors like Greg Abbott signed an executive order banning mandates of any kind in his state:
"It has been 33 days since Joe Biden announced his vaccine mandate for workers and Mike DeWine has still done nothing to shield Ohioans. DeWine continually proves he is a feckless leader who refuses to protect Ohioans' from overbearing mandates that strip away our freedoms. We have seen throughout the pandemic other leaders like Ron DeSantis and Greg Abbott govern better than DeWine, who instead chooses to lead like Andrew Cuomo and Gavin Newsom. Every single day we see our freedoms eroded by DeWine's policies and, if we do not have new leadership in Columbus soon, he will continue to be an emboldened tyrant willing to sacrifice our futures by living under his warped rule of law. As governor, I will protect all Ohioans from these mandates and ensure the government will never intrude on their ability to choose what is best for themselves and their families."
LINK: https://jimrenacci.com/news/mike-dewine-refuses-to-protect-ohioansa-freedoms-from-unconstitutional-mandates
---
There is a way to fight back against this stuff. FIRE milquetoast weakling Mike DeWine.
Every Ohio Republican MUST get out and vote for Jim Renacci. Even the Blystone people need to throw their votes to Renacci now, IMO. Get DeWine OUT. Otherwise, mandates are coming, and millions of Ohioans will be FLEEING Ohio to take up residence in saner states.
W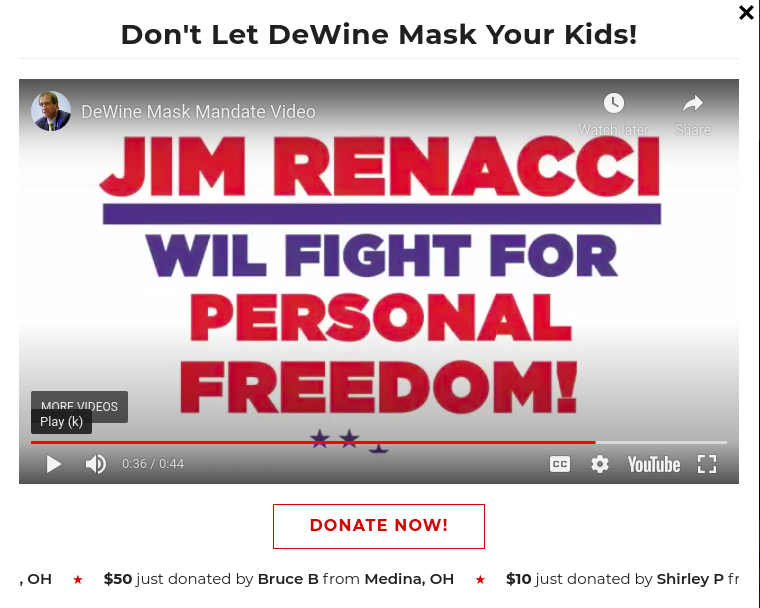 The alternative: