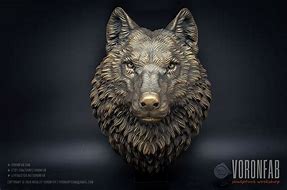 The Pub is OPEN!
I'm not sure what we're serving today – maybe some leftovers!
You'll see how I was led to this oldie but goodie in just a moment.
While our beloved REAL bartender takes a needed break of unknown duration, we continue to ENDEAVOR TO PERSEVERE.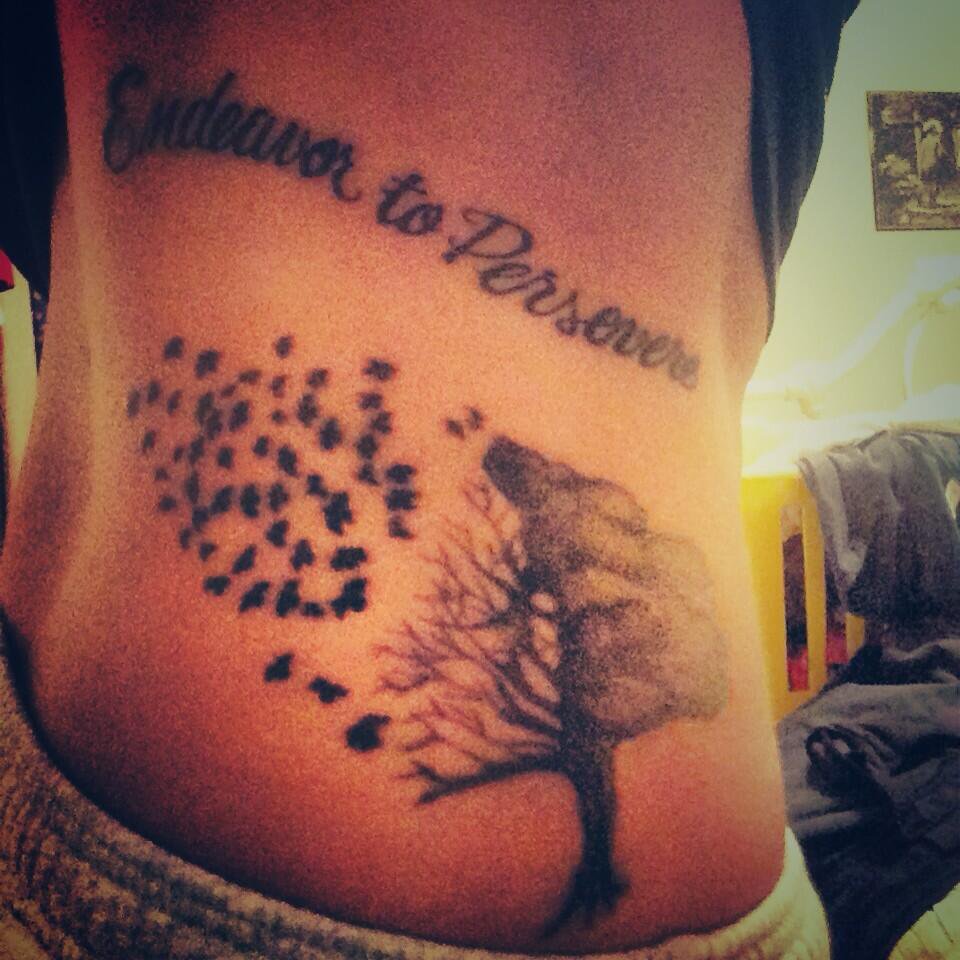 And in doing so, we rely on excess Christmas spirit by dragging out Christmas a WEE BIT TOO LONG…..
---
Christmas Spirit
I was looking through the site images for Christmas.
When I saw THIS ONE…..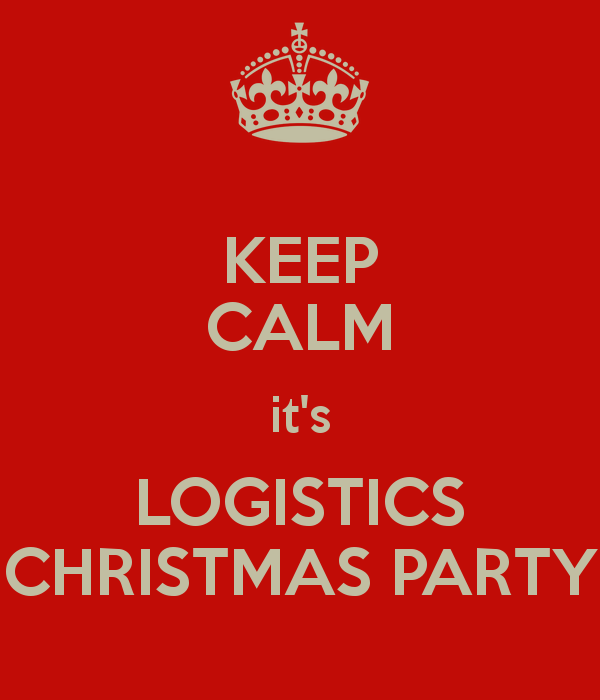 …..I remembered THIS ONE…..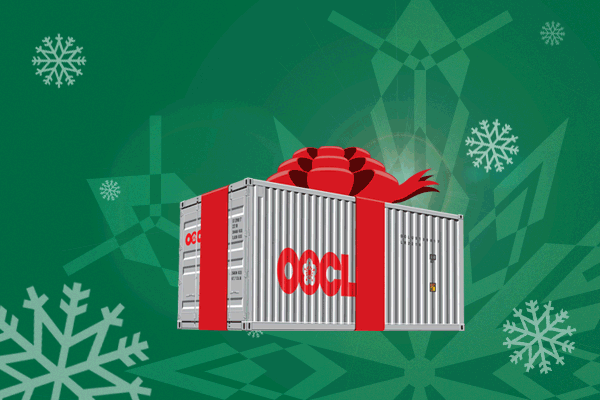 …..and this one…..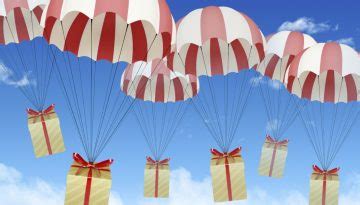 …..as a kind of conflation of shipping containers being dropped by parachute.
But I found the original post they came from…..
---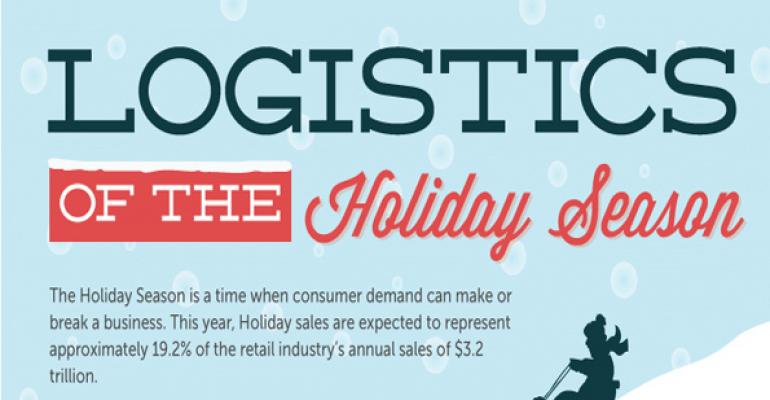 Otherwise Best Described as a Somewhat Strange but Beautiful and Heartfelt Message to the Staff of this Esteemed Company from the People in Logistics on Christmas Eve ON TIME AND UNDER BUDGET – THE TRUMP WAY First of all, Merry Christmas! (And belated Happy Hanukkah if I missed you back then!) Which is actually what …
---
…..which is a bit of a Ghost of Christmas Past…..
…..kinda like some other treasured site images…..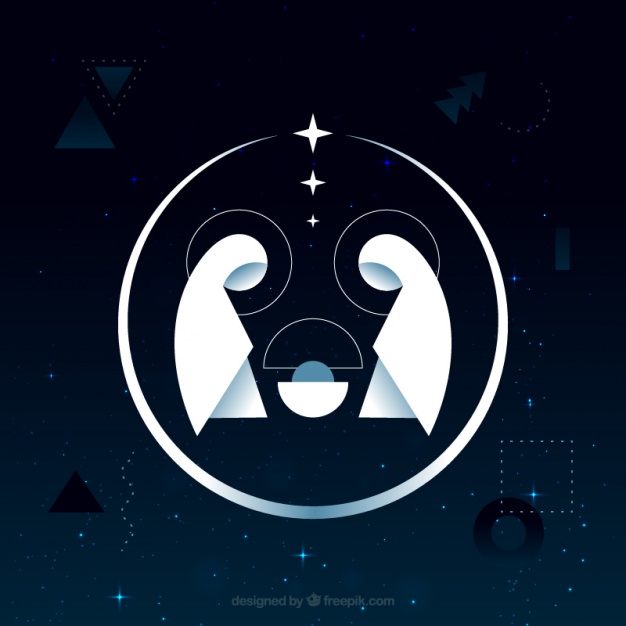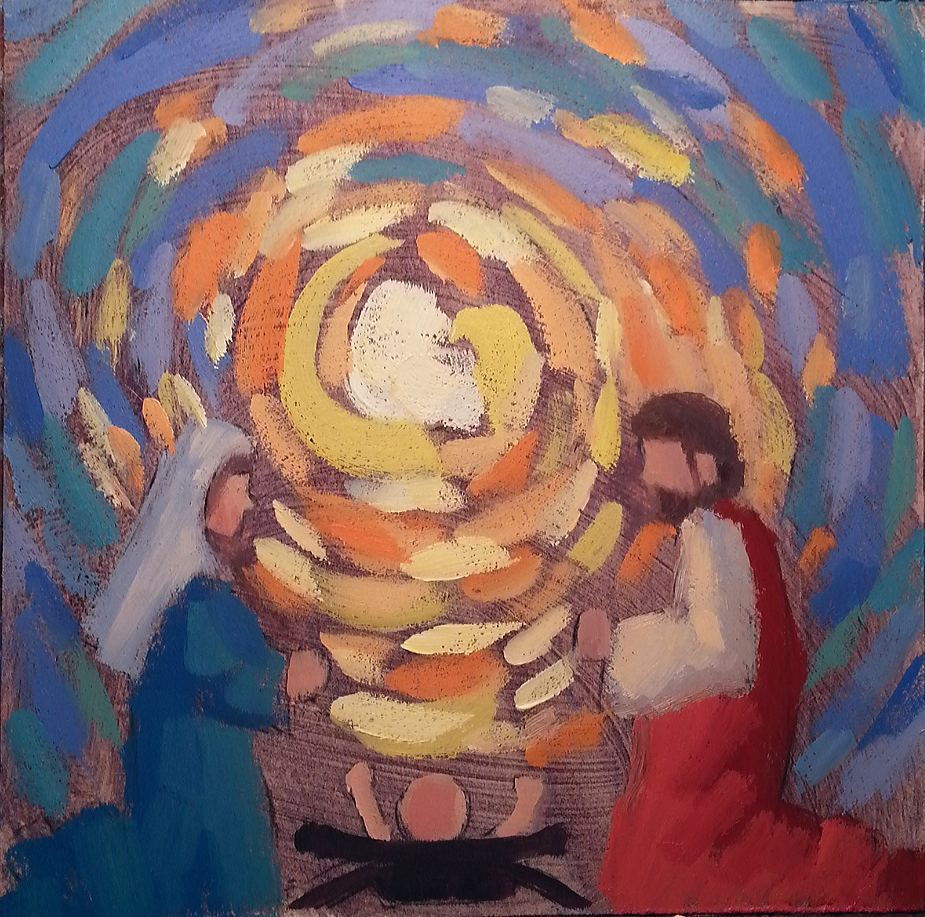 …..it brought back a lot of fond memories of the early site – a little over 3 years ago…..
…..and so I just wanted to say…..
(1) Merry Christmas, everybody,
(2) Happy Logistics, all you Truckers, Supply Chain Folks, and fellow working humans,
(3) And maybe Happy Logistics to you other working creatures, too. Winged or otherwise!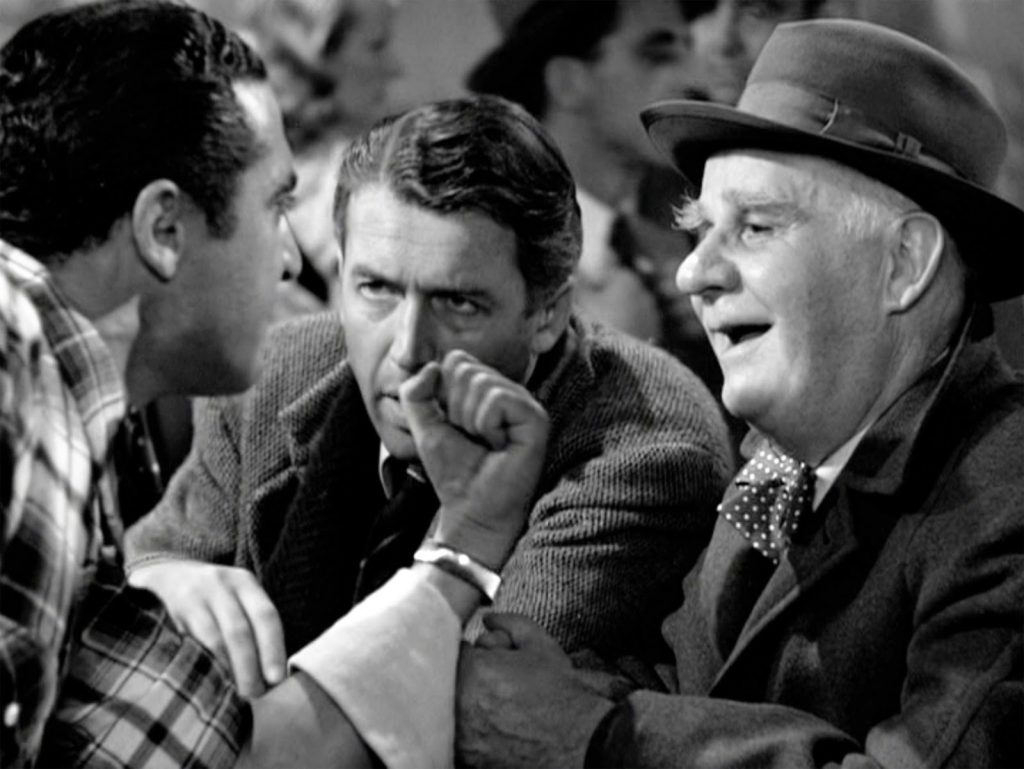 …..wherever you may be now!
And now, the rules of THIS PARTICULAR pub.
---
HOUSE RULES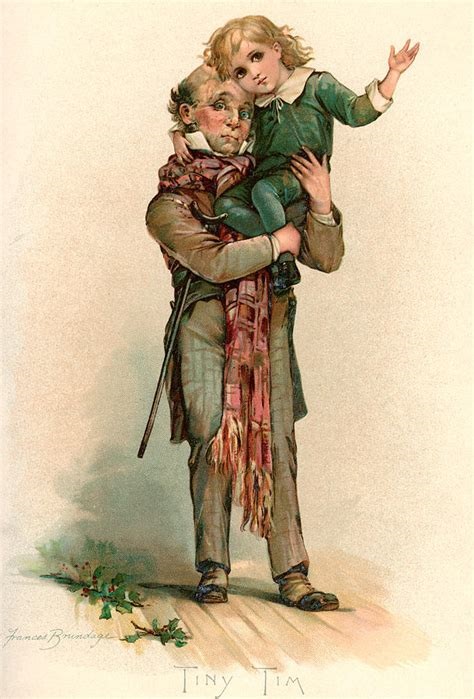 God bless us, every one! Tiny Tim had such a beautiful soul. He hadn't a mean bone in his body…unlike most of us. But in keeping with Christmas, we promise to honor Wolf's rules and keep Scrooge at bay. The Utree is where the Ghost of Christmas Present will conduct you should you need to rattle some chains. Another option, should all hell break loose is here.
Now, back to business.
---
AMEN!
Free the January Brothers
---
Current Art On The Wall
This week's shipment is allegedly CUBISM – to prove that we will put ANYTHING on the wall – even genres we generally don't like much.
Let's start of with one you can buy!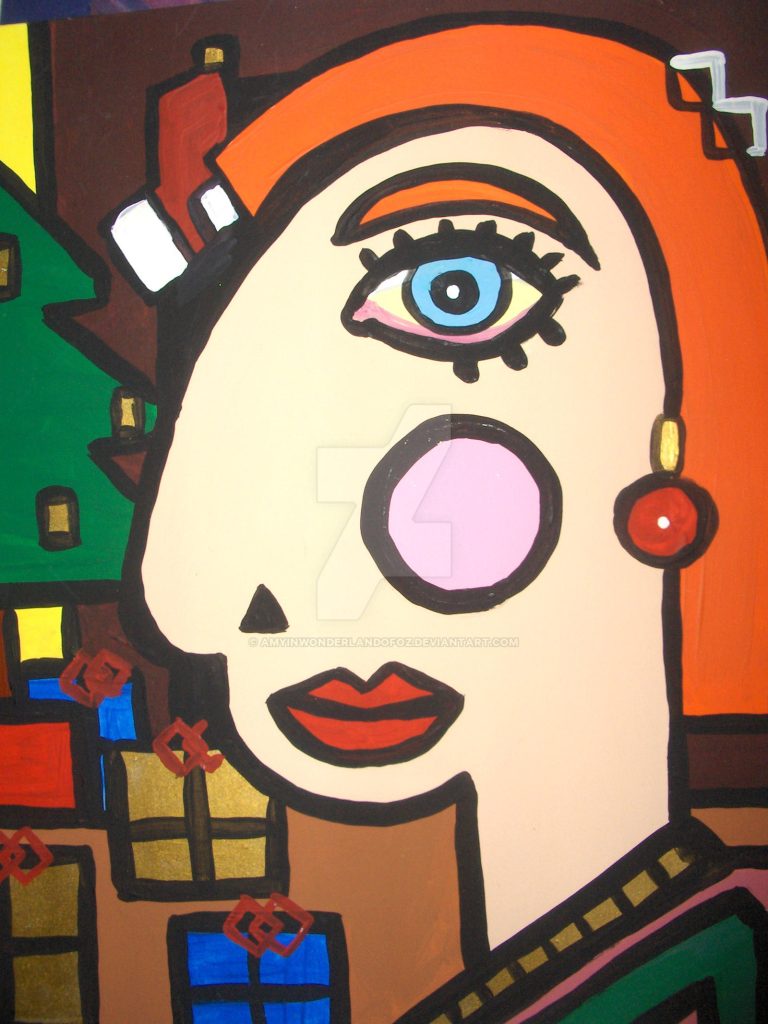 LINK: https://www.deviantart.com/amyinwonderlandofoz/art/Christmas-Morning-Cubism-129144935
Moving on….
Cubism and Christmas. A good idea? Or NOT A GOOD IDEA? You decide!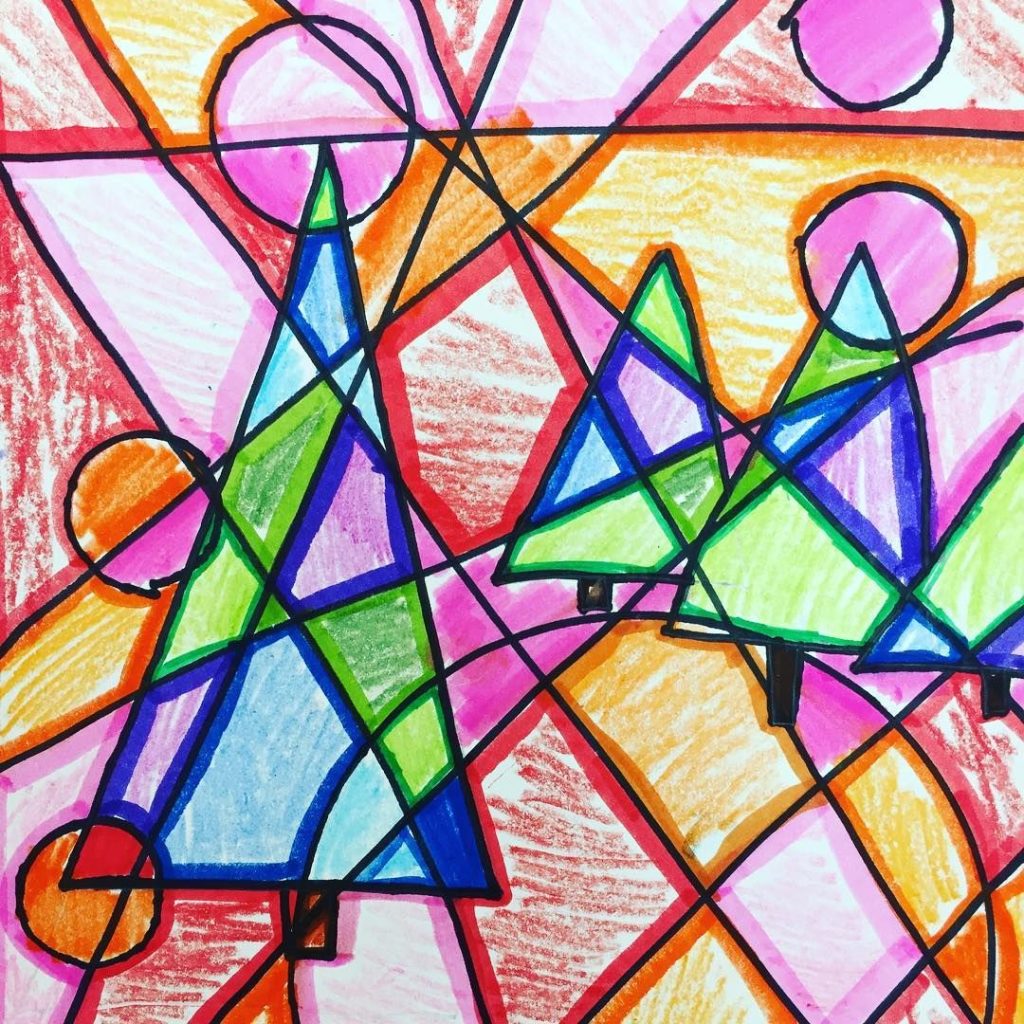 OK – let's get more traditional!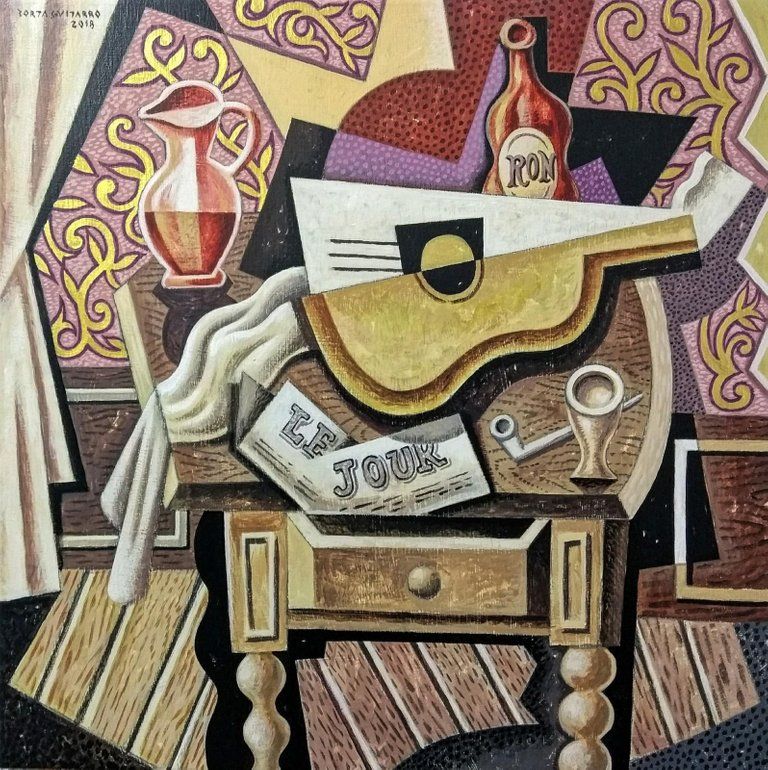 And maybe even VERY traditional!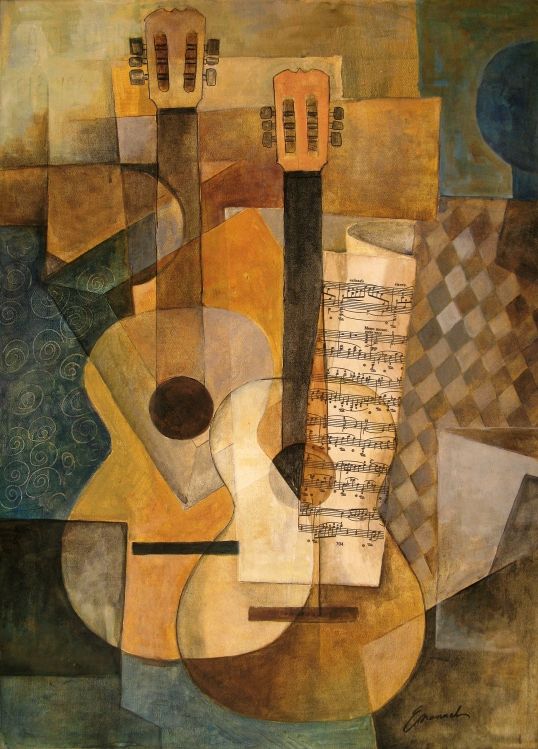 And speaking of music…..
---
What's Playing on the Jukebox
Why, the soundtracks of the trailers in the next section! That's what!
Here is the trailer song separated from the cinema. I actually find it a bit more enjoyable this way.
---
Movie Review: Death on the Nile (2022)
NOTE: This review may contain very mild "spoilers". Stop reading if you run into something that seems spoilerish, if you don't want any. I have tried to not give away anything significant in the story, beyond the trailers, but there may be a couple of close calls.
This is the movie that I'll be talking about. This is the trailer you most likely saw.
However, if you got an early preview of it, you may have seen THIS early preview trailer, which has almost no dialog, but is really intriguing by relying only on visuals and music.
Here is yet another version with rearranged visuals – shorter and snappier. I like this one!
There is an IMDB trailer that's very nice, too, but you have to go there to see it.
https://www.imdb.com/video/vi1514192409
Lastly, let me show you a "reaction mashup" – basically looks like a Zoom room – of a bunch of people commenting on the trailer as it plays.
OK – that's enough. Now down to business.
---
I have not been to a movie in a while. I really avoid them if I can. I can spot the dirty hands of cultural Marxism in almost every movie Hollywood makes now. It's tedious to watch their propaganda.
However, my wife likes these damned murder mysteries. Sherlock Holmes, Agatha Christie – you know the type.
The last one we saw was the horrifying "Knives Out" – enjoyable as a work of the genre, but excruciating in its political correctness. The vengeful, angry, projecting, communist psychology was all over it, ramping up to laughable levels at the end. Overtly racist, sexist, classist, and every other leftist prejudice-in-the-name-of-stomping-out-prejudice, all of the hard left's biases were gleefully woven into both plot and acting. I was rolling my eyes, chuckling, and smirking at the "dramatic" parts at the end. I honestly felt sorry for the "woman of color heroine" at the ideologically "uplifting" end.
Why must the solution to all human idiocy be "deuce axe machinist" by liberals? So they get to be GODS? Using a hammer and sickle on every microscopic problem?
Ugh.
I thought I was done with Hollywood's corrupting of the "murder mystery" genre, but no – my DW had different ideas.
This one – Death on the Nile (2022) – succeeds mostly by DISTRACTING from the political correctness. It does so with a combination of compelling plotting, amazing scenery, skillful acting, and strong attempts to "go beyond" blatant leftist narratives by underplaying them competently yet powerfully into the story itself. This approach allows the leftist audience to see what THEY want to see, while trading "in-your-face" PC for a kind of non-gratuitous, historically correct PC that makes sense as part of the story.
Still, the PC is not removed completely, and on long reflection, one feels abused by the requisite embedding of political correctness.
For example, while every one of these "usual suspects" is woven skillfully into the plot, they're still all there:
interracial romance in the face of 1930's history
"probably racist" white parent forbidding true love
old black woman sage
young black woman muse
bad male gun, bad white gun, good black female gun
wicked white waspy couple (and they're cultural appropriators, too!)
lesbians forced into the closet by paternalistic society
aspirational capitalist bourgeoisie without morality, tsk, tsk
limousine communist donor class heroine
classic white male hero submits to struggle session and self-criticism
imperialist "woman of color" in denial of roots pays for her transgression
Christian symbols hypocritical, non-Christian symbols meritorious
decadent cabaret culture showcased yet subjected to moral apology RE appropriation
many smaller bits of reflex Hollywood-think
Now – with all that said – these things were made almost completely non-gratuitous by a kind of honest incorporation into the plot, albeit without historically accurate dialog, and RARELY addressing them directly. This leaves an intriguing blend of truth – historical and emotional – in the wrong language, suitable for the modern ear. Actually, Hollywood does this almost ALWAYS, but because I now avoid their work product for months to years at a time, it's painfully apparent to me.
Thus, the movie creates a skillful blend of political tensions with the NORMAL tensions of a murder mystery. This is a great trick – a kind of cross-talk to influence audiences EMOTIONALLY but not overtly.
The didn't forget the SEX, either. Lots of STEAMY sexually charged scenes, too, but not much skin. As the Daily Mail put it (and this is one of their longer titles):
Full steam ahead for sex, greed and murder: To celebrate the 100th anniversary of Agatha Christie's first book (and our first glimpse of Poirot), Nicole Lampert goes behind the scenes on Kenneth Branagh's VERY racy new film version of Death On The Nile
This is skilled propaganda – and in my opinion it is forced on the story by the requirement that the writing get past "The Black List". This thing ticks off all the requisite boxes on racial and end-wave feminist cultural Marxism. It also passes muster with the Satanist crowd, IMO, by virtue of the Egyptian setting and their "death cult" stuff.
NEVER FORGET WHAT THEY DID – and by that, I mean what they DID TO US.
SPOILER – graphic photo of Las Vegas carnage below the Luxor obelisk, pyramid, and sphinx.
LINK: https://www.theqtree.com/wp-content/uploads/2019/01/field_of_corpses_in_las_vegas.jpg
Yup. This production clearly "green-lighted" by the Luciferians in charge.
Now that I've gotten the POLITICAL and the CULTURAL and the RELIGIOUS payload stuff out of the way, what about this movie in normal ways? Is it any good?
---
I think it was really well-done, and that is what elevates the vehicle above the payload.
Let's start with one of the reasons I was happy to go see the movie.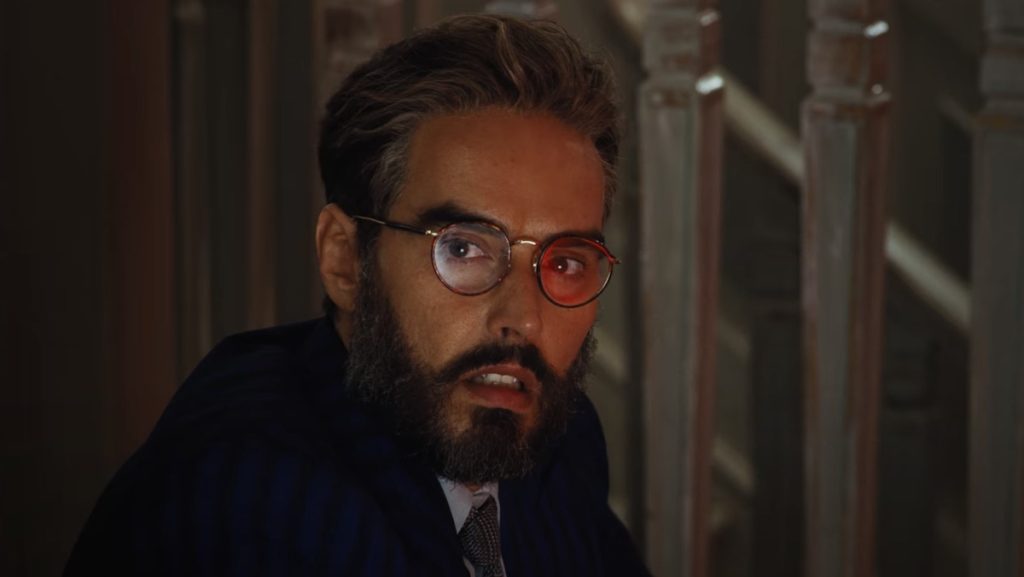 Russell Brand is not prominent – not as much as I would have liked – but he's really, really good. He uses his LACK OF LINES to forcefully project a kind of disturbing, anxious, quiet tension and hidden emotion that brings all sorts of suspicion to his character. I won't tell you where that goes, but it's good. When he does speak, he does it quite well, and it contributes to the intensely emotional nature of the film. I have much respect for him as an actor now, even though he was clearly playing one of the "butler-level" parts.
This also speaks to extremely competent direction, of course.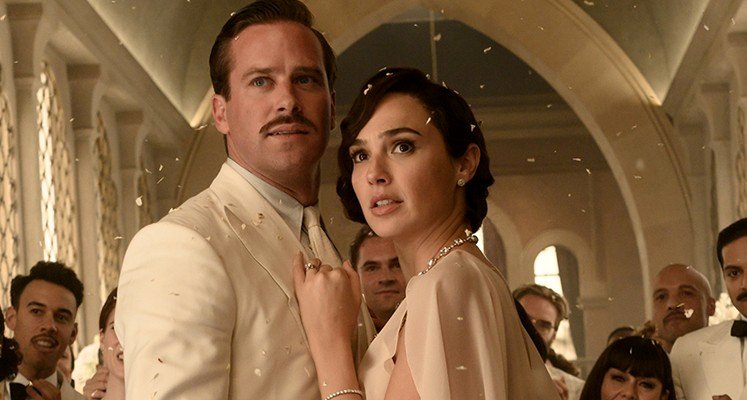 Gal Gadot and Armie Hammer are both excellent, carrying that essential combination of "suspicious as hell" and "wouldn't hurt a fly" which makes for a good whodunit. Hammer is particularly good at the latter. Gadot manages to pull off dozens of wildly different looks throughout the film, which is damn near a fashion piece. Hammer is just stylish. But is he bad? Not gonna spill the beans here!
You might think Gadot would be the hottie of the movie, but if you go by what is gonna make men hot under the collar, that would be the performance by this gal, Emma Mackey.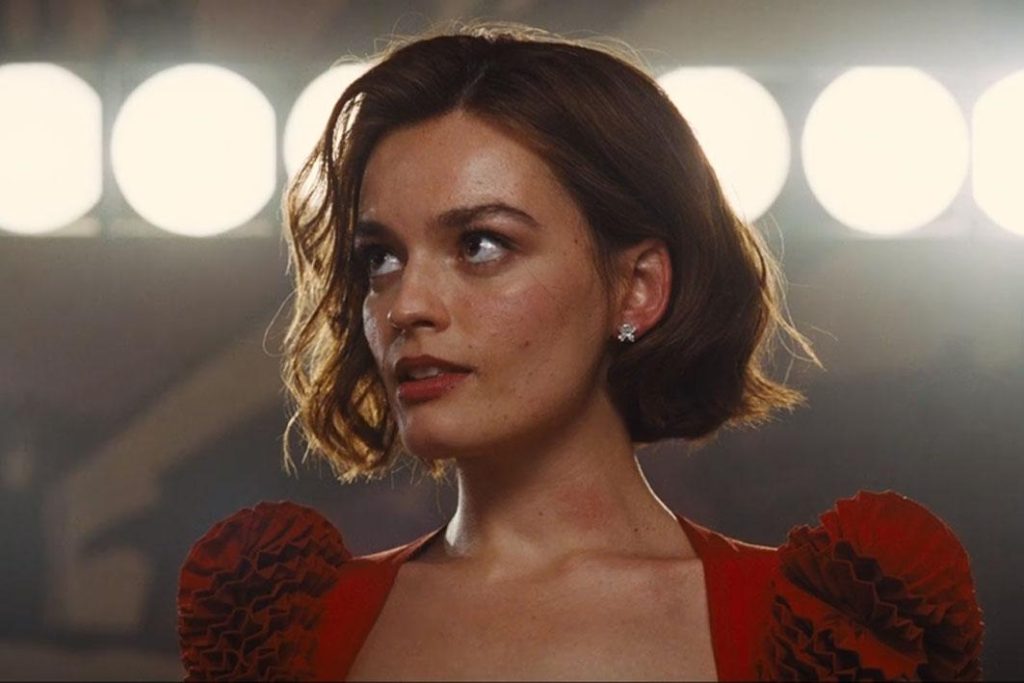 Both ladies do some scorching dance moves with Armie Hammer, but Mackey's were enough to raise my blood pressure into the red zone. She's also quite excellent in her part – the definitely neurotic, probably psychotic, and quite possibly crazy as a bedbug, jilted ex of the guy, and "former" BFF of the girl.
Complicated business.
This gal has "she did it" painted all over her. But did she? No way. Can't be. But yet…..
Good acting. Dancing. Whatever!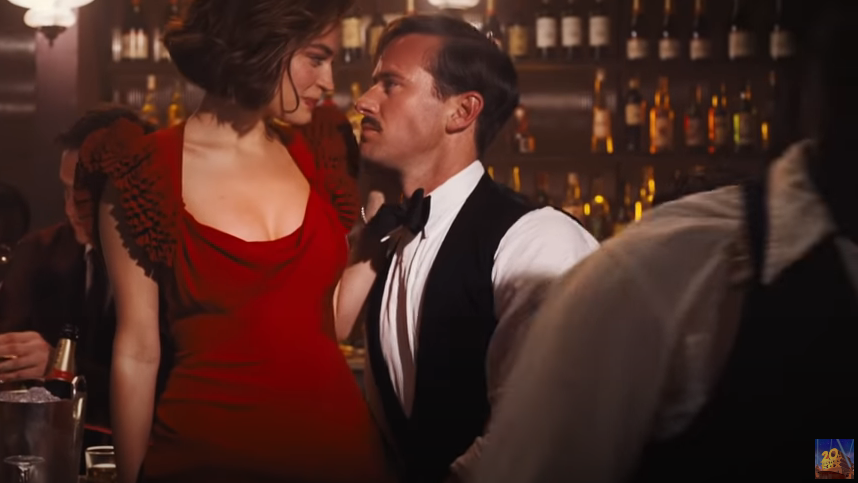 The movie is banned in Kuwait over Gal Gadot's Israeli military background, but I have to say – if they were looking for other reasons, this movie has plenty.
Speaking of which…..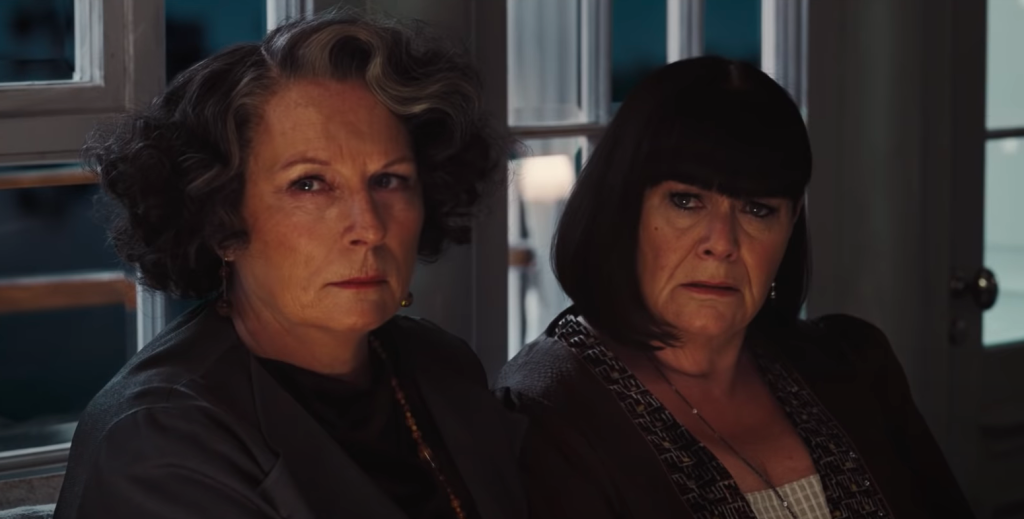 These ladies provide some mild comic relief – I was unaware that they're actually a comedy duo – Jennifer Saunders and Dawn French. What's interesting here is that they mix in some straight-up politics, and actually poke fun at some of the leftist kind. I'm not going to go into much more detail than that.
OK – I will say one thing. The film actually borrows one of Donald Trump's best one-liners, and re-uses it in a new context. I kid you not. Most people won't catch it, but those who are deeply familiar with Trump's 2016 campaign trail will get a nice laugh. It's good fun.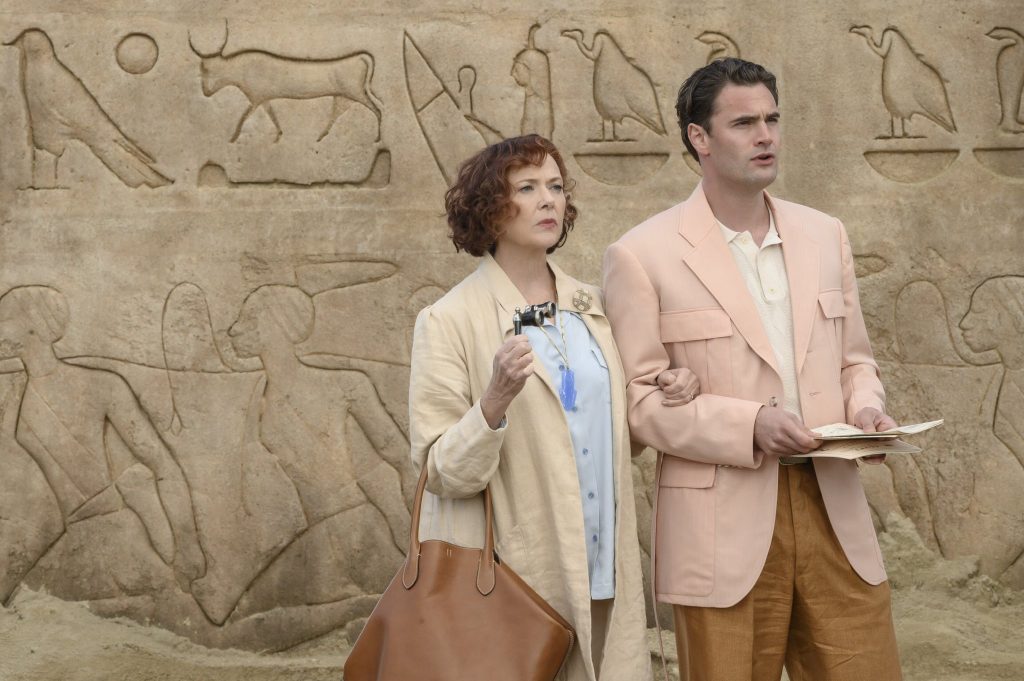 Annette Bening and Tom Bateman turn in solid performances as the rich old lady and her goofy mama's-boy son, the latter who seems far too light in the loafers to be falling for……
Sorry. That might be TMI.
Many of the twists of the movie revolve around the above pair. If you do see this movie…..
EYES ON.
NEXT – the accountant.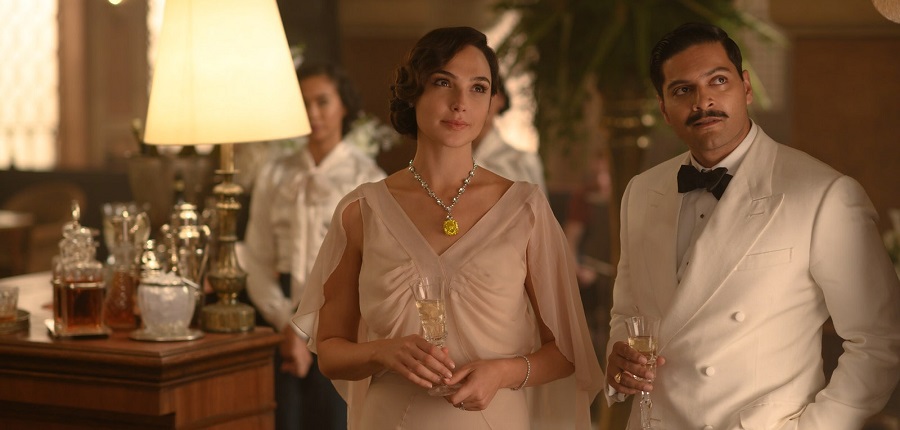 The Gadot character's accountant cousin, played by Ali Fazal, is definitely suspicious as hell. Like all accountants, it would seem, he has a "security plan", and I have to say, I prefer Suspicious Cousin's over Emma Mackey's.
Speaking of security, check out that Tiffany necklace on Gal Gadot. It's part of the plot.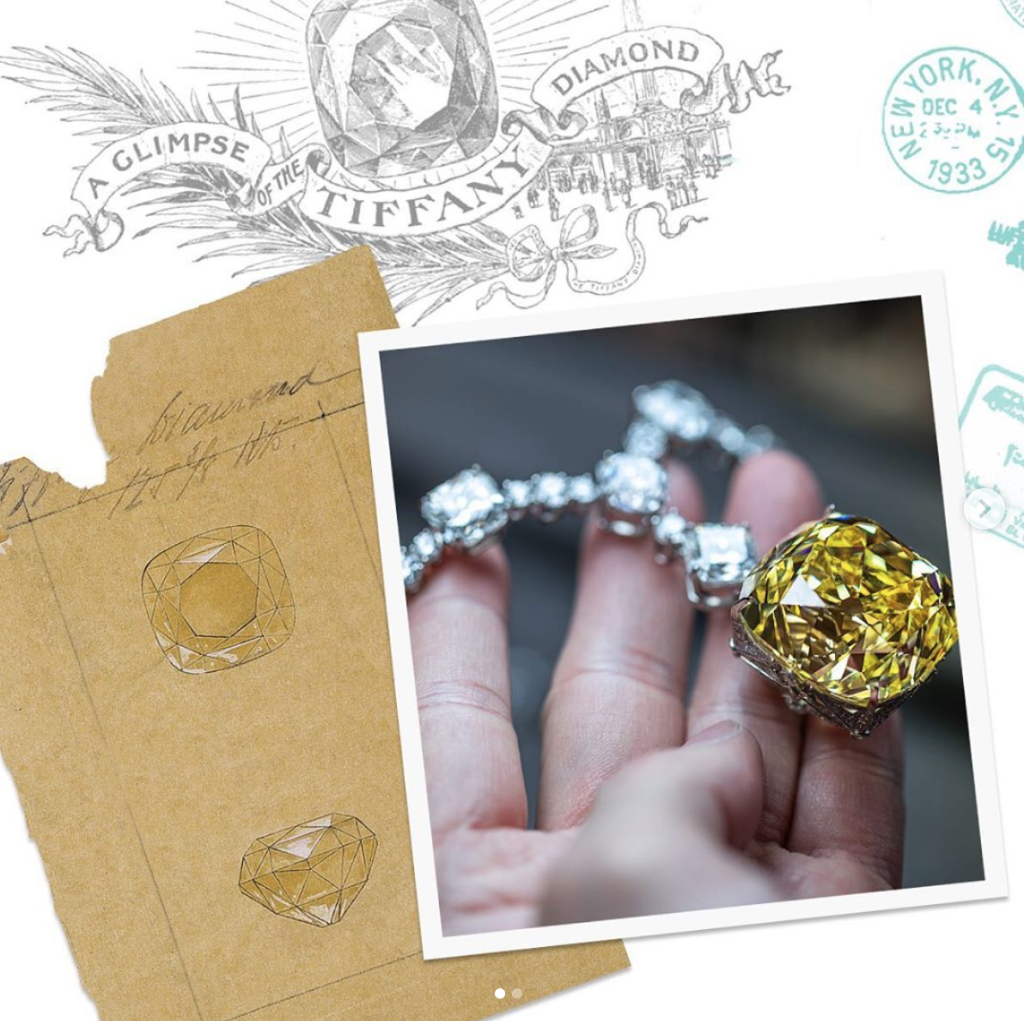 OK – now who are we missing?
Kenneth Branagh as Hercule Poirot
Tom Bateman as Bouc
Annette Bening as Euphemia Bouc
Russell Brand as Dr. Windlesham
Ali Fazal as Andrew Katchadourian
Dawn French as Mrs. Bowers
Gal Gadot as Linnet Ridgeway-Doyle
Armie Hammer as Simon Doyle
Rose Leslie as Louise Bourget
Emma Mackey as Jacqueline de Bellefort
Sophie Okonedo as Salome Otterbourne
Jennifer Saunders as Marie Van Schuyler
Letitia Wright as Rosalie Otterbourne
Ann Turkel as Meredith Wilson
OK – let's start with the Otterbournes. They're actually key characters, around which much of the story takes place. There's the old lady singer / performer, played by Sophie Okonedo…..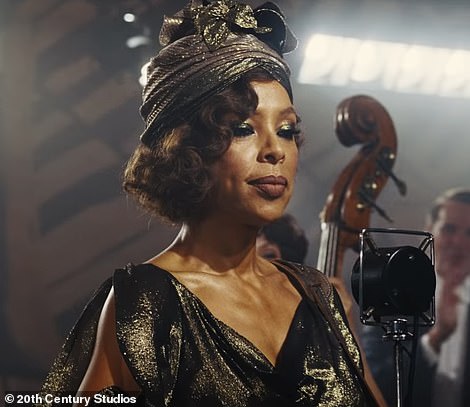 …..and then there is her "young kin manager", played by Letitia Wright.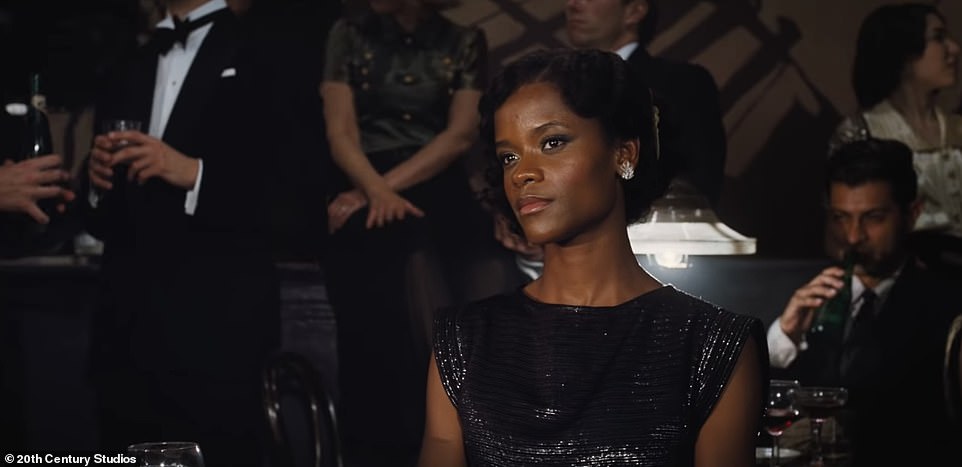 These two are in the thick of things, and there are many surprises based on their presence. Obviously these two gals are leaned on heavily for the PC messaging, but in spite of it all, they manage to come off as credible, non-cardboard, and interesting characters. In my opinion, if the screenplay would have pulled some of the "crypto-political" dialogue, and replaced it with solid character development, such as making Wright's character more of a fully developed romantic counterpart to Mackey's, the whole movie would have benefited.
Fans of "security devices", shall we say, are gonna love several scenes with these gals, but I won't spoil the fun.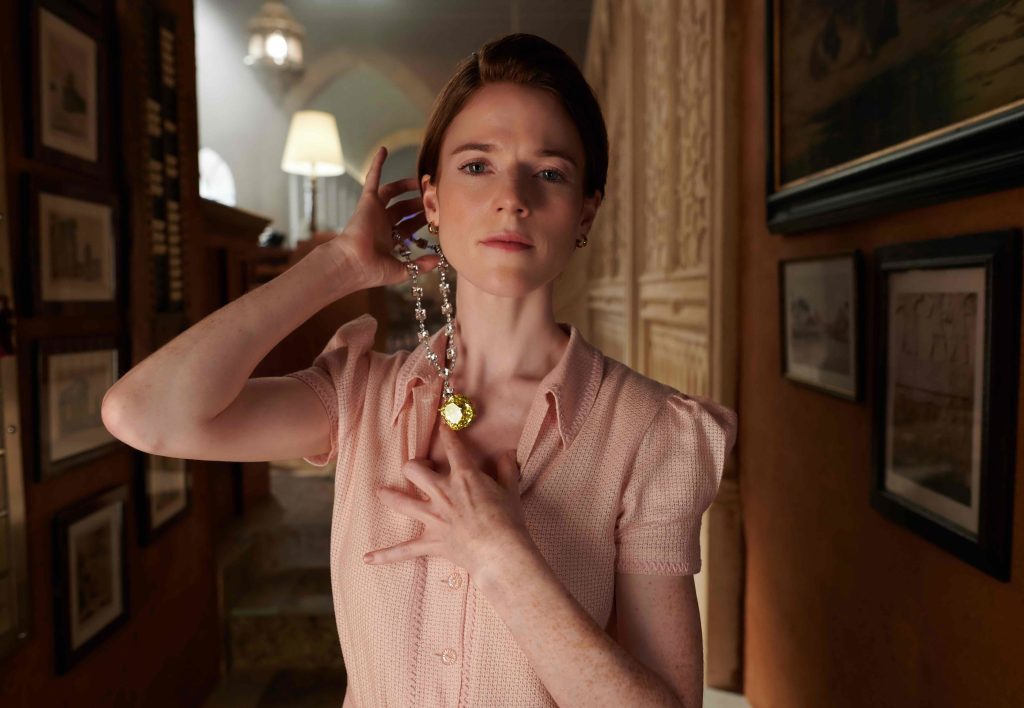 Speaking of security, always keep your eye on the butler – especially if she has a hankering for BFD (Big Effin' Diamonds). This is Rose Leslie, who really pulls off the look of a domestic.

Suspicious Cat really thought this broad was GUILTY. Was he right? NOT SAYIN'.
So who's left on our list? Two names – one of which appears to have been edited out, or is there by mistake. And that leaves ONLY ONE.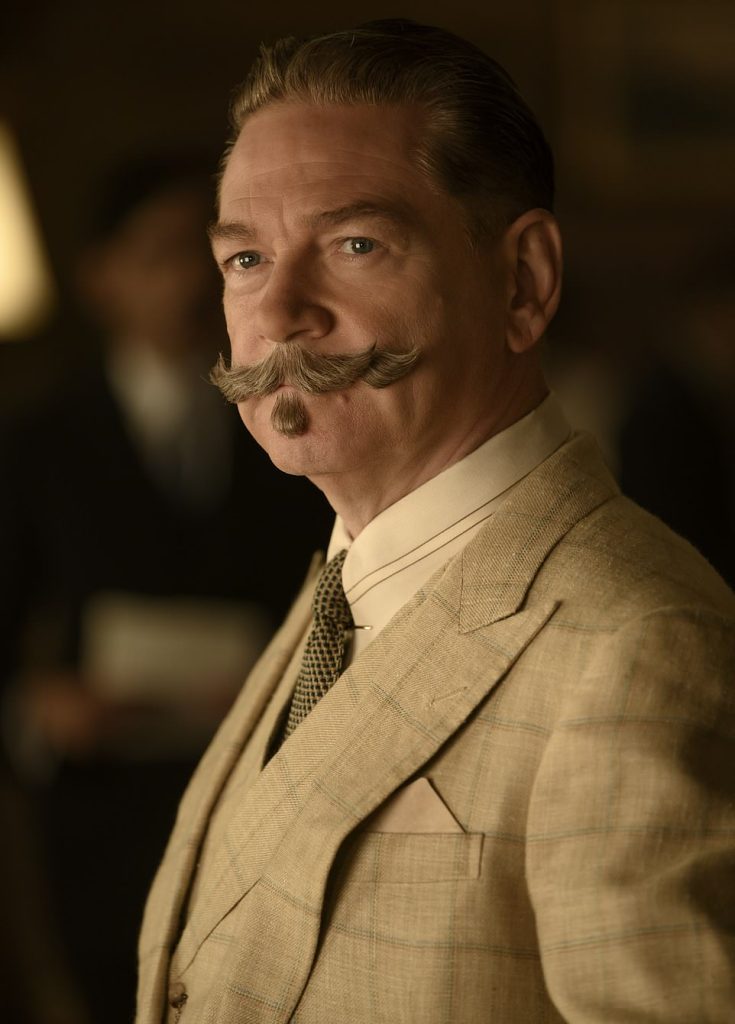 Kenneth Branagh. This guy simply can't be bad. As ALWAYS, he does a great job here, both as an actor and a director, giving some real depth to the character of Hercule Poirot. That's some of the most redeeming stuff in the movie, so it's all you're getting.
---
OH! And one last, cute point.
Apparently Hollywood had "issues" releasing the movie because of "scandals" that are guaranteed to make your eyes roll.
How 'Death on the Nile' became 'every publicist's worst nightmare'
LINK: https://nypost.com/2022/02/10/why-death-on-the-nile-is-every-publicists-worst-nightmare/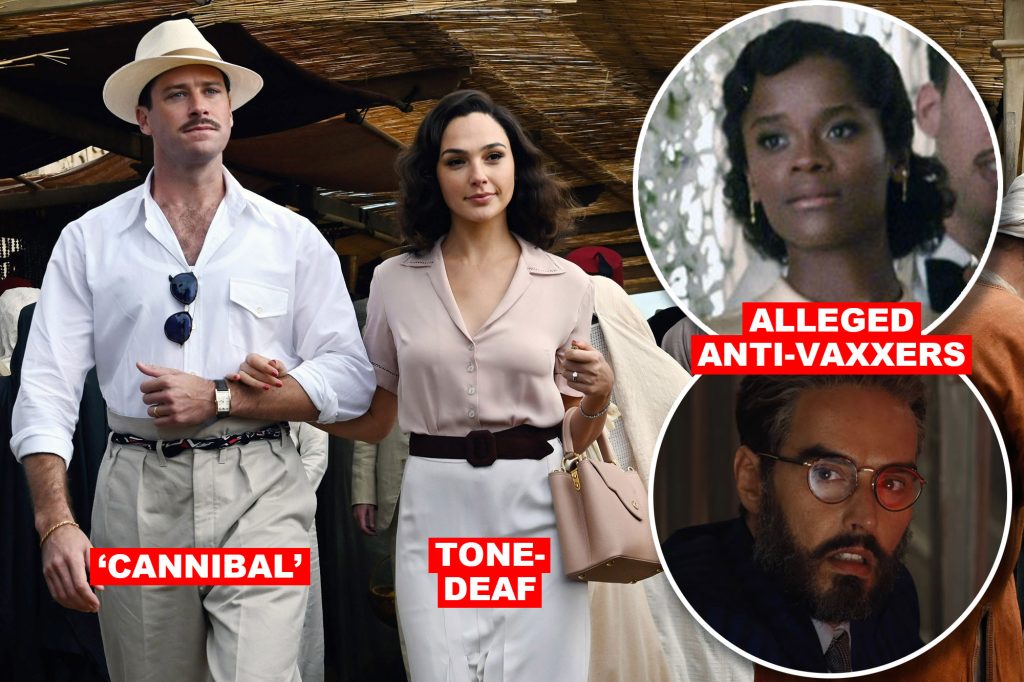 Yes. Hollywood was SKEERED because four of the "talent" got into social media trouble.
From the top…..
First. In Hollyweird, it's OK to *BE* a cannibal, but don't get caught loudly pretending you're one – especially after pissing off a string of important women. Armie Hammer (yes, he's related to the original commie) apparently likes some pretty kinky play sex, and his exes have loose lips. But is he a real cannibal, or just a loud-mouthed drunk and a loser? Your call…..
LINK: https://pagesix.com/2021/01/16/inside-armie-hammers-life-fueled-by-alcohol-bdsm-infidelity/
But WAIT – there ARE things worse than that. Like making a "tone-deaf" and "cringeworthy" "COVID survivor" video based on the John Lennon "Imagine" lyrics, that got tomatoes from hipsters and Branch Covidians.
WARNING!!! MAXIMUM CRINGE!!!
Please, Gal! Always check with your local communist cadres to make sure that speech is appropriate BEFORE you speak!
But there are things that are even worse than poor correct-think…..
Like WRONG-THINK!
Like retweeting anything mildly skeptical of the COVID vaccine narrative. Or worse still, actually TALKING to vaccine skeptics. OH, NOES!
LINK: https://pagesix.com/2020/12/07/letitia-wright-deletes-twitter-after-sharing-anti-vaccine-video/
LINK: https://www.thedailybeast.com/comedian-russell-brand-has-become-a-powerful-voice-for-anti-vaxxers
So yeah. They had to wait until NOW, when apparently the SMOKE CLEARED.
---
SO – should you go see this movie?
Not my call. Hopefully I've told you what you need to know.
Movies are not reality. They're stories. They're emotional manipulation. Sometimes they're political manipulation, too. I'm not actually sure if I'm a better or worse person for having watched this movie. But I felt like I needed to make a RECORD of the experience. Hopefully that record can be put to good use by others.
If you do go, ENJOY THE SHOW. I think you might.
---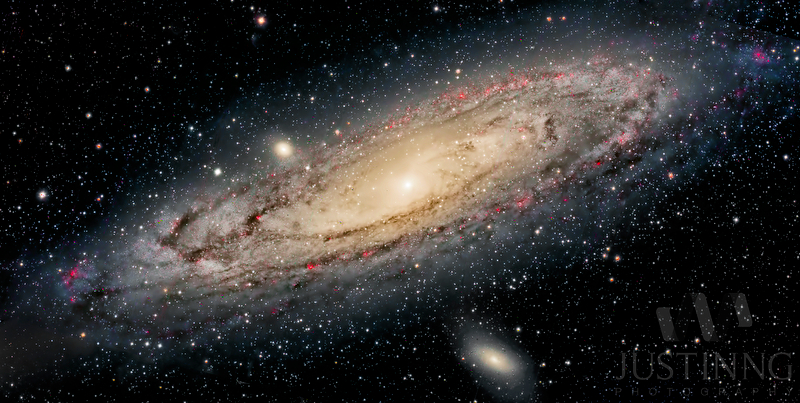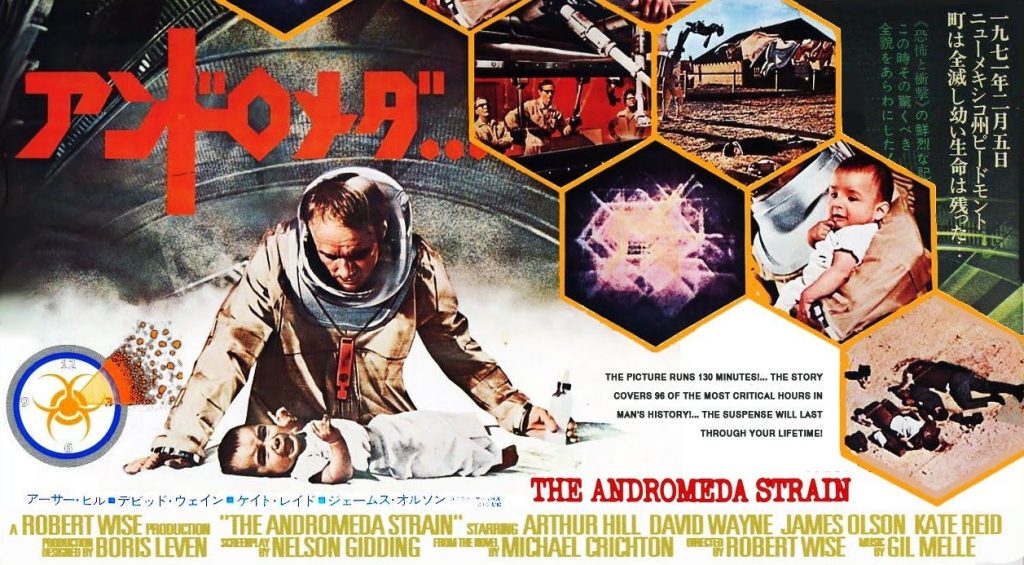 The Andromeda Shot
Thanks to barkerjim, Gail Combs, and Chris, who all got me onto the scent with this one.
---
Let's start with "The Andromeda Clot". This story began when a professional embalmer spoke out on behalf of his profession, stating that once the jabs started, he and other embalmers started seeing long, white, fibrous clots – stringy like plastic – in the veins of deceased victims of heart attacks and strokes.
LINK: https://rumble.com/vtcsgw-worldwide-exclusive-embalmers-find-veins-and-arteries-filled-with-never-bef.html
Steve Kirsch has been all over this story, and has found more embalmers who will go on the record with their observations.
LINK: https://stevekirsch.substack.com/p/cary-watkins-confirms-embalmer-richard
Hat Tip: https://www.theburningplatform.com/2022/02/15/cary-watkins-confirms-embalmer-richard-hirschmans-story-about-the-telltale-blood-clots/
Kirsch interviewed a WITNESS to the embalmer above – a fellow embalmer who saw some of the original clots and their removal, verifying that account.
LINK: https://rumble.com/vuycmg-embalmer-with-50-years-of-experience-verifies-hirschmans-story.html
The story just gets bigger and more shocking from there, as Steve dug in.
Steve interviews a very talkative and inquisitive lady embalmer, speaking on behalf of herself and two embalmer friends. These three embalmers have all seen the clots, and ALL of them independently came to hypothesize that these clots are caused by the COVID vaccines.
If you don't have time for the video (it's over an hour), you can read this post by Steve for the highlights.
LINK: https://stevekirsch.substack.com/p/exclusive-embalmer-reveals-93-of
The lady herself found these clots in 28 of her last 30 cases. Basically 93%.
LINK: https://rumble.com/vuqk1w-explosive-embalmer-reveals-93-of-cases-have-deadly-clots-caused-by-the-vax.html
This interview is FILLED with excellent information about the clots, including this lady's opinion that (1) there is no way these clots are from post-mortem coagulation, and (2) that the clots seem more prominent in the elderly, and may be exacerbated by immobility and stasis.
Some of the blockbuster "hidden gems" in this interview are "scoops" about what doctors are doing behind the scenes. One is use of ivermectin "on the down low" at the local hospital, which is in a very conservative area. Another is that doctors who are encountering clots in clinical practice, are asking about vaccination status as a possible cause of the clots.
You can't stop the signal, because the signal is TRUTH.
In my opinion, these clots are so damning, it is MONSTROUS that science is not talking about this phenomenon yet.
Worse still, that FACT CHECKERS are denying it.
Is medicine really that derelict in its duty, that UNDERTAKERS are now the source of SCIENCE?
In my opinion, the media in support of WEF leaders and WEF narratives is how we got here.
Adam Schiff, Joe Biden, Barack Obama, and their ILK are why America is looking a lot like the Soviet Union lately, following close behind Canada, Australia, and New Zealand.
The censorship is very real here, and it starts at the top.
ARTICLE: Psaki says administration is working with Facebook to limit misinformation
LINK: https://www.foxbusiness.com/politics/white-house-facebook-vaccine-misinformation
ARCHIVE: https://archive.fo/mrFqU
---
Cuppa Covfefe had the same reaction as I did – that this sounds like the disease in Michael Crichton's fictional book "Andromeda Strain", the virus of which turned people's blood into a rubbery powder.
Gail was thinking that this white fibrous stuff sounds like fibrin, and indeed, there is evidence that spike protein binds to fibrinogen, leading to the inappropriate formation of fibrin.
Here are some references about dysfunctional coagulation from both COVID-19 and spike protein, including vaccines.
References:
SARS-CoV-2 spike protein induces abnormal inflammatory blood clots neutralized by fibrin immunotherapy
SARS-CoV-2 binds platelet ACE2 to enhance thrombosis in COVID-19
Fibrin immunotherapy may resolve blood clotting induced by SARS-CoV-2
Study suggests people with COVID-19 exhibit increased risks and 12-month burdens of incident cardiovascular diseases
I can go on and on, finding papers which demonstrate coagulopathy due to either COVID-19 or the spike protein, but almost nobody in the science world DARES to link any of it to the spike protein vaccines, despite the obvious morbidity, mortality, and pathology of vaccinees – something which is apparent to all intellectually honest people.
For example, the first study cited above is featured in this explanatory blog post:
SARS-COV-2 SPIKE PROTEIN CAUSES NOVEL INFLAMMATORY BLOOD CLOTTING
Which includes the following statement:
A vicious circle. Coagulation is not merely a result of inflammation, it causes inflammation also, a process driven by the presence of the spike protein alone and its peculiar interaction with fibrinogen and fibrin.

Now here's the kicker. If the SARS-CoV-2 virus with its uniquely pathogenic spike protein is a bioweapon, then so also must be the 'vaccines', which cause the cells in our bodies to manufacture SARS-CoV-2 spike proteins in their trillions, and it has been demonstrated conclusively that these spikes find their way into the vascular system and circulate to every organ in the body, even the brain. Go figure, as they say.
That last paragraph is not hyperbole. In contradiction to all the toadie journalist "fact-checkers", REAL SCIENTISTS who have dared to point toward the obvious spike protein culprit have now had their suspicions confirmed.
Here is the blog post explainer:
CELL PREPRINT STUDY REVEALS CATASTROPHIC LEVELS OF SPIKE PROTEIN IN VACCINATED
Here is Robert Malone's substack explainer:
A Health Public Policy Nightmare: Vaccine spike antigen and mRNA persist for two months in lymph node germinal centers…
Here is the original paper in Cell:
Immune imprinting, breadth of variant recognition, and germinal center response in human SARS-CoV-2 infection and vaccination
To quote Malone in summary about spike levels:
"Read that again: Protein production of spike is higher than those of severely ill COVID-19 patients!"
And to quote the paper he's talking about:
We find that BNT162b2 vaccination produces IgG responses to spike and RBD at concentrations as high as those of severely ill COVID-19 patients and follows a similar time course.
This is not hard. Think about it.
disease produces spike protein mostly in respiratory tract and lungs
severely ill COVID-19 cases produce more spike, more disseminated
Pfizer vaccine produces same amount of spike as severe disease
but vaccine produces spike in highly vascularized muscle tissue
patients are encouraged to move deltoid muscle to increase perfusion
Pfizer data (Japan) proves vaccine disseminates throughout body
data proves long half-life of vaccine before release of pseudo-mRNA
other studies show vaccine migrates to lymph nodes
spike-producing pseudo-mRNA likely has unnaturally long lifetime
spike is produced for 60+ days in lymph nodes
vaccine moves through circulatory system via lipid nanoparticles
spike moves from lymph nodes through circulatory system via exosomes
exosomes both contain spike and express it on surface
exposed spike binds to fibrinogen and initiates fibrin formation and clotting
circulatory vaccine spike should cause MORE clotting than does disease
It is NO WONDER that the vaccine earned the nickname "clot shot".
My bottom line is this:
We cannot stand by while these MONSTERS abort living children slowly with these vaccines.
Remember the wife of familial eugenicist Bill Gates JUNIOR?
It's very useful to understand BILL GATES SENIOR to get a better feel for the whole clan. The man was not just a eugenicist, but a FABIAN as well.
LINK: https://thedissedent.page/2021/10/11/william-gates-sr-financed-eugenics/
ARCHIVE: https://archive.fo/iqYM4
The other side is getting very desperate to "commit population reduction", and to do it "by any means necessary". And to do it – as we have seen – the SNEAKIER, the better.
In my opinion, we have to get LOUD in voice and EFFECTIVE in practice, in spreading the word about the HORROR of the Andromeda shot.
Forcing kids to take these injections is horrifying.
ACT ACCORDINGLY.
We have to support the truckers.
We have to end the mandates.
We have to end this insane regime.
I believe that making the Bidenistas and Bidenazis EAT THE CLOT SHOT is an important part of how to do that.
W
---
ENJOY THE SHOW.