I had already seen the video I'm about to show you, when I watched the press conference in which Florida Governor Ron DeSantis powerfully chastised the media for mischaracterizing his administration's position of OPPOSING the mRNA vaccines for kids, as PROHIBITING the vaccines for kids – something which DeSantis reminded the idiot media that he cannot do.
However, DeSantis didn't "hide" his opposition in the least. He still seemed to be doing everything in his power to get parents to look at Pfizer's clinical trial data (or lack thereof) allegedly justifying this needless – if not counterproductive – if not downright dangerous vaccine.
Thus, when I saw how STRONGLY DeSantis held his ground, I thanked God that somebody in his administration surely saw the same video that I had seen.
YOU NEED TO SEE IT, TOO.
Just watch this. It's short and to the point.
---
BOMBSHELL: Dr. Clare Craig Exposes How Pfizer Twisted Their Clinical Trial Data for Young Children
Chief Nerd Published June 17, 2022 103,562 Views
LINK: https://rumble.com/v18s66i-bombshell-dr.-clare-craig-exposes-how-pfizer-twisted-their-clinical-trial-d.html
---
Here is the Ron DeSantis press conference.
In my opinion, it's very clear that he and/or his people watched this video, or read a transcript.
---
DeSantis: 'No Proven Benefit' For Babies To Get COVID Jabs, 'We Recommend Against It'
DeSantis said that Florida will not require infants to receive COVID-19 vaccines, and stressed that his government recommends against it
By Andrew White
Published 10 hours ago
LINK: https://valiantnews.com/2022/06/desantis-no-proven-benefit-for-babies-to-get-covid-jabs-we-recommend-against-it/
Twitter will try to remove this tweet from the historical record, so let's just make a copy.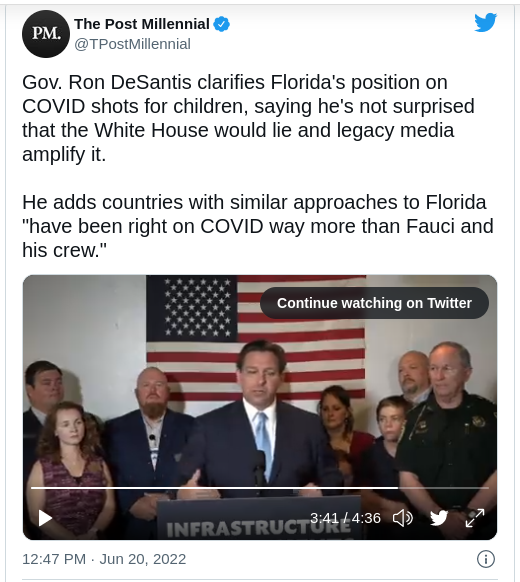 ---
In my opinion, this Pfizer clinical trial is nearly 100% BAD SCIENCE.
That such bad science is not merely allowed to pass without comment by America's major scientific organizations, such as the AMA and the ACS, but was in fact used by the FDA to approve utterly needless vaccines – this kind of failure of American science is SOUL-DEADENING.
It's not just one person here or a research group there. This is multiplicity of large-group institutional failure.
Personally, I blame this shocking failure on the triumph of Chinese ethics over traditional Western ethics.
Pfizer, with its global HQ for clinical trial data in Wuhan (SURPRISE, SURPRISE, SURPRISE!) is now allowing China and the CCP to effectively run all its clinical trials. This horrible, shoddy trial just REEKS of a sick combination of malignant Chinese battered anarcho-capitalism and corrupt Chinese communism. This is typical "top down" forcing of mistakes due to POLITICS and GREED.
I have been telling people that I will NEVER take another drug from Pfizer.
THIS is exactly why.
W