Hunter Biden is a low-rent piece of work, but this document circulating online DOES NOT show what is being reported. Hunter Biden did NOT pay Joe Biden exorbitant rent to live at Joe's house in Delaware: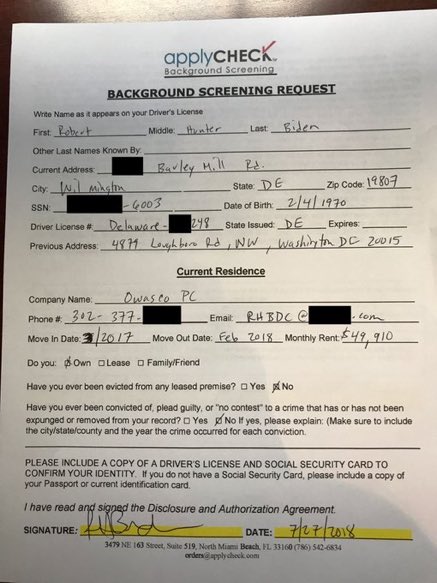 The top of the form is Hunter's home address information. He did indeed live at the time with Joe Biden on Barley Hill Rd. in Wilmington, Delaware.
BUT, the second part of that form describes something else entirely, unrelated to Hunter's living arrangements.
Hunter Biden owned a business called Owasco, P.C. A search for that business reveals a business address of 1010 Wisconsin Avenue Nw, Washington, DC 20007:
http://datagovus.com/washington-dc-business.php?id=400315901468
Going to Google.com/maps shows that address is a place called Waterfront Center in Georgetown. Here's a photo of it:

On Google Maps, the building had a sign in the window "For Lease," by a company called R. B. Properties, Inc.
Here is the R. B. Properties page for Waterfront Center, complete with rates per square foot:
https://www.rbpropertiesinc.com/commercialproperties/waterfront-center
If Hunter was renting their smallest and cheapest space at today's rates, the monthly cost would be $45,676!
All of this took me about five minutes to discover.
P.S. If you scroll down on that first page I linked, just GUESS who else is in 1010 Wisconsin Ave. in DC:
70101337 Rosemont Seneca Partners LLC 1010 Wisconsin Avenue Nw, Washington, DC 20007