McCarthy 2.0 seems a vast improvement over Speaker Dungsmear. So here's the question. Was he once a conservative with a little fire in the belly that got captured by the system and now is finding the bellyfire again? Or is this all completely under duress?
For the moment, it doesn't matter which one. But some day it will matter, and we will have our answer.
Lenin's Birthday
By the old Julian Calendar in effect when and where he was born, Vladimir Illyich Ulyanov was born on 22 April (Old Style), 1879 in the town of Simbirsk in Russia. Alexander II (the LIberator, for he freed the serfs) was tsar of Russia. Before Ulyanov was done, his name had become Lenin, Russia was becoming a charnel house, terrorized into submission to Marxism, and the stage was set for Stalin (formerly Iosif Vissarionovich Dzhugashvili).
And that town of Simbirsk is still named Ulyanovsk in Lenin's honor. The constant hagiography under the Bolsheviks has resulted in many Russians continuing to regard Ulyanov as a hero.
The 20th was Hitler's birthday; it's rather amusing that Queen Elizabeth II and Catherine the Great both are wedged in between and have their birthday on the 21st (in Catherine's case, again Old Style).
RINOs an Endangered Species?
If Only!
According to Wikipoo, et. al., the Northern White Rhinoceros (Ceratotherium simum cottoni) is a critically endangered species. Apparently two females live on a wildlife preserve in Sudan, and no males are known to be alive. So basically, this species is dead as soon as the females die of old age. Presently they are watched over by armed guards 24/7.
Biologists have been trying to cross them with the other subspecies, Southern White Rhinoceroses (Rhinoceri?) without success; and some genetic analyses suggest that perhaps they aren't two subspecies at all, but two distinct species, which would make the whole project a lot more difficult.
I should hope if the American RINO (Parasitus rectum pseudoconservativum) is ever this endangered, there will be heroic efforts not to save the species, but rather to push the remainder off a cliff. Onto punji sticks. With feces smeared on them. Failing that a good bath in red fuming nitric acid will do.
But I'm not done ranting about RINOs.
The RINOs (if they are capable of any introspection whatsoever) probably wonder why they constantly have to deal with "populist" eruptions like the Trump-led MAGA movement. That would be because the so-called populists stand for absolutely nothing except for going along to get along. That allows the Left to drive the culture and politics.
Given the results of our most recent elections, the Left will now push harder, and the RINOs will now turn even squishier than they were before.
I well remember 1989-1990 in my state when the RINO establishment started preaching the message that a conservative simply couldn't win in Colorado. Never mind the fact that Reagan had won the state TWICE (in 1984 bringing in a veto-proof state house and senate with him) and GHWB had won after (falsely!) assuring everyone that a vote for him was a vote for Reagan's third term.
This is how the RINOs function. They push, push, push the line that only a "moderate" can get elected. Stomp them when they pull that shit. Tell everyone in ear shot that that's exactly what the Left wants you to think, and oh-by-the-way-Mister-RINO if you're in this party selling the same message as the Left…well, whythefuckexactly are you in this party, you lying piece of rancid weasel shit?
In Defense of Ranked Choice Voting
One of the biggest obstacles to direly-needed change is RINOs, and one of the weapons in their arsenal is the "Wasted Vote" argument.
Periodically a third party has arisen, trying to hold RINOs to account by putting pressure on them from outside of the party, since doing so from the inside has historically done very little good. But, even if you find a third party candidate who perfectly reflects your views, you're likely to vote for the RINO anyway. Why? Because if you don't, the Democrat might win, and that would be even worse. So if you vote for that third party (that few will vote for), you're throwing your vote away and increasing the likelihood of the Democrat winning. (It's half as much a gain for the Democrat, as actually voting for the Democrat would be. Not as much, but half as much. Because although you denied the R your vote, you did not flip your vote to the Democrat.)
The Republican Party Establishment knows you don't love them. But they know you hate the Democrats worse, and they use that to continue to herd you into supporting them. With gritted teeth you cast your vote, but your vote counts the same whether you cast it enthusiastically. And the other alternative, pissing on the voting apparatus to express your actual feelings, is probably a felony.
But what if you could vote for that third party without increasing the chances of the Dem walking away with the prize?
This is what ranked choice voting, or instant runoff voting, can do provided it is properly implemented. (And this includes the votes, and only genuine votes, being counted honestly, of course. However, I'm going to compare it to what we have today, and pretend that is honestly done too. RCV can't work if it's not honestly administered, just like our current system isn't working because it isn't honestly administered.)
The idea behind RCV is to vote by expressing your order of preference. You could vote for the Patriot Party, then for the RINO Party as your second choice (and ignore the Democrat, the Green, the Overt Socialist Schmuckmonkey Party, etc).
What does this do? It nullifies the wasted vote argument. Your vote will be counted for the Patriot party, first, then instead of it being "wasted" when the Patriot Party loses, it ends up going to the RINO. Actually, it's just barely possible that the Patriot Party would actually beat the RINO, if people weren't all individually afraid to vote for it.
It's just like the famous "Prisoner's Dilemma" where your fear of other peoples' actions prevents you from doing the optimal thing–and vice-versa. As long as Job Lowe is afraid to vote Patriot because he's afraid you'll vote RINO, you'll have to vote RINO because you fear that Job Lowe will, because he fears you will.
So on the whole I like RCV. It gives you a no-risk way to vote against the RINO scum, and in favor of someone who deserves your vote.
The problem is, as done here in the US, it comes packaged with a "jungle primary." A bunch of candidates get to put their name out there, and the top four (or so) candidates get onto the "main" ballot. This gives party establishments their way around the threat of a good third party bumping them off. Because they know that few people bother with primaries, and third parties don't have the resources to run in a primary…so they throw two or three establishment hacks into the primary and they will probably beat the third party. The result is the RINOs end up with two of the four slots in the general election, and the Dems get the other two. Now there's suddenly no third party candidate on the ballot at all.
If we were to combine RCV with the present system where each party could nominate exactly one candidate to appear on the November ballot, or at the very least, ensure minor parties could get onto the ballot with at least one candidate regardless of the primary, we would be getting somewhere, but the establishment is smarter than we like to give them credit for. They will support the jungle primary + RCV "solution" rather than the more appropriate one-candidate-per-party + RCV solution.
It's not RCV that is the problem, it's the primary structure grafted onto it.
Justice
It says "Justice" on the picture.
And I'm sure someone will post the standard joke about what the fish thinks about the situation.
But what is it?
Here's a take, from a different context: It's about how you do justice, not the justice that must be done to our massively corrupt government and media. You must properly identify the nature of a person, before you can do him justice.
Ayn Rand, On Justice (speaking through her character John Galt, in Atlas Shrugged):
Justice is the recognition of the fact that you cannot fake the character of men as you cannot fake the character of nature, that you must judge all men as conscientiously as you judge inanimate objects, with the same respect for truth, with the same incorruptible vision, by as pure and as rational a process of identification—that every man must be judged for what he is and treated accordingly, that just as you do not pay a higher price for a rusty chunk of scrap than for a piece of shining metal, so you do not value a rotter above a hero—that your moral appraisal is the coin paying men for their virtues or vices, and this payment demands of you as scrupulous an honor as you bring to financial transactions—that to withhold your contempt from men's vices is an act of moral counterfeiting, and to withhold your admiration from their virtues is an act of moral embezzlement—that to place any other concern higher than justice is to devaluate your moral currency and defraud the good in favor of the evil, since only the good can lose by a default of justice and only the evil can profit—and that the bottom of the pit at the end of that road, the act of moral bankruptcy, is to punish men for their virtues and reward them for their vices, that that is the collapse to full depravity, the Black Mass of the worship of death, the dedication of your consciousness to the destruction of existence.
Ayn Rand identified seven virtues, chief among them rationality. The other six, including justice, she considered subsidiary because they are essentially different aspects and applications of rationality.
—Ayn Rand Lexicon (aynrandlexicon.com)
Justice Must Be Done.
Trump, it is supposed, had some documents.
Biden and company stole the country.
I'm sure enough of this that I put my money where my mouth is.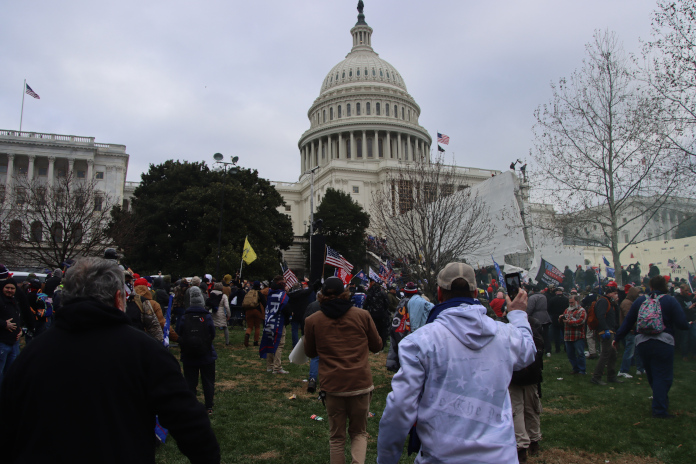 The prior election must be acknowledged as fraudulent, and steps must be taken to prosecute the fraudsters and restore integrity to the system. (This doesn't necessarily include deposing Joe and Hoe and putting Trump where he belongs, but it would certainly be a lot easier to fix our broken electoral system with the right people in charge.)
Nothing else matters at this point. Talking about trying again in 2022 or 2024 is pointless otherwise. Which is not to say one must never talk about this, but rather that one must account for this in ones planning; if fixing the fraud in the system is not part of the plan, you have no plan.
This will necessarily be piecemeal, state by state, which is why I am encouraged by those states working to change their laws to alleviate the fraud both via computer and via bogus voters. If enough states do that we might end up with a working majority in Congress and that would be something Trump never really had.
Lawyer Appeasement Section
OK now for the fine print.
This is the WQTH Daily Thread. You know the drill. There's no Poltical correctness, but civility is a requirement. There are Important Guidelines, here, with an addendum on 20191110.
We have a new board – called The U Tree – where people can take each other to the woodshed without fear of censorship or moderation.
And remember Wheatie's Rules:
1. No food fights
2. No running with scissors.
3. If you bring snacks, bring enough for everyone.
4. Zeroth rule of gun safety: Don't let the government get your guns.
5. Rule one of gun safety: The gun is always loaded.
5a. If you actually want the gun to be loaded, like because you're checking out a bump in the night, then it's empty.
6. Rule two of gun safety: Never point the gun at anything you're not willing to destroy.
7. Rule three: Keep your finger off the trigger until ready to fire.
8. Rule the fourth: Be sure of your target and what is behind it.
(Hmm a few extras seem to have crept in.)
Spot Prices
Last week:
Gold $2,005
Silver $25.42
Platinum $1,056.00
Palladium $1,589.00
Rhodium $8,450.00
This week, 3 PM MT on Friday, markets closed for the weekend
Gold $1,984.90
Silver $25.17
Platinum $1,134.00
Palladium $1,682.00
Rhodium $9,000.00
Gold was above 2000 still as of Friday morning, and got pushed down 21 dollars worth on Friday. Silver lost 21 cents on Friday. What I find interesting is the platinum group metals are starting to climb again.
Rocket Science
I've been exposed to rocket science in a formal setting. And I've been exposed to quantum mechanics. And many aspects of electrical engineering.
And I am here to tell you, rocket science ain't rocket science, at least not by comparison.
A lot of what people call "rocket science" is really engineering, building devices that will work in a hostile environment. Hard vacuum (more of a vacuum than we can create here on Earth), radiation (both cosmic and solar-based), and temperature extremes. The simplest-seeming things can fail under those circumstances. And many materials we think of as "inert" will turn into bearded dragon poo up there. (No, not literally but you get my meaning.) Add people into the mix and then zero g –ahem, microgravity–becomes an issue, and the radiation protection becomes even more critical. And with people you have to build a pressurized environment, an enclosure strong enough to withstand an an enormous amount of outward force. 15 pounds per square inch doesn't sound like a lot, but that's a ton per square foot. Every square foot. Yes, they can breathe a richer atmosphere at lower pressure, but the issue remains.
And all this has to be done as lightweight as possible. Which means, basically, that the Apollo astronauts landed on the moon in an aluminum "tin" can.
Why is weight an issue?
That goes back to actual rocket science.
By now I hope it's abundantly clear that out in space, Newton's first and second laws (objects in motion will remain in motion (and objects at rest will remain at rest) until acted on by an external force; and the force is proportional to the mass times the acceleration) are not just approximations. They hold. (And even here they do, but friction and a solid surface to stop our response to gravity and thus provide the sensation of weight introduce complications.)
Which means if you want to quit going endlessly around the same orbit, and want to go somewhere, you must apply a force in order to accelerate and change your speed.
By far the most common way to do this is with a rocket. There are solar sails and ion propulsion units, and they can be much more efficient than a rocket, but they must necessarily operate much, much more slowly. They can't be used to go into orbit from the surface of the earth, because they don't work fast enough to overcome the effects of the 1g pull near the surface. To go up, you need more than 1 g acceleration upwards; one g of it cancels gravity, the rest goes into increasing your speed. Solar sails and ion propulsion won't do that.
The force usually ends up being supplied by a rocket; a rocket will change your velocity nearly instantaneously, which is how you change which orbit you're in (if you're in orbit) or accelerate to a speed high enough to be in orbit (if you're not). It's essentially a deliberate perturbation of an orbit.
People often wonder how a rocket can work out in the vacuum of space when there's "nothing to push against," in fact this is a common (and specious) argument in the quiver of those who deny the moon landings ever happened. The objection actually gets partial credit, because it acknowledges (even if it mis-applies) Newton's third law of motion, which is that every action has an equal but opposite reaction. If you push against something, both you and it feel a push, in opposite directions; if you happen to be on roller skates you move away from what you pushed.
The fact is that the rocket moves forward simply because it flings its own exhaust out its tail end. The act of pushing the exhaust out, pushes the rocket forward; it changes speed in that forward direction.
It doesn't have to be "exhaust" by the way; pushing any mass out the back will do the job. However, it happens that exhaust of burning fuel is by far the easiest thing to arrange for. When they want to be generic, they talk of "reaction mass" being the mass you push against to change your speed.
So let's say you are sitting in a space capsule in orbit, and you want to change to a different orbit…and after doing all of the calculations, you find you must change your velocity by exactly one kilometer per second.
You and your capsule put together mass one metric ton, 1,000 kilograms or about 2200 pounds (mass). And let's say this mass does not include the mass of the rocket fuel you happen to be carrying. So what if you have a metric ton of rocket fuel with you? If you can shove it away at 1 km/sec, you will also move at 1 km/second away from where you shoved it. On the other hand, if you only have half a metric ton of reaction mass…you gotta push it away at 2 km/sec.
This is from conservation of momentum. The mass of the fuel, times its velocity after the maneuver, must equal the mass of your craft, times its velocity. The two velocities will be in opposite directions, so they cancel each other. Zero total momentum before (0x0+0x0=0), zero momentum afterwards (1×1000+ -1×1000=0 or 2×500 + -1×1000=0).
But there's a gigantic gaping hole in this analysis. And that is the fact that we can't accelerate all of the fuel at once. We have to do it a kilogram at a time. So, returning to our metric ton of fuel at one kilometer a second, we'd expect each kilogram to speed us up by 1 meter per second; all 1000 kilograms would therefore give us one thousand meters, or one kilometer, per second.
Right?
WRONG.
The first kilogram of fuel, pushed out the back of the rocket at 1 km/sec, is having to push a spacecraft with a mass of 1,999 kg…the actual spacecraft plus the fuel that hasn't been burned yet. NOT 1,000 kg. So it will barely accelerate the spacecraft half a meter per second! The second kilogram will have to accelerate a 1,998 kg spacecraft, and will do a little better as a consequence.
Only the last kilogram will produce the full 1 meter/second of change in velocity.
So we need more than a metric ton of fuel to do this, even if the exhaust velocity is 1 km/second.
And actually even this isn't quite right becuase you can subdivide the kilograms into grams, each with a very slightly different effect; you can subdivide the grams into milligrams…you'll get more accurate results, the lower you go, but honestly the only perfectly accurate answer is some sort of continuous calculation.
That sounds really, really hard. It's like that numerical integration I was talking about a few weeks ago, with smaller and smaller step sizes. And indeed you could solve this that way, but you don't have to. There's a closed form solution.
But to see how that is, let's work the problem in reverse.
Let's start with the empty (or "dry") spacecraft, 1000 kg. We know that at one km/second exhaust speed, it will take ever so slightly more than one kilogram of fuel to change our speed by 1 meter/second. To compute what it will take to do two meters per second, you can work it backwards: Assume your rocket is already doing one meter per second when you burn that kilogram+ of fuel to add on the second meter per second. But realize at the start of that your mass is 1,001+ kilograms, so in order to have done that first meter per second, you need enough fuel to accelerate 1001 kilograms; that will be 1.001+ kilograms of fuel.
You can imagine doing this a thousand times, adding a tenth of a percent of the mass of what you've already got to figure out what that particular meter per second of change in velocity is going to cost.
Now that I've phrased it that way…doesn't that sound like compound interest?
We know how to handle that. In fact, we know how to handle continuously compounded interest (rather than periodic, step by step) so we can solve the issue of having to think about what each microgram of fuel does.
And it turns out, therefore, that to accelerate your spacecraft 1 km/second with fuel that has an exhaust velocity of 1km/second…you need not just 1,500 kg of fuel, no, you need 1,718.281828 kilograms of fuel.
YIKES! Almost two times as much fuel as actual spacecraft!
And it's worse than that. You're going to need a BIG tank to hold all that fuel, and the tank itself adds to the weight–or alternately, reduces the weight you can use for the astronaut, his life support, his food…and so on.
Well, I've talked around it a bit…but here it is. The equation at the heart of all of this is known, quite simply, as "the rocket equation." There are several equivalent forms, which are solved for different things, but we're interested in the mass of the fuel in this scenario, so let's use this one:
This is usually credited to Константи́н Эдуа́рдович Циолко́вский…er, Konstantin Eduardovich Tsiolkovskiy (usually spelled Tsiolkovsky but the Russian ends with their "iy" so I'll stick with that…see my rant about Chaikovskiy a few weeks ago). [And yes, that's a TS at the front so you will probably have this insane urge to make the T silent.] He derived the formula in 1903.
OK, let me unpack this a bit. Δv is the desired change in the rocket's velocity (1 km/sec). [the triangle is the Greek letter delta and is commonly used in mathematics and science to indicate "change." So the change in the rocket's velocity is often called "delta-vee."] That's divided by ve, the exhaust velocity (also 1 km/sec). The result of that division is 1, so you are now raising the mathematical constant e to the first power…which is just e. That is 2.718281828…it's a transcendental number like pi (π) is, never falling into an endlessly repeating sequence and never ending. It's a little bit easier to memorize the first few digits of, though, because the 1828 repeats itself (once) .
Now mf can either be a reference to a RINO politician (I may not have made myself clear on how much I despise them), or it could be the "final" mass, i.e., the mass of the spacecraft after all the fuel is burned. And m0 is the "starting" mass. The mass of the fuel is the difference between the two m numbers. So our final mass is 1,000 kg, and that must be multiplied by e to get the initial mass, which is 2,718.281828 kilograms. Subtract 1000 from that number to get 1,718.281828 kilograms fuel mass.
Now picture what happens with a mission where there are two 1 km/second burns. For the later of the two burns, you must start with 2,718+ kilograms total weight…so that is mf for the first burn. Which means the total mass before the first burn must be e times that. Well, that's e2 times the original thousand kilogram dry weight of the spacecraft…which is 7,389+ kilograms, subtract a thousand for the dry spacecraft weight and you now need 6.398 tons of fuel. You get the same result, by the way, for a single 2 km/second "burn"; just put 2 in for Δv keeping ve as 1, and you see you have an e2 in the formula. That's important: Many small burns (delta-vees) are the same as one big delta-V equal to the sum of all the small delta-vees. (If you think about it, that makes sense. Why does it matter to the rocket whether it fires continuously or intermittently to do the same job?)
You can see this is going in a really, really bad direction. The more delta-vee you need the more fuel you need…and it mounts up quickly! This is where compounding works against you, and believe me it sucks to be on the brown smelly end of that stick.
(If you're thinking that (in spite of what I said about rocket science not really being rocket science) this sounds like pretty complex math, it is nothing compared to general relativity. Or quantum mechanics. Or electrical engineering. Where, OBTW it's possible to raise e to a complex power involving the square root of minus 1…and some reaaaaally interesting stuff happens when you do that.)
There are some ways to mitigate this. Obviously…anything you can do to reduce the weight pays big dividends in reducing fuel mass. And if you can figure out a way to do your mission with a smaller delta-vee, that's great too…this is why NASA loves gravity assists. Every bit of speed they can get out of a gravity assist allows them to make the spacecraft bigger–read, pack more scientific instruments on the spacecraft, OR use less fuel (a smaller rocket). Or some combination of the two. And this is why NASA sends returning astronauts through a fireball re-entry too: No fuel is used to slow down. Apollo would not have been possible if they had needed a 25,000 mile per hour delta-vee in fuel to land on Earth at the end…think about how that would affect the rocket equation!
But the most potent method is to increase the exhaust velocity. If you can make your exhaust velocity 2 kilometers/second, then going back to the first problem where you want to change your spacecraft's velocity by 1 km/sec, you now have Δv/ve = 1.0 km/sec divided by 2.0 km/sec and you're now raising e to the 1/2th power (e1/2)…which is to say you take the square root of e, and multiply your 1000 kg dry mass by that. The square root of e is 1.64872+. The initial mass of your spacecraft is now 1,648+ kilograms, not 2,718+ kilograms, and your fuel mass is 648+ kg, not 1,718+kg. Wow, you've saved over 62 percent of your fuel mass (almost exactly 5/8ths in fact), and you can have a smaller fuel tank or more other things in that spacecraft.
Of course when you decide to do a 2 km/sec delta vee, you're back to needing 1,718 kg of fuel…but that's much better than 6,398 kg!
Basically if you increase the exhaust velocity by some amount…you've increased the amount of delta vee from the same amount of fuel by the same percentage.
This is why rocket scientists…er, engineers, will sell their left testicle or ovary for a faster exhaust velocity.
OK so how do you do that? Your taking a mass (the mass of your rocket exhaust) and speeding it up. That's kinetic energy, and thanks to conservation of energy, that energy must come from somewhere.
In a rocket, that comes from simple chemical energy. You burn the fuel. If your fuel is kerosene, and you burn it (with oxygen) your exhaust has a lot of energy in it, it will want to expand, the pressure builds…and you give it a nozzle to squirt out of. Voila! Exhaust velocity.
Robert Goddard used kerosene and liquid oxygen. (And, note: You have to carry the oxygen with you into space [which rather conspicuously has very little oxygen ready for use] not just the stuff you're lighting on fire. Fortunately the oxygen counts towards the mass of the exhaust so it doesn't really matter how much is oxidizer and how much is "fuel.")
It turns out that what the fuel is makes a great big difference. You can calculate how much total momentum change ("impulse") a certain weight of fuel (and oxidizer) will produce, and that becomes the "specific impulse" which is symbolized Isp (not to be confused with an internet service provider). By the time you fiddle around with unit analysis, it ends up being measured in seconds. Yes, just plain seconds. But you can also look at it as the amount of time a certain weight of fuel can provide a thrust equal to that weight, which is seconds, also. The longer it does that, the more delta-vee it can impart to whatever it's pushing.
You can in fact take the rocket equation, and work the opposite problem: If I have a certain amount of fuel, how much delta vee will it give me? You can rearrange and solve the above and get the other commonly seen form of the rocket equation.
The first two terms (to the left of the second equals sign) are the rearrangement (ln is the "natural log," the reverse operation to raising e to a power). The second expresses ve in terms of the Isp of the fuel, instead of the exhaust velocity. g0 is standard gravity (9.8 meters/second/second, or 32 feet/second/second) since the thrust is in pounds weight instead of pounds mass.
So Isp makes a big difference, because exhaust velocity makes a big difference. What has the best Isp out there?
There is often a theoretical maximum, but just simple inefficiencies sap it…so that's something else rocket engineers can work on. But the best rocket fuel out there is liquid hydrogen and liquid oxygen, with a specific impulse of 450 seconds. This is what NASA used in the Saturn V, and in the Space Shuttle main engines (and is using in Artemis). It can be expensive to liquefy hydrogen–then you have to engineer systems that can take that cold as well as the heat from the burning fuel, but when you absolutely, positively have to wring everything out of a BIG rocket, it's the way to go.
Other fuels do less. The solid rocket boosters on the shuttle had specific impulses of 250 seconds. Solid rocket boosters generally have low ISPs but they are dead simple, have a long shelf life (unlike liquid hydrogen, where if you scrub the mission you must de-fuel the rocket because you cannot refrigerate it in the tank…because refrigeration is heavy).
I've now explained why NASA aerobrakes, and does gravity assists. It's not a virtuosic stunt, it's absolutely necessary to maximize the amount of "stuff" you can send to Jupiter or Mercury or the Parker solar probe or…Apollo 11, where you can't exactly reduce the weight of the astronauts to save fuel. [I'm sure they were encouraged to hit the restroom right before launch though.] The more you can do that sort of thing the better; which is why the advent of cheap computing has been a huge bonus…those seven-gravity-assist missions couldn't have been planned with a slide rule.
One last thing…and hopefully by now it's obvious. Why do rockets have stages?
Remember what I said about the (literally) exponentially increasing amount of fuel requiring bigger and bigger tanks? Well, there's one way to mitigate that. And that's to put the fuel in several tanks, and throw them away as you empty them since once they're empty they're just dead weight you do not want to have to push.
This works, and works well. We could not get to orbit, much less the moon, without doing this. The problem is, it's expensive. You either throw away the rocket (old school) or recover the parts and rebuild it (new school, complicated work). It'd sure be nice if the rocket stayed intact going up and back down again, and just needed to be inspected and refueled…like an airliner. And it seems like we can almost do this.
But alas, we need more specific impulse. But 450 is as good as we're going to get by chemical means. It turns out that specific impulse is higher the lighter the molecule of exhaust is, and you're just not going to get anything lighter than water out of liquid propellants. So liquid hydrogen and liquid oxygen for the win!
But I said, by chemical means.
Experiments have been done in using a nuclear reactor to heat hydrogen (by itself) and of course hydrogen (by itself) will have a much higher specific impulse. Testing in the 1960s gave a specific impulse of 850 seconds! BUT…the reactor is heavy and it would really suck if one of those blew up in flight, say shortly after launch or shortly before landing. So we've been reluctant to pursue that further. There are other more pie-in-the-sky technologies with much higher specific impulses, but in general they tend to be very low thrust. (The fuel can change the delta v a lot…but it will take a long time…and we can't use that to boost from the surface to Earth orbit. These would be great, though for use in spacecraft once they are out in space and have the luxury of time.)
OK, so there's an introduction to rocket science and engineering.
Obligatory PSAs and Reminders
China is Lower than Whale Shit
To conclude: My standard Public Service Announcement. We don't want to forget this!!!
Remember Hong Kong!!!
https://youtube.com/watch?v=L3tnH4FGbd0
中国是个混蛋 !!!
Zhōngguò shì gè hùndàn !!!
China is asshoe !!!
China is in the White House
Since Wednesday, January 20 at Noon EST, the bought-and-paid for Joseph Biden has been in the White House. It's as good as having China in the Oval Office.
Joe Biden is Asshoe
China is in the White House, because Joe Biden is in the White House, and Joe Biden is identically equal to China. China is Asshoe. Therefore, Joe Biden is Asshoe.
But of course the much more important thing to realize:
Joe Biden Didn't Win
乔*拜登没赢 !!!
Qiáo Bài dēng méi yíng !!!
Joe Biden didn't win !!!