Check it out. Here are Barr and Mueller from 1989.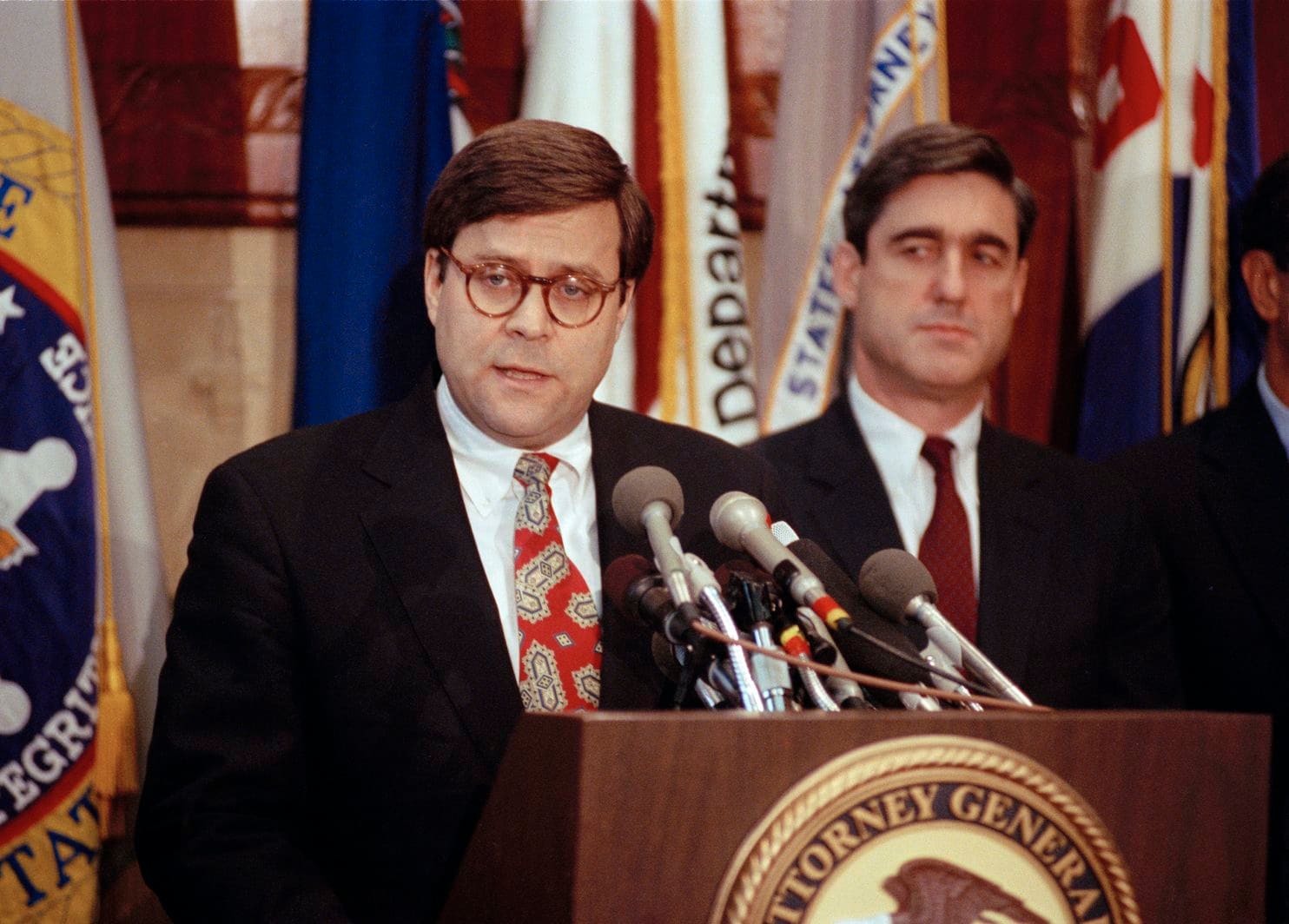 These two men have been dancing around each other for at least 30 years. Yeah, we suspect there is a WHOLE LOT we don't know. Normally, we would be fine with "not knowing". The FBI/DOJ can do their job and we can do our jobs. Yet, we've lost confidence in the FBI and DOJ. Restoring order, a sense of fairness, blind justice, Rule of Law, is a necessary task of Atty General Barr, and it will be a heavy lift.
July 22, 2019, the DOJ (Atty General Barr) issued a warning to Mueller to stick to the report…….. only. Anything else he learned during his investigation, which is not specifically contained within the report, is part of Presidential Privilege "which has not been waived". Link  As Barr has explained, Mueller asked for specific guidance from the DOJ prior to testimony. Update #1: Late evening, July 23, eve of the hearing, Adam Schiff does not like the idea of Presidential Privilege and does not recognize the DOJ letter/ or the President's assertions = more fireworks. 
Update #3: We're getting information, Nadler wanted Zebley to appear, yet DOJ quashed his testimony 3 weeks ago (related to Exec Privilege). Sneaking Zebley in at last minute is an attempted end-run around Barr. And Zebley specialized on obstruction. 
Update #4 A statement rom Rep Doug Collins, Minority Leader of Judiciary, concerning the testimony of Zebley (h/t to Marica): 
A last-minute witness would jeopardize whether tomorrow's hearing complies with House Rules.

If Dems believe it's the special counsel's responsibility to testify to his report, they have no ground for outsourcing that duty at the expense of our committee's integrity.

Statement: pic.twitter.com/oCOSHDTnMK

— Doug Collins (@RepDougCollins) July 23, 2019

Normally, to keep a witness to the script, and stop Congress from asking questions not agreed upon, usually the DOJ places lawyers (normally Asst Atty's General) in the room….. right next to the witness. This decision could be bad or good. No "nun" sitting next to Mueller to rap his knuckles with a ruler, means Mueller could wander in his testimony and benefit the Dems…. or the Republicans. It's all speculation at this point, but that Mueller will NOT be governed by someone from Barr's DOJ, to protect the President, is odd.
That Mueller's atty, Aaron Zebley, would be added, last minute, is also odd according to protocol…… but tells us everything we need to know. Currently, the Dems and Repubs are fighting because Mueller's Attorney, Zebley, wants to be able to…… testify? It's against House rules but we'll see how it all plays out. To the public, Aaron Zelby becomes the mystery man… but not to Mueller. Zebley is no stranger to the swamp. To Mueller, Zebley is his right hand, was Mueller's Chief of Staff, Mueller's prodigee, the younger stronger version of Mueller. Update #2: Zebley will be sworn in tomorrow to testify in front Intel Committee but not Judiciary Committee. 
Zebley is/was an elite FBI Agent who tracked down terrorists. In 1999, he and Gaudin, another agent, headed off to track down Ali Mandela in South Africa, who was responsible for the bombing of US Embassies in East Africa, which led to the discovery of Khalfan Khamis Mohamed—the man the FBI suspected of assembling the bomb used in Tanzania. The FBI already had an indictment against Khalfan and a $5 million dollar bounty for his capture. Gaudin and Zebley found him by accident—He had used the name Maulid as an alias to get a Tanzanian passport . Link
The story is riveting (great read) of how Gaudin and Zebley captured KKM, but they brought him back to the USA, tried and convicted in 2001. Zebley thought he was done with Counter-Terrorism, the FBI was changing, new boss, Mueller arrived on September 4, 2001. Zebley transferred OUT of the counter-terrorism unit on September 10, 2001.
Zebley's transfer lasted ONE DAY.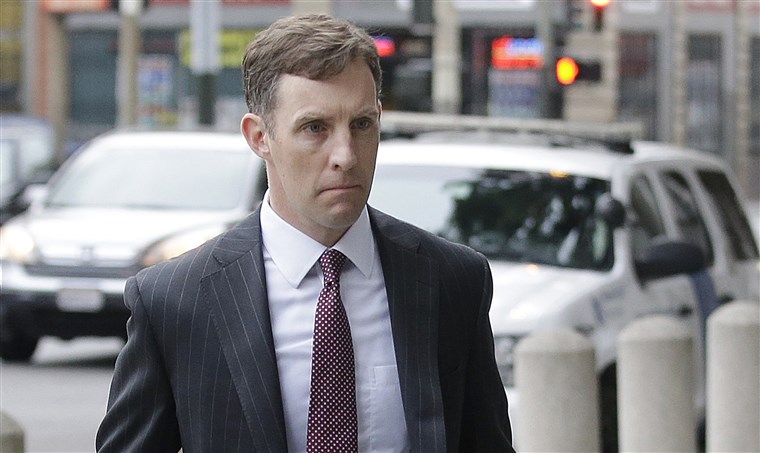 Zebley became a wizard of sorts. "Zebley was so steeped in the intricacies of the 9/11 attacks that the Justice Department turned to him as the courtroom witness in 2006 to testify that, if Zacarias Moussaoui—the so-called 20th hijacker who was arrested in August 2001—cooperated and allowed his belongings to be searched sooner, the FBI could have likely unraveled the 9/11 plot before it was executed." Indispensable, yeah, that's Zebley alright. Link 
Remember, Zebley was Chief of Staff for Mueller at FBI. Imagine what Zebley knows. Zebley knows everything Mueller knows……. for the past…. twenty…..years……. Even after Mueller retired, Zebley stuck with Mueller. Here's a picture of them together, headed into a court hearing in San Francisco, on April 21, 2016. Notice the date. It means Zebley left FBI and went with Mueller…… Yes, Zebley is still carrying Mueller's briefcase in 2016. And yes, Zebley was placed on Mueller's Special Counsel. Nice and Cozy.
And yes, Zebley was the attorney who represented Justin Cooper, the guy who set up the rogue server for Hillary Clinton.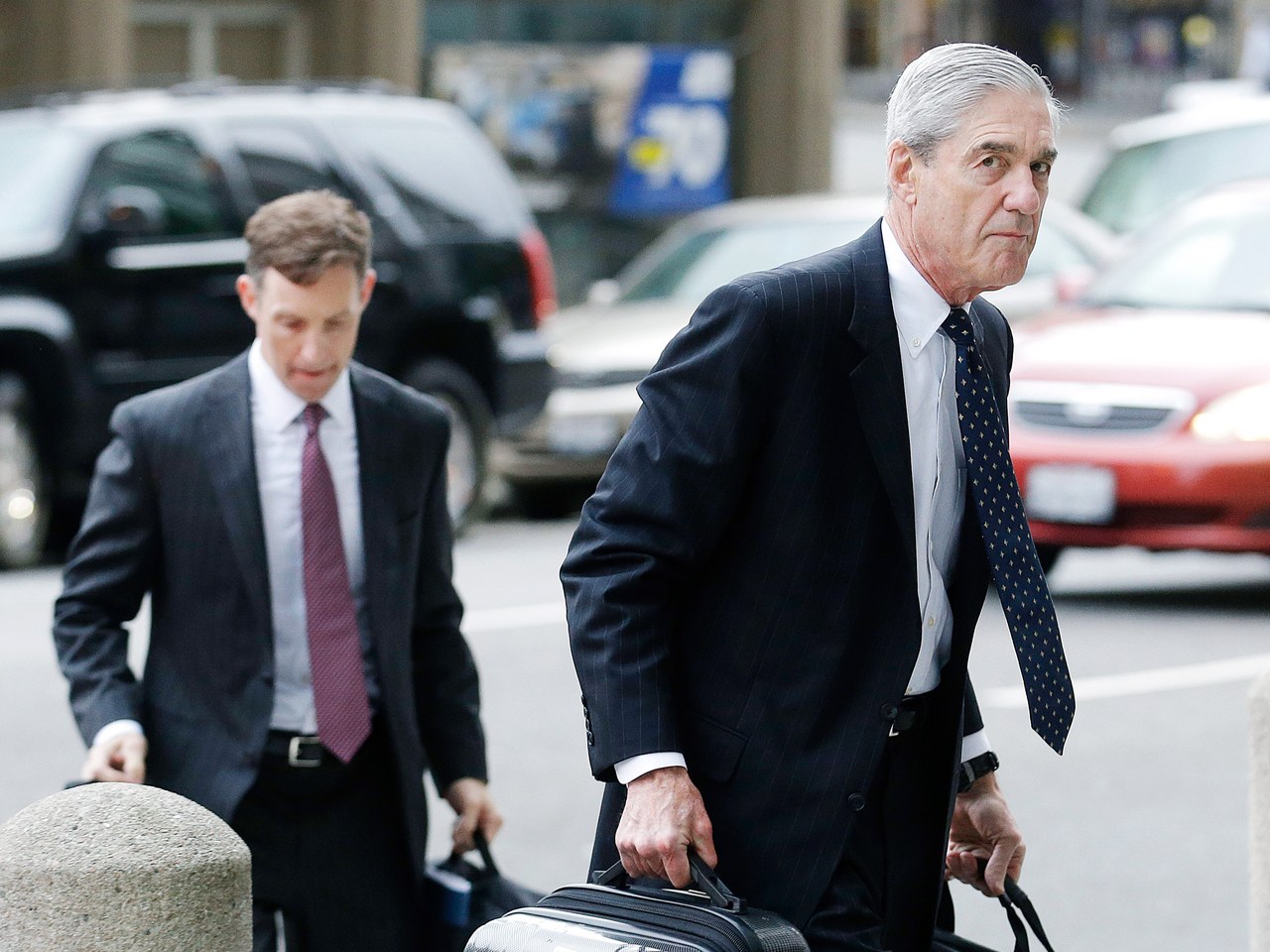 I have a personal theory about Mueller, that he is getting older, slower, not as sharp. More behind the scenes, not as active. In Mueller's 9 minute presser, he looked old and lost. It's interesting, in doing the background for this thread, I read many articles about Mueller which characterized him as a "strong", "Hands on", "tactical", "forceful" leader…….. but there is not one anecdote in the dozens of articles read, which gives a reader a clue of WHAT MUELLER has done to represent him as a strong, hands-on leader. In fact, I get the opposite impression. Mind you, it's my own opinion.
Recall, both Giuliani and John Dowd were mystified by Mueller's absence in key meetings of the President's legal team with Mueller's Counsel. It does not make sense. Such high level meetings would demand the presence of "the leader" of the group (Mueller), ….. unless the leader was merely a figurehead. If I am correct, it would explain WHY Mueller wants Zebley by his side AND to possibly testify to Congress (Mueller doesn't know the details of the case, but Zebley would). The background of Zebley's relationship with Mueller is strange and fascinating. Zebley has devoted his life to Mueller – read here: Link
Zebley, who has worked alongside Mueller since their departure from the Hoover Building in 2013, attended the College of William & Mary—James Comey's alma mater—and went on to the University of Virginia's law school, a prime feeder school for federal prosecutors, including Mueller himself. Zebley then started with the FBI on I-49, one of its most storied squads and part of the small group of agents in New York who were chasing Osama bin Laden and al Qaeda before September 11th.
Get ready for Footnotes: 
Please be prepared for a discussion of FOOTNOTES. From my corporate history, we were trained to eviscerate financial statements, a prospectus, IRS Code decisions, …. by the footnotes. In financial statements and legal briefs, the footnotes are where all the dirt is hidden. In the Mueller report, there are over 2,000 footnotes, which are shady but speak volumes.  Link   This article gives an insightful explanation of how the Mueller Special Counsel team played fast and loose during their investigation, completely relied on Comey memos as "their truth" and never questioned Comey's motives, relied on news reports as accurate, ….. all we have to do is read the footnotes.
Mueller clearly doesn't just use footnotes for citations, but also for speculation and explanation and even a little what-iffery. Footnote 500 in Volume II, for instance, is a rather lengthy dissertation on a curious theory of how the president might have obstructed justice in firing Comey — a theory that imputes to Trump oracular foresight. We now know, thanks to Mueller's inquiry, that there was not evidence to establish a Trump-Russia conspiracy. But the special counsel is unwilling to let go of the notion that Trump obstructed the investigation. Which leaves the special counsel team anticipating the obvious objection: How could the president have had a corrupt intent in firing Comey if there were no Russia conspiracy to cover up?
By now, we all know Atty General Barr issued remarks, summarizing, if Mueller did not want to testify, the DOJ would back him up. Correctly, Barr stated the testimony would "be a public spectacle" Link
Mueller was supposed to testify on July 17th, but Chairman Nadler and other Congressmen were not going to be able to ask questions, due to limited negotiated time with Mueller's team. The Congressmen were mad, because they "gotta have their Youtube moment" when they get to question Mueller.
In the new agreement, Mueller will be questioned by House Judiciary for three hours (instead of 2hrs) with Adam Schiff presiding. In a separate hearing, Mueller will testify before the House Intel Committee, with Jerry Nadler presiding. Link
The speculation in DC has reached a fevered pitch. Pundits from both sides are issuing, "The questions I would ask Mueller". Yes, the Congressmen have received PLENTY of advice from the sidelines. Take a look:
From The Federalist, 21 Questions to Ask Mueller: Link
From Sharyl Attkisson, 10 Questions to ask Mueller: Link 
And wow, here are "27 Questions for Mueller" from the Daily Caller: Link
Of course, not to be outdone, the political opposition have their questions also. Here from the Daily Beast, their ten questions: Link
Subsequently, CNN, NYTimes, WaPost have all published lists of questions……… which leads lil' ole me to ask the question…..
Why do we have so many questions for Mueller when the FBI/DOJ/Mueller Special Counsel have worked on this issue for almost exactly three years?
The public spent millions of taxpayer dollars on the issue of "Muh Russia". The networks spent BILLIONS of dollars pushing their own political spin or "analysis". The issue has divided our country. As a regular American, I don't feel like we got our money's worth out of the deal…….. because we still have so many questions. Heck, we have MORE questions now than when we started! 
I could be wrong, but hey, my speculation can't possibly be any worse than professional pundits who have been dramatically proven wrong over the past three years. I think I know who has all the answers……… It's this guy.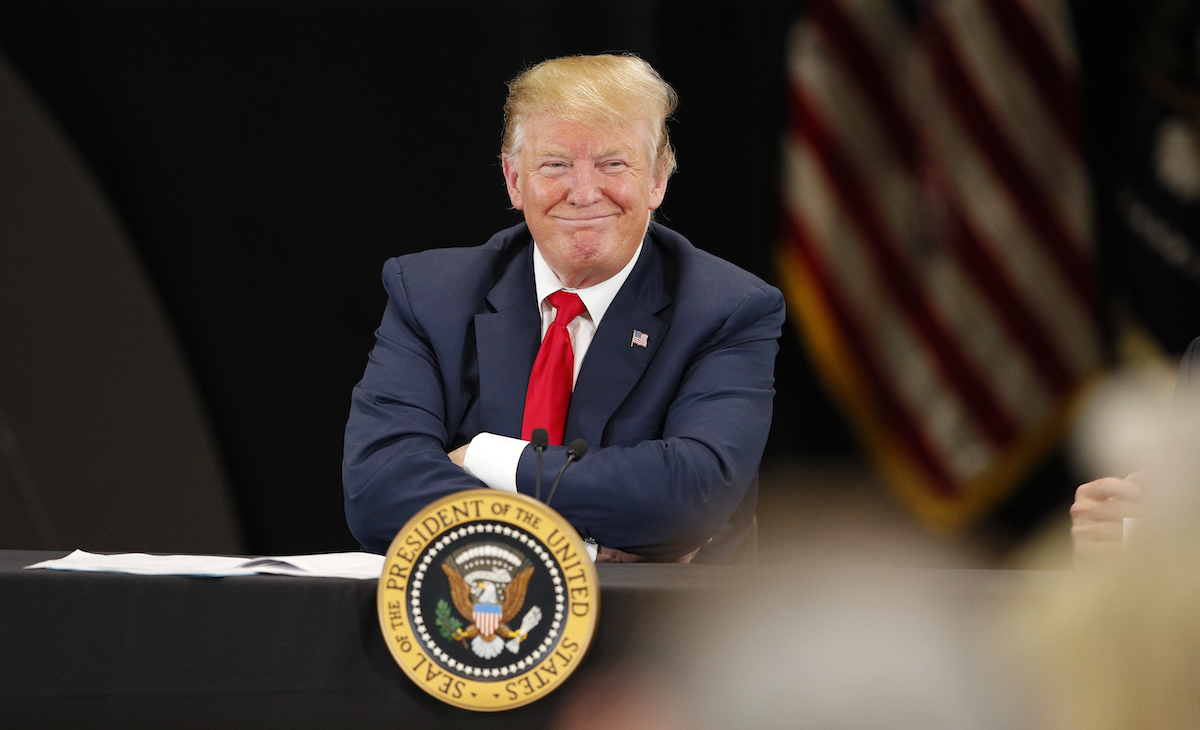 Fair warning. Today's testimony is not the end of the road for either side of the political aisle….. it's just another skirmish. There will be times today when we will want to throw the computer in the driveway….. Gosh, we've been there before. There will also be times when our favorite sons will score big. Take it all in stride, and look at the testimony from the 30K foot bird's eye view.
File or clip your nails, clean the keys on your computer, prepare your table, it will be a busy day. Networks are all providing expanded coverage and they are starting early.
Postscript: The build up for Mueller's testimony has been extreme. Such a buildup often disappoints. I remember 3rd grade birthday. Dad asked me, for the first time, what I wanted for my big day. I replied, "Adventure Land". Okay fine, Dad arranged for me and a couple of girlfriends to go to the big amusement park. My girlfriends were thrilled. I was disappointed. I wanted "Adventure Land" – as in the whole thing, to be mine. In my 8yr old mind, Dad could do anything. Ahhhh…. those pesky expectations.
Yes, as kids, we couldn't WAIT to get to Adventure Land ~~~ Kind of like Freshman Congress critters must feel.


As a kid, we could suspend belief and live in a goose ~~~ Gee whiz, not all that different than The President of the United States as an operative of Vlad Putin. Yep, it would be more probable to live in a goose.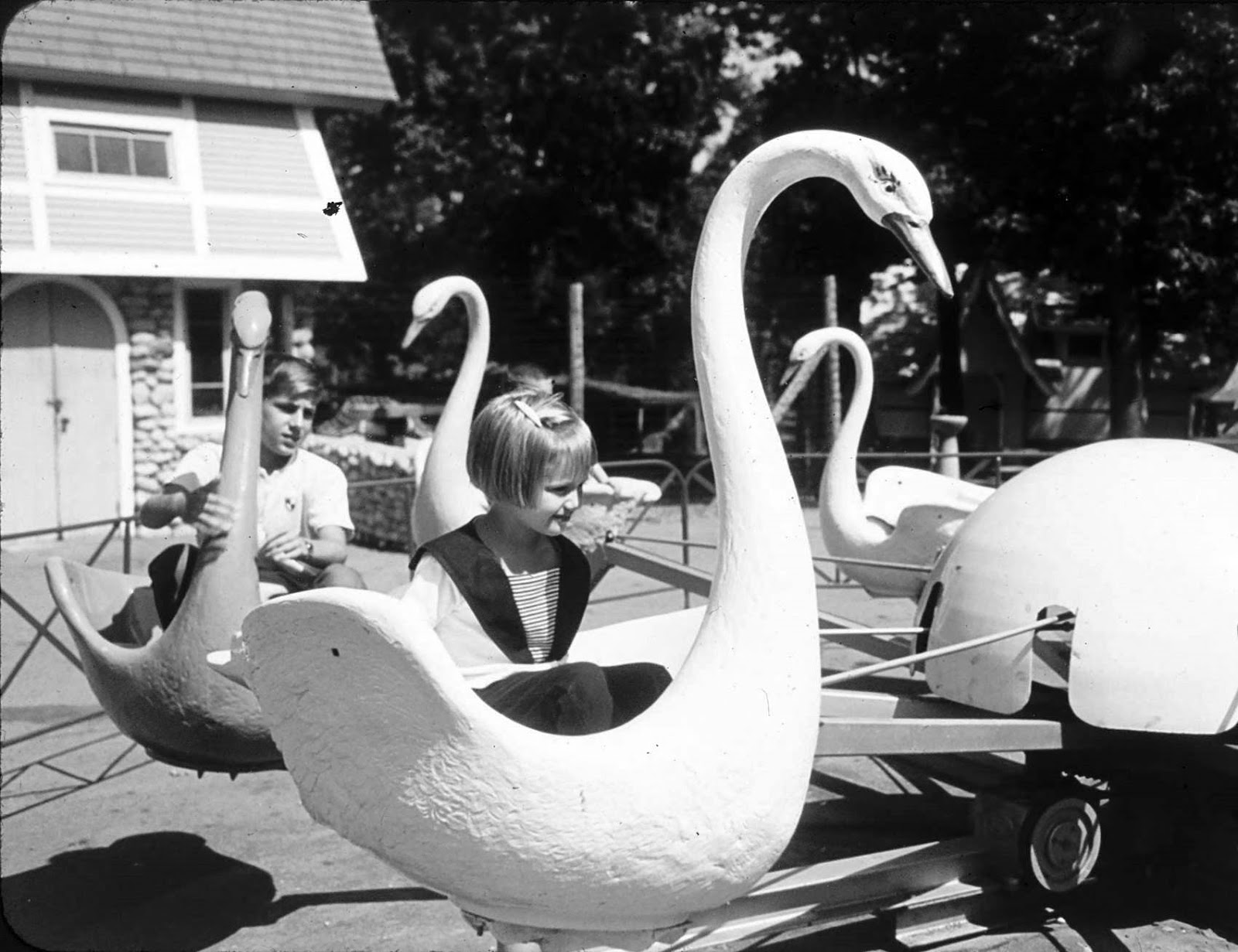 Just remember, we're all together, and we're part of the same club. Here you go, here's your club pass: Be a part of the "FUN CLUB".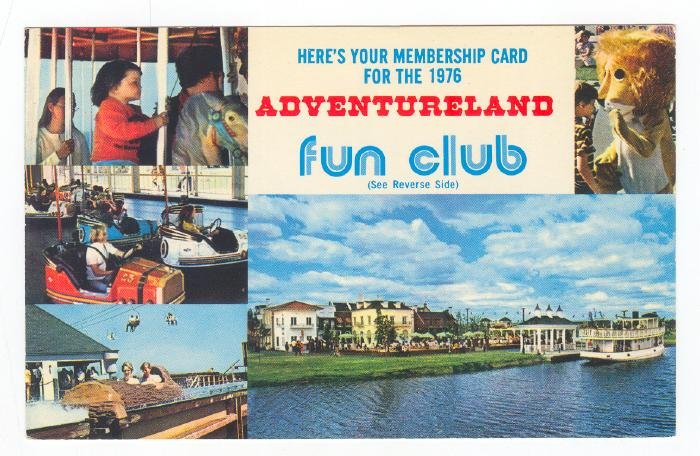 And even though we're all grown up now, we're still on Wolfie's Roller Coaster, yelling at the top of our lungs. No different than 3rd grade.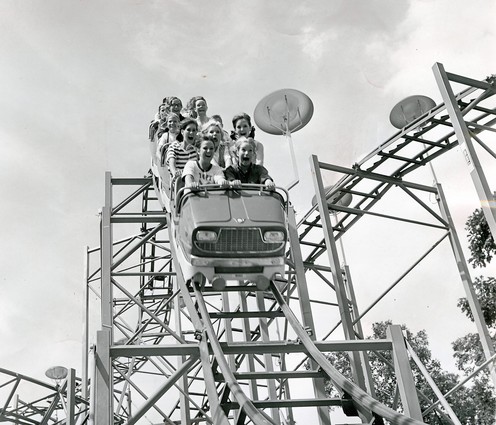 Love to all, we'll get through it.
Just remember to strap in, and HOLD ON TO THE………… BARR!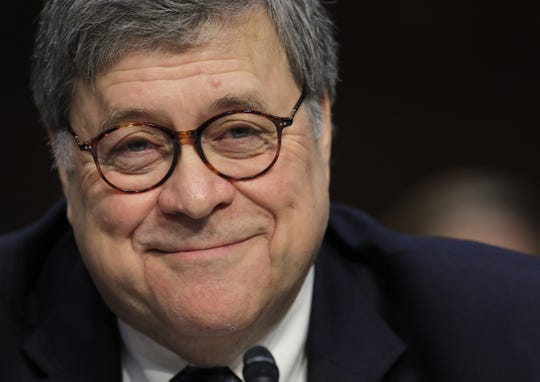 End