This Superlative Sanctuary Sunday Open Thread, with full respect to those who worship God on the Sabbath, is a place to reaffirm our worship of our Creator, our Father, our King Eternal.
It's also a place to read, post and discuss news that's worth knowing and sharing. Please post links to any news stories that you use as sources or quote from.
In the QTree, we're a friendly and civil lot, unencumbered by political correctness. We encourage free speech and the open exchange and civil discussion of different ideas. Topics aren't constrained, and sound logic is highly encouraged, all built on a solid foundation of truth and established facts.
We have a policy of mutual respect, shown by civility. Civility encourages discussions, promotes objectivity and rational thought in discourse, and camaraderie in the participants – characteristics we strive toward in our Q Tree community.
Please show respect and consideration for your fellow QTreepers.
Before hitting the "post" button, please proofread your post and make sure you're addressing the issue only, and not trying to confront another poster.
If you feel the need to bare your fangs, we have a companion site – called The U Tree – where all legal speech is allowed and where you can run wild and free with the Wolfpack.
But NOT HERE in The Q Tree. Personal attacks, name calling, ridicule, insults, baiting and other conduct for which a penalty flag would be thrown are VERBOTEN.
In The Q Tree, we're compatriots, sitting around the campfire, roasting hot dogs, making s'mores and discussing, agreeing, and disagreeing about whatever interests us. This board will remain a home for those who seek respectful conversations.
Please also consider the Important Guidelines, outlined here. Let's not give the Internet Censors a reason to shut down this precious haven that Wolf has created for us.
---
The Storm is upon us.
Please remember to Pray for our President.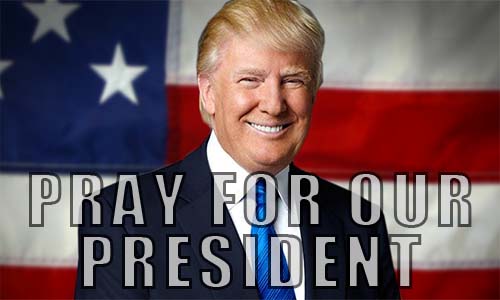 ---
AND WHAT TIME IS IT?
TIME TO DRAIN THE SWAMP!!!
Our movement is about replacing a failed and CORRUPT political establishment with a new government controlled by you, the American People.
Candidate Donald J. Trump
---
Also remember Wheatie's Rules:
No food fights.
No running with scissors.
If you bring snacks, bring enough for everyone.
---
---
On this day and every day –
God is in Control
. . . and His Grace is Sufficient, so . . .
Keep Looking Up
---
Hopefully, every Sunday, you can find something here that will build you up a little . . . give you a smile . . . and add some joy or peace, very much needed in all our lives.
"This day is holy to the Lord your God; do not mourn nor weep." . . . "Go your way, eat the fat, drink the sweet, and send portions to those for whom nothing is prepared; for this day is holy to our Lord. Do not sorrow, for the joy of the Lord is your strength."
---
Alone with God
And Jesus went up on the mountain, and there He sat with His disciples. –John 6:3
Just prior to this miraculous multiplying of the bread and fish, Jesus "went up on a mountainside and sat down with his disciples"(6:3). That fact is noteworthy. It seems plain that Jesus withdrew purposely from the great press of people who had been pursuing Him.
There are some things that you and I will never learn when others are present. I believe in church and I love the fellowship of the assembly. There is much we can learn when we come together on Sundays and sit among the saints. But there are certain things that you and I will never learn in the presence of other people.
Unquestionably, part of our failure today is religious activity that is not preceded by aloneness, by inactivity. I mean getting alone with God and waiting in silence and quietness until we are charged with God's Spirit. Then, when we act, our activity really amounts to something because we have been prepared by God for it….
Now, in the case of our Lord, the people came to Him, John reports, and He was ready for them. He had been quiet and silent. He had sat alone with His disciples and meditated. Looking upward, He waited until the whole hiatus of divine life moved down from the throne of God into His own soul. He was a violin tuned. He was a battery recharged. He was poised and prepared for the people when they came. Faith Beyond Reason, 130,133. "Lord, I'll spend a lot of time in the company of people today, but just now I come in quietness and silence to wait for You to fill me. Amen."
A.W. Tozer
---
Be still, and know that I am God; I will be exalted among the nations, I will be exalted in the earth.
Psalm 46:10
Be silent before the Sovereign Lord, for the day of the Lord is near.
Zephania 1:7
---
In The Garden
I come to the garden alone,
While the dew is still on the roses,
And the voice I hear, falling on my ear,
The Son of God discloses.
And He walks with me, and He talks with me,
And He tells me I am His own,
And the joy we share as we tarry there,
None other has ever known.
Charles A. Miles 1913
---
Be Still And Know
"I believe in God, though He is silent."
These are the words that some of us say.
"But I keep my faith and go on living,
Hoping to hear something every day."
Busy days go by and turn into weeks
We keep thinking that He'll speak to us soon
Our thoughts now turn to things that we've done
And His discipline, the vines that He prunes
Busy days and more, running to and fro
Time rushes by with more thoughts, too
Life and distractions fill up all our time
And we don't give God the respect he's due
Now is the time to stop and think
Is God now silent with nothing to say
Or is it us who aren't listening
Far too busy as our lives run astray
God never leaves us, He promised us so
Though we don't listen, He's with us still
God promised us good, a future and hope
He'll deliver, no doubt that He will
We may not listen, and that to our shame
But God is speaking to us every day
He's everywhere and all around us
Speaking to us in so many ways
God is Creator, He made everything
Earth and heavens show His mighty power
The beauty in nature, the sights and sounds
The oceans speak as do fields of flowers
The Patriarchs, Psalms and the Prophets, too
Their words in the Bible speak loud and clear
Christ and His Apostles all spread the word
If we take time to read, then we'll hear
The music we hear, praise, worship and thanks
All have messages for us to regard
Music makes us feel, words make us think
The rhythm and rhymes of musical bards
Other believers, events of the day
May carry meanings for us to heed
Listen for His voice and check with His Word
There may be wisdom that we sorely need
God's Spirit within us speaks in our minds
Teaching and guiding us along our ways
God's Spirit nudges, but may push and shove
To give us His guidance, day after day
We come to God, our heads bowed in prayer
As we speak to Him, He speaks to us, too
Our prayers will be answered: yes, no or wait
We may not hear it, but He'll guide us through
In all of these ways, God speaks to us
But we need to listen to hear His voice
Be consumed with the world through all our days
Or "Be still and know" – we must make that choice
Be Still
Did you decide to make the choice
To slow down and listen for His voice?
Or was the decision made for you –
It just happened out of the blue
Some say that God's voice is very small,
We must be still to hear it at all
Some fill their days with so much to do
That I suppose for them that's true
I think God's voice is loud and clear
But man has chosen not to hear
The heavens declare it from above
God will be heard; it's part of His love
Be Still . . .
As we go from day to day,
To here and there along our way,
Always busy and so involved,
But is it that for which we're called?
Two meetings here, lunch over there,
Two more tonight, what will I wear?
Pick up the kids, calls on the phone,
Just three quick stops, and then we're home.
Someone's been wronged, I must speak out.
My help is needed, there's no doubt.
We'll make a plan to fight this thing
And not be stopped by anything.
We'll find problems, expose them all
And make the guilty take their fall.
We'll be vigilant day and night
And fight for what we know is right.
But . . .
We must not fail to see God's plan,
To trust in Him and not in man.
Do we take time for what God said,
Wait for Him to work in our stead?

Seek His face, be still and know
He is God, and learn to let go,
To trust in Him to win the fight,
Dispel the darkness with His Light.
Be still before Him, and so wait
With patience, for God controls fate.
Vengeance is His, and judgment just,
Acknowledge Him, give Him your trust.
So as we go from day to day
To here and there along our way,
Let's all slow down and know His grace,
Seek His kingdom and see His Face.
---
---
"The Peace of Meditation"
So we may know God better
And feel His quiet power,
Let us daily keep in silence
A meditation hour . . .
For to understand God's greatness
And to use His gifts each day,
The soul must learn to meet Him
In a meditative way . . .
For our Father tell His children
That if they would know His will
They must seek Him in the silence
When all is calm and still . . .
For nature's greatest forces
Are found in quiet things
Like soft falling snowflakes
Drifting down on angels' wings,
Or petals dropping soundlessly
From a lovely full-blown rose,
So God come closest to us
When our souls are in repose . . .
So let us plan with prayerful care
To always allocate
A certain portion of each day
To be still and meditate . . .
For when everything is quiet
And we're lost in meditation,
Our soul is then preparing
For a deeper dedication
That will make it wholly possible
To quietly endure
The violent world around us,
For in God we are secure.
~Helen Steiner Rice~
---