DePat Note:
I originally wrote a large chunk of this post over a month ago, and shelved it for various reasons. After reading through PatelPatriot's Part 14 of his devolution series as brought to the QTree by TradeBait2, I decided to dust it off, and add to it at the end rather than just post my comments on it in a daily where it would get buried, and the whole thing should not be. I really think this is that important, and I implore my fellow tree-mates to take the time to read through PatelPatriot's work.
For many here, seeing is believing and that makes the concept of devolution and reading the tea leaves to see just what is going on a hard sell. I realize that. That does not mean it is not happening.
November 15, 2021
This is a post that has been begging to come out to an extent for a while. Other projects have taken precedence, but after reading through the multi part series from an anon calling himself "Patel Patriot," on the concept of "devolution," it just has to be put in writing, as it were.
What is devolution?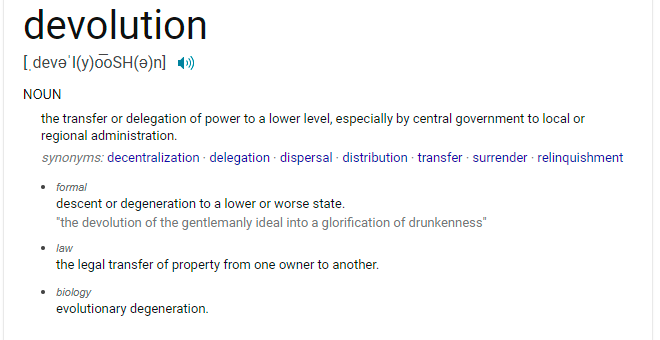 NOUN
the transfer or delegation of power to a lower level, especially by central government to local or regional administration.
So, devolution is basically decentralizing a power structure, by making the organizational chart more horizontal than vertical.
At least, that's what it sounds like.
There is a theory going around the conspiracy circles that what is going on right now with President Donald Trump and his team is a form of devolution using the United States Military to do the work. (Remember, he did not concede, and took the actual Air Force One airplane to Florida when he left the swamp in January, and…that video of the nuclear football being transferred…yeah, no.)
If one just watches the programming disseminated by "news" organizations, that theory does not hold water. Period.
However, every now and then something does surface that restarts the idea, and after reading through Patel Patriot's work and compilation of just what information is publicly available supporting the concept, the theory, in part, gains some gravitas. (It does not look like there is any decentralization going on, though.)
The short answer for that appears to be that since January 15, 2020, President Trump has considered the nation to be on a war footing with China after the COVID bioweapon attack, and he invoked war time presidential privileges first used by President Abraham Lincoln during the Civil War including a couple of executive orders regarding government continuity, which have not been publicly reversed.
January 15, 2020, was the date that the first case of Wuhan Flu was reported in the United States. It was also the day that Speaker of the House Nancy Pelosi FINALLY delivered the Articles of Impeachment against President Trump to the Senate.
January 15, 2020, was also the day Trump said this:
Speaking to reporters in the Oval Office of the White House on Wednesday, Mr Trump said: "We went through the worst attack we've ever had on our country, this is worst attack we've ever had.

"This is worse than Pearl Harbor, this is worse than the World Trade Center. There's never been an attack like this.

"And it should have never happened. Could've been stopped at the source. Could've been stopped in China. It should've been stopped right at the source. And it wasn't."

BBC Article
Asked later by a reporter if he saw the pandemic as an actual act of war, Mr Trump indicated the outbreak was America's foe, rather than China.

"I view the invisible enemy [coronavirus] as a war," he said. "I don't like how it got here, because it could have been stopped, but no, I view the invisible enemy like a war."
This was shortly before the national rumblings began regarding COVID originating in a lab. Senator Tom Cotton, actually, was the first to voice it nationally outside of blogs like this one. And China being behind the lab? That's another kettle of fish that has been hashed out on these pages many a time. Some traitorous Americans may well be behind that.
So, the idea that devolution follows this enemy on American shores came from a Newsweek article.
Above-Top Secret contingency plans already exist for what the military is supposed to do if all the Constitutional successors are incapacitated. Standby orders were issued more than three weeks ago to ready these plans, not just to protect Washington but also to prepare for the possibility of some form of martial law.

According to new documents and interviews with military experts, the various plans – codenamed Octagon, Freejack and Zodiac – are the underground laws to ensure government continuity. They are so secret that under these extraordinary plans, "devolution" could circumvent the normal Constitutional provisions for government succession, and military commanders could be placed in control around America.
Just because there are contingency plans, does not mean that the government would devolve, so much, as run on auxiliary power. So far, that does not seem to have happened.
Watching the crap show known as the "Biden Administration" shows us what is happening is a rapid devolving of America as we know her. That's what we are MEANT to see.
It is what HAS NOT HAPPENED that is more interesting in the concept of "devolution" as a way of rescuing the nation, and keeping the possibility that all is not what it seems on life support.
And that is where Patel Patriot's work is really stellar and worth reading through.
In all of the Trump executive orders that have been reportedly rescinded, the ones involving continuity of government have not been.
Continuity of operations (COOP) planning has been utilized by the United States since the Cold War as an effort to preserve the continuity of government (COG) in the event of a Nuclear Attack. Executive order 12656 laid the ground work and defined what a constitutes as a national security emergency.

In July of 2016, Barack Obama signed the still classified Presidential Policy Directive 40 (PPD-40). In accordance with PPD-40, each department was to maintain continuity programs. "Agencies were ordered to have not just a line of succession but also one of "devolution," a duplicate chain of individuals secreted outside Washington available in a catastrophic emergency. Devolution involves "procedures to transfer statutory authority and responsibilities" to this secondary designated staff to sustain essential functions."

Even though every federal government agency and department has COG and COOP plans, the Devolution that President Trump initiated was done through the Military and the Department of Defense for one primary reason.
The basic premise is that because we are at war, this is all being done through the military.
And no moves have been overtly made by the Biden camp to counter this EO or the others Patel Patriot mentions.
Also, Patel Patriot brings out the moves made at the Department of Defense following the "election."
Firing Mark Esper and placing Chris Miller in the Secretary seat after countless positions in special operations, and intelligence.
Replacing deep state faces at the Pentagon Advisory Board with Trump loyalists, a move which has yet to be reversed or even challenged other than to publicly suspend the operations of it.
The refusal of the Trump Administration to share transitional information with the Democrats regarding Special Operations, which was roundly criticized back in January by all sorts of legacy media outlets.
One other thing that a cursory search for top level information reveals that within the military itself: only one member of commanding officers and the Joint Chiefs has been changed out since Biden "assumed" office. The rest were all appointed by Trump.
This is all explained in Part 9 of the Devolution series.
If we all recall correctly, the Obama Administration tried to sweep out all high brass that was "disloyal" to that regime. If this is "Obama's Third Term" would that not have happened again?
And what about the U.S. Space Force, which still is a full branch of the U.S. Military despite being roundly ridiculed and maligned by the left. It remains, and has not been broken up or placed under the U.S. Air Force or any other branch of the Military.
That neither effort has come to pass does not support the idea that the Biden people – and whoever is holding their leashes – have total control over the Department of Defense.
Whatever is going on, we're not seeing it on TV, no matter what the talking heads have to say.
There are still hundreds of people being arrested regularly for human trafficking.
MonkeyWerx mentioned that the government has "lost" forty-five thousand (yes, 45,000) migrant children somewhere in the country.
Drug overdoses and suicides are endemic.
The original bug called "COVID" needed a 24/7 marketing campaign to prop up its existence, and now thanks to the "cure," there's a surge in the disease itself, as well as the results of experimental gene therapy being called anything and everything other than side effects of the injection.
That is the reality that is keeping our eyes away from the Military, more specifically special forces and their operations, and whatever they are up to.
Devolution, in this case, may well mean the situation is devolving, not any de-centralization.
If that is in play, the behind the scenes effort needs a new name.
END OF ORIGINAL POST
December 17, 2021
With Part 14 of the series, Patel Patriot ties a number of seemingly random events and topics back to one American entity and one American, actually, putting a face to the whole spider web. In no way do I want to reinvent what Patel Patriot has in that amazingly well cited piece, which has source material from a wide variety of outlets. However, the name Carlyle Group has come up here, and PP walks us through that financial whore's connection to:
The Brookings Institute
The John Durham investigation
Lex Wexner
The Chinese Communist Party
9/11 – Follow the Money
COVID
The 2020 Election and Dominion Voting Systems.
But wait. There's more.
Patel Patriot includes a timeline of events in Ukraine that seems to support a claim Benjamin Fulford made in his December 6 newsletter:
The worldwide offensive to permanently liberate humanity from the Satanic Khazarian mafia is intensifying on all fronts, multiple sources agree. The biggest next move is to return Ukraine to the bosom of mother Russia, according to senior sources in the US military space command. This will deprive the Khazarian mafia of control over their ancestral homeland of Khazaria (Ukraine).

The fall of Ukraine will cut off drugs and other money laundering activities that support the fake administration of "fuck" Joe Biden, the sources say. Remember when an Anglo Saxon says "fuck you," it means they are ready to fight to the death. Many Americans, especially in the military and the agencies, are doing just that. And make no mistake, this is a fight to the death as any aware human now realizes.
The Obama-Biden fight to keep Ukraine untethered to Russia is all about keeping the criminal enterprises going. If Russia takes Ukraine, Putin will put a stop to that.
Moves and countermoves.
Back to Patel Patriot.
The year 1871 comes up. Patel Patriot talks about that in terms of Prussian "royalty," which will bog down a discussion on the importance of that year.
Forget the royals for now.
1871 was the year the Holy Roman Empire was really dismantled, and several European nations emerged using the old nation states as provinces, including Germany and Italy. People who follow conspiracy lore also know it as the year the Act of 1871 established the Corporation of the United States, a branch of the Bank of England, in order to not default on debt incurred from the Civil War. It supposedly was done in secret, and one of the claims from "insiders" is that President Trump was putting and end to it. (The veracity of this claim is still dubious. All of it.)
Patel Patriot also brings up a secret society, and how they are connected to all of this, including the Robert E. Lee statue debacle in Charlottesville.
The thousands of years old death cult comes up. Interestingly enough, that surfaced earlier in the week on Anonymous Conservative:
Ghislaine Maxwell and Jeffrey Epstein seen at the Queen's Balmoral Estate log cabin in new photos shown to court. Interesting in that Maxwell's father ran cover for the pedophile networks in Britain using his tabloids, as a Mossad operative. Ghislaine and Epstein were Mossad operatives running blackmail operations in America and Britain, giving them free access to the Royal estates and Royals like Prince Andrew. So Britain is like a subsidiary of Mossad, controlled through pedo-blackmail. And yet Britain technically predates Israel, so its intelligence services should have been more mature, more developed, more capable, and have been used to corrupt Mossad, if anything. That Israel is running things now indicates something older is running Israel – something that predates Britain, forced British intelligence to accept Mossad domination, and for unknown reasons chose to use Israeli intel agency to control a nation it must have controlled more directly prior to Israel's existence. Why did Cabal take what was probably direct control of Britain, and shift it to Israeli control of Britain? Unless it calculated everything might come to light, and if it did, we'd blame the Jews, and deal with them, and when we were done, think we solved the problem – as Cabal set about using its databases to rebuild its control network again in secret.
Remember, XVII always said this was a world-wide operation.
So, that begs the question, is this "devolution" really the Q team's plan? That what Patel Patriot names as being the possible force behind it all may well have been captured? (Okay, that's me wishful thinking.) I still contend that the Q operation after the JFK public execution and warning to others to not dare take on the cabal needed a way around Mockingbird and a new front man. We know that as the Internet and President Donald Trump.
Just as an aside, begin with this:
15
Anonymous ID: grTMpzrL No.147434025
Oct 31 2017 22:00:47 (EST)

There are more good people than bad. The wizards and warlocks (inside term) will not allow another Satanic Evil POS control our country. Realize Soros, Clintons, Obama, Putin, etc. are all controlled by 3 families (the 4th was removed post Trump's victory).

11.3 – Podesta indicted
11.6 – Huma indicted

Manafort was placed into Trump's camp (as well as others). The corruption that will come out is so serious that deals must be cut for people to walk away otherwise 70% of elected politicians would be in jail (you are seeing it already begin). A deep cleaning is occurring and the prevention and defense of pure evil is occurring on a daily basis. They never thought they were going to lose control of the Presidency (not just D's) and thought they had control since making past mistakes (JFK, Reagan).

Good speed, Patriots.
PS, Soros is targeted.
If the JFK presidency was a mistake, then that means that in the 1960 election, the thing was rigged for Richard Nixon to win, and the vote for JFK was too big for the cheating to work. He was a cabal man and was thrown under a bus later. Why is another story. There are rumors, but nothing confirmed having to do with what was REALLY taken out of that Watergate suite.
A while back, it came out that Juan O. Savin's intel sources were not passing on information to him because he had gotten too mouthy about a certain subject. That was not too long after he did an interview where he talked about Richard Nixon priming President Trump for the job of president. According to Savin, Nixon explained how the cabal would come at him, what tricks they would use, and how he had to counter them. Richard Nixon died in 1994. If this is true, that Nixon was the one to train President Trump for the job, VSGPDJT was identified and accepted the job DECADES before that escalator ride, and that probably needed to be kept quiet.
So, what is really going on?
We haven't seen it yet.
TWO HOURS LATER
I thought that was the end of this post, and then after some unexpected daughterly duties, I hopped on the treadmill and watched/listened to this:
The first forty minutes is mostly about waking up and recognizing what is going on in the world. After that, it gets Catholic, but, still, the conservative media ecosystem continues to grow.
Okay, on to other projects. Just had to put this out there.