How the Fake News, Social Media and the Deep State set up the Scamdemic behind our backs
A Gail Combs deep dive into a curious item revealed by Robert Malone on Joe Rogan.
https://www.mediainfoline.com/wp-content/uploads/2018/11/Beyond-Fake-News-logo.jpg
---
Preface by Wolf Moon
Follow along as Gail Combs digs down a snake-infested rabbit hole from something that Dr. Robert Malone mentioned on Joe Rogan.
Once you understand how much preparation went into what is going on RIGHT NOW, you'll realize that all the usual suspects had a plan, and it's exactly what we're seeing now, except they weren't banking on us understanding their criminal conspiracy.
---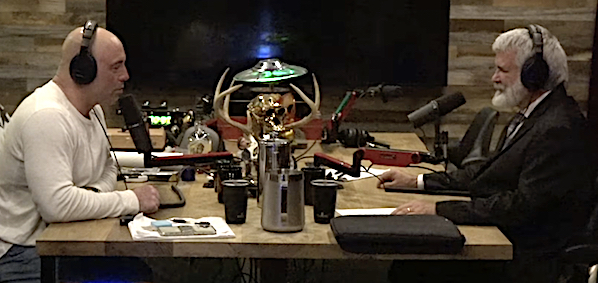 From video Dr Robert Malone on Joe Rogan
https://rumble.com/vrv7k1-dr.-robert-malone-on-joe-rogans-podcast.html
CRITICAL TIMELINE
JULY 2019
Trusted News Initiative

How news organisations can rebuild trust and tackle the next disinformation challenges.

Trust In News

The BBC's Trusted News Initiative is a partnership that includes organisations such as Facebook, Twitter, Reuters and The Washington Post. It is the only forum in the world of its kind designed to take on disinformation in real time. Now we and our partners are going to share what we've all learned about how to tackle disinformation, and you are invited.
In this August 13, 2021 article for Global Research, Elizabeth Woodworth explains how the Trusted News Initiative (TNI) was formed and what it means to our modern society.

According to Woodsworth, even before the pandemic, there has been a continued increase in public distrust to mainstream media. The TNI began in July 2019 when BBC Director-General Tony Hall convened various media companies and Big Tech companies to "arrive at a practical set of actions we can take together, right now, to tackle the rise of misinformation and bias…[by creating a] global alliance for integrity in news…to promote freedom and democracy worldwide".

From the beginning, the goal of TNI was to counter "anti-vaxxers [who] were gaining traction on social media as a part of a "fake news" movement spreading "misleading and dangerous information"….

TNI has become an instrumental tool for the suppression of life-saving information….
YEAR 2019
18 July Trump issues instructions to withhold $392m in military aid from Ukraine
25 July Trump and Zelenskiy speak on the phone.
12 August A whistleblower complaint is filed.
24 September The House speaker, Nancy Pelosi, announces a formal impeachment inquiry into Trump's actions.
6 October Lawyers for the first whistleblower say they are now representing a second.
8 October The state department prevents Gordon Sondland, US ambassador to the EU and a Trump donor, from testifying to a congressional impeachment hearing.
October 18 Event 201
https://i.ytimg.com/vi/YxxNZ5u6JXo/maxresdefault.jpg
The Johns Hopkins Center for Health Security in partnership with the World Economic Forum and the Bill and Melinda Gates Foundation hosted Event 201, a high-level pandemic exercise on October 18, 2019, in New York, NY. The exercise illustrated areas where public/private partnerships will be necessary during the response to a severe pandemic in order to diminish large-scale economic and societal consequences.
….
October 18 – 28, 2019
https://obj.shine.cn/files/2019/10/18/b9afeeca-61e9-4c63-b79d-44a28dd12340_0.jpg
Top U.S. military athletes are competing against their counterparts from more than 100 nations during the 2019 Military World Games in Wuhan, China, Oct. 18-28.
The 2019 Military World Games, branded the "Peace Games," was the largest military sports event ever held in China. More than 9,000 athletes representing the militaries of more than 100 countries competed in 27 sports…
On July 21, 2021, Lawrence Sellin, Ph.D. broke the news on The Gateway Pundit from a China source that the release of COVID-19 at the 2019 Military World Games in Wuhan was a test of the longer-term effects of that type of bioweapon because foreign visitors to the Games would carry it back to their own countries and the consequences could be observed. . .
Letter to Congress:
https://gallagher.house.gov/sites/gallagher.house.gov/files/Letter_World%20Military%20Games_6.21.pdf
December 11, 2019 The Hill
Michael Worobey, head of the Department of Ecology and Evolutionary Biology at the University of Arizona, wrote in a piece published in the journal Science that a female seafood vendor who worked at the live animal market in Wuhan and became ill on Dec. 11, 2019, was likely the first known case of COVID-19.
December 18 – House voted to impeach Trump


December 31, 2019 The World Health Organization China Country Office is informed of a number cases of pneumonia of unknown etiology…
January 2, 2020 The World Health Organization activates its incident management system…
January 5, 2020 CDC's National Center for Immunization and Respiratory Diseases (NCIRD) activates a Center Level Response…
January 7, 2020 Chinese authorities identify and isolate a novel coronavirus….
January 7, 2020
CDC establishes a 2019-nCoV Incident Management Structure to guide the response….
[January 16, 2020 – Articles delivered & Impeachment Trial began in the Senate]
January 17, 2020 CDC begins screening passengers on direct and connecting flights from Wuhan, China
January 17, 2020 CDC deploys a team to Washington state to assist with contact tracing efforts in response to the first reported case
January 20, 2020 CDC confirms the first U.S. laboratory-confirmed case of COVID-19 in the U.S.
January 21, 2020 CDC transitions from a Center-led Incident Management Structure to an Agency-wide Structure and activates its Emergency Response System
[January 25, 2021, House impeachment managers delivered the article of impeachment to the U.S. Senate.]
February 5, 2020 Senate voted to acquit
March 27 2020 CARES act passed It pays hospitals to kill elderly covid patients. See Sec. 3710….. Assoc of American Physicians & Surgeons : Biden's Bounty on your Life

The Timeline seems to indicate that President Trump was kept distracted while the Democrats and Mr Global put the pieces in place to unleash the Plandemic and force the world to take the clot shot.
…………….
The NUREMBERG CODE is worth rereading before we go down into the snake pit.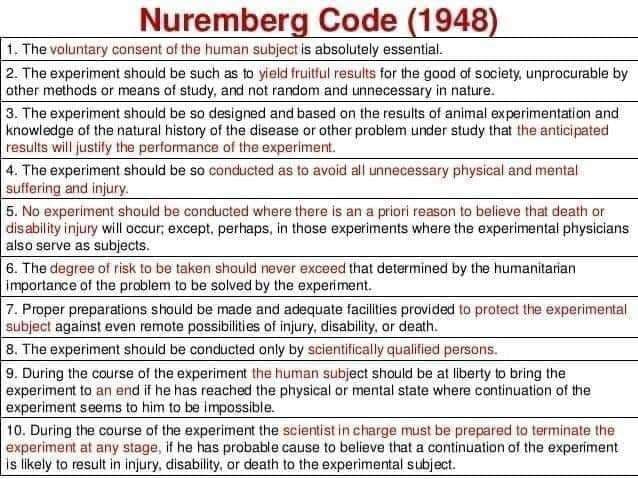 https://pbs.twimg.com/media/FIQ9KIsVIAAeZ17.jpg
While Collins, Fauci, hospitals and medical boards moved to silence and censor ALL opinions by dissenting experts, the Trusted News Initiative also muzzled anyone else not advocating for the Clot Shot. However Mr Global went even further than censorship and threatening jobs and medical licenses.
TEN NIH STUDIES ON 'VACCINE REFUSAL'
'Vaccine Refusal' is considered a 'condition or disease' that needs 'treatment' The following are trials to determine how to convince brainwash people into consenting to taking an experimental drug WITHOUT giving them full disclosure.
NEW TRIAL!!! COVID-19 Messaging for Vaccination
MIT Cambridge, MA ; Behavioral: Doctor Videos
Behavioral: Sharing Videos
Behavioral: Sharing Videos (Influencers)
(and 3 more…)
Collaborators:
And his CHINESE WIFE (Red Diaper Baby from China?)
She was mostly raised by her Chinese grandmother, who spoke no English. She was a very dignified woman who clearly was a huge influence in Priscilla's life…. But the precise details of how the family arrived in America are unclear. Reports in China say they came originally from the city of Xuzhou in eastern Chandong province, also the home city of Rupert Murdoch's wife Wendi Deng. Others say that the family lived in Nanjing, an industrial town 150 miles west of Shanghai, before leaving to live first in Hong Kong and later in the US.

A source at the Asian-American Civic Association in Boston said it was 'highly likely' the family spent time in a refugee camp, either in Hong Kong or on arrival in the US.

Priscilla's father said he was a refugee who had lived in Vietnam, according to Thai-born Napat

Records show Dennis,[Her father] who now owns a small wholesale fish business, was given a social security number as an 'Asian Refugee' between April 1975 and November 1979.
Code3
Stanford University
Harvard University
Yale University
Johns Hopkins University
Massachusetts General Hospital
Ludwig-Maximilians – University of Munich
National Institutes of Health (NIH)
Study Description
Brief Summary:
This study will distribute videos of health professionals encouraging Covid-19 vaccination to a large sample of Facebook users, and will test the most effective ways to maximize diffusion of this vaccine-related content to increase vaccination rates. The study sample will be U.S. states where vaccination rates remained low in fall 2021. The experimental design is an RCT with 4 groups, randomized at the county level: 1) a control group which receives no intervention, 2) a treatment group in which Facebook users receive ads which include videos of health professionals telling them to get vaccinated, 3) a treatment group in which Facebook users receive ads which include videos of health professionals encouraging them to help their friends to get vaccinated, and 4) a treatment group in which Facebook users receive ads which include videos of health professionals encouraging them to get their most influential friends to help their friends get vaccinated. In treatments 3 and 4, participants will have the option to sign up to be a "vaccine ambassador," in which case they will get notifications when the study team posts new vaccine-related content, and will receive reminders about encouraging their friends to be vaccinated. The vaccine ambassadors will also be entered into a lottery to win prizes. The study team is building a website to host the videos of health professionals which answer common questions about Covid-19 vaccination. The investigators will measure engagement with the vaccine-related content as well as assess effects on vaccination rates at the county level.
| | |
| --- | --- |
| Interventional (Clinical Trial) | |
| Estimated Enrollment : | 40,000,000 participants |
| Allocation: | Randomized |
| Intervention Model: | Parallel Assignment |
| Intervention Model Description: | There are four arms in the study which geographic areas are assigned to in parallel. The geographic areas in the three treatment arms will receive a Facebook ad campaign over the same time period to one another. |
| Masking: | None (Open Label) |
| Primary Purpose: | Treatment |
| Official Title: | Increasing the Effectiveness and Diffusion of COVID-19 Messaging for Vaccination |
| Actual Study Start Date : | December 22, 2021 |
| Estimated Primary Completion Date : | January 2022 |
| Estimated Study Completion Date : | June 2022 |
THAT IS 40 MILLION PEOPLE!!!
……….
……….
– Ain Shams University Cairo, Egypt
………..
— Duke University Health System, Durham, NC ( Childhood vaccination decision support tool) Principal Investigator Lavanya Vasudevan, Ph.D.
Collaborator: National Institutes of Health (NIH) 1KL2TR002554 ( U.S. NIH Grant/Contract )
………..
– University of Alabama at Birmingham (Behavioral: Intervention)
Contact: Henna Budhwani, PhD, MPH
……….
– Annenberg School Philadelphia, PA
Behavioral: Online Social Network and Collective Intelligence Intervention :
Behavioral: Independent Control
Collaborators: University of California, Davis, University of California, San Francisco, University of California, Berkeley
Brief Summary:
Social technologies for health have already become essential means for providing underserved populations greater social connectedness and increased access to novel health information. However, these technologies have also had negative unintended consequences. The resulting digital divide in social technology takes many forms – from explicit racism that excludes African American and Latinx populations from the resources enjoyed by White and Asian members of online communities, to self-segregation for the purposes of identity preservation and community-building that unintentionally results in limited informational diversity in underserved communities. The result is an often unnoticed, but highly consequential compounding of inequities.

This research seeks to use an online social network approach to address these challenges, in which the investigators demonstrate how reducing the online levels of network centralization and network homophily among African American community members directly increases their productive engagement with health-promoting information.
………..
Project 2VIDA! COVID-19 Vaccine Intervention Delivery for Adults in Southern California –
San Ysidro Health Chula Vista CA;

Care View Health Center San Diego, CA;

San Ysidro Health Care View Health Center, San Diego, CA; and 3 more…

Principal Investigator: Argentina Servin, MD, MPH, Asst Prof,

Sponsors/Collaborators National Institute on Minority Health and Health Disparities (NIMHD)

Behavioral: COVID-19 Individual Awareness and Education;

Behavioral: COVID-19 Community Outreach & Health Promotion;

Behavioral: COVID-19 Individual Health Education & Linkages to Medical and Supportive Services;

Biological: Pop-up community vaccination sites
-GC
---
Conclusion by Wolf Moon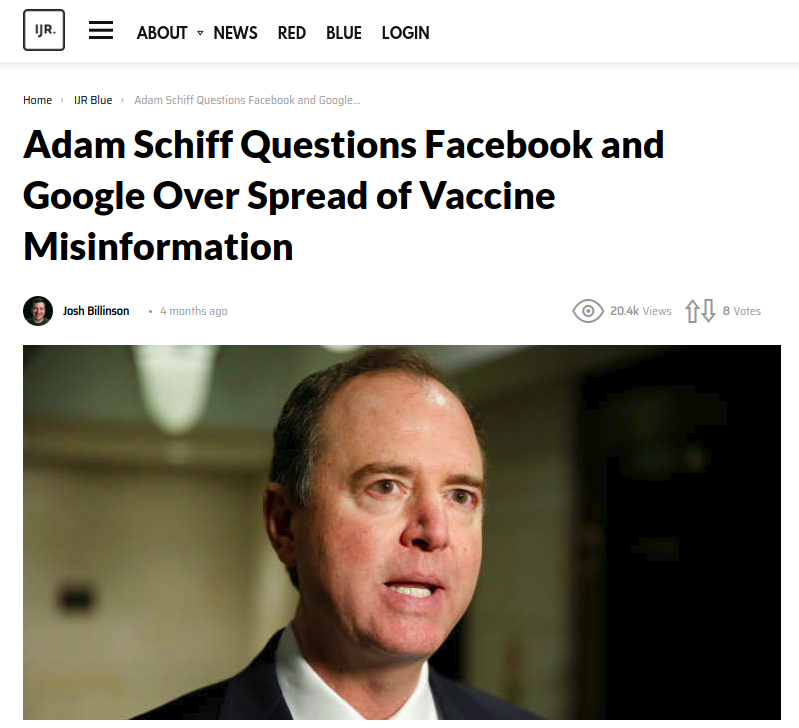 Do you see it now? They knew exactly what they were doing. Schiff's kabuki with Zuckerberg was like a GO signal to start the censorship.
That creepy pedophile loser, the compromised Dem Rep on the committee that's SUPPOSED to control the IC, but is in fact CONTROLLED BY IT, signals to the IC social media that's SUPPOSED to serve us, but in fact SERVES THE IC, that they need to start censoring us by removing InfoWars and Natural News.
It ALL makes sense now.
CHICOMS. These people are no better than CHICOMS. Allies of the enemies of America. Traitors of the worst kind.
W