I will try to keep this brief – although that is hard, because I'm fighting against people's "feelings" instead of facts.
When the other side LIES all the time, it creates a "feeling" that they're lying about everything.
Yes, they ARE lying about everything – but the lies are often very sophisticated, being composed of a matrix of solid and hard-won truths, held together by crafty lies.
If you're going to FIGHT BACK, then I say FIGHT BACK SMART.
Buckle up.
---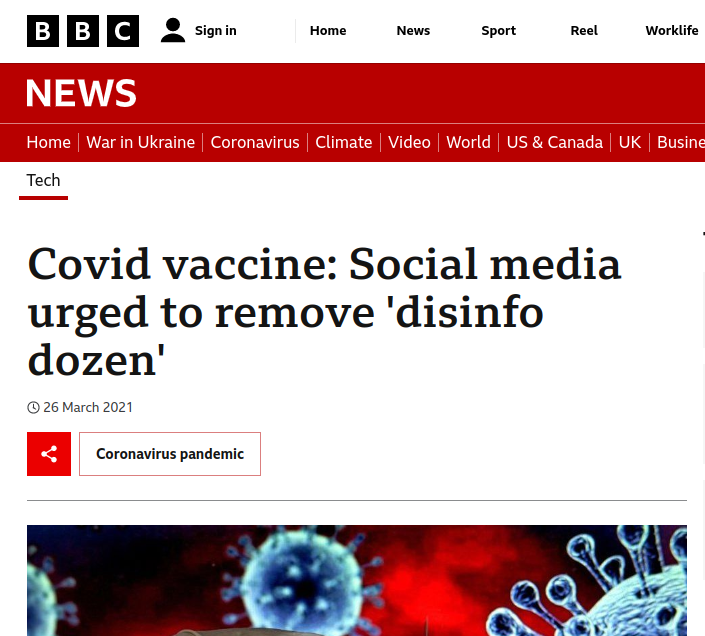 INTRO
There has been a very successful strain of disinformation used to make our side seem very unconvincing to normies (to put it mildly).
That strain is the "there is no virus" deception.
Many times we tolerate this, because we don't want to discourage our "fellow skeptics", but it is critical that we refute nonsense on our own side.
In the past I've devoted occasional comments to putting down disinformation to the tune of "there is no virus" and "the virus was never isolated", but after this last time, meaning yesterday, I've decided to just GUT this beast right on the dissection table, under the glaring lights of its own post, so that the "debunking" has its own URL, suitable for posting in response to well-meaning people on our side, who think "no virus" is a tenable position.
NO. It is not tenable. You are being BAITED into nonsense, so that you are no longer effective. You are being baited into becoming a "FEELZ" person, like reliable Democrats.
The "there is no virus" position is basically the "new flat earth" of biology. You'll see why momentarily.
---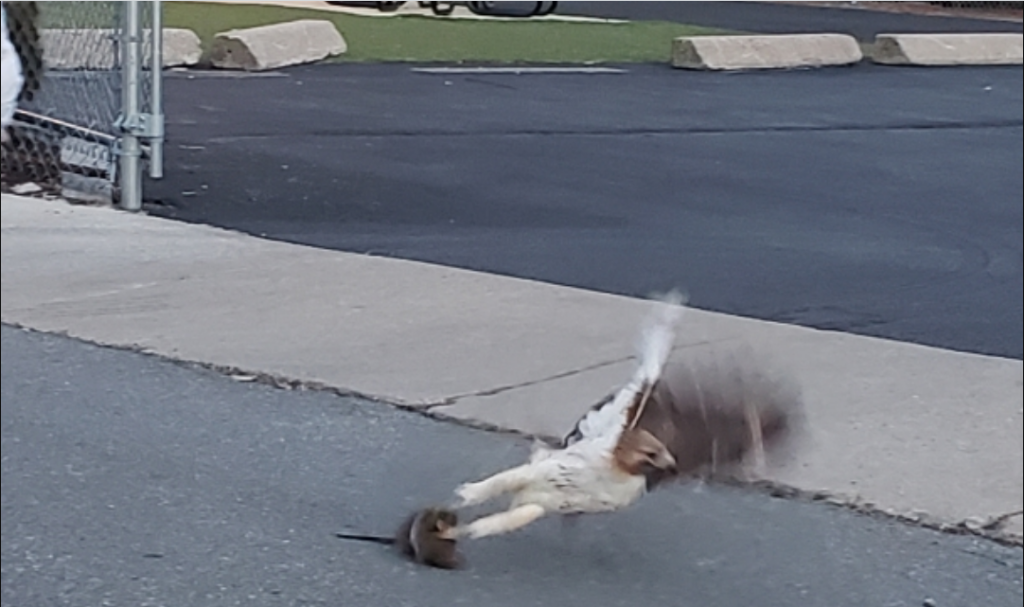 An Example of "There Is No Virus / Isolation"
I want to thank Canadian Guest for bringing an example of this disinformation to the board for my consideration. Bringing some FRESH RATS to this SCIENCE HAWK is always appreciated.
This is why I don't restrict the bringing of "propaganda" and potential disinformation here. We're adults. We can DEAL with it – and often very usefully. I get more truth out of Russian "propaganda" than out of most MSM "explainers". Funny how that works.
WE will be the judge of truth – NOT "them".
Here is the video. Watch if you want – particularly after reading this.
https://www.bitchute.com/video/aRUYydaFRlYQ/
There are some tells OTHER than what I'm going to talk about, that this is an interesting construction designed to derail critics of the vaccines. Tell me what you think "smells" like targeted disinformation in the comments.
Did CIA or FIB make this? Did Chinese intelligence? Who are these people?
---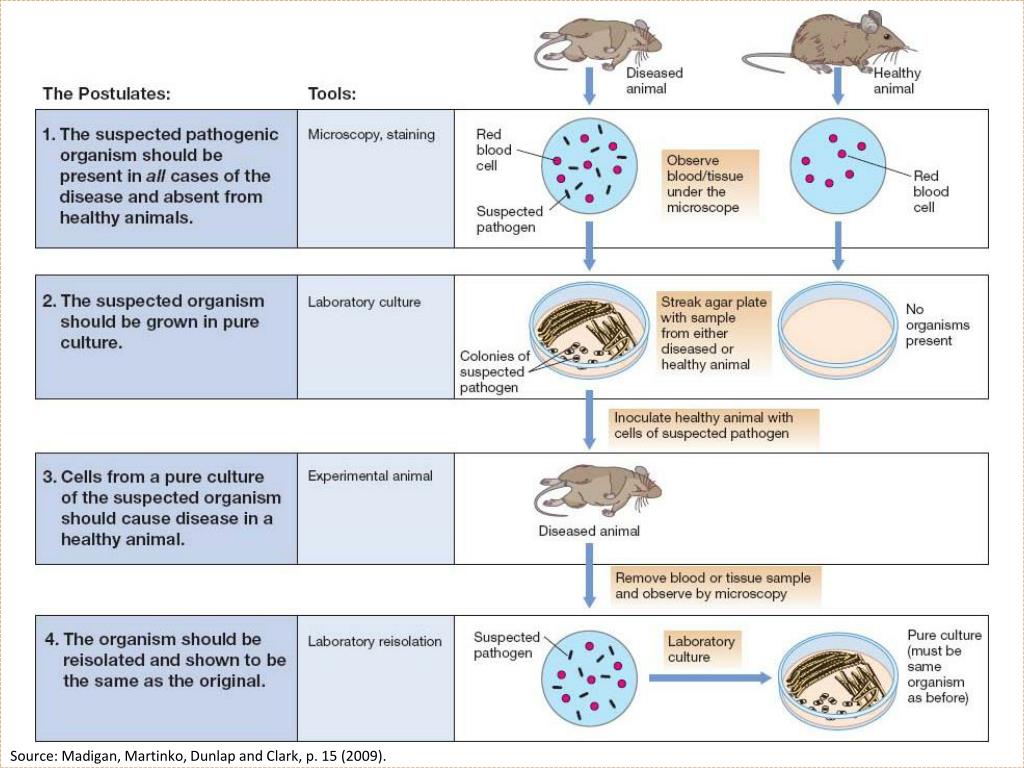 Koch's Postulates
One of the centerpieces of "disproving" that viruses exist, is to engage in passive-aggressive science using what are called "Koch's postulates".
Koch's postulates were a brilliant set of standards from the beginning of microbiology, designed to help prove that an illness was actually caused by a microbe, rather than a bodily dysfunction of some kind.
The microorganism must be found in abundance in all organisms suffering from the disease, but should not be found in healthy organisms.
The microorganism must be isolated from a diseased organism and grown in pure culture.
The cultured microorganism should cause disease when introduced into a healthy organism.
The microorganism must be reisolated from the inoculated, diseased experimental host and identified as being identical to the original specific causative agent.
Wikipedia has an excellent and quick presentation about Koch's postulates AND the problems therein.
LINK: https://en.wikipedia.org/wiki/Koch%27s_postulates
You can see a slideshow which explains Koch's Postulates HERE:
LINK: https://www.slideserve.com/chione/koch-s-postulates
You would be very smart to notice something on the LAST slide.
"It is sometimes impossible to satisfy all of Koch's postulates."
One of the ways in which this happens, is that "pure culture" (stated in the second postulate) varies between a laboratory vacuum and a jungle floor. If you're a "purist", nothing will pass the postulates. If you're laissez-faire about things, everything will pass. If you're SMART about things, and demand a SMARTLY PURE culture, you will get great results, and Koch's postulates will continue to work for even crazy things like viruses, prions, etc.
What's up with viruses?
The problem is that viruses are not microbes in the same sense as bacteria, protozoans, and similar microorganisms which are well-handled by Koch's original postulates, where "pure cultures" were "biologically sterile, but molecularly fertile" mixtures.
Viruses are, quite literally, molecular parasites. The transmission of viruses is both more demanding and less demanding on the nature of a "pure medium", than is transmission of bacteria. Viruses transmit in a different way.
Viruses need almost nothing to survive in, but they need CELLS to reproduce in. Viruses do not grow in simple chemical brews. They need CELLS. Cells not only contain a lot of stuff of "their own" – they also contain a lot of viruses, AND the encoding for these and other viruses.
If you demand a "cell-free medium" for growth of a virus, you have basically sabotaged science "under the color of science".
See how that works?
The history of Koch's postulates, and the upgrading of Koch's original postulates to take care of things like viruses, prions, etc., is discussed in THIS article:
NIH Summary: https://www.ncbi.nlm.nih.gov/pmc/articles/PMC172879/
PDF of Article: https://www.ncbi.nlm.nih.gov/pmc/articles/PMC172879/pdf/090018.pdf
SO – you will almost always see some kind of reference to Koch's postulates, in "there is no virus" disinformation. Koch's postulates are the perfect "medium" for passive-aggressive anti-science.
BUT WAIT! There's MOAR!
---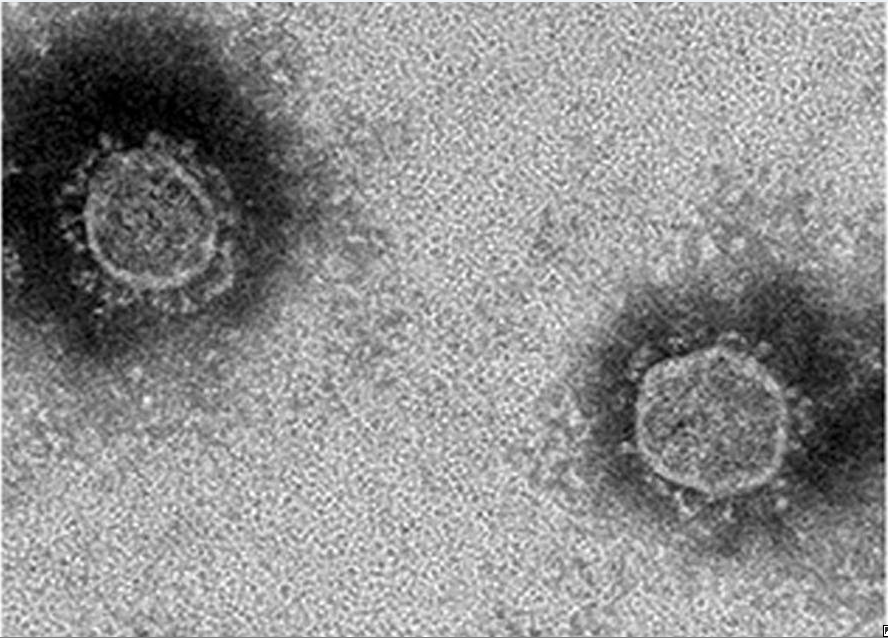 "BUT MUH NON-ISOLATION!"
The next, and actually essential part of the disinformation, is the allegation that the virus behind COVID-19 was never isolated.
HOGWASH!
BULLSHIT!
LIES!
It was not only isolated early and often – it is ROUTINELY isolated, all over the world, in order that genetic studies OF THE VIRUS can be done.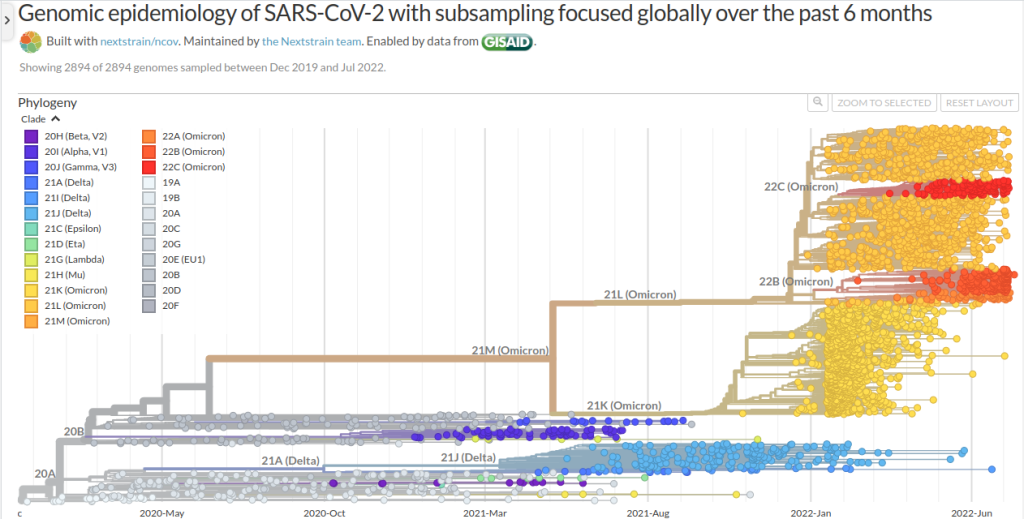 Think of all the hundreds of thousands of scientists who gather "clout" in molecular biology by analyzing the RNA of a single virus, and thereby look for small changes in that RNA – meaning a few nitrogenous bases among hundreds of thousands. How do they "isolate" the RNA of the virus from samples taken from people? How do they NOT get a bunch of human nasal RNA, plus the RNA of all our OTHER embedded viruses, AND nasal bacteria, mixed up in the sample, screwing up the results?
It's simple. They GROW THE VIRUS in a NONINFECTED cellular medium that LOVES the virus. They filter and separate the budding and "transmitting" virus from the cells. And then they check the RNA of the filtered virus.
WHICH LOOKS LIKE THIS!

"Pictures or it didn't happen."
You can even see the damn spikes! Of course, they didn't really need to do this – the RNA is the real convincer – the FINGERPRINT – but a picture is helpful for the doubters.
Sure sounds like "isolation" to me!
One of the best ways to demonstrate this to you, is to simply READ YOU THE PAPER where the pictures came from – back in the early days of COVID-19.
This paper was "e-published" back in March of 2020, when "Wuhan Coronavirus" had just been renamed to "SARS-CoV-2" because of China and Democrats (more on that later). The paper was actually received in February, around the time I was recovering from the original Wuhan strain of COVID-19, or something immediately descended from it.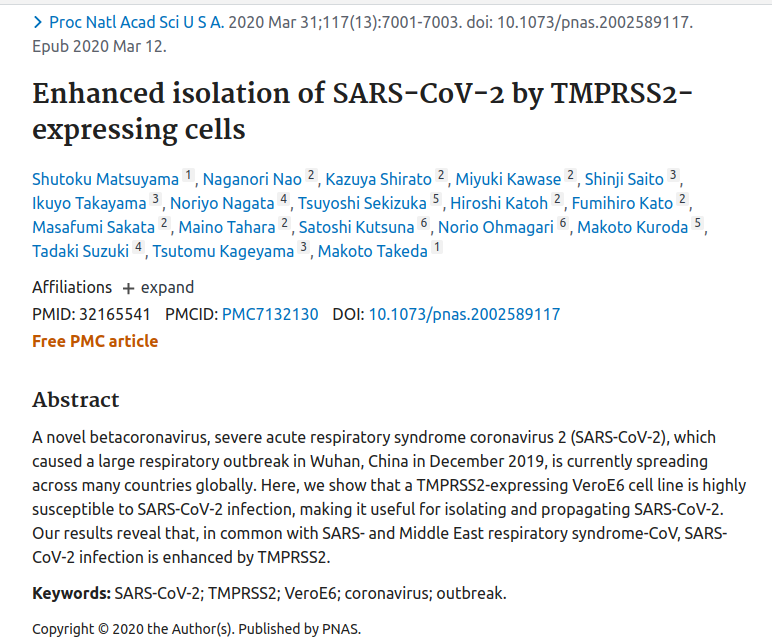 This is from a Japanese group located in Tokyo. This is not by any means the earliest research on SARS-CoV-2 virus. It's an IMPROVEMENT paper. These guys are saying "Hey! It's easier to isolate this damn virus using OUR new method!"
Here is a text version of the paper, emphasizing the abstract.
---
Enhanced isolation of SARS-CoV-2 by TMPRSS2-expressing cells
Shutoku Matsuyama matuyama@nih.go.jp, Naganori Nao, Kazuya Shirato, +14 , Miyuki Kawase, Shinji Saito, Ikuyo Takayama, Noriyo Nagata, Tsuyoshi Sekizuka https://orcid.org/0000-0002-1302-5472, Hiroshi Katoh https://orcid.org/0000-0002-8613-4717, Fumihiro Kato, Masafumi Sakata, Maino Tahara, Satoshi Kutsuna, Norio Ohmagari, Makoto Kuroda https://orcid.org/0000-0002-0487-4405, Tadaki Suzuki https://orcid.org/0000-0002-3820-9542, Tsutomu Kageyama, and Makoto Takeda https://orcid.org/0000-0002-8194-7727 matuyama@nih.go.jp-14Authors Info & Affiliations
Edited by Yuan Chang, University of Pittsburgh, Pittsburgh, PA, and approved March 5, 2020 (received for review February 11, 2020)
March 12, 2020
117 (13) 7001-7003
https://doi.org/10.1073/pnas.2002589117
Abstract
A novel betacoronavirus, severe acute respiratory syndrome coronavirus 2 (SARS-CoV-2), which caused a large respiratory outbreak in Wuhan, China in December 2019, is currently spreading across many countries globally. Here, we show that a TMPRSS2-expressing VeroE6 cell line is highly susceptible to SARS-CoV-2 infection, making it useful for isolating and propagating SARS-CoV-2. Our results reveal that, in common with SARS- and Middle East respiratory syndrome-CoV, SARS-CoV-2 infection is enhanced by TMPRSS2.
---
As a bit of an aside, you will note that the editor is a Chinese researcher at an American university. The CCP has no problem pushing on the "social" buttons of American science, AND IT DOES. There was no way that the name "Wuhan coronavirus" was going to last. Think about it. This is subtle, but it's the way things are now.
There are some nice graphics in the paper, too, including pictures of the virus.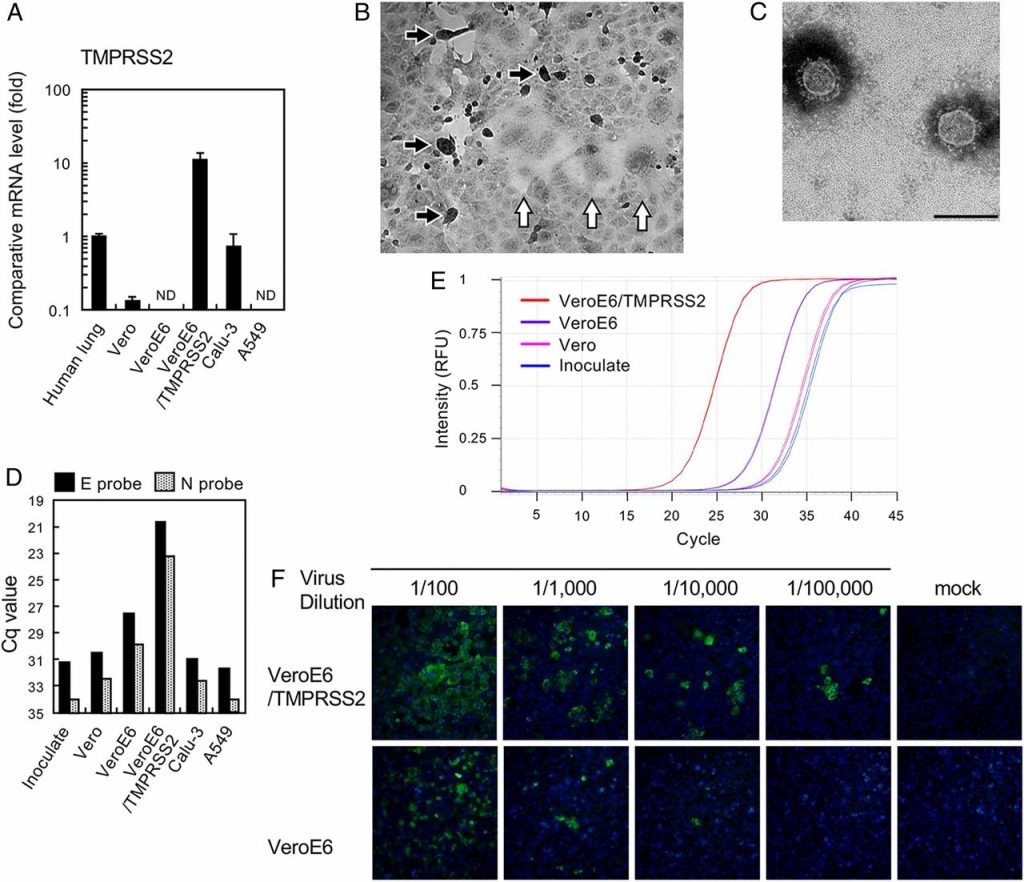 ---
It is EXTREMELY helpful to simply READ what the authors say, in recounting what they did.
I've put in BOLD what they DID.
Seven clinical specimens (throat swabs or sputum) obtained from seven SARS-CoV-2 infection cases were inoculated into VeroE6/TMPRSS2 cells, which were monitored daily for cytopathic effect (CPE). These clinical specimens were deidentified prior to use, and this study was approved by the ethics committee of the National Institute of Infectious Diseases, Japan (approval no. 1091). Informed consent was obtained from all participants, from which the subjects were obtained, or their legally acceptable representatives for sample donation. In five cases among the seven, clear CPE with detachment/floating (black arrows, Fig. 1B) and syncytium formation (white arrows, Fig. 1B) developed at 2 or 3 d postinfection (p.i.) (Table 1). The virus titers in culture supernatants of the five cases at 3 d p.i. were 4.6 × 106 to 6.8 × 107 median tissue culture infectious dose (TCID50) per mL (Table 1). Typical coronavirus particles were detected by electron microscopy (Fig. 1C). Next-generation sequencing (NGS) of case Wk-521 detected the nearly full-length genome sequence from SARS-CoV-2 with >99.9% homology (1, 2) (GISAID database ID EPI_ISL_408667). Unexpectedly, the NGS data showed contaminated mycoplasma sequences (Mycoplasma hyorhinis and Mycoplasma arginini) from VeroE6/TMPRSS2 cells. CPE in VeroE6 cells persistently infected with SARS-CoV was enhanced by infection with Mycoplasma fermentans (8), but whether a similar situation exists for SARS-CoV-2–related CPE in this cell line is unclear.

The viral RNA copies in the clinical specimens used for virus isolation were estimated by real-time RT-PCR (9, 10). As expected, viral RNA copies in the clinical specimens in which CPE developed within 2 d p.i. were greater than those in the other specimens (Table 1).

VeroE6/TMPRSS2 cells are superior to other cell lines tested in this study for SARS-CoV-2 isolation. Consistent with previous reports (2, 4), the amount of SARS-CoV-2 RNAs in the culture supernatants of Vero, Calu-3, and A549 cells 48 h p.i. was low and was measurably higher when VeroE6 cells were used. However, the viral RNA copies in the VeroE6/TMPRSS2 cell culture supernatants were >100 times greater than those from VeroE6 cells (Fig. 1 D and E). Data for SARS-CoV show that TMPRSS2 enhances its entry efficiency (5, 11). VeroE6 and VeroE6/TMPRSS2 cells were infected with 10-fold serially diluted SARS-CoV-2 samples, and the infected cells were visualized by indirect immunofluorescent assays (Fig. 1E). The results showed that VeroE6/TMPRSS2 displayed ∼10-fold greater number of SARS-CoV-2–infected cells than the parental VeroE6 cells. These data suggest that, in common with SARS-CoV, TMPRSS2 may also play an important role in SARS-CoV-2 cell entry.
Pay special attention to THIS PART which is not highlighted above, but which shows the level of ATTENTION that was paid to the results.
Unexpectedly, the NGS data showed contaminated mycoplasma sequences (Mycoplasma hyorhinis and Mycoplasma arginini) from VeroE6/TMPRSS2 cells. CPE in VeroE6 cells persistently infected with SARS-CoV was enhanced by infection with Mycoplasma fermentans (8), but whether a similar situation exists for SARS-CoV-2–related CPE in this cell line is unclear.
See what I was talking about with a "pure medium"? These mycoplama are very common contaminants of cell cultures. Note that these scientists are not HIDING the presence of contaminants in their "pure" medium. On the contrary, they're saying they spotted the contamination, and are accounting for it.
The bottom line is that these people know exactly what they are doing, dealing with the tricky nature of Koch's postulates under the realities of working with viruses – some of the hardest biology that can be done.
And THAT brings me to a personal observation.
---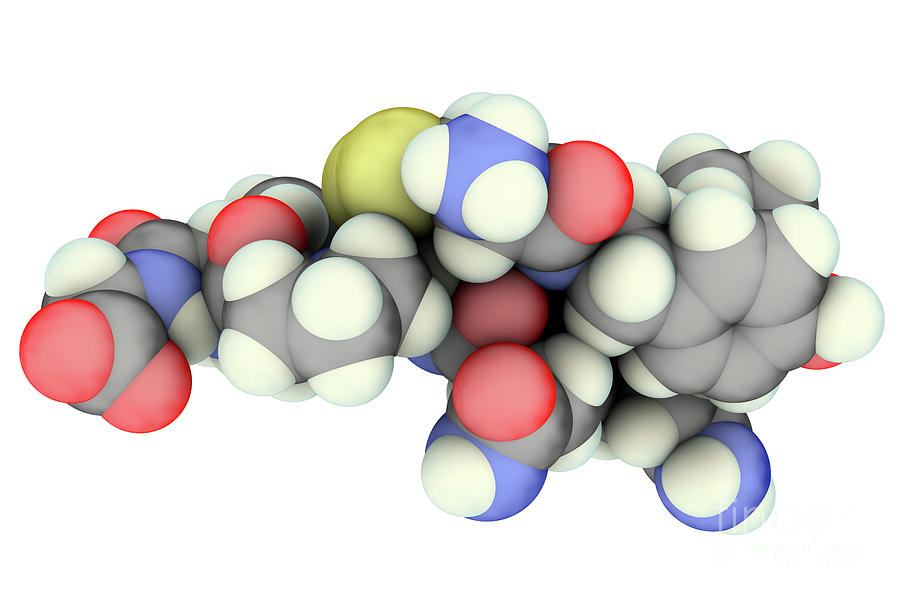 On Difficult Technology
Science is a game that everybody CAN play, and I would go so far as to say it's a game that everybody SHOULD play. You should be teaching your kids science and art, in exactly the way you should teach them football, baseball, and ice skating.
And just like with PROFESSIONAL SPORTS, in which people who you respect make errors that you call out, it helps to RESPECT the pros of science – EVEN AS YOU POINT OUT THEIR ERRORS, WHICH YOU SHOULD.
We don't believe professional athletes are "always right" – why should you believe the same things about scientists?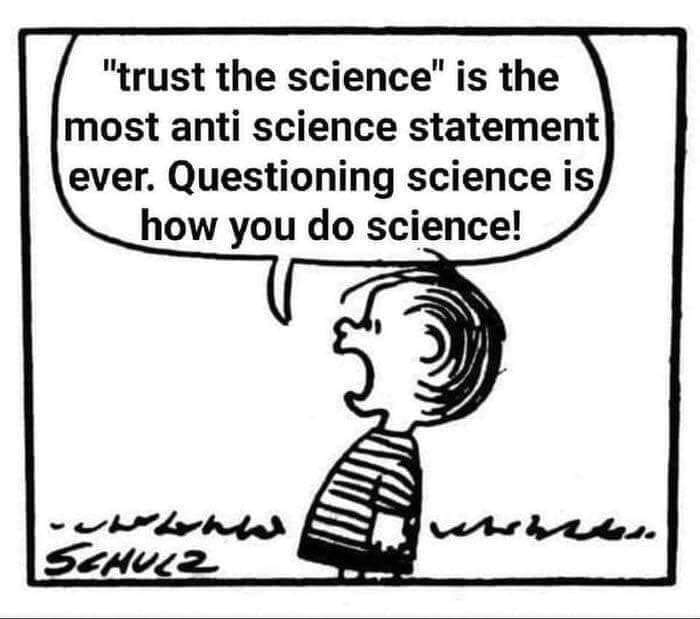 Back in my laboratory days, I had a couple of "lucky insights" connected by a lot of hard work, and they demonstrate how science gets past obstacles, including in particular other scientists.
Dissatisfied with my seemingly unexciting assigned research project, I was in the perfect mood when a colleague of mine drew something very interesting on the blackboard with a big chalk "X" through it.
"Why doesn't this work?" was my question.
My colleague gave a reason that didn't seem right to me, and then stated that he was abandoning that project. I asked if he minded if I tried it. He didn't mind – he had already gotten a new assignment from our boss.
I picked up the gauntlet, and got things to work the very first time. The big chalk "X" was wrong. My insight was correct.
Happy that the abandoned research project was back in play, our boss allowed me to take it over and pursue it.
Pushing the idea through on a small scale, I actually got the entire project to work – but not to the satisfaction of skeptics. We didn't have "clincher" proof. We needed to scale up to get that level of proof.
Scaling it up, however, failed. It took a lot of very interesting science to understand the whole process, and scale it up to the level that was necessary to convince the skeptics.
The problem was, not ALL of the skeptics were convinced. One skeptic, at the last minute, needed proof that would require even MORE scaling up.
The problem THERE is that NOT EVERYBODY could do the work.
When others could not duplicate my results, I was forced to do the even bigger scale-up myself, AND to do it under intense scrutiny, to figure out why *I* could do it and others could not.
The result was obvious proof that I had gotten it to work. The skeptic's harassment had led to a magnificent NEW proof that neither we nor the skeptic had fully predicted. We had exceeded the level of proof that the skeptic demanded.
HOWEVER, this left open a subject that nobody really wanted to talk about.
Why weren't others able to duplicate my results?
The sad fact is, science is filled with people who do not practice the habits necessary for success. They are not PERSISTENT when they need to be. They are not INSIGHTFUL in trying to get around problems. Even more importantly, they are not HOPEFUL that they CAN get around problems. This failure to have hope in overcoming obstacles is a HUGE problem in science. But likewise, many are not sufficiently DUBIOUS in trying to spot thousands of small potential problems, and doing what is necessary to prevent them. We have to be SKEPTICAL, too.
Even when we're skeptical, sometimes we're not skeptical enough. An excellent example is provided by the tragic death of Karen Wetterhahn, who died of dimethylmercury poisoning, when a few droplets of dimethylmercury splashed on and penetrated one of the thin latex gloves she was wearing. This was the level of protection recommended at the time, but it was not enough.
Karen had protected her coworkers by doing the work herself, instead of exposing THEM to the danger. She did the work "to code", but it was still not enough. Part of her legacy is the habit of scientists in later years to use two or even three layers of gloves, when handling dangerously toxic and reactive substances. Many will use "one more than recommended" of just about any safety measure.
We have to LEARN and RETAIN thousands and thousands of such habits just to do some of the simplest scientific operations, like weighing out a substance properly.
The boss who I mentioned above loved to say "All the easy stuff has been done." It's SO true, even though it's obviously an exaggeration. That is why there are amazing recent discoveries – every once in a while – of things that COULD have been discovered many years prior, and which were simply missed or overlooked. But for the most part, it's true. Almost all of the easy and obvious stuff has been done.
So what is my point?
The point is, science is HARD – and yet you are allowed to criticize it – AND YOU SHOULD.
The trick is, criticizing it and BEING RIGHT. And you do NOT have to be an "expert", or even a scientist, to be right.
But you may have to be persistent, insightful, hopeful, and skeptical.
W
---