With this post, I begin a long-running, periodic, occasional series that will explain a very important sub-conspiracy of what one might call "the grandest conspiracy of all – existence itself". 
Yes, I really said that.  I'm sure it sounds quite schizophrenic.  Read it again.  I really recommend that you do.
Good.  Let's start with that SECOND mystery.
We might refer to any theory of the greater conspiracy of existence itself as a "Grand Unified Conspiracy Theory".  While such theories are interesting as a kind of unique take on philosophy, there is a much more pressing need to understand – or rather, I should say, RE-UNDERSTAND – the politics of the last century in an unmasked form.  And the easiest way to do that, is to understand the PRIMARY conspiracy which drove it – something I will refer to somewhat poetically as the VAST LEFT-WING CONSPIRACY.
Or, because I'm going to use this term over and over again, the VLWC.
Now – I begin by redefining "conspiracy" to be an actually useful term, more akin to what Hillary Clinton meant, when she talked about a "vast right-wing conspiracy" (VRWC).  Note that I am not dismissing the reality of what Hillary Clinton was talking about.  I'm simply saying that the VRWC was not the primary driver of the 20th century.  It was, for better or worse, a bit of a chump.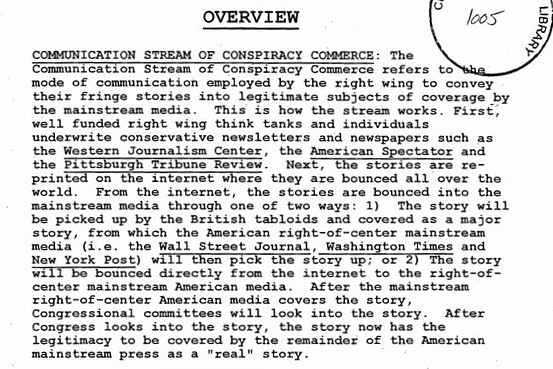 SIDEBAR POINT FOR ADVANCED STUDENTS:  Apply the principle of Alinsky ridicule here and note the use of reflective ridicule as a defense of the VLWC.  Brilliant, isn't it?  To put it in Fight Club terms, "There is no VLWC because there is no VRWC."  Masterful.  Beyond Alinsky.  This is a level of disinformation and manipulation that most people simply cannot comprehend.  And here I am, pointing this out TWENTY YEARS LATER.  No wonder they treated us like sheep.

W
Now you can see what I meant about "starting in the middle".  Hillary Clinton's first use of the term "vast right wing conspiracy" in 1998 serves as a kind of late mid-point in a plan which has been underway for more than 100 years, but was only partially implemented in 1998.  The VLWC actually started long before that.  However, we BEGIN in the late middle of the VLWC, where it was unintentionally named by Hillary Clinton.  There is a certain justice in that.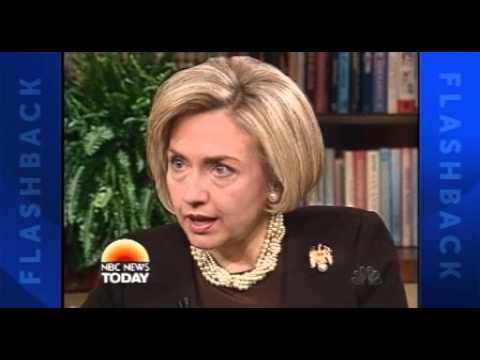 What I am doing here is using a bit of Hillary's own trickery back on her.  This is a purely Trumpian move – playing Marxism in reverse to undo it.  I am ACCEPTING Clinton's contention of a VRWC, using it to assert the reality of a leftist companion, and using that as a starting point to demonstrate the obvious and undeniable progression of the VLWC, which will make the rickety organization, pathetic timeline, and scattershot goals of the VRWC pale in comparison.
Back to "conspiracy".  The definition of "conspiracy" that I will use, comes straight out of CONSPIRACY THEORY – my lovely new scientific toy that I simply cannot put down.  So I will need to talk about THAT, too.  In fact, let's talk about that FIRST.
---
I have come to believe that the PURPOSE of the highly negative term conspiracy theory was two-fold or greater.   We need to look at two of these purposes.
One purpose is obvious – to discredit any attempts to understand things best kept secret, from the point of view of the people using the term.  According to this definition of conspiracy theory (something which can be instantiated), a specific conspiracy theory can be true or false, and by ridicule, they are all held to be false.  People can use this pejorative with both good and ill intentions – it doesn't really matter – the effects are identical.
This is, as you can see, a brilliant way to INSULATE discoverable truths which need to be kept secret.  Criticism of any particular "conspiracy theory" a priori discourages improving it, and thus automatically creates an insurmountable barrier to understanding.  It is "anti-science" clothed in the authority of science and promulgated as comedic culture.  Very clever.
Another reason, however, is not obvious at all.  I believe that reason is to HIDE the very idea that there is such a thing as conspiracy theory – the logical if not scientific understanding of conspiracy in its most general form. 
Conspiracy theory in that sense is NOT a theory about individual events.  It is literally an approach to understanding reality through the basic idea that intelligence automatically conspires to achieve its purposes.  It assumes that conspiracy exists profusely, even gloriously, if not by necessity, and does not pass judgment on whether that conspiracy is "good" or "bad" until the end, when frameworks of moral and legal perception are applied to our understanding of the FACTS.
Why would this be – this seeming reversal of the definition of conspiracy – this definition which says "don't look for illegality or morality until the end"?  It is because by simply adding previously unknown facts to a system, our perceptions of "good" and "bad" can flip completely.  Thus, we avoid any thought of leaving things out of a conspiracy analysis because they are "good" or "legal".  Good conspires.  Evil frequently conspires using legalities.  Both conspire in secret.  Both conspire openly.  Treat it ALL as what it is – conspiracy.
Yes.  #IBelieveHer.  And MORE.  It's the MORE that's interesting.
[ Note that this might argue for investigating ALL presidential candidates as if they were felons, but – sadly – it seems that we only apply this to the least likely to need it. 😉 ]
Thus, we don't take the self-censoring attitude that is encouraged by enemies of understanding – that there are no or very few "conspiracies".  We assume from the very beginning that EVERYTHING conspires.  In a sense, we say that everything goes under the world integral, and everything interacts.  Any simplification is then held responsible for the errors generated by leaving things out.  It's a subtle point, but it allows us to avoid all the mistakes encouraged by the enemies of TRUTH, who say DON'T LOOK THERE.  Sorry – our method says LOOK THERE, because we look EVERYWHERE.
Conspiracy theory is the ab initio quantum mechanics of politics.  Oh, it requires patience, but what it yields is amazing.  As you will soon see.
By now, I hope you can see my delight in my realization.  Once I grasped how powerful conspiracy theory actually is, I realized the most important thing being hidden by the limited and popular psy-op term "conspiracy theory" is the SCIENCE which gives power, and not specific theories of organized cover-ups and crimes, most of which theories start out WRONG anyway, and are never improved enough to become RIGHT.
Conspiracy theory is indeed SO useful in discussing history and politics, that if it were not already there, I would have to invent it.  However, there is ZERO chance that I invented it.  One of the great rules I have discovered through conspiracy theory is that "whatever it is, it was already invented, and was just kept hidden from you".  That's obviously not absolute, but it's so close, that it makes the exceptions exceptionally interesting.  Originality is rare as hen's teeth.  Even in conspiracy theories.  Or should I say conspiracy theory.  Whatever. 😉
---
Now – that's a lot to swallow, and I'm not asking you to swallow it now. Think of it as a taste.  We will come back to all of this in dedicated posts, as the full extent of the VLWC is revealed.  But what I want you to grasp for now is the following:
The term "conspiracy" is usefully redefined to allow us to look at history more deeply.
The term "conspiracy theory" is better used for a branch of science with applications ranging from the physical sciences to political science.
When I talk of conspiracy, it will include the good and the open.
When I talk of conspiracy theory, I will point out what I mean by both context and prepositions (conspiracy theory vs. a conspiracy theory vs. the conspiracy theory).
There was a Vast Right Wing Conspiracy, as pointed out by Hillary Clinton, but it was foolish, inept, reactive and easily manipulated.
The Vast Left Wing Conspiracy which manipulated it was far more important in 20th century geopolitics, as well as current geopolitics in the beginning of the 21st century.
Understanding the VLWC will allow us to make informed decisions on numerous issues where we were otherwise being manipulated into a variety of bad decisions.  OK, scratch that.  Terrible decisions.
I know that probably sounds crazy to many of you.  I absolutely do not care.  If you look at my Twitter timeline, you will see my motto.  It took me a while to get there, but it is now my constant companion.
I hope to see you back in future episodes of this amazing journey into history.  Trust me – it will be fun! 😀
W
BETTER TO BE RIGHT THAN BELIEVED