Green star at dawn

Eeyore begone.


Wolf Moon's Rules for Sadicals

Time for Wolf Moon to get all MARICA on your asses, people! 😀

Just kidding.  But – yeah – not really. We ALL need a cheer-up now and then, so I'm gonna give you guys one!  And that includes even one of my childhood FAVORITES – Eeyore!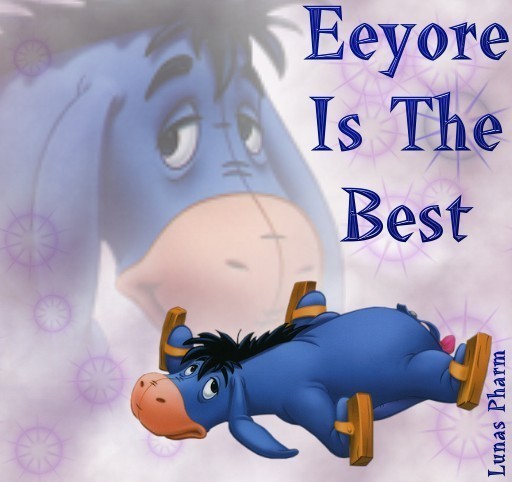 ALL of us are Eeyores.  Show me the Deplorable, and I will muster up the PATIENCE to wait for them to lose faith at some juncture.  To despair, lament, or just plain get all grumbly and down. 
The more I stay at this game, the more I see how we ALL fall into the Eeyore trap.
Some are more naturally Eeyore, some are more Piglet, some Pooh, and some Tigger.
Whatever.  WWG1WGA.
You know what I'm sayin'?

With that said, we all have to snap OUT of being Eeyore, sometimes.
I personally found this exchange very helpful, and good advice.  My thanks to daughnworks247 for asking the question, and Emeraldstar for answering it.
daughnworks247
December 17, 2018 at 11:56 am E
OKay look, instead of whining and complaining, we need a plan.
What can we do to help our VSG to take back control of the FBI/DOJ?
The double standard of justice is not working and thwarting MAGA, putting good people in jail, and bankrupting others.
This is NUTS.
Trump is the President.
What do we need to do here?
Open to suggestions. Come one; come all.

daughnworks247, December 17, 2018

Emeraldstar
December 17, 2018 at 4:44 pm AMEN!!!E
My suggestions follow Q, for the most part.
First – what Filly said. Try to red-pill as many people as possible – subtlety at first (try to get them to do the work to figure things out), and then, drop the Q-site on them (with research boards).
Second – pay attention! Of course, we all do, but using this site as a secondary news-aggregator (the 8-chans being primary) will help very much. When all of US, HERE, are as informed as possible – and don't have to do the full job of research and transmission ourselves – then we have the "info-ammo" to proceed with the dissemination effort.
Third – like Q said, archive EVERYTHING off-line. Given the recent Q&A session, we needn't fear an electrical-grid black-out, but rather a comms "blackout". In other words, the censoring effort may go, hmm, "nuclear". Deletion, erasure, banning, shadow-banning, and the like. It may even affect our own devices, especially with the FORCED updates many of us have had to suffer to our OS or browser versions. Built-in censoring, along with built-in spying!
Fourth – KEEP THE FAITH!!! Like Wolf said, abandon fear (it's a killer! TY, Wolf). Emulate Marica, and RedLeg, and so many others here, who simply WILL NOT give up, or give in. Like VSGPDJT and Q have said, "Fight, Fight!, FIGHT!!!" It's the only path – and the best path – to victory.
Fifth – A bad day or two aside, BE PATIENT! We only see 5-10% of what's going on, but "the Plan", so far as I can tell, extends to 2024. Focus on the GOOD news (we've got the Senate, and the SJC – and BOTH may be added to, in pretty short order), and don't get demoralized by the bad. The "bad" news is orchestrated, designed, and INTENTIONAL. Don't be "driven" … except by yourself!
Sixth – Have FUN! It is WE who still have our sense of humor, and our popcorn, and our wits! It is THEY who are on the losing side. Same as it ever was, same as it ever was.
Feel free to add to my exhortations … seek and ye shall find!
I'm outta breath …

Emeraldstar, December 17, 2018

I can only add Marica's response! 😀
Marica
December 17, 2018 at 6:02 pm E
WOW! Emerald!! There must have been Smoke coming off your keyboard!!!! Thanks for mentioning me (face red now)
Your 6th Bullet Is the MOST important! It makes the Q tree different from ALL the rest!!! and even tho THis is Super Serious Stuff…If we can have fun then we don't go down the despair route!!!
WWG1WGA

Marica, December 17, 2018


Many of you may have seen this exchange, but I think it needs wider visibility, so I'm making a post about it.  Feel free to say anything – and I mean anything – about the subject of Eeyores, optimism, strategy, keeping the faith and PARTICULARLY to address Daughn's original question. What do we do now?  IDEAS ARE WELCOME!!!

Just let it out here.  My beloved friend Eeyore says it's "OH, WELL – OK. 😉
W