This Q Function Friday open thread is VERY OPEN – a place for everybody to post whatever they feel they would like to tell the White Hats, and the rest of the MAGA world.
See the tail end of yesterday's discussion for FG&C's posting of the Q FUNCTION.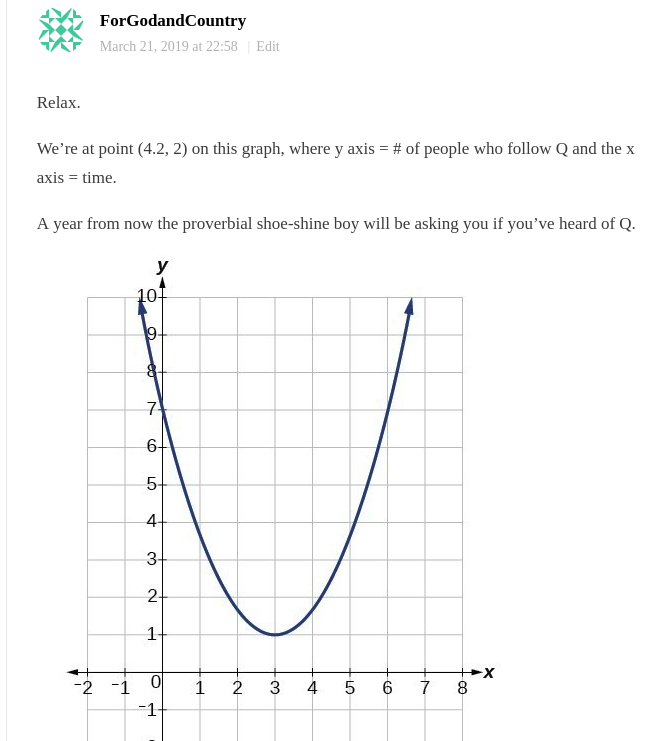 ForGodandCountry
March 21, 2019 at 22:58 E
Relax.
We're at point (4.2, 2) on this graph, where y axis = # of people who follow Q and the x axis = time.
A year from now the proverbial shoe-shine boy will be asking you if you've heard of Q.

ForGodandCountry, 03/21/2019
You can say what you want, comment on what other people said, and so on.
Free Speech is practiced here. ENJOY IT. Use it or lose it.
Keep it civil. They tried to FORCE fake Orwellian civility on us. In response, we CHOOSE true civility to defend our precious FREEDOM from THEM.
Our rules began with the civility of the Old Treehouse, later to become the Wolverinian Empire, and one might say that we have RESTORED THE OLD REPUBLIC – the early high-interaction model of the Treehouse – except of course that Q discussion is not only allowed but encouraged, and speech is considerably freer in other ways. Please feel free to argue and disagree with the board owner, as nicely as possible.
Please also consider the Important Guidelines, outlined here in the January 1st open thread. Let's not give the odious Internet Censors a reason to shut down this precious haven.
NOTE – THE PRIOR PARAGRAPH IS EXTREMELY IMPORTANT RIGHT NOW.
---
Remember – your greatest gift to President Trump is FIVE WORDS:
I AM PRAYING FOR YOU.
---
Our movement

Is about replacing

A failed

And CORRUPT

Political establishment

With a new government controlled

By you, the American People.

Candidate Donald J. Trump
---
Also consider Wheatie's Rules:
No food fights.
No running with scissors.
If you bring snacks, bring enough for everyone.
---
Please continue to be vigilant.
Just because we got ONE of them doesn't mean they won't try again.
Be Vigilant for a News Cycle Changing False Flag Attack in US, UK, France or Italy
3077
Q!!mG7VJxZNCI14 Mar 2019 – 10:39:01 PM
Be vigilant at all times.
(US, UK, FR, IT)
See Something.
Say Something.
Narrative change needed.
FAKE NEWS attempting to REBRAND HARMFUL TESTIMONY and instead provide MISLEADING info to their readers. 
[Example]
https://www.washingtonpost.com/world/national-security/in-newly-released-transcript-former-fbi-lawyer-fires-back-on-charges-anti-trump-bias-affected-trump-and-clinton-probes/2019/03/12/f669f198-44f9-11e9-8aab-95b8d80a1e4f_story.html?utm_term=.5ca1b8c01716
ENEMY OF THE PEOPLE.
Q

Q Post 3077
Be careful. See something – say something.
---
I want everybody here to imagine that there is a group of communists – that reaches all the way up to WASHINGTON – and even foreign capitals – that wants THIS SITE closed down.
These communists are in league with VARIOUS ELITES, and SATANISTS, and other secret organizations that HELP THEM.
They are ALL trying to BRING DOWN THIS COUNTRY into a socialist cesspool.
Then tell yourself that it is NOT your imagination.
TRILLIONS OF DOLLARS. And we are part of what stands in the way.
PROTECT THIS SITE.
Demonstrate the non-violence of this movement with every post – and yet we will NEVER give up our guns. MAKE THEM EAT THAT TRUTH EVERY DAY.
GIVE THEM NOTHING.
Then we just let JUSTICE do its JOB.
WWG1WGA.
W