This POST-MUELLER MONDAY open thread is VERY OPEN – a place for everybody to post whatever they feel they would like to tell the White Hats, and the rest of the MAGA world.
You can say what you want, comment on what other people said, and so on.
Free Speech is practiced here. ENJOY IT. Use it or lose it.
Keep it civil. They tried to FORCE fake Orwellian civility on us. In response, we CHOOSE true civility to defend our precious FREEDOM from THEM.
Our rules began with the civility of the Old Treehouse, later to become the Wolverinian Empire, and one might say that we have RESTORED THE OLD REPUBLIC – the early high-interaction model of the Treehouse – except of course that Q discussion is not only allowed but encouraged, and speech is considerably freer in other ways. Please feel free to argue and disagree with the board owner, as nicely as possible.
Please also consider the Important Guidelines, outlined here in the January 1st open thread. Let's not give the odious Internet Censors a reason to shut down this precious haven.
---
Remember – your greatest gift to President Trump is FIVE WORDS:
I AM PRAYING FOR YOU.
---
Our movement

Is about replacing

A failed

And CORRUPT

Political establishment

With a new government controlled

By you, the American People.

Candidate Donald J. Trump
---
Also consider Wheatie's Rules:
No food fights.
No running with scissors.
If you bring snacks, bring enough for everyone.
---
Everything is a bit different now.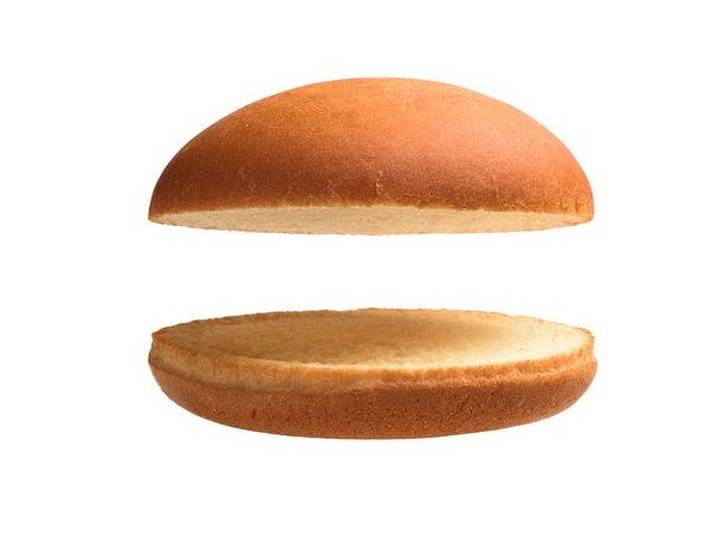 OK – Let's be more specific….
OH, HECK – let's just be obvious as HELL!!!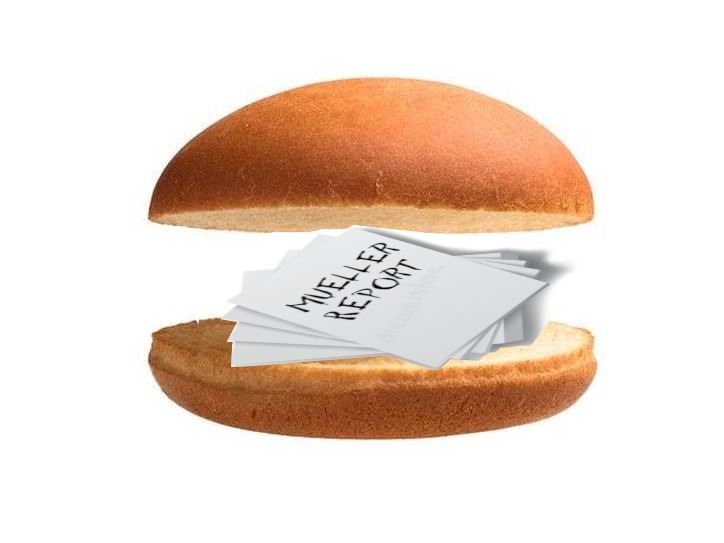 You just HAVE to love Trump's "press conference" today!!!
I personally think that the Mueller report was "fair" – even the part about not fully exonerating on obstruction, because the reality is that the legalities of presidential power in terms of firing crooked staff who have some degree of power OVER or AGAINST the office of the President are all VERY murky, and Mueller was right to not "exonerate" more than he could both LEGALLY and TRUTHFULLY. There is a lot of unsettled law here, IMO.
NOW – my theory on what actually happened does not fully exonerate Bob Mueller, either. I may be wrong about this, but if Mueller was just pretending to go after Trump, he sure was doing a good job. I think he and Weissmann "took the job seriously", and were ready to "go the extra Cohen mile" and do things like dishonor attorney-client privilege, in order to harass Trump throughout his ONLY (their thinking) four years.
Like I say – the Mueller SC could have been an act, but if so, it was a good one. They also let Bob Mueller be a snake before Trump even got serious about becoming President, during the Clinton administration. That is PROMPT action!
Anyway, my "post-Mueller" thoughts today…..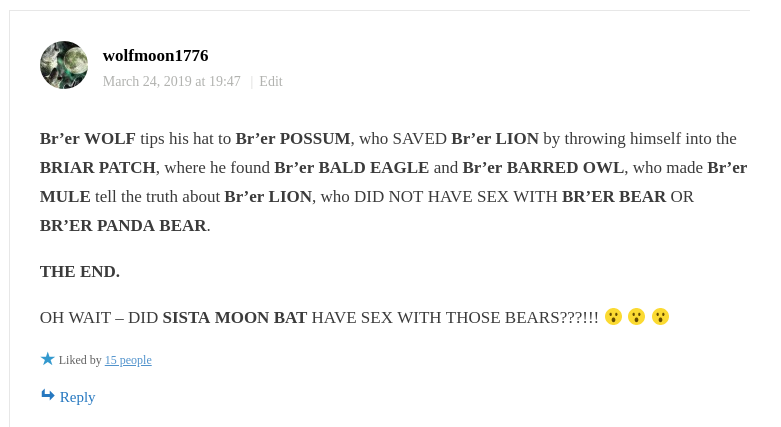 wolfmoon1776
March 24, 2019 at 19:47 E
Br'er WOLF tips his hat to Br'er POSSUM, who SAVED Br'er LION by throwing himself into the BRIAR PATCH, where he found Br'er BALD EAGLE and Br'er BARRED OWL, who made Br'er MULE tell the truth about Br'er LION, who DID NOT HAVE SEX WITH BR'ER BEAR OR BR'ER PANDA BEAR.
THE END.
OH WAIT – DID SISTA MOON BAT HAVE SEX WITH THOSE BEARS???!!! 
 
 
Liked by 15 people
Reply

Br'er Wolf
https://wqth.wordpress.com/2019/03/24/mueller-report-thread/comment-page-2/#comment-108699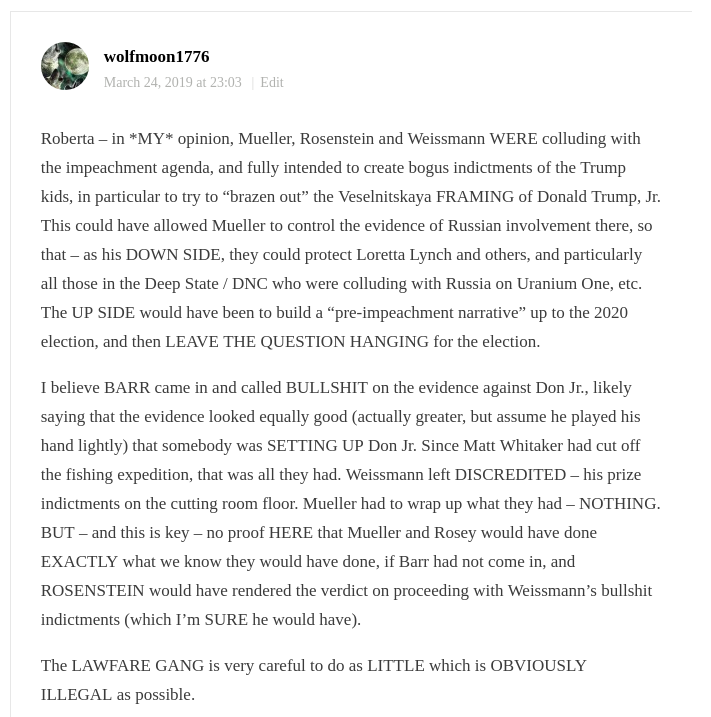 wolfmoon1776
March 24, 2019 at 23:03 E
Roberta – in *MY* opinion, Mueller, Rosenstein and Weissmann WERE colluding with the impeachment agenda, and fully intended to create bogus indictments of the Trump kids, in particular to try to "brazen out" the Veselnitskaya FRAMING of Donald Trump, Jr. This could have allowed Mueller to control the evidence of Russian involvement there, so that – as his DOWN SIDE, they could protect Loretta Lynch and others, and particularly all those in the Deep State / DNC who were colluding with Russia on Uranium One, etc. The UP SIDE would have been to build a "pre-impeachment narrative" up to the 2020 election, and then LEAVE THE QUESTION HANGING for the election.
I believe BARR came in and called BULLSHIT on the evidence against Don Jr., likely saying that the evidence looked equally good (actually greater, but assume he played his hand lightly) that somebody was SETTING UP Don Jr. Since Matt Whitaker had cut off the fishing expedition, that was all they had. Weissmann left DISCREDITED – his prize indictments on the cutting room floor. Mueller had to wrap up what they had – NOTHING. BUT – and this is key – no proof HERE that Mueller and Rosey would have done EXACTLY what we know they would have done, if Barr had not come in, and ROSENSTEIN would have rendered the verdict on proceeding with Weissmann's bullshit indictments (which I'm SURE he would have).
The LAWFARE GANG is very careful to do as LITTLE which is OBVIOUSLY ILLEGAL as possible.
Thus, I believe that Mueller punted – not to the Dems, but to TRUMP. It was the only thing he could do.
NO "Don Junior suspicion leverage field goal" for Team Black Hat. Instead, they had to punt, and TRUMP now has the ball.
Liked by 1 person
Reply

Wolf Moon
https://wqth.wordpress.com/2019/03/24/mueller-report-thread/comment-page-2/#comment-108865
I may or may not be right – but I do think that we will find out in the not-too-distant future.
---
IN ANY EVENT…..
HANG ON!!!
W