a guest post by Gail Combs
(with a FREE SPEECH preface by Wolf Moon)
---
PREFACE
I want to tell you all something RIGHT UP FRONT.
I have not read this post AT ALL. And I'm not going to read it. I'm going to publish it, and THEN READ IT.
WHY AM I DOING THIS, YOU MIGHT ASK.
It is very simple. I support free speech, and I am especially concerned about CENSORSHIP of viewpoints on vaccination. I am personally pro-vaccination, but I think that the anti-vaxxers have found a WEALTH of valid concerns that need to be addressed by a combination of objective and imaginative investigation, honest admission, political enlightenment, and consumer CHOICE.
The COMMUNISTS in America are NOT doing it right. The real question is WHY NOT?
Vaccines are a PRODUCT – not a CHEMICAL TATTOO that the state has a right to force upon our bodies. GET REAL. Vaccines need the FREE MARKET to prove their worth – not socialist coddling of substandard products to be forced upon us like poisonous Chinese dog treats.
If you are old enough to remember the vaccine SANITY that we had in America before the sabotage presidency of crypto-socialist BILL CLINTON and his horrible co-President wife Hillary Clinton, of WACO fame, then you realize that all of this CRAP about vaccines is utterly unnecessary.
Let us just GO BACK TO WHAT WORKED BEFORE COMMUNISM.
M-KAY?
NOW – I believe that Adam Schiff is starting a "war on anti-vaxxers" in preparation to "war on Trump's base". I will be posting more about this soon. But before that, I'm going to let some FREE SPEECH about vaccination happen HERE AND NOW.
Enjoy!
-WOLF MOON
---
Moar AND Logic — Vaccines
by Gail Combs
GENERAL COMMENT
Perhaps the hardest concept for Americans to learn is Our Ruling Class views us with contempt. They do not hate us. To hate you have to view a person as an equal. The Ruling Class does not consider us equals, some do not even consider us 'human'!!! We are just 'Human Resources' for them to use as they please. Once you realize they view us as free range slaves or cattle (chattel) their inhumane treatment of us becomes comprehensible and this plays into their views on vaccination. As long as THEY make money and the 'Human Resource' losses are 'acceptable' they don't care if we are injured or die.
This is the best overall explanation I have seen of what we face in America today:
July 16, 2010 America's Ruling Class — And the Perils of Revolution by Angelo M. Codevilla
"…No prominent Republican challenged the ruling class's continued claim of superior insight, nor its denigration of the American people as irritable children who must learn their place. The Republican Party did not disparage the ruling class, because most of its officials are or would like to be part of it.
Never has there been so little diversity within America's upper crust. Always, in America as elsewhere, some people have been wealthier and more powerful than others. But until our own time America's upper crust was a mixture of people who had gained prominence in a variety of ways, who drew their money and status from different sources and were not predictably of one mind on any given matter….
Today's ruling class, from Boston to San Diego, was formed by an educational system that exposed them to the same ideas and gave them remarkably uniform guidance, as well as tastes and habits. These amount to a social canon of judgments about good and evil, complete with secular sacred history, sins (against minorities and the environment), and saints. Using the right words and avoiding the wrong ones when referring to such matters — speaking the "in" language — serves as a badge of identity….
The two classes have less in common culturally, dislike each other more, and embody ways of life more different from one another than did the 19th century's Northerners and Southerners — nearly all of whom, as Lincoln reminded them, "prayed to the same God." By contrast, while most Americans pray to the God "who created and doth sustain us," our ruling class prays to itself as "saviors of the planet" and improvers of humanity. Our classes' clash is over "whose country" America is, over what way of life will prevail, over who is to defer to whom about what…."
We have already noted the consolidation of the trans-national corporations.

Daniel Estulin in his Bilderberg Speech at EU Parliament says:

"Bilderberg organization is dynamic…. Members come and go, but the system itself has not changed. It is a self-perpetuating system, a virtual spider web of interlocked financial, political, economic and industry interests. Not One World Government or New World Order as too many people mistakenly believe. Rather, the ideology is of a ONE WORLD COMPANY LIMITED….


The idea behind each and every Bilderberg meeting is to create what they themselves call THE ARISTOCRACY OF PURPOSE between European and North American elites on the best way to manage the planet. In other words, the creation of a global network of giant cartels, more powerful than any nation on Earth, destined to control the necessities of life of the rest of humanity, obviously from their vantage point, for our own good and in our benefit – THE GREAT UNWASHED AS THEY CALL US.

In this 2/29/2016 video OT Ben Stein call Trump people the "unwashed"

Later in the year, on 08/26/2016
PeterStrzok texted "Just went to a southern Virginia Walmart. I could SMELL the Trump support…"
Page replys "Yep…."

Obama's Science Czar, John Holdren certainly agrees and takes it a step further. He thinks it takes " essential early socializing experiences"aka brainwashing to "ultimately develop into a human being." GEE, does that mean IF you do not have the CORRECT ' socializing experiences' you are not human?
Holdren, wrote on page 235 in "Human Ecology," (1973) co-authored with Paul and Anne Ehrlich.
The fetus, given the opportunity to develop properly before birth, and given the essential early socializing experiences and sufficient nourishing food during the crucial early years after birth, will ultimately develop into a human being,"
More bizarre quotes: link
Michaelh made a comment on June 12, 2019 at 02:22
The interesting part of the comment is this:
….He told the other doctor he could solve his problem, but the other doc was skeptical. Later he saw the woman in question and she went on at length about the dangers of vaccines and all the information she had gathered online, listening to her intently and patiently the whole time. At the end of it he asked a simple question, "Have you considered whether the anti-vax information you have is a Chinese and Russian disinformation campaign designed to weaken the United States' populace?" She experienced a mind-blown moment. He said after that she came with all of her children ever single time right on the vax schedule….
Please note this doctor DID NOT ADDRESS the core problem — the perceived dangers of vaccines — Instead he substituted one FEAR for another FEAR.
So let's back-up and ask the questions that doctor did not address.
WHY would the woman have:
#1. Distrust in the US government
#2. Distrust in the pharmaceutical companies
#3. Does her fear have a solid foundation?
Unfortunately, as we have seen over the last seven decades, the US government IS the Enemy of the American People. (see Codevilla's article linked above) So the woman's 'Fear' of the intentions of the US Government has a solid foundation. She can not trust that the government has HER best interests and NOT the best interests of the vaccine manufactures at heart when decisions are made.
Second US Scientists and drug companies are NOT to be trusted and neither is the FDA. I have a whole file folder on Fake Research and Data falsification. Here is a tiny sample germane to a discussion on vaccines:
US Scientists Significantly More Likely to Publish Fake Research, Study Finds
PLoS ONE: How Many Scientists Fabricate and Falsify Reseach? A Systematic Review <<<VERY GOOD!
PLoS Medicine: Why Most Published Research Findings Are False
Science Mag: Peer Review is Sick and Collapsing Under it's Own Weight
Scientific Fraud and the Power Structure of Science
Research Misconduct Identified by the US Food and Drug Administration: Out of Sight, Out of Mind, Out of the Peer-Reviewed Literature
….Results
Fifty-seven published clinical trials were identified for which an FDA inspection of a trial site had found significant evidence of 1 or more of the following problems: falsification or submission of false information, 22 trials (39%); problems with adverse events reporting, 14 trials (25%); protocol violations, 42 trials (74%); inadequate or inaccurate recordkeeping, 35 trials (61%); failure to protect the safety of patients and/or issues with oversight or informed consent, 30 trials (53%); and violations not otherwise categorized, 20 trials (35%). Only 3 of the 78 publications (4%) that resulted from trials in which the FDA found significant violations mentioned the objectionable conditions or practices found during the inspection. No corrections, retractions, expressions of concern, or other comments acknowledging the key issues identified by the inspection were subsequently published.

Conclusions and Relevance
When the FDA finds significant departures from good clinical practice, those findings are seldom reflected in the peer-reviewed literature, even when there is evidence of data fabrication or other forms of research misconduct….
The FDA did manage to catch one… FDA says CRO Cetero faked trial data; pharmas may need to redo tests
NEWS ARTICLES
NYT: Rise in Scientific Journal Retractions Prompts Calls For Reform
Daily Mail UK: The 'false' pandemic: Drug firms cashed in on scare over swine flu, claims Euro health chief
Word Press CENSORED this site, Live Avian Flu Virus Placed in Baxter Vaccine Materials Sent to 18 Countries
The company that released contaminated flu virus material from a plant in Austria confirmed Friday that the experimental product contained live H5N1 avian flu viruses….

On Friday, the company's director of global bioscience communications confirmed what scientists have suspected. "It was live," Christopher Bona said in an email.

The contaminated product, which Baxter calls "experimental virus material," was made at the Orth-Donau research facility. Baxter makes its flu vaccine — including a human H5N1 vaccine for which a licence is expected shortly — at a facility in the Czech Republic.

People familiar with biosecurity rules are dismayed by evidence that human H3N2 and avian H5N1 viruses somehow co-mingled in the Orth-Donau facility. That is a dangerous practice that should not be allowed to happen, a number of experts insisted. Accidental release of a mixture of live H5N1 and H3N2 viruses could have resulted in dire consequences….
Alternate from Physicians for Life: (Not a Word press blog) Live Avian Flu Virus Placed in Baxter Vaccine Materials Sent to 18 Countries (2009)
I remember when this information hit the news and I was appalled. I have worked as a QC Engineer in Drug manufacture. There is NO WAY IN HADES this should have happened. WHY? Because you LABEL EVERYTHING and it is double signed off when raw materials are withdrawn from the warehouse by manufacturing to PREVENT this type of mistake.
Vaccine Industry Watchdog Obtains CDC Documents That Show Statistically Significant Risks of Autism Associated with Vaccine Preservative Thimerosal
"Biochemist Brian Hooker, scientific advisor to A Shot of Truth, reveals CDC knew of risks for over a decade."
February 19, 2014

For nearly ten years, Brian Hooker has been requesting documents that are kept under tight wraps by the Centers for Disease Control and Prevention (CDC). His more than 100 Freedom of Information Act (FOIA) requests have resulted in copious evidence that the vaccine preservative Thimerosal, which is still used in the flu shot that is administered to pregnant women and infants, can cause autism and other neurodevelopmental disorders.

Dr. Hooker, a PhD scientist, worked with two members of Congress to craft the letter to the CDC that recently resulted in his obtaining long-awaited data from the CDC, the significance of which is historic. According to Hooker, the data on over 400,000 infants born between 1991 and 1997, which was analyzed by CDC epidemiologist Thomas Verstraeten, MD, "proves unequivocally that in 2000, CDC officials were informed internally of the very high risk of autism, non-organic sleep disorder and speech disorder associated with Thimerosal exposure."….
http://jonrappoport.wordpress.com/2014/08/26/cdc-whistleblower-is-just-the-tip-of-the-iceberg/">CDC whistleblower is just the tip of the iceberg
…"It is simply no longer possible to believe much of the clinical research that is published, or to rely on the judgment of trusted physicians or authoritative medical guidelines. I take no pleasure in this conclusion, which I reached slowly and reluctantly over my two decades as an editor of The New England Journal of Medicine." —(Marcia Angell, MD, "Drug Companies and Doctors: A story of Corruption." NY Review of Books, Jan. 15, 2009.)

Here is another quote of a similar nature, also published in the NY Review of Books (May 12, 2001, Helen Epstein, "Flu Warning: Beware of Drug Companies"):

"Six years ago, John Ioannidis, a professor of epidemiology at the University of Ioannina School of Medicine in Greece, found that nearly half of published articles in scientific journals contained findings that were false."…
So I hope these articles establish the fact this woman had a solid foundation for her concerns and the doctor's default to 'BLAME IT ON RUSSIA' would be funny if it was not so serious.
Do you really think these Mega-corporations, who PAY the doctors, ACTUALLY CARE if a certain percentage of children are crippled or die from their vaccines? Don't you think the Elite would LIKE to see American girls made sterile and more people on the government dole to aid the Cloward–Piven strategy?
What the Mega-corporations care about is MONEY and they have that all fixed up.
1987 'Limited' Liability LAW:
42 U.S. Code § 300aa–22 – Standards of responsibility
….No vaccine manufacturer shall be liable in a civil action for damages arising from a vaccine-related injury or death associated with the administration of a vaccine after October 1, 1988, solely due to the manufacturer's failure to provide direct warnings to the injured party (or the injured party's legal representative) of the potential dangers resulting from the administration of the vaccine manufactured by the manufacturer….
"Vaccine makers and federal officials will be immune from lawsuits that result from any new swine flu vaccine, under a document signed by Secretary of Health and Human Services Kathleen Sebelius, government health officials said Friday."
http://www.google.com/hostednews/ap/article/ALeqM5hjdCHrP82YTFser5vD6CzTK1az6wD99GH8580
The first doses of swine flu vaccine will be given to the public before full data on its safety and effectiveness become available, doctors confirmed yesterday…..But, unlike seasonal flu vaccine, the pandemic version will be spread over two doses in a higher quantity, and one brand is expected to contain a chemical additive to make it go further, potentially increasing the risk of side-effects.http://www.independent.co.uk/life-style/health-and-families/health-news/safety-questions-over-swine-flu-jab-1751547.html
"On February 22, 2011 the U.S. Supreme Court shielded drug companies from all liability for harm caused by vaccines mandated by governmentwhen companies could have made a safer vaccine…. From now on, drug companies selling vaccines in America will not be held accountable…
The only difference is that three decades ago, government officials were ordering doctors to give children 23 doses of 7 vaccines and, today, that direct order is up to 70 doses of 16 vaccines." NVIC link
Since this law has been upheld in the Supreme Court, WE the consumers now get to PAY for those crippled or killed:
Vaccine injury compensation programs:
https://www.historyofvaccines.org/content/articles/vaccine-injury-compensation-programs
Other sites discussing vaccines:
http://www.financialsensearchive.com/editorials/engdahl/2010/0304.html
http://www.whale.to/vaccines/horowitz4.html
OK Time to leave the politics of vaccines and actually take a look at vaccination.
Here is the US Vaccination schedule for children.
https://www.cdc.gov/vaccines/schedules/hcp/imz/child-adolescent.html#vaccines-schedule
[Wolfie can you include a screen shot of the chart for Birth to 15 Months please?]
Here you go!

Wolf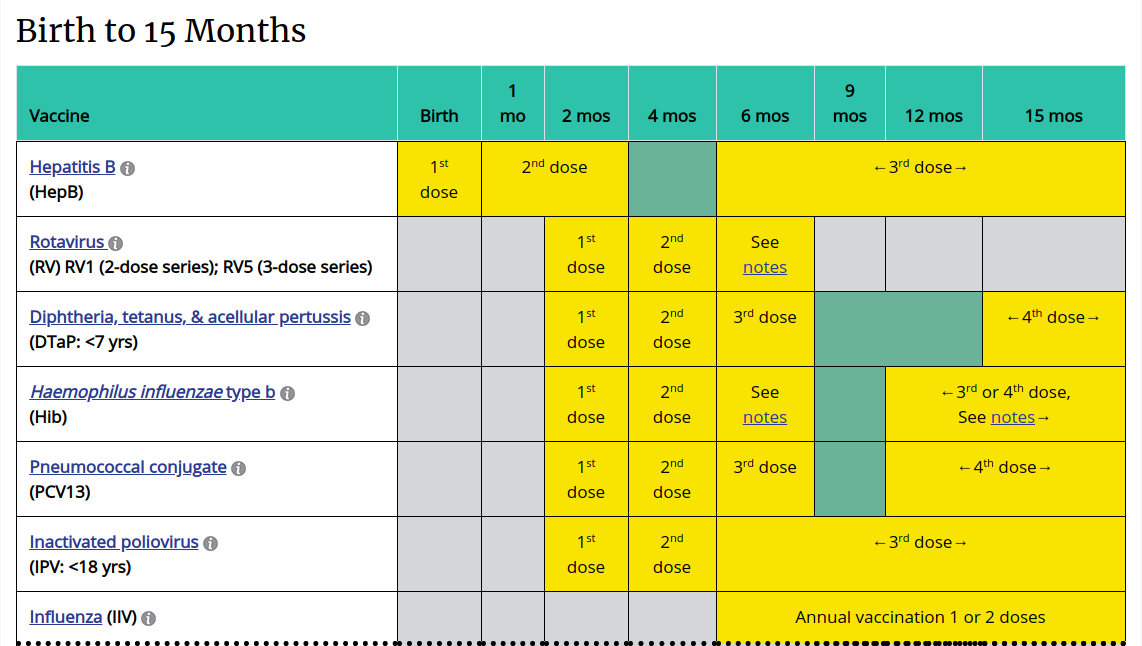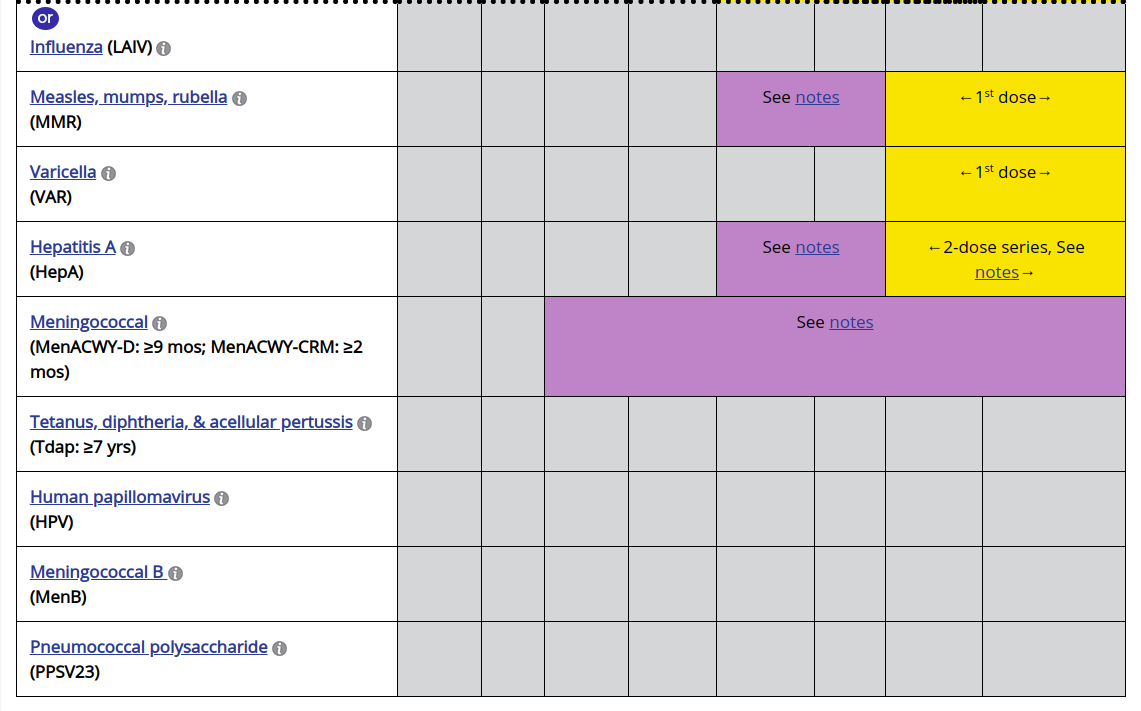 First I am NOT a doctor and I do not have human kids. Mine are goats kids and lambs. However we are all mammals so at least some information applies across species.
Starting with newborns:
Colostrum definition: A sticky white or yellow fluid secreted by the mammary glands after giving birth, rich in antibodies. The antibodies absorbed by the newborn protect against systemic invasion by pathogens while antibodies that are not absorbed play an important role in protection against intestinal disease.
The small intestine is lined with immature cells which are capable of absorbing macromolecules.
Immunoglobulins ( antibodies) can not transmission across the placenta of the mother to the fetus. Instead the Immunoglobulins in the Colostrum is absorbed in the small intestine and thereafter transported to the blood. "The absorption of immunoglobulins has dropped to a relatively low level after 24-36 hours." — The importance of colostral immunoglobulins and their absorption from the intestine of the newborn animalsfrom the National Center for Biotechnology Information, U.S. National Library of Medicine
Vaccination: Kid goats that had passive immunity from immunized dams, don't get their CD/T vaccination until 8 weeks and again at 11-12 weeks. My vet doesn't recommend doing it earlier. HOWEVER If the kid didn't receive its mom's colostrum or if the doe didn't get vaccination a month or so before birth, you should vaccinate the kid at the age of 1 to 3 weeks and again three to four weeks later. (And PRAY)
Sheep 201: Flock vaccinations written by Susan Schoenian, Sheep & Goat Specialist at the University of Maryland's Western Maryland Research & Education Center in Keedysville, Maryland.
…
Passive immunity
Vaccines are not very successful in young lambs, 1-2 months of age. For this reason, vaccination strategies recommend vaccinating pregant ewe to confer passive immunity to the lambs through the colostrum (dam's first milk). Ewes should be vaccinated with the CDT toxoid approximately 4 weeks prior to lambing. Ewes lambing for the first time will need to be vaccinated twice in late pregnancy, four weeks apart. Maternal antibodies will protect lambs for six to eight weeks so long as lambs consumed adequate amounts of colostrum. It is recommended that a lamb consume 10 percent of its body weight in colostrum.

Lambs
Lambs should receive their first clostridal vaccination when they are approximately 6 to 8 weeks of age, followed by a booster 4 weeks later. If pastured animals are later brought into confinement or dry lot for concentrate feeding, a third vaccination should be given. Some experts recommended giving artifically-reared lambs multiple vaccinations.

Lambs whose dams were not vaccinated for C and D can be vaccinated with some success at two to three days of age and again in two weeks. However, later vaccinations will likely be more effective, as colostral antibodies usually interfere with vaccinations at very young ages. The lamb's immature immune system may also not be able to respond to vaccination at such a young age.
Lambs and goats are usually weaned at 2 to 3 months, horses at 4 to 6 months. Lambs and goats live to mid teens, horses into there 20s and 30s. Human babies are weaned naturally sometime between 2 and 4 years of age. Humans live into their 70s and 80s. Animals are usually vaccinated AFTER they are weaned!
Last recommendation: " Each producer must weights the pros and cons of vaccinating for a specific disease. If the cost of vaccination exceeds the expected losses, then vaccination is probably not cost-effective….The risk of a diseases outbreak should be the criteria that is used to determine the need for vaccination." — Susan Schoenian, Sheep & Goat Specialist
Translation: Check with your vet/ vet school on what diseases are around your area and ALWAYS limit the exposure of your animals. If you show have separate quarantine areas for show animals also for animals you are newly introducing to the farm.
…
What is the take home from all of this?
1. QUARRANTINE IMMIGRANTS don't bring the disease into the country in the first place. Since our traitorous government refuses to do this, do as much as you can to limit your exposure and your children's exposure especially for the very young. (I hate seeing infants at a daycare as I did yesterday.)
2. MOM should receive the vaccinations not the New Born.
3. MOM should breast feed during the first few days to pass immunity to her baby even if she does not plan to continue breastfeeding. Try to stay home with your infant or use a private individual (like grand parent) for your very young baby instead of a commercial daycare. This limits disease exposure and thus need for very early vaccination.
4. Infant vaccination is a poor second for nature's Colostrum and very early vaccination is needed only if Mom has not past immunity on to the infant via Colostrum AND can not manage quarantine conditions. (Why my bottle lambs were in the kitchen and are even now in a quarantined area instead of with the sheep.)
I have also been warned by my vet that the vaccines for multiple diseases are not a smart idea. Spacing the vaccinations of individual diseases works MUCH better.
Seems President Trump agrees!
H/T to thinkthinkthink who on April 30, 2019 at 20:55 Said:
PDJT had strong opinions on timing of vax shots for his children, just as these parents did.
---
There you have it. Please feel free to comment in any way you see fit. WE – unlike everybody else in socialist media – have free speech. Moreover, it is not MY JOB to determine what is "misinformation". That is YOUR JOB.
W