This C BEFORE D BEFORE J BEFORE T TUESDAY open thread is VERY OPEN – a place for everybody to post whatever they feel they would like to tell the White Hats, and the rest of the MAGA / KAG! / KMAG world (KMAG being a bit of both MAGA and KAG!).
---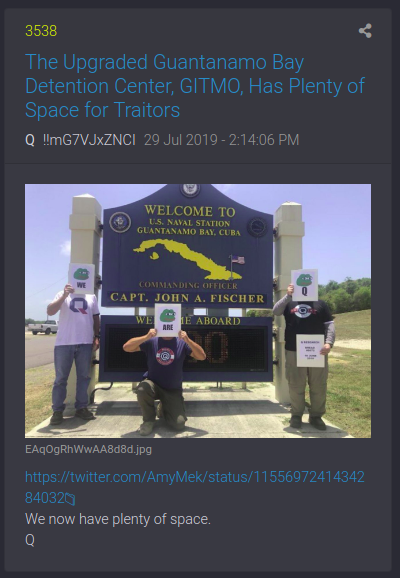 The Upgraded Guantanamo Bay Detention Center, GITMO, Has Plenty of Space for Traitors

Q!!mG7VJxZNCI29 Jul 2019 – 2:14:06 PM

https://twitter.com/AmyMek/status/1155697241434284032

We now have plenty of space.

Q

Q Post 3538
---
You can say what you want, comment on what other people said, and so on.
Free Speech is practiced here. ENJOY IT. Use it or lose it.
Keep it SOMEWHAT civil. They tried to FORCE fake Orwellian civility on us. In response, we CHOOSE true civility to defend our precious FREEDOM from THEM.
Our rules began with the civility of the Old Treehouse, later to become the Wolverinian Empire, and one might say that we have RESTORED THE OLD REPUBLIC – the early high-interaction model of the Treehouse – except of course that Q discussion is not only allowed but encouraged, and speech is considerably freer in other ways. Please feel free to argue and disagree with the board owner, as nicely as possible.
Please also consider the Important Guidelines, outlined here in the January 1st open thread. Let's not give the odious Internet Censors a reason to shut down this precious haven.
---
SAY IT LOUD, AND SAY IT PROUD!
"MR. PRESIDENT – I AM PRAYING FOR YOU!"
---
AND WHAT TIME IS IT?
TIME TO….
DRAIN THE SWAMP
Our movement

Is about replacing

A failed

And CORRUPT

Political establishment

With a new government controlled

By you, the American People.

Candidate Donald J. Trump
---
Also remember Wheatie's Rules:
No food fights.
No running with scissors.
If you bring snacks, bring enough for everyone.
---
First things first – I have a QUESTION.
I've never been clear on the whole "marker" thing with Q.
Consider the following context.
---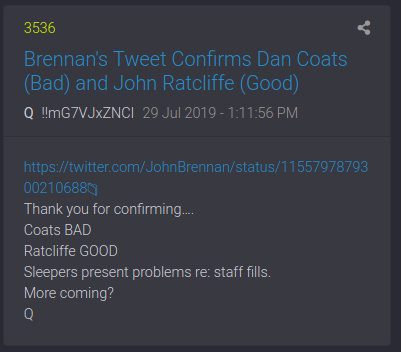 Brennan's Tweet Confirms Dan Coats (Bad) and John Ratcliffe (Good)

Q!!mG7VJxZNCI29 Jul 2019 – 1:11:56 PM

https://twitter.com/JohnBrennan/status/1155797879300210688📁

Thank you for confirming….

Coats BAD

Ratcliffe GOOD

Sleepers present problems re: staff fills.

More coming?

Q

Q Post 3536
---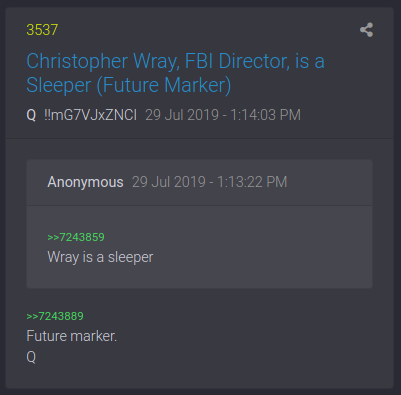 Christopher Wray, FBI Director, is a Sleeper (Future Marker)

Q!!mG7VJxZNCI29 Jul 2019 – 1:14:03 PM

Anonymous29 Jul 2019 – 1:13:22 PM

>>7243859

Wray is a sleeper

>>7243889

Future marker.

Q

Q Post 3537
---
Q is being very interesting in these two posts.
I won't get into "sleepers" until the discussion, although I think it's very interesting to contrast Q's repeated earlier "Trust Wray" drops with Q's somewhat tangential reply to the accusation that Q is a "sleeper", of "Future marker."
Now I need to ask something here….
What the heck is a "marker", and how do they work?
I know this is a big part of Q lore, but it has never been clear to me.
So I'm asking y'all please give me YOUR understandings of "marker"!
ANYWHO……..
I love that we're getting some clarity now.
It's going to be a big week. Followed by a BIG MONTH.
Seatbelts!
W