Welcome to Friday's OPEN THREAD at the QTree! It's the weekend and time to crack open a beer and put some steaks on the grill! Thank you for the Thursday hand-off TrumpIsMine. Thank you to Wolfie for keeping us all organized, up and running. What would we do without FLEP's News Roundup to keep up? Thank you, Flep. Hat tip and a hearty thank you to Wheatie, Dep, BakoCarl, Michael, all contributors and the lurkers!
We don't believe in political correctness at QTree. Free Speech is practiced here. ENJOY IT. Use it or lose it. This board will remain a REFUGE for those who need civility, either some or all of the time. Important Guidelines are outlined here in the January 1st open thread, with an addendum on 20191110. In other words, please keep it SOMEWHAT civil. We have a new board – actually a new SITE – called The U Tree – where people can take each other to the woodshed without fear of censorship or moderation.
What a week we've had. We've gone from India, with images of hundreds of thousands of Indian citizens gleefully welcoming our President, FLOTUS, and delegation in grand fashion……. and in a small overlooked news item, Sec Wilbur Ross traveled on to Pakistan. Hmmmmm! The President came home with a 3 billion dollar military sale but did not buckle on a larger trade deal. Good. The USA is in a winning position and he won't sign unless it's good for American citizens. We want "Reciprocity".
When the President returned home, he was greeted by news of massive selloffs in the stock market and a media intent on causing a panic over Coronavirus. News out of Italy/Iran and South Korea sparked concerns over the virus spreading. In South Korea, we learned over 800K people signed a petition calling for the impeachment of President Moon, because he did not act fast enough to close the borders to Chinese travelers, …..which makes Trump's decision to close travel to those from China, a month ago, quite wise. THUS, Italy's politicians and other country's leaders reacted severely to any threat of the virus….. which made the media salivate. The President addressed the nation on Wednesday night.
The reaction in the media reminds me of an anecdote I learned long ago, told to me by a seasoned fund manager. He said, "I could hire anyone to work for me…… When everything is going well, it wouldn't matter if I hired people straight out of the phone book, but the reason I hire the best in the business, seek them out and pay them more, is because there will be a problem/disaster/catastrophe in the next ten years. During that moment of crisis, decisions made by savvy and calm employees will be all that stands between me and the sharks."
It's why we hired Donald Trump as President, for a moment such as…. Coronavirus.
In other news, well out of the headlines, the President's Judicial Armada plugs along, the Border Wall continues adding mileage, and the Trump Admin won big in the Appeals Court for a ruling on restricting block grants to Sanctuary Cities. Promises made, promises kept, the list of accomplishments continues.
The Dems are annihilating each other in their debates and on the campaign trail. We've had fun watching the implosion on several Dem Debate Threads and the forecast for next week is "100% chance of continued amusement".
Tonight, the President travels to South Carolina, for a rally before South Carolina Primary. I've already started marinating the ribs for the grill. We can sip tea, or share a few Mint Juleps, comfortable with our Stable Genius, while the Dems muddy themselves in the gutter. Full Debate Thread will go up after midnight. Surely, there are already people in line. Ya'll can come visit me at the B&B while we're in South Carolina.
Make sure you rest up over the weekend because we have another rally in North Carolina on Monday night, ahead of the Super Tuesday primary. It is election season.
"Our movement is about replacing a failed and corrupt political establishment with a new government controlled by you, the American People." Candidate Donald J Trump
Remember Wheatie's Rules:
No food fights.
No running with scissors.
If you bring snacks, bring enough for everyone.
If you're up past midnight, take a walk outside and look at the Moon and Venus "kiss" each other. Kind of cool.
Say a little prayer for the President and his family/team. It won't hurt you, and he needs all the help he can get.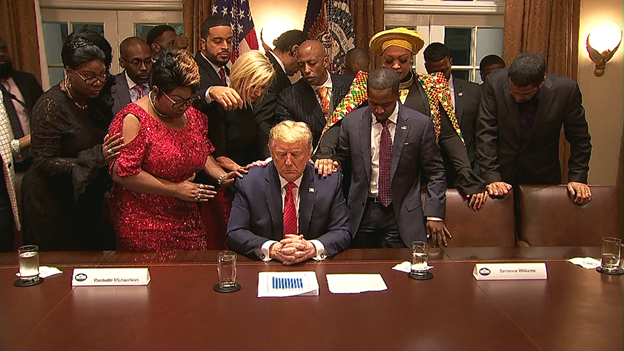 Until next week, Remain Calm and Rock On………
See you all tomorrow morning at Wheatie's treehouse!