This Superlative Sanctuary Sunday Open Thread, with full respect to those who worship God on the Sabbath, is a place to reaffirm our worship of our Creator, our Father, our King Eternal.
It is also a place to read, post and discuss news that is worth knowing and sharing. Please post links to any news stories that you use as sources or quote from.
In the QTree, we're a friendly and civil lot. We encourage free speech and the open exchange and civil discussion of different ideas. Topics aren't constrained, and sound logic is highly encouraged, all built on a solid foundation of truth and established facts.
We have a policy of mutual respect, shown by civility. Civility encourages discussions, promotes objectivity and rational thought in discourse, and camaraderie in the participants – characteristics we strive toward in our Q Tree community.
Please show respect and consideration for your fellow QTreepers.
Before hitting the "post" button, please proofread your post and make sure you're addressing the issue only, and not trying to confront the poster.
If you feel the need to bare your fangs, we have a companion site – called The U Tree – where you can run wild and free with the Wolfpack where all legal free speech is allowed.
But NOT HERE in The Q Tree. Personal attacks, name calling, ridicule, insults, baiting and other conduct for which a penalty flag would be thrown are VERBOTEN.
In The Q Tree, we're compatriots, sitting around the campfire, roasting hot dogs, making s'mores and discussing, agreeing, and disagreeing about whatever interests us. This board will remain a home for those who seek respectful conversations.
Please also consider the Important Guidelines, outlined here. Let's not give the Internet Censors a reason to shut down this precious haven that Wolf has created for us.
---
The Storm is upon us.
Please remember to Pray for our President.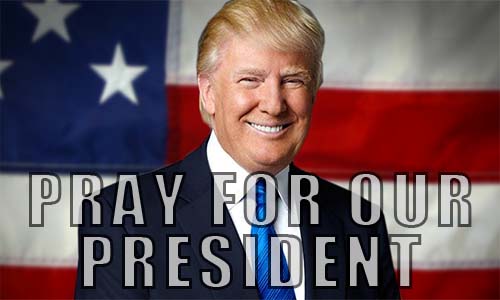 ---
AND WHAT TIME IS IT?
TIME TO DRAIN THE SWAMP!!!
Our movement is about replacing a failed and CORRUPT political establishment with a new government controlled by you, the American People. ~ Candidate Donald J. Trump
---
Also remember Wheatie's Rules:
No food fights.
No running with scissors.
If you bring snacks, bring enough for everyone.
---
---
On this day and every day –
God is in Control
. . . and His Grace is Sufficient, so . . .
Keep Looking Up
---
Hopefully, every Sunday, you can find something here that will build you up a little . . . give you a smile . . . and add some joy or peace, very much needed in all our lives.
"This day is holy to the Lord your God; do not mourn nor weep." . . . "Go your way, eat the fat, drink the sweet, and send portions to those for whom nothing is prepared; for this day is holy to our Lord. Do not sorrow, for the joy of the Lord is your strength."
---
Not Of This World
John 17:14 I have given them your word and the world has hated them, for they are not of the world any more than I am of the world.
John 17:14 . . . for they [we] are not of this world . . .
Philippians 3:20 . . . we are citizens of heaven . . .
Romans 12:2 Do not be conformed to this world . . .
Ephesians 5:7 . . . do not associate with them . . .
2 Corinthians 6:17 . . . be separate from them . . .
So, is that it? As Christians we need to isolate ourselves from this fallen world and all of its evil influences?
Of course not.
We are in this world. To be more specific, God has placed us in this world. And we are to let our light so shine among men that they see our good works (that God prepared beforehand for us to do) and thereby glorify our Father in heaven. (Ephesians 2:10, Matthew 5:16)
John Bunyan was right. We are pilgrims here, poor wayfaring strangers traveling through this weary land, until we take up our eternal citizenship in heaven.
---
How does this "in the world but not of the world" thing really work? What does it mean to follow Christ in a fallen world?
Anyone who says he is a Christian must live as Christ did. (1 John 2:6)
Does this mean we all must become itinerant teachers and preacher's of God's Word, wearing sandals and working our way through the countryside gathering disciples and trying to convince people to trust in God?
Again, of course not!
Jesus was raised, along with His brothers and sisters, by His mother, Mary and father, Joseph, a tekton by trade, a laborer or workman, possibly a carpenter or builder. He was raised, probably among similar class families, in Nazareth, a region of Galilee, two thousand years ago. Jesus and His family undoubtedly worshiped God at the local synagogue and observed the Jewish holy days of the time.
After the start of His ministry, Jesus was constantly among the people, mostly Jews, but, occasionally, gentiles. He did eat and drink with sinners (Luke 5:29-30), attended at least one wedding (John 2:1-11), and was an invited guest in the homes of several people (Luke 7:36). Undoubtedly, there were many other of such instances.
At times, Jesus would get away from the press of the crowds with His closest disciples. And, I would believe, during those times He would rest and relax a bit, enjoying the fellowship of those around Him. I also believe at those times, and others, He would appreciate the warmth of the sun, a cooling breeze, the smell of newly plowed ground, the sounds of the birds around Him, and, perhaps, the unexpected pleasure of some honey, or seasonal olives, grapes, dates or figs with His normal staples of gritty bread and fish.
Jesus was definitely in the world. But, of the world? That's entirely another matter.
---
Jesus is the embodiment of His Father in heaven, having the overarching characteristic of perfect love, agapé love, that permeates His thoughts, words and actions.
So, how does agapé love manifest itself in the world? In many ways, as evidenced by God's Word: by love, joy, peace, patience, kindness, goodness, faithfulness, gentleness and self-control.
Agapé love does not envy, it does not boast, it is not proud. It does not dishonor others, it is not self-seeking, it is not easily angered, it keeps no record of wrongs. Agapé love does not delight in evil but rejoices with the truth. It always protects, always trusts, always hopes, always perseveres. Agapé love never fails.
---
Jesus had friends . . . His disciples . . . but they, all of them, were more than just friends. They were His family: "For whoever does the will of God is My brother and My sister and mother."(Mark 3:35)
Jesus associated with sinners and tax collectors and the like because "It is not the healthy who need a doctor, but the sick. I have not come to call the righteous, but sinners." (Mark 2:17) He loved them, agapé love, love that seeks their best welfare . . . but He was not, in our customary usage, their friend, even though He is the best Friend a sinner will ever have.
And so Jesus, our Savior, our Great Example, shows us how to be in the world but not of the world. It's the difference between physical location and purpose of action.
---
---
Paul and Peter follow up with their teachings on Christian behavior in our fallen world-
Only conduct yourselves in a manner worthy of the gospel of Christ, so that . . . you are standing firm in one spirit, with one mind striving together for the faith of the gospel; (Philippians 1:27)
Conduct yourselves with wisdom toward outsiders, making the most of the opportunity. Let your speech always be with grace, as though seasoned with salt, so that you will know how you should respond to each person. (Colossians 4:5-6)
Therefore, prepare your minds for action, keep sober in spirit, fix your hope completely on the grace to be brought to you at the revelation of Jesus Christ. As obedient children, do not be conformed to the former desires which were yours in your ignorance, but like the Holy One who called you, be holy yourselves also in all your behavior; (1 Peter 1:13-16)
Live such good lives among the pagans that, though they accuse you of doing wrong, they may see your good deeds and glorify God on the day he visits us.  (1 Peter 2:12)
---
Therefore I urge you, brothers, on account of God's mercy, to offer your bodies as living sacrifices, holy and pleasing to God, which is your spiritual service of worship. Do not be conformed to this world, but be transformed by the renewing of your mind. Then you will be able to test and approve what is the good, pleasing, and perfect will of God. (Romans 12:1-2)
---