Thanks to Cthulhu, we were warned EARLY about Apple's surveillance plans.

Sounds very innocent, right? I will explain exactly why this is not. This is INCIPIENT POLITICAL SPYING AND PRETEXT FOR ARREST.
"But it's for the CHILDREN!"
You remember the last people on the left who used that line to "save children"?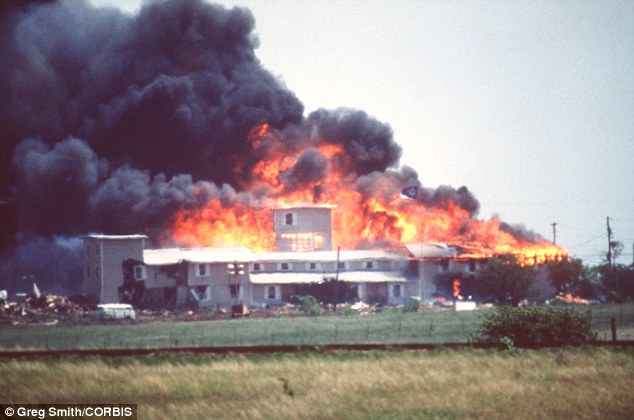 THEY'RE BACK.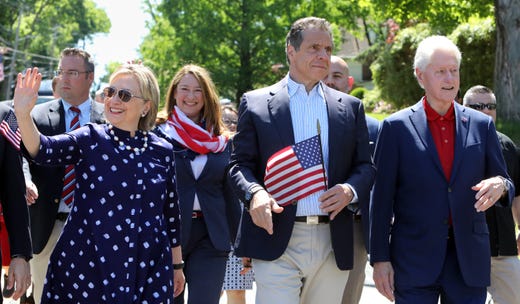 Apple can no longer be trusted, and they are accelerating their deployment of surveillance technology to serve the LEFT at a breakneck pace. Even by my Suspicious Cat standards, it is an ALARMING speed.

In my opinion their spying software is already a DONE DEAL and it's READY TO DEPLOY.
They have very likely been alpha testing it on people already.
I just got an email from Apple, inviting me to help beta test iOS 15.
You want to know what I think of that?
NO. F***ING. WAY.
But it gets worse. It's not just the fact that it's ready, and they will not be talked out of it.
It's not just WHY they're doing it, which is why they will not be talked out of it.
It's that they are lying about everything. And I will explain.
My advice to everybody……
GTFO!!!
---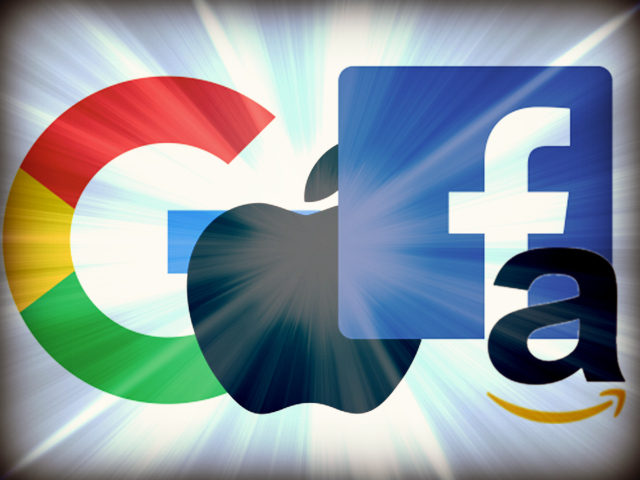 Apple is NOT the Same Old Apple
Apple today is not the Apple of Steve Jobs. This should be fairly obvious to everybody. I think Jobs had some kind of understanding of why Apple needed to avoid being equated with leftism.
The problem is that the true keys to the empire all really belonged to Steve Jobs. When he handed the company over to a man who would ultimately betray half of Apple's customers, Apple was done. The only question was how long Apple would take to fully betray ALL of its customers, and for those customers to REALIZE IT.
Now would be a good time to join those who can see the betrayal.
I never trusted Tim Cook when he said that Apple was dedicated to privacy. There was a part of me that wanted to believe that line, but I can say now with no reservation, that part is a CHUMP. I slap that part and say WAKE THE F*** UP.
Tim Cook is a political animal. And his political friends are not nice people. Not if you are US.
Buzzfeed: Apple CEO Tim Cook To Host Hillary Clinton Fundraiser
Cult of Mac: Tim Cook to host fundraiser for Hillary Clinton
Hillary Clinton always wanted "gatekeepers" on information. She just needed the right CHUMP to bring over to her viewpoint.
So how did Hillary World convince Tim Cook to abandon what principles he might have had?
---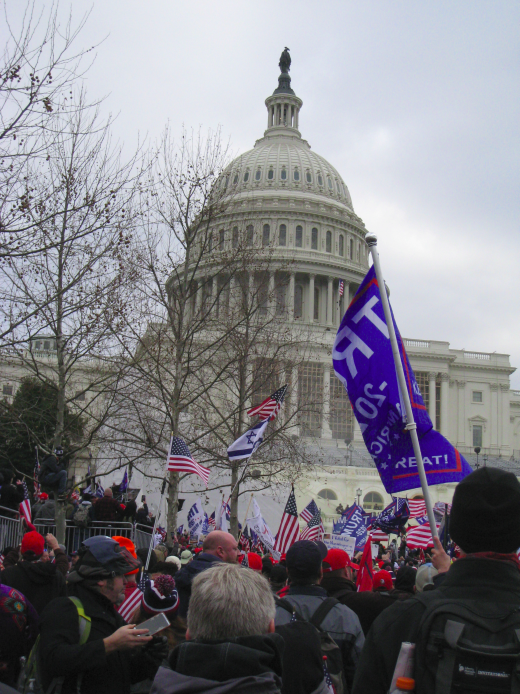 Theory: It's All About January Sixth
Influencing the influencers is old hat.
Influencing the people who HOST the influencers is where it's at.
So influencing Tim Cook to break his pledge on privacy MATTERED. It was USEFUL – incredibly useful.
One of the real advantages of Nancy Pelosi's little SCAM on January Sixth was the shock value for Democrats.
Part of what shocked Democrats was the fact that – yeah, in their heart of hearts they know – Biden didn't win.
They were, however, OK with that bogus victory, as long as it didn't lead to problems for them.
If Trump supporters would have had a nice, peaceful, but very loud rally at the Capitol, the Dems would have lost a HUGE portion of mindshare on the stolen election. Many more Democrats would have thought – deep down – "Yeah. No way Biden won."
The Dems couldn't have that. So they faked attacks inside, provoked the crowd outside, and their plants began breaking windows and doors to bring in the CHUMPS.
One of the best results for Mafia Nan and Chris Wray was this. It SCARED the Democrats and RINOs.
I personally think that Tim Cook was brought to a state where he literally FEARED an actual "insurrection". That fear was useful, and all Cook's half-hearted lip service to "privacy" just DIED.
Now – I do know that Apple iPhones and Apple iCloud were used by Dodge and FIB to go after "insurrectionists" in the days after January Sixth. That happened very quickly and without the slightest pushback from Apple.
I knew at that point that Apple could not be trusted. And so I just waited for confirmation that Apple has completely gone over to the dark side.
Well, we have that now.
---

Apple's Alibi
On August 5, Ars Technica (or Arse Technocratica, as I like to call them) produced some only mildly critical reporting on Apple's move.
That link is worth reading, if you plan to read nothing else.
LINK: https://arstechnica.com/tech-policy/2021/08/apple-explains-how-iphones-will-scan-photos-for-child-sexual-abuse-images/
ARCHIVE: https://archive.fo/g0SN2
Now – without getting into the details of it (they're very technical), the discussion is basically about HOW Apple plans to check for "certain pictures" on people's phones. Apple gives a very skeletal but seemingly exact and assuring description of their process, and basically says "don't worry about it – nobody at Apple will be looking at your photos – they're still private."
I can only begin to tell you how much of a lie this is.
First of all, you are assuming that Apple is telling you the truth. It's very HARD to throw what they say out completely, and not believe them AT ALL, and be fully skeptical, and make them "prove their way" back into trust, but that is really what you need to do.
So I want you to TRY – even though it's difficult – to just say…..
"HMMM – MAYBE APPLE IS LYING ABOUT SOMETHING HERE."
See? Much easier. Just open yourself to the possibility that Apple – wonderful Apple – might just be pushing a WEE FIB on us.
Now – before I get into MY criticisms, I'm going to present a few other people who have been critical, just so that you understand – this is not just Wolf – this is a LOT of people.
Here is an "Apple world follower" article in iPhone Hacks. This one really shows all aspects of the "it's for the CHILDREN" psychological operation.
---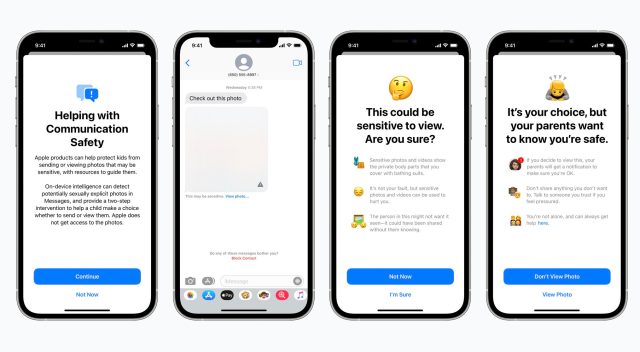 Apple's Plan to Scan iCloud Photos Met with Backlash; Internal Memo Promises to Address Concerns
LINK: https://www.iphonehacks.com/2021/08/apple-plan-scan-icloud-backlash-internal-memo-addresses-concerns.html
ARCHIVE: https://archive.fo/obsQA
---
It's not every day that Tim Cook goes Bill Clinton "for the CHILLDRUN" and you get comments like this:
And given that Twitter is so bad now, let's save that Tweet as an image.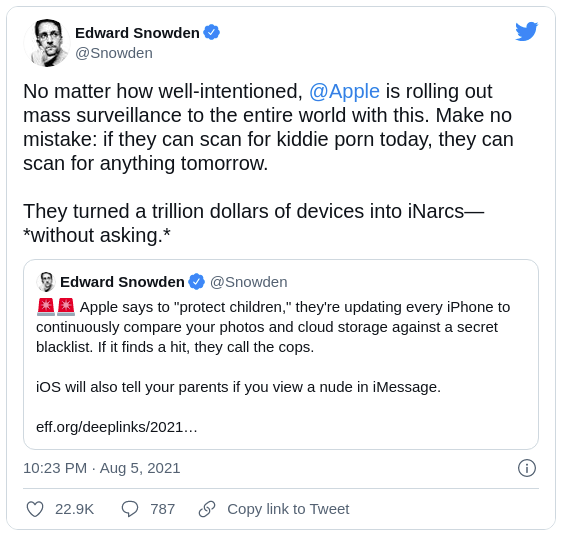 What Snowden is saying is EXACTLY what I thought when I read the Ars Technica article. Snowden knows capabilities from the inside. I know them from the outside. He is exactly right, IMO.
The criticisms of EFF.org (Electronic Frontier Foundation), one of the biggest and most important privacy advocates, are mentioned in this same article, but they are better seen on the EFF website.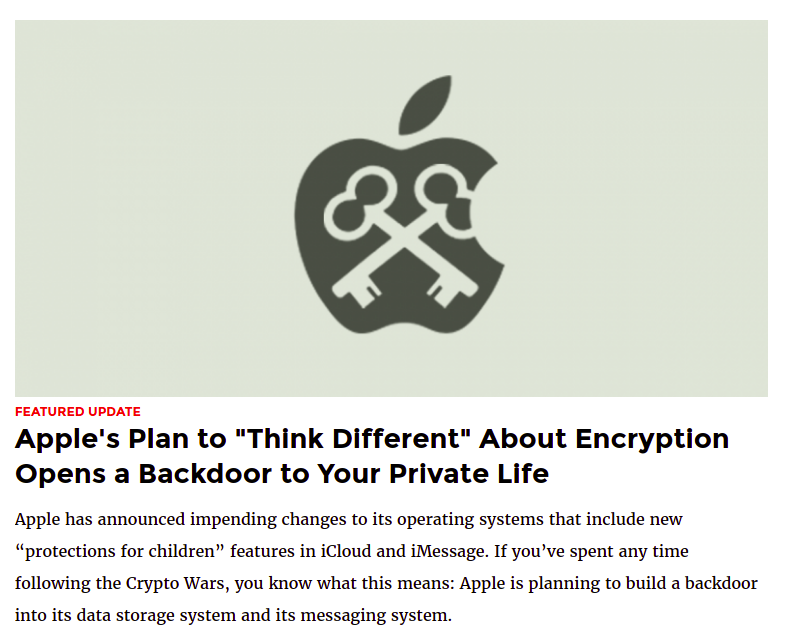 LINK: https://www.eff.org/deeplinks/2021/08/apples-plan-think-different-about-encryption-opens-backdoor-your-private-life
ARCHIVE: https://archive.fo/2nRbe
---
Now, I don't particularly like this explanation by EFF, because MY ANALYSIS, knowing how Democrat lies work, shows that the situation is far, far worse than just some "back door" into your phone.
This is ROUTINE SURVEILLANCE BUILT IN.
EFF, mostly the good liberal sheep that they are, don't understand that the situation is FAR WORSE than what they think is there. They are essentially being LULL BOTS in this context.
They're "friends of Democrats" wringing their hands and going "I'm not so sure about this".
They have NO IDEA how much worse things really are. And I'll explain that shortly.
---
Let's move on now, to 9 to 5 Mac, which shills hard FOR the new Apple "features".
LINK: https://9to5mac.com/2021/08/06/apple-internal-memo-icloud-photo-scanning-concerns/
ARCHIVE: https://archive.fo/qwLZi
Read this article and you will see – there is NO talking Apple out of this suicidal move.
China has effectively KILLED Apple, and the people at Apple have NO CLUE.
BECAUSE CHILDREN!!!
It's nuts. Absolutely nuts.
Moving on again, let's look at ComputerWorld. This is about as mainstream as you can get, and these folks are basically taking Snowden's position.
---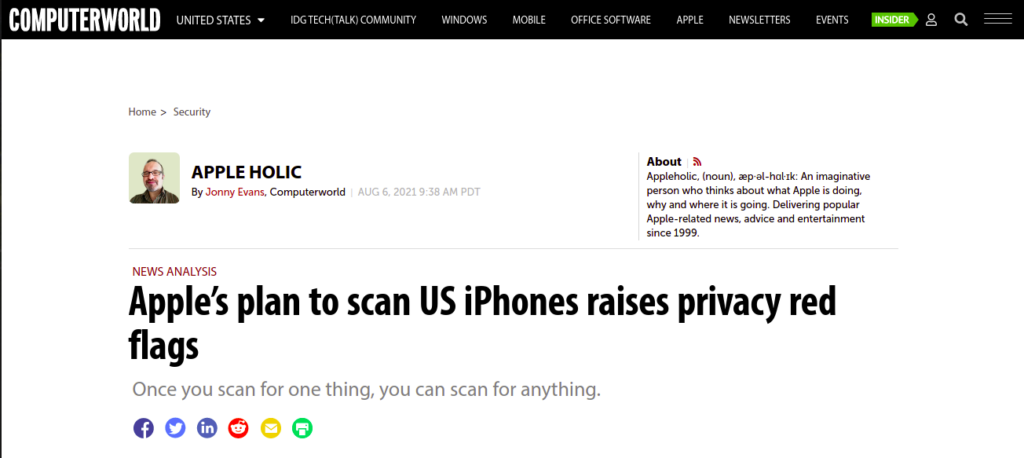 LINK: https://www.computerworld.com/article/3628454/apples-plan-to-scan-us-iphones-raises-privacy-red-flags.html
ARCHIVE: https://archive.fo/wynH7
Normally, one would not think there might be a need to archive any article in ComputerWorld, but quite bluntly, we live in extraordinary times.
Removal of speech by either AUTHOR or AUTHORITIES is a SECOND WORLD PROBLEM, and that is exactly where we are going.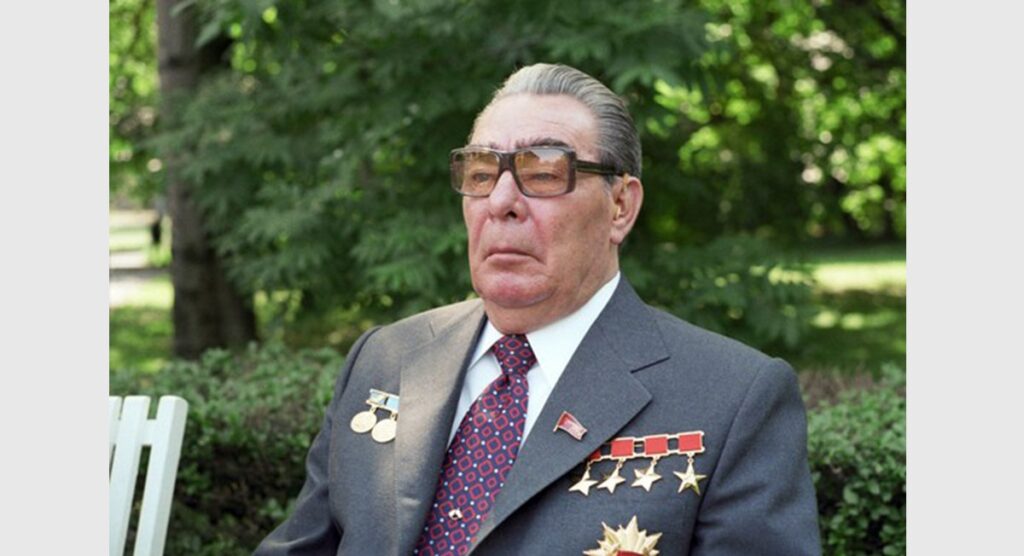 But check out that statement. It's the BOTTOM LINE.
"Once you scan for one thing, you can scan for anything."
I find it HIGHLY IRONIC that the other side LEVERAGED their own child trafficking against us here, but yeah. They did.
THAT is Democrat evil.
They even nailed a substantial fraction of the Q army this way, because – and I'm being blunt but kind – too many were in it ONLY because of the fight against pedophiles. Many (not all, but many) of those folks are SO single-minded, they are quite ready to throw away the Constitution if they hear the right buzzwords like "FOR THE CHILDREN".
Yeah, think about it. You will NOT hear a peep out of many of the "BUT IT'S CHILDREN" crowd.
Now – let's get down to a very meaty criticism of what Apple is doing.
This is VERY analogous to Kary Mullis warning about the ABUSE of PCR testing.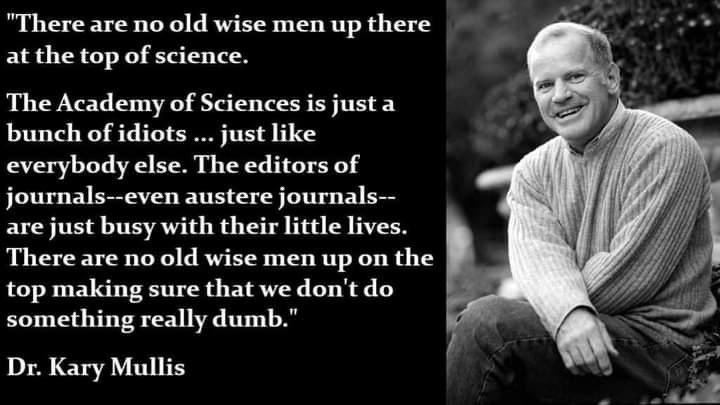 What if what Apple is doing GIVES WAY MORE FALSE POSITIVES THAN THEY ARE ADMITTING?
YEAH. It's THAT BAD.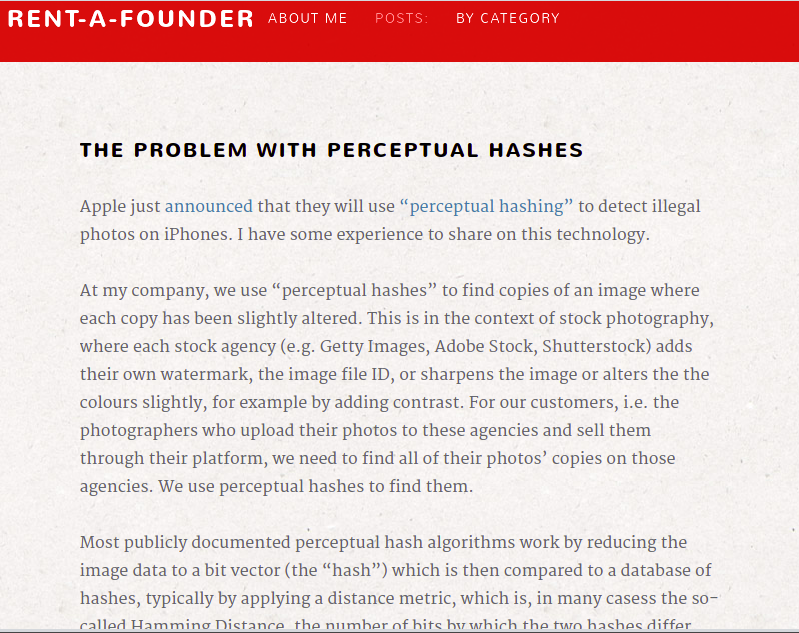 LINK: https://rentafounder.com/the-problem-with-perceptual-hashes/
ARCHIVE: https://archive.fo/VwKMo
Yes – read that article, because THAT is where we realize that this is just one more INTENTIONAL BOTCH like the PCR tests.
You starting to see how dangerous this is?
It gets worse.
---
The thing that shocks me most can be described by creating an analogy.
Watch closely.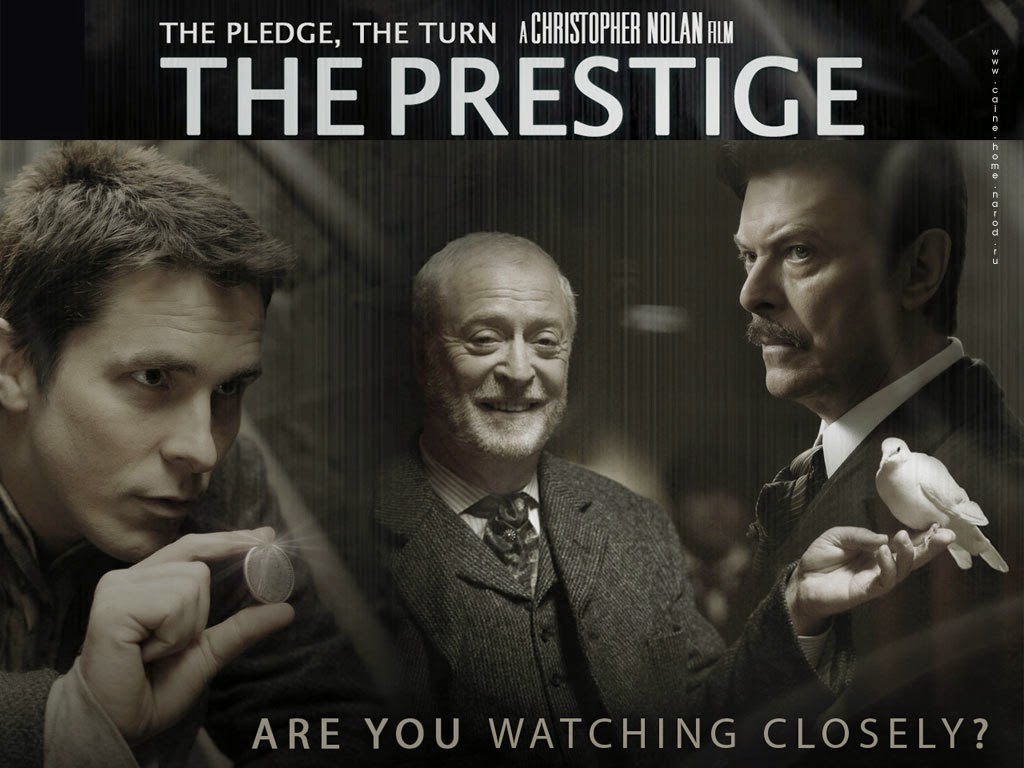 "We, the FBI, needs to catch terrorists and drug cartels laundering money. We also need to catch financial criminals. But unlike Wall Street professionals, we're not experts in these financial matters. Likewise, we need to catch cybercriminals, and we're good, but we're not the best. Not like people who do this for a living."
"Therefore, we would like to let two contractors be the ones who upload the data that we'll be looking for. It's very harmless – the FBI will not be involved in looking at people's financial data or their cyber behavior. Instead, we will use hashes – encrypted numerical data for the suspect transactions and internet packets – supplied directly from our two respected expert contractors, Fusion GPS and Crowdstrike."
---
Do you see it now?
It is PLAUSIBLE DENIABILITY for Apple, and ACCESS FOR CONTRACTORS.
The first contractors will be unknown (to us) experts in going after child pornography.
ONLY if they find something that is approved by Wokesters at Apple, will the FBI be called in.

I'm gonna be blunt. I don't TRUST the FBI that this guy was really a child pornography suspect. What if they "trumped up" a charge against him?
I mean, they did it to a sitting President of the United States. Why not some average patriot?
And those contractors could be anybody. What's to prevent them from harassing – from SWATTING – a guy like Andrew Torba, who they HATE?
And what if they expand this stuff to HATE SPEECH and HATE MEMES?
Who would the contractors be?
ADL?
SPLC?
Who's next?
Next, it could be BLM.
Next, it could be those "Antifa profs".
Next, it could be those "QAnon experts".
No, my friends. This all goes to a VERY bad place.
AND IT GETS WORSE.
I have reasons to believe that Apple is actually LYING about the technology they want to put on our phones.
I think that the lies go beyond things like HIDING the "GARBAGE IN, GARBAGE OUT" (GIGO) risks of using third-party contractors who were in NO WAY approved by us or responsible to us.
BECAUSE APPLE IS INDEED HIDING THOSE RISKS.
According to the author above, Apple lied about the success of their algorithms.
Hell – I think they're lying about the algorithms, too. I think they're misleading us as to how the process actually works. I think they're making VERY nondeterministic stuff sound very deterministic, and it's not.
The following mistake is illustrative of BAD ROBOT MATCHES.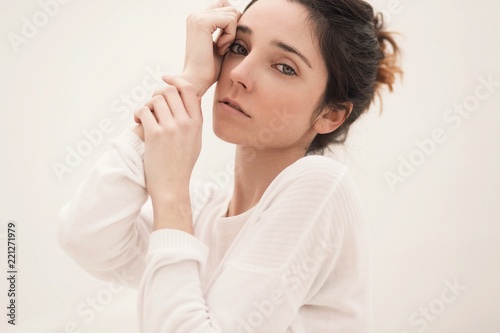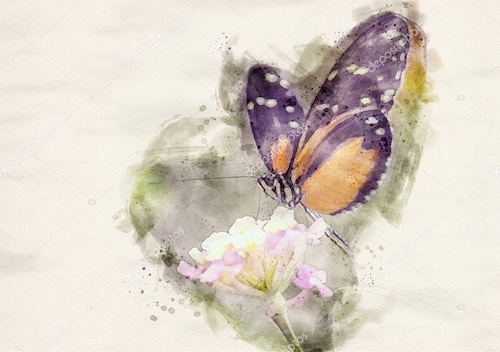 This is ROBOTS, on our phones, SPYING ON US. BADLY.
Robots that will be pretty much "EUA quality" – experimenting ON US.
Sound familiar?
---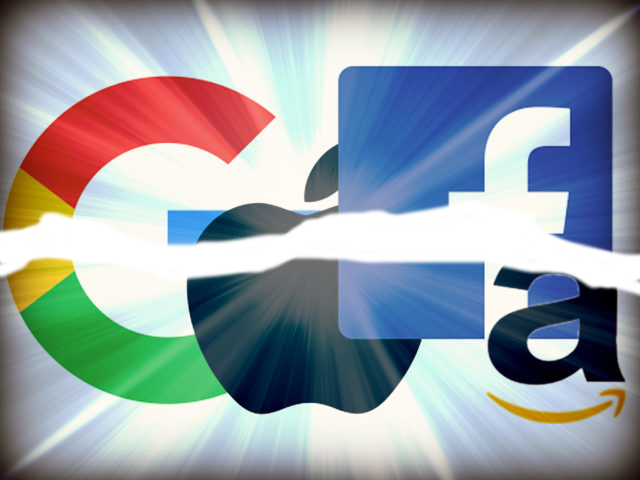 No. Just NO.
Here's my bottom line.
I am getting rid of Apple completely. It's GONE. Scrubbed. History.
The ONLY way I'm keeping my Apple devices is if Tim Cook retires or is FIRED.
That's it. He cannot be trusted. He has WRECKED Apple.
And they're not smart enough to fire that guy, so BYE-BYE, APPLE.
See you in the history books.
W