The REEEEE you are about to hear are Apple employees being cut loose when WOKE goes BROKE.
TL;DR – Apple is definitely full steam ahead on "client side user photo analysis and reporting", and has issued an evasive, sneakily worded denial of concerns about expansions of surveillance, as it rushes the new software into place.
---
You will recall my prior post on this:
---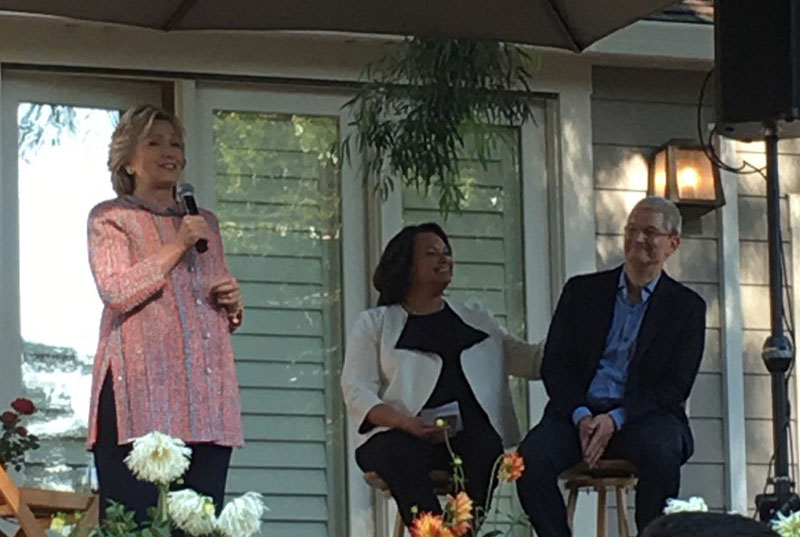 Thanks to Cthulhu, we were warned EARLY about Apple's surveillance plans. Sounds very innocent, right? I will explain exactly why this is not. This is INCIPIENT POLITICAL SPYING AND PRETEXT FOR ARREST. "But it's for the CHILDREN!" You remember the last people on the left who used that line to "save children"? THEY'RE BACK. Apple …
---
It's a very good thing I didn't wait to start checking off "DONE" items on my "GTFO" action list, because Apple just confirmed my suspicions that they are NOT backing down, and moreover that there is trouble ahead.
---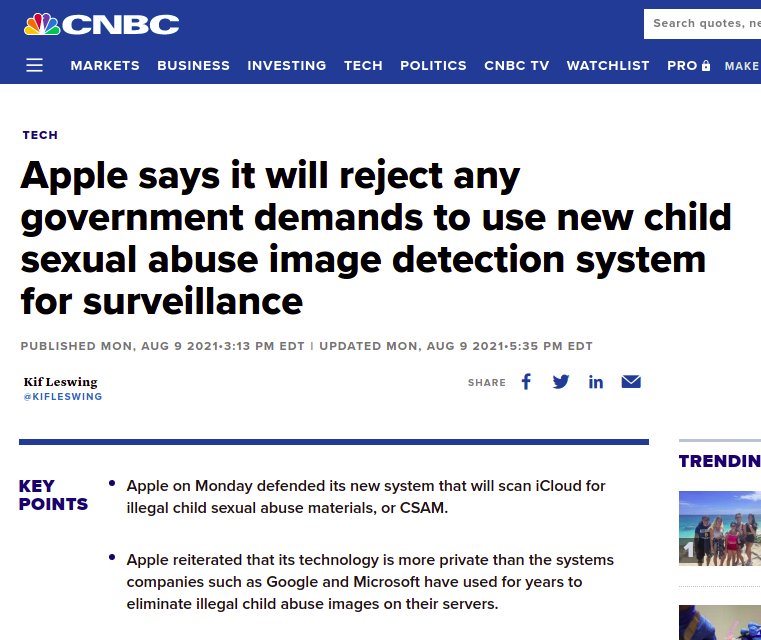 LINK: https://www.cnbc.com/2021/08/09/apple-will-reject-demands-to-use-csam-system-for-surveillance-.html
---
Reading carefully as only a BURNED CHUMP can, it is very clear that Apple is saying WITHOUT SAYING IN PLAIN WORDS that they won't concede to government surveillance demands that they themselves OPPOSE.
ANALOGY: "We're just friends [but if he asks me to run off, I will do it in a heartbeat]."
Apple is not speaking from the heart here, and TRUST is GONE.
You know what I'm saying? There are any number of WORDFARE WAYS for Apple to renege on not allowing surveillance here, after they have designed, implemented, and put into place the KNOWING MECHANISM for such reneging on privacy.
I think everybody who is not satisfied with Apple's message here is seeing the exact same thing that I am seeing.
Apple IS reserving the right to not just allow but implement government and contractor surveillance with which it agrees.
Do I HAVE to repeat the picture?
Let's do it anyway.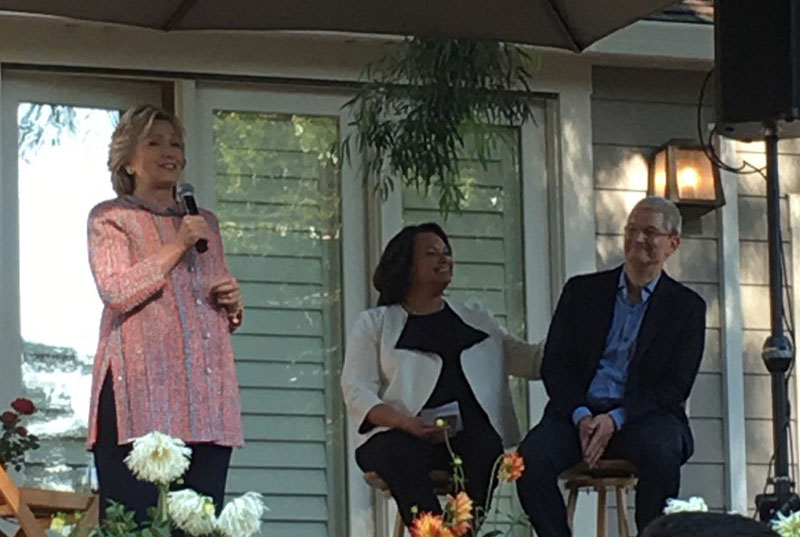 Nah. I'm no longer a chump.
Tim Cook is part of the ELECTION CARTEL. These are the "Friends of Freedom", "Friends of Privacy", and "Friends of the Constitution" who were SILENT.
Martin Luther King Junior was SO RIGHT.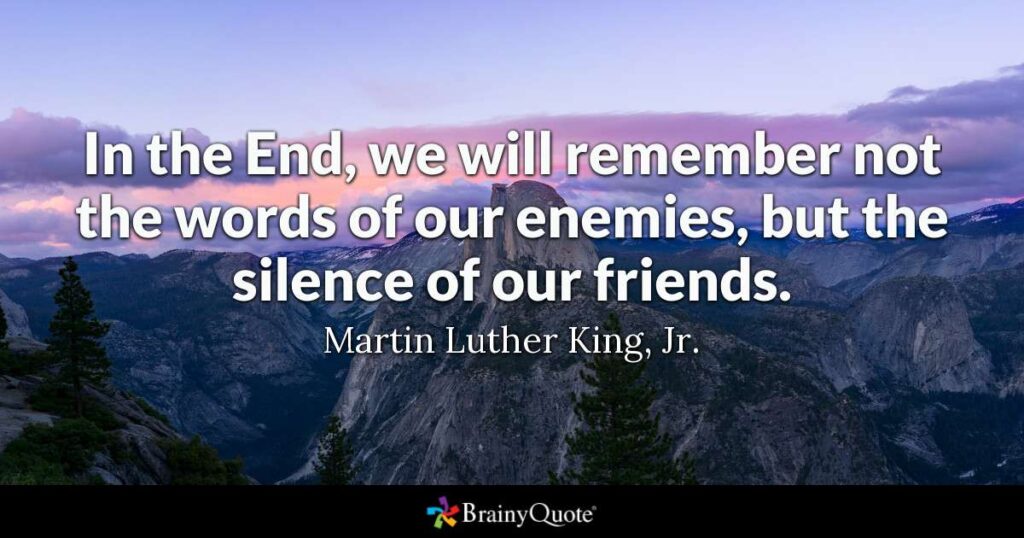 ---
NOW – let me give you some more useful links.
Here is a kinda cute but kinda "jabbed-looking" tech chick with purple hair giving a nice description of what is going on.
Jump to 3:20 to catch the Apple story, or just start at the beginning to hear about more shocking Israeli spy tech.
---
Here is a rather pithy but "cutting right to the chase" report on the privacy concerns.
LINK: https://www.vox.com/recode/2021/8/10/22617196/apple-ios15-photo-messages-scanned
---
Here is another brief summary of criticisms in The Register.
LINK: https://www.theregister.com/2021/08/09/apple_csam_faq/
---

Here is the Ars Technica coverage used as the header.
LINK: https://arstechnica.com/tech-policy/2021/08/apple-says-it-will-refuse-govt-demands-to-expand-photo-scanning-beyond-csam/
---
Finally, it's good to include some "Apple Fanbois who know Apple can do no wrong" – isn't it?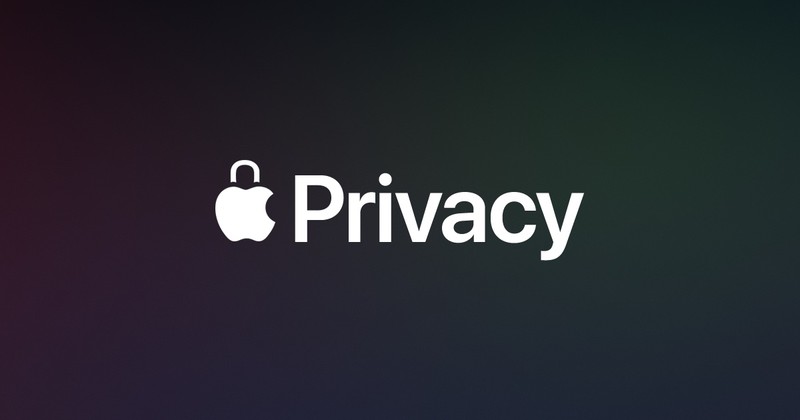 LINK: https://www.macrumors.com/2021/08/09/apple-faq-csam-detection-messages-scanning/
LINK: https://9to5mac.com/2021/08/09/apple-csam-faq/
---
Well, as long as they don't oppose the Vote Cartel, they shouldn't have anything to worry about!
Meanwhile, I'm moving ahead with de-Appling, and not looking back!
W