The Bidenazis and their puppet Mike DeWine have a great plan cooked up for Ohio.
First, I heard about THIS.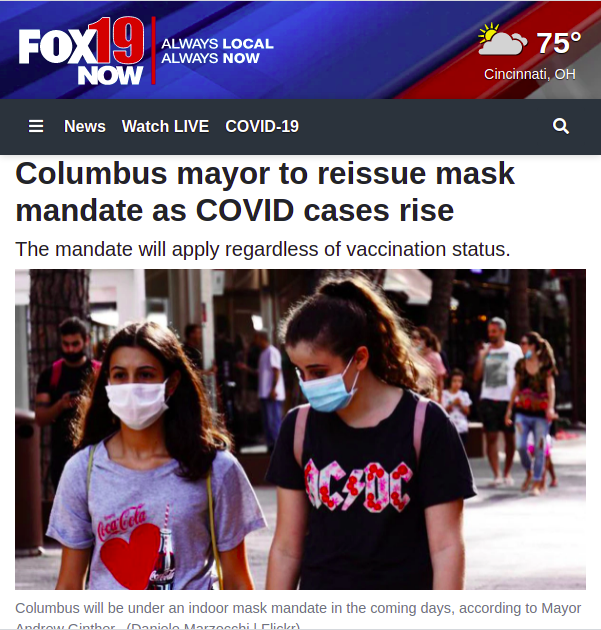 LINK: https://www.fox19.com/2021/09/08/ohios-largest-city-reissues-mask-mandate-covid-cases-rise/
Perfect timing after the CANVASING REPORT FROM ARIZONA, and before the AUDITS, wouldn't you say?
---
---
But this is not happening in isolation of "other items" that are pushing the political animals in Columbus to jump on the stool at the crack of the whip.
Thanks to mollypitcher for spotting this!
---
---
"Nice city you've got there, Andy Ginther. You ready to play ball again?"
When the answer on mask mandates absolutely, positively has to be "yes", having some leverage always makes sure that "no" is not a possibility.
BUT WAIT, THERE'S MOAR.
Where is the "Republican" Governor?
---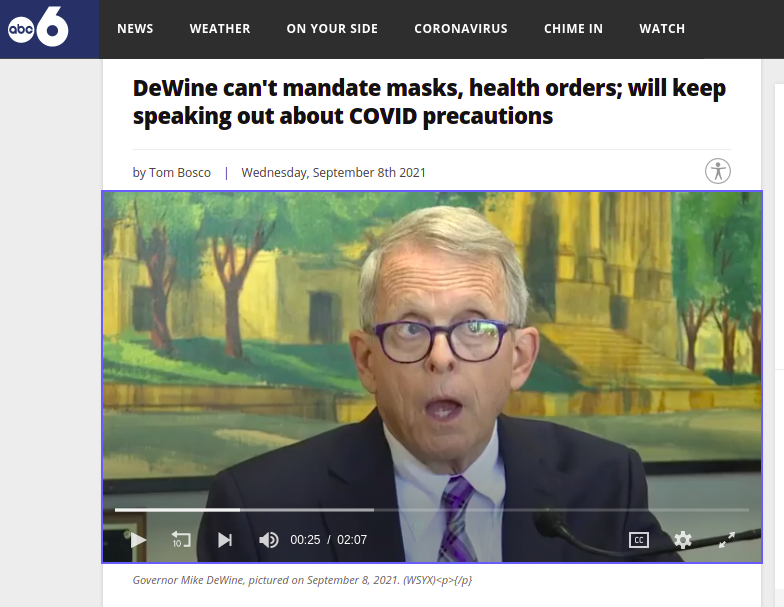 LINK: https://abc6onyourside.com/news/local/dewine-cant-mandate-masks-health-orders-will-continue-to-speak-out-about-covid-precauti
FTA:
COLUMBUS, Ohio (WSYX) — On the same day the mayor of Columbus reinstituted a mask mandate, Ohio's governor reiterated his hands are tied when it comes to health orders. But Mike DeWine said he will continue to speak out on the issue of COVID and how to get Ohio's numbers down.

DeWine said he spoke with Ohio public school superintendents and Catholic diocese schools yesterday, warning them that mandatory masking is the best way to control the spread of COVID in schools. A number of Central Ohio districts are battling high quarantine numbers due to the coronavirus.

"I'll continue to say to all school superintendents in the state of Ohio if you want your school to stay open, if you want kids not to be quarantined, the best way to do that is to put a mask mandate on, at least for the immediate future," DeWine said.Volume 90% DeWine can't mandate masks, health orders; will keep speaking out about COVID precautions

DeWine however cannot make a mandate statewide, at least not without having it overturned by state lawmakers. That's after they passed a law earlier this year limiting his abilities to issue health orders.

Would the governor have revived a mask mandate had lawmakers not taken that action?

"I deal with the world as I find it and the way the world is, and I don't spend a lot of time speculating what would have happened if something else happened," he said.
---
Yeah.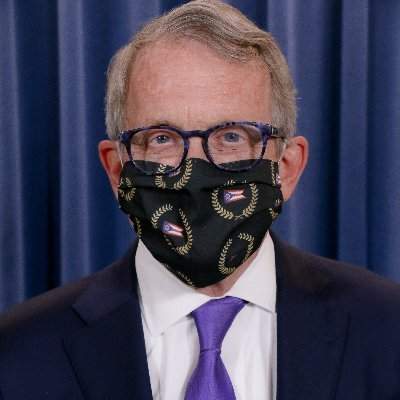 Trust me – this maskie purple Xi-tie would have Ohio in a state-wide mask mandate at the first opportunity he could.
AND THIS, MOST OF ALL.
If Joe Biden attempts to bring Australia-type lockdowns and mandates to America, Mike DeWine WILL NOT STAND UP TO THEM. In fact, he will SUPPORT THEM.
Anybody thinking Jim Renacci might be a good idea?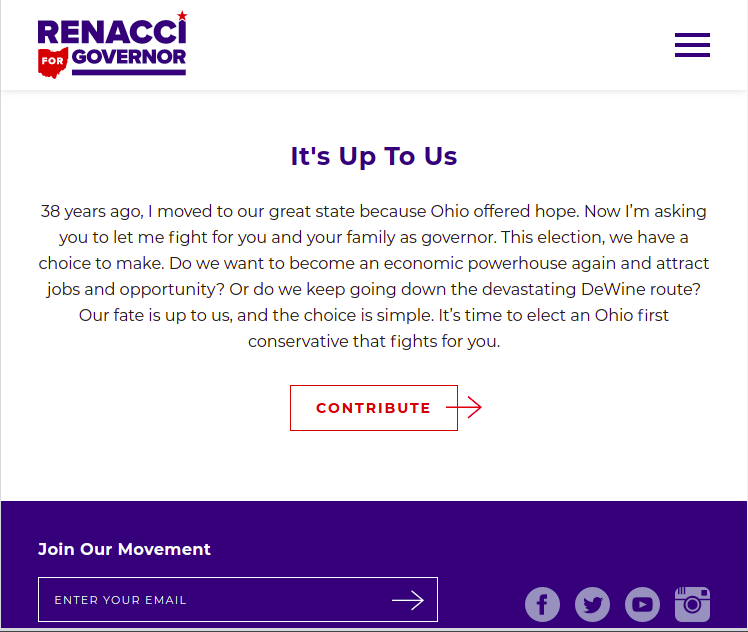 NOW…..
If you don't think this crap is coordinated, check this out.
---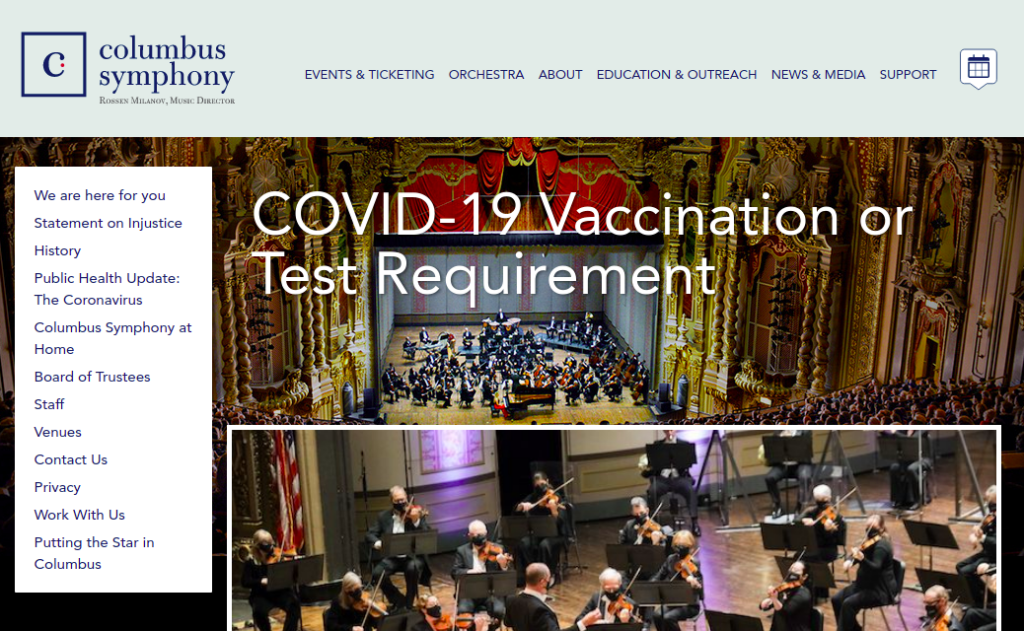 LINK: https://columbussymphony.com/about/covid-19-vaccination-or-test-requirement/
FTA:
At the Columbus Symphony, we pride ourselves on being here for you and our community in meaningful and transformative ways.  This includes the health and safety of our musicians, patrons, volunteers, guest artists, and staff. 

That is why starting September 25th and until further notice, the Columbus Symphony will require all audience members to show proof of vaccination, or a negative COVID-19 test taken within 72 hours before entering the building, or a negative rapid antigen test within 24 hours before entering the building.  Those who are unable to be vaccinated or are ineligible (including children under the age of 12) will be required to provide proof of a negative COVID-19 test taken within 72 hours before entering the building, or a rapid antigen test within 24 hours of entering the building. In addition, all guests will be required to always wear masks inside the venue, including while seated during the performance.

These measures ensure the safest possible environment for everyone to return to the theatre and enjoy the Columbus Symphony's inspiring performances.  Please check our website for any updates before you attend a performance.  Thank you for your continued support and we look forward to seeing you at the Ohio Theatre. 
---
Virtue signaling. Pure, stupid, needless, virtue signaling.
This is not unexpected. The urban end of the artistic world in Ohio was always rabidly anti-Trump during the Trump administration. JUST SAYIN'…..
BUT WAIT – THERE'S MOAR!
Can Columbus ACTUALLY mandate masks?
---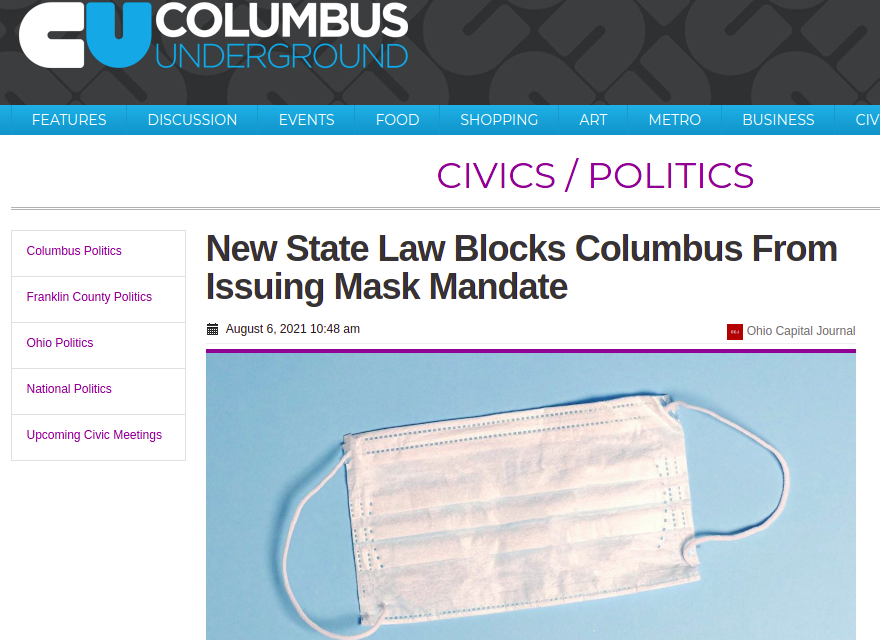 LINK: https://www.columbusunderground.com/new-state-law-blocks-columbus-from-issuing-mask-mandate-ocj1/
Original Article: https://ohiocapitaljournal.com/2021/08/06/new-state-law-blocks-ohios-largest-county-from-mask-mandate-official-says/
FTA:
Amid a COVID-19 surge in Ohio's most populous county, health officials wanted to once again require the use of face masks indoors to slow the spread of COVID-19.

Unlike July 2020, however, this time they hit a wall. State legislation that took effect earlier this summer forbids health departments from issuing blanket health mandates among people not diagnosed with any disease.

So despite a 56% increase in the average daily case rate in the county, which officials attribute to the hyper-transmissible delta variant flooding the state with new cases, the health department says they can do little more than issue a "mask advisory" that's not backed by any force of law.

"This is an advisory. It's not an order and it's not a mandate," said Columbus Public Health Commissioner Dr. Mysheika Roberts at a news conference. "The reason why it's not an order or a mandate is because of state Senate Bill 22, which prohibits us from doing any order that would be a blanket order to the whole population."

This marks one of the first tangible effects of the legislation, which critics called a naked attack on public health, to play out during an ongoing and now again worsening pandemic.

Republicans passed SB 22 without any Democratic support. They even overrode a veto from fellow Republican Gov. Mike DeWine to do so. Ohio was one of eight states as of May 2021 to pass legislation aimed to limit public health authority during the pandemic, according to a review from The Network for Public Health Law. The bill's sponsors did not respond to inquiries.

However, this isn't the only instance of emerging schisms between public health guidance and policy.

Columbus Public Health issued guidance last week recommending schools, some of whom host children 11 and younger who are ineligible for vaccination, to require all students to wear face masks. However, school districts and universities have split on the issue, and health officials said they hope those districts that went mask-optional will reconsider.
MORE…..
---
So are the Bidenazis trying to work around that using a Mayoral EO? SEE BELOW.
If you read the rest of the article, you will learn this critical information. DeWine did a SNEAKY temporary protection from vaccine mandates – NOT the real thing.
---
This summer, Gov. Mike DeWine signed legislation that — effective Oct. 13 — forbids schools and universities from requiring a vaccine, unless it has received full authorization from the U.S. Food and Drug Administration. The COVID-19 vaccines are currently available for use under an "emergency use authorization," a streamlined regulatory process used during public health emergencies.

The new law also prevents schools from treating vaccinated students differently than unvaccinated ones in terms of masking and social distancing. Pending legislation would go even further, essentially banning vaccination mandates from any employer, business, school, insurer, hospital, nursing home and more.
---
Yeah, that PHONY FDA approval really worked out there, didn't it?
Now, how is Ginther working around the Ohio Legislature?
Using LAWFARE.
---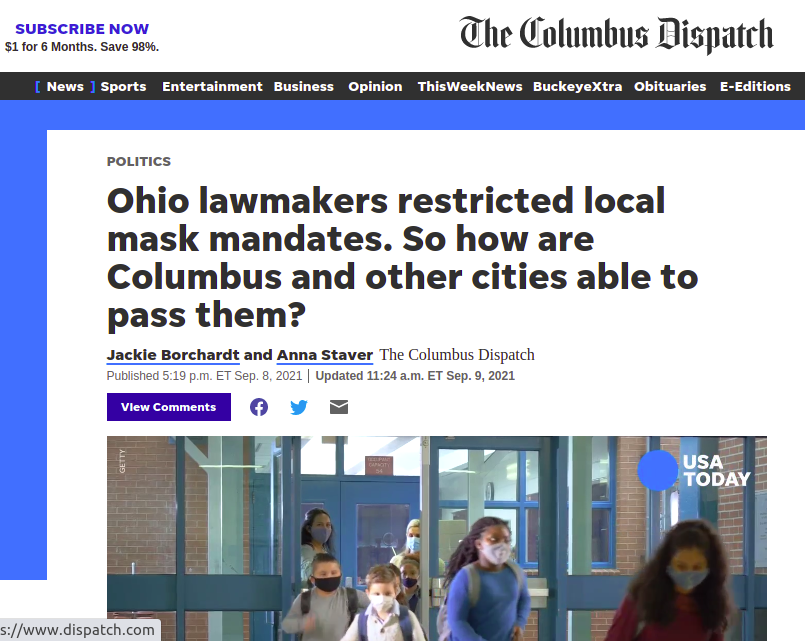 LINK: https://www.dispatch.com/story/news/politics/2021/09/08/mask-mandates-ohio-how-cities-passing-covid-19-restrictions/5775819001/
FTA:
Local health officials have had their hands tied when it comes to issuing mask mandates after the statewide mandate ended in June and a new law took effect prohibiting them from issuing such sweeping health orders.

But mask mandates have been imposed in several Ohio communities in recent months, not by the boards of health but by other elected officials. Columbus Mayor Andrew Ginther announced Wednesday he would reinstate a mandate for all individuals, regardless of vaccination status, with an executive order.

Ohio mask mandate:Columbus mask order to require masks for all publicly accessible indoor spaces

The mandate is not subject to the law, Ginther's office said, because the law only restricted public health agencies from issuing such orders, not city governments. The Ohio Constitution's "home rule" powers granted to cities and villages include the authority to make regulations for public health and safety.
---
SO – here we are.
The DEMON DEMS will not back down.
But we are making progress.
Time for the Legislature to pound these bastards down AGAIN.
And then WE have to primary the RINOs.
W