Risks, Bets, Rewards and Losses – Why Vaccine-Conferred and Disease-Conferred Immunity are Both Proper Personal Gambles When Choice is Free and Enough Truth is Known or Unknown
---
Many of us were shocked that President Trump just showed his "pro-vax" hand in an interview with vaxx nutt Bill O'Reilly, but if you watch Trump long enough, you realize that he very often gets to the optimal perspective before anybody else – even with incomplete data.
It's worth wondering why Trump said what he said, and said it when he said it.
Beyond the "credit" issue – which I can really see for many reasons, not the least of which is because Trump's plan really messed up the Cabal plans on COVID – I think Trump knows people who are seeing the emerging data. And I think they are advising him correctly.
I'm going to try to show you some of that data, and what it means.
Rand Paul is a sharp guy, too. Trump respects Rand Paul. It pays to ask why. I think that part of it is because Rand is a doctor. Trump respects doctors, I am convinced. And Trump knows that doctors differ in their opinions, like everybody else, and that he (Trump) needs to listen to a number of them, to see where the best perspective resides.
Rand is not anti-vaxx. He's pro-natural-immunity. There is a difference.
At the place where Trump's viewpoint and Rand Paul's viewpoint intersect, you will find much truth. I certainly did. And when I added in a few other doctors "on our side", and looked carefully at where I was skeptical of some of their thinking, but also let them convince me to be skeptical of some of my own thinking, I hit the jackpot.
BOTH the vaccines AND the disease make sense as alternative, risky, immunity-conferring antigens. Neither one is obviously superior to the other for everybody, because the landscape of risk and benefit is too complex, and depends far too much on the needs, goals, and medical circumstances of the individual. Worse still, past choices – including accidental ones – affect future choices.
Rand Paul saw right into this – that the CRUX of the problem is that "natural immunity" is being ignored by a monetarily, scientifically, and institutionally compromised medical establishment. Natural, disease-conferred immunity is the BEST CHOICE for many people – particularly when combined with a "delay of onset" strategy, and TREATMENT, which alters the risk/benefit. We have known this all along, yet we have never truly internalized it, because the "Let's You And Him Fight" strategy of the OBAMA MANDATES has widened and deepened the division between those who choose vaccines and those who don't.
AND LOGIC.
Trump GETS THIS. And he said so. We ARE falling into their trap. BUT we can turn that around on a DIME.
It is critical for our side – the free and sane medicine side – to EXPOSE and BASH the performance of the vaccines, because the other side won't do it. But it is also critical that we STAND UP for the freedom for others to take those risky vaccines voluntarily, and accept the truth that it can make sense, during a period where we don't know everything, and MAYBE beyond that, after we know more.
Mandates are absolutely stupid, reckless, and anti-science. They interfere with medicine. The mandating commies need to BTFO. But letting fearful people take a risky vaccine – a personal gamble – is a part of freedom that we have to respect.
I want to show you data that makes this make sense.
---
Some of you may be surprised that I am defending the COVID vaccines AT ALL. At present I have ZERO intention of taking one. For me, and my wife, they are a BAD medical choice. For many others, too.
Well, what if I tell you that in doing so, I can defend disease-conferred immunity EVEN MORE?
What if I tell you that I can now see why, strategically, Trump waited until we "knee-capped" – but didn't kill – the vaccines?
BOTH SIDES HAD TO SEE MORE CLEARLY.
Let me help you see more clearly.
---
Natural Immunity – More Risk With More Reward?
What I just said there is not always true.
For CHILDREN, it appears that the vaccines are MORE RISK, LESS REWARD.
Yeah, Trump was right about that.
It's a NO-BRAINER to NOT, NOT, NEVER, EVER give this shit to kids, and I personally hope that God himself does whatever is needed to save children from the MONSTERS who are injecting them with these RELATIVELY dangerous vaccines.
Kids are being deprived of EXCELLENT natural immunity, for JUNK immunity that makes money for Big Pharma.
Just for starters, we may be condemning these kids to a lifetime of life-robbing spike boosters, just by virtue of a well-understood idea of "original antigenic sin", or OAS. OAS is where one antigen leads to an inappropriate response to a later antigen, vaccine, or infection.
This means that if we give children a misleading FIRST ANTIGENIC STIMULUS, they may then be STUCK with sub-optimal antibody immunity, leaving them for an unknown time at GREATER RISK from the disease. It may very well be that the BEST FIRST ANTIGEN for SARS-CoV-2 is the DISEASE – not a spike protein vaccine.
We don't KNOW what will happen long-term when we inject kids. Or, at least, most of us don't. Maybe Fauci does.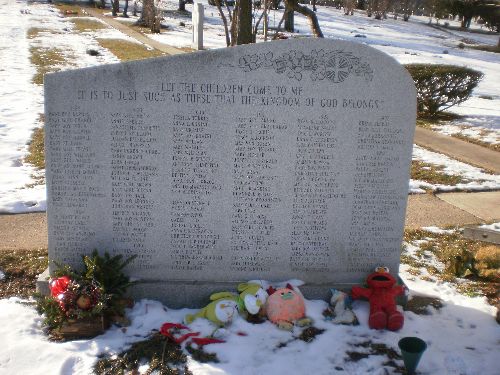 Is it a good idea? Should we bet ALL our kids on that idea?
NO FREAKING WAY.
And THAT is assuming that these vaccines do nothing to affect fertility. If they DO affect fertility, then this has to be made a KNOWN and ADMITTED risk, at the very least – not covered up, like it is right now.
A call for Nuremberg II, more likely, if this was knowingly advanced.
Who wants to risk their kids' chance of having children?
This brings up the question of whether parents have the right to *knowingly* neuter their kids. Some parents already are, by "transing" kids. I think it's pretty clear that's where the Cabal is going – neutering and spaying humans. Interesting question. Should it be sent to SCOFFLAW SCOTUS? How is Amy Comey Barren going to vote on that one?
Asking for a FIEND.
I would even extend that thinking to teens and young adults. There is no reason that I can see to give them the vaccine. But should they have that choice, in consultation with their doctors? Interesting question. Very hard to reconcile a pro-life position with that, isn't it?
But back to natural immunity.
---
Natural Immunity – More Rewards
Are there, in fact, more rewards?
I think so. Look at these two figures from the UK Ministry of Health, showing spike protein antibodies in people in England in 2021.
LINK:
…..https://assets.publishing.service.gov.uk/government/uploads/system/uploads/attachment_data/file/1027511/Vaccine-surveillance-report-week-42.pdf
The darker the color, the stronger the antibodies.
The first graphs are people who have no evidence of having caught the disease (N protein negative). They include the unvaccinated uninfected and the vaccinated uninfected.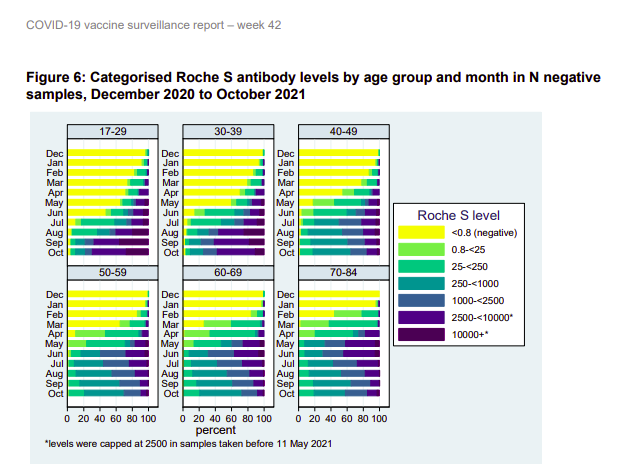 The yellow is the unvaccinated people who have not caught the disease – mostly kids.
Green, blue and purple are various levels of vaccination success – the darker, the more spike antibodies.
Now look at people who got some or all of their spike immunity by natural infection with the disease.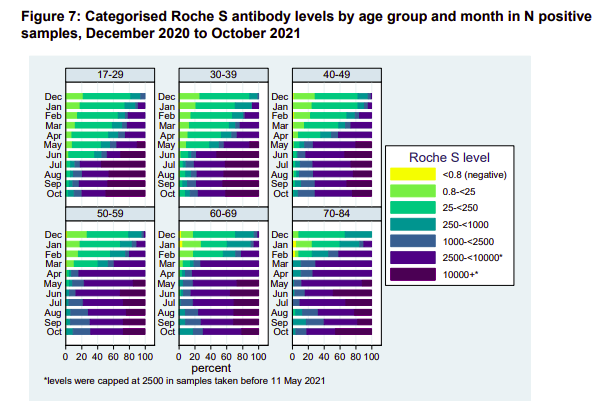 Assuming it's a wash as far as the quality of the antibodies – which is not necessarily true – it's obvious that these recoverees have a more robust spike antibody immunity – to say nothing of likely immunity to some or all of the other 20+ proteins in SARS-CoV-2.
Rand Paul, right here. The man is asking the right questions.
So why is Fauci ignoring this natural immunity stuff?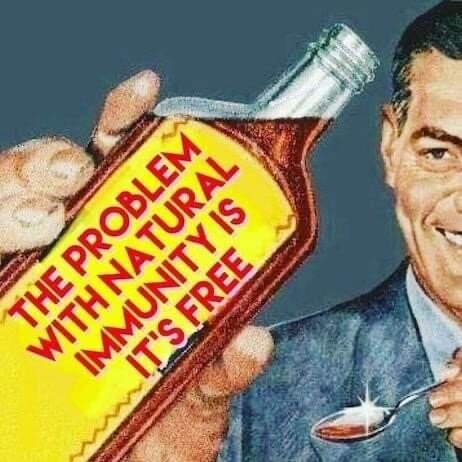 Notice that KIDS don't mount a strong spike immunity, even though they beat down the disease in a hurry, with minimal symptoms. This is likely an EVOLVED RESPONSE – an EVOLVED STRATEGY – a form of EVOLVED INTELLIGENCE. What it says is that kids "know" by evolution – don't build a lasting defense to the ever-changing spike protein. Meanwhile, the virus tries to "rope-a-dope" us slowly into concentrating on the spike as we age, misleading us with each attack. We lean on the crutch of spike antibodies that don't work on the next strain, or actually make things worse.
Kinda funny that Fauci and the "follow the science" types don't respect this signal from evolution, but whatever. That's the basis of another post. But keep it in mind – it's likely important.
So let us not digress.
The bottom line is that IF you're going to make spike antibody immunity your standard of success, which Fauci and company clearly have, as part of Fauci's "antibody hypnosis", then by that standard, "natural immunity" from the disease gives MORE REWARD.
And again, I remind you, there are MANY other metrics of immunological success which are highly relevant, and which are ignored under Fauci spike antibody hypnosis. Always keep that in mind.
---
Natural Immunity – More Risks
SO – is the disease "more risk" to get that more reward?
My answer would be "maybe".
It's a complex calculation – particularly if you factor in "not getting the disease until you get it". When you vaccinate, it's a down payment in full, and with boosters, you're even stuck with installments. You are "accepting that the risks happen" at 100%. Vaccination "collapses the probabilities". But if you take your chances on the disease, by simply not vaccinating, you are delaying the (probably) higher risk, but the "risk over time" is substantially reduced.
Imagine the "payoff" of not vaccinating or getting the disease until Omicron. That would have been a GREAT gamble and winnings.
But let's look at an ACTUAL COMPARATIVE RISK of vaccine vs. disease.
Now – let me be clear from the start – this article is a CLICK-BAIT CHERRY-PICKING of the highest order. The title numbers SEEM shocking – until you dig into it, and go to the source.
But still, they're not "lying". It's just misguided. But that CHAFF led me to WHEAT.
Let me include the entire, short report, as it appeared in GWP.
---
On December 14th, 2021, Nature Medicine released a study based on a broad population data set analyzed by researchers at Oxford University. The researchers examined the risks of myocarditis, pericarditis, and cardiac arrhythmias associated with COVID-19 vaccination and infection.
The Oxford researchers reveal that 1 in 100 or 1% of all vaccinated individuals were admitted to the hospital or died with arrhythmia or irregular heartbeat.
Of the 38,615,491 vaccinated individuals included in our study, 385,508 (1.0%) were admitted to hospital with or died from cardiac arrhythmia at any time in the study period (either before or after vaccination); 86,754 (0.2%) of these occurred in the 1-28 days after any dose of vaccine. Of those who were admitted or died 39,897 (10.3%) had a SARS-CoV-2 positive test, with 29,694 (7.7%) having a positive test before vaccination. There were 7,795 deaths with cardiac arrhythmia recorded as the cause of death (1,108 had a SARS-CoV-2 positive test).
So 1 in 100 of the vaccinated individuals are going to the hospital with irregular heart beat and this isn't international headlines?
This is a shocking number.
James Cintolo has more on this study.
---
Wolf again.
This study appeared in the journal NATURE. That is the big leagues. We have to take this seriously. But let's look at it closely. It REALLY helps to see that entire document, although SUSPICIOUS CAT should come out, just looking at the TITLE.
NATURE PAPER: https://www.nature.com/articles/s41591-021-01630-0
Risks of myocarditis, pericarditis, and cardiac arrhythmias associated with COVID-19 vaccination or SARS-CoV-2 infection
See? This isn't just about the vaccines – it looks at infection, too. Is Gateway Pundit giving us the full story? Maybe not.
ABSTRACT:
Although myocarditis and pericarditis were not observed as adverse events in coronavirus disease 2019 (COVID-19) vaccine trials, there have been numerous reports of suspected cases following vaccination in the general population. We undertook a self-controlled case series study of people aged 16 or older vaccinated for COVID-19 in England between 1 December 2020 and 24 August 2021 to investigate hospital admission or death from myocarditis, pericarditis and cardiac arrhythmias in the 1–28 days following adenovirus (ChAdOx1, n = 20,615,911) or messenger RNA-based (BNT162b2, n = 16,993,389; mRNA-1273, n = 1,006,191) vaccines or a severe acute respiratory syndrome coronavirus 2 (SARS-CoV-2) positive test (n = 3,028,867). We found increased risks of myocarditis associated with the first dose of ChAdOx1 and BNT162b2 vaccines and the first and second doses of the mRNA-1273 vaccine over the 1–28 days postvaccination period, and after a SARS-CoV-2 positive test. We estimated an extra two (95% confidence interval (CI) 0, 3), one (95% CI 0, 2) and six (95% CI 2, 8) myocarditis events per 1 million people vaccinated with ChAdOx1, BNT162b2 and mRNA-1273, respectively, in the 28 days following a first dose and an extra ten (95% CI 7, 11) myocarditis events per 1 million vaccinated in the 28 days after a second dose of mRNA-1273. This compares with an extra 40 (95% CI 38, 41) myocarditis events per 1 million patients in the 28 days following a SARS-CoV-2 positive test. We also observed increased risks of pericarditis and cardiac arrhythmias following a positive SARS-CoV-2 test. Similar associations were not observed with any of the COVID-19 vaccines, apart from an increased risk of arrhythmia following a second dose of mRNA-1273. Subgroup analyses by age showed the increased risk of myocarditis associated with the two mRNA vaccines was present only in those younger than 40.
The TRUTH is right in there.
First, we have to remember that GWP was concentrating on 1% of vaccinated people during the study period, INCLUDING before they got vaccinated, going to the hospital for or dying from a cardiac arrhythmia. That "before they got vaccinated" point is a TIP, right there, that we really need to consider the risk for UNVACCINATED people, too – including these very same people – for comparison. And as an aside, what is the number for corresponding unvaccinated people? You can almost guess that for most old people, it's gonna be – well – maybe 1%?
And indeed, when the researchers compared the risk of an "event" against the risks of these patients BEFORE vaccination, they got their answers.
The WORST CASE for the vaccines was myocarditis. So let's look at that, first.
Here is the risk from the vaccines. Broken out with [notations] so it's easy to understand.
---
We found increased risks of myocarditis …
associated with the first dose of ChAdOx1 [AstraZeneca] and BNT162b2 [Pfizer] vaccines
and the first and second doses of the mRNA-1273 [Moderna] vaccine
over the 1–28 days postvaccination period,
and after a SARS-CoV-2 positive test. [STRONGLY NOTE THIS!!!]
We estimated an extra two (95% confidence interval (CI) 0, 3),
one (95% CI 0, 2)
and six (95% CI 2, 8)
myocarditis events per 1 million people vaccinated with ChAdOx1, BNT162b2 and mRNA-1273, respectively,
in the 28 days following a first dose
and an extra ten (95% CI 7, 11) myocarditis events per 1 million
vaccinated in the 28 days after a second dose of mRNA-1273.
---
SO – this confirms what we know. The vaccines cause myocarditis. It's a RISK. It's a handful or two in a million, per injection.
But now, let's look at the NEXT LINE.
---
This compares with an extra 40 (95% CI 38, 41)
myocarditis events per 1 million patients
in the 28 days following a SARS-CoV-2 positive test.
---
What this says TO ME is that the risk of this one heart problem, in a vaccine that gives less immunity, is a significant fraction of the same risk from the disease.
Obviously due to the SPIKE PROTEIN, and possibly with a simple correlation to exposure.
I will admit that it's LESS RISK from the vaccines, but not all that much.
Look at MODERNA.
The compiled risk of myocarditis from the TWO SHOTS (6+10 = 16) is 40% of the disease risk (40).
And yet HERE is how the authors have to word things to get it past the referees and editors.
---
"In summary, this population-based study quantifies for the first time the risk of several rare cardiac adverse events associated with three COVID-19 vaccines as well as SARS-CoV-2 infection. Vaccination for SARS-CoV-2 in adults was associated with a small increase in the risk of myocarditis within a week of receiving the first dose of both adenovirus and mRNA vaccines, and after the second dose of both mRNA vaccines. By contrast, SARS-CoV-2 infection was associated with a substantial increase in the risk of hospitalization or death from myocarditis, pericarditis and cardiac arrhythmia."
---
They played a lot of word games there – take it from a retired scientist. They are also STUDIOUSLY AVOIDING some big stories that would rub the industry wrong.
"Give the editors what they want."
Now, before I examine that conclusion for further trickery on the "within a week" qualifier and several other points (not today), I just want to say that calling 16 "small" and 40 "substantial" is bullshit.
Author bias, implicit or imposed, as a virtue signal to Bill Gates' "vaccine culture" in science.
I will bet MONEY that a third Moderna booster would come in at 14 or more, bringing the total myocarditis events from chronic spike protein exposure to 30 or more, AND at the 4th injection SURPASSING the risk of ONE untreated disease incidence.
Well, is it worth it?
I don't want Dementia Joe telling ME that it's worth it. I want to make that determination MYSELF.
And GUESS WHAT? I will also bet money that part of the reason that CDC wanted people to mix and match boosters was to get Moderna "recoverees" boosted with the less cardiotoxic Pfizer or J+J vaccines, while not admitting that…
….defects from each spike protein vaccine are cumulative.
See how that works? Science. It's great when you're HONEST.
And why IS Pfizer causing fewer cardiac problems? In my opinion, it is very likely because the vaccine is distributing more widely and slowly in the body, thanks to the extreme vaccine lipid nanoparticle longevity (hence shedding) and biodistribution – data that was hidden from us, but turned up in the Japanese freedom of information request.
To me, the fact that nobody sees or talks about this stuff, is just more evidence of "vaccine hypnosis" of academia, as noted by Peter McCullough.
The reality? PICK YOUR POISON. Disease or vaccine.
If we go back to the arrhythmia example, it turns out that the "shocking 1%" actually GOES AWAY when compared to the unvaccinated. This makes sense, when you recall the very common problem of "palpitation" sending people to the ER, long before "long COVID" was a thing.
Yeah, 1% is shocking, but it's shocking for the unvaccinated, too. Gateway Pundit was just throwing unwarranted shade.
Now, let's take a look at some GRAPHICS from the study. Pictures tell a thousand words – not all bad for the vaccines – not all bad for "natural immunity".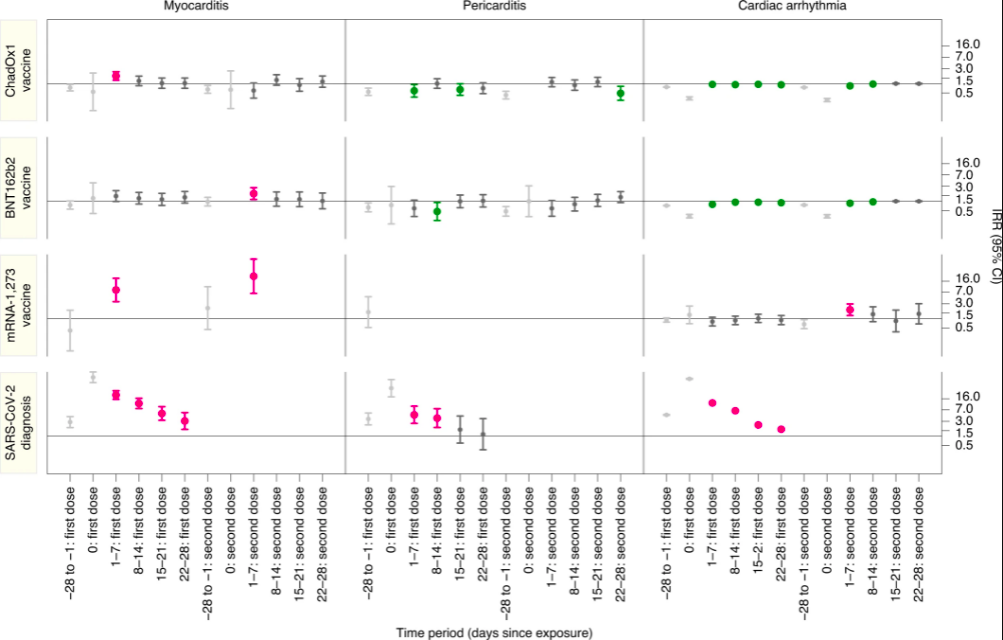 On the left axis you have the three vaccines, AstraZeneca, Pfizer, and Moderna, followed by the disease.
On the bottom axis, time – repeated three times for the three diseases.
As you can see for cardiac arrhythmia (right side), the vaccines are basically fine, but the disease is problematic. This makes LOTS of sense, because the disease seems to cause many problems by nerve infiltration, secondary to vascular distribution, and those nervous system infections and inflammations are highly relevant for arrhythmias, whereas the vaccine is primarily a vascular villain, which does NOT reproduce and infiltrate.
The science makes sense here! Wonderful!
All of the vaccines have at least a little bit of myocarditis effect (left side), which is explained nicely by vascular distribution of the spike protein. Moderna, which is notorious for "disease-like symptoms" at the recipient experience level, is easily expected to have even more COVID-like spike protein effects that are not immediately obvious, such as myocarditis.
Big point – ONLY the disease (bottom side) kicks off all three diseases. THAT is what a virus can do, that a bare protein, or even a non-reproducing virus-like particle, cannot.
Everything is making sense here. Let's look at ANOTHER view of the data.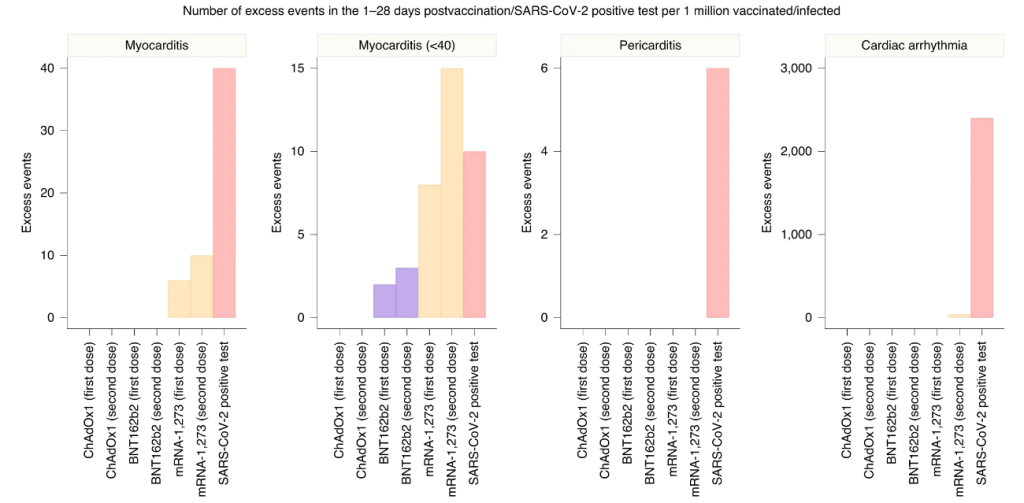 This graph has some GREAT STUFF. The myocarditis comparison described in detail above, is the graph on the LEFT. The numbers for the vaccines look substantially less, but you can see how Moderna boosters would quickly approximate the disease, and are already like a "mild case" in terms of risks. The authors of the paper avoid talking about the cumulative risks, but it's clear that "boosterama" is PRECISELY Fauci's game plan, and it has problems that got solved for Moderna by mix-and-match boosters.
Fauci and Walensky. Always taking care of their companies. Yeah, I kinda get it. But you gotta be HARD-ASS with them, like Director Wolf Moon would be.
The whole vaccine thing – including a lot of other adverse effects I've mentioned previously but not discussed here – looks to me like a trade-off. These are NOT good vaccines. They're actually pretty marginal. BUT for people who really don't think they can take the disease, it could be a reasonable gamble, IMO.
There are LOTS of people who take these vaccines, and no problem. I know – I talk to them all the time. I'm the most vaccine-supportive vaccine skeptic on Earth. These people just dump everything to me, because they know I don't judge them, but respect their decisions. I'm interested in what happened to them, and they tell me.
NADA. ZIP. The most common reaction. For those people, the shot may make sense. But there are a good number of others who get laid up hard for a day in bed, and it sounds almost as bad as COVID. I worry about them. Some – A LOT.
Now look at the second graph – myocarditis in younger people. Clearly Moderna is WAY out of whack, and the others are comparable to the disease when boosted. Again – for these people – really BAD vaccines. This is why you saw action on the vaccines. Get values up close to the disease, in terms of numerical risks, and the problem becomes an elevator pitch that everybody understands.
Pericarditis and arrhythmia? Purely a disease problem. This looks very good for the vaccine. This is what you WANT with a vaccine – to AVOID some problem of the disease. BUT – can we trust those numbers?
I think so, and I think that Gateway Pundit got burned by looking at COMMENTS on a blog post explaining the Nature study.
LINK: https://jamescintolo.substack.com/p/new-bombshell-myocarditis-study-out
This is a GREAT post – here is the conclusion:
---
THE TAKEAWAY
Public health policy in the USA and UK need to change fast. As a side note, if you listen to the mainstream media enough they'll have you believing myocarditis is a mild symptom. Let me be clear, by definition, symptoms requiring hospitalization are defined as severe. What's more, the average mortality rate of non-fulminant myocarditis is nearly 56% which is experienced within 3-10 years. Sadly, that is a consequence of the likely heart failure that develops after the acute phase of myocarditis has resolved. See picture below 👇🏻
All things considered, it is clear that individuals under 40 are at a high risk of experiencing vaccine induced myocarditis. The good news is, there are ways to deal with this. More specifically, increasing the time between the first and second dose, not giving boosters to all healthy individuals under 40, pausing Moderna for many under 30, and seeking the guidance of other countries. All of that makes for better public health policy and positive health outcomes. To finish, I will leave you with the words of a wise man, "Health care is vital to all of us some of the time, but public health is vital to all of us all of the time". – C. Everett Koop
---
Wolf again.
Now – in the comments, somebody mentioned the "1% issue", and I suspect this is where GWP picked it up. Sadly, the comment author deleted and restated their comment, probably after realizing it had spawned a widely read article.
Here is the replacement comment, with replies.
---
zuFpM5*M6 hr ago I erased my previous comment. The closer I look at this study, the more it freaks me out.

They compare vaxxed to vaxxed+covid and then declare covid is worse, but they measure rates of myocarditis/pericarditis in post covid with troponin levels and in post vaxx with hospitalization rates. Hmmmm

They don't include any control group of unvaxxed. The vaxx+covid group should be compared to unvaxx+covid to determine the actual rate of post covid heart issues. This is not done that I can tell?

The vaccinated showed a 1% hospitalization rate for cardiac arrhythmia with ~385,000 in the period up to 28 days post vaccination. I tried to look up population rates of hospitalization and found some old news articles discussing ~350,000-500,000 hospitalizations annually for 'atrial fibrillation' for the entire US population. So a group of vaccinated in UK blew out the entire US annual budget of arrhythmia hospitalizations in a couple month period? And that isn't a highlighted part of the research results but instead they compare only within the vaccinated group broken out by short temporal periods? Isn't the most important thing the vaccinated versus background normal rate?

I begin to think this whole study was gamed to get vaccinated rates of these issues versus supposed covid rates so they could continue to say vaccines are safer, when the actual #s are showing a horrific rise in these issues. It is a preemptive narrative shaping attempt.

I am not a doctor, researcher or number cruncher, so if I am misunderstanding this, I would be interested to hear how.
br143 hr ago There's no way to sugar coat the study.

Of the ~385,000 people with arrhythmia, 10.3% had a positive Covid-19 test, and 7.7% tested positive at some point prior to vaccination.

Even if you remove 18% of the total, that's still an awful lot of people with arrhythmia. I suppose most of us have some form of arrhythmia at some time in our lives, but how many of us are treated in hospital?
| | |
| --- | --- |
| | zuFpM5*M3 hr ago Yes. I would not subtract them either. I feel that there would be a covid risk increase + vaccine risk increase + covid/vaccine interaction risk increase to account for. None of which can be done without estimating the covid risk increase by comparing with non-vaccinated covid patients. |
This is where they lost me. They're just tossing out "maybes". Nothing jumps out at me as likely to change the result. I can even add my own experience with cardiovascular issues from the disease. They're REAL. Very unlikely that the vaccines and disease would FLIP on the relative risks of arrhythmia.
Score 1 for the vaccines.
BACK TO THE TRUMP ISSUE.
---
Benefits of the Vaccine Admitted by Our Side
There is a GREAT video by Geert Vanden Bossche that I keep pushing, because it is one of the clearest explanations of why "leaky mass vaccination" is a bad idea. Note that this is from a pro-vaxxer who has indeed worked with vaccines for his whole career, and is a former member of GAVI.
He just demands good vaccines, and good public vaccination policy.
Now – if you jump to around 4:30 in the video, you can hear him list the positives of the clot shot. HOWEVER, it may be better to just invest some of your time in that 4 1/2 minutes where he warms up to that point, to understand that he's putting the positives AND the negatives in context, and looking at the bigger picture to recommend that we NOT mass-vaccinate.
He is saying that we should NOT mass-vaccinate IN SPITE OF the benefits that he lists and explains.
a decrease of disease in many countries
decline of morbidity and mortality rates
less illness in people who got vaccinated
severe disease is resisted even when vaccinees are infected with variants
they will shed much less virus than the unvaccinated, even when infected with variants
seropositivity rates are increasing in the population thanks to vaccination
But THAT is where he begins to disagree with mass vaccination. He states that we will NOT reach herd immunity, due to variants, and he explains this fully.
---
Global Problems of Sub-Optimal Mass Vaccination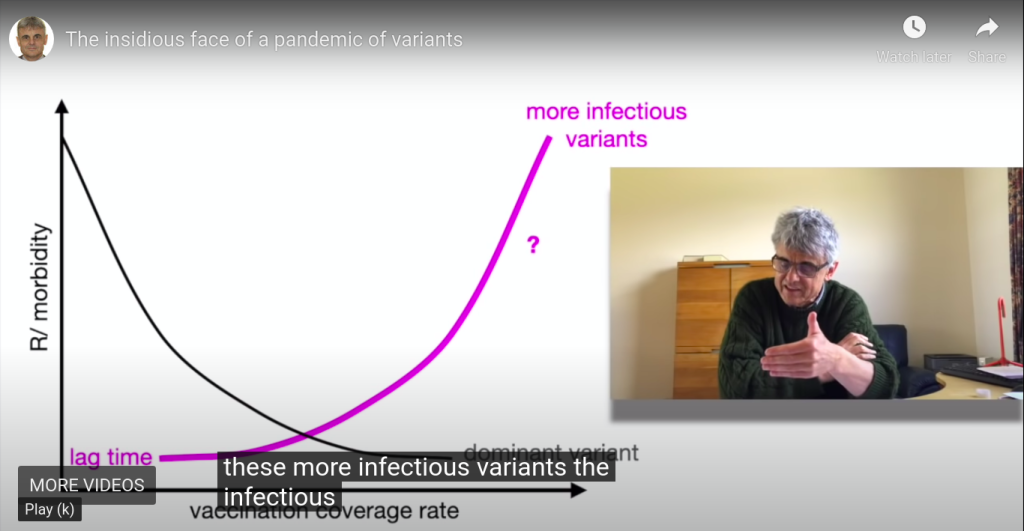 At 28:00 minutes, Geert explains what we need to do – which is NOT what public officials are doing.
The current mass vaccination program will make things worse, in the long term. Geert explains then the kinds of vaccines we really need – vaccines which can both generate sterilizing immunity, AND which prime the immune systems of their recipients toward cellular immunity.
Yeah, it's a bit of a tough goal, but it's realistic toward the challenges of the China virus, and honest about what we need to do.
So what does this mean about the benefits of the vaccine?
THEY ARE REAL, BUT THEY ARE SHORT-SIGHTED. And they are accompanied by risks. Not just to the vaccinees, but to ALL OF US ON THIS PLANET.
According to Geert, continued vaccination is going to HARM vaccinees, relative to the unvaccinated, who will need to avoid virus-shedding vaccinees. At that point, recoverees may be in the best position of all, but still – not great. ALL of us will be in trouble from the virus which will escape the vaccines.
Geert also explains how we can prove that he is correct – by looking at the mutations in the virus which is shed from vaccinees, which will show selection for more infectious variants, if he is correct.
Now – this is a GREAT interview of Geert by Dana Loesch, who looks more and more like Sandra Bullock for some reason, but what the heck – the shotgun shells on her microphone setup are EXCELLENT, very non-Bullock, and she gets a FANTASTIC explanation of the problem from Geert.
Geert actually talks about Omicron, and the DANGER of it potentially evolving to be MORE SEVERE.
Take a listen!
Does Trump know this stuff? I don't know.
I personally believe that Geert is right. I am now of the opinion that most of what we are hearing from Robert Malone, Peter McCullough, and Geert Vanden Bossche is true, but that each one has to give a little toward the ultimate truth.
What does that look like to me?
Natural immunity is NOT permanent or complete toward other variants
Natural immunity is better than the vaccines, generally speaking, but not bulletproof
Untreated COVID is a loser relative to the vaccines, but treated COVID is a winner
McCullough's natural immunity prediction based on SARS1 may be too confident
Malone's whistleblower on more shedding by vaccinees may have been wrong or disinformation
Geert's vax-brag of less shedding by vaccinees may have been too kind and not skeptical enough
We have to stop pushing the vaccines, for the good of humanity
We have to allow the vaccines to continue, at an acceptably lower rate, for research
We have to allow vaccines to change faster, to keep up with mutations, IF and only IF this will not PUSH the virus to mutate and select faster (immune pressure must be low enough)
We have to pursue the superior vaccines that Geert is specifying
We have to use infection, treatment, and recovery as a big gun to reach herd immunity
We have to let COVID burn out of epidemic status, to reach a treatable endemic status
We cannot do that with mass vaccination, so mandates must cease promptly and completely
Joe Biden and CDC must be stopped – by military power if need be – if they will not end the crazy mandates
Yeah, you heard me. We can't let this demented bozo, backed by an evil Obama and China, make COVID worse by mass vaccination. Mandates are making things worse.
---
Freedom, Vaccines and Morality
Trump may not understand Geert Vanden Bossche's warning, but if we set that aside as an unknown, you can understand where Trump is coming from.
If we want freedom, we have to let other people make stupid choices that affect them most of all. Vaccination is, in fact, one of those things. Indeed, it is by US seeing it that way, that I believe we will end this nightmare of division which PUMPS UP the vaxxies and the crazy mandates.
In the same way that there are vaxxies who now are defending OUR freedom to be unvaccinated, I believe we have to defend the right of people to stupidly (or smartly) take the vaccine. However, we MUST get the rate of vaccination DOWN below the level where immune pressure from the vaccine creates more and more infectious variants.
---
The FIRST thing is not to take the vaccine yourself, or give it to your children.
The SECOND thing is to fight for an end to mandates.
The THIRD thing is to fight for BETTER vaccines, and to expand belief that the current vaccines are NOT GOOD ENOUGH, and are of the WRONG TYPE. Make the vaxxies demand better, not defend bad vaxxes.
The FOURTH thing is to spread the message that the "socially responsible thing to do" is to support Vanden Bossche's position, that NOT taking the vaccine NOW is what will ultimately "save grandma".
The last one is a hard sell, with FAKE NEWS pumping vaccine stupidity, but hey – we've fought tougher battles already.
---
So what about Trump?
Well, he is not in the position to know or respond to the "Geert Vanden Bossche Question". Not yet. It is only when that issue becomes BURNING HOT, that Trump will be able to smartly push FORWARD from the current stupid CLOT SHOTS.
We will have to RAISE VACCINE CONSCIOUSNESS to levels of understanding that SUBVERT FAKE NEWS. We can only do that by getting most of the vaxxies on our side – to demand BETTER vaccines.
If they want to be guinea pigs – GREAT. They can be heroes, and try the deadly experimental vaccines. But we should NOT be forcing all of humanity to be part of a BAD and MISGUIDED experiment.
And the JOKERS who are allegedly running our military need to understand this. Virtue signals which kill troops, even if slowly and quietly, where nobody can see them, are NOT ACTUALLY VIRTUOUS. I appreciate them kicking out the sane ones who understand that the current bad clot shots may cripple readiness at some point, rather than forcibly injecting them. We WILL have a reserve of trained people who are not destroyed by China and Biden, no matter what China's coming chess moves. Thank you for that. But as for everything else – there could have been push-back against communism, instead of acquiescence.
Yes, we had to be shown. But I'm not sure showing us subservience to a COUP and CHINA and FAKE NEWS isn't undoing half of the good stuff.
But this as well. If you guys delivered Omicron on purpose, thanks. It LOOKS like it may be working.
Merry Christmas!
W