"Fiat justitia ruat caelum."
"Let justice be done though the heavens fall." 
---

It's not every day when Q makes reference to the same great legal, moral, and religious principle that this darn blog is named after (well – more like dedicated to – see the "Q" image below), so you can bet your last dollar this is going to be a special post!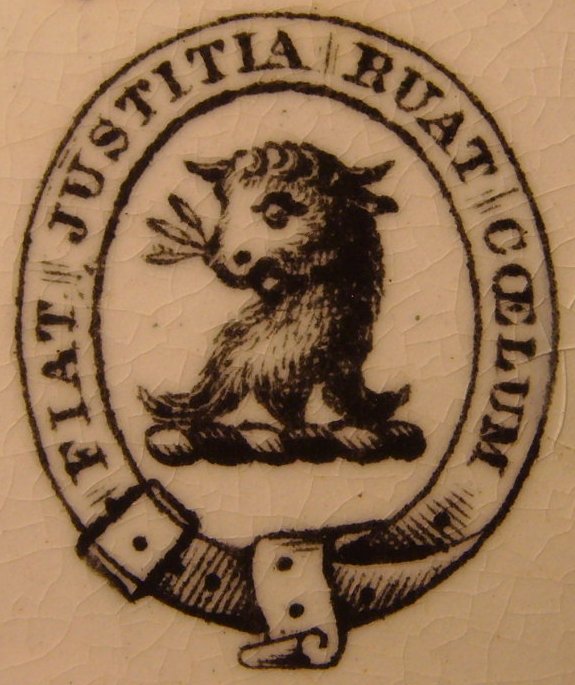 We are approaching the moment we've been waiting for.  So EXPECT SOME EXCITEMENT.
How do we know that?  From today's Q post – henceforth to be known as the SKYFALL POST.  It's a long one, so I've broken it up into 3 images, in the anticipated reading order, from inside out, and from top down.
Here you go.
We begin with PART ONE – a REFERENCED post from September 10, 2018.  In case it's not obvious, that was the day before the 17th anniversary of 9/11.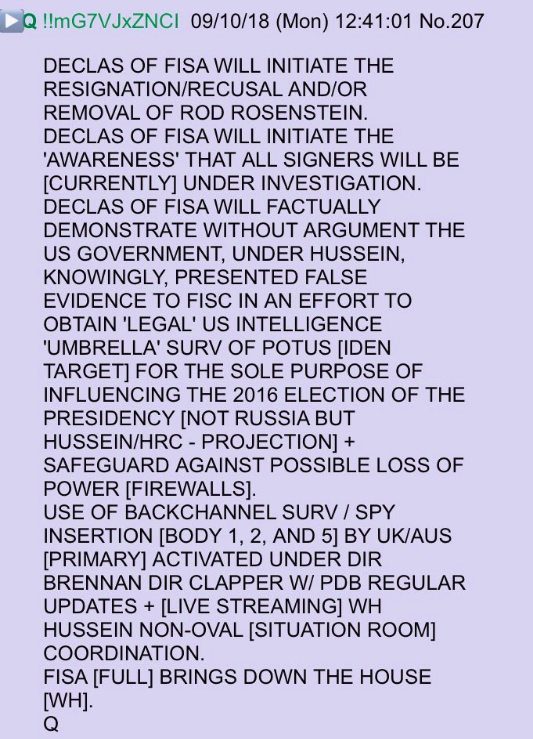 Next, today's comments on that post, beneath the referenced post.  This will be referred to as PART TWO.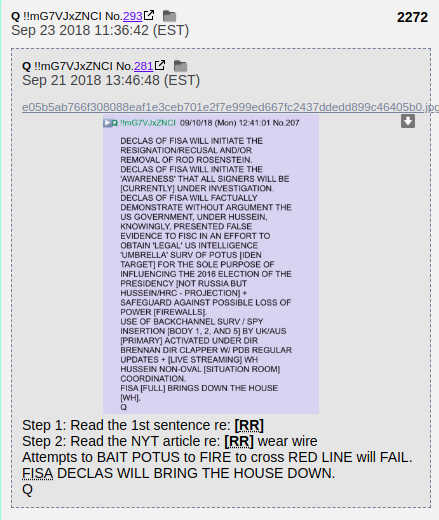 Finally, PART THREE – a medium-length post referencing the second post.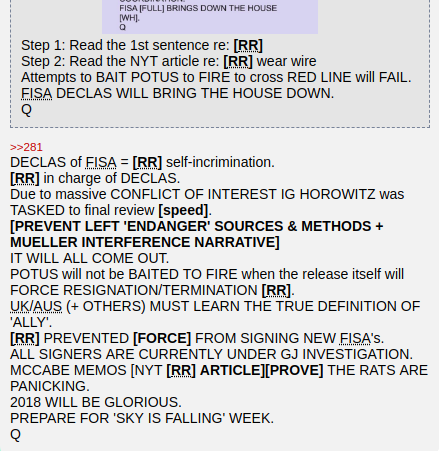 Let's look at all three parts more closely.
---

PART ONE makes no ifs, ands or buts – Rod Rosenstein is soon to be OUT in one way or another.  He will resign, be recused, or REMOVED – not stating who has the honors of the latter, but there seem like several candidates to me.
The big deal, however, is the idea that declassification shows that HUSSEIN – if I can call it that – activated .gov to treat Candidate Donald J. Trump like a SPY and apparently pipe updates to the Situation Room.  HOLY DANGER TO THE REPUBLIC, BATMAN!
Think about it. THIS is what is freaking people out. I can imagine it. And – while I would rather hear what OTHER people think of this, and not contaminate them by saying the following is certain, I must admit to believing that "the psychologically predicted inability to say no to the First Black President" is a LARGE portion of what is happening here.  And an additional trouble being that POTUS44, D of FBI, and D of CIA, were all either communists, borderline communists, or former communists.
Not a good situation.  Can you imagine if BUSH had done this to OBAMA?  Yikes.
Q also says that the FULL FISA "brings down the house [White House]" – presumably Obama's White House.  THAT could be very interesting.
---

PART TWO is short and sweet and plain as day:
Step 1: Read the 1st sentence re: [RR]
Step 2: Read the NYT article re: [RR] wear wire
Attempts to BAIT POTUS to FIRE to cross RED LINE will FAIL.
FISA DECLAS WILL BRING THE HOUSE DOWN.
Q
This part spells out what is happening right now – and it is much like I suspected.
The first "Step" re: Rod Rosenstein points back to the fact that he will be "hitting the road" in one way or another, due to information in the unredacted FISA information.
The second Step points to the NYT article, possibly leaked by Andy "Las Vegas" McCabe, which tried to insinuate that Rod Rosenstein talked about wearing a wire – possibly seriously – possibly sarcastically.  While I believe the main point of the NYT article was to paint "25th Amendment" in a serious light (thus being the beneficiary of the recent "chaos narrative"), it should also be noted that the NYT article seems to want to prompt "action" of some kind regarding "Radium Rod".  Q then talks back to that "call for action" in no uncertain terms:
Attempts to BAIT POTUS to FIRE to cross RED LINE will FAIL.
Excellent.  So the VSGPOTUS is apparently onto their scheme, and is NOT falling for their tricks.
GOOD.
Finally, a repeated punch to the face of the Obama White House – that FISA declassification will BRING IT DOWN.
Now – is "red line screaming" Chucky Schumer starting to make sense?  My read is that he knows the result of declassification will be a GOP lock on the White House for DECADES, barring a CLEANUP of the Democrat party.  And we know where THAT would leave Dirty Communist Chucky Schumer.
---

PART THREE is basically saying exactly why things are happening the way they are happening.
DECLAS of FISA = [RR] self-incrimination.
[RR] in charge of DECLAS.
Due to massive CONFLICT OF INTEREST IG HOROWITZ was TASKED to final review [speed].
[PREVENT LEFT 'ENDANGER' SOURCES & METHODS + MUELLER INTERFERENCE NARRATIVE]
IT WILL ALL COME OUT.
POTUS will not be BAITED TO FIRE when the release itself will FORCE RESIGNATION/TERMINATION [RR].
UK/AUS (+ OTHERS) MUST LEARN THE TRUE DEFINITION OF 'ALLY'.
[RR] PREVENTED [FORCE] FROM SIGNING NEW FISA's.
ALL SIGNERS ARE CURRENTLY UNDER GJ INVESTIGATION.
MCCABE MEMOS [NYT [RR] ARTICLE][PROVE] THE RATS ARE PANICKING.
2018 WILL BE GLORIOUS.
PREPARE FOR 'SKY IS FALLING' WEEK.
Q
The KEY point is that declassification will be done via the ONE PROVEN HONEST FORCE in DOJ – the OIG – meaning Horowitz.
I say that, because "they" (dishonest Holder DOJ forces) "finalized" the OIG report on FBI abuses that was WHITEWASHED by the "executive summary" that sounded like it was talking about a different report.
Now we're seeing why Trump performed a maneuver that had us all wondering what he was doing:
(1)  Ordered complete declassification
(2)  Panicked Radium Rod and the Obama Gang by FAKING that he could do it himself
(3)  Seeded rumors of Sessions / SCOTUS on recusal and unrecusal, stoking the fires
(4)  "Reversed course", and suddenly "punted a touchdown" to the OIG.
See how that works?
"Br'er Sessions" just ran into the briar patch of recusal which ROD ROSENSTEIN had avoided.  On the other side of that briar patch, under the watchful eyes of SCOTUS, Br'er Sessions THROWS the FISA to eligible recipient Horowitz.  Rosenstein can't touch it.
BYE-BYE, RADIUM ROD.
Q also mentions that UK and AUS allies are in for some heat.  Yeah.  Can't wait to see what that is, but it certainly explains some things I've been wondering about.
Q says that ALL signers of the FISA are under Grand Jury investigation.  BOOM!  That is a big deal.  Will any survive?  Wait and see.
Q mentions McCabe memos being the source of the NYT article RE Radium Rod talking about "wearing a wire", and says that the perps are panicking.
Two final statements:
2018 WILL BE GLORIOUS.
PREPARE FOR 'SKY IS FALLING' WEEK.
Q
A glorious 2018 is good.
But WHAT does 'Sky is Falling' Week mean?  How do we prepare for it?
Let's hear YOUR thoughts!
W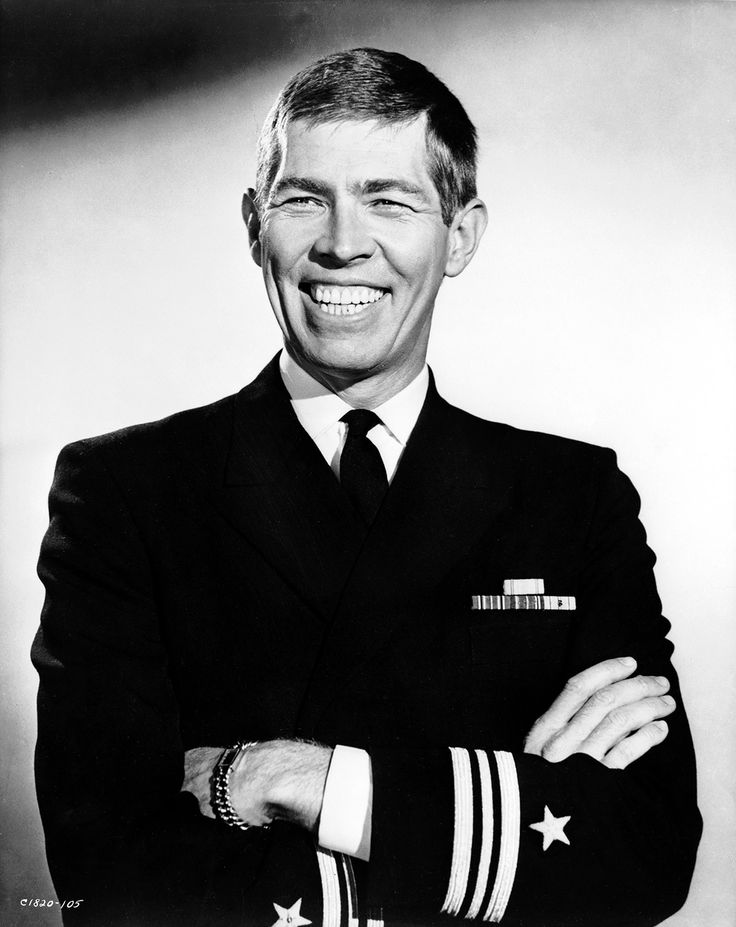 Fiat justitia ruat caelum.