Did you notice that they let people with Q shirts and gear into the same Trump rally where there was a REALLY WEIRD Q post just a couple of hours earlier?  I think there may be a connection.  I know this is a much different (and less catastrophic) interpretation than a lot of them – which is why I think this interpretation may have some legs.  No missiles or submarines involved.
Allow me to elaborate.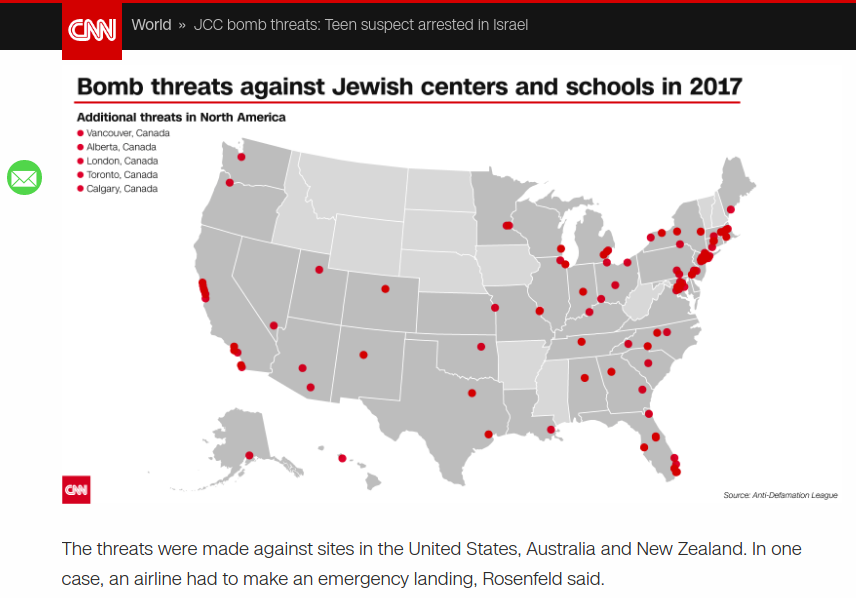 PROBLEM
You're having really great TRUMP RALLIES, and SOMEBODY who doesn't like people who like TRUMP, keeps making BOMB THREATS and HOAX CALLS and saying that some of Trump's biggest fans, who admire some mysterious group called "Q", and who just want to be a part of it, are actually bad people who want to blow things up and hurt people.
And then the Fake News media which loves Hillary Clinton supports this crazy accusation with lies about violence, yet at the same time they say the Q thing is all a big "conspiracy theory".  This, even though many smart people believe that Q is a real person  (or group) in the administration – somebody who knows a lot of things.
Wouldn't it be great if the hoax calls would just stop?
So how do you stop the hoax calls?
Well, here is how I THINK somebody did it.  I may be wrong – it may be a big coincidence, but just think about it.

SOLUTION
---
STEP 1
Remember the last time political hoax calls were a big problem.
Sure you do.  They helped a CERTAIN PERSON keep control of the Democrat party.  There was a lot of fighting over antisemitism and Islam and "alt-right white nationalists" (who were not responsible, oddly) and "why doesn't Trump do more", but in the end it was all about Hillary Clinton maintaining control of the Democrat party through raging communist Tom Perez, and Obama NOT maintaining control of the Democrat party through raging antisemite Keith Ellison.
Communists.  They LOVE to get other smart people to carry their dynamite.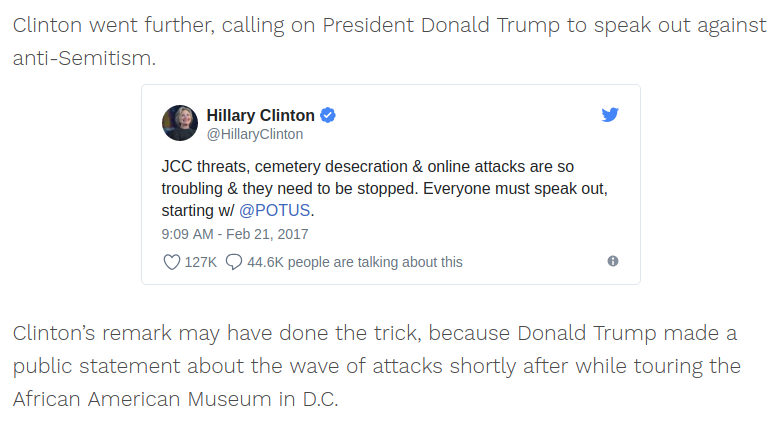 She was careful.  You have to admit.  Very careful.

---
STEP 2
Remember the last time political hoax phone call problems were solved.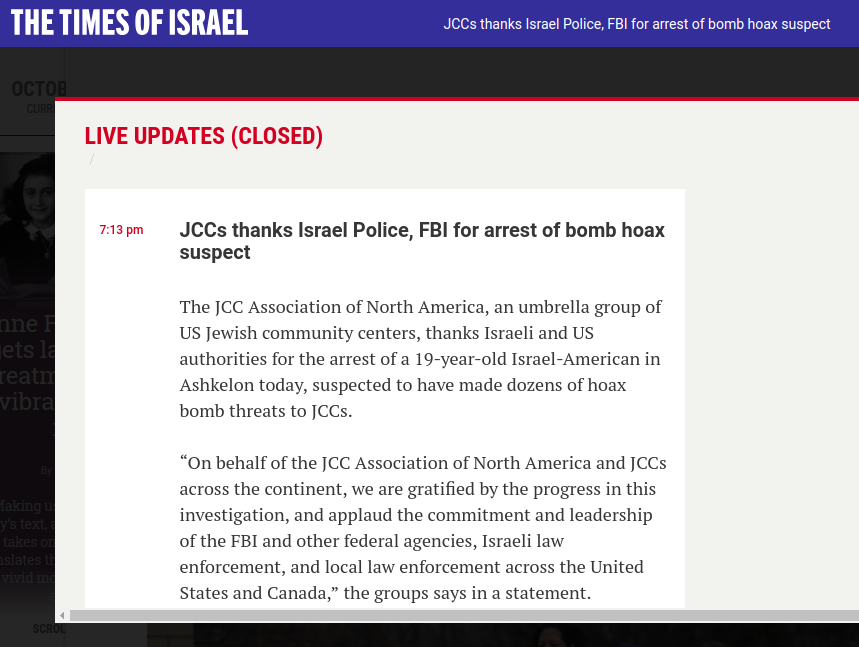 https://www.timesofisrael.com/liveblog_entry/jccs-thanks-israel-police-fbi-for-arrest-of-bomb-hoax-suspect/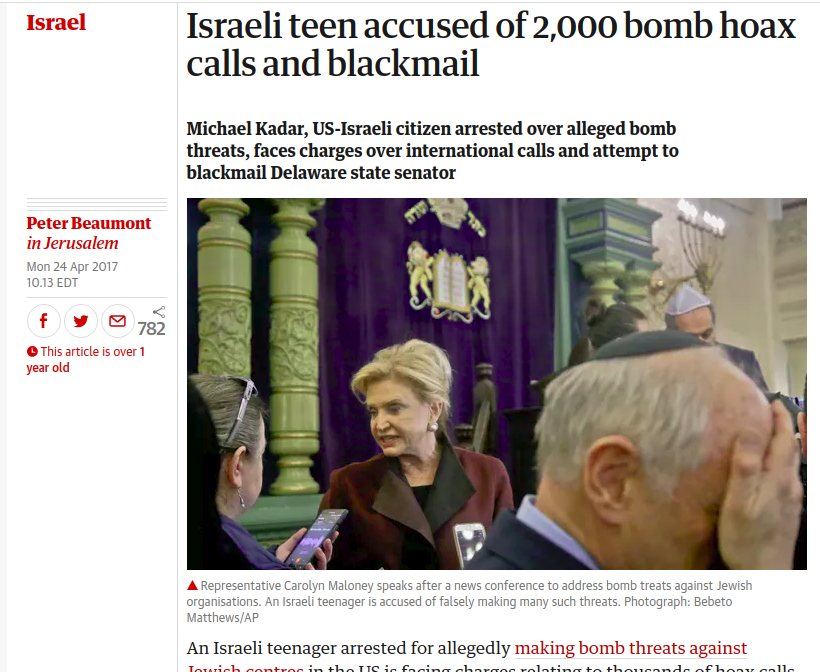 https://www.theguardian.com/world/2017/apr/24/israel-michael-kadar-jewish-centre-bomb-threats
So the guy was an Israeli, and he had a lot of EXPENSIVE SPY EQUIPMENT.  WOW.
Yeah.  We remember.
---
BONUS:
Other similar crimes were noted in that same time-span, and are interesting.  I am trying to be fair here – I think these were all done by American hands.  No Israelis involved.
Case 1:  Juan Thompson
"JOURNALIST"
https://www.aol.com/article/news/2017/03/03/missouri-man-arrested-in-bomb-threats-to-jewish-centers-prosecu/21872802/
"BERNIE SUPPORTER"
https://theconservativetreehouse.com/2017/03/03/suspect-arrested-targeting-jewish-centers-is-far-left-bernie-sanders-supporter/
This guy set off all kinds of communist alarm bells.  Not only was Thompson fired from a leftist paper for FABRICATING STORIES – a common Marxist activity – the crimes he is accused of would benefit the COMMUNIST in the Democratic race – Tom Perez.  There is a STRONG probability that these were HOAX attacks, and used this BLACK SOCIALIST so that if caught, it would look like Ellison did it.
Case 2:  A Drunk
http://news.stlpublicradio.org/post/arrest-made-2017-vandalism-historic-jewish-cemetery#stream/0
I just think this one was good at hiding his motive.  People want these crimes to go away, and even dumb criminals know better than to admit to ANYTHING racial or antisemitic.
Yeah, he was drunk.  But I think this was not a coincidence.
Case 3: Big Cemetary Vandalism in Philadelphia – Unresolved
http://www.chicagotribune.com/news/nationworld/ct-jewish-centers-schools-threats-20170227-story.html
https://www.dailymail.co.uk/news/article-4518574/Philadelphia-police-probe-2nd-wave-cemetery-vandalism.html
This one (100 gravestones toppled) was not just some drunk or vandals.  NO WAY.  I think this was designed to get the political response that it did – including a Vice President visiting to help put gravestones back in place.  I think that THIS was likely done by somebody very much like Juan Thompson – a MARXIST political operative who was helping Hillary and Tom Perez retain control of the Democrat Party.  I will bet black as well, to blame-cast to Keith Ellison.
Remember – I don't LIKE Keith Ellison.  But I don't think his people were behind this.  This was HOAXING for POLITICS – a communist specialty.

---
STEP 3
Find the same players again.
Someday the NSA and the FBI may reveal how they found the same players again.  Surely it was a miracle!
Sorry – I'm just being snarky.  I think that Hillary is willing to use foreign intelligence "ex-player" guns for hire like Hakluyt, Black Cube, and far worse (like this operation) to get jobs done.  I think she did it once.  I think she would do it again.

---
STEP 4
Identify their OLD BOSSES (six letters, starts with an M) PUBLICLY.
Show PROOF OF THE TRANSGRESSION PUBLICLY.
Offer to PULL BACK MEDIA RELEASE in exchange for SURRENDER – PUBLICLY.
This is known as an offer of quid pro quo.
You can just imagine what would happen if the media – which – let's have a moment of special honesty here – might actually house a few assets of OTHER intelligence agencies in addition to the CIA – got wind of possible release of another BAD LOOK for other intelligence agencies or their respective countries.  All the administration would have to do would be to go to the media with information on the source of the hoax phone calls.
Or, translated into a Q post:



For the visually impaired:
Israeli intelligence – stand down.
[TERM_3720x380-293476669283001]
Media assets will be removed.
Q
Now this post COULD mean other things.  Many other things.
It was POSTED right before a Trump rally where – MIRACULOUSLY – the Secret Service was able to let Trump supporters wear their "Q" shirts and hats into the venue. So my leading candidate is based on this alleged connection.
But it could be OTHER THINGS, if we interpret "media assets" that "will be removed" to be – say – people that were escorted out, e.g., for misrepresenting who they were.  So if some Israeli intelligence agents were there "under cover", then I can see that the Secret Service would have to remove them.  That's just logical.  Nothing personal.
Again – there could be still more explanations.  I've explained my two top candidates.

---
STEP 5
Have a nice, peaceful Trump Rally without making people remove Q gear.
https://twitter.com/Glazetron/status/1047969082052632576
Oh, darn – Twitter hides the Q shirt for SOME REASON!  Well, we don't have to!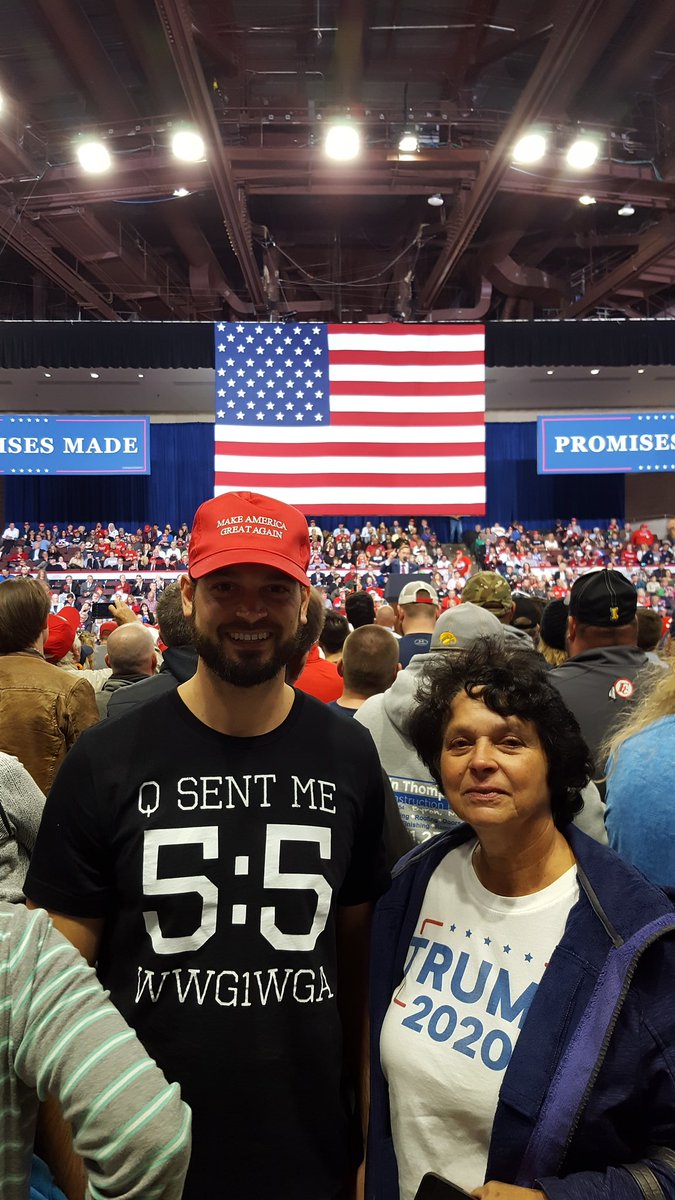 Why, even Q noticed this!



Is there a connection between the two Q posts?  Who knows?  I think there might be.

---
STEP 6
Enjoy some guy like me figuring it out, because he realizes that ALL our intelligence agencies are having one hell of a time dealing with treacherous "deep state socialist Hillary-supporting factions" right now.  And contractors.  And "exes".  Yes – it's a real MESS.
You know what I mean?
Yeah.  You know what I mean.
Since hoax phoned threats (vs. Jewish centers) came out of Israel in support of HRC during the DNC head battle (HRC/Perez vs. Obama/Ellison), perhaps hoax Q calls were from Israel. Looks like pressure on MOS to rein in ex-MOS HRC ops. Looks like quid pro quo on a media reveal! pic.twitter.com/PEfyRBhNCu

— Wolf Moon – Loathsome Skeptic of Some Vaccines (@WOLFM00N) October 6, 2018

Or maybe Mossad had an operative in the FAKE NEWS playpen, and they got a bit too sketchy with their comms for the Secret Service to let them keep playing.  Another nice interpretation.  We like that one, too.  Israel is an ally.  But they're another country.  We always have to remember that.  America First.  That's my motto.

---
STEP 7
Admit that it's complicated.
Yeah.  It's complicated.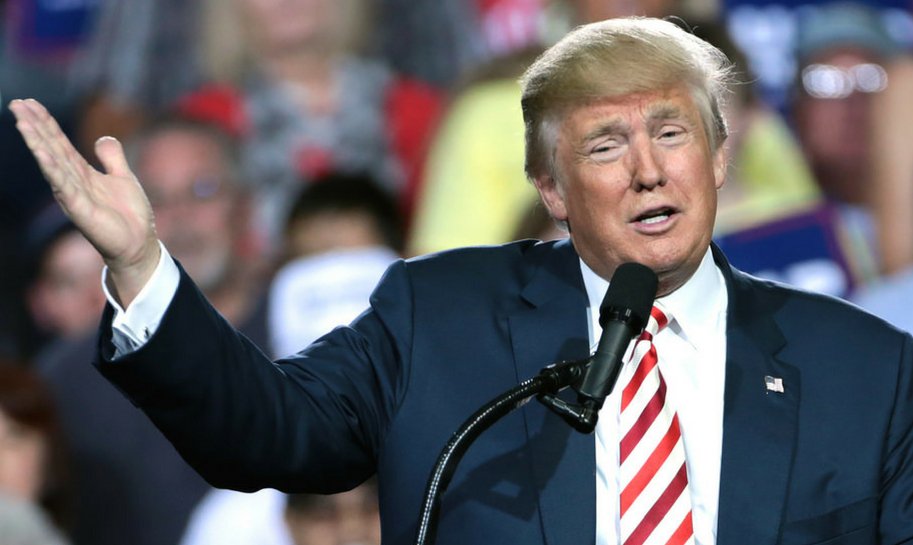 APPENDIX:
Save the Tweet as an image since there is a lot of weirdness on Twitter right now.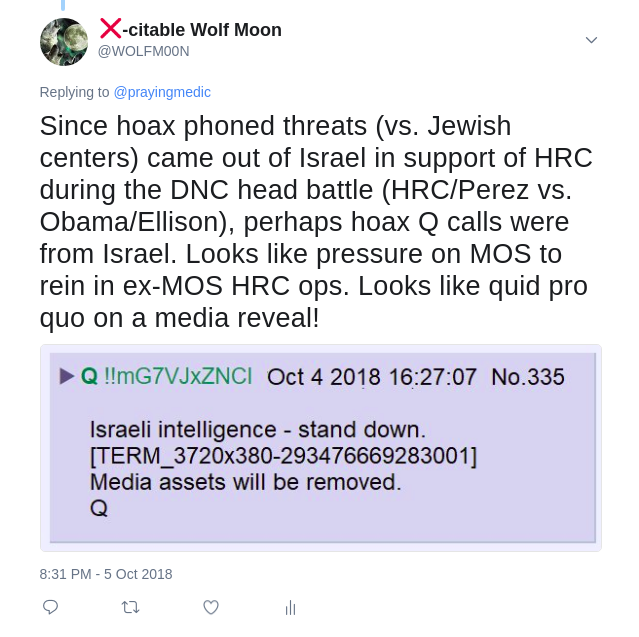 ---
W