Welcome! The door's open, come on in.
This Comfy Q Tree Saturday open thread is VERY OPEN – a place for everybody to post whatever they feel they would like to tell the White Hats, and the rest of the MAGA world.
You can say what you want, comment on what other people said, and so on. Keep it civil. Thanks to our host, Wolfmoon, Free Speech is practiced here.
Our rules began with the civility of the Old Treehouse, later to become the Wolverinian Empire, and one might say that we have RESTORED THE OLD REPUBLIC – the early high-interaction model of the Treehouse – except of course that Q discussion is not only allowed but encouraged, and speech is considerably freer in other ways. Please feel free to argue and disagree with the board owner, as nicely as possible.
Imagine that! You can talk about Q here…and unlike the Old Treehouse, you won't get banned.
Please also consider the Important Guidelines that our host has asked us to observe, outlined here in the January 1st open thread. Let's not give the odious Internet Censors a reason to shut down this haven that Wolf has created for us.
Remember – your greatest gift to President Trump is FIVE WORDS:
I AM PRAYING FOR YOU.
Wheatie's Rules:
No food fights.
No running with scissors.
If you bring snacks, bring enough for everyone.
………………………………………….
For your listening enjoyment, I offer this piece from the talented composer, BrunuhVille, who hails from Portugal:
[youtube https://www.youtube.com/watch?v=U62YkXZNs8M&w=640&h=360]
Titled: Winterwolf
………………………………………………………..
Our VSG President showed the world this week, that he is never so intent on making a  deal that he won't walk away from a bad one.
Well done, Mr. President!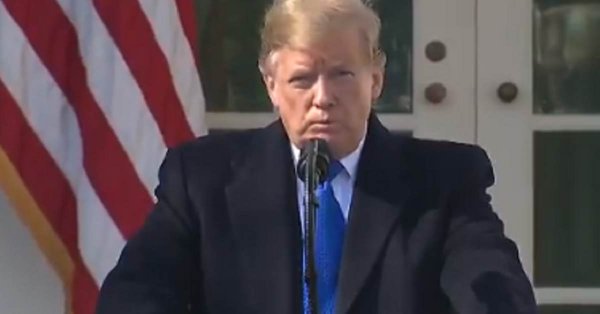 ……………………………………………………
Visual descriptions for dear Zoe and any others who may find them helpful:
Top Image: The view is of the base of a large moss-covered Tree with a doorway, deep in a mossy forest. There are narrow double doors of dark brown wood that are framed in a lighter wood, with  a carved trefoil arch at the top. There is a small flight of stone and brick steps leading up to the door, with a trickle of water down one side of the steps.
A carriage light fixture is attached to the side of the Tree near the door, with a wrought-iron bracket. It is shining brightly, lighting the door and stairway. Behind the Tree there is a soft filtered light illuminating the forest floor and the bright green moss that covers the ground and surrounding trees.
Video Image: The initial image is of a cloudy mist, with the title and artist's name showing across it. This changes to an image of a wolf, with his head raised and nose sniffing the air…as though he is taking in all the scents of the forest.
Bottom Image: A picture of Pres Trump at the podium in the Rose Garden outside the White House. He is looking straight forward with his mouth closed, jaw set and a steely-eyed look of resolve on his face.
………………………………………………………….