Remember this guy? The crying Indian? His name was Iron Eyes Cody. He died in 1999 and has a star in front of Grauman's Chinese Theater. He was part of the Keep America Beautiful Campaign, and he influenced an entire generation.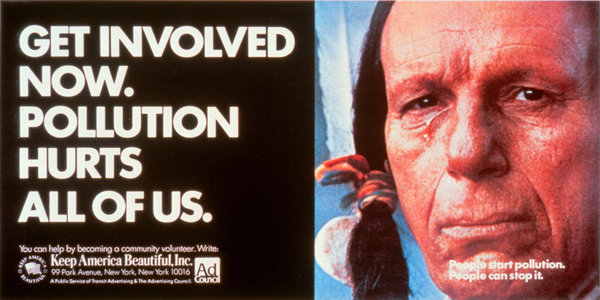 The Crying Indian campaign to stop littering was enormously successful and changed our society. These were PSA's or Public Service Announcements, done by the Ad Council. They were not political. It was common sense, "don't be trashy", pick up after yourself, be responsible, we're ALL Americans, and we're all individually culpable for the environment. We can all pitch in to make the country "prettier" and someone who DID litter was fined and shamed. The culture shifted, and yes, it was a positive change.
Recently, I watched an old episode of "Mad Men", which is a series based in the 60's. The main characters took their children to the park for a picnic and left their trash. The father threw a can at a tree. My eyes went wide. No American, raised in the 70's-80's-90's would do such a thing. Right? Well, while we successfully altered our behavior, the rest of the world didn't get the message.
Dad traveled to South America and Europe during the 70's and remarked about the trash, everywhere. I remember it and even though I was a kid, I thought, "Why would they not care?". A generation later, when I traveled on business to South America, I was astonished by the level of unorganized garbage collection. Asia is even worse. It's true, China alone, is responsible for 30% of the plastic found in our oceans. Don't even think about going to a public beach in China. Here is Sanya Beach, where the city employees remove 28 metric tons of garbage from the beaches EVERY DAY.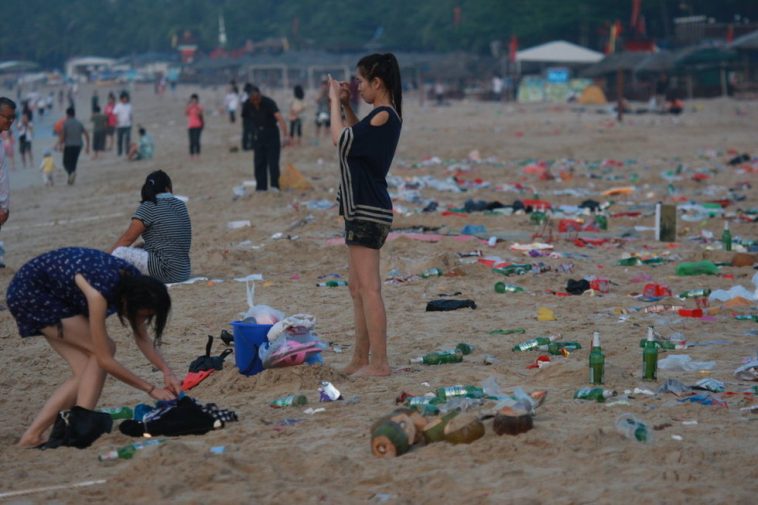 Currently, the USA has about 25% of our population who are foreign born AND it's been 40 years since the Crying Indian ads. Might be time for more Crying Indian ads, eh? Have you been to a beach lately in the USA? I have. People leave diapers and Wal-Mart sacks. It's disgusting. It's laziness. Sloth. Inexcusable.
We don't need a Green New Deal, which is estimated to cost 93 trillion dollars, if we can't get our own citizens to get up, and walk their trash to the garbage can. AND if environmentalists want to make the world a more beautiful place, they should probably start by protesting the Chinese Embassy. Better yet, rather than protesting and complaining, talk the Chinese into running their own version of the Crying Indian ads. It might work. It might accomplish the stated goal of environmentalists.
Look deeper. If I can easily figure out how to solve half of China's ocean pollution, thus 15% of the ocean's plastic, from my desktop, why hasn't it been done already? Perhaps the goal is not a clean planet. Perhaps the goal is really more about control of the people who would be potential polluters…… which brings us to the Green New Deal.
David Harsanyi from The Federalist has an interesting article about the 10 Most Insane Requirements of the Green New Deal. It is, by no measure, a cumulative list – just the highlights of the proposal and includes such items as:
Ban Affordable Energy, even though the USA is now the #1 producer in the world.
Ban Nuclear Energy, but nuclear is the cleanest of all energy sources
Eliminate 99% of cars, more control, to force us into cities.
Gut and Rebuild everything in the USA, mandate to make us move, shift locale
Ban Air Travel, except for those making the decisions? Will Bernie keep his plane?
A Gov't Guaranteed Job, how does THAT save the environment???? Or is it really about control???
Free Education for life, again, more control, which has nothing to do with environmentalism and everything to do with socialism
A Salubrious Diet, control what we eat? But her Chief of Staff, the guy who wrote the plan, still eats his burgers?
A "Safe and Affordable" House, control where we live = Communism to Marxism
Free Money, for those unwilling to work. Again, STOP with the SLOTH and laziness.
Ban Meat, because……., cow farts. Vegans are militants, ya' know.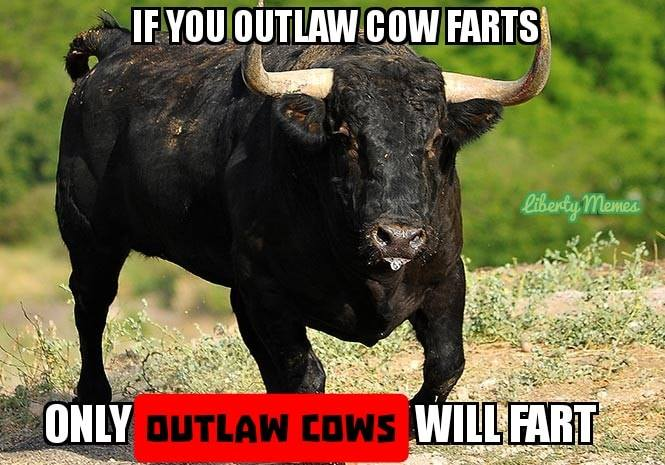 Yeah, it's fairly clear. The Green New Deal has little to do with a prettier and cleaner world and far more to do with a zealous need for control over the citizens by the chosen few via Socialism/Communism/Marxism. No thank you.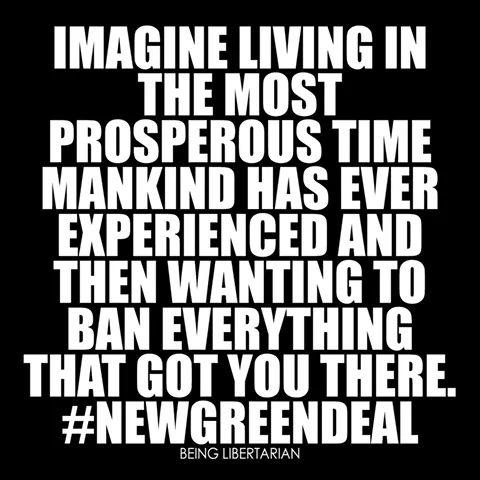 How about we do more PSA's? Shame people more for littering? Make individuals responsible for their little corner of the world. Very small investment would be required and frankly, a pleasant break from pharmaceutical ads. How about our own families and kids? I almost crashed my car, one time, when a friend of my son's threw a coke can out of my car window. I went to the exit ramp, made the trip around again, and made him pick it up. It took us 20 minutes to find it. Bet that kid will never litter again!
Wait……. I have a better story. You're going to love this one.
We live about 45 minutes from a major metro and we were in town, shopping, for a big event. We were coming home with a minivan full of supplies. I was 7-8 months pregnant and driving. With me were my stepson, about age 11-12, and a staff guy, about 16yrs old. We were almost home and singing to the radio.
Less than a mile from my exit, I merged in behind an old Chevette with Missouri plates, $hit brown in color, with three young black men in the car. All of a sudden, the guy in the back seat rolled down the window and threw out a big Burger King bag! Not the small individual bags from Burger King, the BIG bag, that you get when you order burgers for an entire classroom, like, a 30-40 burger bag. Then, he did it AGAIN! And tissue paper wrappers! He was littering!
On MY HIGHWAY!
I lost it. I came undone. Must have been the hormones or at least that's my excuse in retrospect. I started honking at him and pulled closer to his car. I was flashing my lights. The driver was oblivious. Finally, the guy in the back — shot me the bird. Ohhhh, it was Game ON.
The "dumb as it comes" driver decided to peel off the interstate at MY exit. I blared my horn at him the whole way down the ramp. He wasn't stopping! He made the first right into a local truck stop, and hopped out to gas up. I pulled right in behind him, looked at the boys and told them to, "STAY HERE!" My staff guy rolled down the window immediately, he wouldn't miss this for the world. My stepson was hanging over the seat, I heard, "Get 'em, Miss Daughn", but I was already out the car door.
I was temporarily insane. I was railing at the men for littering. "From Missouri, no less! You want to litter, go home to your own damn state and litter!", I was screaming, "Don't come to my state and spread your nasty trash.", "Less than a damn mile from an exit with a trash can right here!" and "Ohhh but no, you just HAD to throw it out on MY HIGHWAY!", and "lazy, rotten, no good, POS…..", I was just getting started….
About that time, a bunch of work trucks pulled up to the other side of the gas pumps. In the side of my eye, I saw people get out, but I was WAY to busy screaming and yelling at these three young black men. They were little, too. Biggest one probably only weighed 130lbs. I could have taken them, and I was thinking about it. I was spitting fire.
Someone tapped me on the shoulder and I almost took their arm off. It was Leroy, the 6'8″ block layer. Leroy is an enormous black man, whom I love all the way down to my toenails. In his deep baritone voice, he said, "Is there a problem, Miss D?" Well, then I had to explain the problem to Leroy…., which made me MOAR angry. I was yelling and pointing wildly. One by one, his men, all black men, all men I knew well, all HUGE men, got out of their trucks and moved to stand around Leroy. He looked at the little men and said, "Did you REALLY litter on Miss D's highway?" I almost laughed, but I was too mad, "Yes they did", I looked at Leroy and said, "Make them pick it up!!!!" The men behind Leroy were all nodding in agreement. Leroy moved towards the men and they got scared.
The driver was a jerk and believe it or not, seemed to want to fight. He poked Leroy in the chest and said, "Well aren't you just Johnny Q. Citizen – the good boy, doing what you're told by the white lady." Oh dear, he just insulted Leroy and Leroy was mad.
Now, the truck stop has an extraordinary diner, with world class comfort food served daily. The tables and chairs for patrons are lined up against large plate glass windows, which overlook the gas pumps and a small park between the truckstop and the exit ramp. You know, where your dog goes to do his business. Inside the diner, Steve's men, all farm hands, had finished their dinner and were watching the scene unfold outside. Steve was my husband's best friend and sort of, my "other" husband. There I was, the lily white lady, in the midst of a dozen black men, and I was wild and gesticulating. Out the door came all the farm hands, 12-15 of them. I heard Steve's voice, "Is there a problem here, gentlemen?"
Steve's men did not really know Leroy's men, and vice versa. I knew everyone except the three scrawny guys from Missouri. I had to stop and re-explain why I was so furious to Steve's men, which I did, only louder this time! There were 20+ guys on my side and 3 guys from Missouri on their side. I was mad and ready to pull them limb from limb!
Two State Highway Patrol Cars rolled in. It was Eddie "X" and his buddies. Our sons were in school/played soccer together. I was happy to see him because he could FINE THEM! Better yet, he could MAKE THEM PICK UP their trash on OUR highway! Eddie started to question the men, "What did you throw out of you car? License, registration….." but I wouldn't let the men answer, "All kinds of Burger King wrappers, bags, littering the whole way!" I pointed north, "It's all there, take them back and make them clean it up!"
City police showed up, SIX police cars, including the Chief! There's not much that happens in our town. "Arrest them", I railed! Understand, Al, the Police Chief, used to toilet-paper my house for Halloween…. as retribution for the time the girls and I toilet-papered the police station. He had never seen me mad, ever. I don't usually get mad. The three little men had a bad attitude and were mouthing off. I would NOT keep still. I wanted them to pick up their garbage from the highway and then I wanted them arrested AND fined! For added measure, I said, "And don't EVER come back to our state again!"
The Chief knew Steve's farmhands and Leroy's men extremely well. With the Chief's back to the Missouri pissants (and me), he addressed my defenders. The Chief was very calm, slow, and deliberate. With a wink, he said, "Wellllllll…., we could take them out to "XYZ" field and you guys could bury them there." All the men on my side nodded, folded arms, shifted weight, set their jaws. "Yeah", said one reaching into his truck, "We've got the shovels." Another one piped up and said, "Hell no, we'll dig with a backhoe, it's too hot to be digging graves……" The Missouri twerps, for a moment, thought they might be serious and so did I. "Well, you can't kill them", I said. "Nononoonno,"I said. "Well", said the Chief turning towards me, "short of killing them, Miss D, what do you want me to do them?" I reiterated my demands, STERNLY!
Steve and Leroy's men made friends. The police sorted out the charges and I was satisfied. It was about 3:00pm. I drove home, unloaded groceries, staff guy went home, stepson played in his room, one last vacuum, checked in some guests, I was making dinner, waiting on more guests to arrive.
About 5:30pm, husband breezed through the back door. It was a hot summer day and he had been to the beer store, the next town south (about 10 miles, we were a dry county at the time). He kissed me on the cheek, "Have a good day, dear?" A slight lilt in his voice but I didn't catch the inference. I told him what we were having for dinner and who was checking in. I gave him messages, and we began a conversation about specific projects. "Anything else happen today?", he inquired. I was puzzled, at first, and had completely moved on from the incident at the truckstop. He reminded me.
I told you, not much happens here. Apparently, by the time he arrived at the beer store, talk of my trukstop scene was all the rage. My own husband had the gall to chastise me for being involved because, "You don't know what they would have done to you" and "besides that, you're pregnant" In a flash, I was angry again, and spewing crime statistics at him, defending my actions and the cleanliness of my town and highways. "Besides", I said, "the were little, stupid, scrawny, puny, men, (every adj. I could think of) and I could have taken them." Fire was coming out of my eyes. "Babe", he said placing his hand carefully on my shoulder, "I believe you might have hurt those poor young men……" I growled, low, in my throat. I actually growled.
Don't mess with my town. The incident made me a mini-legend for a couple of months, especially with the guy-guys. When anything had to be settled, they threatened to "send" me. I love those guys. They had my back, literally, when it counted. And the poor police, I apologized profusely for bothering them, but the mouthy little men were charged and fined. Message went out, as you can imagine, whatever you do, don't pull over the crazy lady. It was embarrassing, sure, but I was effective.
PICK UP YOUR TRASH!