It's about to happen, people.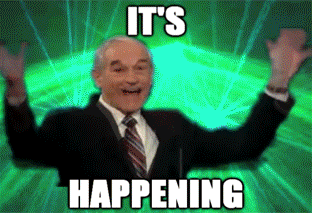 Sorry – wrong future. Let's try again.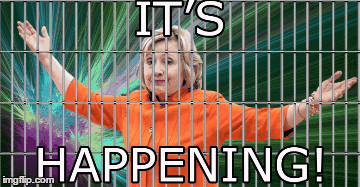 First, go back just a bit:
---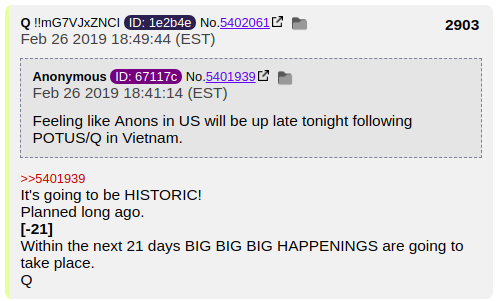 Q !!mG7VJxZNCI ID: 1e2b4e No.5402061 
Feb 26 2019 18:49:44 (EST)
Anonymous ID: 67117c No.5401939 
Feb 26 2019 18:41:14 (EST)
Feeling like Anons in US will be up late tonight following POTUS/Q in Vietnam.

>>5401939

It's going to be HISTORIC!
Planned long ago.
[-21]
Within the next 21 days BIG BIG BIG HAPPENINGS are going to take place.
Q

Q Post 2903
---
See the -21? Now check out today's post.
---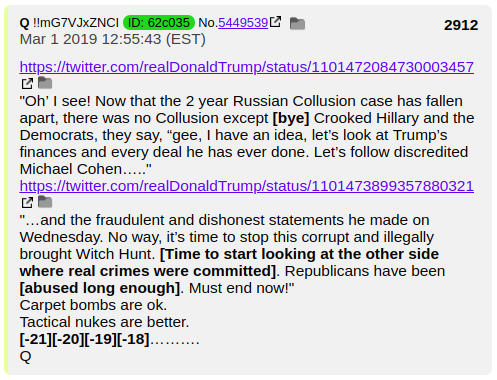 Q !!mG7VJxZNCI ID: 62c035 No.5449539 
Mar 1 2019 12:55:43 (EST)
https://twitter.com/realDonaldTrump/status/1101472084730003457
"Oh' I see! Now that the 2 year Russian Collusion case has fallen apart, there was no Collusion except [bye] Crooked Hillary and the Democrats, they say, "gee, I have an idea, let's look at Trump's finances and every deal he has ever done. Let's follow discredited Michael Cohen….."
https://twitter.com/realDonaldTrump/status/1101473899357880321
"…and the fraudulent and dishonest statements he made on Wednesday. No way, it's time to stop this corrupt and illegally brought Witch Hunt. [Time to start looking at the other side where real crimes were committed]. Republicans have been [abused long enough]. Must end now!"
Carpet bombs are ok.
Tactical nukes are better.
[-21][-20][-19][-18]……….
Q

Q Post 2912
---
Do the math.
W