Guess who stopped by yesterday!!! 😀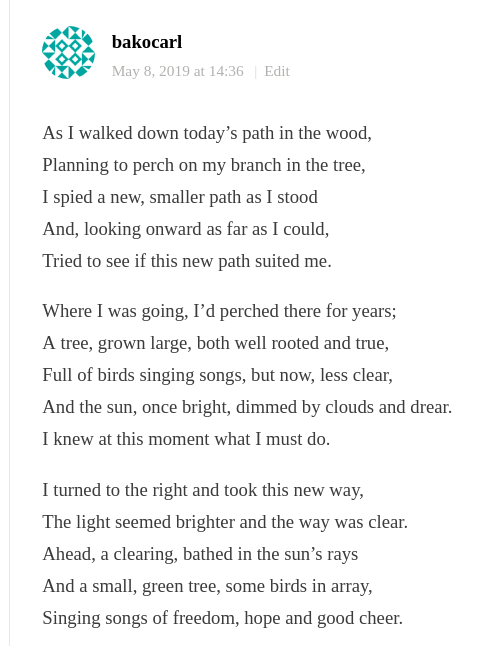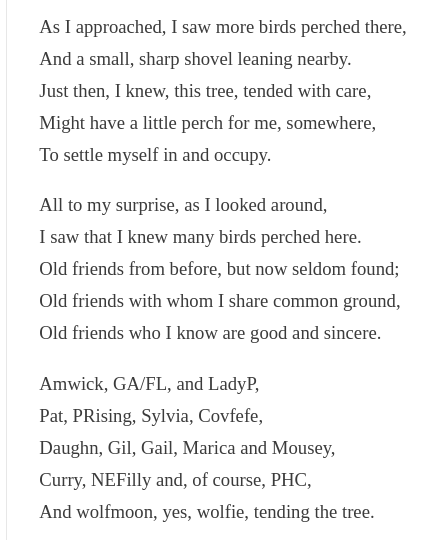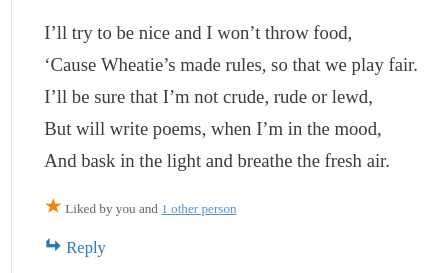 Repeated as TEXT for our visually impaired friends….
bakocarl
May 8, 2019 at 14:36
As I walked down today's path in the wood,
Planning to perch on my branch in the tree,
I spied a new, smaller path as I stood
And, looking onward as far as I could,
Tried to see if this new path suited me.


Where I was going, I'd perched there for years;
A tree, grown large, both well rooted and true,
Full of birds singing songs, but now, less clear,
And the sun, once bright, dimmed by clouds and drear.
I knew at this moment what I must do.


I turned to the right and took this new way,
The light seemed brighter and the way was clear.
Ahead, a clearing, bathed in the sun's rays
And a small, green tree, some birds in array,
Singing songs of freedom, hope and good cheer.


As I approached, I saw more birds perched there,
And a small, sharp shovel leaning nearby.
Just then, I knew, this tree, tended with care,
Might have a little perch for me, somewhere,
To settle myself in and occupy.


All to my surprise, as I looked around,
I saw that I knew many birds perched here.
Old friends from before, but now seldom found;
Old friends with whom I share common ground,
Old friends who I know are good and sincere.


Amwick, GA/FL, and LadyP,
Pat, PRising, Sylvia, Covfefe,
Daughn, Gil, Gail, Marica and Mousey,
Curry, NEFilly and, of course, PHC,
And wolfmoon, yes, wolfie, tending the tree.


I'll try to be nice and I won't throw food,
'Cause Wheatie's made rules, so that we play fair.
I'll be sure that I'm not crude, rude or lewd,
But will write poems, when I'm in the mood,
And bask in the light and breathe the fresh air.

bakocarl, The Q Tree, May 8, 2019
https://wqth.wordpress.com/2019/05/08/dear-maga-20190508-open-topic/comment-page-2/#comment-144009
I clearly wasn't the only person who was missing bakocarl and his poems! There was a rousing welcome, as you can see at the link above.
Others are finding us now, too. Teagan and Gunny in the last day or two, and many others in the last few weeks.
I want to take a moment to thank ALL the people who come here, and even those who just lurk.
<3 THANK YOU! <3
And now back to our regularly scheduled program – before my closing words at the end.
---
This <3 THANK YOU THURSDAY <3 open thread is VERY OPEN – a place for everybody to post whatever they feel they would like to tell the White Hats, and the rest of the MAGA world.
You can say what you want, comment on what other people said, and so on.
Free Speech is practiced here. ENJOY IT. Use it or lose it.
Keep it SOMEWHAT civil. They tried to FORCE fake Orwellian civility on us. In response, we CHOOSE true civility to defend our precious FREEDOM from THEM.
Our rules began with the civility of the Old Treehouse, later to become the Wolverinian Empire, and one might say that we have RESTORED THE OLD REPUBLIC – the early high-interaction model of the Treehouse – except of course that Q discussion is not only allowed but encouraged, and speech is considerably freer in other ways. Please feel free to argue and disagree with the board owner, as nicely as possible.
Please also consider the Important Guidelines, outlined here in the January 1st open thread. Let's not give the odious Internet Censors a reason to shut down this precious haven.
---
AND THESE FIVE WORDS FOR OUR LOYAL VSGPOTUS…..
I AM PRAYING FOR YOU!
---
Always keep our movement's larger purpose in mind – RESTORATION!!!
That is why there MUST BE the DRAINING of the SWAMP!!!
Our movement

Is about replacing

A failed

And CORRUPT

Political establishment

With a new government controlled

By you, the American People.

Candidate Donald J. Trump
---
Also remember Wheatie's Rules:
No food fights.
No running with scissors.
If you bring snacks, bring enough for everyone.
---
It's very nice to have the gang back together here. I had hoped that bakocarl would eventually find his way here, because I knew at that point, there would be the closing of one chapter, and the opening of another.
Time for the NEXT CHAPTER!
Have a great THURSDAY, and let's keep LOTS of people in prayer!
W