Justice Must Be Done.
The prior election must be acknowledged as fraudulent, and steps must be taken to prosecute the fraudsters and restore integrity to the system.
Nothing else matters at this point. Talking about trying again in 2022 or 2024 is hopeless otherwise. Which is not to say one must never talk about this, but rather that one must account for this in ones planning; if fixing the fraud is not part of the plan, you have no plan.
Lawyer Appeasement Section
OK now for the fine print.
This is the WQTH Daily Thread. You know the drill. There's no Poltical correctness, but civility is a requirement. There are Important Guidelines, here, with an addendum on 20191110.
We have a new board – called The U Tree – where people can take each other to the woodshed without fear of censorship or moderation.
And remember Wheatie's Rules:
1. No food fights
2. No running with scissors.
3. If you bring snacks, bring enough for everyone.
4. Zeroth rule of gun safety: Don't let the government get your guns.
5. Rule one of gun safety: The gun is always loaded.
5a. If you actually want the gun to be loaded, like because you're checking out a bump in the night, then it's empty.
6. Rule two of gun safety: Never point the gun at anything you're not willing to destroy.
7. Rule three: Keep your finger off the trigger until ready to fire.
8. Rule the fourth: Be sure of your target and what is behind it.
(Hmm a few extras seem to have crept in.)
Spot (i.e., paper) Prices
Last week:
Gold $1880.70
Silver $27.63
Platinum $1172.00
Palladium $2834.00
Rhodium $25,500.00
This week, 3PM Mountain Time, markets have closed for the weekend.
Gold $1904.50
Silver $28.03
Platinum $1187.00
Palladium $2878.00
Rhodium $24,400.00
Unfortunately, when looking at the prices only on Friday, you lose some things. Rhodium took a hard hit during the week, dropping below $20,000. At least, according to Kitco. A different site I sometimes check never noticed that drop, so when rhodium came right back up again the downward plunge disappeared, for them. Gold definitely seems to be on an uptrend, and perhaps silver is too. Rhodium is off its all time high, but I am waiting to see if it will truly start to go down.
Torque and Angular Momentum (Part V of a Long Series)
Introduction
Having run out of precious metals to babble about, I'm going to change tacks. If you've been here a while, you might remember two postings I did on stars. These were independent posts, having nothing to do with politics (poly = many, ticks = blood sucking bugs) and at least some people enjoyed them. I wanted to go to the opposite end of the scale and talk about a certain sub-atomic particle, but then I realized that the best way to do that would be a very, very, very long post. (And yes, it's a subatomic particle, but it has a lot to do with stars.) A huge part of it would be explaining where physics stood in 1895, and how three discoveries in the next four years basically overturned things, and eventually led to that subatomic particle, the real star (ahem) of the whole series.
So I decided to break this story up into pieces. And this is the fifth of those pieces.
And here is the caveat: I will be explaining, at first, what the scientific consensus was in 1895. So much of what I have to say is out of date, and I know it…but going past it would be a spoiler. So I'd appreciate not being "corrected" in the comments when I say things like "mass is conserved." I know that that isn't considered true any more, but the point is in 1895 we didn't know that. I will get there in due time. (On the other hand, if I do misrepresent the state of understanding as it was in 1895, I do want to know it.)
Also, to avoid getting bogged down in Spockian numbers specified to nine decimal places, I'm going to round a lot of things off. I use 9.8, below, for a number that's actually closer to 9.80665, for instance, similarly for the number 32.
Dimensions and Units
I have another go-back.
I've been re-educating myself on a lot of this stuff, and I find I've been glossing over some critical distinctions.
In particular I've been sloppy about the one between dimensions and units. I may very well have never misused the one word to refer to the other thing, but even if not, I haven't clearly drawn the distinction, and it may have led to some confusion (or at least the sense that I am switching my terminology without any particular reason).
To try to make it clear, let's take as an example something that, though we've not covered it here, is something quite visual. Area. We all know about the area of a room in a house, and we typically measure it in "square feet" which is to say, how many squares a foot on a side will fit into the area. (If it's irregular, or has fractional measurements, obviously we can cut up our squares into pieces to fit them in.)
The units of area here are in square feet, or feet•feet or ft2. But an area could just as easily be measured in square inches, or square yards, or square centimeters, or square meters. There is also the acre (which is 1/640th of a square mile), and the hectare (10,000 square meters or one square hectometer (100 meters on a side), roughly 2 1/2 acres). Those would all be different units for area. But the dimensions of area are length x length. Length is the thing a foot, or a meter, or a furlong, or a light year, actually measures, just as an acre measures area. When we go to talking about dimensions, we've divorced ourselves from any particular measuring system, and we're talking in the abstract.
So, looking at work, in metric the unit of measurement is the joule, which is a newton-meter, which in turn is a kilogram-meter/second2 • meter, or abbreviating, kg•m2/s2. But the dimensions of work are mass•length2/time2, or abbreviating, m•d2/t2. (Unfortunately m can stand for the dimension mass, as well as the unit meter, adding to potential confusion.)
Physicists–and hard scientists in general, actually, engage in something called dimensional analysis from time to time. If they're working on proving a relationship between two different things, the dimensions had better match up properly, or they'd know to go back to the begining and start again. For example, if Einstein, while writing that famous equation, E = mc2, had not had the dimensions match up, he'd have wadded up the paper he was writing on and started over.
But there's also unit analysis. And chemists do this a lot because they have all sorts of specialized units of convenience (like the calorie) and often have to convert from one unit to another. Of course we do this all the time as well, just rather informally, but there's a way to lay things out so they come out right and we don't just have to guess.
Let's say you own a large warehouse, 330 x 660 feet. You want to brag about how big it is because you want to sell it to someone. How many acres does it cover?
As I mentioned above a square mile is 640 acres. We also know that there are 1760 yards to the mile and three feet to the yard. (Pretend you don't know anything else, in particular forget the number 5,280.)
So you can get the right answer, guaranteed, by doing something like this:
Write: 640ac/mi2, mi/1760yd, mi/1760yd, yd/3ft, yd/3ft, 330ft, 660ft.
The last two are the two numbers that go into your area, when you multiply them together you're multiplying two lengths to get an area. So from a dimension analysis standpoint we're good with those, but multiplying them together gives you 217,800 ft2 and we don't know how to relate that to acres. So for now let's not multiply them!
That's where the rest of the crap I told you to write comes in. Look at each one. They're all fractions equal to one. In the first case both top and bottom are equal to a square mile (or they're both equal to 640 acres), so that first term is equal to 1. That's true for the other four terms too.
So you can take your 330ft x 660ft and multiply it by all five of these and not change it, since they're all equal to 1.
Let's combine things.
640ac • mile • mile • yard • yard • 330ft • 660ft
——————————————————————————————
mile2•1760 yd • 1760 yd • 3ft • 3ft


The first thing you can do is cancel out the units. Feet, for instance, appears on the top twice, and on the bottom twice. Remove them all! The same with yards (twice on top and bottom). And mile shows up twice too, so remove them all.
Now you're left with nothing but "acre" in the numerator, and a bunch of numbers.
640 acre • 330 • 660
——————————————-
1760 • 1760 • 3 • 3
This means when you do that arithmetic, you will have your answer in acres.
You can do some cancelling, you can divide the 330 and 660 by 3 and get 110 and 220. Then it turns out that 1760 is 16•110 (and therefore 8•220) so you can do some more canceling and get 640 acres / ( 16•8 ). This should be readily digestible as 5 acres.
This sort of procedure can be used to convert from metric to US customary, too, provided you know a conversion factor somewhere. For example, I know the metric system weights fairly well, and I also know something about the US customary system weights, but the only conversion factor I can remember is that 31.1035 grams makes up a troy ounce. I know for regular grocery ounces it's 28-point-something but can never remember. So if I have 500 grams of something, how many grocery ounces does that weigh?
OK, working "backwards" from the desired answer to what we have, start with 16 oz / 1 lb. Then get there from grains, and get to grains from troy ounces, and get to troy ounces from grams:
(16oz/1lb)•(1lb/7000gr)•(480gr/1ozt)•(1ozt/31.1035g)•500g.
When you go through and cancel out all the units, you're left with oz as the sole standing unit. You can then multiply and divide all those numbers and get that 500 grams weighs 17.63696+ grocery ounces. I only have to remember ONE conversion facter from US customary to metric, so long as I know the conversion factors within the US customary system. (The internal metric ones are much easier to remember!)
OK, that's out of the way. On we go.
Torque
Up until now we've been working with forces that go entirely into making the object move from one place to another.
That's because we've implicitly assumed the force was directed through the center of mass of the object.
However, you know, and have probably known since the first time you tried to push on an object as a baby, what happens when you don't line up with the object's center of mass: The object does some combination of turning and moving, and that motion isn't in the direction you pushed!
Let us, for now, pretend we're on a frictionless surface (or, perhaps, in orbit, freefall, which for complicated reasons is called "microgravity" by sticklers).
Figure 1A shows an object, and a vector representing a force applied to the object. The dot is the center of mass of the object. The force does not go through that center of mass.
Figure 1B shows the vector resolved into two components, a radial component (through the center of mass) and a transverse component, perpendicular to the radial component.
If your point of view is the center of mass, the transverse component is the one you see as a vector against the background. The radial component looks like a vector pointed right at you. (Figure 1C)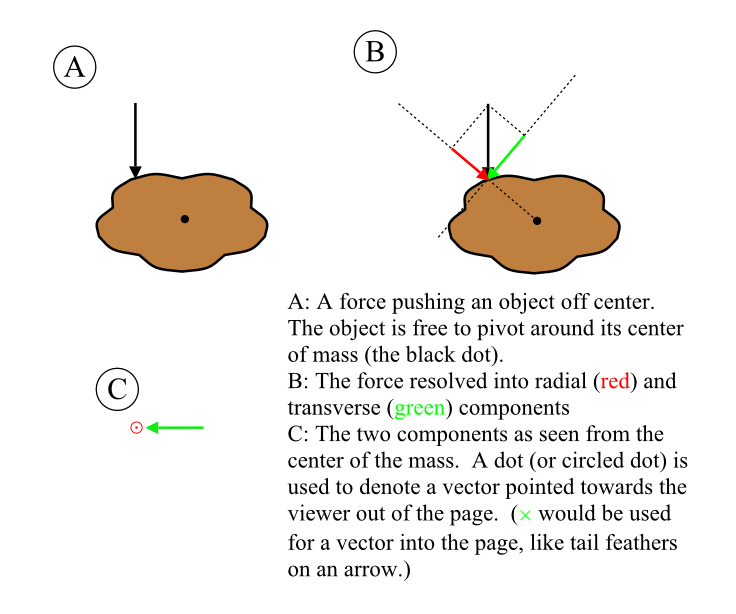 As it turns out the radial component goes into pushing the object, and the radial component's direction, not the direction of the original force is the direction of the shove, the sort of shove we talked about way back in part 1 when we talked about mass and force.
The transverse component will set the object to turning around its center of mass. (Or, if the object is fixed to a pivot, the object turns about the pivot.) This action is called torque.
Not only that, the induced rotation will be around an axis that's perpendicular to the radial component of the force. And it will also be perpendicular to the transverse component. (That sounds complex, it really isn't. It's definitely one of those picture-equals-a-kiloword things. See Figure 2.)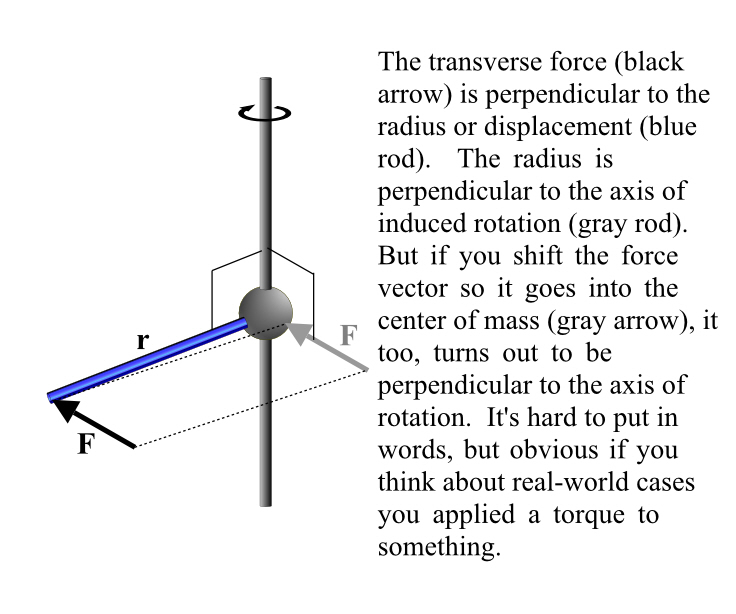 Different objects will, depending on not just their mass, but also their shape (sphere, donut, cylinder, cube, flat sheet), orientation (it makes a difference whether a cylinder is oriented so the ends are on the axis of rotation, versus whether the axis passes through the "wall" of the cylinder), and mass distribution (is the mass uniformly distributed or is, say, most of it near the center of the object), resist the torque trying to get it to turn. These factors would be multiplied by the mass of the object to come up with something called the "moment of inertia."
(If you see the word "moment" in a physics term, it has to do with getting something to rotate, either something like this, or, say, a magnet wanting to swing to point towards/away from a magnetic pole somewhere–that's a magnetic moment.)
The moment of inertia of a point mass, m, at a distance r from the center of rotation (the pivot point), is mr2. You can determine the moment of inertia of actual, real shapes (not point masses) either around their own center of gravity or a pivot point elsewhere, by breaking the object up into infinitesimal (almost zero size) pieces, computing each piece's moment of inertia, then adding them up again. This can be "automated" in large part by using calculus.
Note that moment of inertia seems to have dimensions mass • distance-squared.
For example, a solid, uniform sphere had a moment of inertia about its center of I = 2/5mr2, m being the mass of the sphere and r being its radius. And of course the center of gravity is the center of the sphere. But if it's a spherical shell (where the thickness of the shell is very small compared to the radius), it's 2/3mr2. If it's a thin rod of length L, spinning around a perpendicular line through the center, it's 1/12mL2. And moment of inertia doesn't just apply to objects completely free to move. If that rod is attached to a pivot at one end, like (say) the arm of a wrench, the moment of inertia is 1/3mL2—four times as much.
Tedious stuff and I had to memorize it then (of course) forget it.
OK, here's an application. You're driving down the road and have a blowout. You now have the task of loosening the lug nuts on the wheel so you can change to the spare. Out comes the lug wrench, and you push on it to loosen the nut.
The handle of the wrench is a radial (displacement) vector, and you know, intuitively, that you get the most leverage if you push on it at a right angle, as far out as possible. You're trying to loosen the nut which not only has a (very small!) moment of inertia but a lot of friction.
If it doesn't want to come loose, you need more torque. There are two ways to increase the torque: Apply more force to the end of the wrench (making sure it's perpendicular), or get a longer wrench.
By now you'll have noticed a pattern. Any time doubling some piece of the puzzle doubles the effect, the formula is going to involve multiplying by that factor. In this case this happens to both the the force and the distance (length of the wrench). We use the Greek letter tau, τ, to denote the torque. Then, if Ft is the transverse component of the force:
τ = Ftl
So you can imagine applying three newtons of force to the end of a two meter wrench (if you can imagine a wrench that long!) or twelve newtons to the end of a half meter wrench, and getting exactly the same torque either way.
Note this isn't a vector…but really, it should be! Torque absolutely has direction! Not only righty-tighty, lefty-loosey, but you'd never try to remove the lug nut by pushing toward the car or away from it, even though that's also perpendicular to the wrench. You're applying a torque by doing this, but it's not in a useful direction. (In fact if you manage to bend or snap the lug, it's worse than useless.)
So we have two obvious vectors, a displacement (length) vector, and the direction of the force. We also know from our personal experience that a perpendicular force exerts the most torque because the entire force is transverse. Other angles exert less.
So our vector formula should depend on the angle between the vectors.
Well, we have the dot product. Is that what we want?
No, it's not. First, the dot product does not give you a vector…and torque absolutely has direction, not just amount (magnitude).
But the second shortcoming is worse. A dot product is zero when the two vectors are perpendicular, and is maximized when the vectors are parallel (and minus that same maximum when the vectors point in exactly opposite directions). That's the exact opposite of what we want.
The Cross Product
So pardon me for just a few seconds while I bust out in those peals of evil laughter once again. Bwahahahaha!!!
We need the other way to multiply vectors. We need the cross product.
The cross product, represented with ×, is maximized for perpendicular vectors, is zero when the vectors are parallel (or point in opposite directions) and gives you a vector answer. Perfect! It behaves exactly like torque with force vectors in various directions.
And now you know why the dot product is always written with a dot, never a "multiplication sign" like you saw in elementary school. Because when it comes to vectors, those two symbols do not mean the same thing.
First the pictorial description. Then the trig. Then how to compute it given some vectors.
First, a cross product only exists in 3D space. It won't show up in the Donald Trump 64D Chess Open Championship. Nor will it show up in your 2D diagrams, unless you're really showing a slice of 3D space, in which case it still won't show up in your diagram because it will point straight up out of the diagram (or into it).
The result of a cross product between A and B, A×B, will be a vector that is perpendicular to both A and B. To visualize this, make a fat L with your right hand (your right hand, not your left hand), with the thumb sticking out from the hand at a 90 degree angle. Now point the fingers along vector A. Now bend the fingers in the direction of vector B. (Hopefully you don't have to contort yourself too much for this part. Figure 3 is safe, as long as you follow directions and use your right hand.) Your thumb points in the direction of the cross product, so long as the angle you sweep through is less than 180 degrees. (And for that matter, more than zero–angles less than zero would bend your fingers backwards, anyways.) If it is more than that, the cross product points the opposite way.
This is called the right hand rule. You use your right hand to determine the direction of the cross product.
OK, now here's a thing about cross products that will seem kind of odd. Do the same thing, only do B×A. Start with your fingers along B, turn your hand around so that you can sweep towards A. Now your thumb is pointed in the opposite direction from before.
Well, now, that's odd! A×B actually is the opposite of B×A.
A×B = – B×A.
This GIF shows the cross product of two vectors in an animation, it pauses at 0, 90, 180, and 270 degrees but watch the cross product vector grow or shrink when it sweeps through the other angles.
Now for the trigonometric interpretation. The magnitude of the cross product AxB is equal to the sine of the angle between them, times the magnitude of both vectors.
∥A×B∥ = ∥A∥ ∥B∥ sinθ
If A and B are unit vectors, it reduces to just plain sinθ.
Here, if you look at the angle from B to A as the opposite of angle from A to B, you can see why AxB = –BxA, because the sine of a negative angle is the same as the sine of the positive angle—except for a minus sign.
OK, now, if you're dealing with two "raw" vectors, triplets of numbers, how do you compute their cross product?
It's quite a bit more complicated than a dot product. However, there are a number of gimmicks to help you remember, and I'll share my personal favorite.
Let's take the vectors A = [2,7,3] and B = [5, 4, 6]. Let's also take three vectors, i, j, and k. These three vectors are a physicist's best friends, they're unit vectors along the X, Y and Z axes. In other words, i = [1, 0, 0], j = [0, 1, 0], and k = [0, 0, 1]. (Note: I know I should put hats on them…but those characters are unavailable, so I'm settling for just using lowercase to denote a unit vector.)
Arrange things like this:
i j k
2 7 3
5 4 6
In other words, our unit vector friends, then vector A, then vector B.
Now repeat the first two columns:
i j k i j
2 7 3 2 7
5 4 6 5 4
Now start with the first i and run down and to the right, multiplying: i•7•6, which is to say 42i. This is a vector of length 42 along the X axis.
Do the same for j and k, you should get 15j and 8k.
Add these together, and get 42i + 15j + 8k. But, if you think of it, that's just the vector [42, 15, 8], isn't it? OK, save that off, we have to go on to the next step.
Start with k. Run down and to the left and multiply. k•7•5 = 35k. Move to the second i and do the same thing, then the final j. You should get 12i and 12j. You can add these up and get 12i + 12j + 35k. But that's just [12,12,35], right?
OK, last step. Take the second vector and subtract it from the first:
[42, 15, 8] – [12, 12, 35] = [30, 3, -27]
Now I can say that (unless I made a boo-boo), [30, 3, -27] is perpendicular to both [2, 7, 3] and [5, 4, 6]. Which also means it's perpendicular to the plane those two vectors are in (two vectors that aren't parallel or antiparallel define a plane, but if the two vectors are like that then the cross product is zero).
Of course I can check that statement, and so can you. I can dot [30, 3, -27] with each of those vectors, if they are perpendicular the dot product will be zero.
[2, 7, 3] • [30, 3, -27] = 60 + 21 – 81 = 0
and
[5, 4, 6 ] • [30, 3, -27 ] = 150 + 12 – 162 = 0.
(So I guess I didn't make a boo-boo.)
OK, that's a kind of lengthy process. If you don't like that, please, just remember the right hand rule and remember the gif. Those will tell you the direction, and give you a qualitative understanding of what's going on.
Torque as a Vector
Okay, with that out of the way, back to torque. It's the cross product of the force and the displacement vector, r, from the center of mass to where the force is being applied.
τ = r × F
We no longer need to specify the transverse component of F, the cross-producting takes care of that.
Let's re-use the picture from Figure 5-2 and show you the torque vector.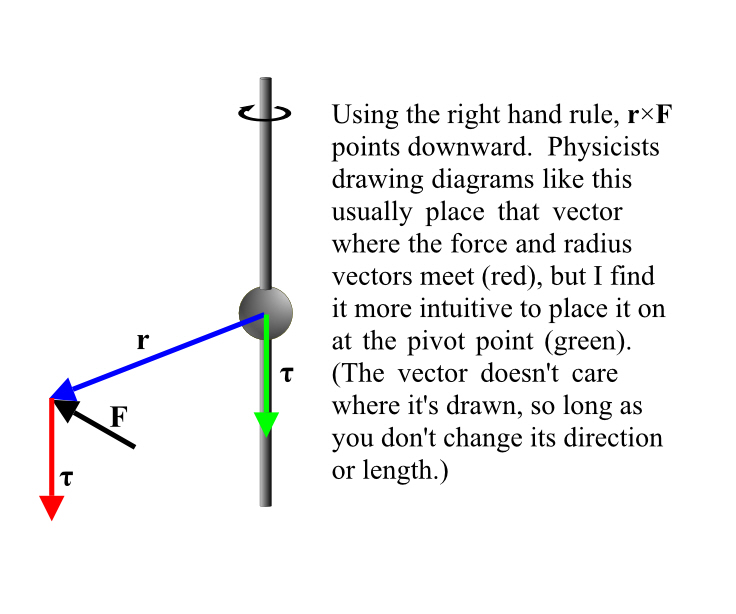 What about the units? F is a force and is in newtons, and r is a distance and is in meters. So torque is measured in newton-meters. Note this is the same units as work, but we don't ever describe a torque in joules.
In the US customary system energy is sometimes measured in foot-pounds, and torque is quoted in pound-feet, just to keep them distinct.
And remember the direction of the torque is along the axis of rotation it's trying to create. (In fact, it's away from the car when loosening a lug nut, try the right hand rule to see.) If you find that counter-intuitive, you're not alone. You might think the direction of torque ought to be the same direction as the force, or at least the transverse component of it. But on further reflection, that won't work. In trying to loosen that rusted lug nut, I can be pushing down on a wrench sticking to the left, or I can be pulling up on the wrench while it sticks to the right. Those would be opposite torques if the direction of the torque were the same as the direction of the force. But they're intuitively the same torque. If that isn't so intuitive to you, then consider the case where you're using one of those X shaped tire irons and you are pushing down on the left and pulling up on the right at the same time. The forces should cancel each other out, but clearly the torques they cause do not, they add together.
If you take both cross products left × down and right × up, both give you a vector pointing away from the car, and they add to each other.
Another way to look at is, the force, no matter where it is, is in a certain plane, the plane of the lug nuts. One way to specify a plane is to specify a line perpendicular to it. Of course, this is a vector, and can be anywhere so long as you don't change its direction or magnitude, so a vector specifies any of a number of parallel planes (like pages in a closed book) depending on where you put it. A vector specifies a specific orientation of a plane, then,
There is actually another way to analyze a torque when you are forced to push on the lever at an angle that isn't perpendicular. Extend the line of the force, either forward or backward. Find the point where it's closest to the center of rotation. Use the full force at that point and the distance to that point, and simply multiply (the angle is 90 degrees, so the sine factor is 1). This works because the length reduces by the same factor as you lost by not applying the force perpendicularly; you can prove that geometrically.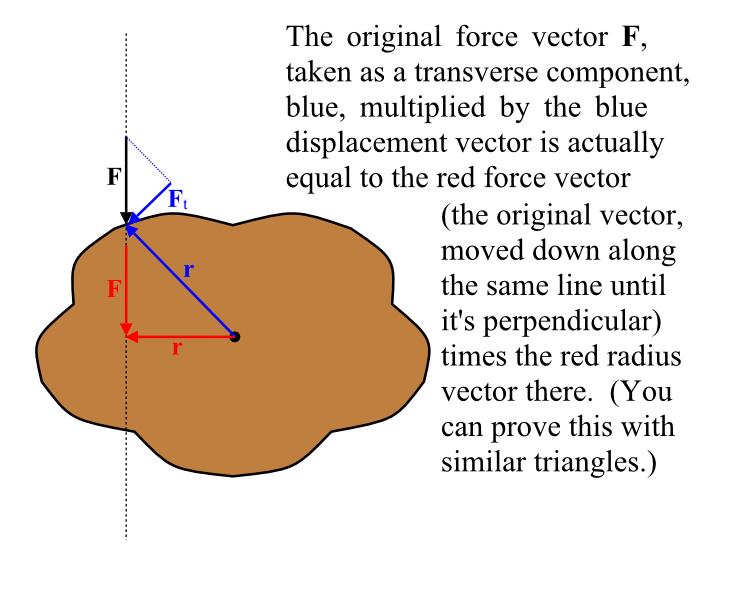 Angular Displacement, Velocity, and Acceleration
Imagine a wheel, free to turn, frictionless. You push on the outer rim. That's a torque. How much does the wheel speed up?
As you might guess, it won't turn at a high RPM immediately but will speed up as you continue to apply the torque.
You can actually draw a useful analogy here. We talked in Part I about applying a force to am object with a certain mass, causing it to speed up and, given a certain amount of time, covering a certain distance or displacement.
For rotations, we can apply a torque to an object with a certain moment of inertia, causing it to speed up in angular velocity (RPM is a measure of angular velocity) and eventually turn through a certain angle.
It's actually a pretty tight analogy, everything "works."
Distance (displacement) is represented by d. Angle, as you've already seen, is represented by lower case Greek theta, θ. But here's the schiff in the punchbowl: the angle isn't measured in degrees, it's measured in radians.
A radian is 57.295779513082320876798 degrees.
Approximately.
Where the heck did that number come from? Okay, imagine you're at a Biden rally, there to heckle, and you're standing on the edge of one of those silly-ass social distancing circles. And the circle has a radius of 6 feet.
Now walk along the arc of the circle exactly six feet. The angle you covered is one radian. If you were to walk completely around the circle (why not? It's not as if Biden is worth listening to) you'd cover 6 × 2π feet (approximately 37.699111843 feet), because the circumference of a circle is 2πr. That's 2π radians. In other words, if you've expressed an angle in radians, you're giving the ratio between the distance along the arc and the radius of the circle. And for reasons I long ago forgot (if I ever truly understood them) this is the most "natural" way to measure an angle, from a mathematical standpoint. (If you take a trig class you will learn like Pavlov's dogs to recognize, for example, π/6 as being 30 degrees [with a sine of 0.5 and a cosine of 0.866+].)
Since an angle measured in radians is distance along the arc divided by the radius, you're dividing length by length and a radian is actually a dimensionless value.
Velocity in a straight line is represented by v, the dimensions are distance/time Angular velocity, measured in radians per second, is represented by lower case Greek omega, ω. The units are 1/s, because the angle is dimensionless. Physicists usually write it as s-1, but I've avoided that so far and actually written fractions.
It's possible to think of ω as a vector! It's circular motion, though, so we cannot use the instantaneous regular velocity, just like we couldn't define the torque vector as being in the same direction as the force producing the torque. You can define it as r × v or you can visualize it with a variation of the right hand rule. If the fingers of the right hand are curled in the direction of the circular motion, your thumb points in the direction of the vector. So if something is rotating counterclockwise (as seen by you), the angular velocity vector points towards you. [However, do not think of an angle as a vector; it doesn't follow certain laws of vector addition. A long story…]
Mass is represented by m. Moment of inertia is represented by capital I: I.
Acceleration (in a line) is a. Angular acceleration is represented by lower case Greek letter α. And is in radians per second squared, i.e., 1/s2 or s-2.
And we've already seen F (linear force) and τ (torque).
You can follow through the analogy quite well. But I want to get to a specific destination, angular momentum.
But before we go there, if you're really alert, you may have noticed one bit of the analogy doesn't seem like the others.
Angular displacement, angular velocity, and angular acceleration are "sort of" like their linear counterparts, but in all cases, the displacement dimension disappears in the angular quantities.
But with torque, the displacement unit doesn't disappear, it gets worse! Force is measured in newtons, kg m/s2. Torque is measured in newton-meters, kg m2/s2. There is a distance-squared in there, versus a distance, not the no-distance-at-all we'd expect from the analogy.
But in fact this is not a problem. A torque acts to accelerate an object with a moment of inertia at a certain angular acceleration. A torque, by analogy with F=ma, ought to be:
τ = Iα
I has units kg•m2 and α has dimensions 1/s2, combined they are kg m2/s2. This turns out to be newton-meters. So the analogy actually continues to hold, thanks to the fact that the mass-analog includes d2 in its dimensions.
And this is the case for momentum, and its analog, angular momentum as well.
Momentum is p = mv, yes, it's a vector. Angular momentum is the same sort of thing, for a spinning object. It's symbolized by L.
And you might expect angular momentum to be the mass-analog times the velocity analog. And indeed, it is:
L = Iω
This has dimension mass•distance2/time, md2/t or in MKS units, kg•m2/s.
You can rearrange this a tiny bit, and get L = md/t • d.
Notice, though, the first part of that has the same dimensions as momentum. And d of course is the distance.
It's almost as if angular momentum is just regular momentum, times the distance from somewhere.
And indeed, the formal definition of angular momentum of a particle of mass m at a distance d from some point is:
L = r × p
It's back!!! Here's the cross product, again, and I could even just recycle some of my figures from earlier on by changing F to p and τ to L. In fact, what the heck, here's figure five with the central mass removed.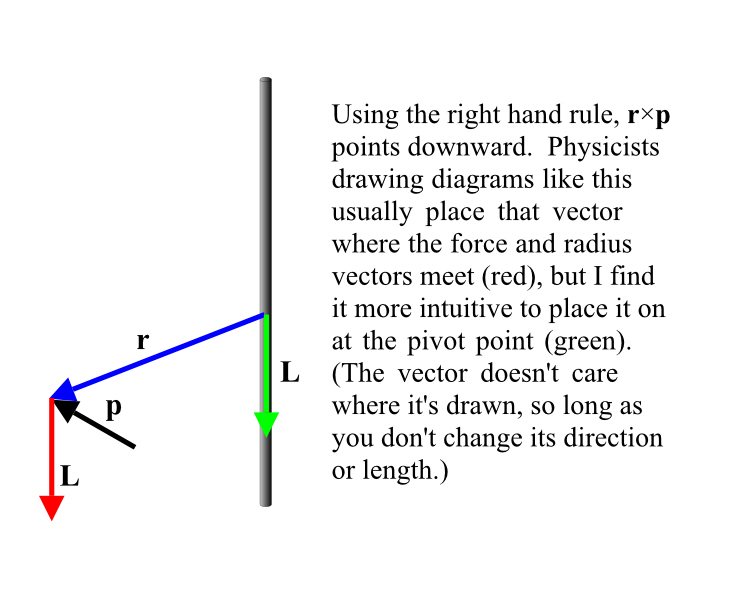 People have a tendency to think of angular momentum as having to do with spinning objects only, or maybe their outlook is a little broader and they'll give an angular momentum to one object running in rings around another.
But actually, angular momentum applies to everything. If you're standing by a highway, and a car goes whizzing past, then from your standpoint the car has angular momentum, even on a dead-straight highway!
That definition above doesn't say a single solitary thing about angular velocity. It does have linear velocity built into p, however! And the car certainly has a lot of that and a lot of mass so p is huge.
When the car was a mile away, it was headed almost directly at you. The radial component was almost as big as its total speed, and there was almost no transverse component. As it drives by, it's closer, but all of the motion is transverse. This should sound familiar.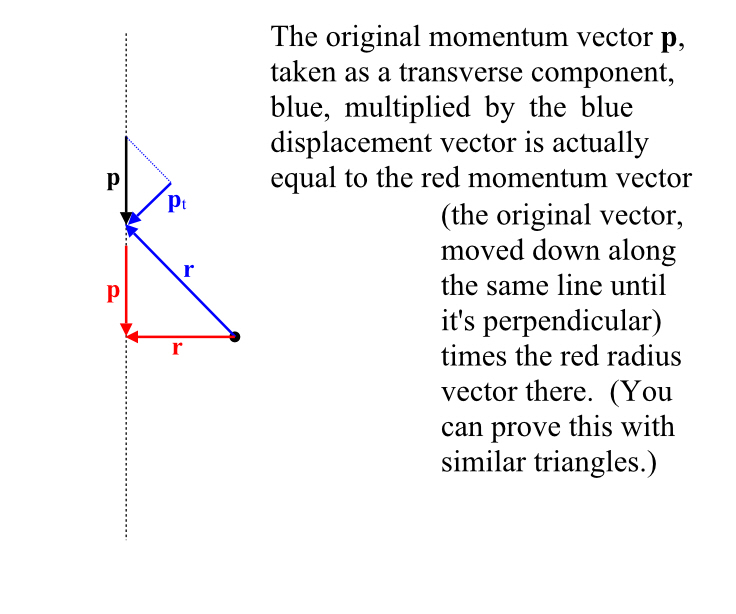 Here, I recycled figure 6, same substitutions. Instead of this being about the torque for a force applied anywhere on a straight line being the same, it's the angular momentum that's the same anywhere along a straight line, so long as the object is moving along with constant momentum.
I remember a story problem from a physics book (I cannot find it in my old college textbook, though). A child in a playground is running in a straight line, fixing to jump onto the edge of one of those rotating platforms that have probably been banned from playgrounds now because some idiot thinks they're white heterosexual male. He has a constant angular momentum (seen from anywhere, but in particular the axis of the platform), then at the instant he jumps onto the platform, his motion is all transverse, and now that he's revolving about the center of the platform, his motion will remain perfectly transverse. You can mentally relate angular momentum from rotation to angular momentum of an object moving in a straight line this way.
And, here is the freaky thing. You could pick any point on the diagram, and moving objects anywhere on the diagram would maintain the same angular momentum as they move along, relative to that point, as long as they don't interfere with each other.
Conservation of Angular Momentum
You know, if momentum is conserved in a closed system, maybe angular momentum is also conserved. And indeed that turns out to be the case! Without exception, angular momentum in a closed system, relative to a point in that system, is conserved, and that includes objects in the system spinning about an axis. So even if objects interfere with each other by colliding, or whatever), the total angular momentum will remain the same.
The almost cliche illustration of the conservation of angular momentum is to watch a figure skater spin. When her arms are outstretched, she's turning slowly, perhaps skating through a turn. Then she brings her arms in, raising them above her head, and suddenly she's spinning, fast. Then she puts her arms out again and slows down. She's reducing (and then increasing) the size of the displacement, so the rotation must increase (then decrease) so that the angular momentum will stay the same.
I also remember, but cannot find, a video of an astronaut on Skylab. He's "standing" perfectly straight, perfectly still. His angular momentum is zero. He then kicks one leg forward, and one leg back, he then sweeps them around 90 degrees–which makes his body turn, but only while he is sweeping his feet around in arcs. Then he returns to standing. He's managed to turn himself 90 degrees to the right, but he is again motionless. It's a demo of the conservation of angular momentum because while his feet were moving in arcs, his body had to rotate in the opposite direction to keep his net angular momentum at zero.
And of course there is the gyroscope, but that one is complicated…and I'm going to skip it. Suffice it to say that the force pulling on the axis of the gyroscope is being crossed with the angular momentum vector (which is through the axis), and a vector in a totally different direction results. Optional homework, go find some youtube videos of gyroscopes and see what they have to say.
Applications
But now, let's apply this to something a lot cooler than lug nuts and kids in a playground and an ice skater. How about an object in orbit around the Earth?
If it's in a circular orbit, then it's going to remain moving at the same speed and it's a no-brainer, the angular momentum won't change because neither the angular velocity nor the distance will change, and you don't even need the vector form of the equation, because in a circle the two are at right angles, always. (Of course to verify that the direction doesn't change, go ahead and take the cross product.)
But what about in an elliptical orbit? At one end of the ellipse, the satellite is closer than at the other end. At periapsis (closest point) and apoapsis (furthest point), furthermore, the motion at these two points is all transverse. So if angular momentum is conserved, the satellite must be moving slower at apoapsis than it does at periapsis. At any other place on the ellipse the satellite has some radial motion, it's either climbing to its apoapsis or descending to periapsis. So those are harder to analyze.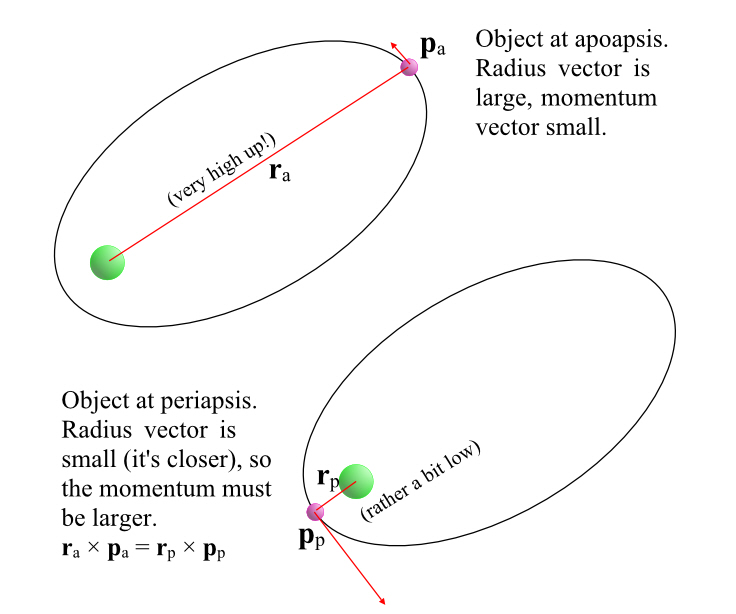 Kepler's second law, put forward in the late 1500s (!) describes the motion of a satellite in an elliptical orbit. But it doesn't just say the satellite slows down the higher it goes, it goes further. It says if you draw a line from the primary through the satellite, and look at the area it sweeps out in some time interval, it's constant! A fat wedge when the satellite is close in, a skinny one when the satellite is further out.
I always wondered how the heck Kepler figured that out.
I've seen how it's done today; you do some calculus on the r and p vectors after setting their cross product to a constant (because angular momentum is conserved) and it pops out, very readily, in less than five minutes of chalkboard time. (And I don't remember exactly how, just that I was surprised how readily it occured.)
But that's not how Kepler did it. He didn't know about the conservation of momentum, and he didn't know calculus. No one did at that time, because Newton wasn't even a gleam in his father's eye.
So I'm still wondering how Kepler did it.
Another cool application of what we learned today to the orbiting satellite, is that it's very easy to compute the orbital inclination. The orbit is in a plane. The primary is on that plane too, it's at one focus of the ellipse. But the plane could have any arbitrary tilt. Maybe it sits right over the equator, and maybe it's at some tilt (like the tilted circle on a globe that's supposed to represent the ecliptic somehow–I always thought those were silly because as soon as the Earth rotates a tiny bit, that line is wrong).
If you have a measurement of the satellite's position at a certain point in time and its velocity (including the direction!) at that same time, and they're vectors in the right coordinate system (one where x and y point at two places over the equator and z points through the north pole), you can take the cross product. Both of those vectors are in the plane of the satellite's orbit. so the cross product is perpendicular to that plane.
You can then turn that cross product into a unit vector. Take the dot product of it and the k unit vector (usually taken as pointing through the earth's axis. (Actually you can save yourself some time. Just grab the third element of the unit vector). That's the cosine of an angle, take the arccosine to get the angle. You now have the angle between a line perpendicular to the plane of the orbit and the earth's axis, which is the same as the angle between the plane of the orbit, and the earth's equatorial plane. Easy peasy, doable with almost no data.
This Week's Mystery
We have a conservation law. I usually try to come up with an 1895 mystery too. Well we have one.
Consider the solar system. 99.9 percent of the mass is in the Sun, which is about 800,000 miles across, and rotates in about 28 days. That's a certain amount of angular momentum.
The other 0.1 percent of the mass is in the planets (with a small fraction of that small fraction in asteroids, comets, etc). They're light weight compared to the sun, but they are far out there, and remember there is an r2 term in angular momentum. Mercury, the closest one out, is roughly 100 times as far out from the sun as the sun's radius. Neptune is almost 100 times as far as that.
It turns out that the vast majority of the solar system's angular momentum resides in the planets. The Sun is the "one percent" when it comes to mass, but the planets are the "one percent" when it comes to angular momentum.
The mystery is how that came about. And any theory of how the solar system was formed has to explain how the heck all the angular momentum ended up out there in the planets, because angular momentum is conserved. You can't have the sun just shed angular momentum, it has to be transferred. So if your theory can't explain that…it can't explain Jack.
A number of different ideas were proposed as early as the late 1700s, perhaps the most prominent of them is called the nebular hypothesis. It suggests that the solar system formed from a shrinking nebula of dust and gas. The nebula, when initially all spread out, is going to have some very small net rotation (it's a random melange of particles moving at random velocities, after all; the chance of them all cancelling out perfectly is close to zero). As the nebula shrinks it's going to spin faster, a disk will end up being formed and the disk will be clumpy and the clumps will eventually form planets because the clumps will tend to attract more matter to them.
Fairly elegant, but it could not explain the distribution of angular momentum, so by the end of the 1800s it had fallen out of favor. I had a book on the planets as a kid (which was probably about ten years old when I was born) that still considered it a mystery, and contained some of the alternatives that had been proposed, including one that suggested the planets had been pulled out of the sun by another passing star's gravity. (If that one is true, then solar systems ought to be rare, rare, rare.)
Just this once, I'll give it away now. Unlike back then, today we can actually see some stars forming, and they are surrounded by disks of gas and dust, exactly like the nebular hypothesis. Some astronomers have done a lot of work to refine the nebular hypothesis to make it more detailed and try to address the angular momentum problem…but they still haven't succeeded. Yet we now know it must be correct, because we can see it happening right now. So the answer to this one is, we still don't really know. It's conceivable (though not bloody likely) that the conservation of angular momentum is broken (even though it has been reliably true every. single. time. we have looked at it). More likely, there's some process at work we don't understand, perhaps even transfer via magnetic fields.
But we haven't got to magnetic fields yet…
Obligatory PSAs and Reminders
China is Lower than Whale Shit
Remember Hong Kong!!!
中国是个混蛋 !!!
Zhōngguò shì gè hùndàn !!!
China is asshoe !!!
China is in the White House
Since Wednesday, January 20 at Noon EST, the bought-and-paid for His Fraudulency Joseph Biden has been in the White House. It's as good as having China in the Oval Office.
Joe Biden is Asshoe
China is in the White House, because Joe Biden is in the White House, and Joe Biden is identically equal to China. China is Asshoe. Therefore, Joe Biden is Asshoe.
But of course the much more important thing to realize:
Joe Biden Didn't Win
乔*拜登没赢 !!!
Qiáo Bài dēng méi yíng !!!
Joe Biden didn't win !!!