Something is going on, and it ain't pretty.
George Webb seems to believe that the AMERICAN MILITARY was behind COVID-19.
I tend to think that CHINA and its AMERICAN ALLIES (DS, DNC, CIA) were behind it.
But I will bet we both agree on one thing.
WHOEVER KILLED THE MARRIED ARMY DOCTORS HAS SKIN IN THAT GAME.
---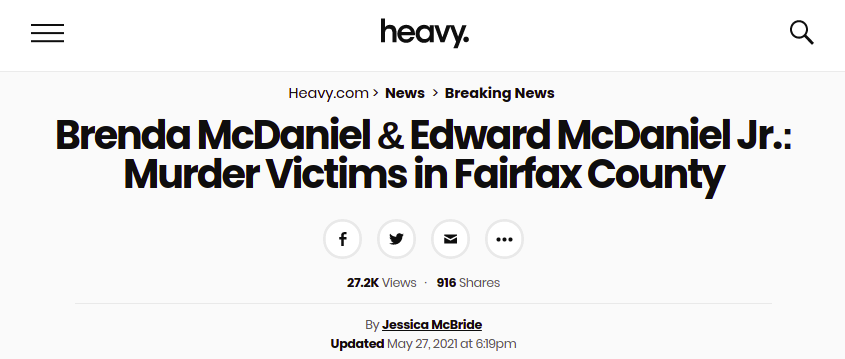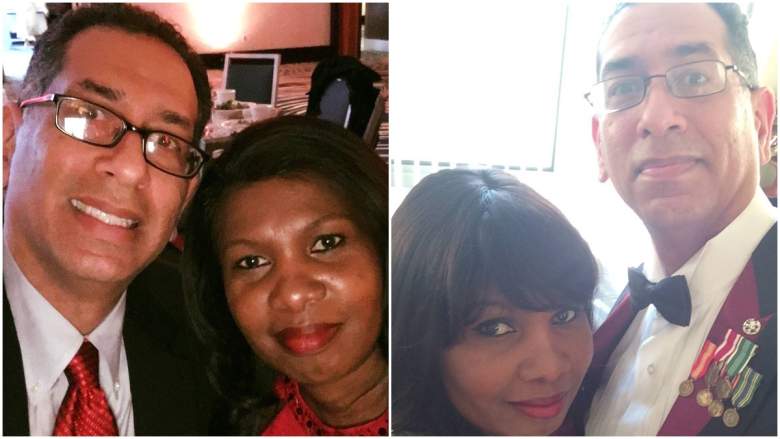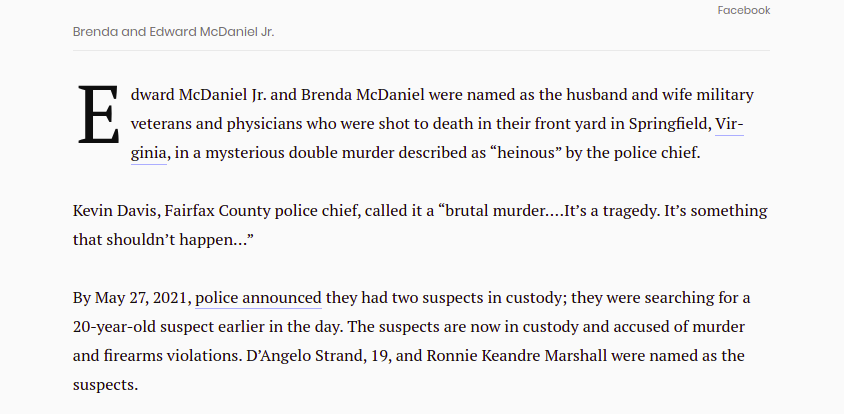 MORE: https://heavy.com/news/brenda-edward-mcdaniel-jr/
---
Let me back up a bit, so that this comes into focus.
Aubergine was the one who alerted me to this case HERE.
---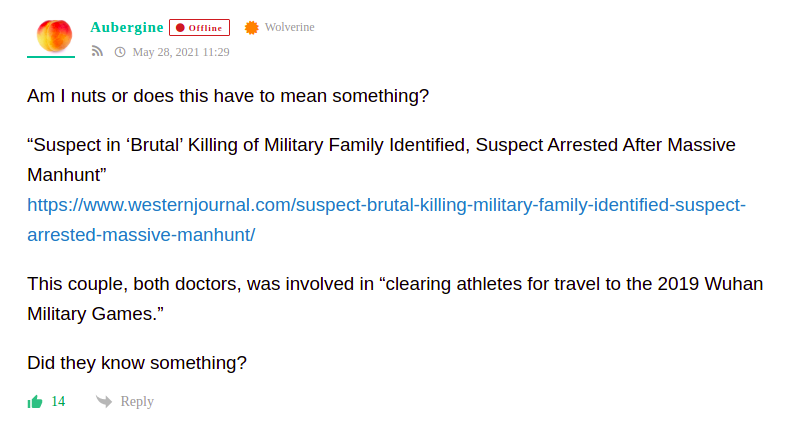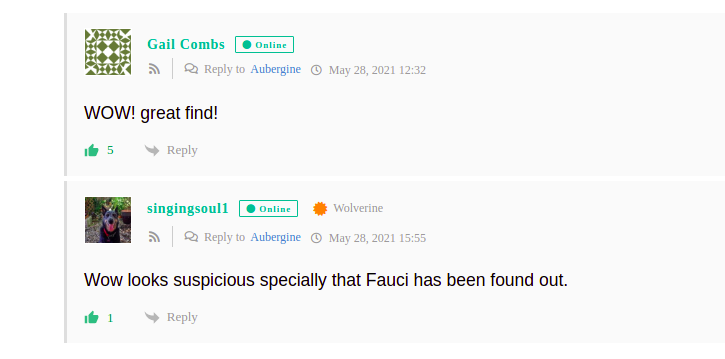 ---
Now, if you go to that Western Journal article, HERE, you are given, without elaboration, THIS TWEET.
This account on Twitter is way overdue for being suspended to hide their stuff – let's just save an image of that tweet.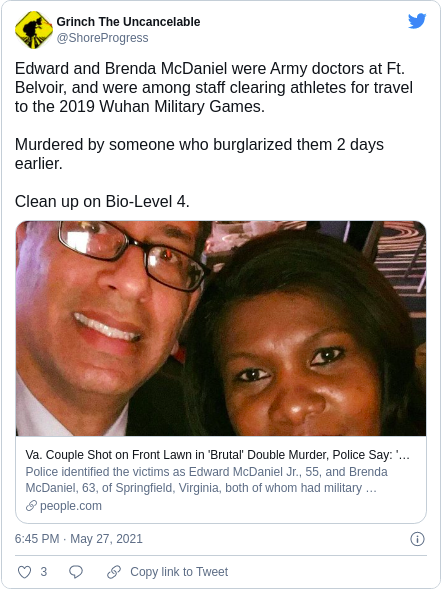 While we're at it, let's archive that Western Journal article that got us to that tweet.
ARCHIVE: https://archive.fo/fYVYN
NOW – what is that tweet linked to? An article in People magazine!
---
Va. Couple Shot on Front Lawn in 'Brutal' Double Murder, Police Say: 'They Did Nothing Wrong'
Police identified the victims as Edward McDaniel Jr., 55, and Brenda McDaniel, 63, of Springfield, Virginia, both of whom had military backgrounds
May 27, 2021 10:33 AM
---
Nothing about the Wuhan connection. THAT is what we are looking for. This alleged connection could be pure bullshit, but yet something stinks.
That article doesn't really do anything other than to reinforce the connection between the murders and the attempted burglary at the same residence earlier in the week on the MONDAY – and that the police were certain these were connected. For all that's worth, it's sketchy as hell. Burglary?
The People Magazine article is linked to THIS local WTOP news report, which included this critical information about the "cover murder motive":
Police said they believe the shooting Wednesday on the 8000 block of Flint Street near Redman Street was a "follow-up and related to the interactions Monday," when police responded to a call for service and conducted an active burglary investigation.

Police Chief Kevin Davis said they know that at least one of the two men was at the home on Monday.

Davis said the motive is currently believed to be a dispute, and police are working to figure out what it was about.

Maj. Ed O'Carroll, bureau chief of Major Crimes Cyber and Forensics for Fairfax County police, said the investigation is ongoing.

"As of this moment, we have not located the firearm, but we have a lot of work to do. I mentioned the vehicle that's now in our possession. We got a lot of things to follow up on. We want that firearm … This case does not close with these two arrests and these multiple charges. In some aspects, it's just beginning," O'Carroll said.

He's asking anyone with information on what happened to call police at 703-246-7800

The McDaniels were both military doctors and colonels, and Edward McDaniel was still active with the Army.

https://wtop.com/fairfax-county/2021/05/fairfax-co-police-1-in-custody-in-fatal-double-shooting-2nd-suspect-sought/
OK – so we know that one of the killers was at the residence on Monday in connection to the "burglary".
Now, here is MORE information about the "motive" via Axelrod-Alinsky media, NBC Washington (something like the commie media equivalent of the Washington Field Office). Note that the narrative motive actually gets recorded (very important to establish "facts") – this is from other local coverage:
Officers were called to the home Monday about an altercation and potential burglary in progress, Davis said.

On a dispatch call to responding officers, a dispatcher can be heard saying the caller and her husband were upstairs with a shotgun in their home. "The subject" was in the basement.

"Caller is advising the subject is after her son and that he is with them upstairs," the dispatcher said.

Two days later, the parents, not the son, were killed.

The deaths mark the ninth and 10th homicides in Fairfax County this year so far, in an increase from the count last year at this time.

A $10,000 reward for information is being offered in this case.

Stay with NBC Washington for more details on this developing story.

https://www.nbcwashington.com/news/local/northern-virginia/husband-wife-killed-outside-springfield-home-search-for-car-underway/2683774/
In my opinion, the parents were ALWAYS the MK target of the pliable "Seth Rich MS-13 type" "dull as a sawed nail" shooters. You Know Who is already off the charts on this one.

You will note at this point that everybody is pushing the "dispute" angle. More references (not cited here) included at the end of this post.
Running out of leads, I did some searches on the name of the deceased, the name of his hospital, and "Wuhan Games". THAT got interesting. I found nothing direct, but I did find TWO very interesting leads, BOTH of which pointed to research by George Webb.
First, an article in Veterans Today, a very shady "John Kerry" type operation which is routinely sided with Russia and China, hiding behind the Vet Card.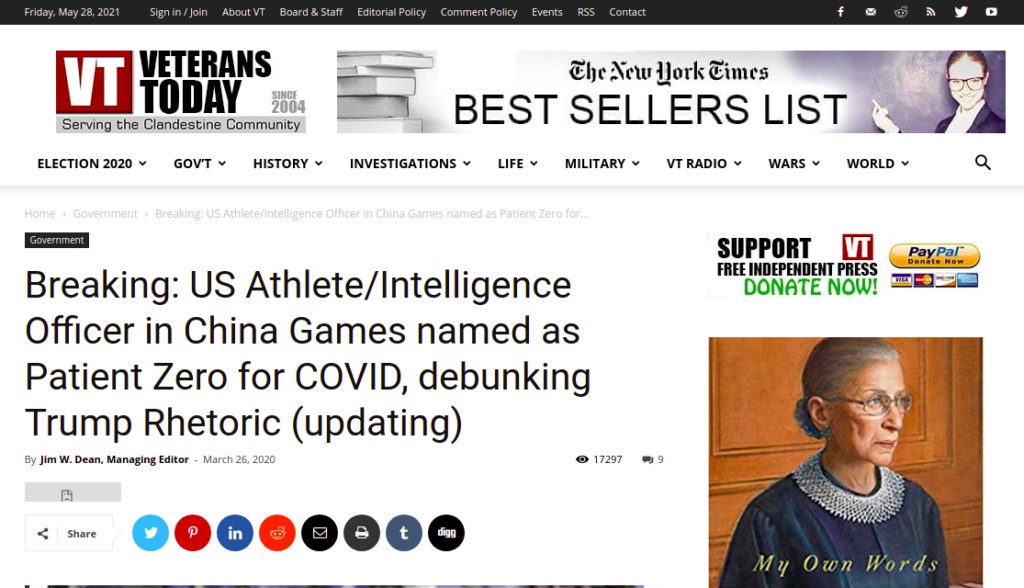 This is basically supporting the Chinese counter-narrative to the earlier Wuhan Games theory that CCP spread the disease via the Wuhan games. The Chinese counter-theory, that the US started the virus at the Wuhan Games, launches off George Webb disinformation that COVID came from here. Well, yeah, it did, but that's a little more complicated than China's "malign blame-shifting conspiracy theory".
LINK: https://www.veteranstoday.com/2020/03/26/us-athlete-intelligence-officer-in-china-games-named-as-patient-zero-for-covid-debunking-trump-rhetoric-updating/
George Webb is cited several times, including multiple tweets, but now that his old account on Twitter was REMOVED and then taken over by an anti-Webb Democrat troll, there is no official record to be found. However, the TEXT of the tweets remains in this article, and it's useful to look at them. E.g.:
---
Patient Zero from Wuhan, Maatje Benassi, is a Dutch American woman cyclist. Her husband is also a cyclist in the US Atmed Forces (SPAWAR) and believe you be in Wahan in October of 2019. Benny Benassi is Patrient Zero in Holland, and has already made a rap video about Coronavirus pic.twitter.com/u1Z5VuYCaG— TruthLeaks – Investigative Journalist George Webb (@GeorgWebb) March 22, 2020
---
Webb's basic theory is that the virus was spread from Fort Detrick to China via a US military cyclist in the games, who has State Department (i.e., CIA) connections. This is where it all gets really messy, not the least of which reasons being that I suspect that at this point, Webb was being fed disinformation.
That woman cyclist is Dutch and an Italian citizen, yet is somehow in the US Army as an intelligence operative. WTF. She comes back from Wuhan and gives COVID to her relative in the Netherlands. That Webb tweet link still works, although the Instagram link to proof that her relative got the disease does not.
LINK: https://dancingastronaut.com/2020/03/benny-benassi-stuck-in-italy-due-to-nationwide-quarantine-cancels-upcoming-north-american-tour/
Because this woman was a cyclist, the cycling world took note of this theory, particularly once CHINA started using it to enlarge THEIR theory that the US spread the disease at the Wuhan games.
Here is the link to some excellent coverage of that whole angle by a cycling site: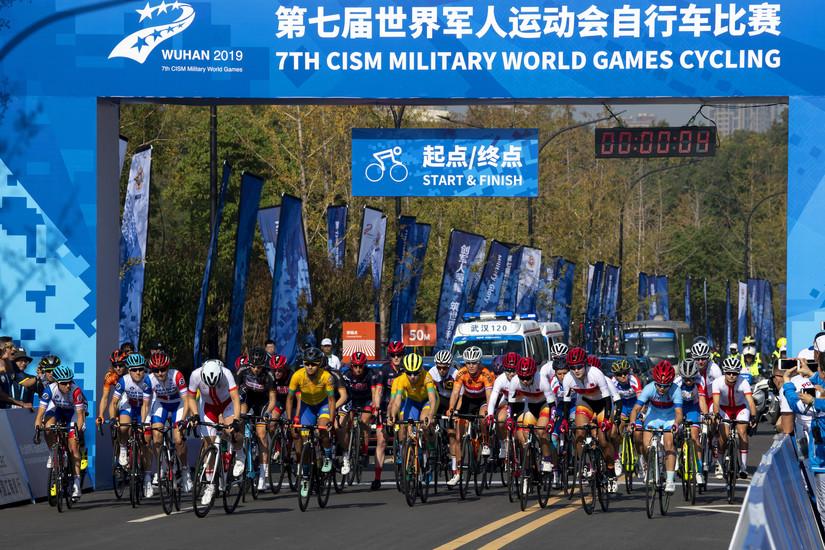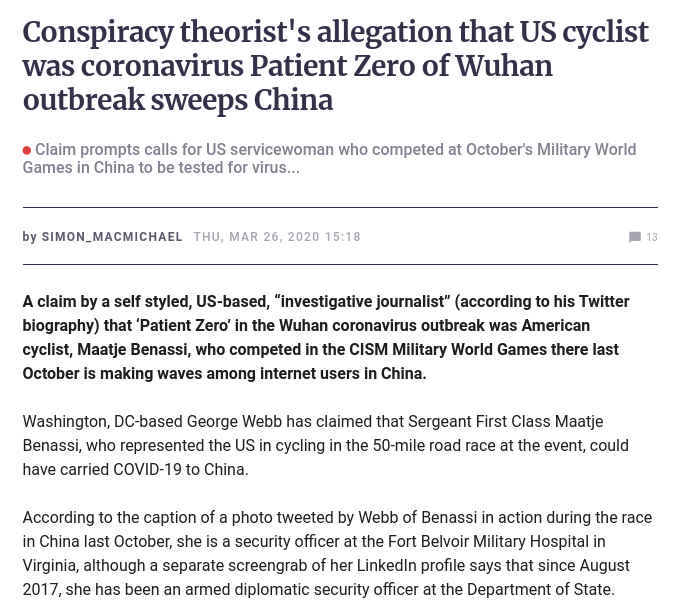 LINK: https://road.cc/content/news/us-cyclist-patient-zero-wuhan-covid-19-outbreak-272251
Now, at this point, I tried to go BACK to the original tweet and see if I could find some kind of link to Wuhan through Twitter. THAT paid off.
Here was that original tweet: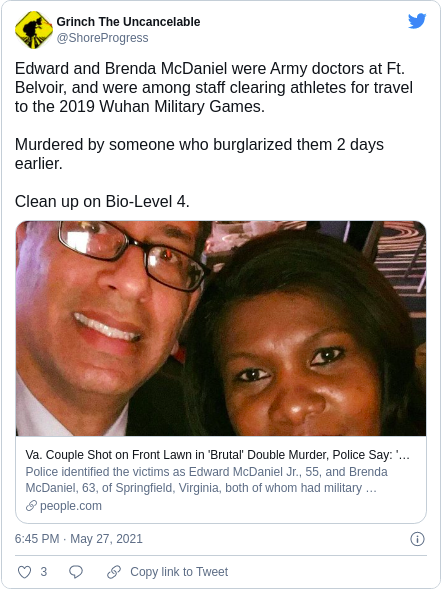 He has a BUNCH of tweets after that which link things back to George Webb. I will just dump them here.
So Max Wells appears to have made that connection. Here are his tweets:
Let me stop here quickly and save all this stuff for when Twitter takes it down.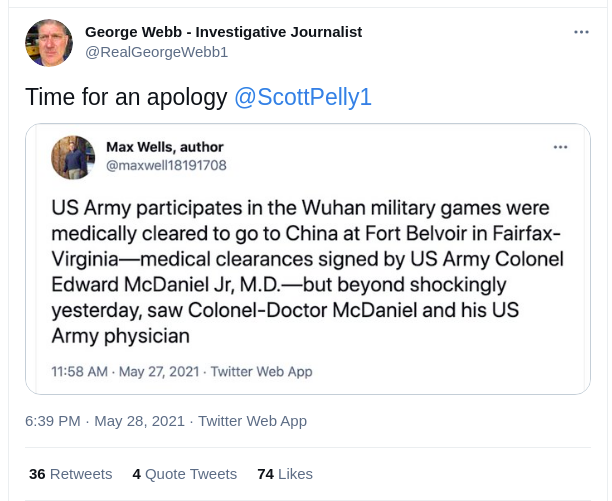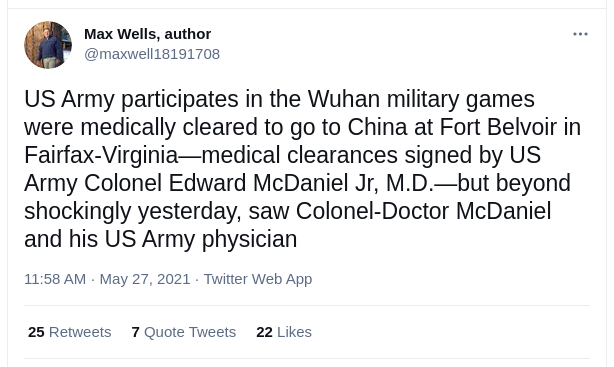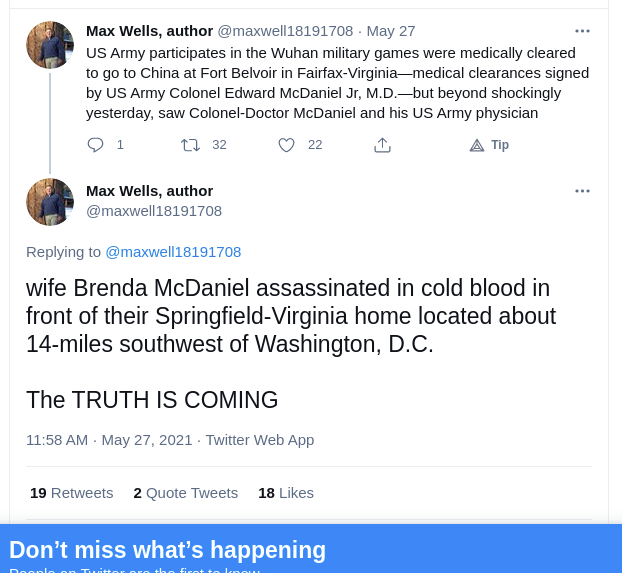 Bear in mind that requests for sources from these guys in the replies are not getting answers. Yeah, I get that, too, but just sayin'.
Now – go back to the timeline of "Grinch the Uncancelable" and some awesome stuff from Webb pops up.
This might be worth saving: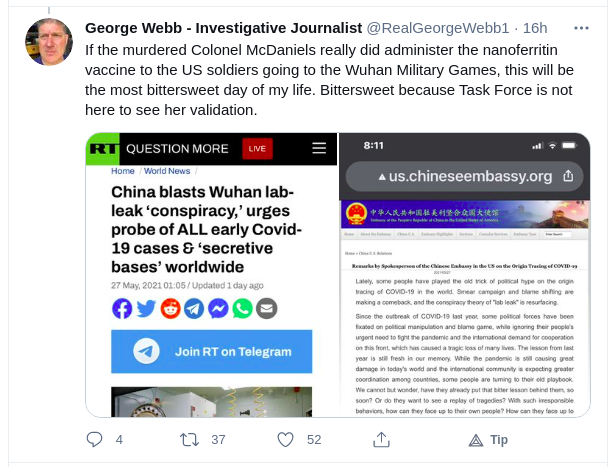 And yeah, I've talked about the Army's ferritin-based vaccine, which should avoid some of the problems of the full spike protein, by only using PART of the spike protein attached to ferritin – in many ways like the Novavax technology. Yet I am really thinking this Magnet Challenge stuff is a high-quality disinformation meme.
But might the Army have decided to protect its people being sent to Wuhan, if they had intel that the ChiComs were going to infect their people? Sure might be smart to vaccinate them.
Tons of good stuff.
At this point, I think we are in a vortex of both information and disinformation. But something interesting is going on.
I encourage everybody to research this topic, bearing in mind that there is much trickery abounding.
W
PS – pay special attention to their new hobby.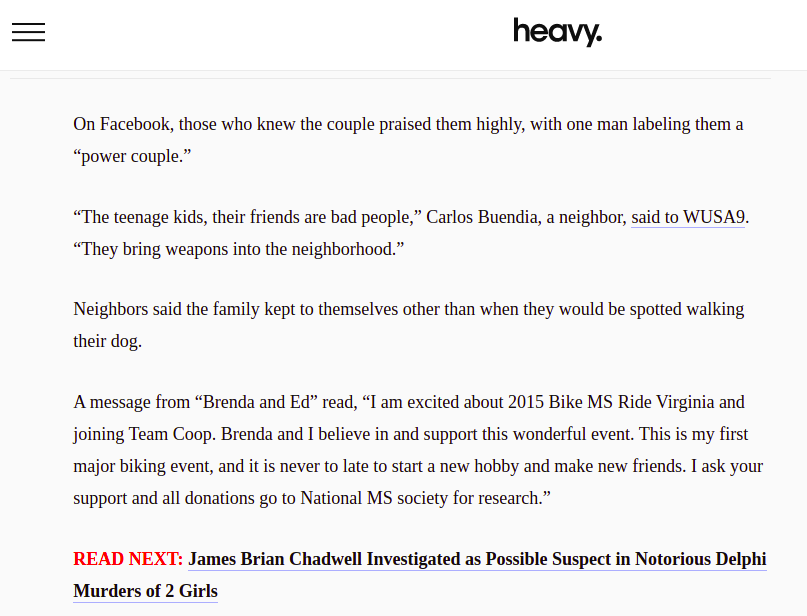 ---
References
Aubergine's comment:
Aubergine's original reference:
Archive of original reference:
People Magazine coverage:
https://people.com/crime/husband-wife-killed-cold-blood-front-yard-double-murder-virginia/
Paywalled WaPo article:
https://www.washingtonpost.com/local/public-safety/springfiled-va-multiple-shooting/2021/05/26/c6abf3d4-be2d-11eb-83e3-0ca705a96ba4_story.html
HEAVY Dot Com coverage:
WTOP local coverage:
LINK: https://wtop.com/fairfax-county/2021/05/fairfax-co-police-1-in-custody-in-fatal-double-shooting-2nd-suspect-sought/
FOX News coverage (fluffy and null):
https://www.foxnews.com/us/virginia-police-arrest-suspects-shooting-veterans-dead
Fairfax County Police Department Blog:
International Business Times:
https://www.ibtimes.com/husband-wife-military-doctors-fatally-shot-front-yard-suspects-charged-3210917
American Military News:
Manhunt: Army husband, vet wife both shot, murdered outside VA home – manhunt underway
Fox 5 DC local coverage:
https://www.fox5dc.com/news/springfield-shooting-leaves-husband-and-wife-dead-in-what-police-call-vicious-attack
Veterans Today coverage of George Webb theory:
Benny Benassi coverage:
Cycling site coverage of George Webb theory:
https://road.cc/content/news/us-cyclist-patient-zero-wuhan-covid-19-outbreak-272251
Nanoferritin vaccine:
https://www.news-medical.net/news/20210330/Researchers-develop-broadly-neutralizing-SARS-CoV-2-ferritin-nanoparticle-vaccine.aspx