Okay, let's see, it's Thursday…where are we?

Critical Thinking 101(Expert of Expert Evaluation)
@critica18495985
Scare you.
Confuse you.
Take power.
Claim success.
Scare you.
Confuse you.
Take power.
Claim success.
Scare you.
Confuse you.
Take power.
Claim success.
Scare you.
Confuse you.
Take power.
Claim success.
Scare you.
Confuse you.
Take power.
Claim success.
12:51 AM · Sep 15, 2021
Where have we heard that before?
Scarborough meltdown alert!

Watch as Psycho Joe calls conservatives whiners, losers and snowflakes.

Their playbook is so obvious:

Step 1: Invoke Trump's name.
Step 2: Project that the Republicans will claim election fraud.
Step 3: Commit massive amounts of fraud.
Step 4: "See, I told you they would claim we cheated!"
Step 5: Rinse. Wash. Repeat.
Okay, TSHA was talking about a different segment, but still, the people who want to rule the world have a playbook they just use over and over hoping no one will notice.
She noticed.
Here's the thing, we're living through this for a reason.
4951

Q !!Hs1Jq13jV6 ID: b3a95d No.11618946
Nov 12 2020 22:20:17 (EST)

Shall we play a game?
[N]othing [C]an [S]top [W]hat [I]s [C]oming
NCSWIC
https://www.cisa.gov/safecom/NCSWIC
Who stepped down today [forced]?
https://www.cisa.gov/bryan-s-ware
More coming?
Why is this relevant?
How do you 'show' the public the truth?
How do you 'safeguard' US elections post-POTUS?
How do you 'remove' foreign interference and corruption and install US-owned voter ID law(s) and other safeguards?
It had to be this way.
Sometimes you must walk through the darkness before you see the light.
Q
That includes a look at what living under totalitarianism and tyranny really are all about.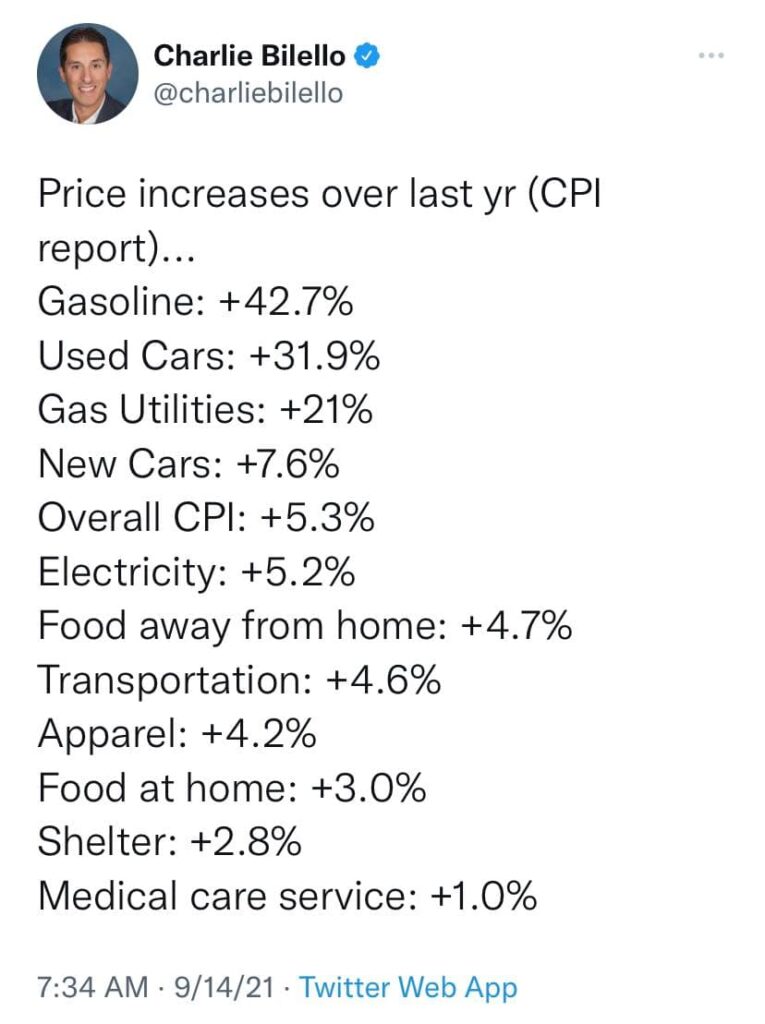 From the CEO of Telegram: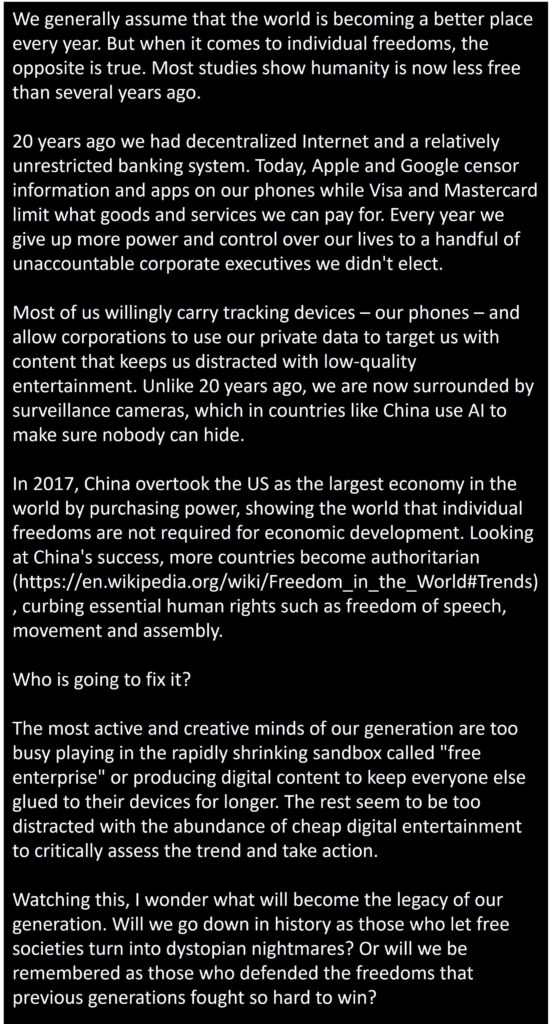 Those are questions that will be answered in short order, hopefully.
This is why we are here.
There is a need for some cuteness here.
A little mood music.
And now for the business portion.
Please review our HOST and site owner's Guidelines for posting and discussion for this site. Wolf is kind enough to put up with *most* of us and our antics after thorough vetting. Violators of the baiting and deliberately attempting to divide the group rules WILL face consequences.
The discourse on this site is to be CIVIL – no name calling, baiting, or threatening others here is allowed. Company manners are appreciated. Those who are so inclined may visit Wolf's other sanctuary, the U-Tree, to slog out discussions best saved for a wrestling mat. If, for some reason, this site is not available, head over to the UTree and visit the post at the top of the list or the closest rescue thread.
This site is a celebration of the natural rights endowed to humans by our Creator as well as those enshrined in the Bill of Rights adopted in the founding documents of the United States of America. Within the limits of law, how we exercise these rights is part of the freedom of our discussion.
THAT MEANS THAT ALL OF US HERE ARE ENTITLED TO OUR OPINIONS AND PREJUDICES, ETC., SO LONG AS THEY CAUSE NO PHYSICAL HARM TO OTHERS OR DOXX OUR FELLOW TREE DWELLERS.
All opinions here are valued for the diversity they bring to the issues, and the shaping of understanding regarding topics for which many of us do not have all information. Correcting the record on any one topic is appreciated.
Be careful in expressing thoughts as we would all like to think well of the rest of the group, and ill-thought out comments have a way of wrecking that for everyone.
Fellow tree dweller Wheatie gave us some good reminders on the basics of civility in political discourse:
No food fights
No running with scissors
If you bring snacks, be sure they are made with bacon
Auntie DePat's requests as we are all supposedly adults and don't just play them on TV like the body doubles pretending to be the squatter in chief:
If you see something has not been posted, do us all a favor, and post it. Please, do not complain that it has not been done yet.
The scroll wheel on your mouse can be your friend. As mature adults, please use it here in the same manner you would in avoiding online porn.
Thank you so much for any and all attention to such details. It is GREATLY appreciated by more than one party here.
____________________________________________________
LUKE 7:36-50
36One of the Pharisees asked him to eat with him, and he went into the Pharisee's house, and took his place at table. 37And behold, a woman of the city, who was a sinner, when she learned that he was at table in the Pharisee's house, brought an alabaster flask of ointment, 38and standing behind him at his feet, weeping, she began to wet his feet with her tears, and wiped them with the hair of her head, and kissed his feet, and anointed them with the ointment. 39Now when the Pharisee who had invited him saw it, he said to himself, "If this man were a prophet, he would have known who and what sort of woman this is who is touching him, for she is a sinner." 40And Jesus answering said to him, "Simon, I have something to say to you." And he answered, "What is it, Teacher?" 41"A certain creditor had two debtors; one owed five hundred denarii, and the other fifty. 42When they could not pay, he forgave them both. Now which of them will love him more?" 43Simon answered, "The one, I suppose, to whom he forgave more." And he said to him, "You have judged rightly." 44Then turning toward the woman he said to Simon, "Do you see this woman? I entered your house, you gave me no water for my feet, but she has wet my feet with her tears and wiped them with her hair. 45You gave me no kiss, but from the time I came in she has not ceased to kiss my feet. 46You did not anoint my head with oil, but she has anointed my feet with ointment. 47Therefore I tell you, her sins, which are many, are forgiven, for she loved much; but he who is forgiven little, loves little." 48And he said to her, "Your sins are forgiven." 49Then those who were at table with him began to say among themselves, "Who is this, who even forgives sins?" 50And he said to the woman, "Your faith has saved you; go in peace."
_____________________________________________________
Here's a skill we could all use. 🙄
JP is on with this one.