My dear wife is the one who found this, so let me start off by thanking her.
After working outside Tuesday night, I came in the front door, and my wife IMMEDIATELY told me to start watching what was on OAN. It was an anonymous Rumble video about ivermectin and remdesivir that OAN re-bannered and broadcast, after being unable to identify or contact the author.
I'm very glad OAN decided to promote this video.
I caught only part of the ivermectin story, but ALL of the remdesivir story, and THAT was enough to get me searching for an online copy of the video for all of the readers here.
You can watch the OAN-rebannered video at the following link. (The original video is below.)
---
LINK: https://www.oann.com/the-story-of-ivermectin-sheds-light-on-the-history-benefits-of-the-drug/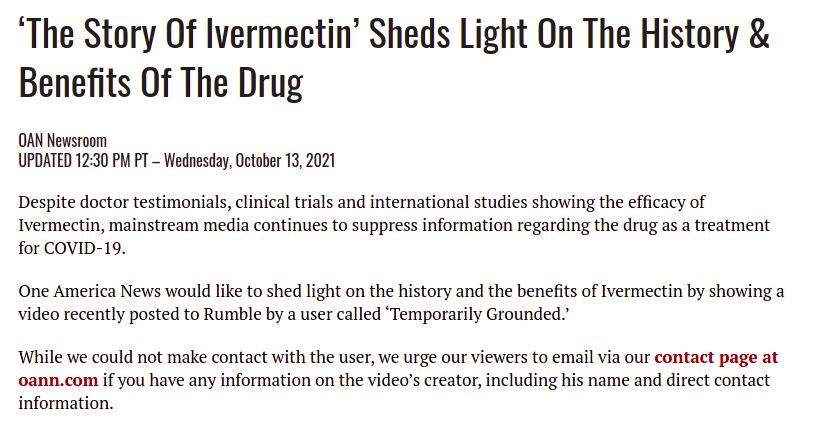 Here is the text version for those that need it.
---
'The Story Of Ivermectin' Sheds Light On The History & Benefits Of The Drug
OAN Newsroom
UPDATED 12:30 PM PT – Wednesday, October 13, 2021
Despite doctor testimonials, clinical trials and international studies showing the efficacy of Ivermectin, mainstream media continues to suppress information regarding the drug as a treatment for COVID-19.
One America News would like to shed light on the history and the benefits of Ivermectin by showing a video recently posted to Rumble by a user called 'Temporarily Grounded.'
While we could not make contact with the user, we urge our viewers to email via our contact page at oann.com if you have any information on the video's creator, including his name and direct contact information.
---
Fortunately, the original video is still on Rumble.
LINK: https://rumble.com/vlpecw-the-story-of-ivermectin.html
VIDEO:
---
This video basically shows the solid background of ivermectin, including some truly excellent and unbiased scientific information. However, about halfway through, it switches gears, and talks about the suppression of ivermectin.
The latter quickly segues into the promotion of remdesivir – and THAT is where it's really, really powerful.
Who, you might ask, is behind remdesivir?
It's SHOCKING – it's not who you would expect – and you NEED to watch.
Beyond that, the documentary explains exactly how the bias for remdesivir was built into the trials – and that, too, is shocking.
I have been trying to warn people just how FAKE science is right now. This documentary backs me up BIG TIME. Thus, very glad to share it now.
W