The murderous LancetGate Effect is back, and this time it killed thousands before bureaucrats relented and allowed doctors to save patients.
[ Hat Tip to barkerjim for alerting me to this Indonesian case. ]
---
Part 1 – LancetGate Effect 1.0 and 1.1
Ah, the memories of LancetGate! That moment when "they" "finally" "proved" that hydroxychloroquine didn't work.
Until – it turned out – they had proved nothing. For when honest people looked at the bogus Surgisphere study, embarrassingly published in The Lancet, they realized that it was absolute horseshit, built on bad data, by people who had no idea what they were doing, other than trying to KILL hydroxychloroquine. Presumably on behalf of Mysterious Unknown Bill Gateses and Nations That Might Be China.
The trouble is, by the time the study was proven to be a bunch of happy horseshit, bureaucrats had eagerly and enthusiastically banned hydroxychloroquine for treatment of COVID-19 in several countries, and tens of thousands or even hundreds of thousands of people worldwide were denied hydroxychloroquine, many of them dying within that typical 14-day window in which COVID-19 kills people.
However, something interesting happened when hydroxychloroquine was banned in Switzerland.
Because the bans of HCQ were all planned and coordinated around the release of the false study, they went into effect almost immediately, with relentless efficiency. It was in some cases immediately impossible for doctors to get hydroxychloroquine.
THAT created a sharpness in the curves.
Fourteen days later, the deaths from COVID-19 began spiking – HARD. Now, people were criticizing the study almost immediately, and within a few weeks, the study was already looking very shaky, as The Lancet started backing down, ultimately leading to retraction.
The Swiss didn't wait that long to correct their error. They saw the deaths, allowed HCQ back into the hands of doctors, saving the lives of patients, again with GREAT SUDDENNESS, despite the "best wishes" of neo-Nazi KlauSS Schwab and the WEFFEN SS Great Resetters, who needed more dead people – even their own pitiful Davos plebes.
And THIS was the result.
It was a STUNNING little blip in the data.
The result was even more interesting when compared to France, where HCQ was immediately suppressed, thanks to communist bureaucrat Agnes Buzyn, who swiftly made the OTC drug almost unobtainable.
Allow me to explain these graphs.
France starts off worse than Switzerland due to suppression of hydroxychloroquine, and gets even worse as supplies dry up, while Switzerland gets better immediately, with doctors experimenting with treatments based on the earlier research and cutting-edge studies, including both chloroquine and hydroxychloroquine. A stunning indictment of post-Soviet bureaucracy.
So why does France start getting better (going down)? That is the result of research by Prof. Didier Raoult in Marseilles, in the South of France, who quickly got extremely positive results by semi-prophylactic "early treatment" of both the virus and subsequent pneumonia, using a combination of hydroxychloroquine (HCQ) and azithromycin (AZM), without waiting for positive test results for bacterial infection. This idea of prophylactic antibiotics is KEY to saving lives, and later influenced Dr. Zelenko in America to try a combination of HCQ, AZM, and zinc, given at the first sign of the disease, as an outpatient treatment. Zelenko gets wildly good results, preventing hospitalizations and deaths at nearly 100% level, yet is unable to get organizations like the AMA to acknowledge the treatment.
The problem for Prof. Raoult was that he was immediately vilified by the forces of Big Pharma. Some of it was absolutely stunning. Nevertheless, there was a strong group of "populist" doctors and scientists in France, and also internationally, who supported Raoult, even though the MONEY was clearly against him.
Nonetheless, Raoult was winning the hearts and minds of practitioners in France – particularly in the South of the country, and admirers around the world. And THAT is why the numbers kept getting better.
One of my favorite French memes…..
And then LANCETGATE happened, as you can see in the graph.
And then the LancetGate Effect, fully visible when LancetGate was exposed, and HCQ was allowed back into the physician's arsenal of salvation.
France was already operating under a "ban" on hydroxychloroquine, and there was considerable pressure on Prof. Raoult, but it did not really get worse for him, or for other doctors using HCQ in spite of the ban, until a few weeks into the LancetGate Effect, where you can see a lesser effect than in Switzerland starting to happen in France, but an upward trend in deaths just the same. But the main point THERE is that the Swiss results ALMOST joined the French results.
Now, one of the confirmations of this was a SIMILAR effect in America.
The scale below is upside-down from above. In this case, UP is GOOD, DOWN is BAD.
Thanks to the WUWT weather and climate guys for finding this little nugget.
If you want to read more about these cases, please click on two old blog posts here which talk about the LancetGate Effect.
The first one talks about the effect itself.
The second involves a huge counteroffensive against all the people who had maligned hydroxychloroquine, in which Dr. Zelenko began collecting all the evidence, before it could be deleted.
---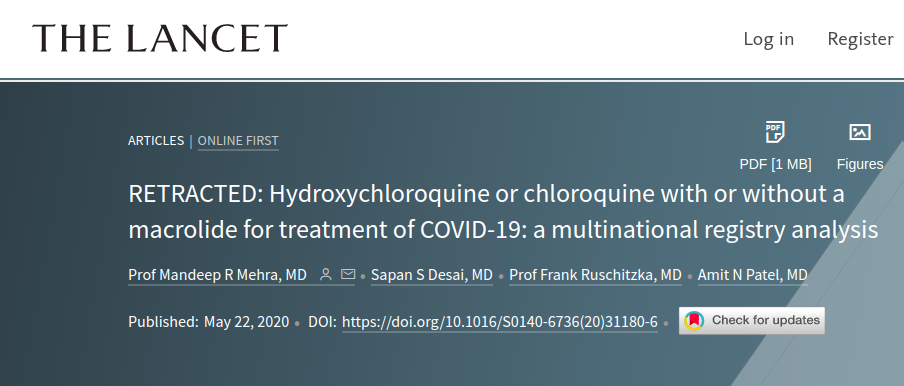 This [Q-3]TH of AUGUST FRIDAY open thread is OPEN – VERY OPEN – a place for everybody to post whatever they feel they would like to tell the White Hats, and the rest of the MAGA / KAG! / KMAG world (KMAG being a bit of both MAGA and KAG!). You can say what you want, comment on what …
---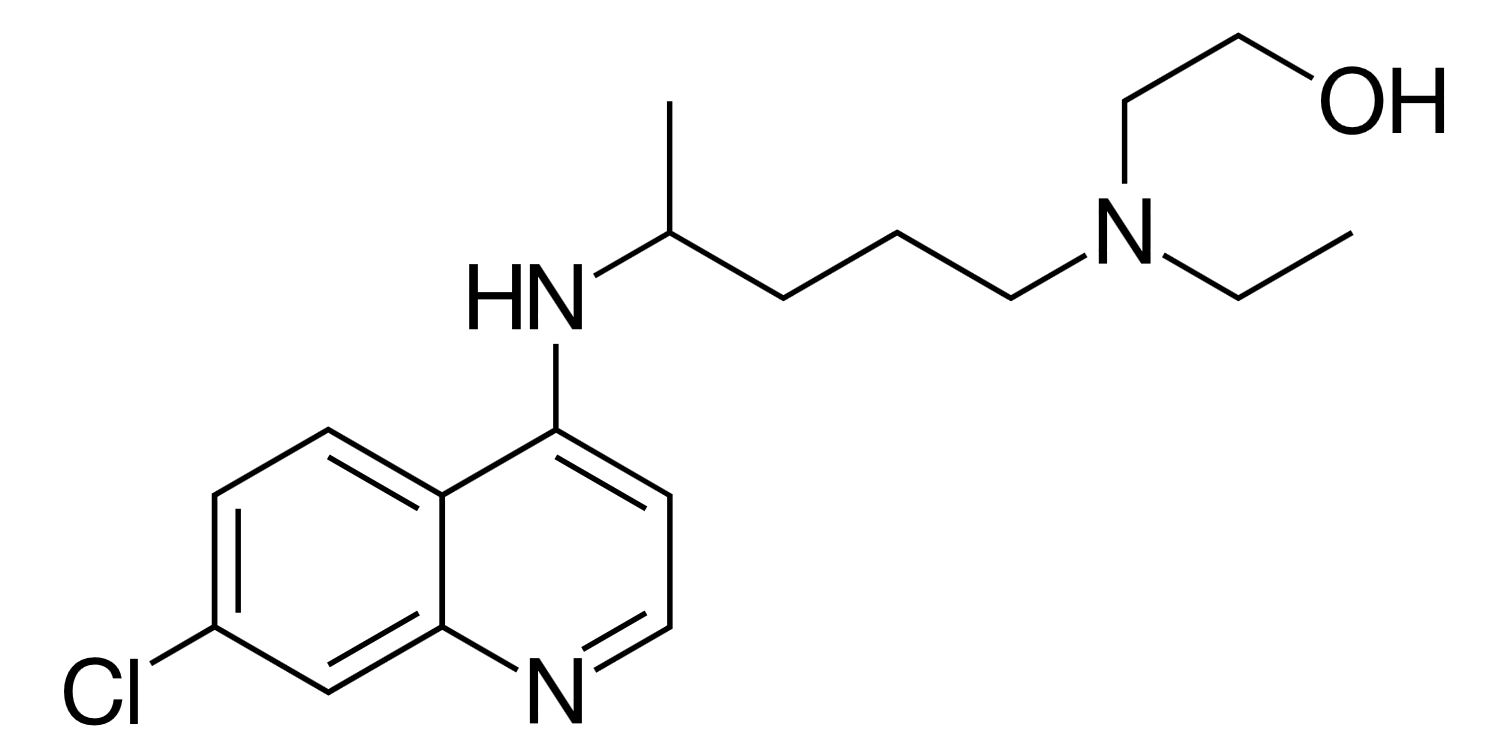 Things are happening faster than I expected. Check this out. We need to contribute to this effort. Please dig up EVERY LINK that you can find of anti-HCQ and post it here. Be sure to include a description, including WHO exactly is referenced, to save people time when they go through comments. Also, I highly …
---
You will notice in these old articles that Twitter has now BLOCKED all my tweet threads on the LancetGate Effect, by "suspending" my account. Someday Jack Dorsey will answer for this!
---
Part 2 – LancetGate Effect 2.0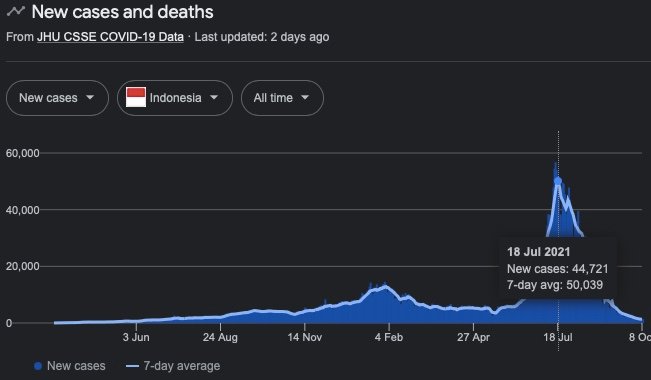 The following information was nicely captured in TWO articles in The Gateway Pundit.
Note that time has passed between LancetGate Effects 1.0 and 2.0 – the drug of choice for treating COVID-19 is now IVERMECTIN – at high enough doses that it shows a pronounced ANTIVIRAL effect. Fortunately, the antiparasitic drug has such an incredibly high therapeutic margin, it actually has a usable secondary antiviral activity.
Who would have known? THAT is science – and science in service of humanity.
---
By Jim Hoft
Published October 9, 2021 at 10:50am
---
By Jim Hoft
Published October 29, 2021 at 7:40am
---
The graph that really explains things is this one.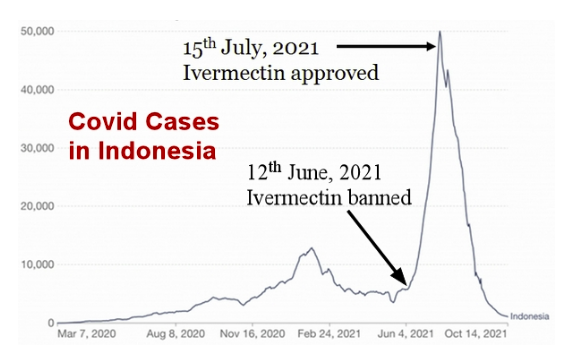 Now I will immediately tell you that the labeling of the graph is "true but misleading". It LOOKS like the graph is saying:
"They banned ivermectin on 06/12/21 and the number of cases took off. Then it was approved on 07/15/21 and it dropped again."
That is NOT the case. That "Ivermectin banned" arrow could just as easily point at the whole line to the left of the July 15th arrow.
The REAL reason for the huge spike is the arrival of the DELTA VARIANT in Indonesia. That hit the previously isolated island country, and the cases took off. AT THAT TIME, ivermectin was still banned, because the Indonesian health ministry was following the advice of WHO, CDC, FDA, and the EU.
BIG MISTAKE.
Here is another look at the data.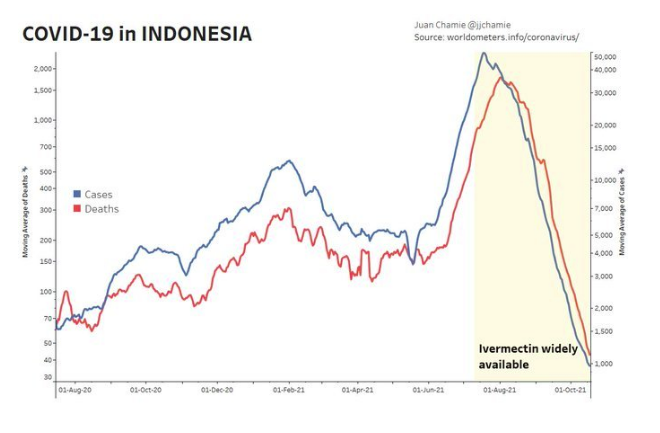 You can see how deaths track cases in time. After ivermectin was approved and made widely available, due to the desperation of the authorities, no longer willing to listen to Western Bolshevik and Globalist media propaganda, both reported cases and deaths dropped like a rock.
This is not hard.
Namibia did the same thing, and got great results.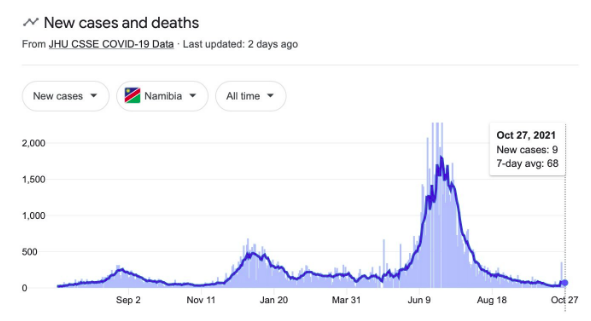 People in America were simply not prepared to see just how mercenary Big Pharma really is, particularly now that it operates hand-in-glove with the Wokester Bolshevik and Globalist Scum. People in the "third world" are quite familiar with the concept, however. They know that they are barely even numbers to the elite globalists who run the planet – who operate with far more concern for imperial politics than for the people themselves.
---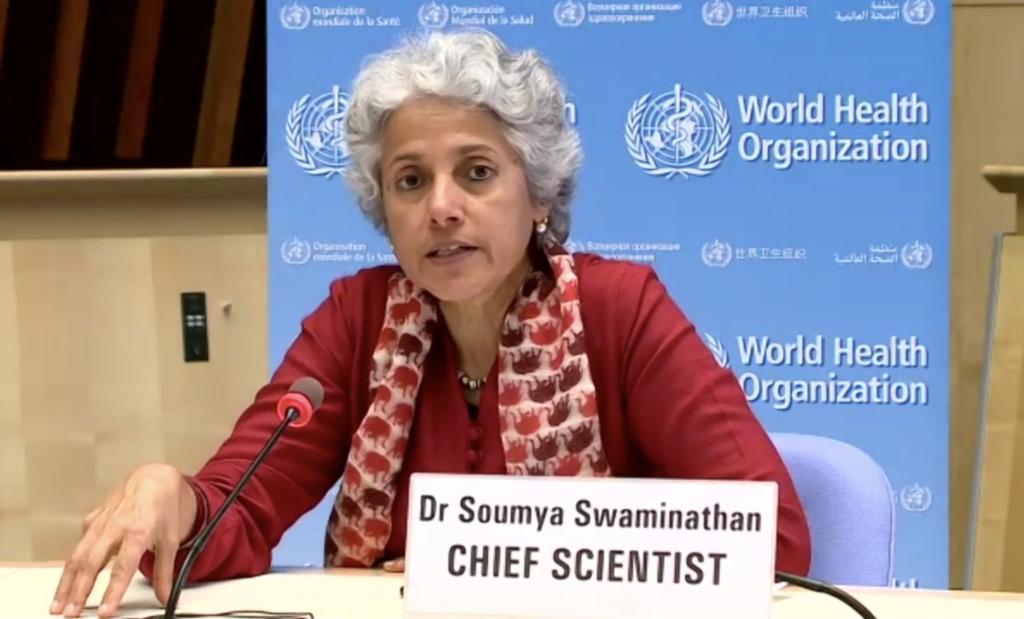 Part 3 – Accountability
India has had its own experiences with ivermectin, and as far as India is concerned, ivermectin saved the day there, too.
HUGE: Uttar Pradesh, India Announces State Is COVID-19 Free Proving the Effectiveness of "Deworming Drug" IVERMECTIN
A different state was not so lucky. They listened to the wrong woman, thereby dropping ivermectin for a while, and many people died.
The problem is, India has its own problem with UN-loving idiot wokesters who value globalist conformity over truth, and it resulted in THOUSANDS OF DEAD.
However, there is also accountability.
Although this has largely been covered up by the globalist media, Indian authorities have decided to prosecute their own "Fauci" for misleading the public on ivermectin, which led to thousands of people dying.
---
India Could Sentence WHO Chief Scientist to Death for Misleading Over Ivermectin and Killing Indians
India charges WHO Scientist Soumya Swaminathan for Mass Murder: The beginning of Accountability
---
India charges WHO Scientist Soumya Swaminathan: India is a forefront nation in demanding accountability from the WHO, the Indian Bar Association (IBA) now suing WHO Chief Scientist Dr. Soumya Swaminathan.

They are accusing her of causing the deaths of many Indian citizens by misleading them about the effect of Ivermectin, which she stated did not work against Covid-19.

As a result, the use of Ivermectin to cure Covid-19 was stopped and Covid cases exploded with deaths increasing ten-fold.

Point 56 states: "That your misleading tweet on May 10, 2021, against the use of Ivermectin had the effect of the State of Tamil Nadu withdrawing Ivermectin from the protocol on May 11, 2021, just a day after the Tamil Nadu government had indicated the same for the treatment of COVID-19 patients. (Feature photo: WHO Scientist Dr. Soumya Swaminathan)

Specific charges included the running of a disinformation campaign against Ivermectin and issuing statements in social and mainstream media to wrongfully influence the public against the use of Ivermectin despite the existence of large amounts of clinical data showing its profound effectiveness in both prevention and treatment of COVID-19.

In particular, the Indian Bar brief referenced the peer-reviewed publications and evidence compiled by the ten-member Front Line COVID-19 Critical Care Alliance (FLCCC) group and the 65-member British Ivermectin Recommendation Development (BIRD) panel headed by WHO consultant and meta-analysis expert Dr. Tess Lawrie."
---
Will Fauci, Walensky, and "Thalidomide Janet" Woodcock see justice?

We'll see.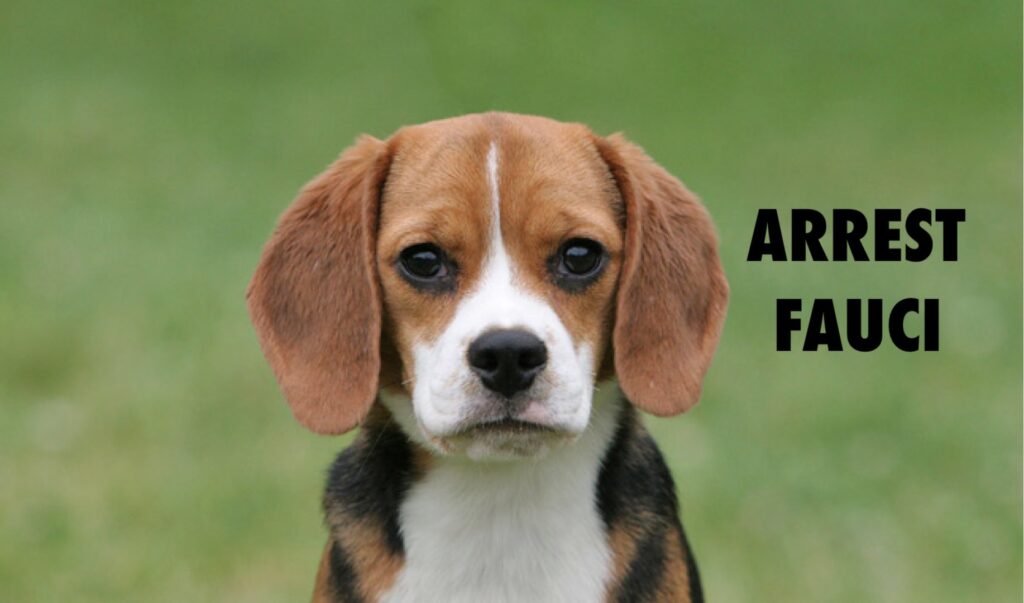 W