UPDATE: And PEGylated Graphene Oxides!
---
WE THE PEOPLE have a right to know the TRUTH.
What is actually in these vaccines?
What are they doing to people?
What are they REALLY doing to people?
Why are public health officials LYING to us?
I am going to begin explaining why I believe we are now at the point where, as could be done in communist China, government officials CONSPIRE WITH INDUSTRY to commit unethical acts against The People "for our own good".
France saw this when [well-known communist] Agnes Buzyn KNOWINGLY sabotaged hydroxychloroquine prior to the epidemic.
America and the WORLD saw this when Anthony Fauci KNOWINGLY approved gain of function research to help the plotters create their "communist plague", designed to help China, Democrats, and European globalists install a corrupt hybrid SOCIALISM world-wide.

This CCP level of deceit now infects the West, because MONEY – our own MONEY we gave to Chinese communists – is now talking and corrupting AGAINST US, thanks to the IDIOTS who let it all happen.
Now, even SCIENCE is corrupt and filled with LIES that benefit corporate interests.
The mantra of FAKE SCIENCE is this:
MONEY FIRST, TRUTH SECOND.
---
Please note what is going on in France, where the evil government is MANDATING inappropriate vaccines which are now KNOWN to cause immune enhancement.
LINK: https://rumble.com/vkfz1v-the-vaccine-causes-the-virus-to-be-more-dangerous.html
Vaccines which NOBODY should be taking.
Let's just save that information, in case Twitter deletes it.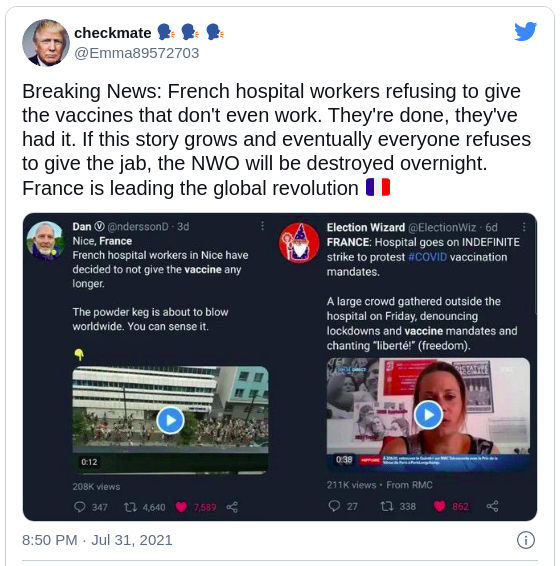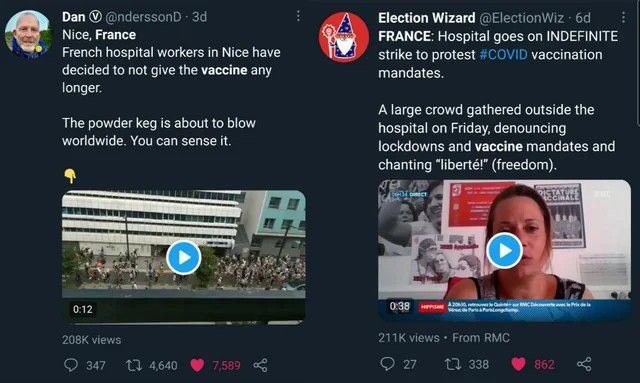 I am going to explain why and how, momentarily, but right now we have an opportunity to DESTROY the LYING vaccine plague.
French citizen scientists have stopped GIVING the vaccine. But let's put those vials to good use! It's time to find out what's TRULY in them!
I believe there is a good chance that at least one of these companies is using graphene oxide derivatives as a trade secret in their lipid nanoparticles for vaccine delivery. Graphene and derivatives are generally toxic and quite problematic in biological applications – yet at the same time, they have much potential. But how to get them into use cheaply?
THE PHONY PLAGUE.
The government-industry technical complex and their minions have promulgated disinformation as a way to both create opportunity and cover up their part in this COLLUSION between government health authorities and industry, in CCP STYLE.
Like China, they no longer feel a need to "go slow" on technology, and get the people's consent. It's ALL ABOUT THE MONEY.
This is CHINA infecting the WORLD with CCP ethics.
We can fight back – and the time is NOW.
Allow me to explain.
W
(The explanation follows as updates to this post.)
---
UPDATE 1 – The Spanish Report of Graphene Oxide
You may recall my previous article on graphene and derivatives in vaccines:
---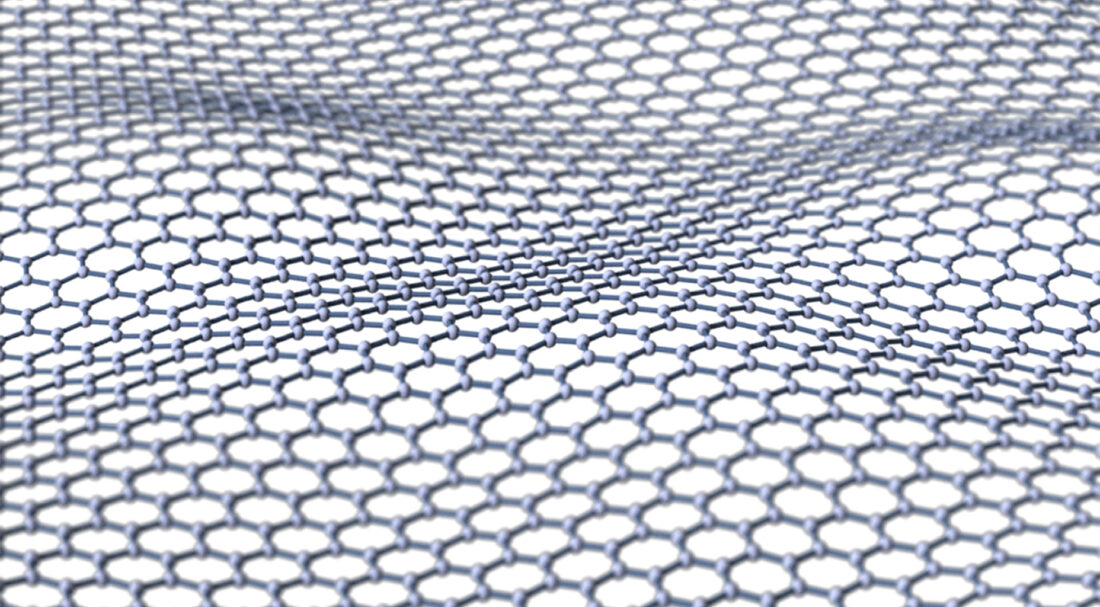 At this point, I don't really know the answer to this question. I've only been studying it for a few hours. However, given the sordid track record of the Faucisphere in government, the duplicitous alien planet Big Pharma, and that wonderful global organization of medical liars and policy-reversing Tedros types, the United Nations of China, …
---
What I basically did in that article was to recount the following:
my disgust to hear the ABSURD ACCUSATION that there was graphene oxide in COVID vaccines
my satisfaction to VERIFY that the toxicity of graphene and derivatives is indeed well understood
my raised suspicions when a debunking of the ridiculous claim fell woefully short of my expectations
my astonishment to discover that use of graphene oxide in experimental vaccines is actually "hot"
I want to repeat that fourth point loud and clear. You can find NUMEROUS research articles on use of graphene oxide in vaccines, wherein graphene oxide gives fantastic results, in terms of antibodies, stability of vaccines, etc., etc.
Graphene oxide is like the ultimate adjuvant AND vaccine preservative.
Safety? Stop bothering me, kid!
All of this led me to the horrifying realization that maybe – just MAYBE – experimental vaccines were using an experimental component – a graphene oxide derivative – one that MIGHT be sneaking in under an EUA in which the GOVERNMENT actually has a monetary stake in the vaccines.
NOW – this is where it's important to read the COMMENTS following the above article, because you will see me coming to an important realization about one of the events that triggered this whole thing.
There was a vial of Pfizer vaccine that was obtained by people who I can only really describe as "5G conspiracy theorists", and this vial was sent to a Spanish lab for analysis. The Spanish lab found that the contents of the vial were 99% graphene oxide.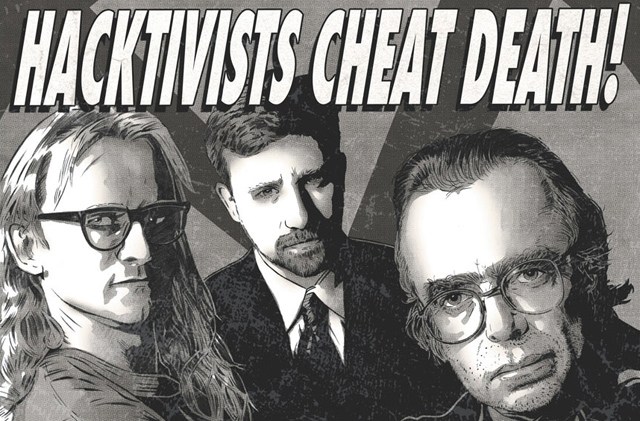 To me this absurd result was at best utter incompetence, and at worst a HOAX. That is what had STARTED ME on this investigation.
The thing is, I read as much as I could both FROM and ABOUT the investigators in Spain, with my rusty Spanish, and I could not dismiss their story. I will add some links in the references. I got the impression that they not only found graphene oxide – they took it to more qualified experts who CONFIRMED IT.
I have extreme difficulty believing that even SOME lots of ANY vaccine could be pure graphene oxide, although a former Pfizer employee has no problem with that theory (more on her amazing investigation later). This leads me to conclude that, if there is any truth to the "99% graphene oxide" claim, then it must be due to ADULTERATION of the sample that was given to them.
A point which, ironically, had been raised by the MSM DEBUNKERS of the graphene oxide claim. This sample could have easily been adulterated.
BUT WHY?
And THAT led me to make these comments.
---
Wolf Moon
Online
Author
Coyote
Reply to Gudthots
July 16, 2021 03:37
Here is the part I'm interested in:
The first one is at 200 nanometers and the second one is at 500. Anyway, as I say, all the people who have worked with this material, obviously, when they have been presented with this material, have told us that without any doubt it is graphene oxide.

Apart from the evidence, as I say, of spectroscopy and magnetic resonance, we are now going to see some images under the optical microscope. These have much less magnification, but it is also significant. As you can see, this is the vial sample.
You see, I actually understand use of spectroscopy and NMR as tools of analysis, and THAT is how to unambiguously tell what's in the vial. If they have the data, then they have the proof. The pictures are just icing on the cake for normies. If the data say graphene oxide, it's a done deal. But if the spectroscopic and NMR data are bad, then this is destroyed.
But better still, is the age old CHN analysis, AND mass spectrometry. Pure carbon will stick out like a sore thumb in ALL of these. All 4 together are bombproof proof.
The fact that they have taken the material to people familiar with graphene oxide, and THOSE people think what they have been given is graphene oxide – THAT is significant. I don't know what they did, but it's significant that FAMILIAR experts think it's graphene oxide.
But it's NOT conclusive.
The spectroscopic and magnetic resonance data ARE potentially conclusive.
And if these people were competent, they did CHN and mass, too.
Now, the university is denying this completely. THAT would be expected under any circumstances. That has little effect on me. If the university BACKED the report – that would be highly unusual, and would have SOME effect, but just a little.
But if this can be shown at publication-grade levels to have been almost completely graphene oxide, then YES – I will believe that the vial they were given was full of graphene oxide.
THEN the question becomes WHY.
"Bruce Lee" in the Forbes article notes – as does the university – that this sample lacked a chain of custody.
EXACTLY LIKE DEMOCRAT-CONTROLLED BALLOTS.
---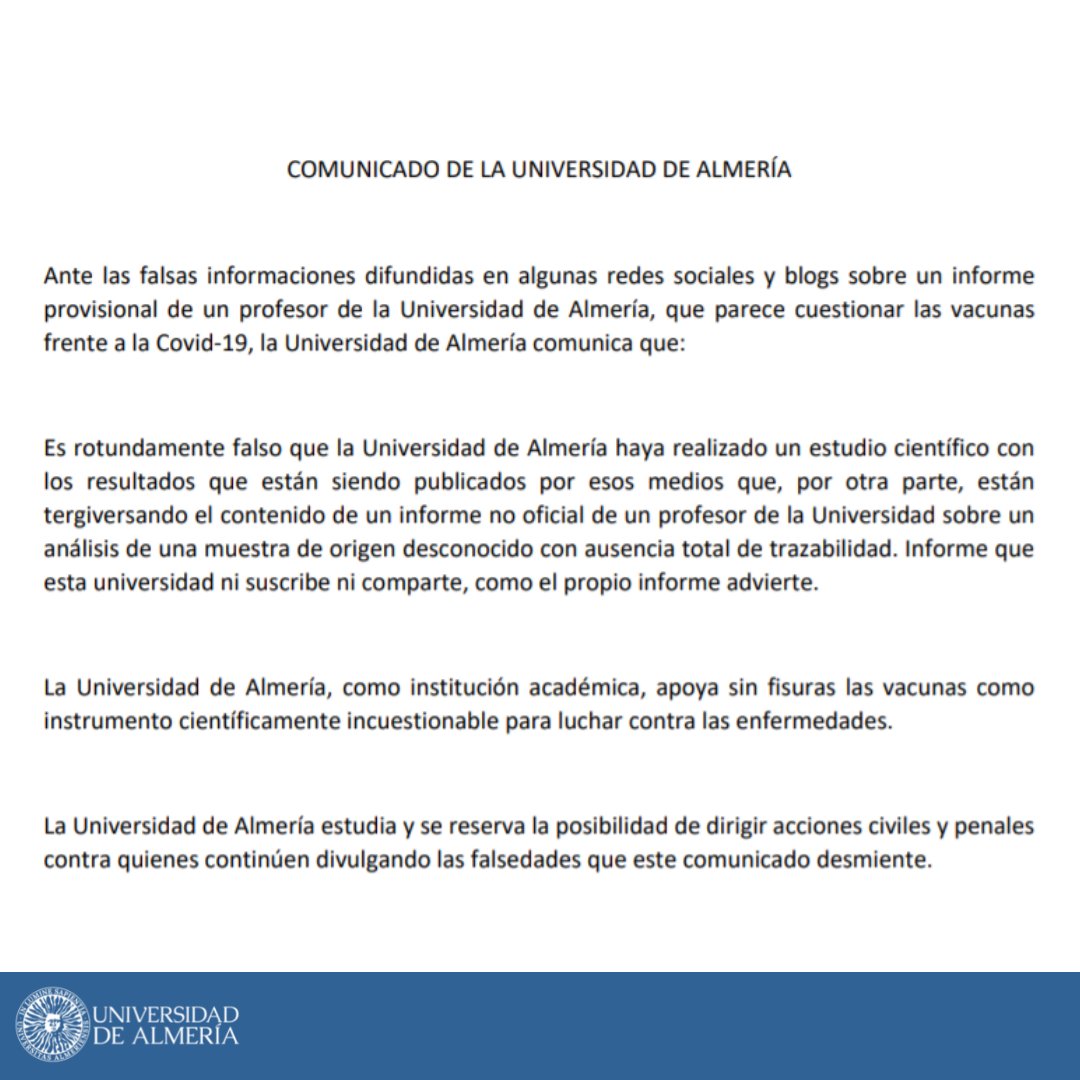 ---
Now – here is the deal. These guys sent (bad chain of custody) the sample for analysis THINKING that it was graphene oxide. But their reasoning – how they got to suspect graphene oxide – is highly flawed. Let me say very bluntly that their understanding of the science is not good, because it's out of their field, and they're victims of the magnet-sticking psy-op, like so many others.
But the key point is this. These guy are being monitored, AND they were already LOOKING for graphene oxide BEFORE they got the vial. The IC knew what they were expecting.
All of that said, I'm thinking it's more likely than not that they did get a vial of Pfizer vaccine and SOMEBODY injected some graphene oxide into the vial – likely 100 times the amount of stuff already in there, thus giving the result. That is the FASTEST and SIMPLEST explanation for what happened and why.
A truly thorough "Wolf future science" analysis would have caught this, just like the Arizona audit caught stuff, because Wolf future science assumes that DECEPTION is going on at all times – both self-deception and other-deception.
The VERY first thing to do, expecting deception, is to check mass. And I will bet money right now that if they did check it, the mass of the sample was WAY too high.
I am going with the idea that the vial was tampered with. Why? Because it is a GENIUS intelligence operation. If I was in Chinese or Russian intelligence, I would have put up to 5 million dollars into the operation. Takes SECONDS to pull off, and it's worth so much. ONE ChiCom student is all that's needed.
You put graphene oxide into that vial, it just throws Western science into complete turmoil. It advertises graphene in vaccines. It discredits all their enemies. It deepens the magnetic vaccine hoax.
It's awesome. If you're the ChiComs.
---
So I had found SOME motive at that point, for the Chinese or their allies, to adulterate the vial, but not as much as I have NOW. And that will be the NEXT update.
---
Update 2 – Karen Kingston, Pfizer, CDC and Sinopeg
This is actually a fascinating scientific detective story.
Here is the link to the Stu Peters article about this segment of his show, in which he interviewed Karen Kingston on the possibility that Pfizer is using graphene oxide derivatives in COVID vaccines.
LINK: https://www.redvoicemedia.com/2021/07/deadly-shots-former-pfizer-employee-confirms-poison-in-covid-vaccine/
Karen Kingston is a former Pfizer employee, who as you will see is obviously familiar with researching patents and trade literature, and presumably in a Pfizer insider context. What she found is strong circumstantial evidence that Pfizer is using China-produced "pegylated" graphene oxides as a trade secret in their COVID vaccines.
Here is the 98-second version of what she found. Take a listen:
LINK: https://www.bitchute.com/video/MKFYqPmAa4Cr/
Now, obviously Kingston didn't give the full story there – and she didn't even give it in the full interview, because Stew Peters did a Sean Hannity on her and kept cutting her off and deflecting her from the complicated final connection of the dots. NEVERTHELESS, the full interview is quite AWESOME.
This is the 25-minute segment of Stew's show, with only Karen Kingston, on Rumble.
LINK: https://rumble.com/vkgdq7-deadly-shots-former-pfizer-employee-confirms-poison-in-covid-vaccine.html
Now, just for completeness, and in case this gets lost from Rumble, here is the Bitchute version of the FULL SHOW. You need to start at around 29 minutes, although he mentions Karen and graphene oxide a couple of times prior to that.
LINK: https://www.bitchute.com/video/Pt2WpshVwnxe/
NOW – if you didn't bother to listen to any of those, or just listened to the short one, then follow along with this WRITTEN explanation, showing each of Karen's slides.
If you watch the full interview, it's fairly clear that she had a great slide presentation which she was not able to show, because she got sucked into the "Stew Peters format", which is basically BLUF and then push that to even greater outrage.
What I want to do here is focus on her slides and what she said about them. I would really love to see her planned presentation, but these slides REALLY help to see how strong of an argument she has.
---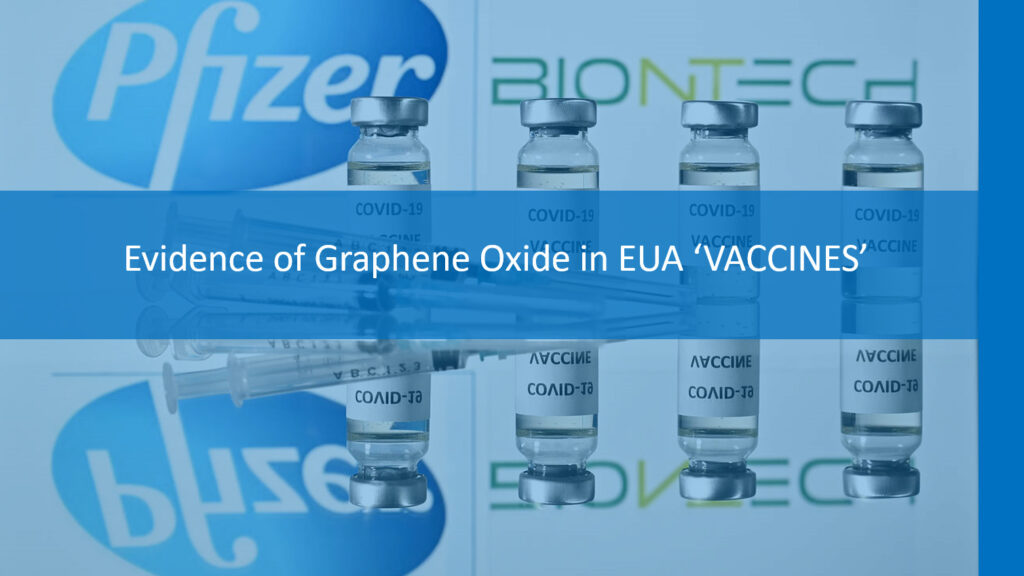 She starts off by flashing this critical slide. We will come back to it. This slide shows a Chinese patent for graphene oxide lipid nanotech COVID-19 vaccines, sought by a Shanghai research center connected to a Chinese company called Sinopeg, which is connected to Pfizer and Moderna and other vaccine producers. This is basically the smoking gun that – yeah – they are using graphene oxide in COVID-19 vaccines – the only question being if they have deployed the graphene oxide-containing vaccines already.
Which I now believe they HAVE. We are taking too much flak. We are DIRECTLY over the target.
Karen then flashes a Moderna patent. She mentions this patent as a source of various kinds of information: explanation of the lipid nanoparticles, listing of the lipids used to make them, AND the code names of the lipids, all of which are in the patent.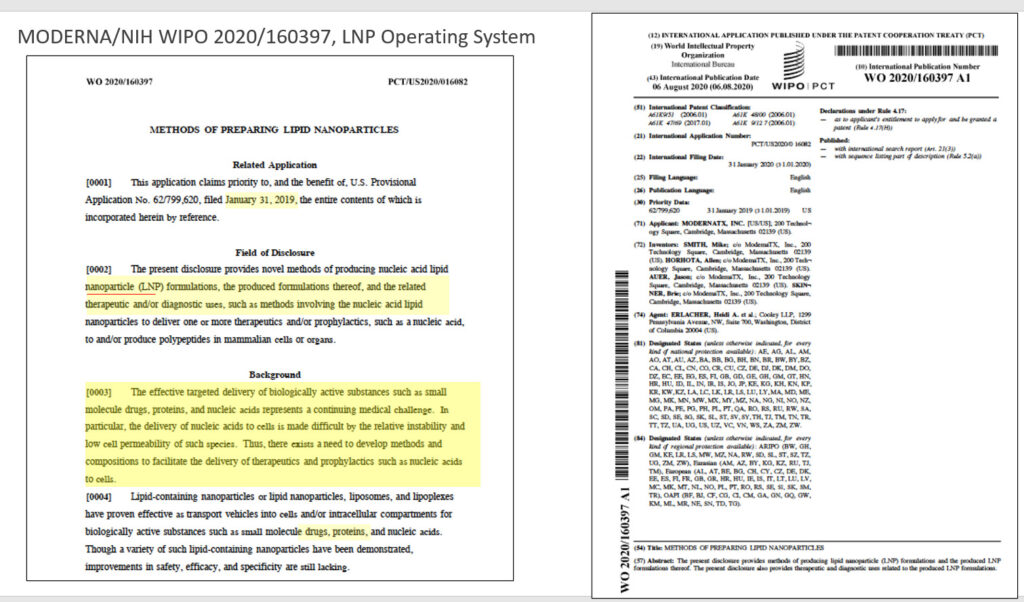 The she flashes the Pfizer authorization report. She has actually noted two relevant lipids by their code names in the upper margin – those lipids being ALC-0315 and ALC-0159. You can see where they were identified in the document itself.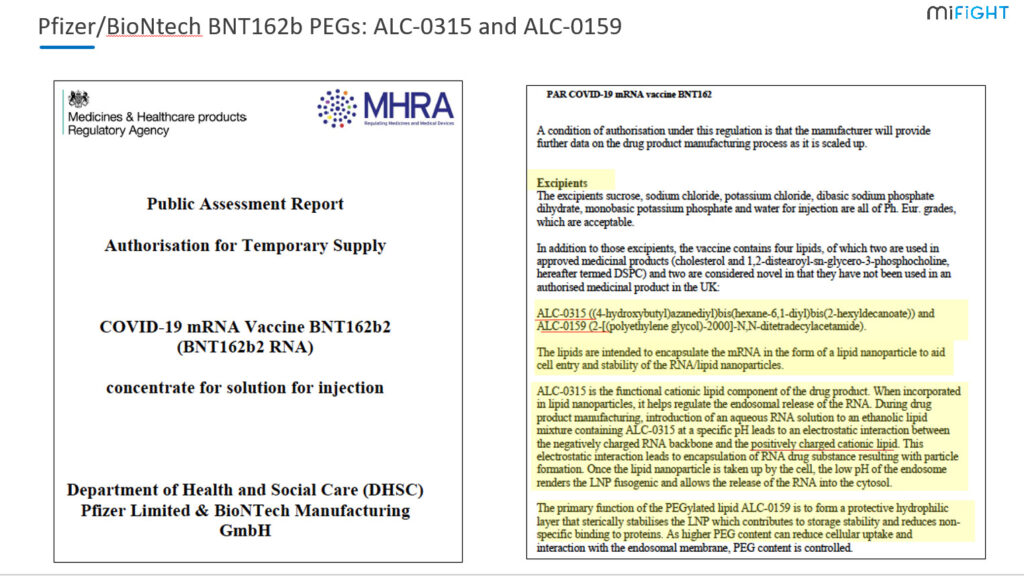 At this point Stew does a great interviewer trick but it's a bit of a disservice to the explanation – he gets Karen to quickly summarize where it's all going, and tries to get answers to the "Why the hell are they doing this?" types of questions. It's fun, but it breaks up the detective work.
Then she gets back on track.
The next slide is from our old friend, Chemical and Engineering News, abbreviated C&EN. You've heard me go to them for vaccine news all the time. Karen calls them a "rag" – LOL – I avoided that term, but yeah, that's what they call them. But I will say this – C&EN is a really great rag.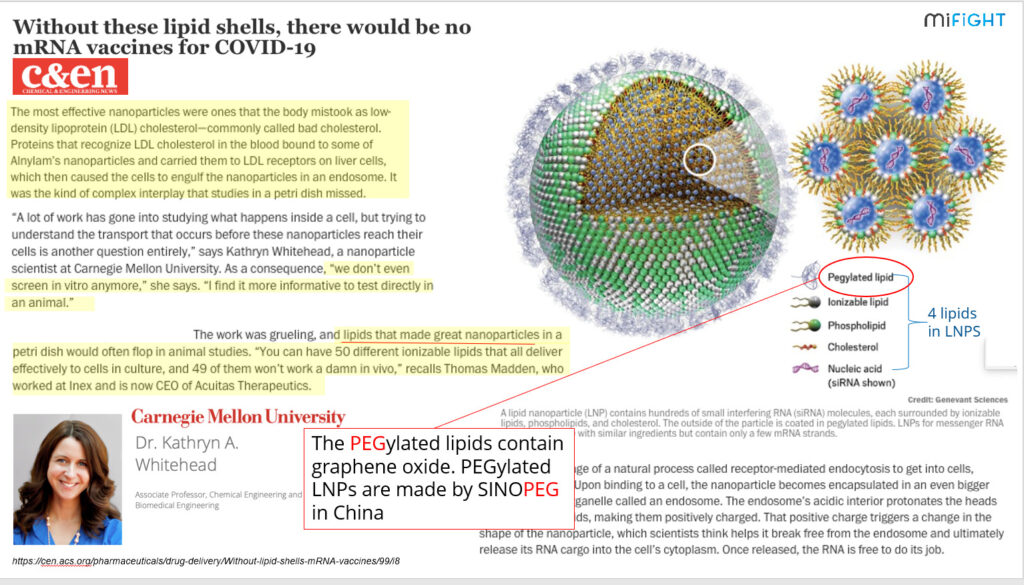 The bottom line here is that the C&EN article explains the very BASIC composition of the lipid nanoparticles in COVID-19 vaccines. You can tell by looking at the cross-section diagram, that these lipid nanoparticles are like a "ball of balls", with both larger and smaller balls each containing a complex assortment of components. ONE of those components is something called a "pegylated lipid". This means a lipid – a fatty substance – attached to PEG, otherwise known as polyethylene glycol.
Hook them together, and you have a "pegylated lipid".
What do the lipids do? Basically, they assemble into what serves as a container for the messenger RNA. They not only helps DELIVER the mRNA – they STABILIZE it, too.
Next slide!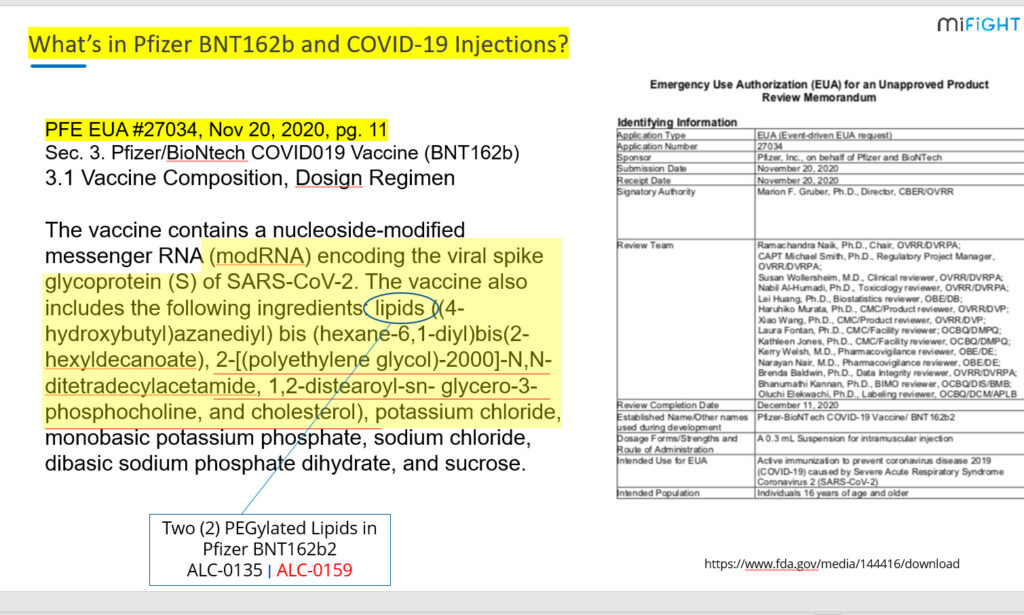 What this is, is the emergency use authorization (EUA) composition of one of the vaccines. You will note that the wording of the composition says that it contains what I could call "synthetic pseudo-mRNA" (what they call "modRNA") AND ALSO [but not exclusively so] four lipids, plus inorganic salts – KCl, KH2PO4, NaCl, Na2HPO4.2H2O, and sucrose.
The four lipids in the vaccine appear to include one pegylated fatty amide, although she mentions that there are TWO of them, plus their Pfizer code names, ALC-0135 and ALC -0159.
While she's here, she mentions the point about WHY graphene oxide is added – to add STRENGTH and STABILITY to the vaccine.
Next slide!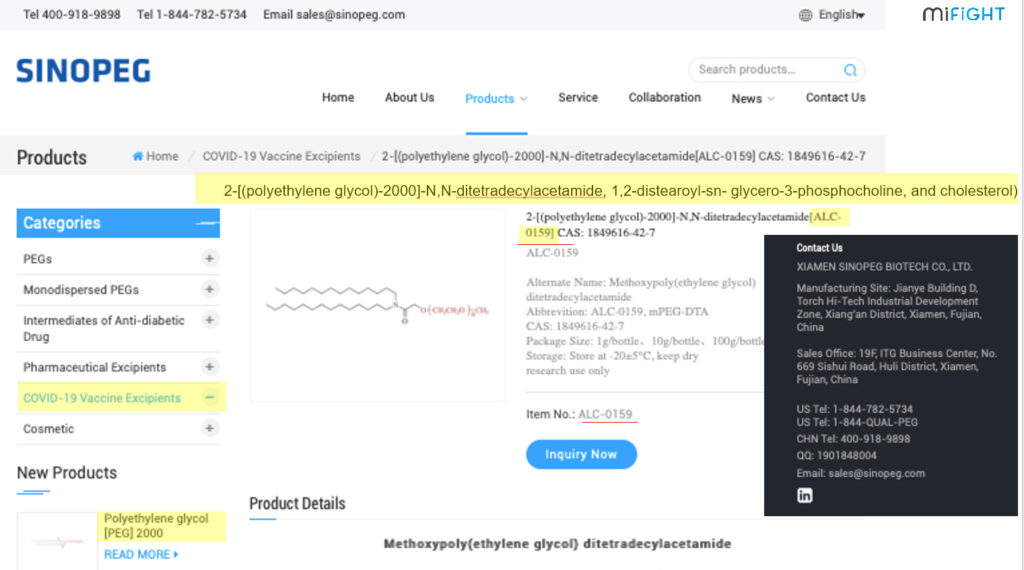 The above is a Sinopeg web page for one of the Pfizer pegylated lipids. You can see the code name. However, she didn't find this company by any links from Pfizer – she had to do a lot of detective work using MSDS sheets (material safety data sheets) for these substances. THAT is how she discovered this company that Pfizer is using to make their nanoparticles.
Pfizer and Moderna really don't want to say that they're including Chinese nanotech in the vaccines, but yeah, that's exactly what is happening.
Next slide!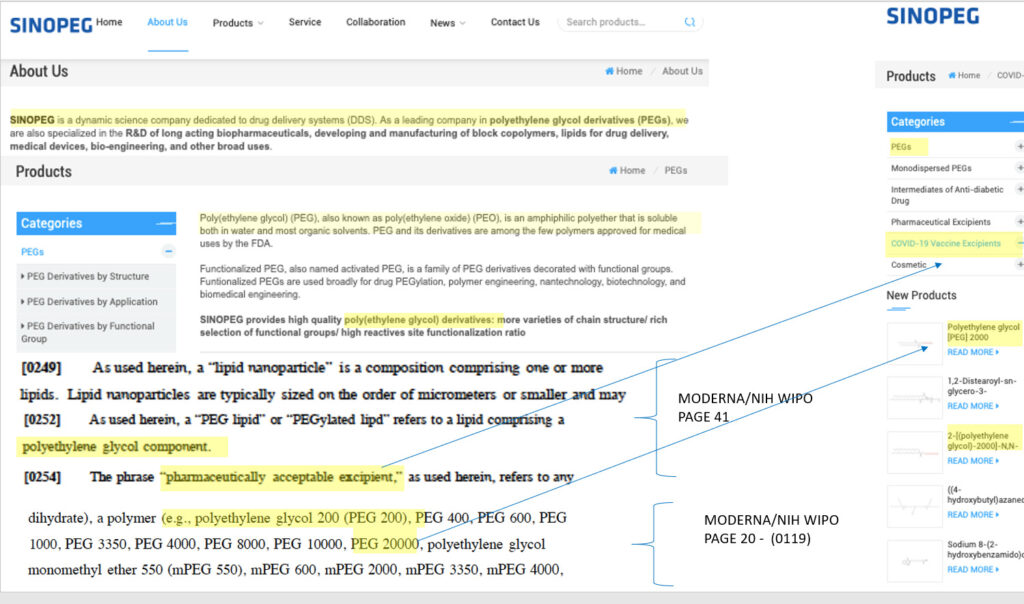 Here, Karen shows how these substances are listed as COVID-19 excipients on the Sinopeg web site, and sure enough, they match exactly what you would expect in the Moderna patent.
Next slide!
Here, Sinopeg is talking about pegylated graphene oxides as "news". Clearly they're interested in them. However, don't expect to find them listed along with the others under "COVID-19 Excipients" on the website if they're a trade secret.
Starting to get the picture? See how that works? Trade secrets are a really stinky little concept. Especially when the GOVERNMENT is a PARTNER to them. A FINANCIAL PARTNER. Which is an extreme conflict of interest, IMO.
At this point, Karen is trying to explain that these graphene derivatives are interesting to a LOT more people than pharma. In fact, pharma applications are likely to be SECONDARY relative to much more overtly electrical applications.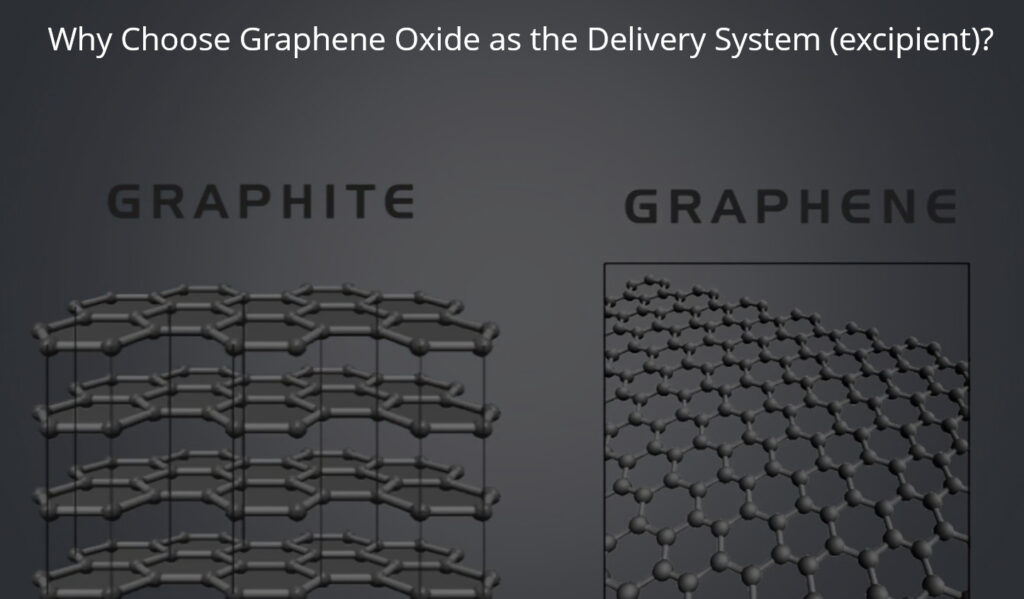 Next slide! "Hydrogels"!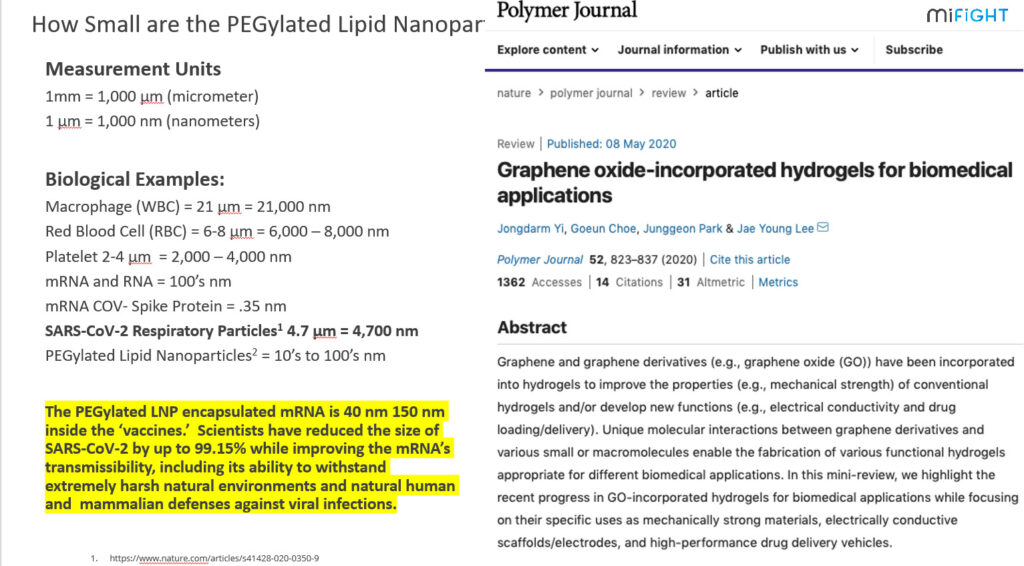 Next slide! More electrical and bioelectrical uses!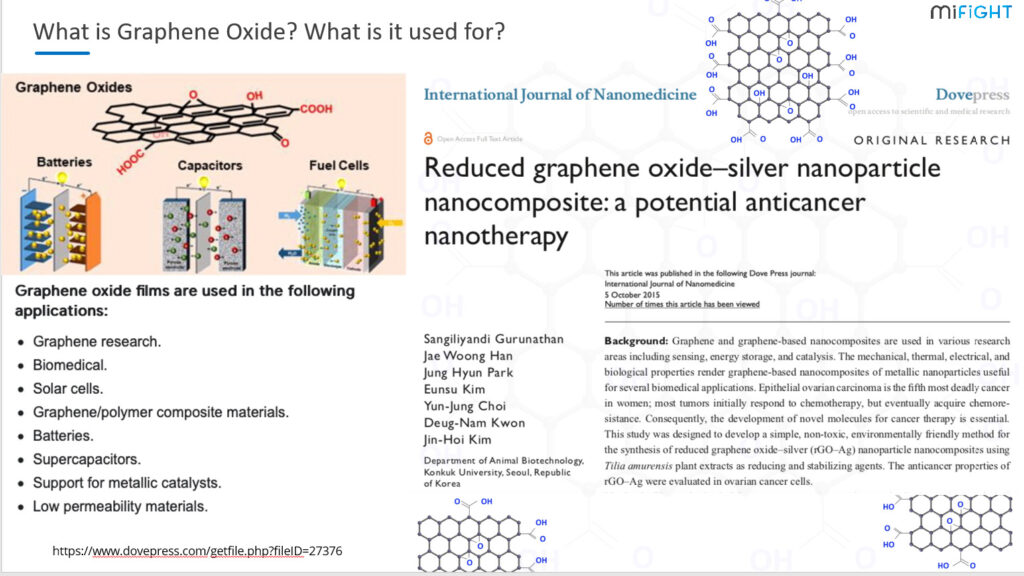 Karen and Stew then get into a long, beautiful back-and-forth conversation that is worth listening to SEVERAL times.
She mentions the Shanhai Nanotech patent again – the one for graphene lipid nanotech in COVID vaccines – and describes their relationship with the heads of Moderna, one of whom is in that picture below. Let's look at that smoking gun again.
She describes the relationship of Fauci and Daszak and all the rest of these people through WHO – it's really something.
Then she talks about REDACTIONS in the manufacture of the vaccines.
Let's look at those.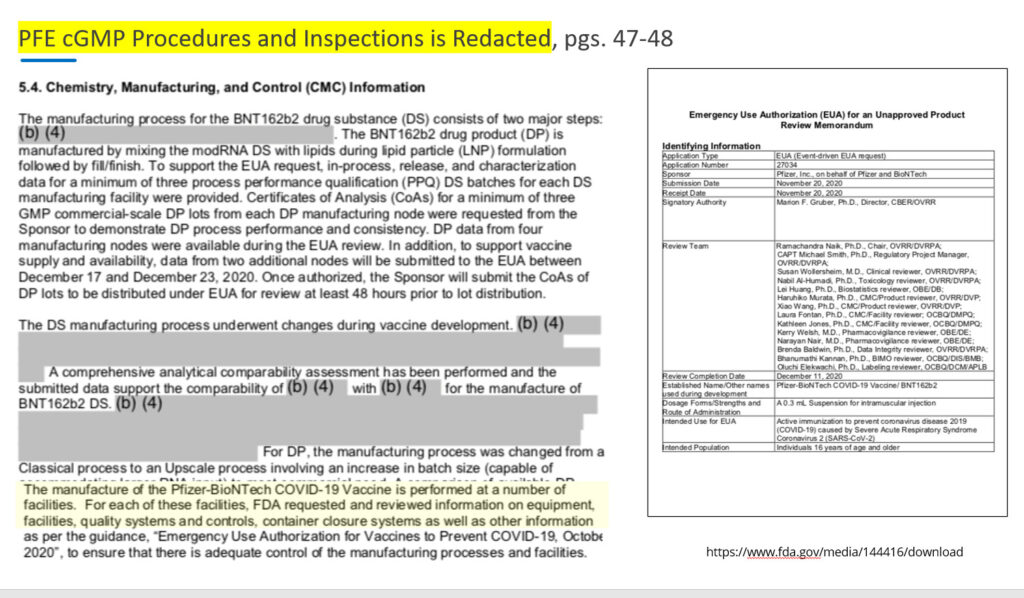 Then they have a great conversation. For me, the most important part is how she describes a kind of "Cassandra wall" trying to tell people what she found.
Here is a woman – an industry insider – who knows what she found – and nobody believes her.
In my opinion, it's our duty to try to understand this. And I believe that when you understand this that you, too, will believe her – just like I do.
W