At this point, I don't really know the answer to this question. I've only been studying it for a few hours. However, given the sordid track record of the Faucisphere in government, the duplicitous alien planet Big Pharma, and that wonderful global organization of medical liars and policy-reversing Tedros types, the United Nations of China, I'm not feeling like giving these sneaky profiteers a clean bill of health just yet.
Let's just say that I'm still collating.
As both American government and American / Western corporations increasingly act like their Chinese counterparts, I expect to see dog-killing treats with little "Made in the USA" graphics on them very soon, unless we bring the Great Fake Election and Virus Scam of 2020 to a very "judicious" close.
It was only tonight, that I had ever even HEARD of the idea of graphene or its derivatives in vaccines.
This HAD to be a conspiracy theory, I thought. NO. FUCKING. WAY.
Seriously. My immediate thought was "no way". That would be like putting little molecular razor blades in the little biomolecular apples known as cells. Who the hell would do that shit?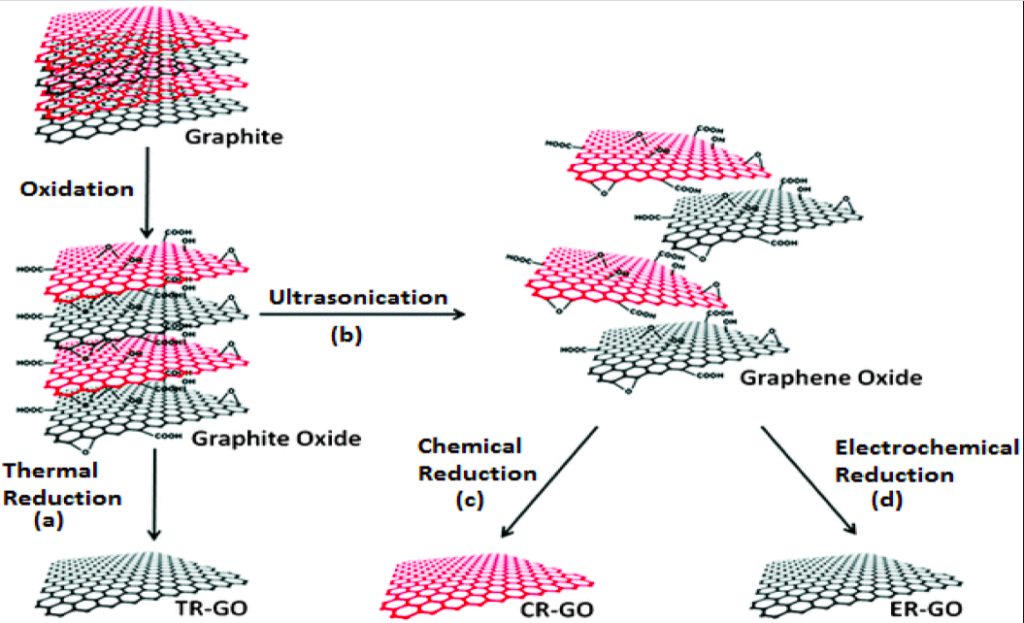 And YES – when I went looking for information about the toxicity of graphene and friends, sure enough, there is a TON of information about it.
---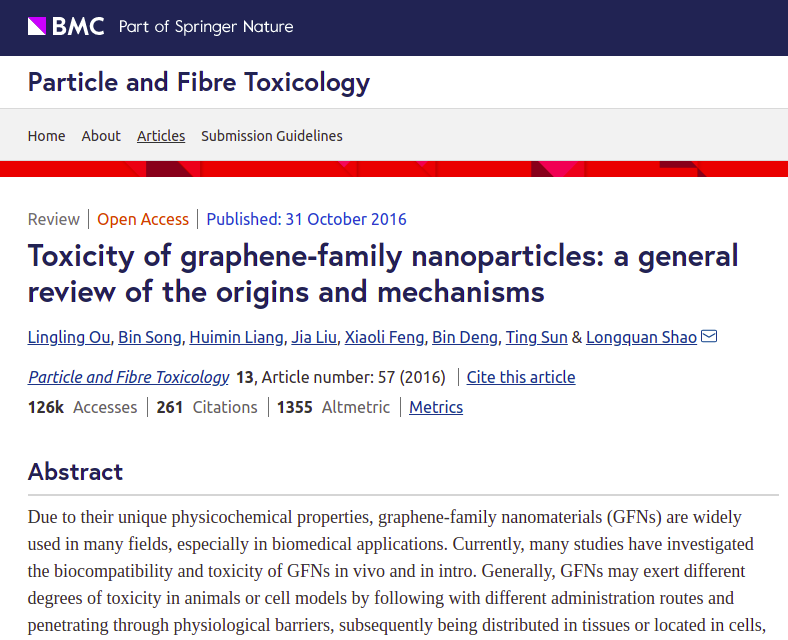 LINK: https://particleandfibretoxicology.biomedcentral.com/articles/10.1186/s12989-016-0168-y
---
If you read that article, you will see that "molecular razor blade" is indeed just ONE of the ways that graphene and coconspirators damage cells, organs, organelles, and anything else that gets in their way.
It's not like one might not expect that, given that graphene is a bit like asbestos and other inorganic particulates, only flatter and sharper, but you never know – maybe there are windows of low toxicity where things are OK, or at least BETTER. Indeed, such variable CURVES of toxicity are hinted at in the paper above, dependent on the size of the razor blades.
Science! It works! When you're honest, of course, but if so….. it works!
But back to FAUCISM and why I don't exactly trust the current "situation".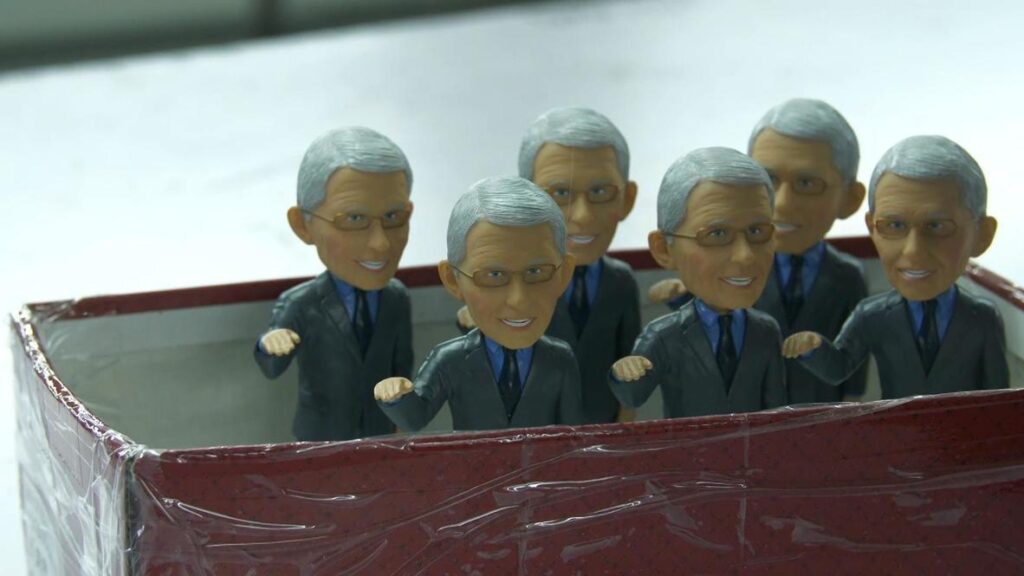 After I was sure this stuff actually HAD toxicity issues that one might reasonably expect, I went looking to verify that this business about putting it in vaccines was just a nutty conspiracy theory.
And sure enough, a helpful "ABMG" type (associate of Bill and Melinda Gates- reference HERE) from New York and Forbes magazine assures us that NO – all the conspiracy theories about "graphene oxide" in the Pfizer COVID vaccine are exactly that – DUMB conspiracy theories.
---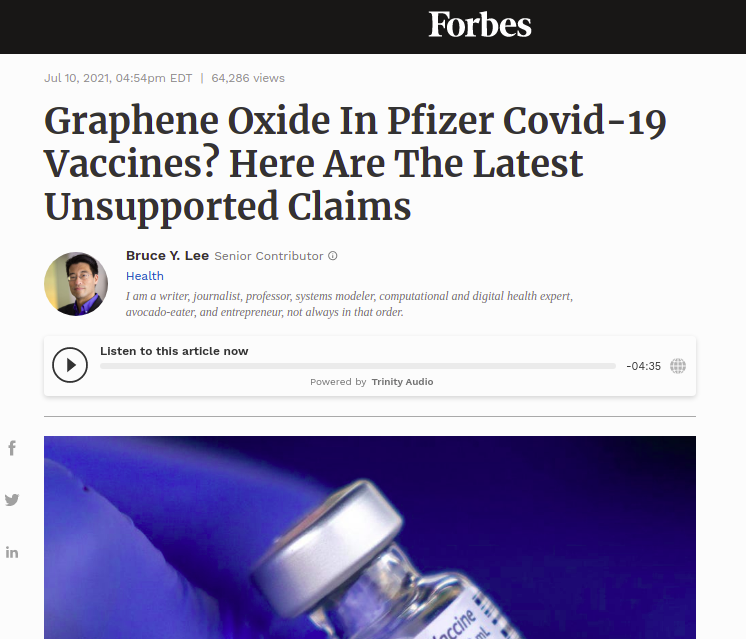 LINK: https://www.forbes.com/sites/brucelee/2021/07/10/graphene-oxide-in-pfizer-covid-19-vaccines-here-are-the-latest-unsupported-claims/
---
The problem, if you go read this, is that the denial falls a bit flat. As in VERY flat. It reminds me of a variety of failed debunkings. It's very much like a "Snopes evasion", if you are familiar with those.
It's nothing like the following:
"Pfizer kindly gave us three sample vials of their vaccine, which we were allowed to select at random from actual pharmacies and hospitals, with a letter of authorization from the head of Pfizer vaccines. We took these to an independent laboratory skilled in the determination of biopharmaceuticals and nanomaterials, including graphene and its derivatives. Not only were there no components that are not listed on the Pfizer and CDC websites – there was no detectable graphene of any kind, when subjected to known methods of isolating graphenes."
See? An answer like THAT is "game over", as Scott here likes to say.
Instead, the answer I got was basically a recounting of the true but mostly irrelevant fact that Jane Ruby is highly unqualified to talk in a deep and expert way about a lot of the things she talks about ANYWAY.
To which I say…..
"Yes, this is true. Back to the question. Please. They aren't putting this stuff in the vaccines – ARE THEY?"
So I keep reading…… to which I then say…..
"Yes, it sounds like this is a conspiracy theory, and the people who say that the vaccine is 99% graphene oxide – obviously ludicrous – are almost certainly spouting bullshit. But I don't care about that. ARE THEY putting this stuff in vaccines?"
So I keep reading, and the proof boils down to trusting that the ingredient list that Pfizer originally gave to CDC and FDA doesn't include graphene oxide, and that Pfizer would never lie to CDC or FDA, because they would get in trouble.
Seriously. Go to the link and read it.
Of course, just because CDC lies like crazy, and FDA is horribly political, and BOTH are beneficiaries of these vaccines, wouldn't affect what they might say.
Nor the fact that this IS an experimental vaccine where they don't actually include the list of ingredients in the package for some weird reason, like maybe they would be lying if they did.
I mean, the Fauci People are mostly honest, mostly.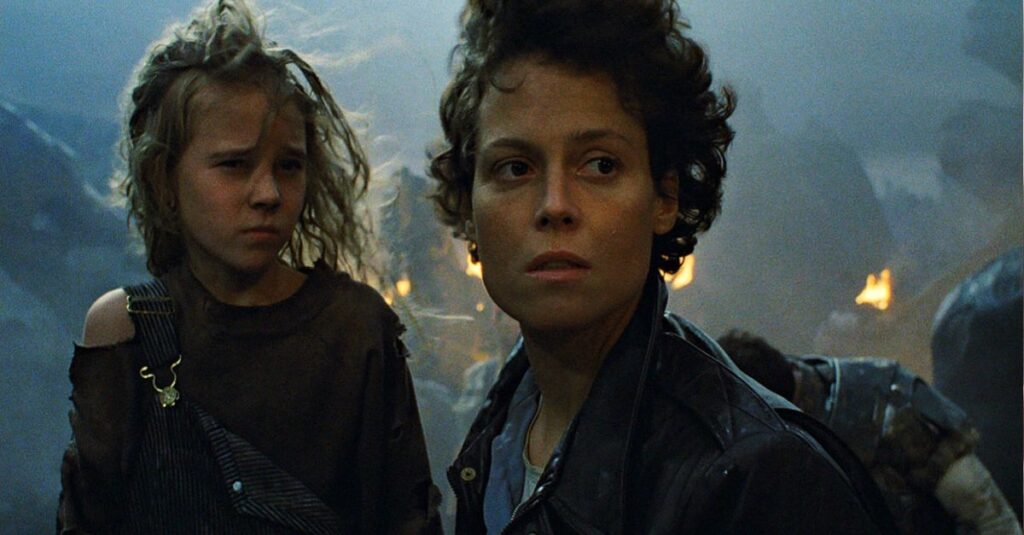 Well, I didn't get a good answer from the debunking. So I looked elsewhere. THE SCIENTIFIC LITERATURE.
Surprise, Surprise, Surprise.
---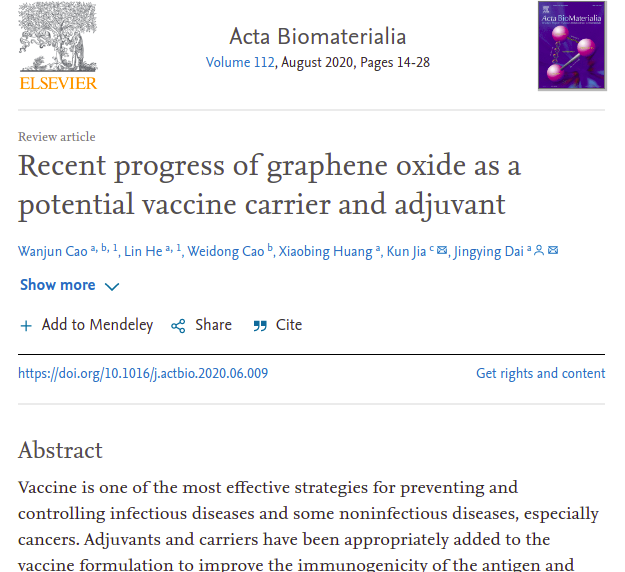 LINK: https://www.sciencedirect.com/science/article/abs/pii/S1742706120303305
---
Oh! An adjuvant! You don't say!
And a CARRIER, too! On top of that!
Why, there's almost no need to stop by Forbes and have a science journalist just miss the fact that scientists find this stuff useful in vaccines, despite – or maybe even BECAUSE OF – its toxicity.
Thank you, Science Journalism! You're almost as great as the other kinds!
BUT WAIT – THERE'S MOAR. Lots moar.
---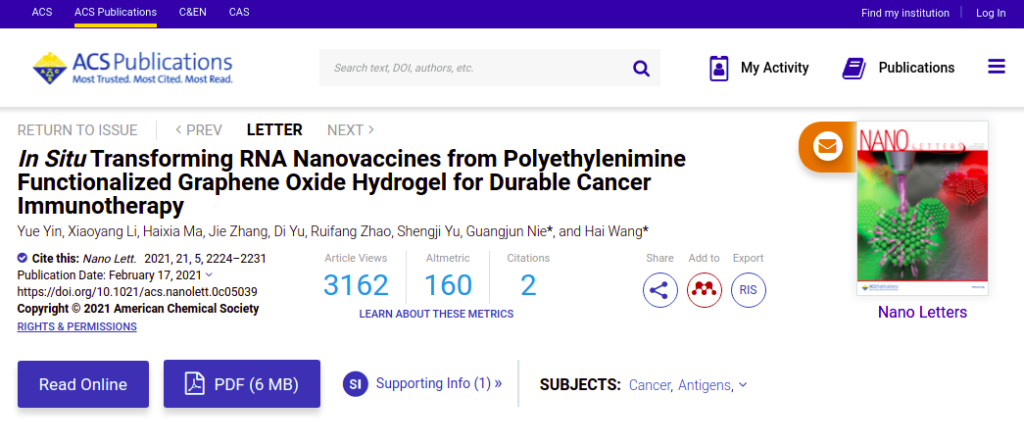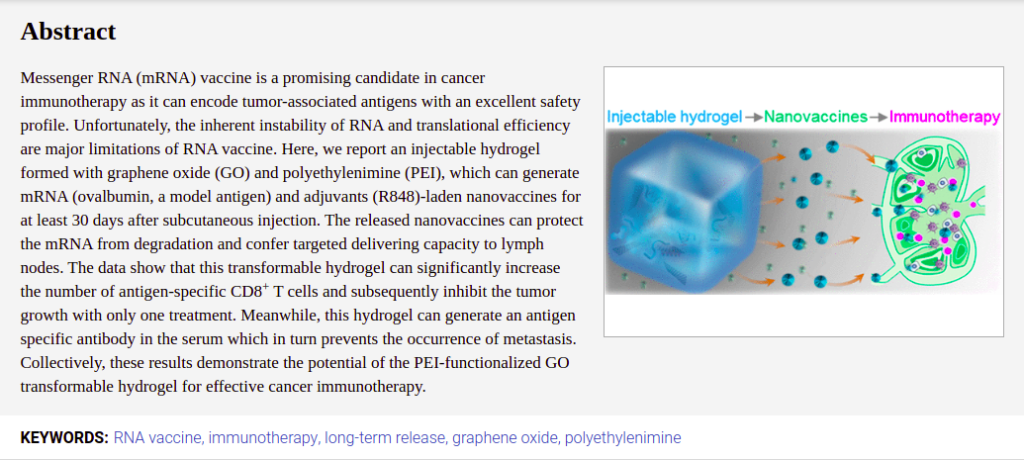 LINK: https://pubs.acs.org/doi/10.1021/acs.nanolett.0c05039
---
A vaccine that keeps pumping out vaccine for 30 days after you inject it? Holy shit!
A vaccine that stabilizes messenger RNA at body temperature? Holy shit!
A vaccine that can migrate ("translational efficiency") to the lymph nodes? Holy shit!
Now don't get me wrong – this is great stuff. This is cancer-curing stuff – using mRNA and hydrogels and adjuvants and graphene oxide – gotta love it. You get CANCER – you might like this stuff.
Of course, if you get that cancer from a graphene oxide-containing vaccine for coronavirus, that might be a different story, but who is gonna profit on both ends of THAT equation? Don't be silly! Insurance will mostly pay for it, mostly.
Yeah, you know what I'm sayin'.
And what's REALLY interesting here is how LONG this vaccine lasts, when you use this graphene oxide stuff. I mean, it lasts a LONG TIME. And migrates, too! Even better than the old lipid nanoparticle technology!
Which just kinda seems a lot like the way the Pfizer vaccine lasts a long time in people's bodies, and now even LONGER on the shelf, maybe TOO long in the body, which is good for gene therapy or cancer treatment, but bad for a disease vaccine, but let's just ignore that alleged motivation for using a less safe new tech for a vaccine.
What I find interesting is how this graphene oxide stuff seems to STABILIZE the mRNA. Wow! Would that help an mRNA vaccine survive higher temperatures in normal refrigerators, like Pfizer does now?
Silly me just wondering aloud. It's called a "hypothesis".
And would Fauci and CDC actually TELL us if they changed the formulation just a little bit?
You see where I'm at?
And it gets worse, because graphenes cause symptoms a lot like COVID in the lungs, but – no – I don't even want to go there. THAT is really kinda conspiracy theory. Let's just stick to the simple question.
Is. Anybody. Using. Graphene, graphene oxide, or whatever. In COVID vaccines?
You know what? I don't know. And I don't trust government, industry or media to tell us the truth.
Because they all now ACT just like we're in China. I mean, state media supports state industry.
Think about that.
W