Time to get back to Coal Country before I lose momentum on the story. This is a longer slog because it pushes along the personal stage setting for future connections.
You can tell how difficult life was for Loretta as the coal miner's daughter, which sounded somewhat like the life of Dolly and my wife in her BIMD story as well as my father's family as described in the previous BIMD: Coal Country Heroes – Music Edition.
Even considering those hardships, life on my mother's side of the family was more difficult. It went on to strongly affect her mental health all of her life as a manic depressive (bipolar) with episodes of schizophrenia. It worsened as she aged and was very noticeable to the public. In her presence it was abuse, a verbal onslaught that never seem to end. She could switch her moods on and off at will in a devious way. She actually believed she was smarter than everybody else around her and that they would never catch that she was insulting or manipulating them. She was physically abusive to my sister and I well beyond normal childhood discipline because our father stayed at work 60 hours per week, so his time at home would be minimal. I shut her abuse down when I became a teenager and had grown more into a man. I had enough of her insanity.
Mother refused to seek treatment and believed others were at the root of her problems. She was sure she even knew more than her doctors and refused treatment for lumps in her breasts. At least until she became so ill and in pain that a double mastectomy was needed. The same situation happened again later that led to a full hysterectomy. But it was everybody else's fault and she let us all know. An intervention should have occurred by the adults and our father, but didn't. Even her own mother and sisters could not stand to be around her or talk to her on the phone.
She believed in the occult, held seances with a crazy neice who led them, believed in astrology with her whole being and stereotyped everybody by their signs, delved deep into her Eastern Star background without actually participating with the other members in in the org – all while claiming to be a Christian.
Call it being demon possessed or just Looney Tunes.
She tried opening a beauty shop. Failed in two months. She tried being a real estate agent. Sold one house in about 20 years of doing it.
As a result of her mental illness, life as her husband and child was very difficult. However, when I looked at what she had to live through the first 20 years of her life, it would soften my reactions to her. She was damaged goods. Her neurotransmitters were obviously imbalanced and combined with high stress and environmental factors growing up in a nasty place it led to a lifelong tension and misery that only worsened as she aged until she passed. She was estranged from almost everybody up to the point of her passing away.
She grew up in Lee County, VA in the small coal mining camp town of St. Charles. The town peaked in population size in the 1930s and sits at about 150 people now. Poverty stricken is probably the best wording to describe it then and now, despite the presence of some segment of good, honest people.
Which leads to an anger I have in my heart. Knowing that so many other sad lives and living situations exist throughout our country, our politicians are still quite proud to send tens of billions of dollars to a nation controlled by nazis who money launder, provide sanctuary for criminals and commit bioweapon development and then release it upon humanity. They open the floodgates for illegal invaders to stroll in and around our neighborhoods without repercussions and syphon off resources. Instead they could use the funds to help fellow citizens, to provide hope for a better future.
But that would mean having to actually care about their fellow American citizens and not just talk about it at election time while personally getting rich. Which they don't. Just lip service day in and day out while sheeple keep bleating their approval. Sickening.
So, maybe there's another way to get it done anyway, short of revolution. Perhaps doing it through private enterprise while simultaneously cleaning up our political and governmental systems would work. They are not mutually exclusive concepts. However, they do require long term commitments with consistent application. We will discuss this with an example in the last section of this story.
Where The Sun Doesn't Shine
My mother was the middle child of three daughters and her father was a coal miner and part time Church of Christ preacher. One cold winter night he got word that his father in east TN had a serious heart attack. He left Virginia alone and headed across the mountain in the old family car in a snow storm. He never made it. He died in a single car crash at 33 years of age in 1936. My mother was 6 years old. She had sisters who were 10 and 1 year old with a now widowed, 31 year old mother who had a small beauty shop and apartment rented over an old grocery and general store downtown by the train tracks that ran through the little town.
The town they lived in was where many miners came on weekends to let off steam and blow their paychecks. What happened there was frequently really bad and ugly. It definitely was not a place you would choose to raise three young girls as a widow in the mid-late 1930's of the Great Depression era with the winds of war in the air.
I still remember the pock marks on the exterior downtown building walls made from bullets that remained that way for decades after the town's most active days of the 1920s to the 1950s. Bars, cafes, a small hotel, gambling halls, the union hall, and whore houses in addition to the mining company facilities and housing dominated the town back then. There was a small segment of locals who tried to bring order out of chaos and the Christian message from the town's two active churches. My mother's father had been such a person, but now he was gone. So my mother grew up in all that nasty mess in fear without a father.
The building that housed my grandmother's apartment and beauty shop was located about 100 feet at most from the railroad tracks. The smell of the coal from the train yard combined with moisture of the valley on the blue side of the mountain permeated the air. A natural haze from the mountains along with smoke from coal fired fireplaces and furnaces, smoke from train engines, and the burning of trash seem to always hang in the air. Their building would shake as the big trains rolled through. Many times the town's water supply did not work, which was smelly and rusty even when it did. There were wells with hand pumps and outhouses located in a few areas for residents to fill containers and relieve themselves. Electricity was sporadic at best. The cockroaches were big and many in that old building, which looked like it would explode into flames with a single lit match. It actually did later in the 1980s. To all that add the oppressive smell of a beauty salon and its chemicals from back in those days.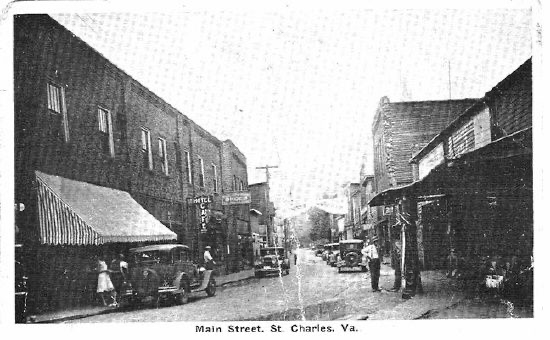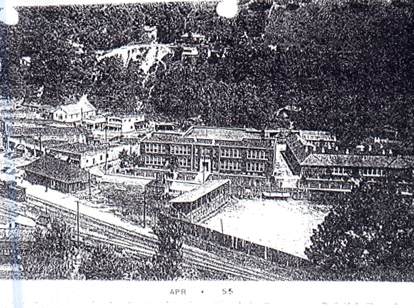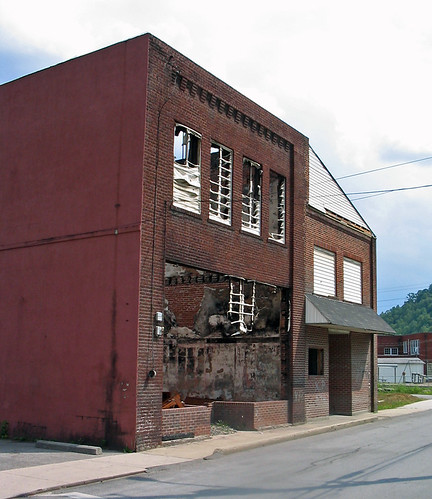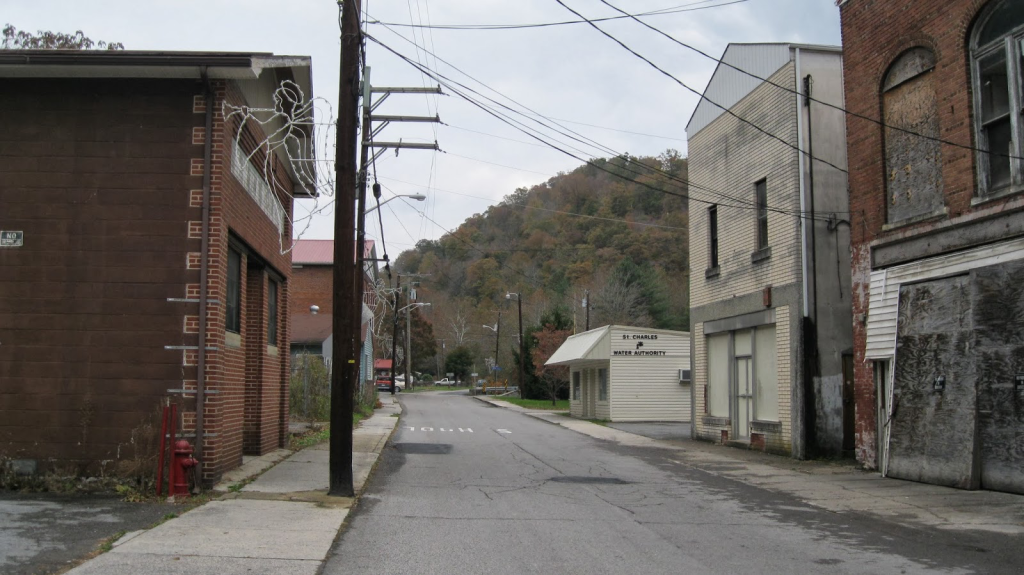 I tried not to hate anything even as a kid, but I literally hated being there despite loving my grandmother. My greatest thrill for the weekend would be to stand on the back exterior stairwell near the tracks and throw rocks at the train cars loaded with coal. It helped me develop a good arm for baseball. Then I would head down to the graveled parking area of the train depot and downtown residents by the train yard tracks and look at my grandmother's 1957 rusting Plymouth Belvedere that she promised would be mine one day. It kept me occupied I guess. No, the car died long before I reached 16 years old.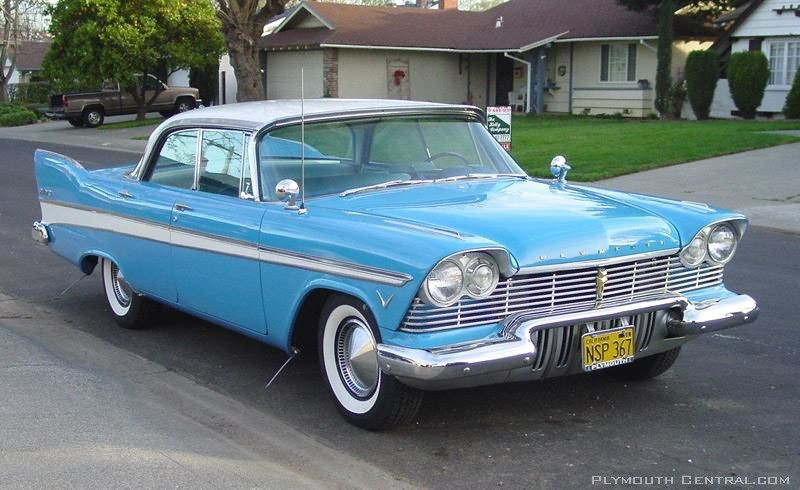 That place was the true "blue side of the mountain." But it was home to the locals who enjoyed the rural life of hunting, fishing and a little farming when they were not down in the dark hole working or in some related supporting occupation.
My step grandfather married my grandmother after he returned from service in the Army in WW II. He was a divorced coal miner with a son who lived with his mother in another town and a rough reputation that was probably well earned. He had a terrible relationship with his new step daughters. My grandmother was no saint either. She did whatever she felt she had to do to feed her 3 daughters and get them through school. She also taught them the trade and each became state licensed cosmetologists before marriage.
My step grandfather figured a way out of the mines in the late 1940s. He quit and bought a car that was suited to be a taxi. Since many residents in the area did not have transportation of their own and the passenger railroad and Greyhound bus service no longer stopped there, having a local taxi came in handy. He saved up some of the money he made since my grandmother was able to help pay most of the bills with her beauty shop revenue.
It was during this period of the late 1940s that my father and his parents moved to the St. Charles area to work for Stonega Coal Company. Their former employer in Tennessee had sold. One of the former partners had used the proceeds of the sale to buy Stonega. Papaw worked as an inspector and Dad was a surveyor. One day Dad met a pretty young lady in town who was 8 years younger than him (19). A year later they were married in a church in nearby Pennington Gap.
After the three girls married and moved away, my step grandfather was able to buy over 60 acres on the side of a steep hill in an even more remote area about 15 miles out of town that had electricity on the rural gravel road in front of his property. When that happened he seemed to mellow as a person. It took him several years to build a farm house on the land with the occasional help of a friend. lt was the place where he and my grandmother could eventually retire.
When we visited them I spent as much time there as possible to avoid being in the town. Shot my first rifle and squirrel hunted there as a kid with him. It would be common to find skinned rabbits and squirrels in old shoe boxes in the refrigerator. He taught me how to cook squirrel in red eye gravy as a young boy. It was a cooking lesson I chose to quickly forget.
Unfortunately, it would also be the place where he later committed suicide when he was nearly fully blind at around 70 years of age. He knew he could no longer care for my grandmother at the farm once he could no longer see and his pride would not allow that to happen. He waited until she went into town with a friend one day. She later sold the farm and the beauty shop and moved to a nearby town to be near friends and extended family who would check on her well being daily as she lived out her remaining days.
From Here to There
While I was growing up and visiting that Lee County area as a youth, there was a young man about 10-11 years older than me that was graduating from a high school in the nearby Rose Hill community. Even though he was from Rose Hill from birth, the young man had grown up moving from one coal mining camp town to another his entire life. His father was a coal mine construction worker with the nickname of Spike. He was married to a mountain woman by the name of Maude. They would move with the rest of the crew from one job to another, but they kept their small farm in Rose Hill. By the time the young man graduated back in his native Rose Hill, he had attended 13 different schools during his life.
His father's construction speciality was in building and rebuilding coal mine tipples. These were the facilities that handled the transfer of coal to the rail cars. Below are images of tipples from around the country.
https://commons.wikimedia.org/wiki/Category:Coal_mining_tipples_in_the_United_States
You may have already figured out where this is going. The young man's father worked on tipples at mines where my grandfather was superintendent or inspector, and my father was a surveyor, throughout the region. This means they probably met or worked together as both my father and grandfather would have been involved in the rebuilds in their roles. The young man's father would also have worked in the area of Loretta Lynn's family. Which probably also meant Levon Helm visited a sampling of those mines with rebuilt tipples while preparing for his role in Coal Miner's Daughter. Even the father's first job building a tipple was in the town that was the subject of the Patty Loveless song from the last story – Harlan, KY.
The young man was very intelligent, athletic and had a charismatic personality. He was a natural leader. He left Rose Hill and went to college at nearby Lincoln Memorial University, the same school my father attended before the war. It was close and more affordable. He played basketball and baseball there while working toward a Biology degree to become a veterinarian. He passed the Board tests and was able to enroll at the University of Georgia vet school. A year and a half later he was married and broke. He changed course and became a pharmaceutical rep. His plan was to work for a time and then switch to humans instead of animals and go to a medical school.
At this point I want the following interview to take over the background of what happened in his life in his own words. The man's name is Autry "Pete" DeBusk. The interviewer is the former Tennessee Supreme Court Chief Justice, Dolly Parton protector in high school, and classmate of my wife – Gary Wade. Who is also now a dean in LMU's Duncan School of Law since retiring from the bench.
Yep – it happened again didn't it? You will read more about the highlights Pete wants to share of his life in that interview. Which is an important point. Pete always controls the narrative relating to himself, his family, his businesses, and now, the university he leads.
Pete's primary company is DeRoyal Industries. The family holds a 100% ownership interest. It is one of the premiere medical supply companies in the world. His son, Brian, runs it as CEO today with Pete remaining on the Board as Chairman. He and/or the company hold over 100 patents. It employs over 2000 people, most of whom are in the manufacturing facilities in east TN. If you have ever had orthopedic surgery, most likely the surgical team used some DeRoyal products. They provide many other medically related product lines as well. The link to the company's information is below.
I have only met Pete briefly at the company's main office on one occasion back in the mid 1980s. However, his CFO of over a dozen years is a friend and former golfing buddy who was a member of our same small rural church for 30 years. When he left DeRoyal to go into his private CPA practice, he retained Pete as a client along with several other wealthy local business owners. He confirmed that what you see of Pete is exactly who he is. Professional, hard working, focused and all business with no desire to release any personal details about his or his family's lives. The code of silence extends to employees with the work product and operations. Only Pete and his son deal with company public relations of importance.
Pete and the company have charitable organizations they support. They just generally stay out of public view personally in their support. However, he is openly proud to promote he and his wife's huge mansion in north Knoxville as well as his role as Chairman of Lincoln Memorial University. His home is in the link below. Befitting his background, he chose to buy the large residential tract of property in a middle class, developed area of north Knoxville, not far from company headquarters and manufacturing. It is also on the side of the city that provides the closest commute to LMU. Which illustrates perfectly in my opinion, that running with society and elites is not anything he is interested in doing. If that were the case, he would have built in the more affluent west Knoxville and Farragut areas to be more near that scene. But he does like nice things.
https://www.wbir.com/article/life/home-garden/the-debusk-mansion-biggest-house-in-knox-county-has-48-rooms-with-a-historic-harp-and-chess-set-of-gold-and-silver/51-d8099899-ce99-406d-989f-38397391ef80
The Lincoln Memorial University story has radically changed the face of higher education in our region. The stated goal of becoming a 6-7000 student enrollment private school with a Coal Country main campus location and a student base with Duke University level excellence is challenging. However, when Pete jumped in it was with the understanding that it had to be run his way as a business and for it to fit the needs of the people of the region at a cost they could afford. Pete and his circle of influence are putting great wealth and knowledge to work to endow LMU and expand into graduate programs one would expect only at bigger, state supported schools. They have added numerous doctorate programs in fields such as Osteopathic Medicine, Veterinary Medicine, Physical Therapy, Jurisprudence (Law), and soon, Dental. All of which have been desperately needed to serve the residents in Coal Country and beyond.
My father would not recognize the place now. Pete along with his talented Board, teaching professionals and administration are taking it to the people for the people. Many of the programs are located in Knoxville and other area communities.
A close friend's son recently completed law school there and passed the Bar Exam in his first sitting. He could not afford to go to the University of Tennessee for his undergrad degree or law school. However, LMU was affordable while using student loans.
One more Goober Gump related observation I learned this week. My wife has a highly respected oral surgeon she adores. She hates dental work, but loves him. Wants me to be more like him. He pets her and is nicer. 😀 He learned from others that my wife grew up with Dolly. So when she sees him for an implant or follow-up, he sings her a Dolly song because he has always been a big fan. It's almost embarrassing to watch and hear. Cringeworthy, but she loves it.
So, I saw my own dentist this week who is a close friend and referring associate of the oral surgeon. Guess who in this area of well over a million residents is going to be the senior teaching professional for the new LMU Dental School? Yep. The singing oral surgeon and he will be outstanding at it. Pete and his Board have hired a winner just like they did with former Chief Justice Gary Wade. It's not surprising as Pete loves to win.
Conclusion
I have completely left politics and religion out of Pete's story up to this point because I do not know with certainty. I suspect Pete is generally a GOP supporter who seeks balance. He has openly supported the current Knoxville based GOP HR elected official, Tim Burchett, throughout his political stops. He has been very close to the GOP Duncan family that held the region's HR job previously for decades as demonstrated by naming LMU's law school after John J. Duncan, Jr. He is obviously close to southern Democrat, Gary Wade, and comes from an area that tends to be strongly conservative GOP. His actions reflect his understanding and belief in the Golden Rule.
Some people talk a good game and never quite deliver when it comes to helping others. Still others soak up the accolades and always need a presser to pat themselves on the back. That would not be Pete. He's more about actual achievement and teaching others to reach for the real American Dream through their actions. That's the dream where you work hard and smart to build a future. Then in return you send the elevator down to lift up the folks who helped you or are in need of a hand. His competitive spirit will not allow him to fail and it is infectious.
That's the other way to get it done as a nation in my opinion. Do not trust government and politics to make things happen. You make it happen and use them if they will help. If they refuse or work against you, make them irrelevant and work to bring in better elected officials who will do the right things. Nobody said it would be easy, it's actually dirty, hard, and thankless like working in a coal mine.
In scripture it is clear God blesses those type efforts because of the honorable intentions of doing unto others what you would have them do unto you as stated in Matt. 7:12 and Luke 6:31. You can always tell when somebody is sincere in their charity efforts. The benefit to the benefactor will be in seeing others succeed, not the personal gain.
Pete did not want folks from his region to endure living like he, his family and the folks around him had to live when he was growing up. He wanted them to have opportunity through education and careers if they were willing to work. Along the way he undoubtedly became a billionaire and has that prideful air about him. But that was not what drove him. What moved him was to provide medical products and education that could help others. That he does it well is what created the wealth that he now uses to continue to help others.
At 79, most folks are out of ideas and energy. Not Pete, he still has plans.